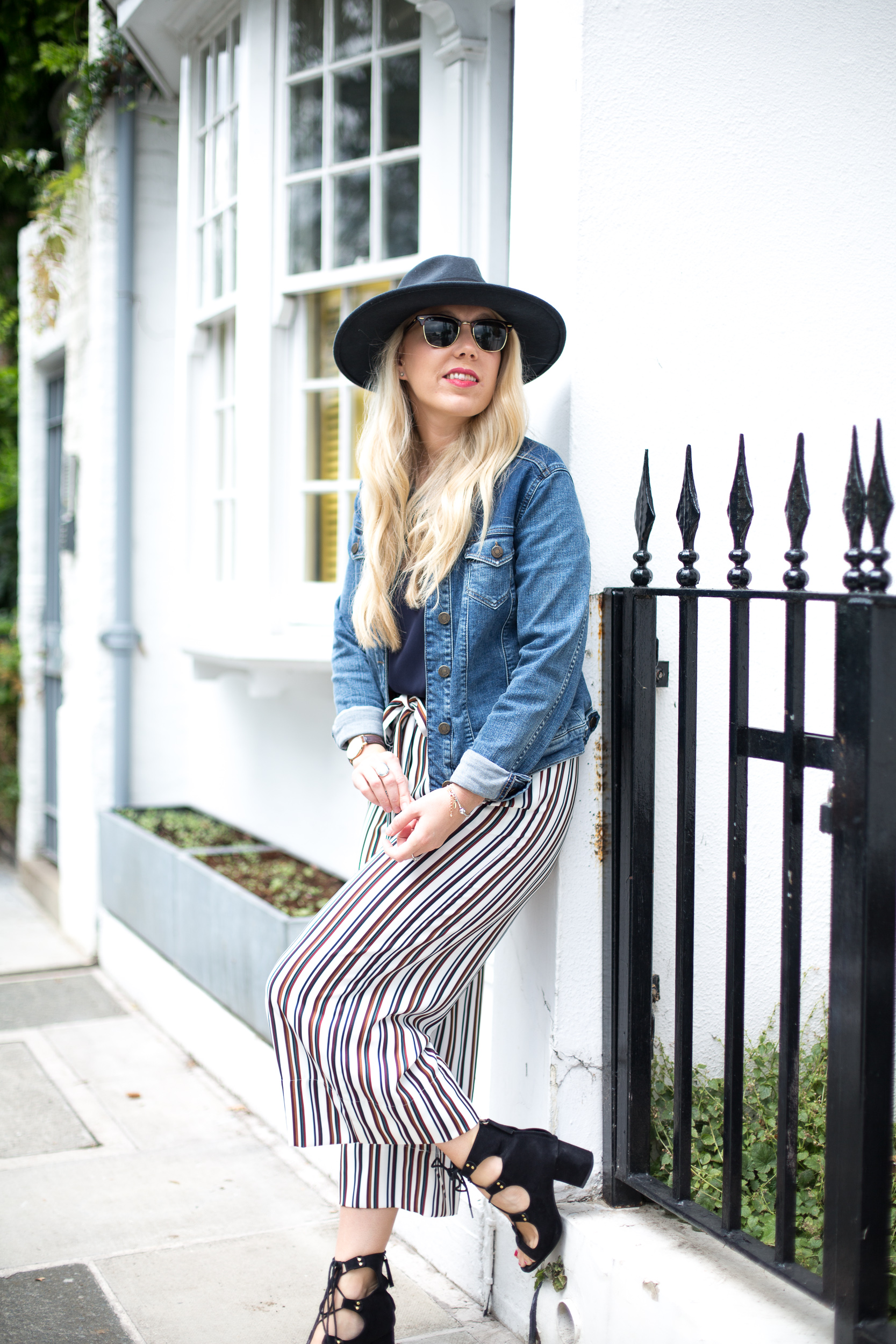 ---
. NEW IN: STRIPED CROPPED TROUSERS .
---
For someone with a relatively conservative style, I have to say the shift into AW15 has started to give my style choices a little bit of 'oomph' … from culottes to these crazy circus esque print trousers, I seem to be embracing a little adventure into my clothing purchases and stepping away from the 'easy' options. Theres of course nothing wrong with a classic monochrome look (I love it), but actually embracing a little colour, crop & funk into your wardrobe does wonders for your mood and gives life a little bit of a fun boost I have to say.
---
. ZARA AW15 STRIPED TROUSERS . TOPSHOP CAMI . BODEN DENIM JACKET . ZARA LACE UP HEELS . ASOS CATARZI FEDORA .
---
I picked these trousers up in the Kings Road Zara store this weekend, I popped in for a little browse on my way for brunch at Bluebird and before I knew it I had an armful of prints, boho cuts & AW15 must haves ready to try on! I fell in love with quite a few pieces, these trousers included, and came home to a round II shopping spree on the Zara website which is now jam packed full of new season goodness. After the shopping doubt the last 6 weeks has enforced on me (due to a lack of anything enticing on the high street), I seem to now be in a shopping monsoon, spending my entire salary on goodies from my favourite stores. In the space of a week i've managed to buy a whole load of Whistles and Zara goodies … from culottes & cigarette trousers, to striped trousers, & cropped trousers in every colour possible (well burgundy and navy) … not to mention the army of slogan tees i've bought & the amazing green jumpsuit that i'm so excited to have delivered. SO yes, shopping I have been!
The great news for you is, there's a whole ton of new outfit posts coming your way, and a little AW15 inspiration to say the least!
In the meantime, what do you think of these incredible, crazy, bold striped trousers I picked up?