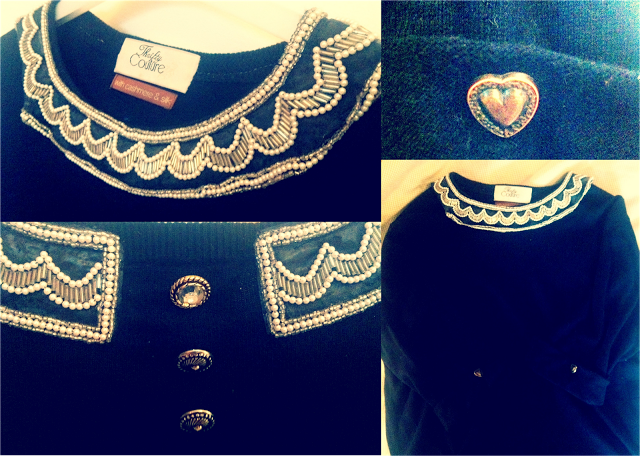 A while ago I posted about the wonders of online boutiques such as
Never Fully Dressed
and
Pret a Portobello
and the beautiful original pieces you can find on these sites. Everyone loves finding little vintage treasures to add to their collection, but there is another way of getting these gems into your wardrobe without spending a small fortune. Listen up.
All you need to do is hit your local charity shop or raid your dads / grandads wardrobe and grab anything that can be cut up and recreated. Things like old Levis Jeans, old man jumpers, your dads old work shirts, or even just material with a pattern you like. Secondly, buy/find lots of old buttons, lace, sequins, collars, anything pretty that you like the look of. And finally, sit down with a nice cuppa cha, get your scissors and sewing kit to hand … and go wild. You'll be amazed at what you can create in a short space of time. Given how 'in' the vintage look is at the moment, it's the perfect cheap alternative to the high street and a really fun thing to do on a lazy Sunday afternoon.
This is a sequin collared jumper I made out of an old navy cashmere jumper in the Summer. The buttons and collar completely transform this old thing, and I've cut the arms and length to make it just how I wanted.
If you like the idea and fancy getting your friends involved too, why not organise a 'recreate your wardrobe' day and invite all the girls round?  There are also lots of companies out there which are encouraging fashion conscious and green shoppers to make their own, and are often holding events and visiting craft fairs.
Thrifty Couture
are one of these, and I met them earlier this year in the 
Kew Gardens
Summer craft fair when they helped me create my jumper.Well worth checking out.