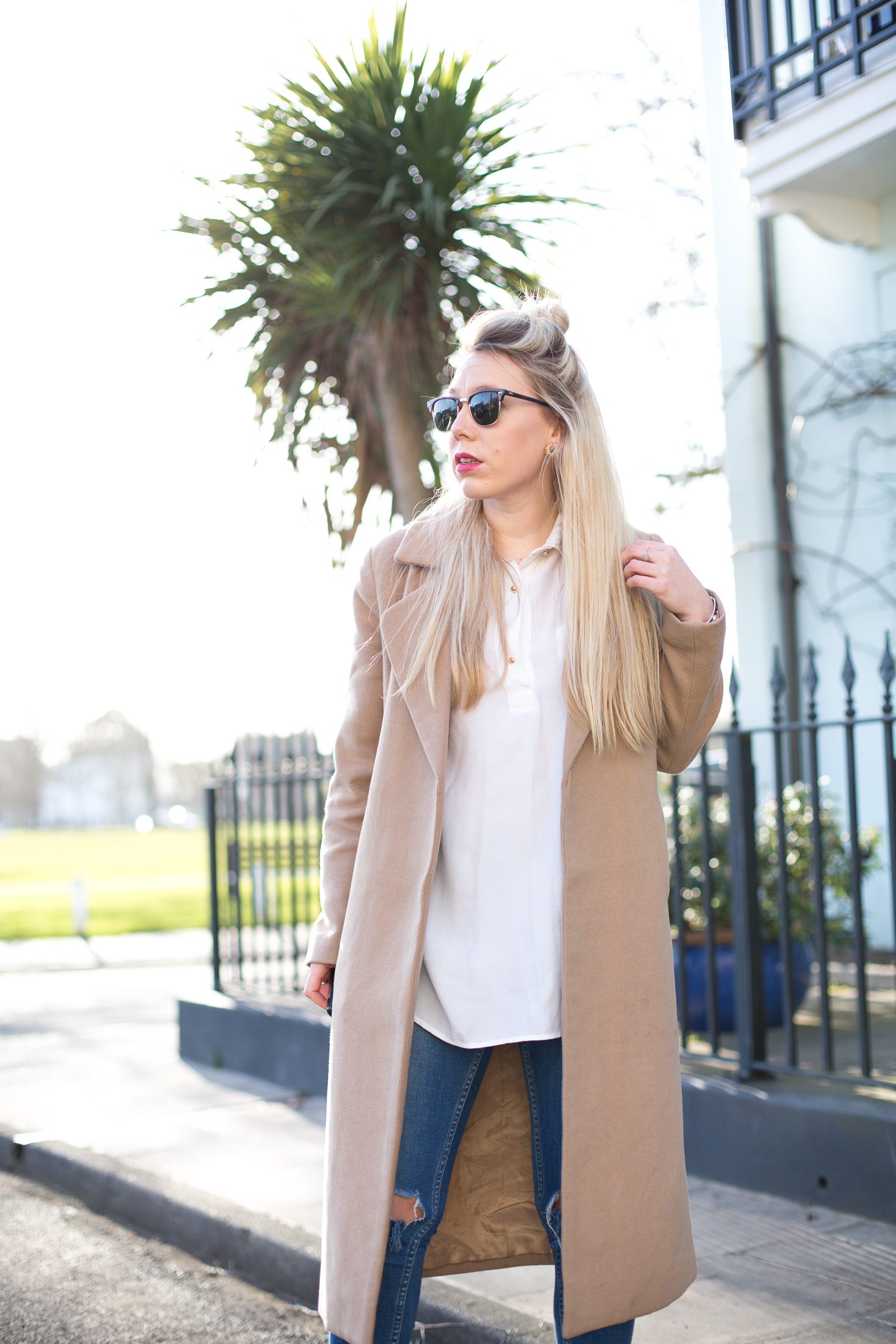 ---
. CLASSIC CAMEL DUSTER & RIPPED DENIM .
---
This weekend the sun was shining bright and seriously starting to get me in the mood for lighter dressing and a summery wardrobe. I'm not quite ready to embrace billowy blouses & denim cut offs just yet, but I thought i'd pull together the next best thing. A more Winter friendly version of my summer favourite! These Whistles ripped knee skinny jeans are perfect winter or summer, and are still one of my favourite pairs of jeans despite the fact that i've over worn the knees a little, I teamed them with my French Connection oversized white shirt and finished the look with another longline number in this Misguided duster coat. I love the colour contrast of the dark denim, bright white & classic camel. I finished off my outfit du jour by giving my new Mango pony hair heels a little run for their money, they were so hard to resist at 50% but i'm glad I didn't even try resisting, not only are they super comfy (block heel you see) they're also pony hair which is a direct route to my heart!
---
. WHISTLES DENIM JEANS . FRENCH CONNECTION WHITE SHIRT . MISSGUIDED CAMEL COAT . MANGO PONY HEELS .

---
The shoes were actually a bargain find which my sister came across and sent me knowing how much i'd love them, pointed toe, tick, pony hair, tick, chunky heel, tick, and in the sale, tick tick tick. It only took me a few hours of deliberation before I popped back online and ordered them! There's no point over thinking these things, if it's meant to be, it's meant to be right?
I shot the look on Sunday whilst making the most of the sunshine which graced us, I love getting out and about when the sun is shining, it has such an immediate impact on my mood that I only wish the sun was out all day everyday! The little green by my house provided the perfect little sun trap and a rather pretty little spot to shoot these pictures before heading home for a hefty roast dinner! There's nothing like a slow weekend to chill you out and help you unwind after a rather mental time at work.