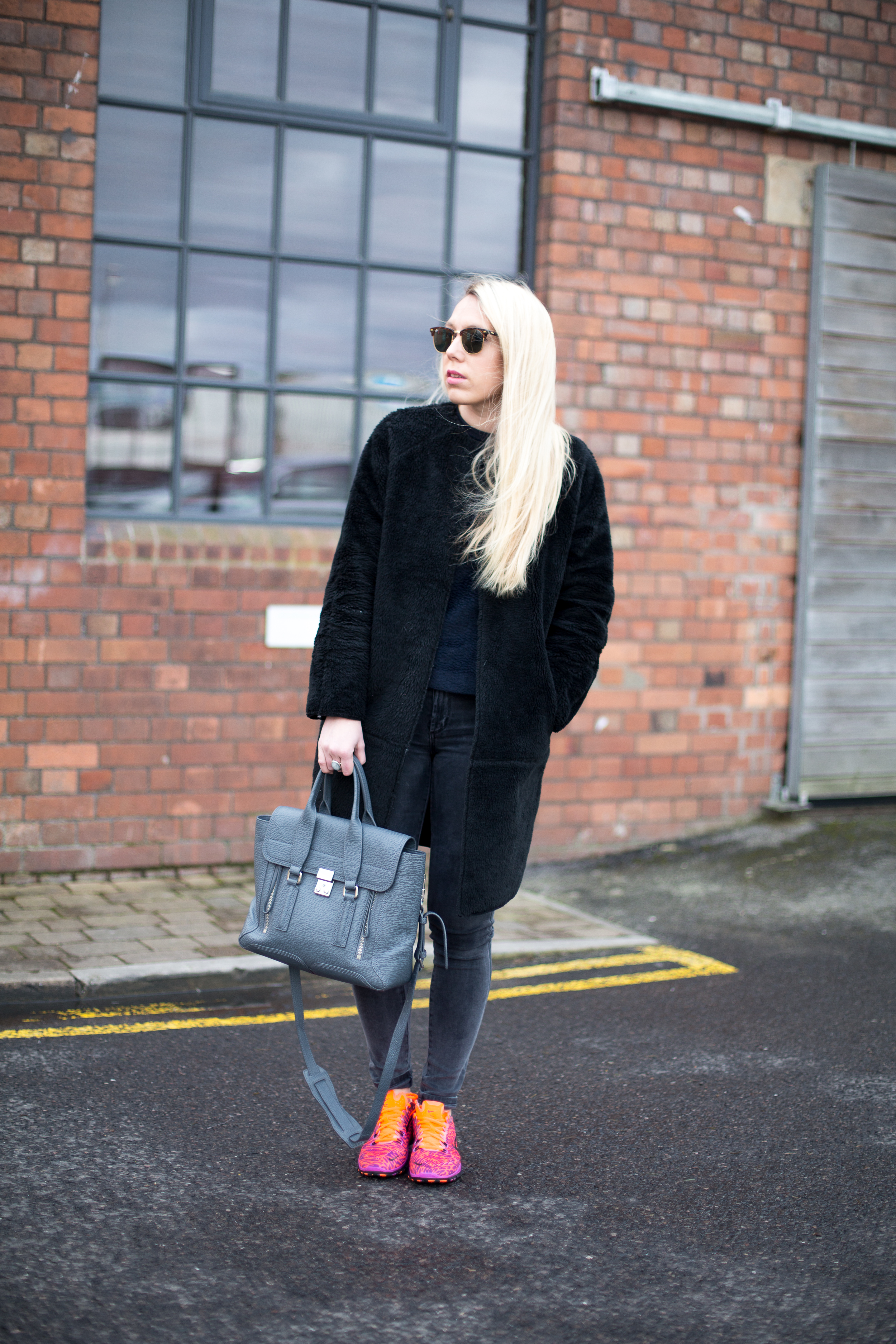 ---
. NIKE FREE 5.0 TR VIVAZ TRAINERS .
---
Something BIG has happened in 2015, and it's not just my blog relaunch, no, something slightly more groundbreaking. I've been converted to trainers, and that's not just trainers for Netball or my sporadic (ahem, non existent) gym going, no this is trainers for fashion! I appreciate this has been a thang since most likely late 2011, but never one to follow the Shepherd like a sheep, I didn't really embrace the look as it wasn't really 'on brand'. That was up until 2015 when clearly i've decided to become a hipster.
---
. NIKE FREE TR 5.0 VIVAZ TRAINERS £107.99 c/o MILLETS . JAMES JEANS IN SKINNY SLATE . TOPSHOP SHEARLING COAT .
. COS TEXTURED SWEATER . PHILLIP LIM PASHLI – STORM .
---
Despite the fact i've always been more of a pointed boot & loafer kinda girl, I actually fell head of heels in love with these amazing vivaz Nike trainers and decided they were an absolute necessity. I've always appreciated the edgy east london vibe which is synonymous with the style, but this year seem to have finally embraced the look for myself, and I have to say i'm quite disappointed it's taken me so long! My new kicks arrived late last week, and like a child with a new toy, i've not stopped playing (wearing) them since. For me they're a fab weekend item, perfect with a skinny jean & oversized sweater, and deliver that aspirational 'off duty' balance of chilled yet effortlessly cool (the trainer that is, not me)!
So yes, the love affair has started and I feel it's only going to escalate from here …