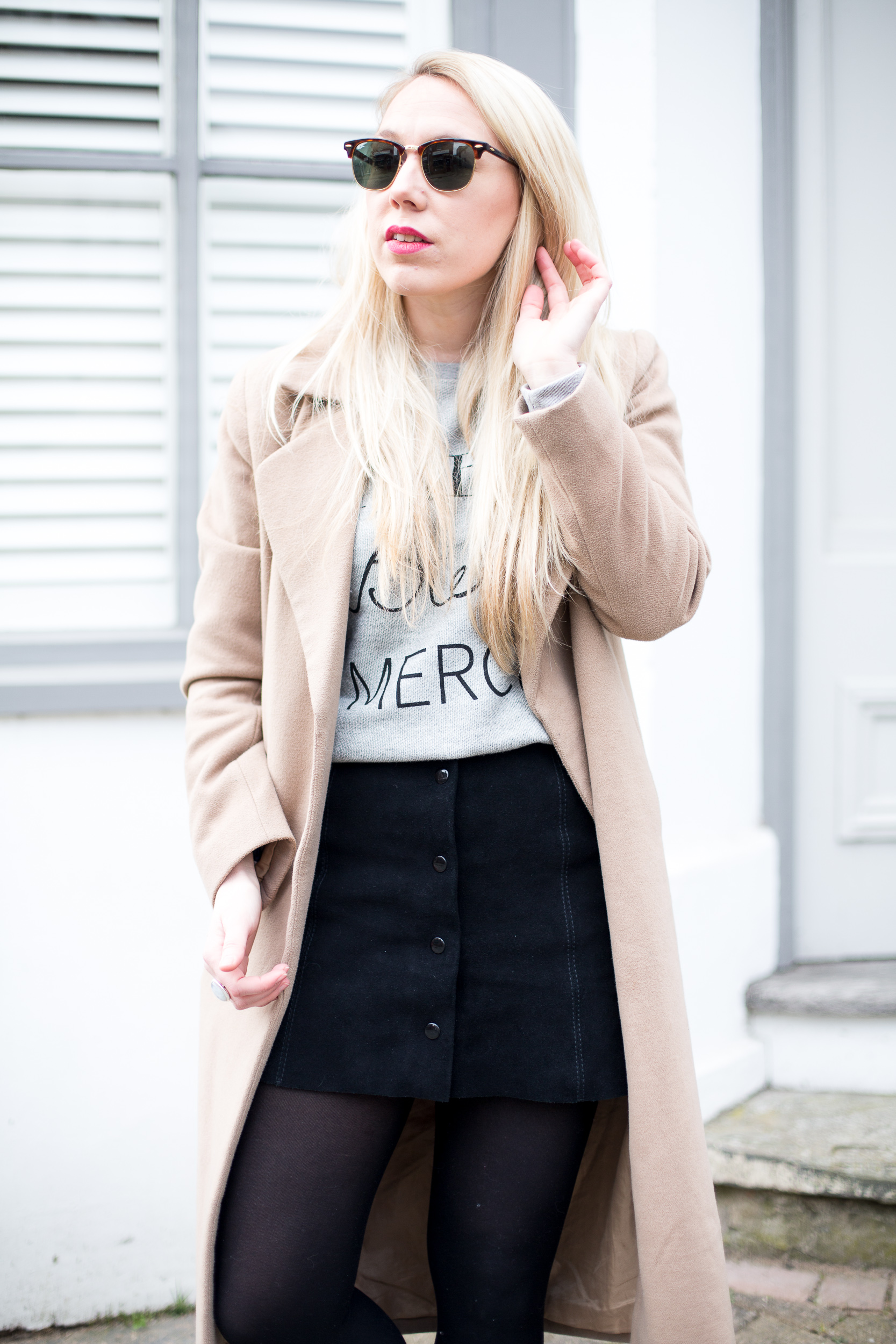 ---
. TOPSHOP BLACK SUEDE BUTTON DOWN SKIRT .
---
This is what happens, every time, without fail. I find an item I like, I fall in love with it, I become obsessed with it, it sells out, I spend hours, if not weeks hunting it down … Personally I think the not being able to have it (e.g. the sold out) is where the issue starts, it's almost like the prospect of it not being available makes it all the more of interest to me, and there embarks my adventure of trying to hunt it down.
I've encountered this cycle a number of times before … my Phillip Lim hunt for the Pashli in Storm was one of the best (ahem, worst), with weekly calls to New York and Dubai, requests for international shipping, general UK store hunting madness etc). Anyway … the latest garment to have fallen into my obsession trap was Topshop's black suede popper skirt.
---
. TOPSHOP BLACK SUEDE BUTTON SKIRT . WHISTLES TRES BIEN MERCI SWEATER . WHISTLES LOAFERS . MISSGUIDED CAMEL COAT .

---
I'd been hunting down a black suede skirt for ages, but hadn't been able to find one that ticked all my boxes, until I found this Topshop number, naturally it was sold out online and seemingly out of stock in all London stores … fortunately I managed to find it in Bristol & drove down last weekend and picked it up (luckily we were already in Bristol to see Jase's family).
The skirt design is exactly what I was looking for, chic, simple & quality. Although I always encounter the same issue with Topshop … the skirts are SO short. But i wasn't ready to let it go, so I just accepted the shortness and put on my blackest tights possible (i'm not sure quite how this will work for spring).
I wore the skirt this weekend whilst my Sister and I did a bit of shopping and teamed it with probably my favourite sweater of all time, my Whistles 'Tres Bien Merci' sweater which I picked up this month. I'd been eyeing it up since the SS15 collection came out online and finally gave in when the 25% off Grazia discount came out.
What do you think of the look and my super mini suede skirt? Are you like me when it comes to shopping?