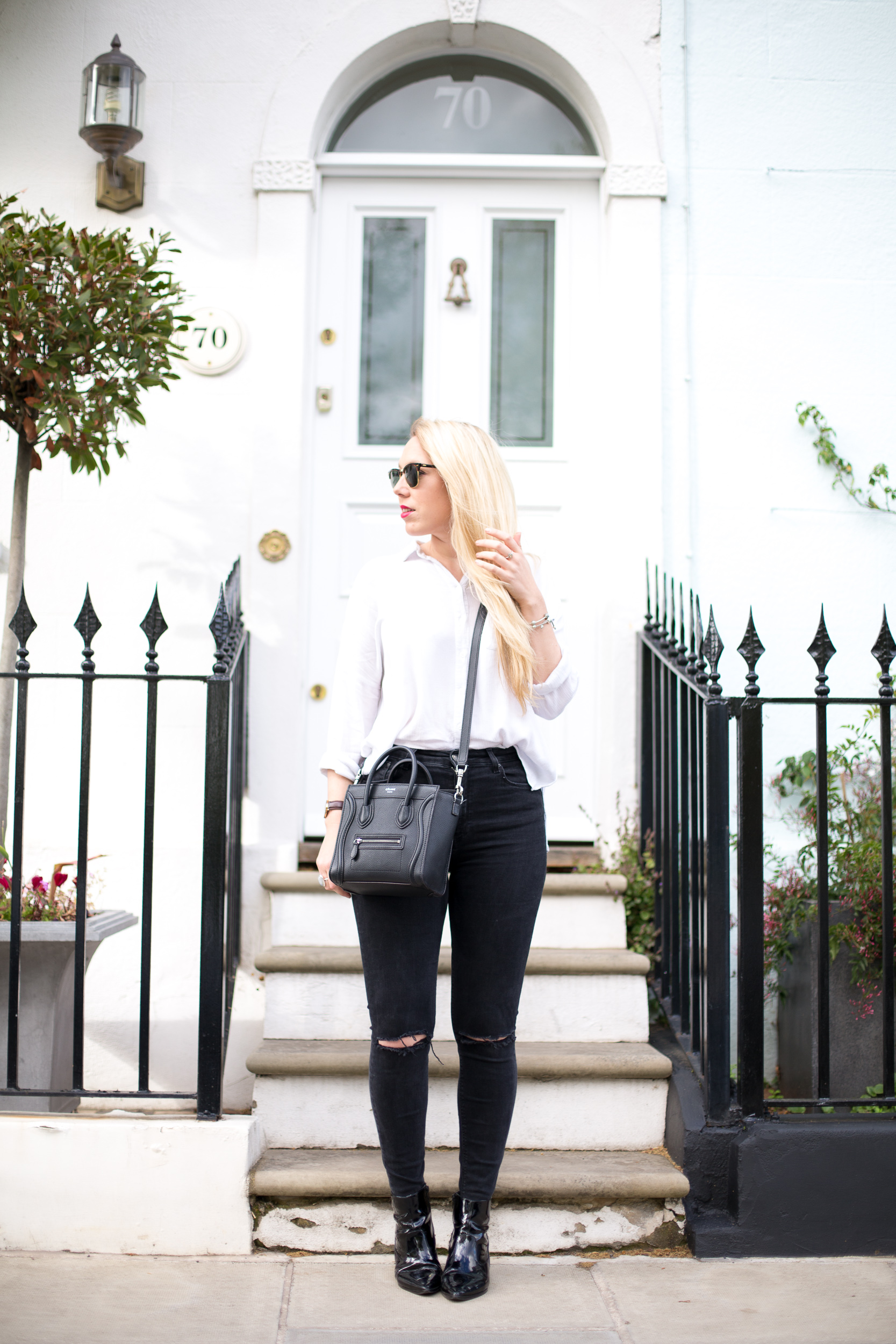 ---
. MONOCHROME FOR SPRING .
---
Right, enough is enough, I can no longer deal with and embrace transitional or transeasonal dressing. There's only so much tights & layering that one girl can take when you're glossy new Spring wardrobe is eagerly awaiting wear, winking at you from your wardrobe every morning. What happened to the usual 2 week transition between Winter and Spring … it feels like we've been transitioning for about 10 weeks now and i'm finding the whole affair somewhat lackluster! My favourite spring purchases are patiently awaiting debut, and my skin is eagerly longing for some serotonin and most of all my body requires the fear or bare legs and bikinis to actually hit the gym and start getting 'beach body ready' (hehe)! So from hereon in, I am taking a stand, going on strike, rebelling against the weather … no longer shall I put up with grey skies, rain showers & wind strong enough to blow you over, instead I shall be living in ignorant bliss, pretending it's summer & wearing all my favourite new purchases and no longer dressing in 20,000 layers! That is my mission statement. All rise.
---
. ZARA RIPPED JEANS . TOPSHOP WHITE SHIRT . ALDO POINTED BOOTS . CELINE NANO . RAYBAN CLUBMASTER .

---
First step in my rebellion is of course to ditch the layers, i'm over layering, yeah it's cool, but i'm bored. Instead I shall now be opting for single layers, as demonstrated in todays outfit with my very simple, very 'summer ready' loose white shirt.  Yes I might be cold, but bugger it, we have to fight for the causes we believe in. And I believe in Spring Summer. Second of all, and thank goodness, is to finally ditch the tights, it's time to shave the legs, let your netherlands breathe and just actually get some sunlight to those transparent pins which hold you up. Now, let's be honest & realists though, i'm not quite ready to fully embrace the bare leg and skirt / short combo, so for now i'll be sticking to my favourite jeans & trusty cigarette trousers to see me through! And finally, it's time to get those summer shoes out, sandals, open toe boots & lace up everything … ankle boots are allowed, but for sartorial reasons only (aka, today's post needed a statement patent bootie to finish things off).
There you have it, my mission statement, my promise, my ambition. Whilst today's outfit is of course not a summer ready look, it's my first 'official' step into Spring, yes it's monochrome, but it ticks my boxes of no layering and no tights!
Are you utterly over transitional dressing? How are you working your wardrobe for this 'in-between' weather? Inspiration needed …