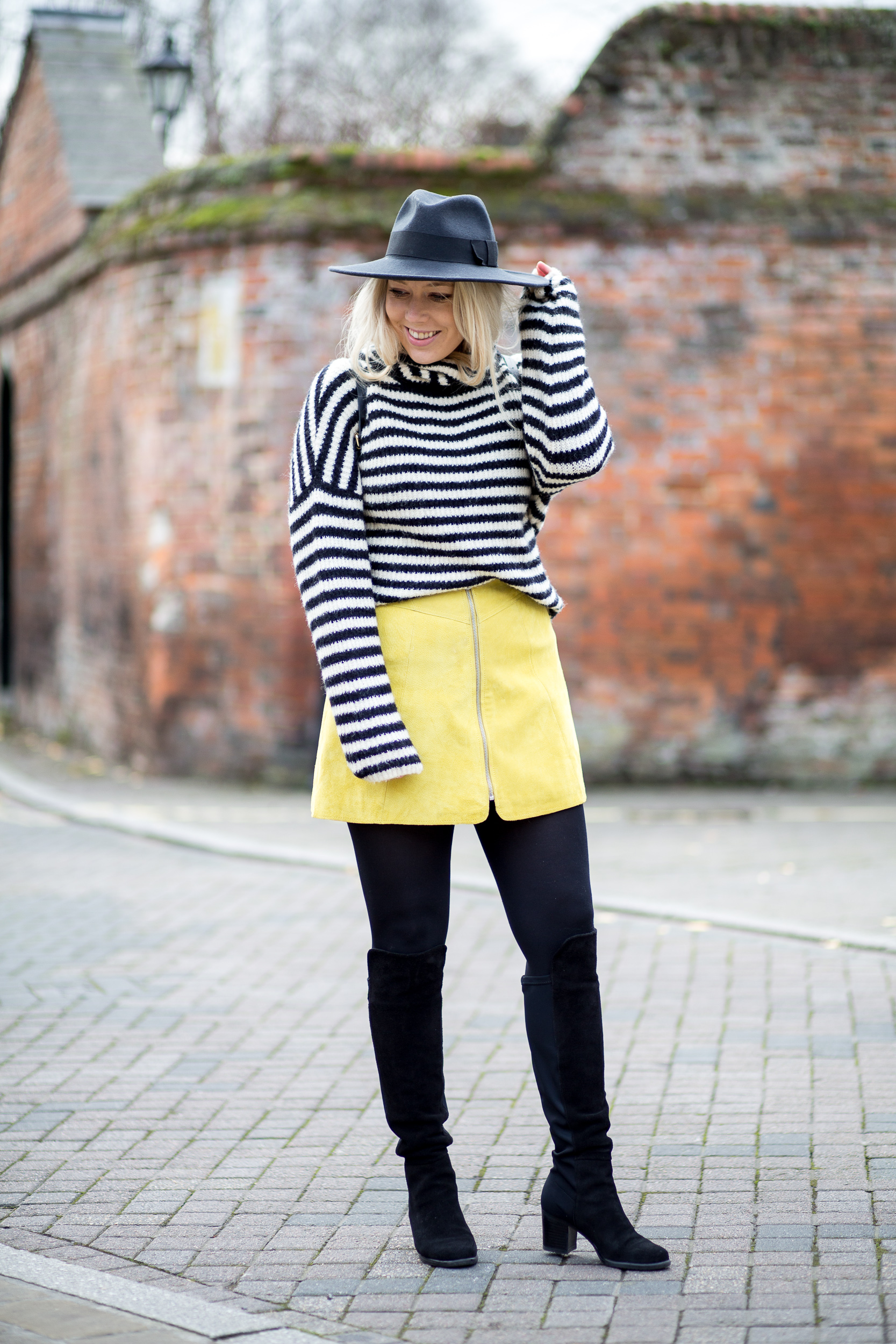 ---
. COLOUR CO-ORDINATION HAS NEVER BEEN MY FORTE .
---
Colour coordination has never been one of my strengths, in fact it's almost the irony of me having a fashion blog, the fact that actually when it comes to styling colours I'm almost humorous. it was an ongoing joke amongst my friends when I was younger, that I'd constantly throw together outfits with colours that technically just shouldn't work. It never bothered me, in fact I hadn't really ever thought twice about colour combinations & the right and wrong duos. Perhaps that's a good thing? Who knows. But needless to say, i've not changed. I still have no colour coordination & todays outfit post is potentially case in point (I say potentially, because I don't know if these colours do or don't know. And I don't really care).
---
. ZARA BLACK & WHITE STRIPED KNIT . ASOS SUEDE SKIRT .  DUNE KNEE HIGH BOOTS . ZARA BACKPACK . ASOS FEDORA .

---
Black, white, yellow … bumble bees sport it well, so why can't I?
I'm a massive suede skirt obsessive right now, my collection is strong, but my original suede skirt was this mustard yellow ASOS number which I picked up last winter. I love the fit, the material and of course the colour was a little bold and added a fab colour pop to my wardrobe. With it being so bright and bold, it can often be a tricky number to style, especially in the winter when black tights are a necessity (in summer bear legs and a simple nude cami look perfect). I decided to embrace the black and yellow combination and team the skirt with a little black & white striped crop knit jumper. It's certainly bold, but I think the colours work & the knit jumper & knee high boots give the skirt the ideal winter transition!
On the topic of knee high boots, you may have noticed I've become a little obsessed (which I have) and right now i'm scanning the shopbop sale trying to hunt down the next knee high boot to add to my collection, the Stuart Weitzman highland boots. With 25% off right now (thank Black Friday) they're slightly more in budget so I may finally invest in the ultimate knee high boot for the Winter season!
Are you a colour coordination queen or more like me, a little haphazard with your colour styling?