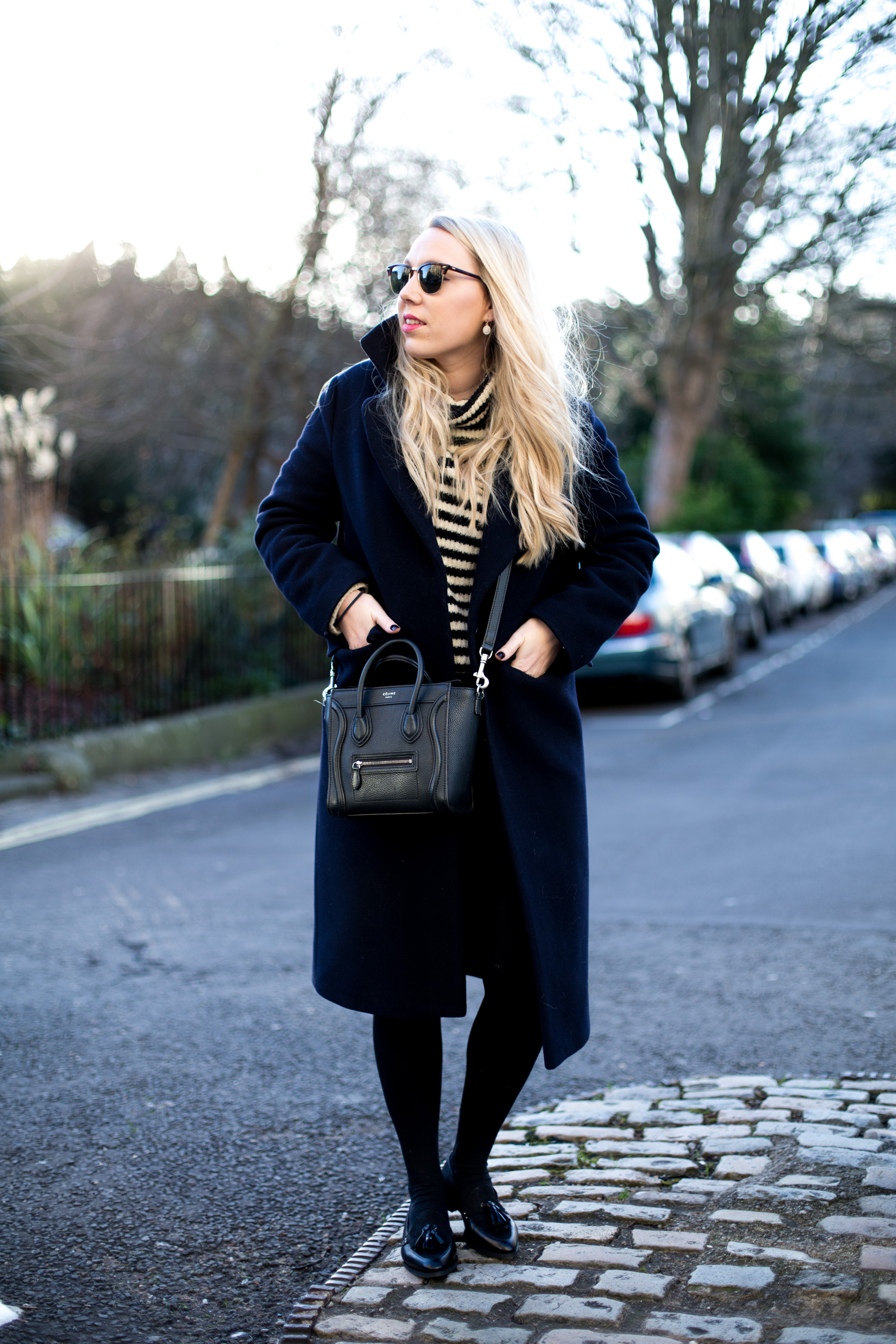 ---
A HEALTHY WORKING DAY
---
It's easy to form bad habits, in fact in my opinion it's far easier to form bad habits than it is to create good ones. This is especially true when I think about my working day, my routine & daily habits. 2015 saw a ton of bad habits form for me, late nights, weekends spent working, no lunch breaks, unhealthy lunches, late night dinners, no exercise, and high stress. If you've read my resolutions post then you'll know I'm all about positive change this year, and for me that's starting with creating a positive and healthy working day.
So today I thought I'd share 5 small ways to positively improve your day, make it that little bit more healthy & of course try and create a much healthier work life balance.
---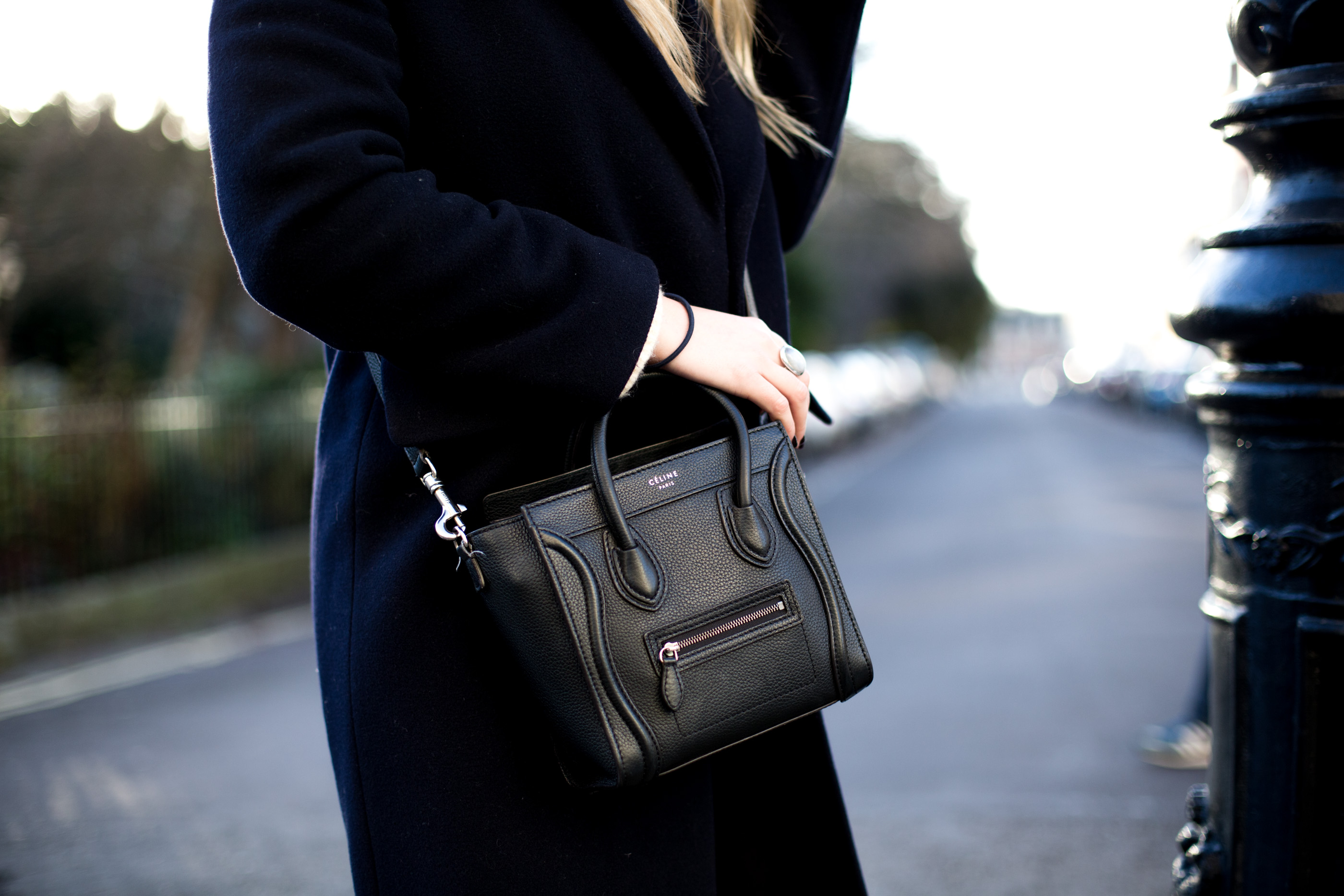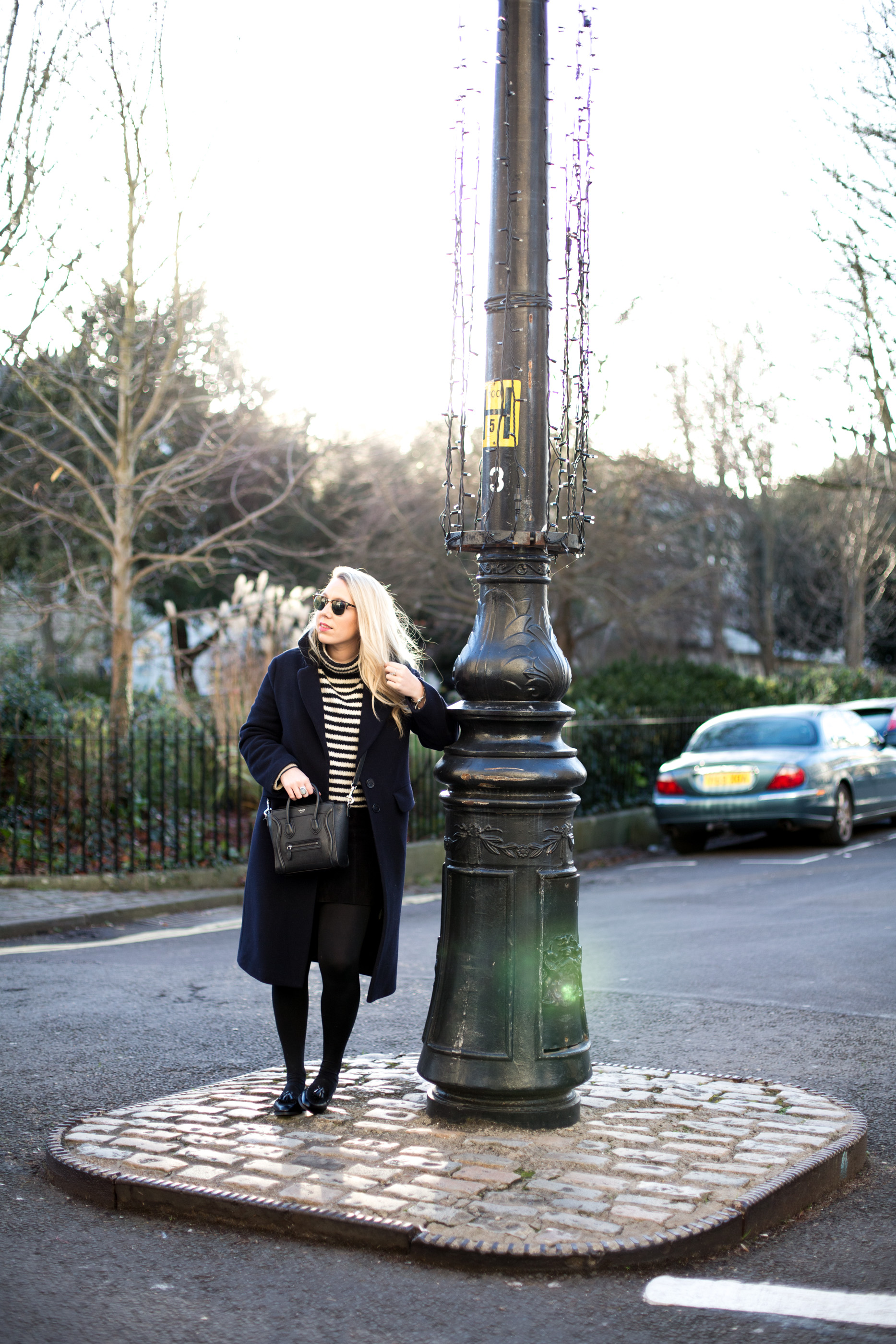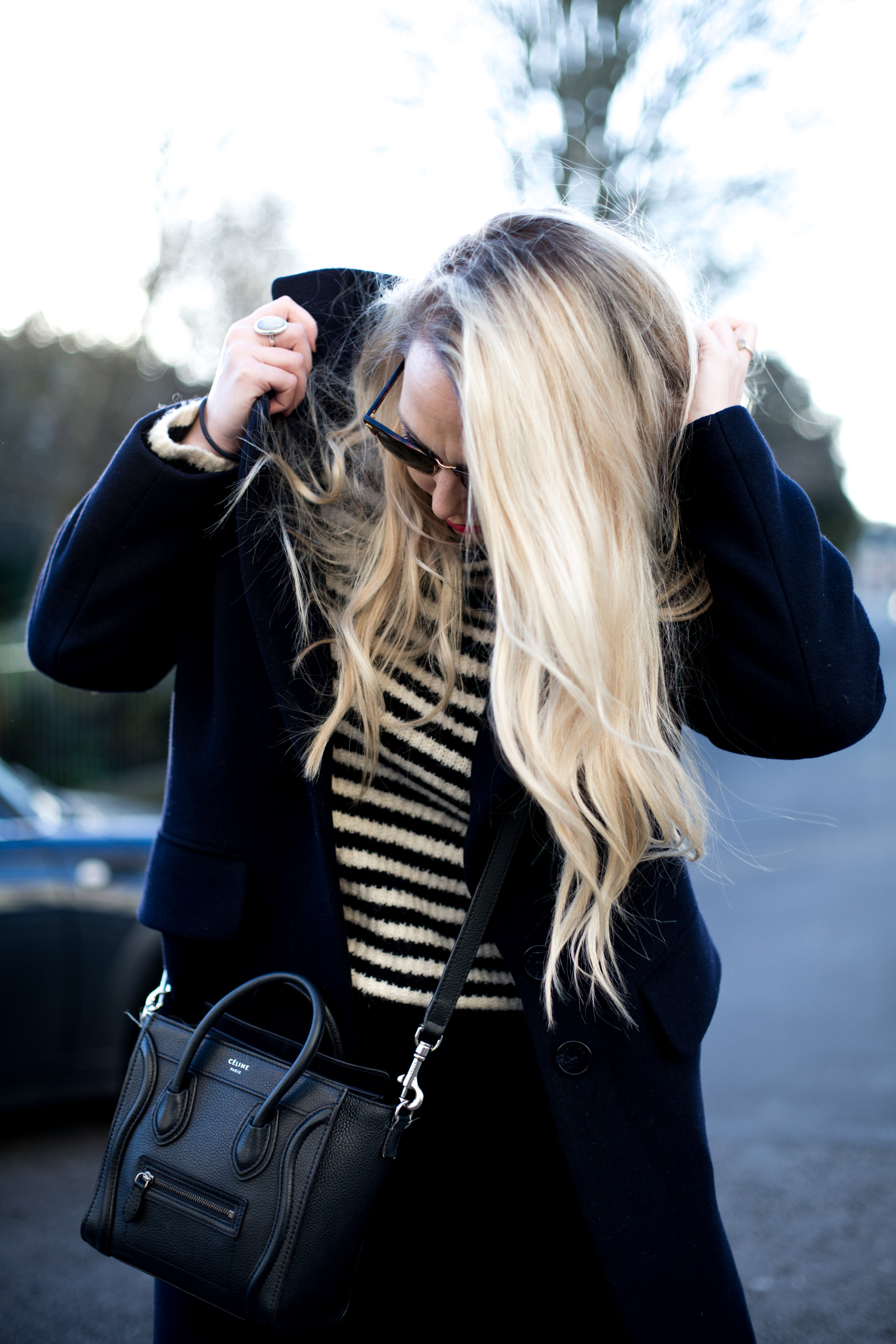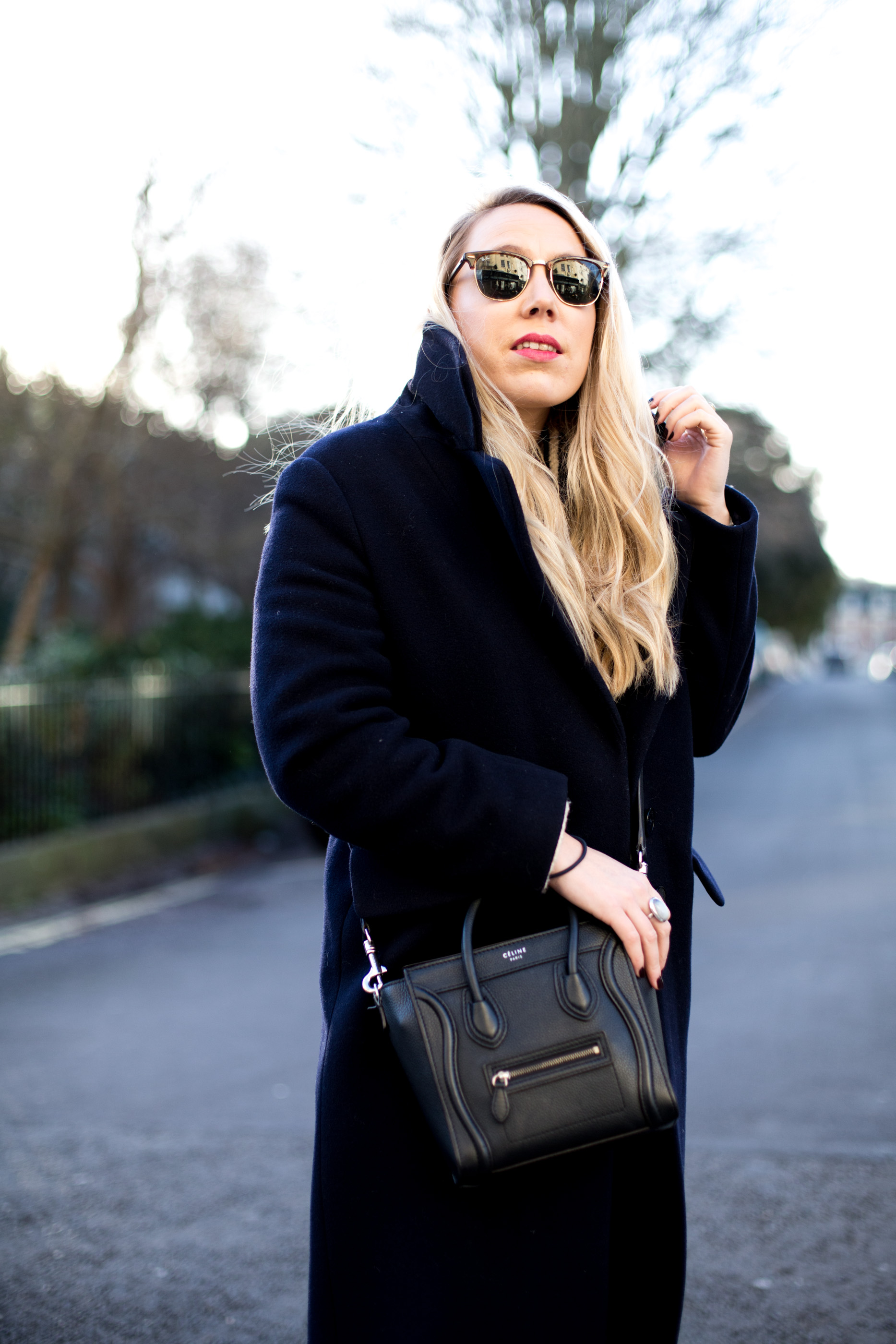 ---
. WHISTLES MAGGIE COAT  . ZARA BRETON KNIT JUMPER . MADEWELL JEANS . RUSSELL & BROMLEY LOAFERS .

---
#1 TAKE YOUR LUNCH BREAK
The worst habit you can form at work, is not taking breaks. When work gets busy the first thing we drop is a regular break from your desk and time out of the office at lunch. But it's so counter-productive, not only will the break help re-energise you, it'll also help boost your productivity overall. I've set myself a target in 2016, to truly make the most of my lunch break, no matter how busy I am. I'll be using my break to add some exercise to my daily routine, a pilates or a weights class for example. Not only will the break help clear my mind, i'll be adding in some much needed exercise to my weekly routine.
#2 DRINK MORE WATER
I'm rubbish at drinking water. Unless it's in front of me, I simply forget to drink. But this year I want to change that, and genuinely try and drink those 2 litres a day. I find a really easy way to up your water intake is by drinking lots of herbal teas, it's a little more interesting than water alone, and actually encourages you to take a couple of minutes away from your screen throughout the day too. Double bonus.
#3 LEAVE ON TIME
The culture in the UK right now isn't all that healthy when it comes to work life balance, whether it's your own internal pressures or a company lead culture, we seem to sit at our desks until 8-9pm working our butts off. Not only does this mean you don't get an evening to relax, it also sets a bad precedent when it comes to work, efficiency & managing deliverables (and makes other employees feel as though they too should be doing the same). Of course there are times when you have pitches, big projects to deliver on or simply a crazy deadline to meet, but generally speaking we should all be making a concerted effort to create a healthy (and productive) work life balance. Aiming to leave on time 80% of the time is a really good target to set yourself. Working long into the night doesn't necessarily look like dedication & hard work, it can be perceived as inefficient and unable to manage deliverables, clients and work streams. So when you can, leave on time.
#4 TAKE THE STAIRS
Lifts don't do anything for your legs, butt or aerobic fitness. Stairs do. If you want to get fit, boost your energy & live a little healthier at work, take the stairs, walk to meetings and skip the cabs. It's actually the little things which will make the biggest impact over time. I for one have made a pact with myself to take the stairs each day.
#5 FACE TIME
Email is easy. But it doesn't have that personal touch that face to face meetings have, it can leave messages open to (wrong) interpretation, it's less engaging and generally doesn't help you build long term relationships.  Face to face meetings often produce far better results, are more enjoyable and can actually help get you away from your desk too. It's not a huge change to introduce, but becoming more sociable and less reliant on emails will actually make your day that little bit more enjoyable. I'm sure of it!
---
So there you have it, 5 simple ways to make your day that little bit  more healthy (and productive). Why not give one of these a go this week and see how it changes your working week?