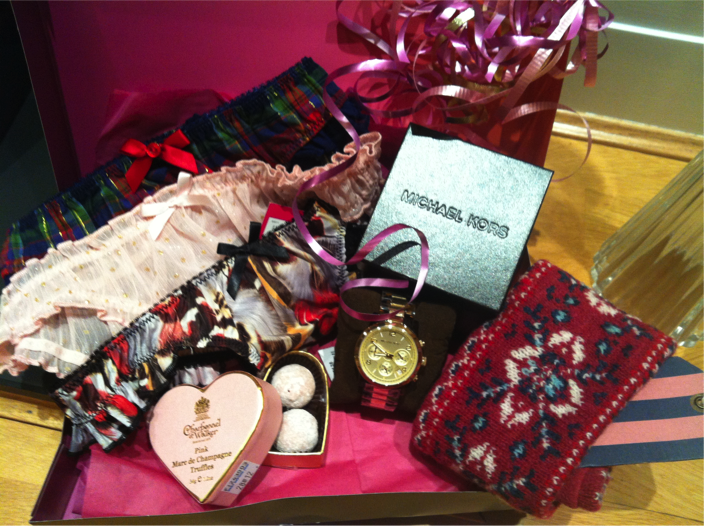 So I had a lovely boxing day at my dads, my boyfriend came too and I must say I was absolutely coma'd out due to mass consumption of all things Christmas. We started on a 1992 Bollinger at lunchtime and that set the standard of drinking for the day. We had a gorgeous Victorian style Christmas banquet and drank a lot of good wine & ate a LOT of good food (I made mince pies, sausage rolls and honey & mustard sausages for nibbles too).
I thought I'd share what my boyfriend bought me for Christmas as I opened this on boxing day too and I absolutely LOVE all of it, champagne truffles, pretty knickers, a Jack Wills head band and of course the shining centre piece of glory, my 
Michael Kors
 gold and turtle shell watch. I was super chuffed with my pressie and can't wait to wear my watch. I need to get 4 or so links taken out as it's pretty big, but hopefully I can do that in the next day or so. Here's a quick glimpse for you:
I'll have to do a big pressie post in the next couple of days with all the amazing gifts I got given for Christmas, as I've been so lucky and not even mentioned half of what my lovely lovely family have bought me. I'll do a couple of outfit posts on my new pressies too including my fur gilet & leopard print dress which my mum & S/dad bought me
(I blogged about it here
) and the cute Zara blouse & welly warmers my little sister got me. I also have a post lined up on my lovely 'pamper' present from my dads girlfriend too :)
What did you all get? I hope you had a fab time and are as happy as I am with all your presents.