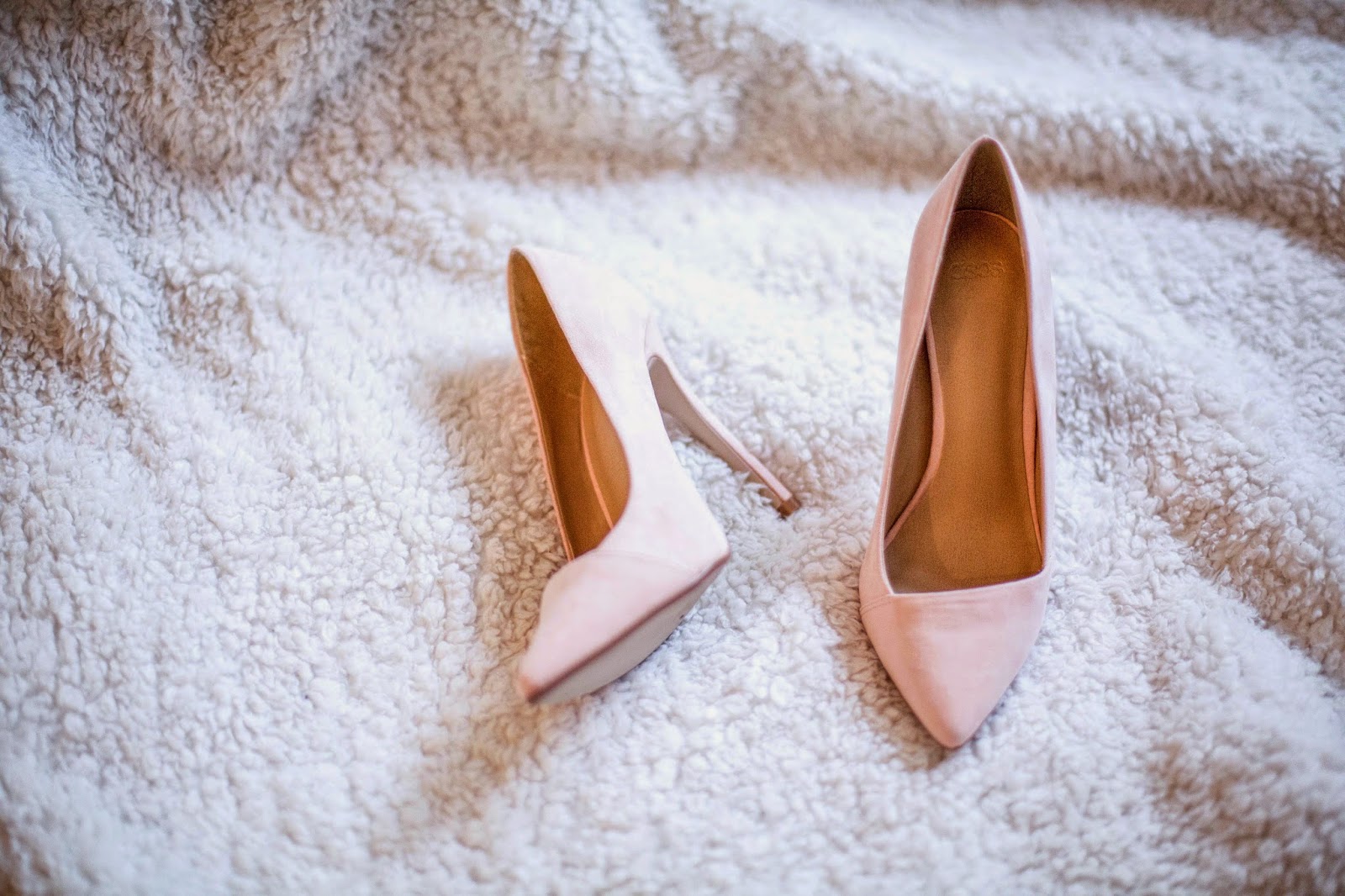 ---
. ASOS PUMPS .
---
It's almost  a bit late for an introduction seeing as i've worn these pumps a number of times on my blog already, but I wanted to share them today because they were such a bargain find and are now one of my favourite pumps.

These ASOS pumps were an impromptu purchase a month or so ago when I realised I owned no pumps & had no 'profession' suitable heels to wear for serious work meetings. It's a funny thing, having well over a hundred or so shoes in my shoe cupboard, but genuinely not being able to find a single pair to wear with a smart work outfit. I was involved in a couple of pitches at work a few months ago, very important pitches with very senior people, and so i wanted to dress the part. I had various items of Whistles & Reiss clothing that fit the bill, but my problem was that all my shoes were either slightly too worn or not suitable for the occasion. Don't get me wrong I have a TON of shoes, too many I'll even admit, but if you'll believe it, i had no pumps. And in a situation like this, a pump is just what you need.
So post my stressful 'I have no shoes' saga, I decided it was about time I bought a good pair of pumps. I spied some gorgeous
Gianvito Rossi pumps
 & toyed with a classic pair of
Jimmy Choo's
, but with the investment of my Celine playing on my mind, I decided to opt for something a little more affordable in the short term. I browsed Whilstles, Reiss, French Connection, Hobbs and whilst there were some I liked there were none that were spot on what I wanted (a pointed toe, no platform, and wearable stiletto), that's when I came across these beauties on ASOS. I was worried about the quality given they were SO cheap, but I thought there was no harm in ordering them and trying my luck. At the same time I also found these amazing
Zara heels
which I absolutely fell in love with.
I decided because of the price points, and the clear, indisputable need to have various colours of pumps, because of course there are a number of outfits were a nude pump is more suitable than a black (or Navy pump), that I would treat myself to both. And boy what a decision I made. Both pairs are perfect for my needs, pretty, pointy & a passable heel height.  I've also, since these two purchases, found some gorgeous pumps in LK Bennett, I almost bought myself a pair at Kilver Court in the sale, but resisted as fortunately i've been sent an incredible pair of their Florete Calf Leather pumps which I just can't wait to show you all too.
There's no denying that I might treat myself to Choo's Ari pump some time soon, after all we all need some Choo in our life. But in the meantime, these two high street pumps are ticking all my boxes & have been great purchases considering how many times i've worn them both already.
Are you a fan of the pump? Where do you buy yours?