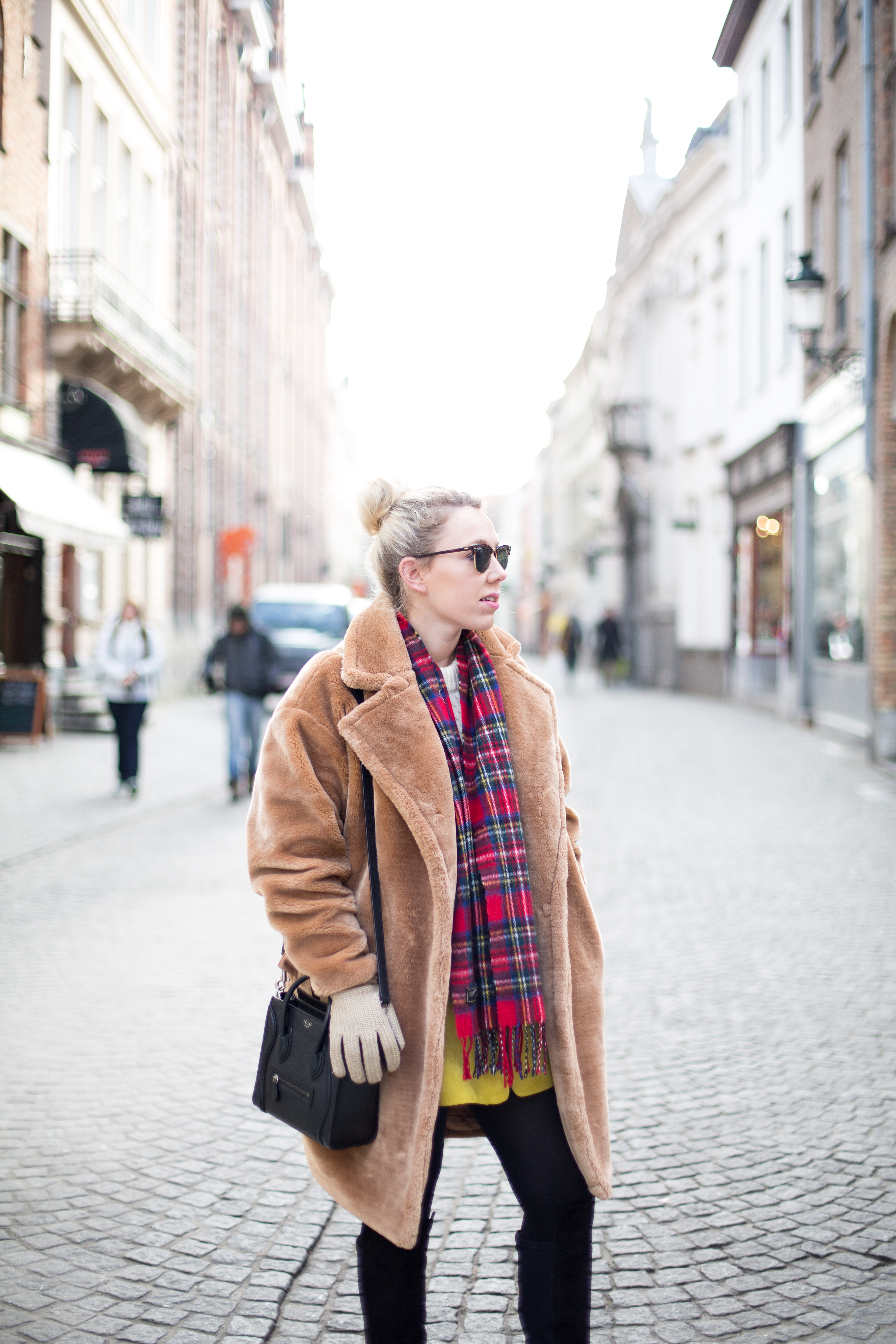 ---
. ASOS YELLOW SUEDE A LINE MINI SKIRT .
---
Today's post is my third and final look from Bruges! I wore this outfit on our second day when we truly set out to explore the beautiful little city, I was going for comfort but also of course wanted to wear my favourite pieces – namely my ASOS suede A line mini skirt which I'm SO glad I invested in. Despite the fact it's a rather bold colour, i've actually worn this skirt absolutely loads since I bought it, and have surprisingly found the colour relatively easy to style.
---
. PAISIE TEDDY COAT (SIMILAR HERE) . ASOS SUEDE A LINE MINI SKIRT . RAG & BONE VALENE JUMPER . DUNE TRUDY SUEDE KNEE HIGH BOOTS (SIMILAR HERE & HERE) .
---
The trip certainly feels like a long time ago now, but it's quite refreshing to share some outfit posts in a slightly different location to my usual UK spots. The streets of Bruges made for the most beautiful settings, if only cobbled streets and winding canals were on my doorstep everyday! I took quite a few pics of the sites in Bruges whilst I was away, so was thinking of sharing a little photo diary next week too if you're keen?
On a slightly different note, I really hope that you're all enjoying the new blog, I think we're finally nearly there in terms of making the little tweaks and improvements! I know load times are a little slow, but please bear with me, i'll start to reduce my image sizes a little to help this!  I'm super gutted my bloglovin didn't work for most this week, but it's back up and running now so make sure you subscribe to get my daily posts & check out my relaunch post for all the details on my design upgrade : ) I'm going to be sharing a little post this weekend with tips based on my experience too!
I'd love to know what you think of the new blog & of course this little look from bruges?