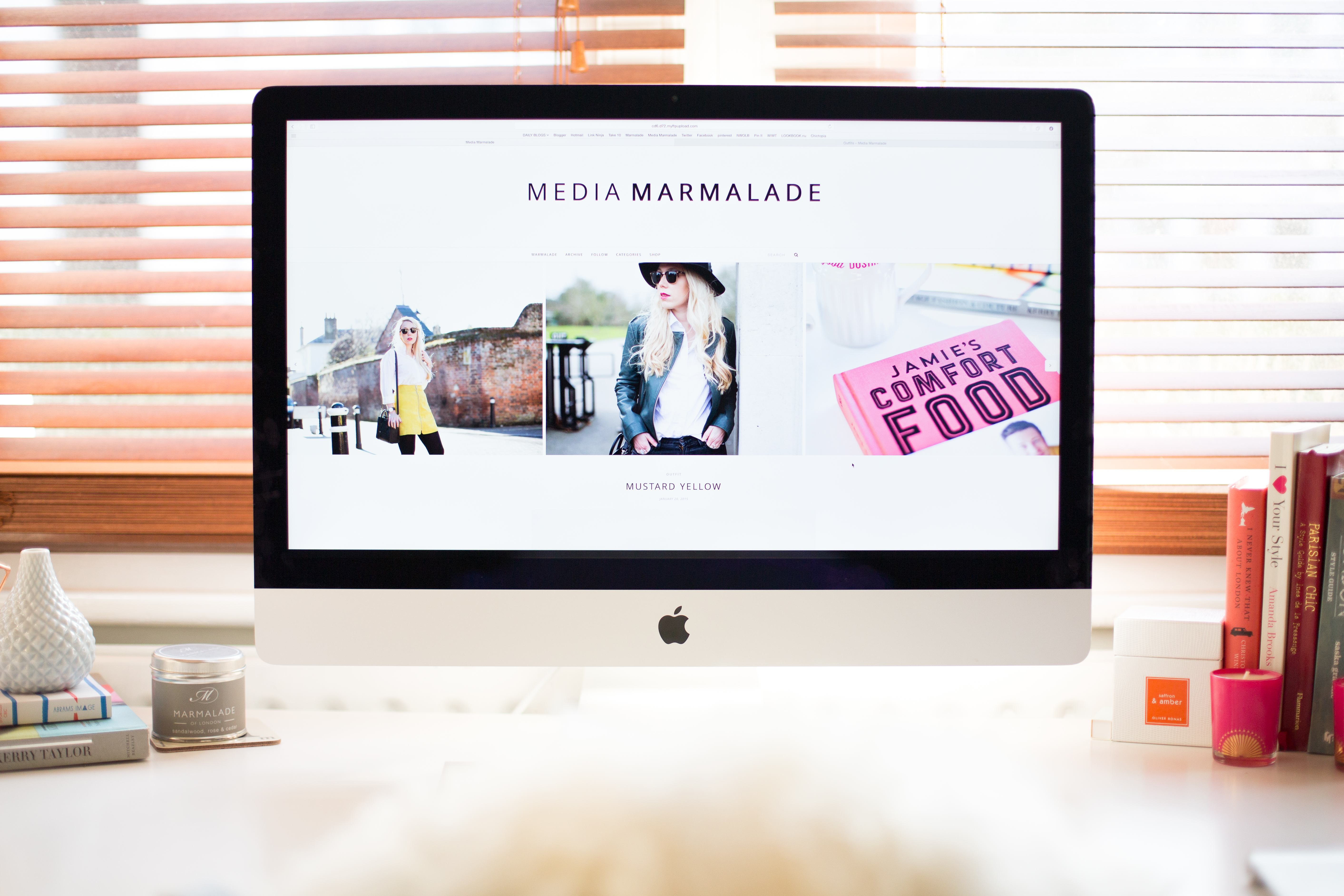 ---
. LAUNCHING THE NEW MEDIAMARMALADE .
---
Well I can't quite believe it, but the day is finally here that the new mediamarmalade.com is officially launching. I've debating a full upgrade of my blog for a very long time, but satisfied my plans with small tweaks here or there over the last year or so. But after truly deciding that blogger wasn't quite up for the job anymore (there's only so much image distortion i can take) I thought it was about time I transferred my little blog onto it's own host, and gave it the overhaul i'd been dreaming of!
I've really wanted to increase the focus on my images & most importantly make my site easy to use and navigate, and my beloved blogger site was a fabulous little blog, but as my ambition grows so did my ideas for my blog design, and there was only so much I could do without having my blog be transformed into more of a website!
So i've finally done it. Mind you, it's been a stressful and nerve wracking process, deciding to effectively start again on a new host (all my millions of view tracked on blogger lost, all my stats and data and of course my subscribers no longer visible – albeit i've been assured the 3k of you subscribed via google friend connect should still receive my daily posts in your blog feed), not to mention completely getting used to a new blogging dashboard too! But when I weighed up the options, I decided the design, navigation & imagery were all the more important as afterall, that's what you guys experience, and I hope that this serious upgrade will make your time on mediamarmalade even more enjoyable & easy to use! My precious stats & followers are just something I will have to get over!
This design & the little upgrades that have been made have been elements i've wanted to bring to my blog for a long time, and things I hope you'll agree are pretty cool! First up, a truly functional and pretty archive. After blogging every day for over 3 years, I thought it was about time I made my archive a little more friendly to use, and the same goes for my category pages, i've written about a fair amount of topics & have quite a large archive of posts which I wanted to make easily findable for you! Plus of course create a dedicated space for all my 'tips' posts which have become a key feature on my blog since I started them in late 2014 … especially as I'll be looking to expand this part of my blog in 2015 too! I'm hoping my new host means my images will look even better and the true quality and resolution of the images noticeable! The scrolling latest post features is a little more swish & will allow you to easily look back over the last 2 weeks worth of content! There are no doubt a few more tweaks & surprises you can find as you go and explore!
So what better time than to say thank you, if it wasn't for all you lovely people who come and read my blog on a daily basis, comment on my posts, share with your friends and continue to support mediamarmalade then I would definitely not be in the position I am now! It's your continued support and visits which really spurred me on to make something more out of my site, and my continued drive to bring you daily content which made the decision to make the big move more worth it! I hope that you'll continue to visit and read my features, and i hope that my little blog will grow more in the future!
I've been assured that all those who already subscribe should still receive my daily content, but to be certain you don't miss out or somehow lose my daily updates, then below is a little list of all the platforms you can now follow me on (and for those who subscribe via GFC you may just need to pop my URL into the 'add' bit on your blogger blog feed section to ensure you still get my daily posts)!
Bloglovin – I for one am a huge user of Bloglovin and follow all my favourite blogs on there. It's great for bringing you the latest posts from your favourite blogs but also great in finding new ones too! If you haven't already done so, then you can follow my blog here & also ME here (if you follow me, you'll also get to see the posts I like and follow).
Facebook – My facebook page is only a new platform for mediamarmalade, but is one that I update regularly each day, with links and images of my latest posts, to instagram snaps & a curration of all my favourite inspirations too! I follow a lot of my favourite bloggers on facebook as I love to get bitesize bits of content throughout the day! You can join me on Facebook here!
Instagram – Instagram has seriously grown in the last few years, and so in turn has my use of it. I love to update my instagram throughout the day with pictures of my day, inspirations, pretty things I see on my travels & of course outfits. You'll find a whole collection of inspirational images onmy instagram every day, so follow here to add me to your feed!
Pinterest – Serial Pinner. tick. What more is there to say, I pin all my inspirations on my pinterest boards, from food & style, to home decor and inspirational quotes. It's all there. You can find me on Pinterest here!
Twitter – Last but not least, and my original social channel of choice, twitter! i'm on twitter constantly and it's one of my favourite places to engage with you guys and my favourite tweeters and bloggers. I share snippets from my daily life, blog updates, life updates, rants, inspirational quotes, and just random thoughts too! You can find & have a chat with me on twitter here!
I don't think i've missed anything!
I really appreciate all your support, and now more than ever, every new subscriber, every comment and every like makes my day and genuinely means more than you probably realise! Here's to the future of mediamarmalade, I hope you enjoy the new site : )