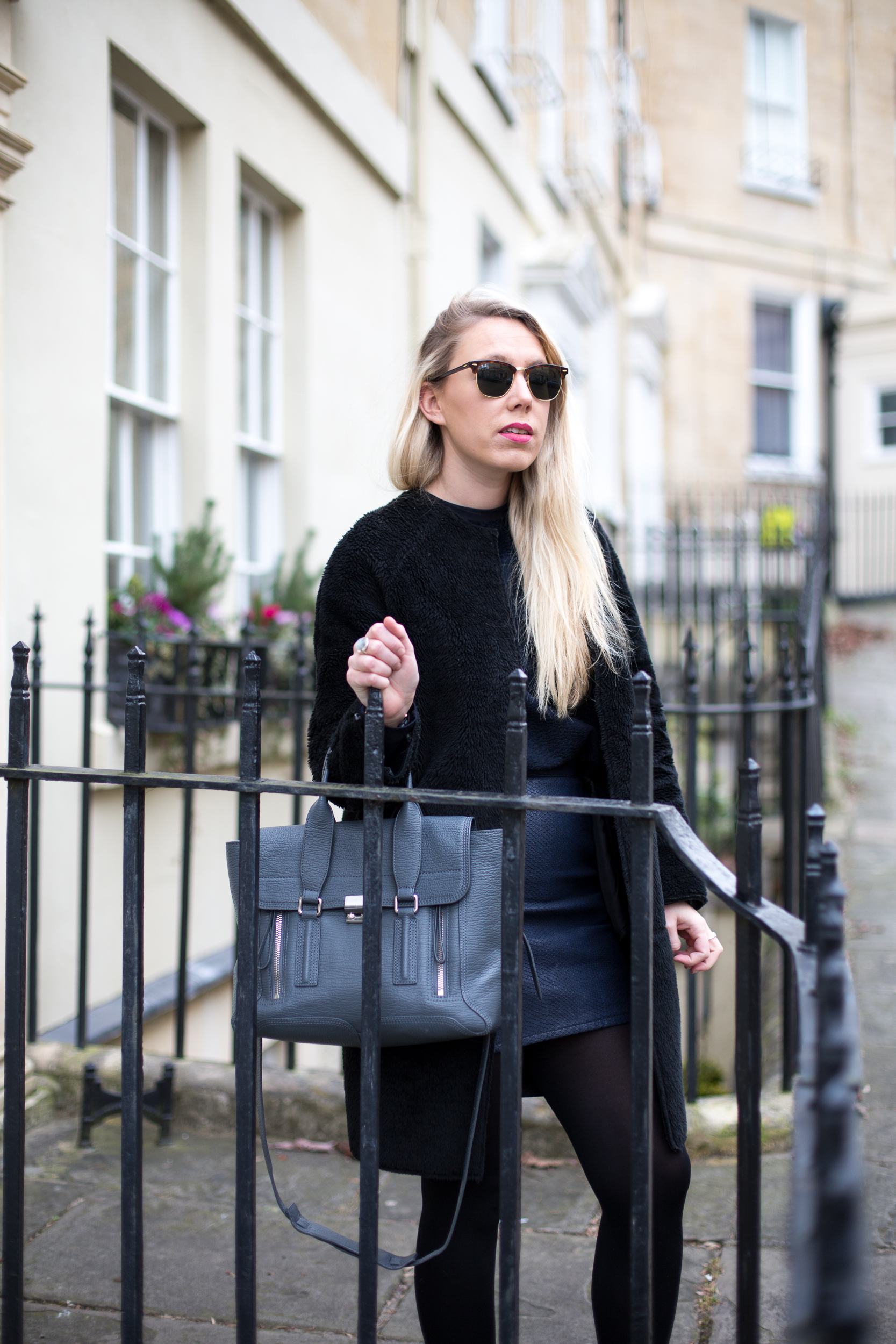 ---
. BACK TO WINTER BLACKS .
---
So maybe I embraced Spring a little too soon! Yesterdays snow has got me back in black (well Black & dark Navy at least). It seems to be my winter colour of choice this year, looking back over my outfit posts from the last couple months, monochrome ensembles have definitely infiltrated my wardrobe! I've never really been a monochrome dresser, but i've actually started to fall in love with the simplicity & elegance that an all black look can bring!
---
. TOPSHOP SHEARLING COAT . WHISTLES LOAFERS (SIMILAR) . TOPSHOP LEATHER SKIRT (SIMILAR). COS SWEATER . PHILLIP LIM PASHLI .
---
Whilst i'm coining this an all black ensemble, it's actually not really as both the skirt and sweater, as well as Sir Phillip are actually a dark storm / navy blue! But it gives the same affect don't you think?
Since purchasing my new whistles loafers i've been desperately trying to wear them in so they're a little less painful to wear out, and i'm finally getting there (i've been standing on the heel to loosen the leather)! Whilst I love a loafer and skinny jean combo, I actually also love these patent and pony shoes styled with a simple skirt & sweater combo too! This sort of look is very much a day to day uniform for me, it's the kind of ensemble I sport for work or weekend!
I hope you're all enjoying my blog & finding it easy to use and keep up with my daily posts : ) The amends are very nearly finished now, so hopefully things should be working well, and load times a little quicker (i've had to reduce the quality of my images to help speed)! If you haven't already, then make sure you subscribe via bloglovin, Facebook to keep up with my daily posts,  If you use GFC you can still receive my posts into your feed, you just might need to re-add my URL in the 'add' blog section to re-sync things, you can also find me on twitter, instagram and pinterest if you fancy saying hi!
Are you dressing for winter still or getting ready for a spring wardrobe?