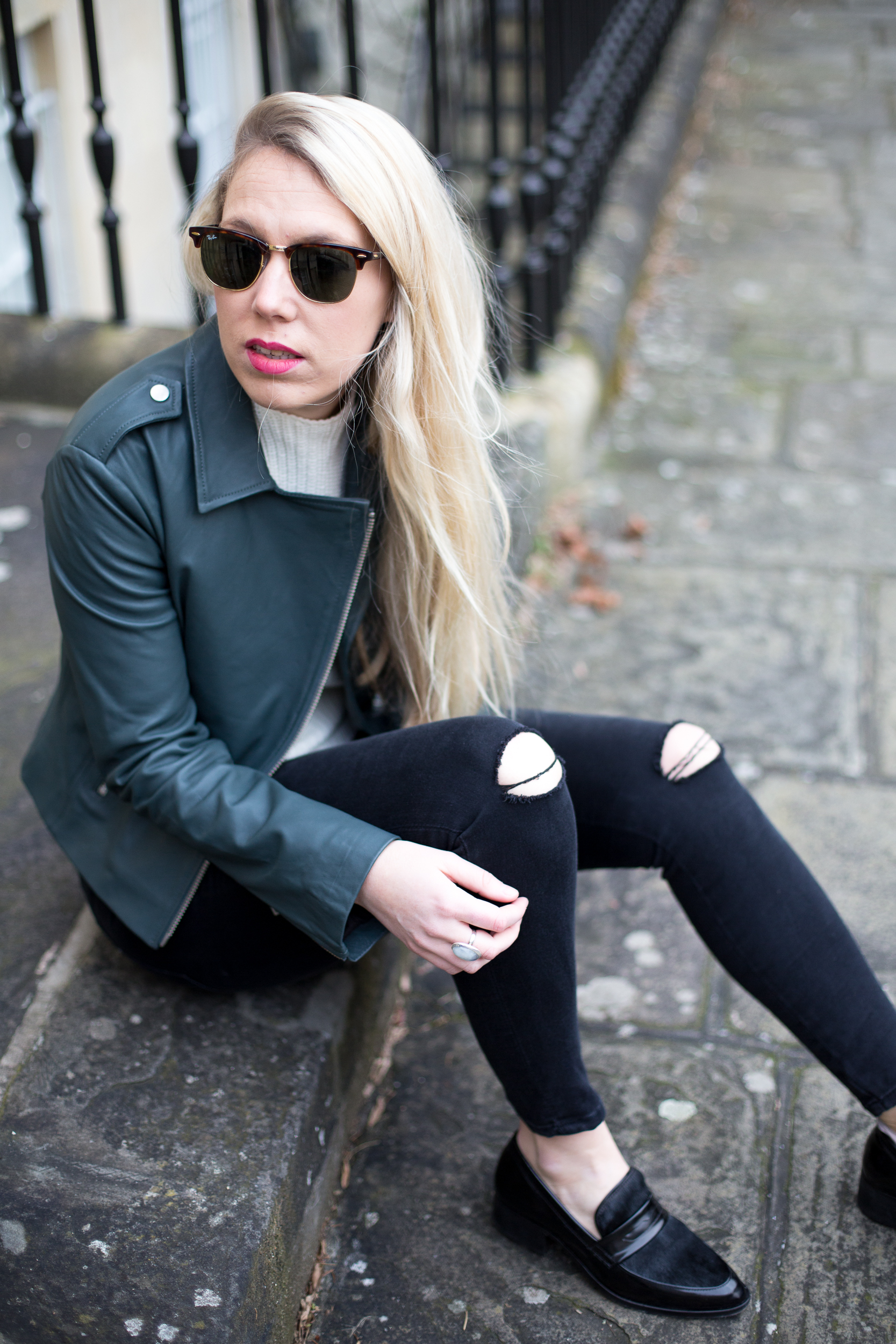 ---
. REISS LEATHER JACKET & WHISTLES PONY LOAFERS .
---
One of the best things about having a sister is most definitely being able to share clothes, my sisters and I are actually quite good at sharing our wardrobe, me passing on my unworn clothes in an attempt to keep my wardrobe semi manageable & my sisters lending me their new pieces when i'm back home! The look featured in Monday's post (here -another outfit from last weekend when I visited her in Bath) wasn't the only occasion in which I borrowed my sisters clobber, I also borrowed a few bits for this look too!
---
. REISS LEATHER JACKET . ZARA KNIT TOP (SIMILAR) & ZARA KIDS SKINNIES (SIMILAR HIGH END / SIMILAR HIGH STREET. WHISTLES PONY LOAFERS (SIMILAR HIGH END / SIMILAR HIGH STREET) .
---
This leather jacket was something I wanted for such a long time (well I want everything that Reiss has to offer, so that's not groundbreaking news) and was so chuffed to have got it under the tree this Christmas from Jase. The only slight issue i've faced since getting it is being able to wear it in this goddamned freezing weather! When I visited my sister last weekend she urged me to give it a wear (plying me with furry gloves to keep me warm) and actually pulled together this look to boot … the jeans are an absolute bargain she picked up from Zara kids (age 11 would you believe) and the knit is something she bought but had never worn (who knows why, I love it)! I tee'd off the look with my Whistles pony hair loafers, which despite initially being so painful I could barely put my foot in them, are not finally more wearable (at least for a few hours at a time)!
Whilst the combination is super simple, I really liked them all thrown together, the knit and leather combo worked perfectly and there's nothing like a bit of pony hair & patent leather to through a few more textures into the mix! I can't wait for the weather to pick up a bit so this can become a more staple wardrobe look … and i think I might need to permanently steal this knitted vest from my sister too!
Do you have any siblings who you share clothes with? What do you think of this look?