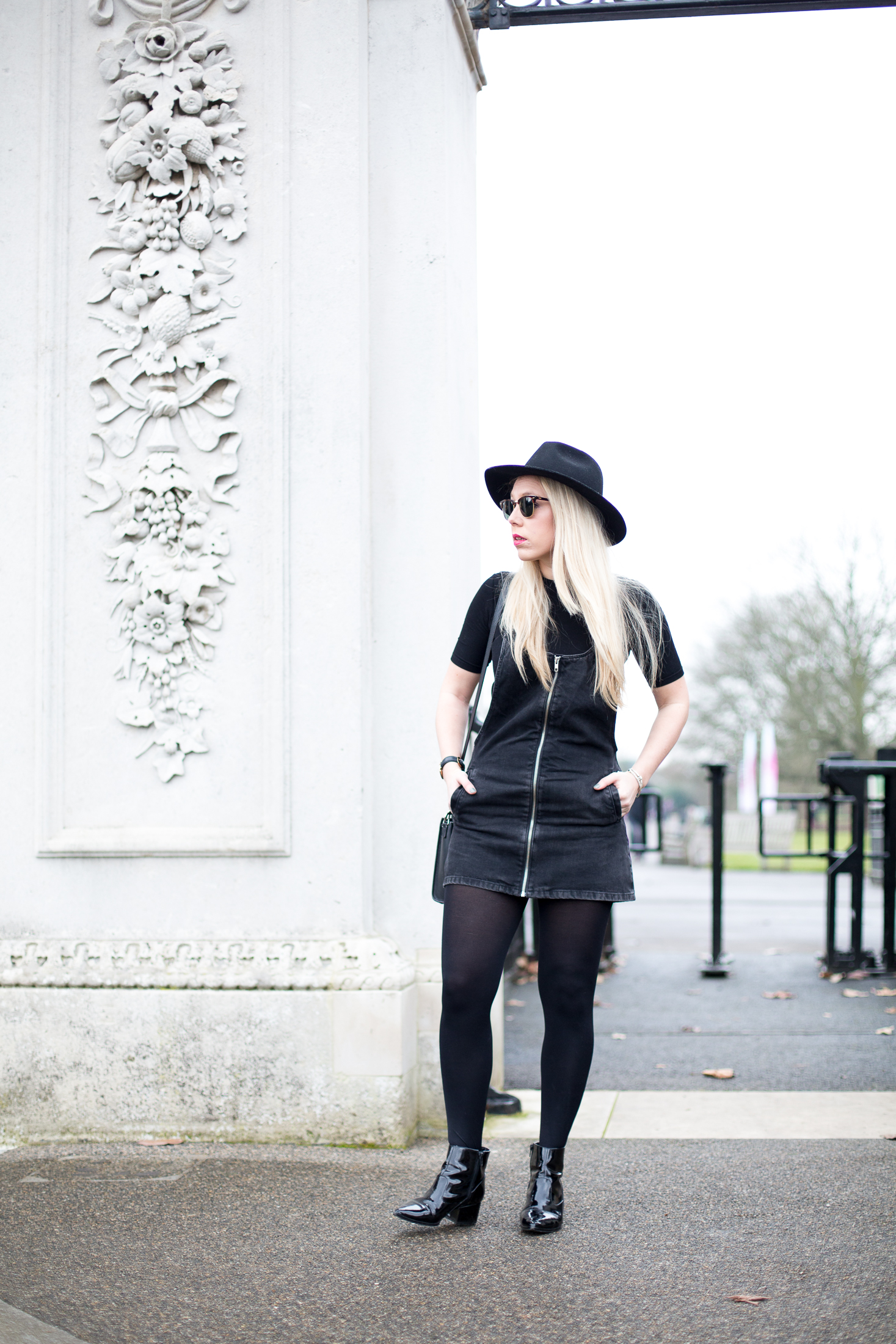 ---
. DENIM DUNGAREES .
---
Whilst my style is relatively consistent, I do have moments where I dream of being slightly more effortless, in a bohemian kind of way, and that's when dungarees and billowy dresses start to infiltrate my wardrobe. It's a style I truly adore, but one that I've never quite aced properly (largely talking dungarees here), but is something I seem to persist on trying as and when I come across another denim gem. AC x AG has only made this issue worse, naturally I want everything in the collection not least because Alexa herself obviously makes everything look so damned cool, and effortless. The point here is, despite many previous (failed) attempts at sporting the look, I've bought myself another pair of dungarees …
---
. ZARA DUNGAREE DRESS £29.99 . ASOS FEDORA . ALDO ALEWEIL . CELINE NANO .

---
The spring summer collections are really starting to tease me now and I've already made a couple of orders from Zara and Whistles, this little dungaree number snuck it's way into my Zara basket a week or so ago, it just looked so cool on the website (styled with a big knit jumper which i also must try) and I really wanted it. It reminds me of Sienna Miller in real life and The Factory Girl when she played Edie Sedgwick (legend, a concerning inspiration of mine). I'm not sure why as she doesn't actually where dungarees in the film, but it's kind of that low key, boho, festival kind of vibe that looks undoubtedly effortless and chic all in one.
Anyway, I fast realised that's not quite how it works, you don't just put an item on and look like your favourite icon (a gutting realisation which I keep facing over and over again), but nonetheless at £29.99 it was a fine experiment. Whilst I absolutely do not look effortless in the ensemble (woe me) it was super comfy, majorly relaxed and just made me feel a little young and free. In hindsight the all black dressed things up too much, next time I'll be swapping in a big cream knit jumper, my whistles loafers and a ballerina bun. Take things down a notch.
Are you a denim dungaree lover and an AC x AG luster?