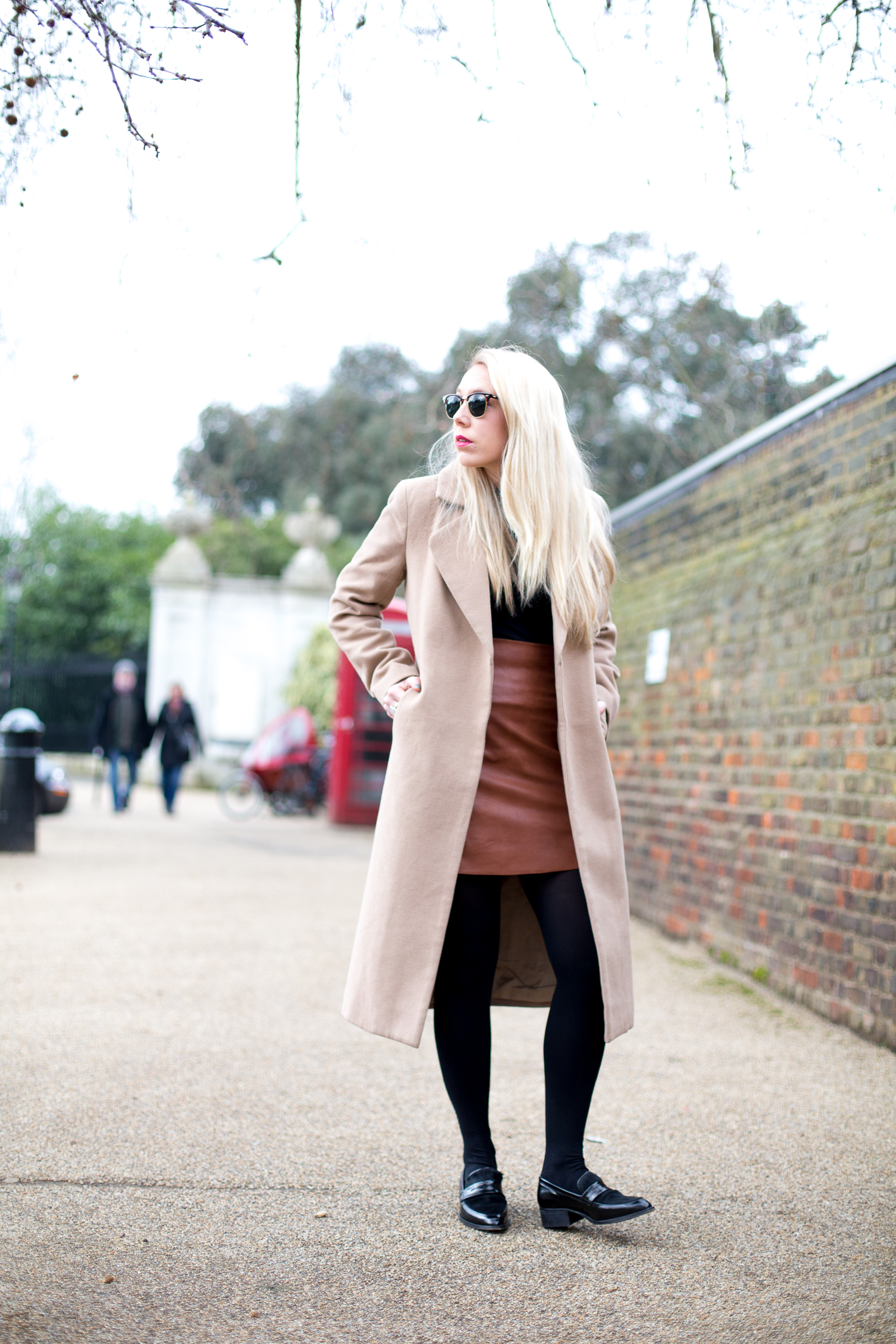 ---
 . THE LEATHER SKIRT .
---
Despite the fact that in yesterday's post i shared my quest for pulling off dungarees, generally speaking I've started to realise I'm actually a little creature of habit when it comes to clothes and shopping. This is evident when you consider the amount of the same thing I own, I can't really believe I'm admitting it as I've always profusely argued the contrary, but it is true, 5 white shirts (all different cuts mind), a pair of cigarette trousers in every colour and not to mention my museum of leather skirts.
---
. ZARA LEATHER SKIRT . TOPSHOP BLACK TEE . MISSGUIDED DUSTER COAT . WHISTLES LOAFERS .

---
I've grown to really love skirts over the last couple of years, I find them a great cut for me and really easy to style for whatever occasion, and that is most likely the reason why I now have  rather a lot of them. Largely all different cuts (A line, pencil, mini, midi etc) but it's only fair to admit I have a few 'similar' styles, particularly when it comes to leather. I have a lot. But that seemingly didn't stop me buying another one in my recent Zara haul. Actually inspired by Danielle from WeWoreWhat who was sporting the number in one of her style posts, I decided that a natural tan would be the perfect next addition to my collection. And voila … Without much hesitation or regret my leather skirt numbers have grown.
This skirt is an extremely simple, understated style. A very natural leather (real) and very thin and easy fitting. I teamed it with my grey tee and a big duster coat for a more laid back day in the office. My whistles pony loafers completing the dressed down styling. If I ever give in and buy myself a pair of Stuart Weizmann knee high boots, it'd look magical with this little leather number.
Are you needing to attend SA (shoppers anonymous) to declare any leather skirt addictions too?