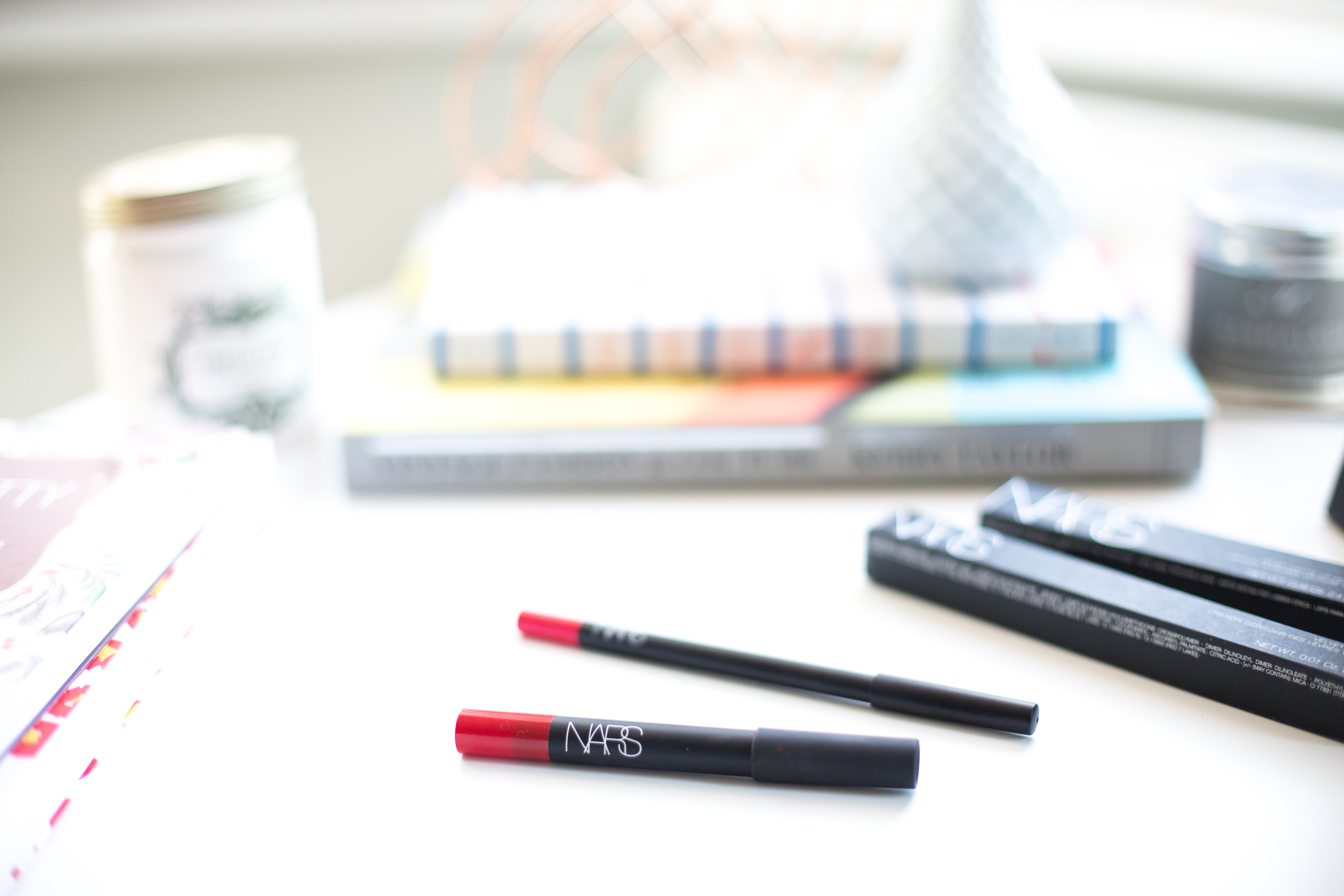 ---
. NARS LIP LINER & LIP PENCIL .
---
Beauty queen I am not, but despite this, I still have a serious penchant for a red lip, you might have noticed? Whilst i'm not a heavy lipstick wearer on a day to day basis, it's my ultimate go to when i'm looking to upgrade my look from day to night, or give my style a little vavavoom for the weekends activities. The challenge that comes with being inept at makeup (it's harsh, but largely true) is that a red lip whilst looking devastatingly wonderful, does leave room for some serious faux pas too. Lipstick on teeth, tick, smudged lines, tick, general miss application, tick. The red lip is a fabulous statement beauty touch, but good god, as a novice it can be a nightmare to get right.
---
. NARS LIPLINER IN NIHIWATU £18 & NARS LIP PENCIL IN DRAGON GIRL £18 .

---
So whilst I have quite a variety of red lipsticks which I truly love (you can check them out here), my Chanel, Dior & MAC ones being my favourites, I still always had the issue of not being able to colour in the lines properly, and looking like a 5 year old girl who's stolen her mummys makeup. This issue and my decision to just learn how to do things properly resulted in my quest to find a perfect pillar box red lip liner which I could use to help the smudging and serious messy application which usually entails. I'd read a few articles about Nars lip collection, and a couple of weekends ago post a tasty little brunch at Ottolenghi's in Highbury I decided to pop into Space NK and pick myself a lipliner (largely spurred on by prosecco). I originally planned on just picking up the liner, but then I came across the NARS lip pencil, a lipstick but pencil form and after testing it out in store realised this was everything I wanted, and needed, in a lipstick. Easy to apply, totally matte in application, non smudge, and almost designed for a novice like me.
Needless to say, since I treated myself to these two products a few weeks back, i've been wearing them non stop. If you've been reading my style posts, then you'll notice the punchy rouge lip in the last 3 weeks looks, this is a result of both of these lip products.
I'm not sure what I love most about the two pencils, the fool proof application, the matte texture (which I much prefer, and in fact also have been smudging on my lips for a more subtle day time look each morning, or of course the perfect rouge colour. I think it's all three combined, but one things for sure, i've finally learnt (or at least look like i have) how to apply lipstick.
Have you tried NARs lip pencil or liner? What products do you use to get the perfect lip?