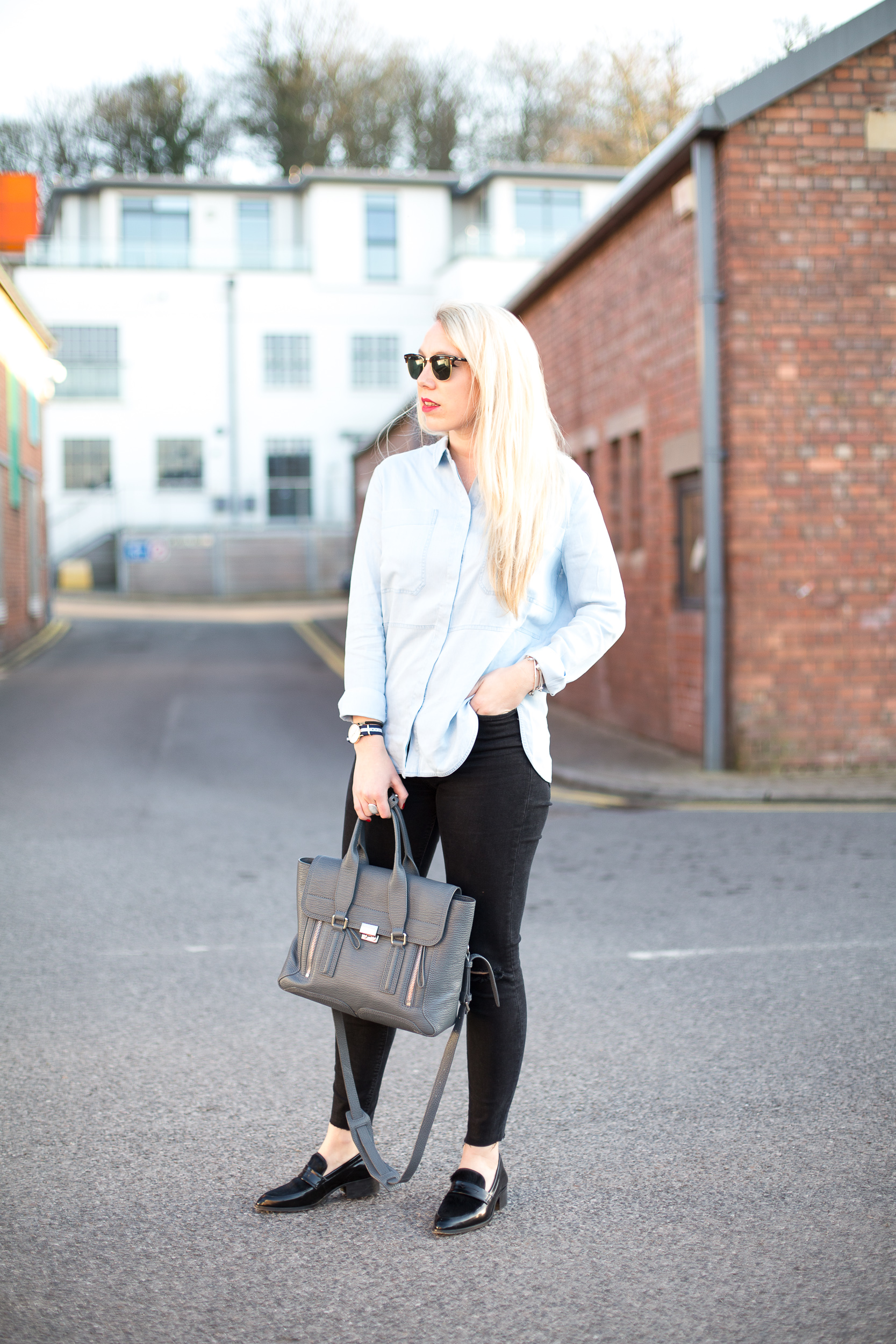 ---
. WHISTLES TENCIL SHIRT .
---
It's fair to admit that I have become a bit of a broken record on my old www … I appreciate that on an almost weekly, well daily, basis I talk about my frivolity and constant battle with losing control & spending far too much on clothes. But whilst I know I say it a lot, i've reviewed the situation and I can confirm that these claims are all true … it would appear that I really do have a shopping problem (and a serious lack of control). But it's not all bad news. The benefit of having a shopping addiction is that I have lots of fab new clothes to wear and share with you all on here. The ends justify the means …
---
. WHISTLES TENCIL SHIRT . ZARA RIPPED JEANS (SIMILAR) . WHISTLES PONY LOAFERS . PHILLIP LIM PASHLI .

---
Well as I mentioned last week, my lack of control came to rather a height last week when I realised that in a single week I ordered 12 new garments … (jesus)! The problem is after a rather stressful month or so, it felt only appropriate I buy every single thing I wanted. Whilst my bank balance is weeping, my wardrobe is cheering because I must say, i've treated myself to some rather fabulous SS15 items. Two such items featured in todays outfit post – the Whistles tencil shirt and my Zara ripped knee jeans.
The whistles shirt has become my absolute favourite shirt now, so soft, perfect fitting, and the ultimate casual chic combination. At £95 it was an investment, but one I can confirm was worth it (especially seeing as Grazia offered a cheeky 25% off). The black ripped jeans were quite the impulse by, but turns out was a very good one … the best fitting jeans i've ever bought, the perfect ripped knee, and a super comfy denim with plenty of elasticity for dancing and lunging if this takes your fancy.
So whilst the down side of uncontrollable retail therapy is a rather depleted bank balance, the perks are that I have some ace new outfits to sport this Spring.
Have you been splurging on the SS15 high street collections too?