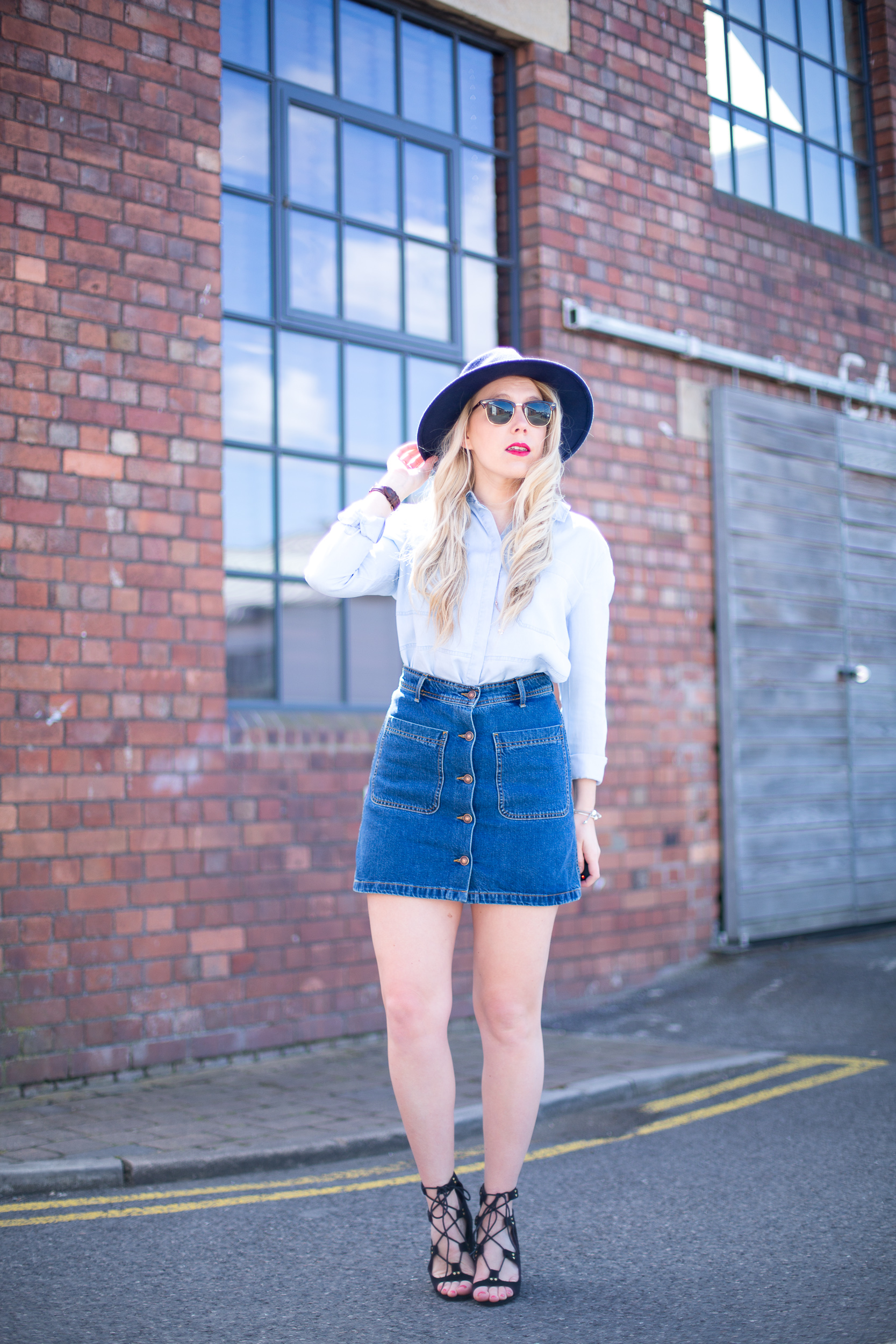 ---
. STYLE DISCOVERY: DENIM ON DENIM .
---
This post is a story of two tales, the first tale is that no matter how hard I try I simply cannot be disciplined when it comes to photo volume. I can only apologise for the sheer volume of photos you are about to see (blame the lack of condensing on the fact i'm rushing before going to norway this afternoon). The second tale is a more positive story of discovery … a style discovery of the wonders of denim on denim! I can't believe i've never doubled up my favourite trends … but today's post is most likely to be the first of many where denim on denim comes to play!
---
. ZARA DENIM SKIRT . WHISTLES SHIRT . REISS FEDORA . ZARA LACE UP SANDALS .

---
To be honest, as a personal style blogger, it's probably neglegant that i've never given denim on denim a go. I think the 90's days of Justin & Britney's denim love affair probably put me off, but the good news is that there are chic ways to pull of the combo. And this Whistles tencel shirt and Zara denim mini is the perfect solution!
I sported the look a few weekends ago for a little lunch date with Jase in Bristol, the sun was out, and so came my legs and in toe my favourite lace up sandals which just finish off pretty much all my favourite looks perfectly.
Expect to see a lot more of this double denim dream …
Are you a denim on denim wearer? Have you doubled up on any other of this seasons favourites – suede on suede, fringe on fringe?
PS: I've decided to kick off a weekly newsletter for mediamarmalade, full of the weeks most popular posts, looks, tips & tricks. Be sure to subscribe here to get your weekly inspiration! The first issue will come out Sunday :)