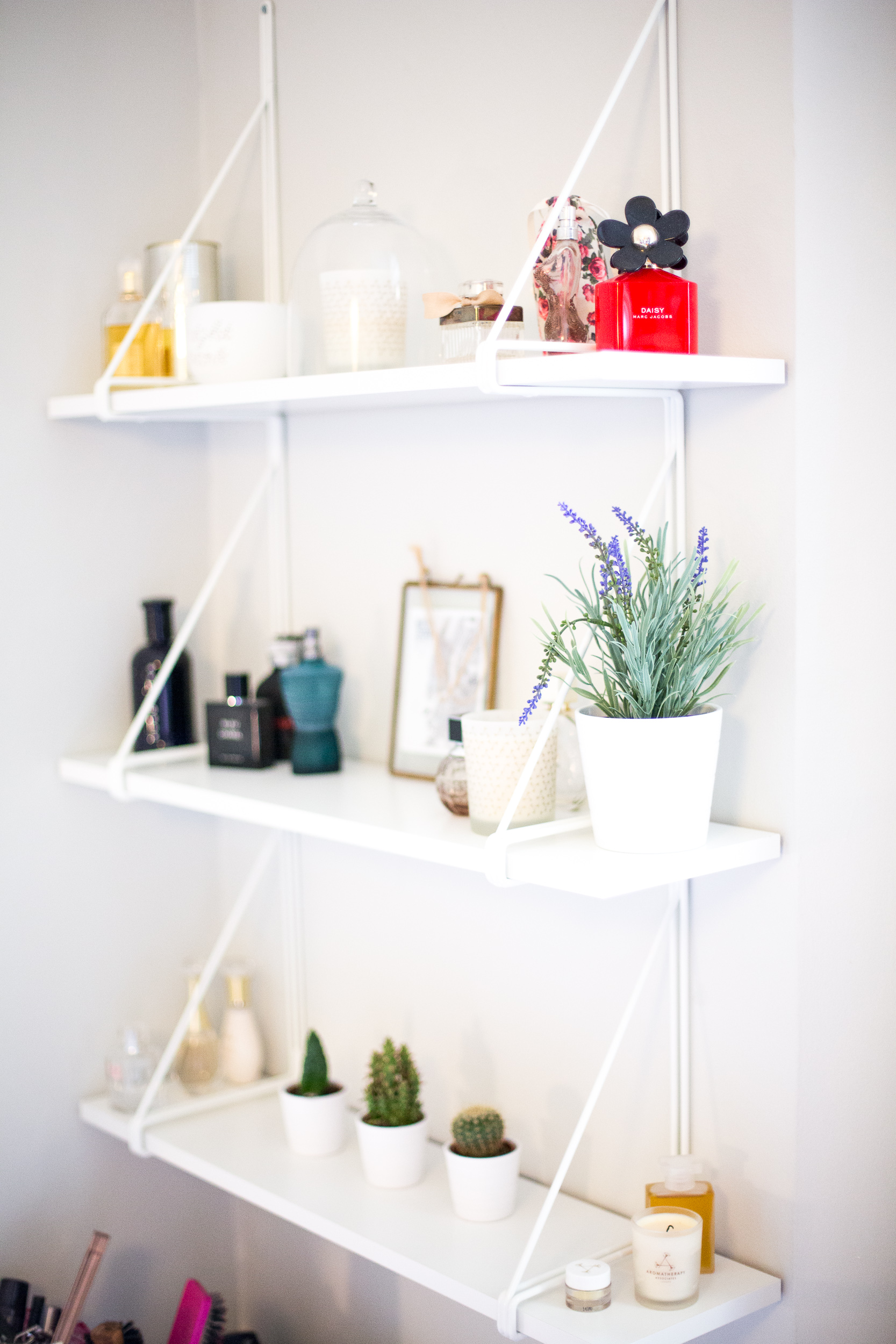 ---
. INTERIORS: STYLING MY BEDROOM SHELVES .
---
After celebrating my birthday back in April and getting spoilt with so many beautiful home decor pieces (I did a mini gift haul incase you missed it), I felt really inspired to give my abode a little spruce up. Call it a spring clean of sorts. I wanted to sort through all my stuff, clear out the bits I've just had hoarded away for months and in doing so find some new homes for my birthday treats and beautiful new home decorations.
I've been pinning my favourite home inspirations for a long time (you can get jealous here) and always find it amazing how people style up ikea basics to make the most amazing statement home styling stress. I'd been pinning so much and getting so inspired I decided to give it a go myself – clearing out a big old cabinet I had in my bedroom storing all my makeup and junk and replacing it with a matching set of cheat of drawers (doubling up as bedside tables for jase and I), a gorgeous new vintage inspired lamp, and most importantly a little statement wall decor to add a little personality to the show!
---
. HOME DECOR FAVOURITES .

---
I picked up these ikea shelves for around £45 I think, which when you consider how smart they look is quite the bargain! Rather than fill them with all my stuff I wanted to keep them as decorative and non stuffy as possible – perfumes, pictures, candles and plants only! I decorated the shelves with some of my new home decor presents, my favourite candles and some cute little cactus which I found in ikea for tuppence!
My beauty cabinet has been transformed into a super organised beauty drawer, with most my daily skincare products hidden away and neatly stored!
The shelving and drawers gave me a good excuse to have a clear out but most of all the chance to give my bedroom a little extra styling. I absolutely love the changes – as simple as they were to make they've really given our bedroom a homely feel and made it feel even more personal to us!
To finish things off I've also picked up a copper framed mirror to hang on the wall above the drawers and next to the shelving to really give the corner a little character, and provide a more handily located mirror to put my makeup on with.
I really enjoyed designing this little area of my bedroom and taking the time to work out how I wanted to style it – opposed to filling it up by accident and it having no real 'design' to it! Now I'm inspired to tackle more of my house, I'd love to create a little reading corner with a cosy armchair and cute coffee table – I just need more room!
I'd love to know what you thought of this slightly different post – are you a fan of home decor?