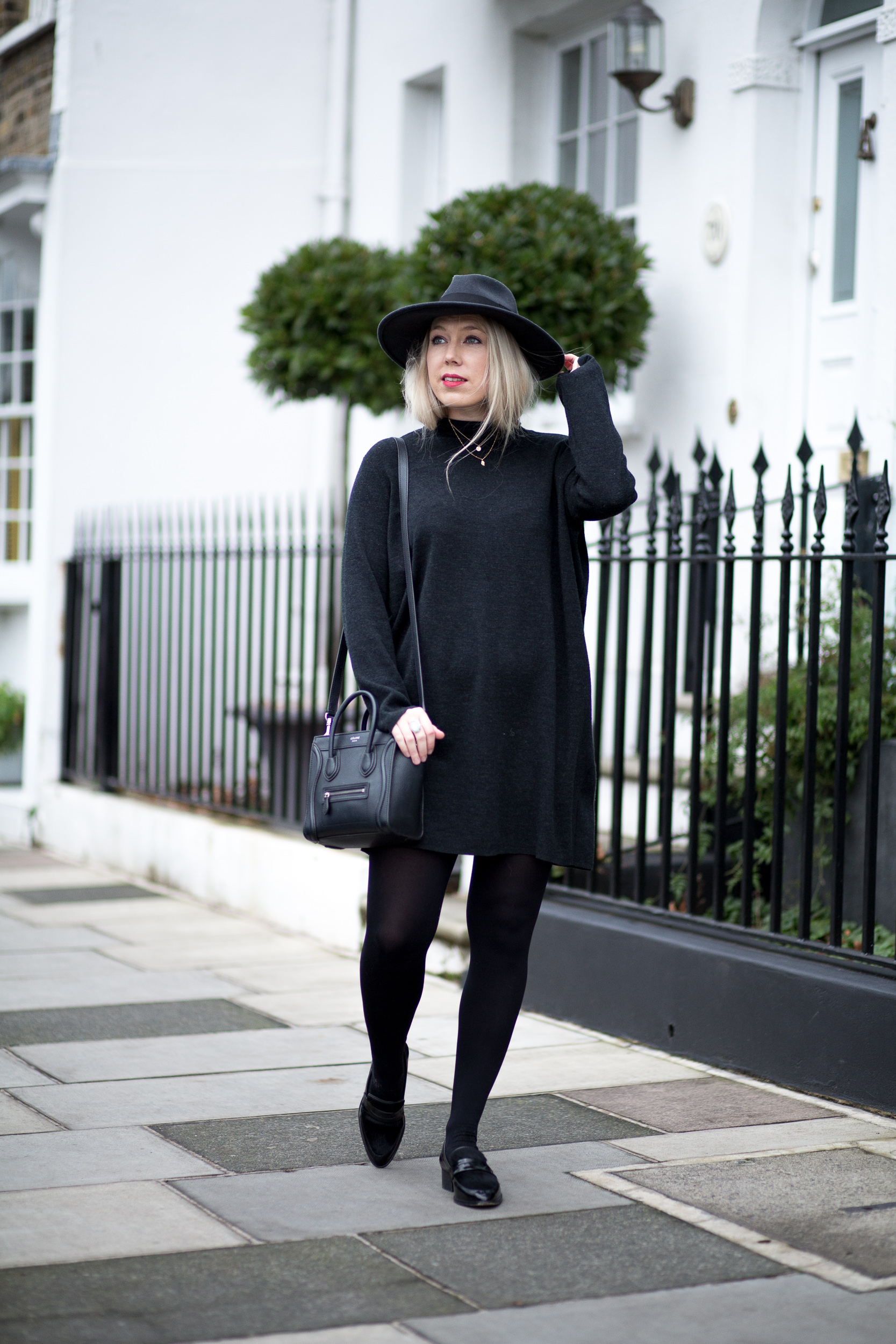 ---
. A NEW STYLE: MINIMALIST, OVERSIZED & ALL GREY .
---
This winter I've found myself drawn to charcoal grey knitwear, oversized jumper dresses & a simplicity to my style that is quite unheard of. As much as I adore & attempt a minimalistic approach to styling, in most instances I fail monumentally, its just not in my nature to pair back. However this winter seems to have triggered a huge shift in my dressing, whilst historically fitted waist lines & a line fits were a firm favourite of mine, this season I've become obsessed with no fit at all, oversized, sack like boxy fit clothing. Whether it's a few too many treats that has made me opt for this somewhat oversized way of dressing, or just a change in my taste, but either way, I'm quite enjoying it.
---
. COS GREY KNIT DRESS . WHISTLES LOAFERS . CELINE NANO . ASOS FEDORA .

---
I'm fully in the festive spirit now, after putting up my Christmas tree this weekend with Buble & fizz to set the mood, and my trip to NYC soon approaching I'm feeling all set for the Christmas break. It's one of my absolute favourite times of year, and this year more than ever I feel ready for the fun, merriment & relaxation that Christmas brings. And what better way to kick it all off with a trip to my favourite city for some serious Christmas shopping & festive fun! I've been to New York quite a few times before (if I had my way I'd move there instantly) so this trip is all about a leisurely festive break, ticking off all the new recommendations we've received from locals, and getting to know the 'locals' side of the city a little bit more.
If you have any NYC recommendations please let me know?