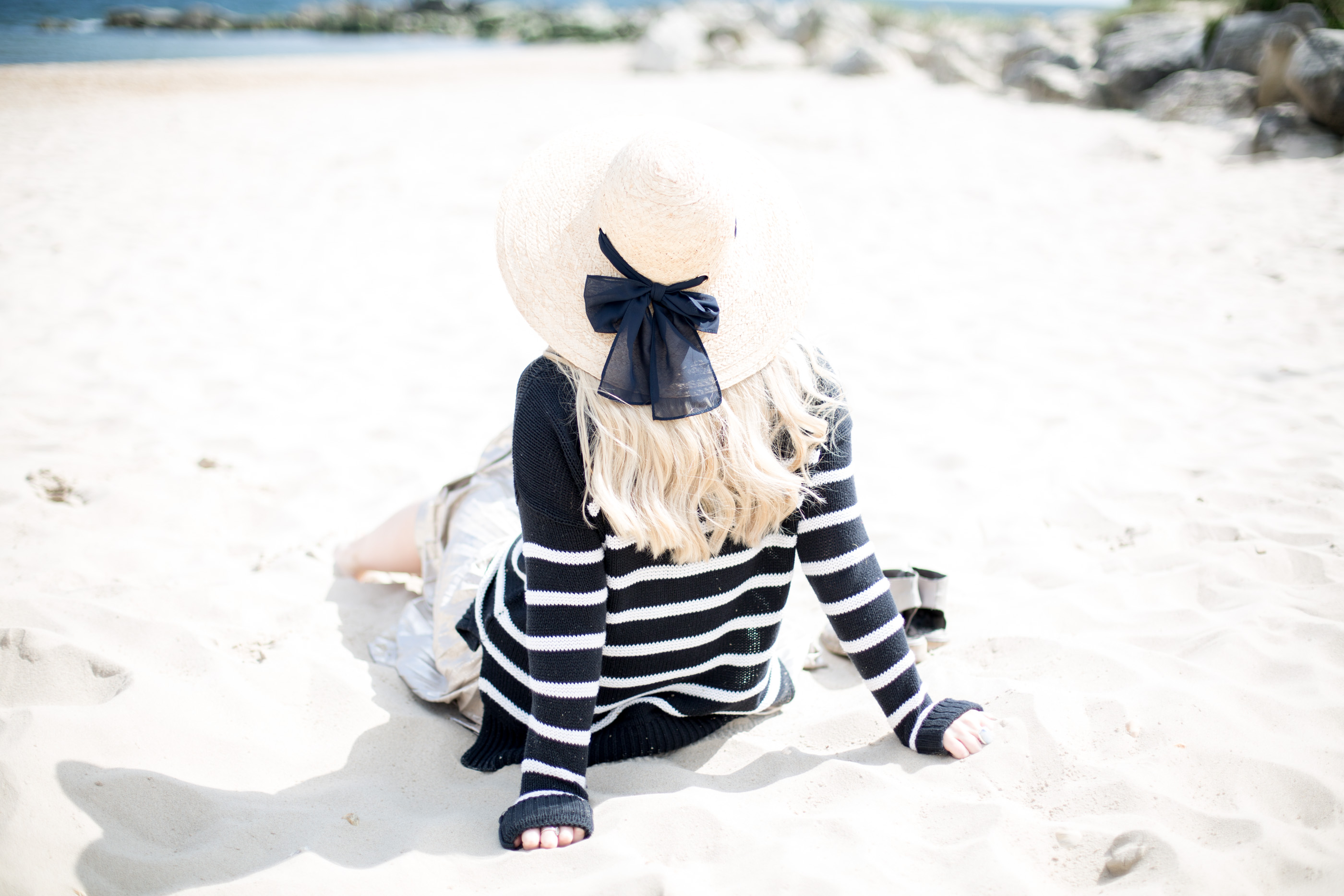 ---
Your creativity is at it's peak when you're relaxed, happy and in a good state of mind.
---
I think most people have a happy place, that place you to when you need time out, the place you go to celebrate and to commiserate, the place you go for me time, time to think, time to get clarity, time to clear your mind. A happy place can be anywhere, it can be more than one place, but what that place gives you is everything you need to get back to a mindful, healthy and happy mindset. Sometimes you only need your happy place once a year, sometimes you want to go daily because it fills you with so much inspiration. When you work in a creative industry, having a place that allows you to relax and think creatively is key, and that's what a happy place offers.
I have a few happy places, home, Val D'isere, New York City, the garden, and also the beach. Any beach, in fact. The tranquility of the sea swishing about, the relaxation the feeling of sand between my toes gives me, the breath of fresh air the salty seaside air provides and the fond memories beaches bring me, the seaside just makes me happy. I went to university on the coast, I holidayed every year on the south west coast, I take trips to the seaside as often as I can and on holiday you won't see me move from the seaside unless I'm physically dragged away. I go there to think, to have fun, to clear my mind, to fill my mind with inspiration, plans, optimism and motivation, I go to relax, I go to find my balance and I go to boost my creativity.
Having a happy place is essential, have you found yours yet? If you're looking for a little happy place inspiration then look no further, because I thought I'd share with you some of my favourite little beach spots on the south coast in case you're ever in need of a little happy place time out.
---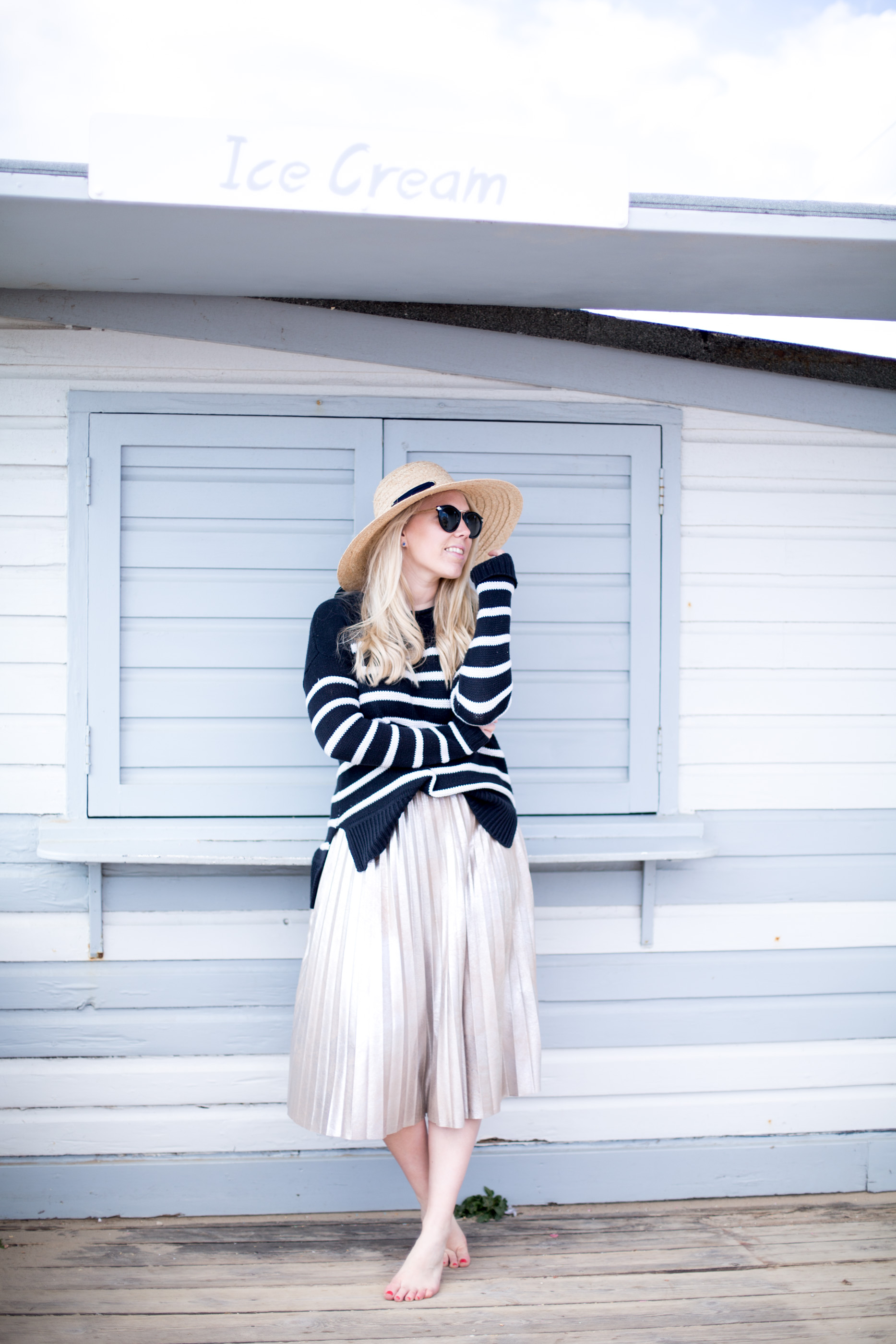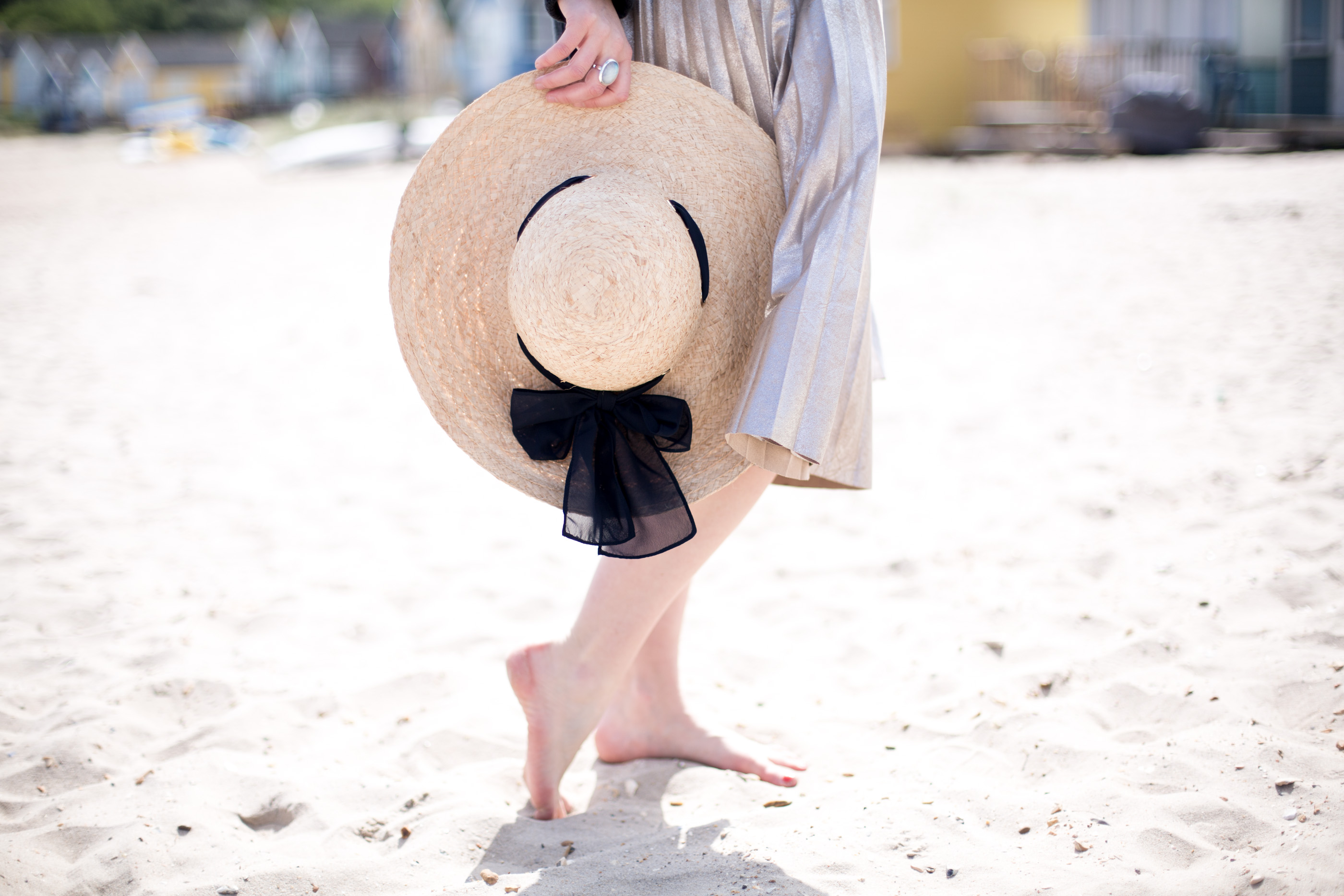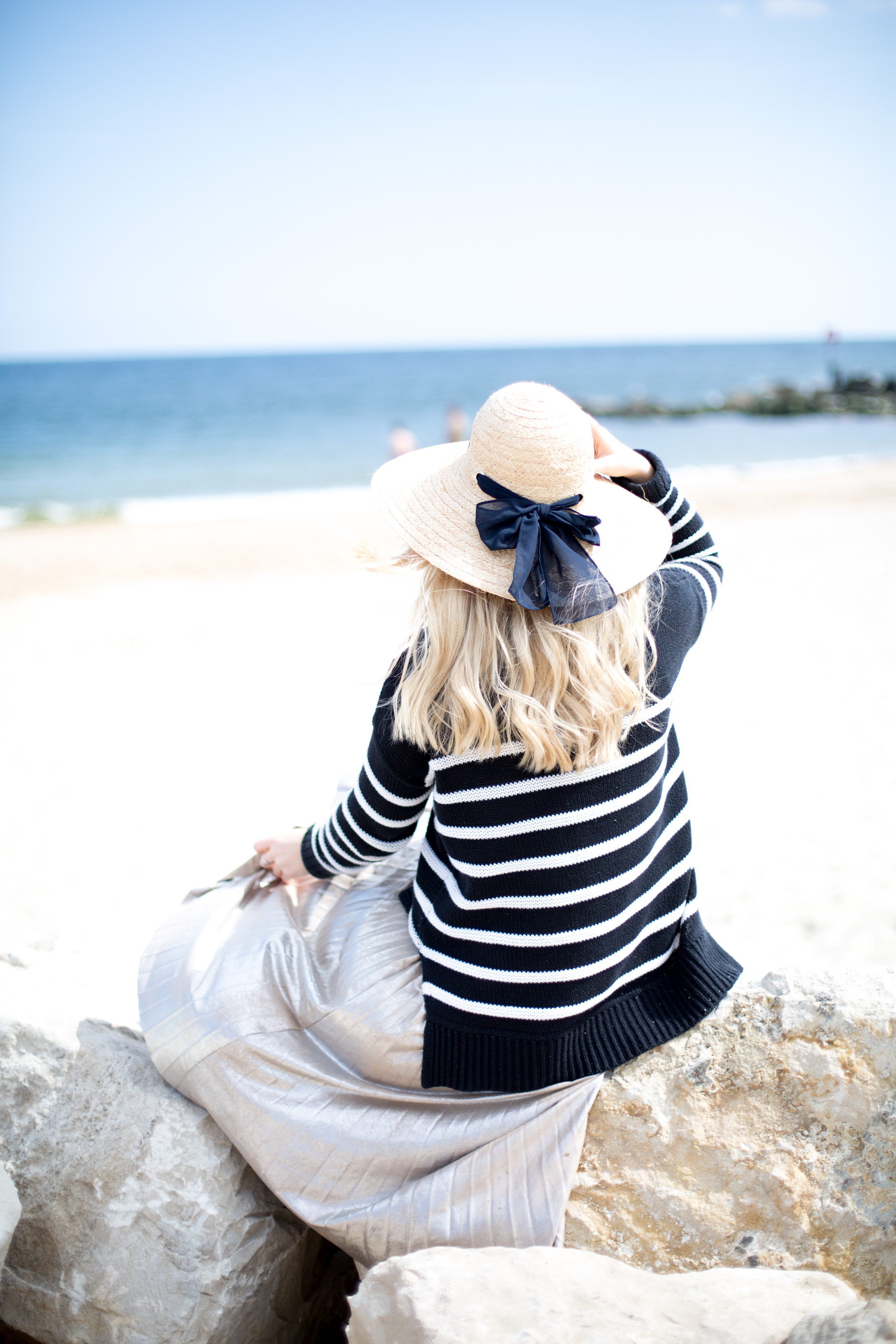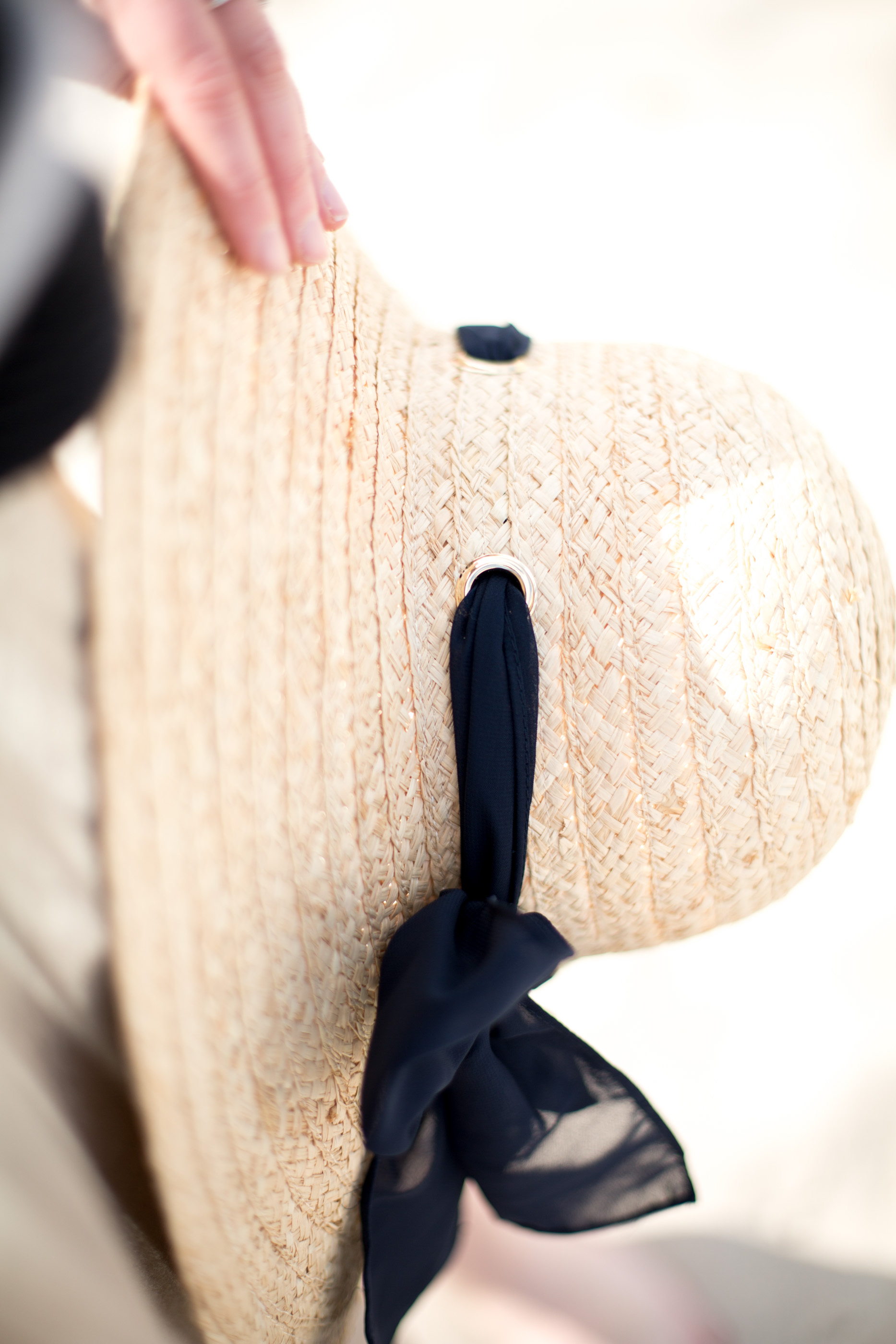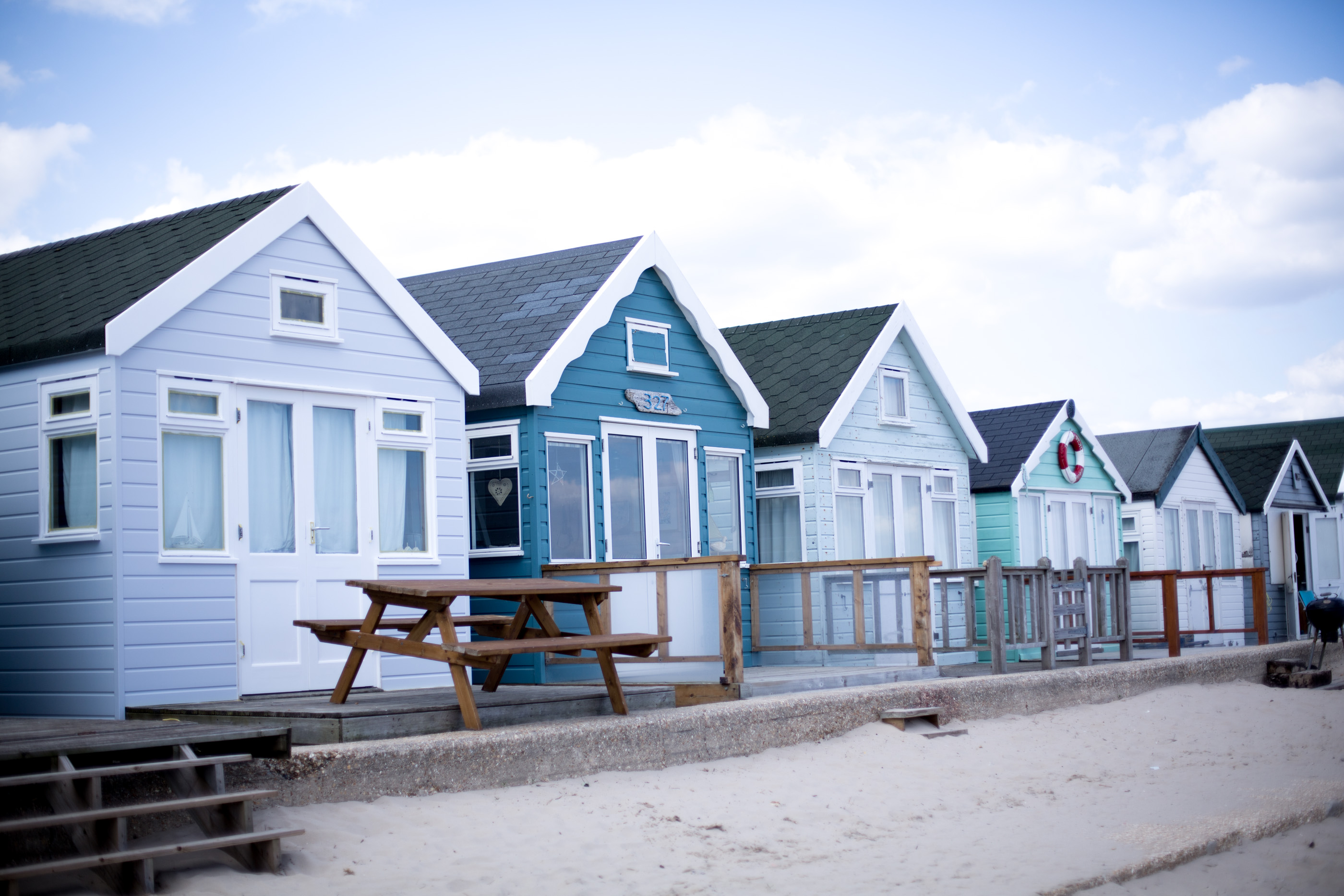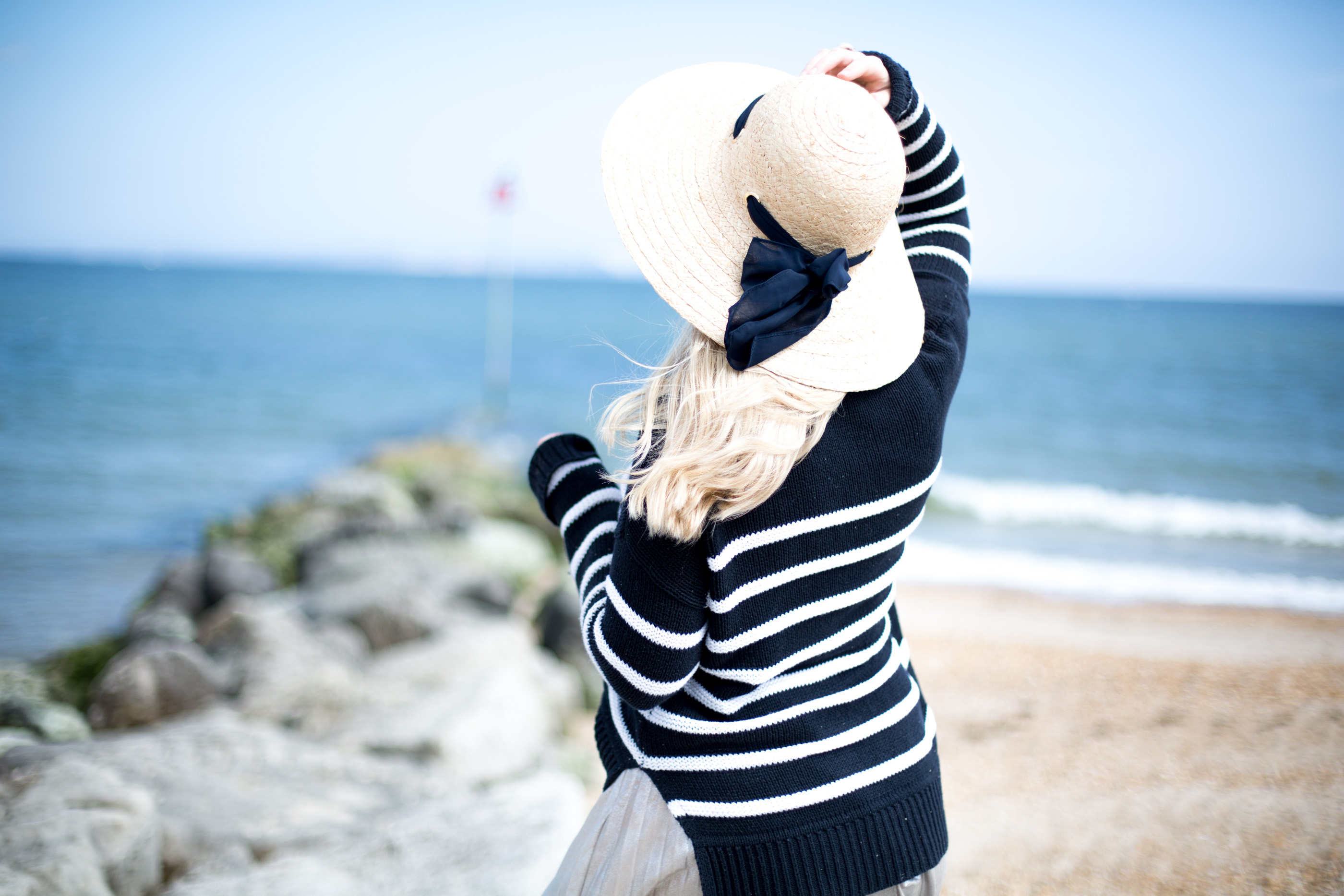 ---
HAPPY PLACE INSPIRATION; 5 BEACHES YOU SHOULD VISIT
Sandbanks
I spent three years living on the beach whilst I went to university and so it's safe to say that Bournemouth Beach is definitely a happy place, full of memories and fun times. Whilst the main beach can be a little hectic, if you pop in the car or take a long walk you'll soon find yourself in the far more tranquil and luxe part of beach, Sandbanks.
Mudeford Split
Mudeford split is probably my favourite seaside hideaway, because it truly is that, a hideaway. A little split off the main Mudeford beach, a 30 minute coast or Forrest walk (or a little train ride) followed by a long stretch of white sand and multicoloured liveable beach huts. Mudeford is one of my favourite places to spend the day, it's a complete hideaway and you can't help but feel entirely at ease when you're there. If you're really lucky, hire a beach hut and make it home for the weekend.
Hill Head
Hill head is another little beach not far from where I grew up in Winchester, and another place I love to visit when I'm home for a brisk walk and some fresh sea air, and of course to admire the beach front houses and indulge in the seriously good cake at Breezes Cafe at the end of our walks.
Lyme Regis
Lyme Regis is a relatively new discovery for me, I spent a week there last summer on a training course and fell in love with the charming British seaside vibes and the relaxing pace of life. The training course I went on was all about inspiring creativity and so it was such a treat to get a week to reflect, get inspired and focus on creativity rather than rushing through life like often happens. We spent our days in the Manor House and our evenings on the beach, so for me Lyme Regis has a special place in my heart.
Cornwall
And finally, and a little cheat because it's not one beach, but the whole coastline, has to be Cornwall. The beautiful south west coast of England and a place I spent my child hood summers visiting. Cornwall and Devon are two places that feel like the ultimate escape for me, walking the cliff tops, strolling the beautiful beaches and generally spending time outside of the big smoke is pure relaxation for me and another happy place that I love to escape to when I can.
---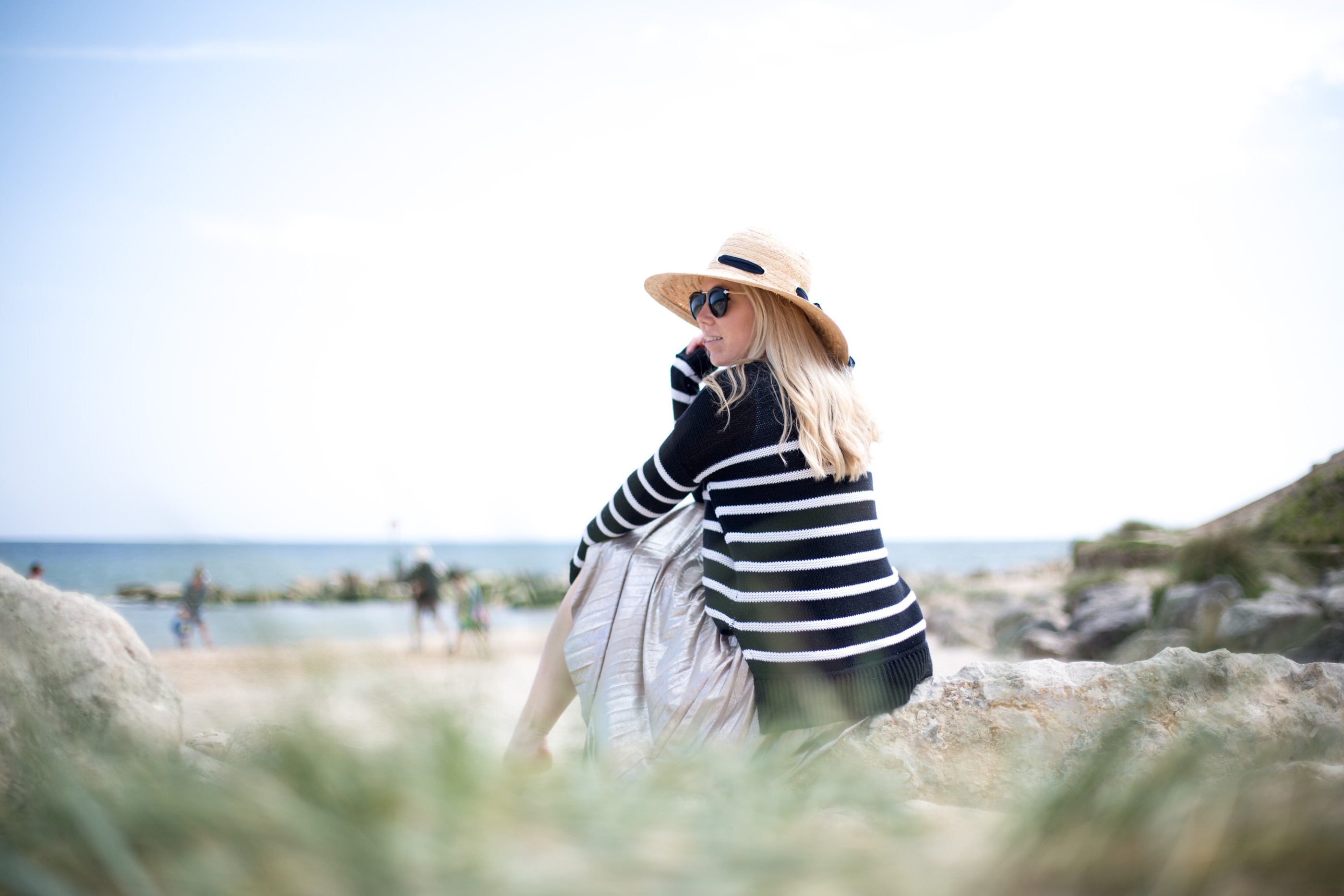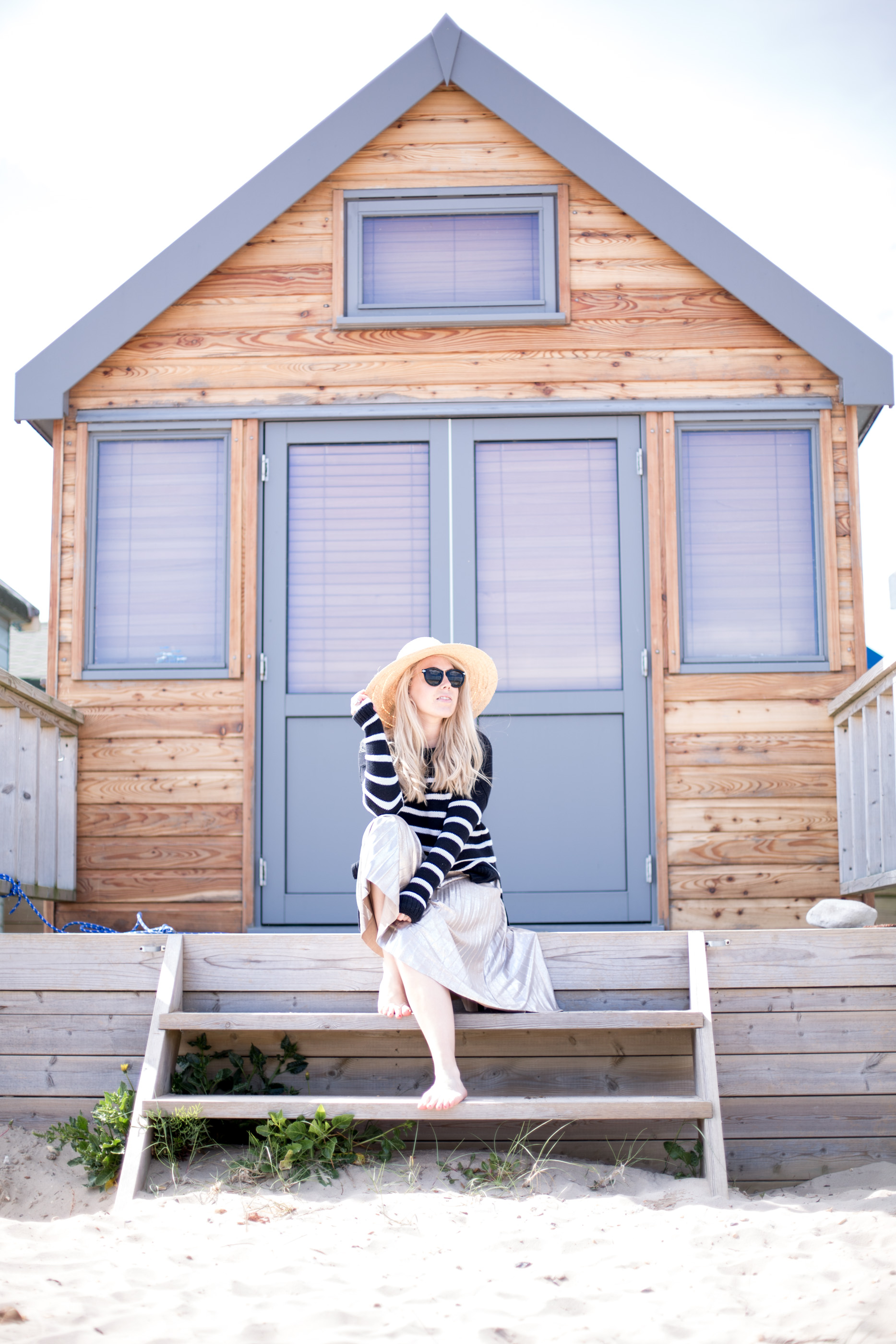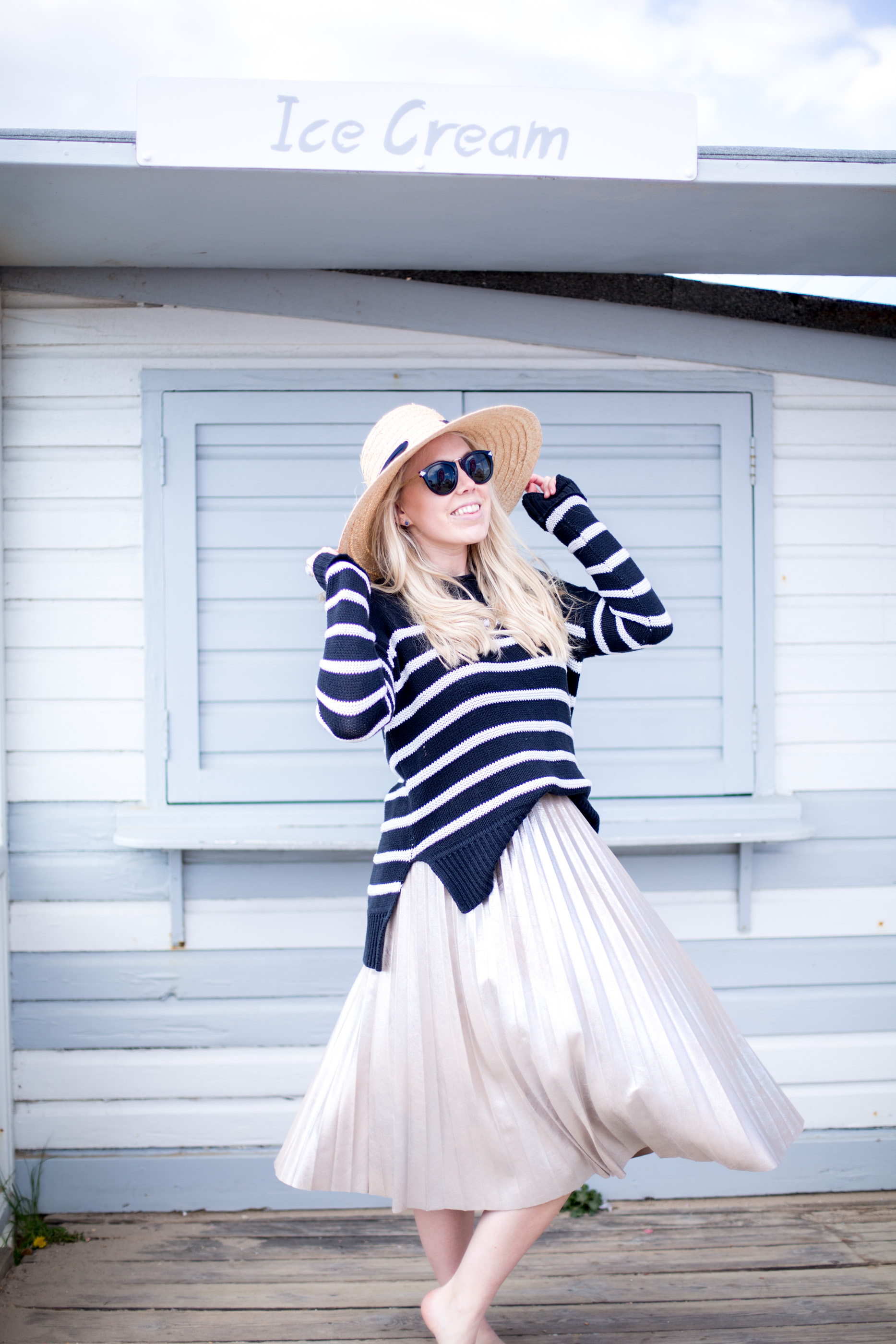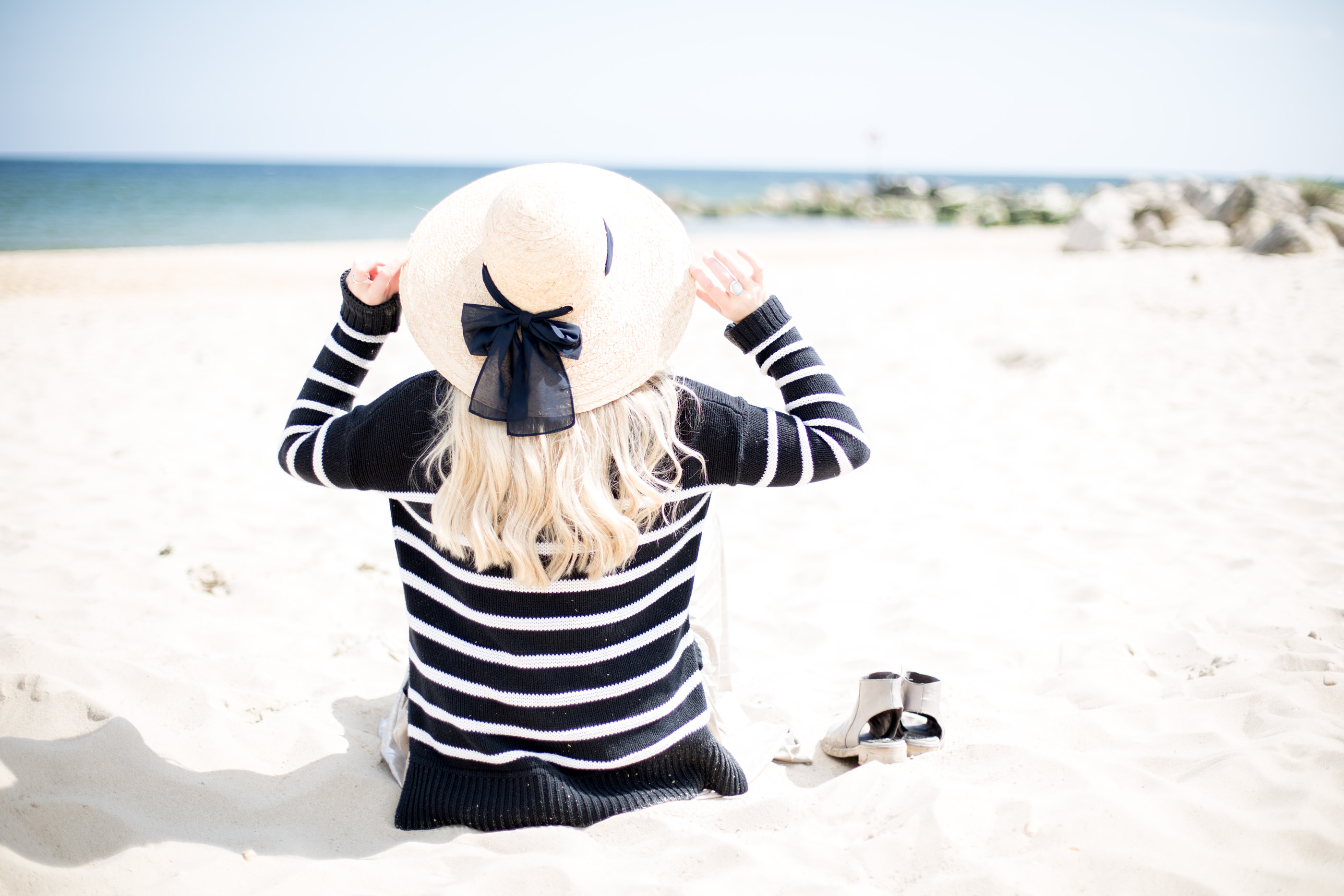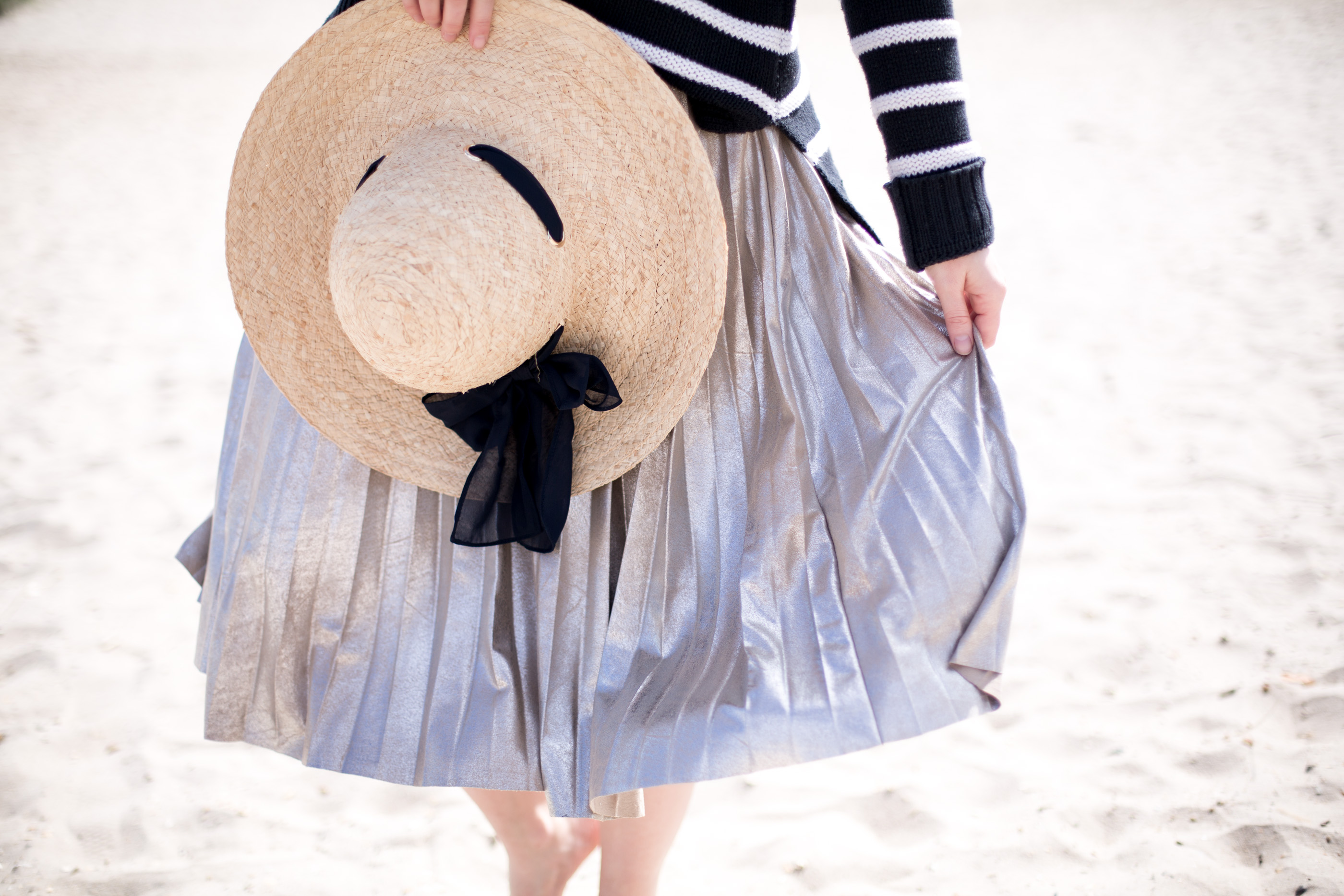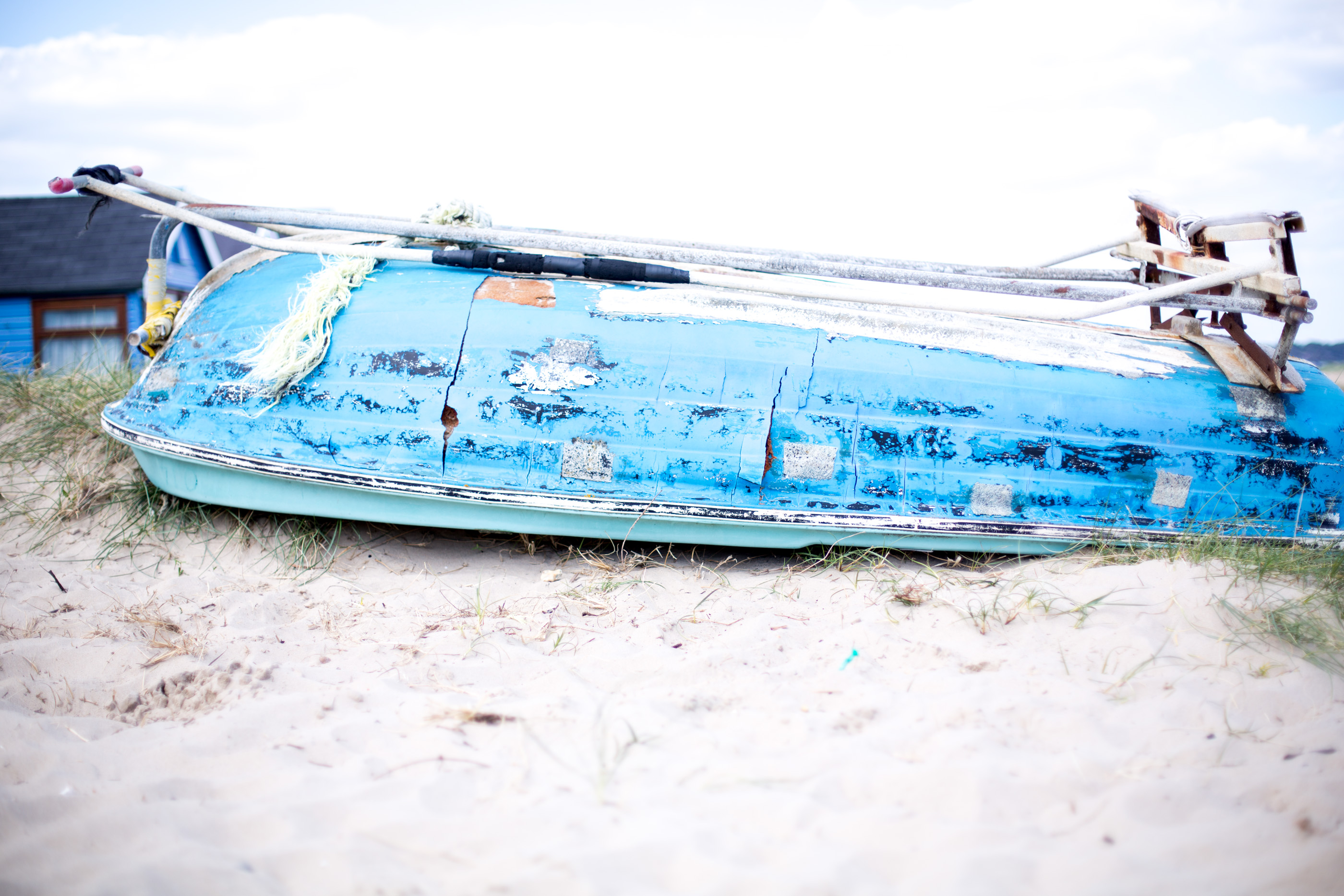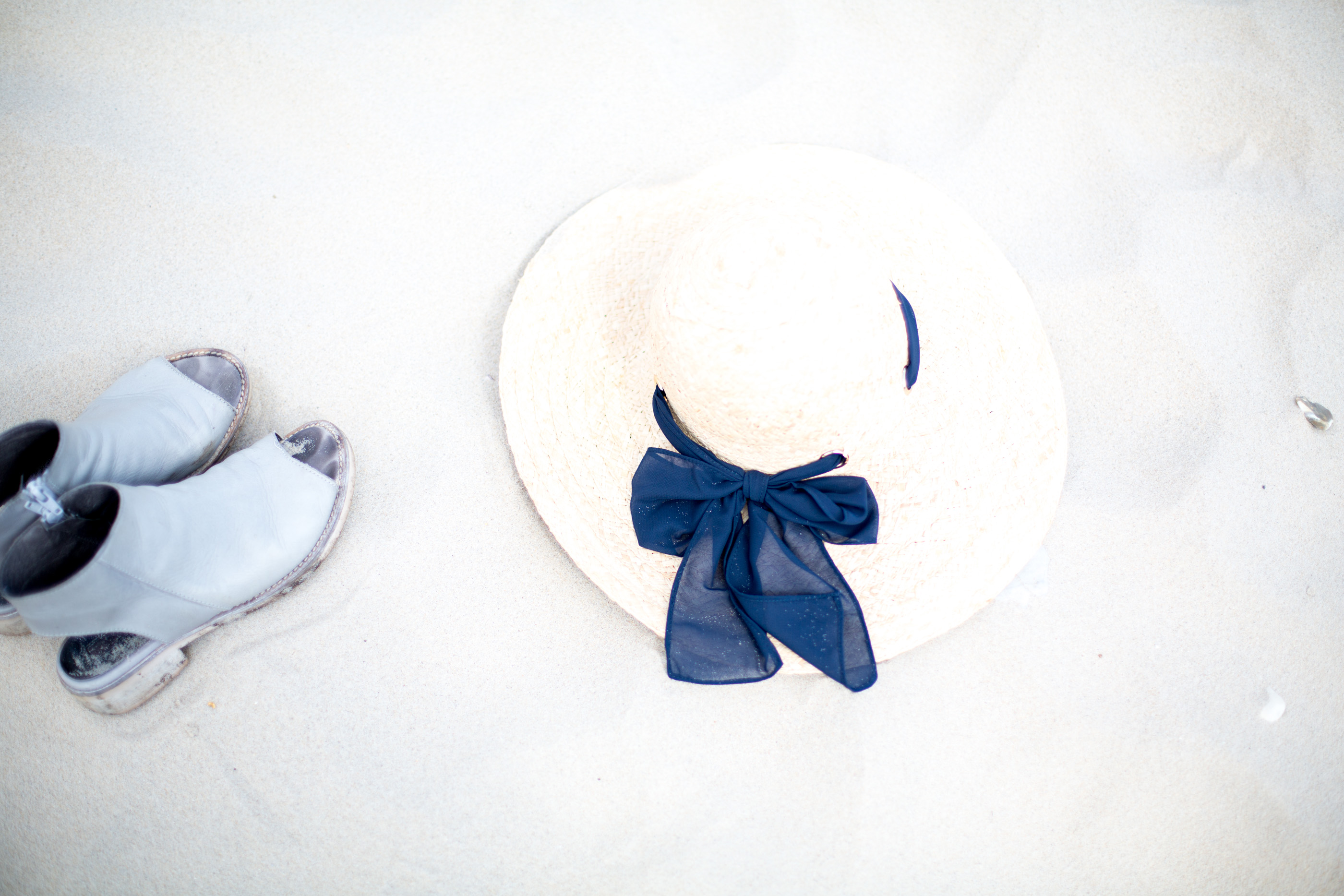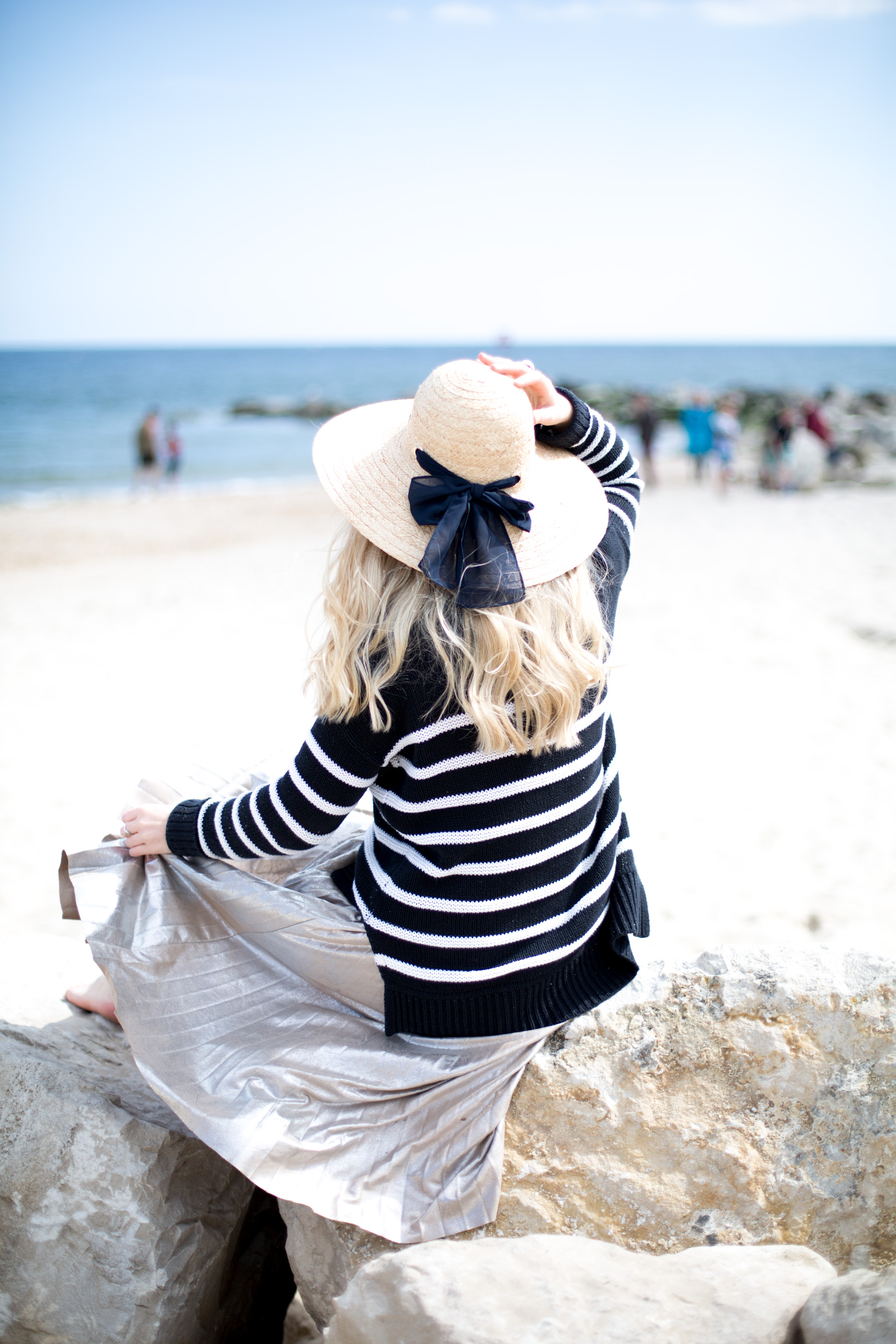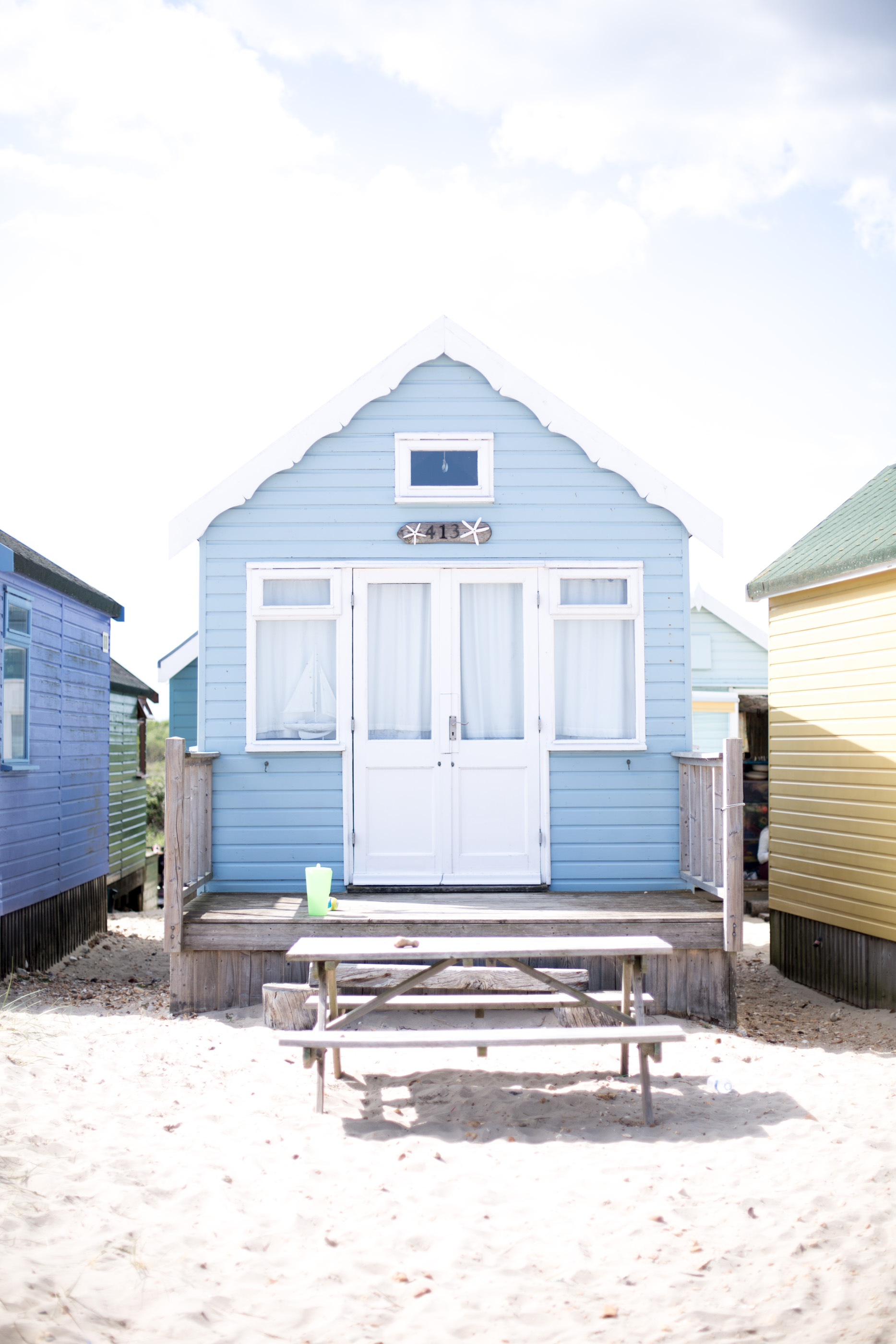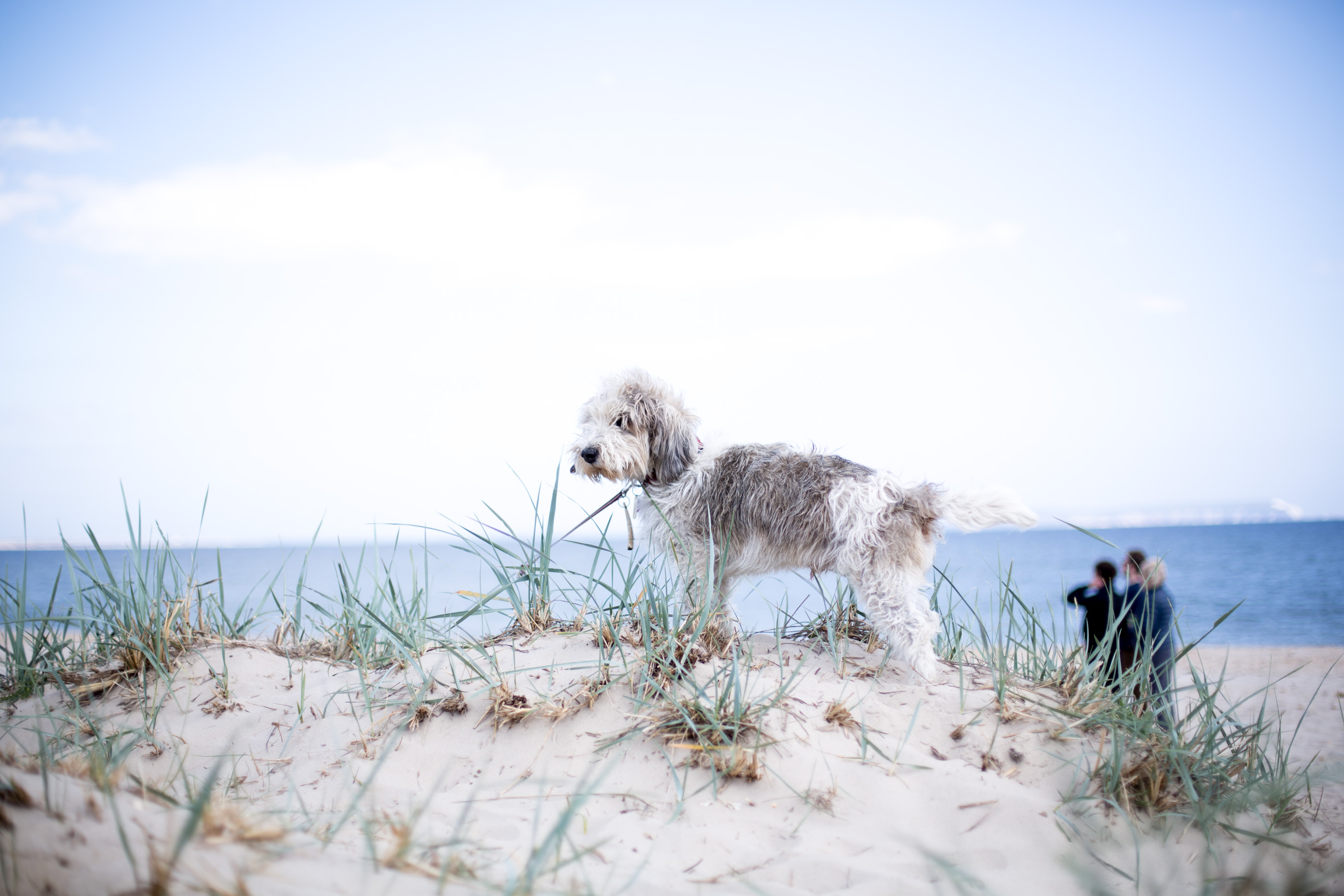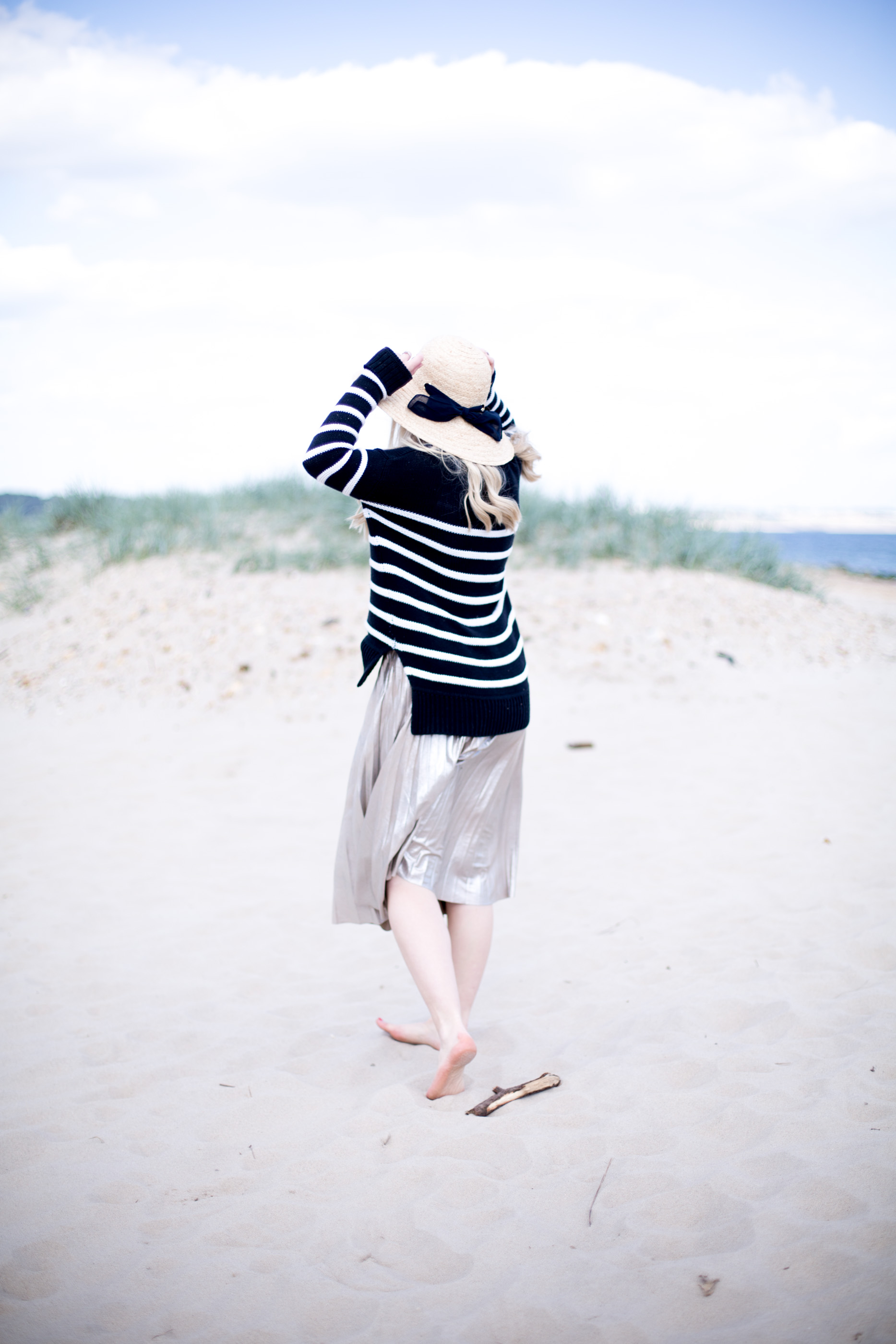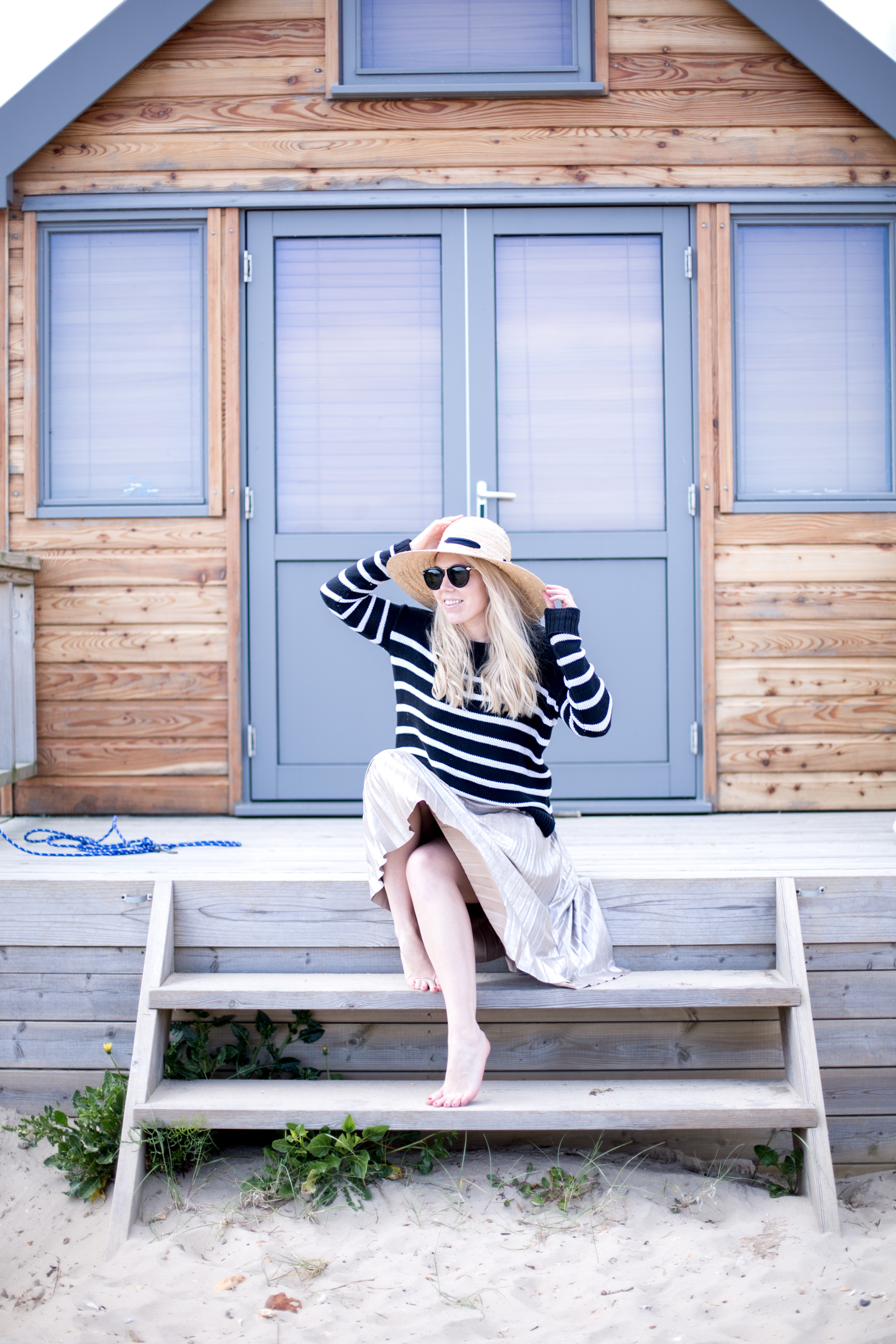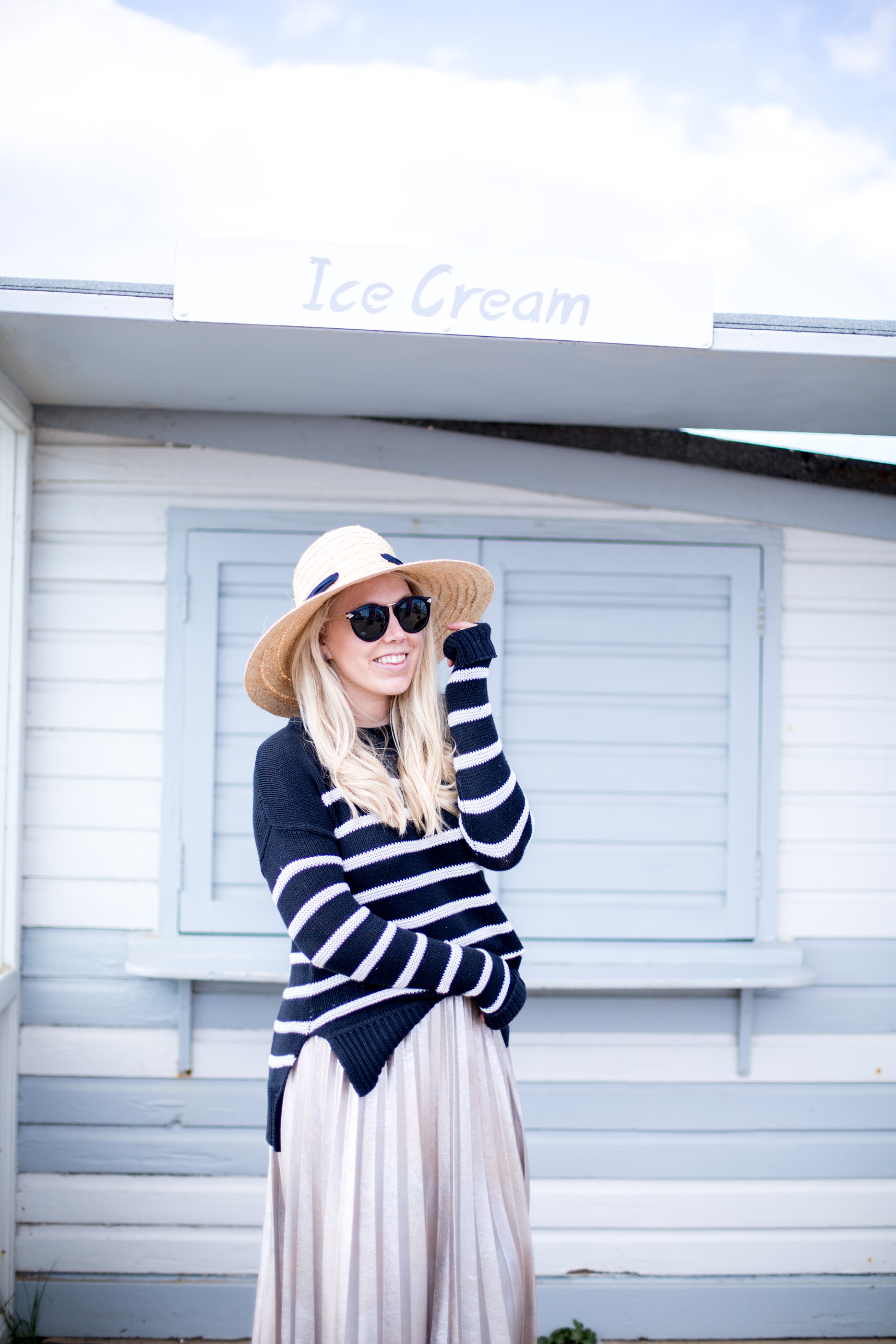 ---
SHOP MY LOOK
ZARA GOLD PLEATED SKIRT (SIMILAR) . ZARA BRETON SWEATER (SIMILAR) . KAREN WALKER SUNNIES . ACCESSORIZE FEDORA .
---
A happy place is the perfect destination to spend time when you need a break, when you need time to think or clear your head, seek inspiration or boost your creativity. More often than not my best ideas and my most happy mind occurs when I'm just chilling out by the seaside and when you're a creative business leader like us bloggers are, finding a place that can boost your creativity and inspiration is essential. But more than that, it's having a place you can escape to when you need to get a little more mindful.
---
Do you have a happy place you visit when you need to unwind or get inspired?