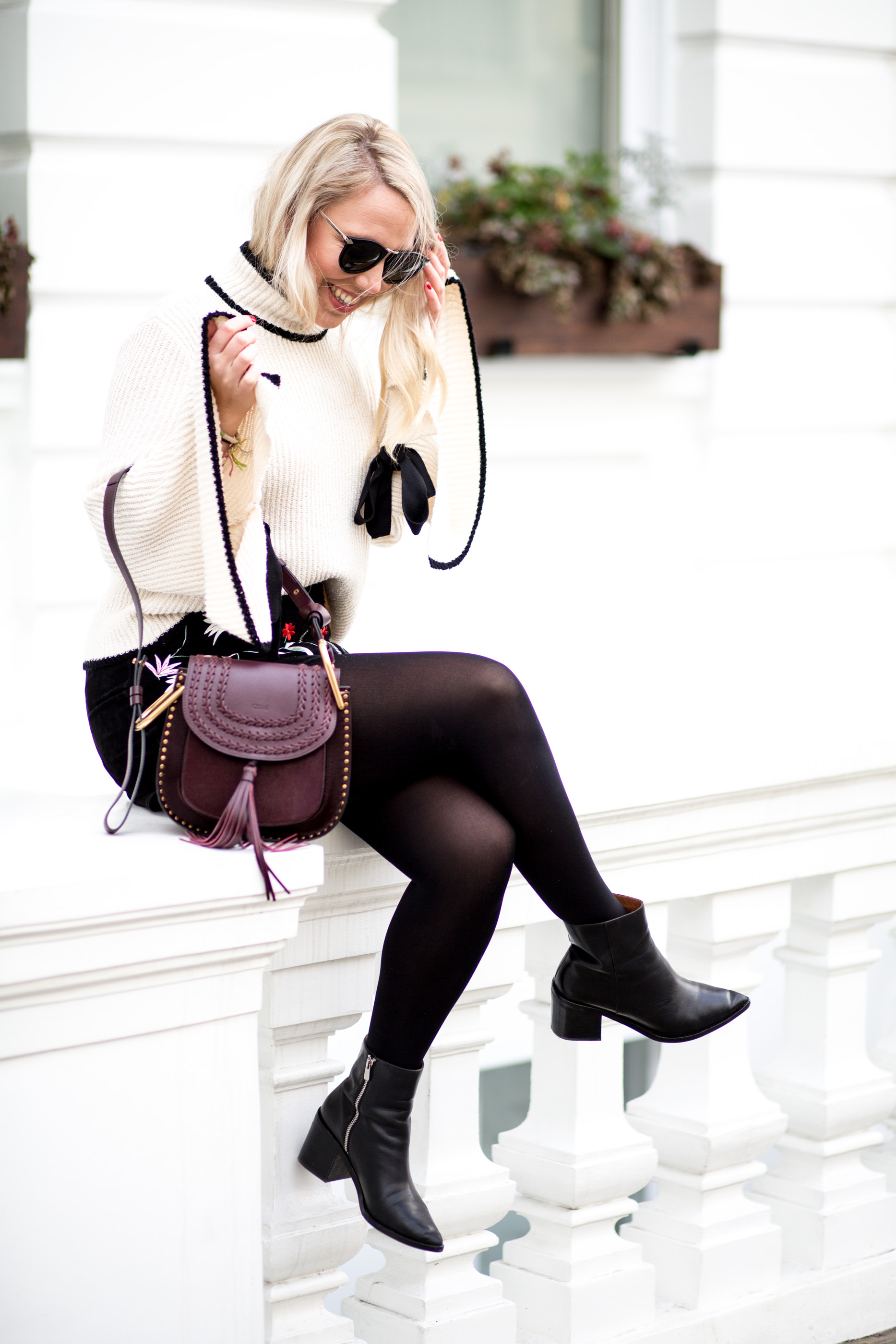 ---
LET'S TALK FLARES & EMBROIDERY
---
There are two trends this season that even if you actively avoid fashion, you couldn't miss. Embroidery and flare sleeves are two of this years most embraced, coveted and accessible trends. And whilst these sartorial revivals are throwing us back to an era of style that in most other circumstances I avoid like the plague, even I can't resist this new take on the trends.
Flares & Embroidery are trends that men simply can't comprehend, but women flock to like avo on toast.
Why? Some sort of nostalgia for our youth. I doubt it. Most likely is that both the catwalk and the high street have managed to incorporate the trends so seamlessly into our favourite, everyday, wardrobe staples that we'd almost be rude not to give it a go. From a subtle flare sleeve to an otherwise casual sweater, or a spot of embroidery added on to your favourite cut of mom jeans, not to mention our favourite designers adding it to their most popular pieces (Gucci Loafers we hear ya).
The fashion world has made the flare & the embroidery so accessible that even the most conservative or minimalist dresser is embracing a little pop of 'trend' in their style.
---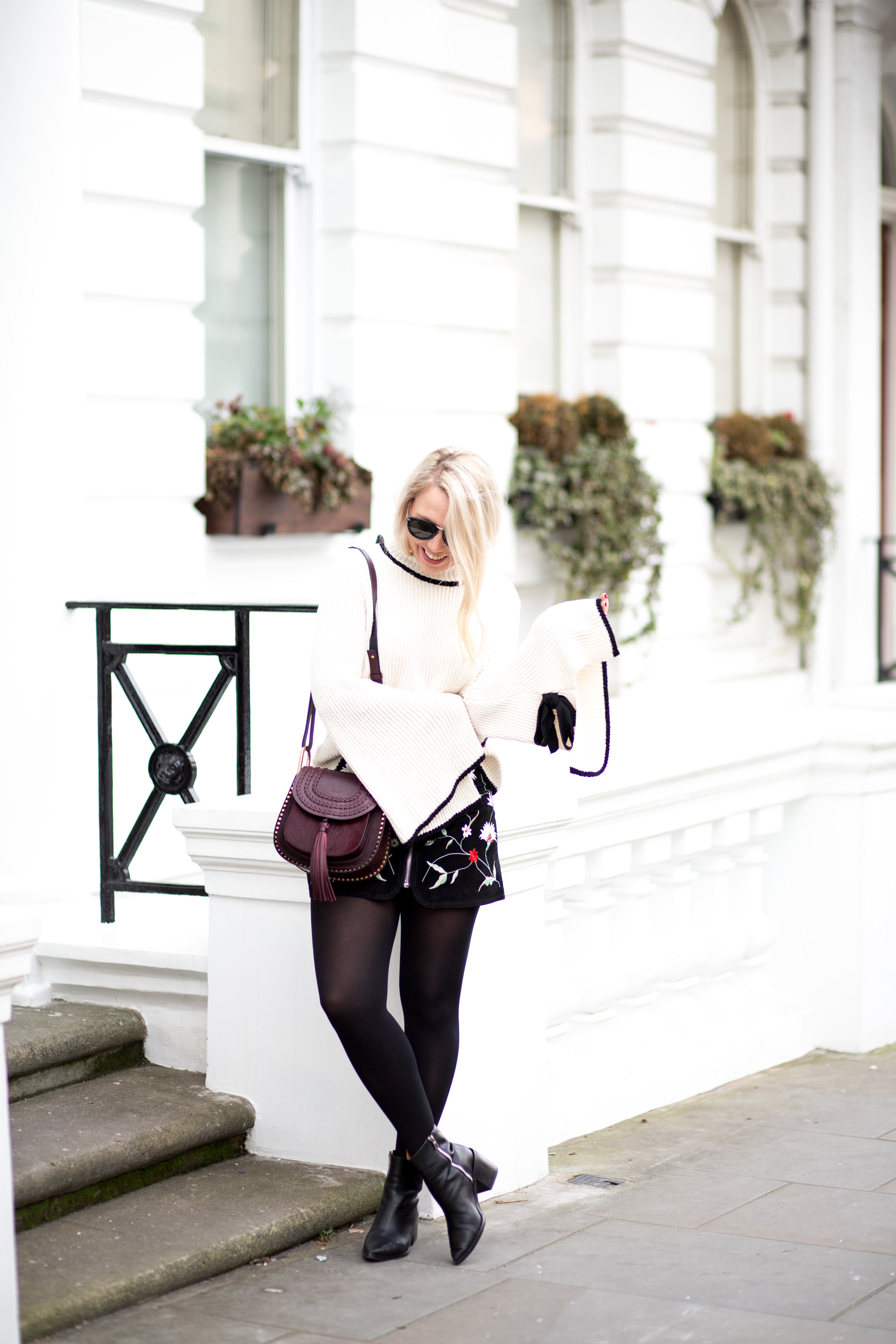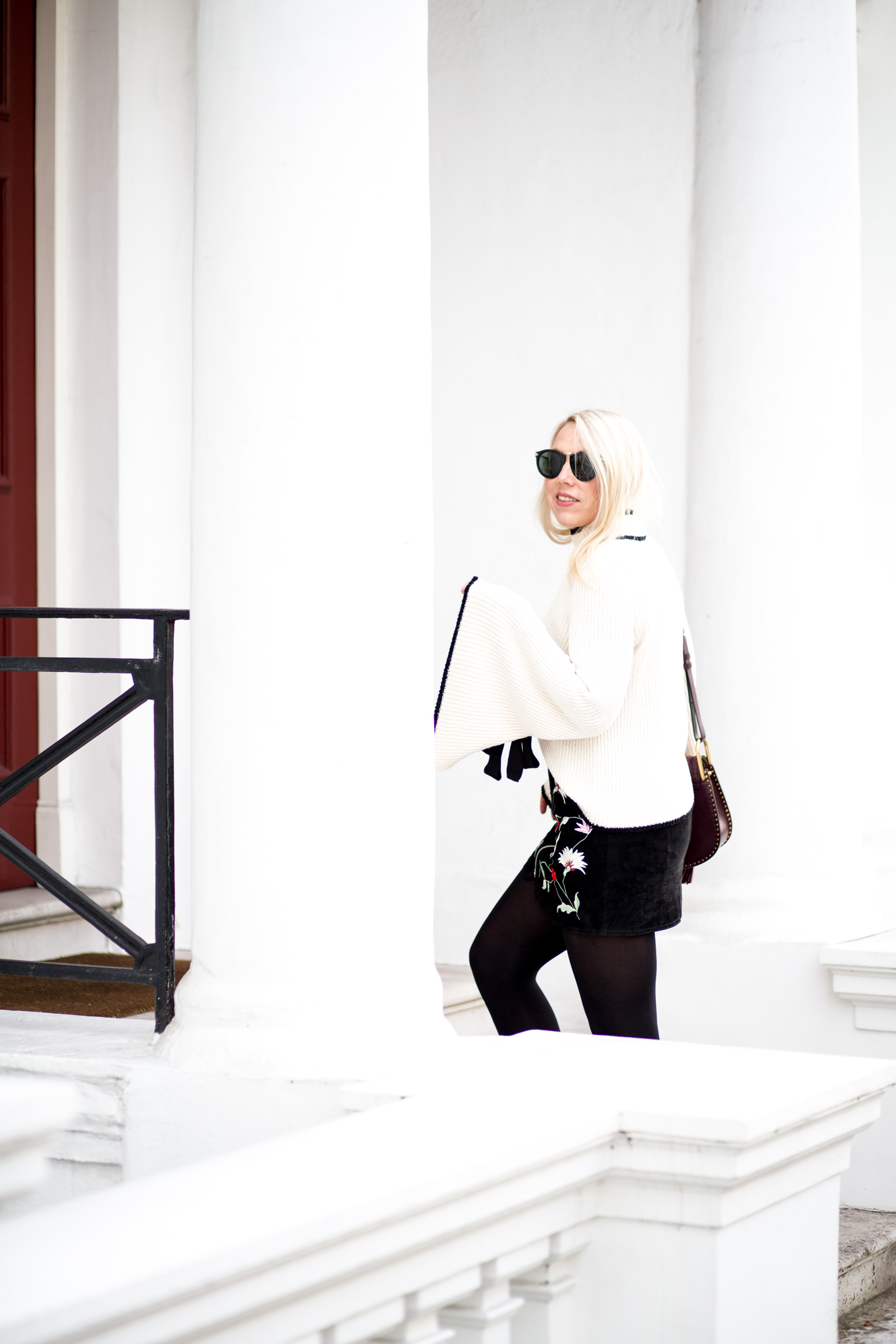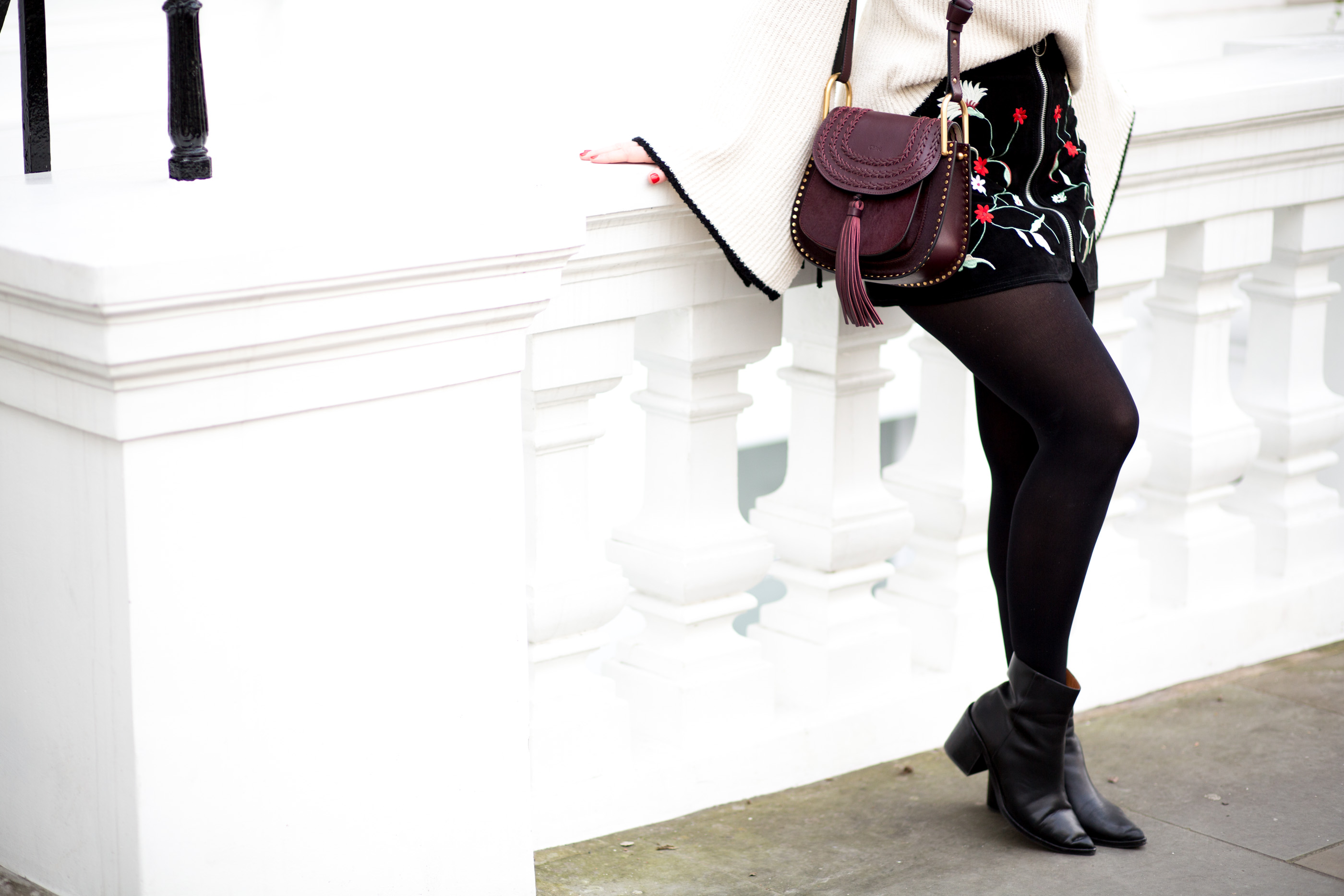 ---
THREE TIPS FOR STYLING FLARE SLEEVES & EMBROIDERY
So when it comes to embracing a touch of flare or a sprinkling of embroidery I have three tips for you. In fact these tips transcend beyond the two trends of topic today, and apply to any trend, style or popular look of the moment. Because when it comes to embracing 'fashion', the key is ensuring you not only have fun with it, but also that you always embrace it keeping with your personal style …
OPT FOR YOUR USUAL TAILORING
Tip one is important, you know what cuts, tailoring and colours suit you, your shape and your colour tone, so stick with it. When fashions and trends arise, definitely embrace them, but embrace them in a way that is in keeping with your trusted and suited styles. For example for me, A line skirts have always been a cut i've embraced and one that flatters my hips, so when it comes to embracing embroidery, this Zara a-line suede embroidered skirt was seriously on point for my taste and my style. Equally, flare trousers are an absolute no go for me (accentuate the hips and bypass the smallest part of my leg – ankles ahem), so a trend right now I will avidly avoid. Find ways to incorporate new season trends or popular fashion pieces with your usual style, you'll find yourself more comfortable, more confident and more likely to actually wear it.
–
ADD A STATEMENT POP
If your style is minimalistic, curated or even a little conservative, embracing bold, bright or statement fashion trends can feel a little garish and daunting. This is where adding a simple, subtle yet statement pop to your look can work well. It allows you to keep your style fresh and on trend, without leaving you feeling uncomfortable in your clothes. Whether it's a subtle sleeve on your shirt, a touch of embroidery on a new handbag or purse, or simply a scarf with some subtle detailing on. There are tons of ways to embrace new season trends without rocking a head to toe look.
–
PLAY WITH HIGH STREET
And finally. Trends are fads, they come and go, and in the fashion world they come and go fast. So what's the point? Don't go investing all your money in something that in one months time could be dead in the water. For me, the high street is the perfect place to embrace and play with seasonal trends and popular fashion, it's affordable and offers incredible alternatives to the designer brands who have probably set the trend in the first place. For me the high street is where I have some fun, and designer and high end brands are where I invest in capsule pieces, 'forever' accessories and classic garments.
---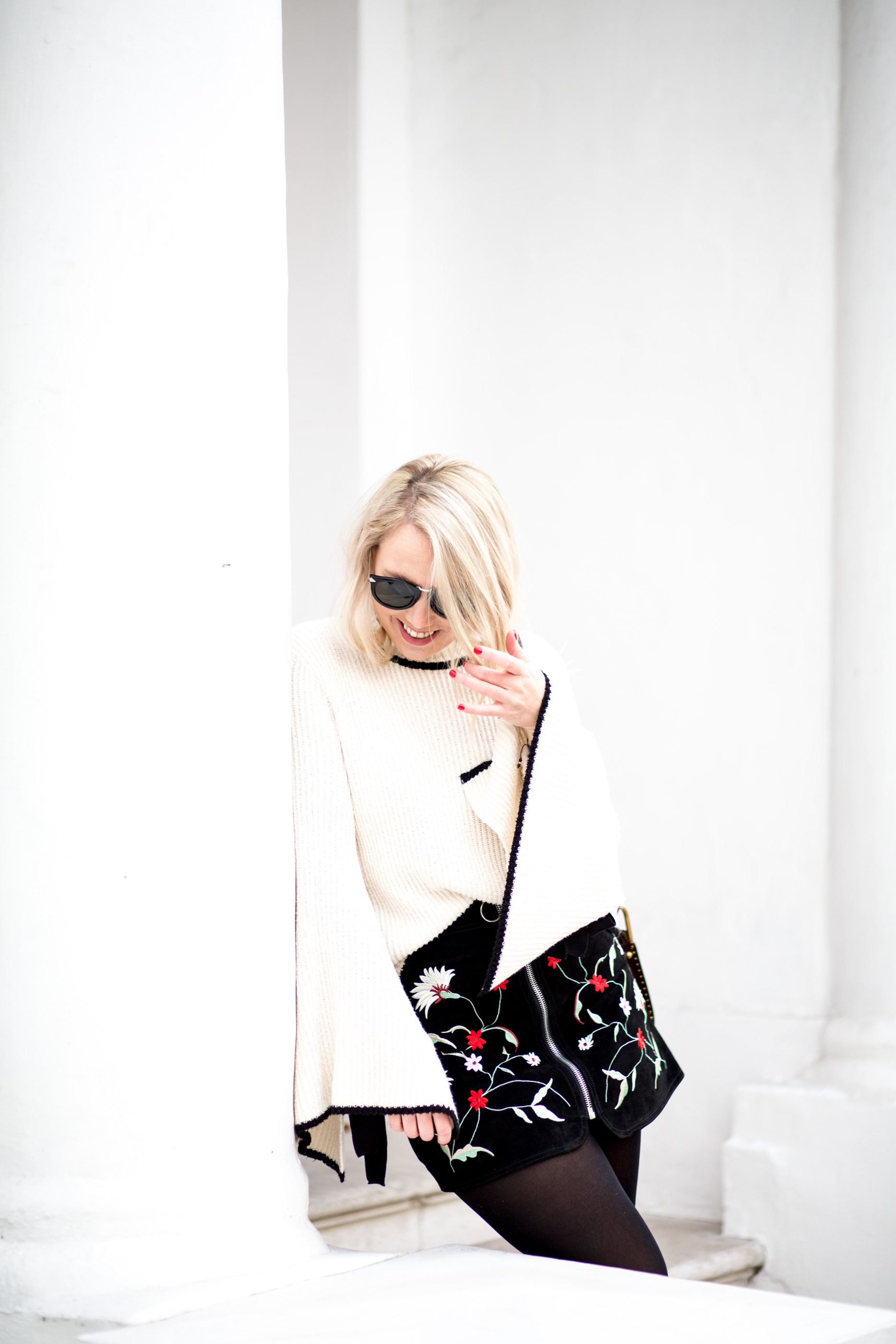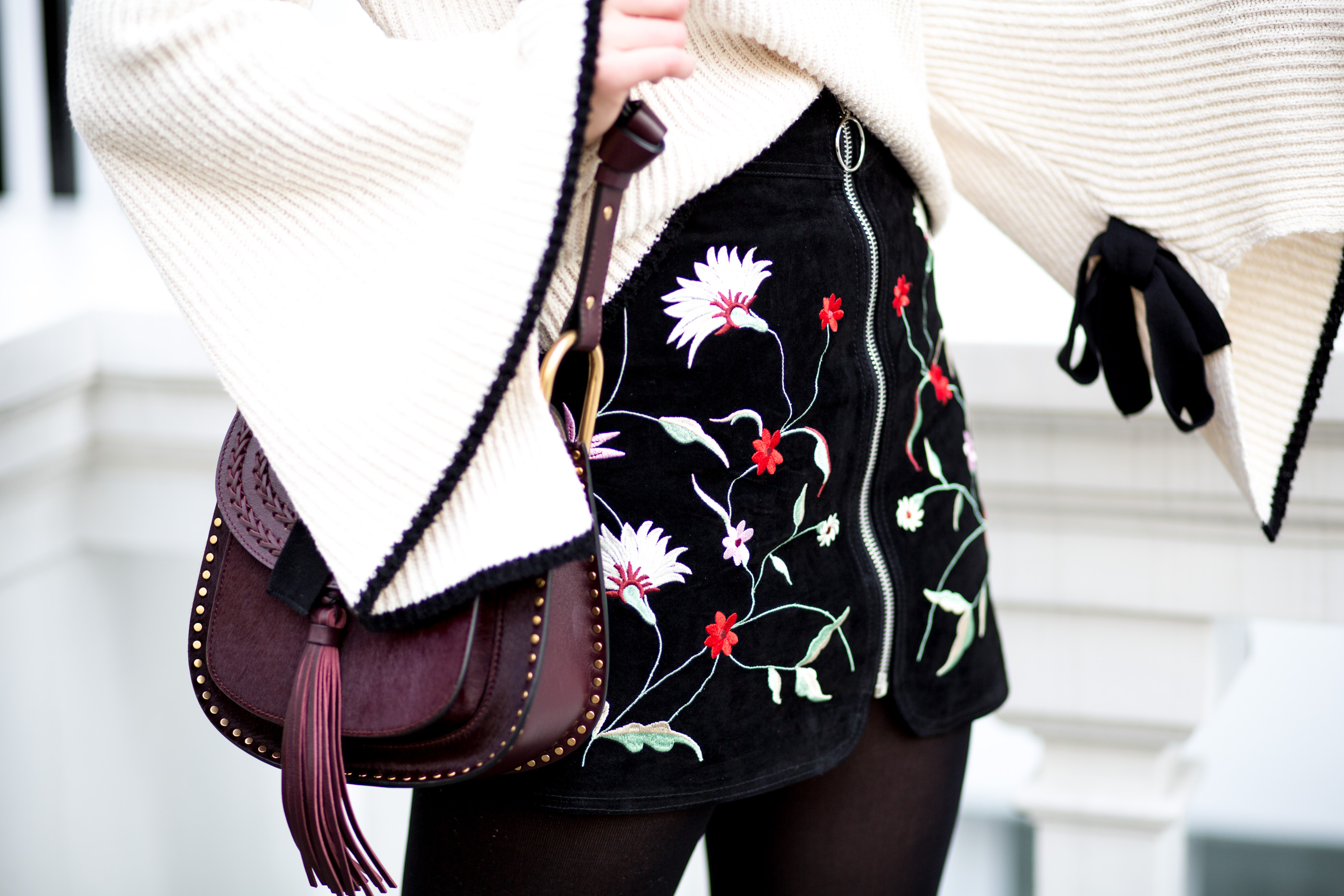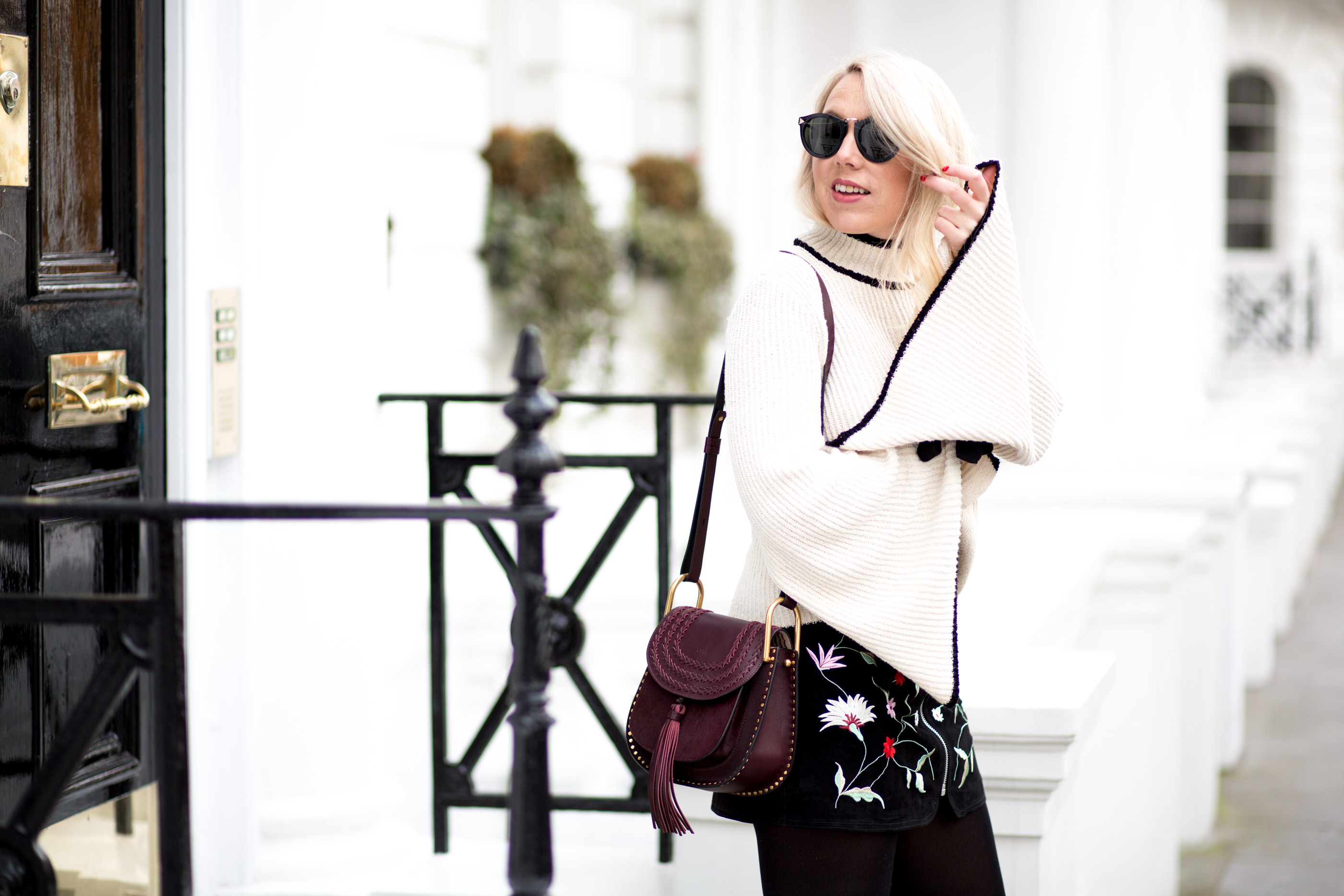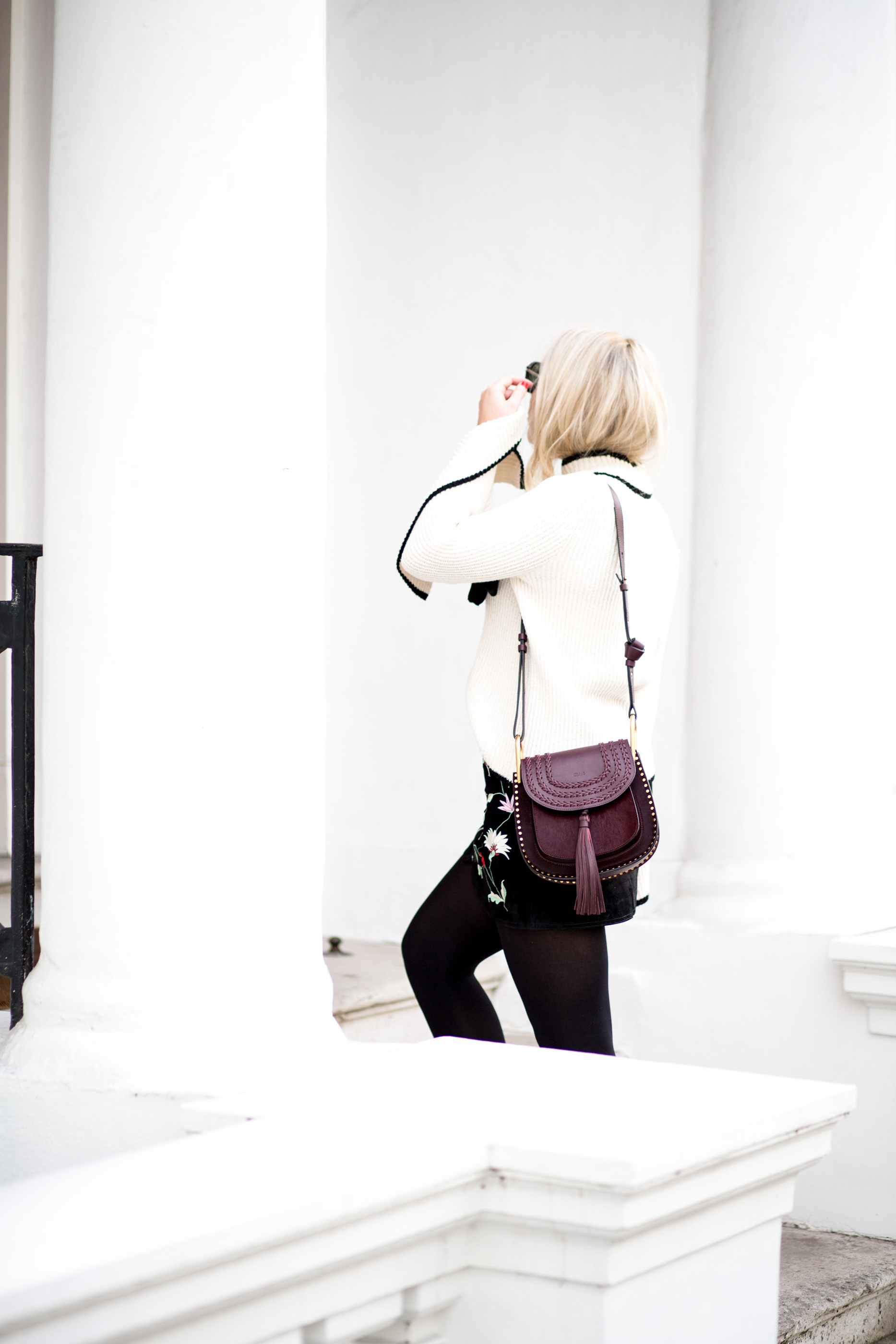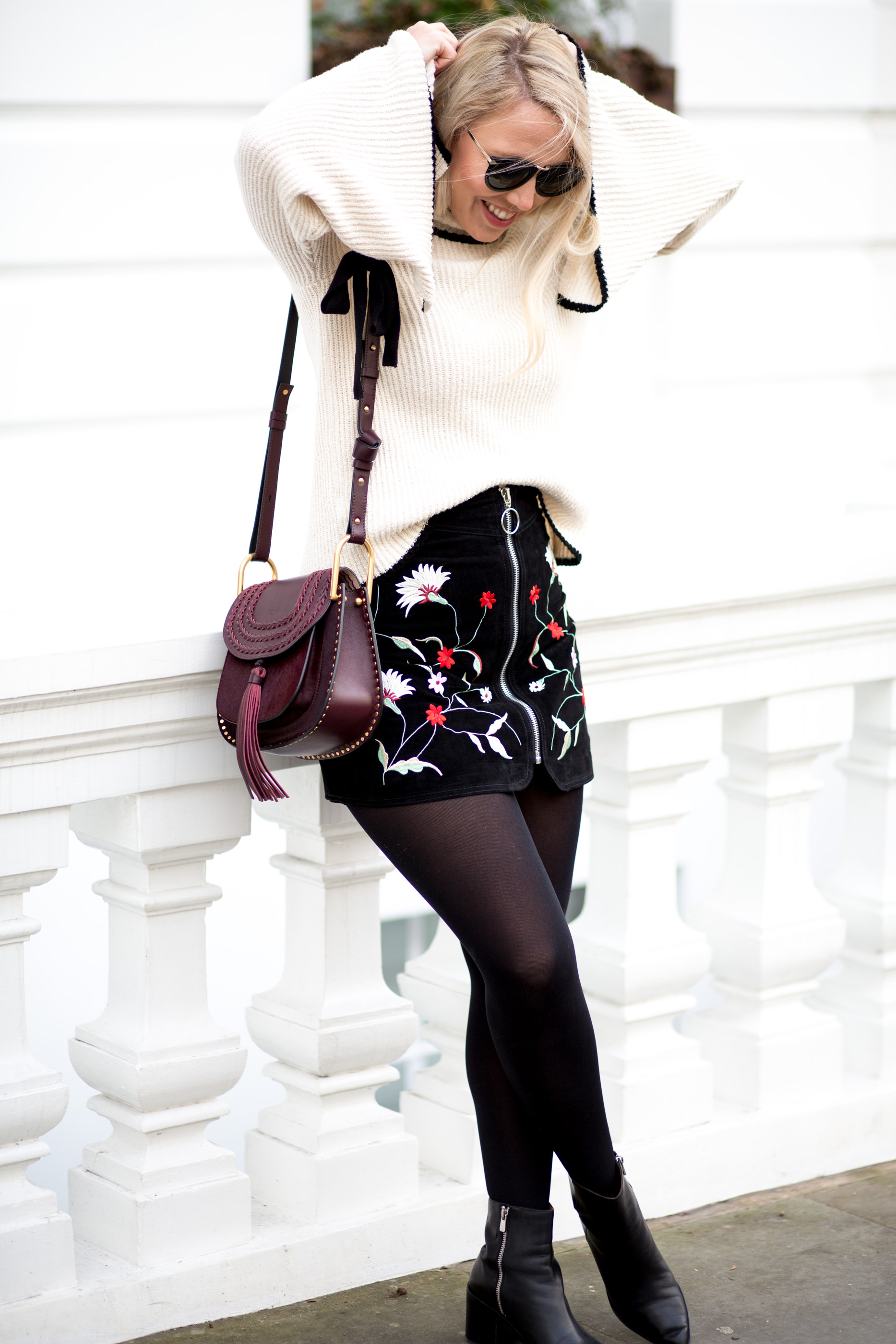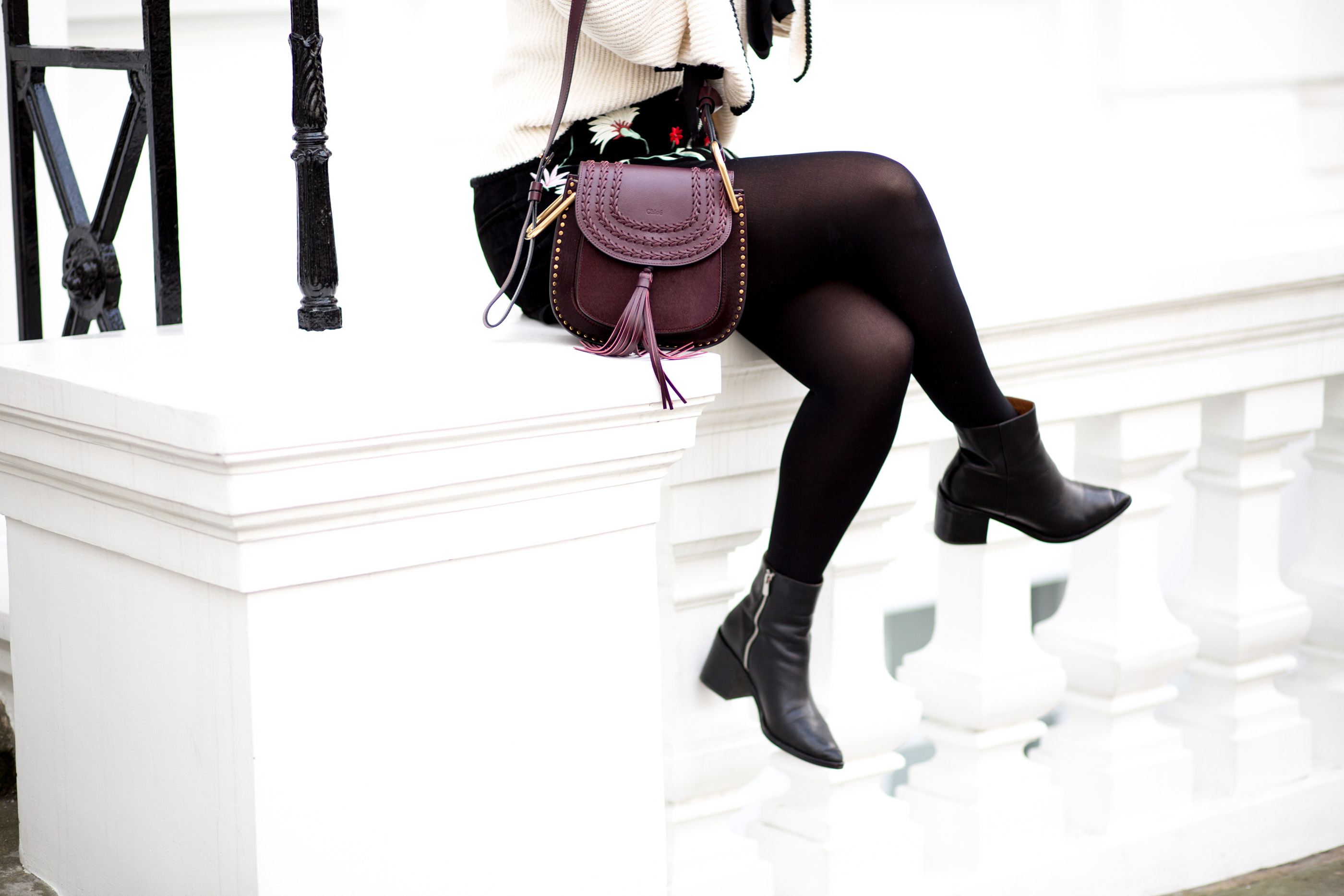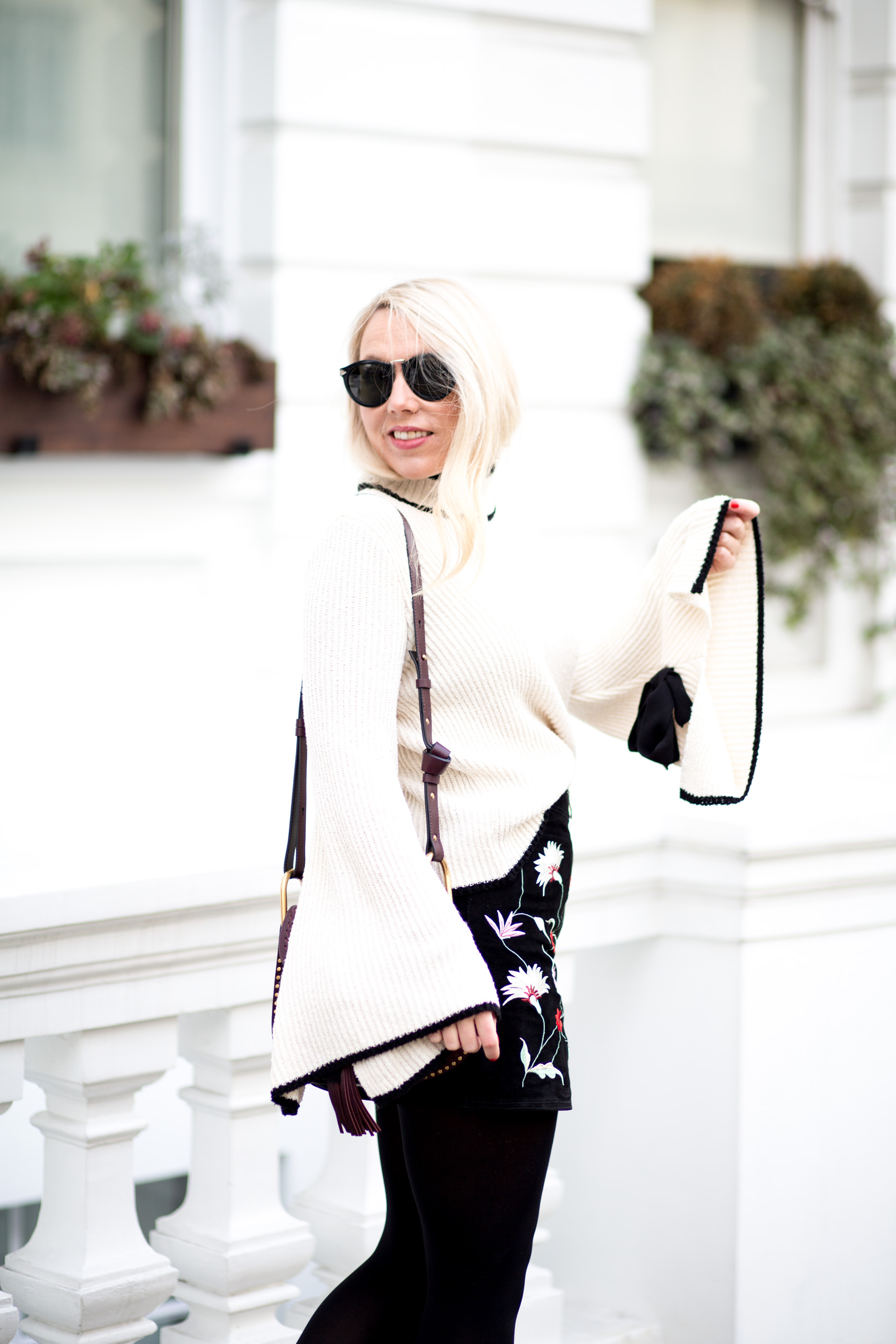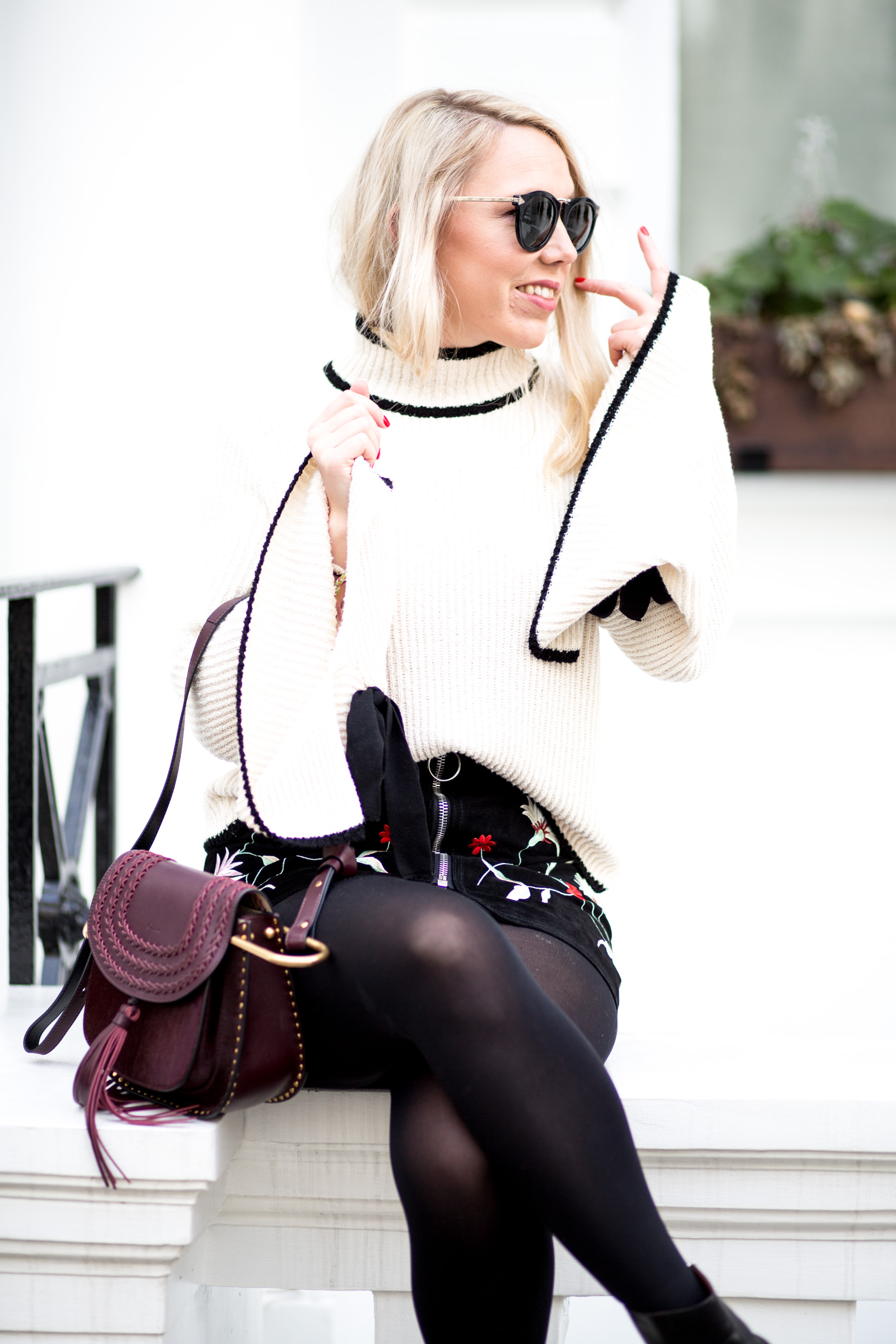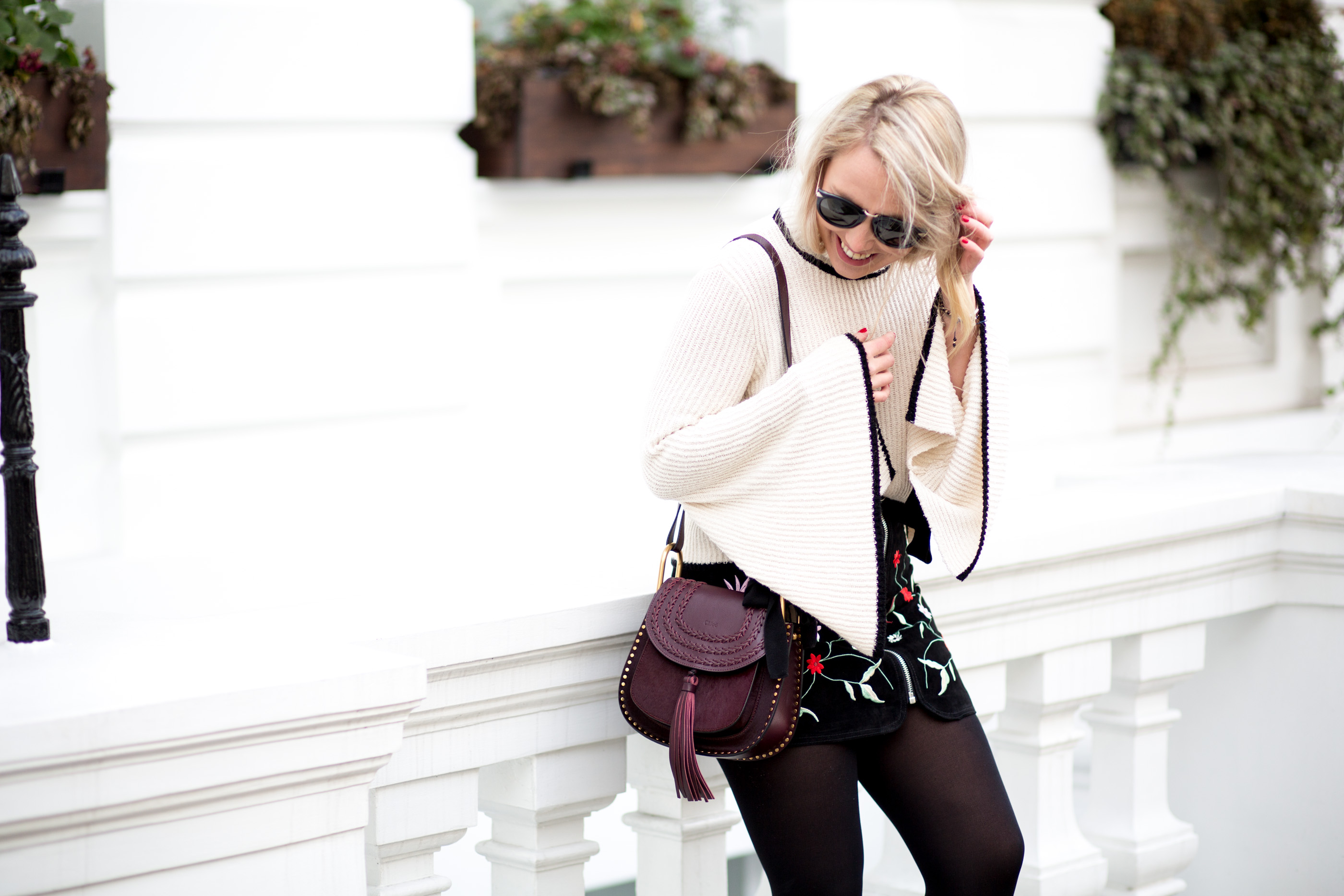 ---
SHOP THE TREND & MY LOOK
. MANGO GRACE SWEATER (SOLD OUT – CARDIGAN) . ZARA EMBROIDERED SUEDE SKIRT (SIMILAR) . CHLOE HUDSON . AND OTHER STORIES BLACK BOOTS .
FLARES

EMBROIDERY

---