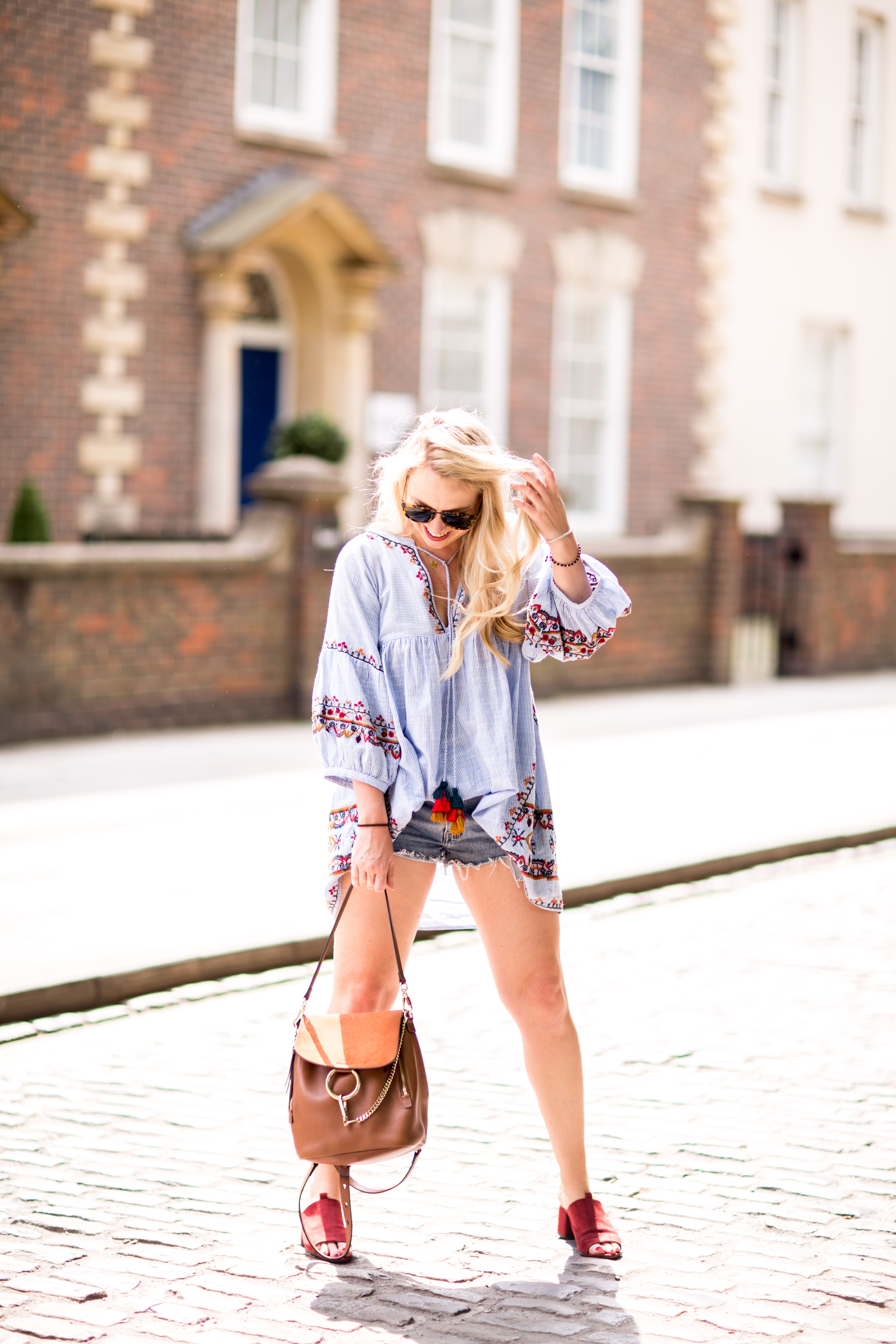 ---
HELLO SUMMER
Five Tricks For Heat Wave Dressing
---
If you don't live under ground you'll have noticed the UK is stinking hot right now. Record breaking temperatures and the inevitable fall out of a nation that always entails when temperatures reach above 25 degrees in the UK. Honestly it's like we've lived in the antarcic our whole lives.  The heat sends us into panic, our trains stop running, TV stations get signal interference, people wear god awful things outside and generally the nation goes into sheer melt down. Literally and metaphorically.
But I for one, a self defined sun worshipper, have no complaints. Bring on the sweat if only for a few weeks of sunshine and warmth.
Of course there are challenges I will admit. Dressing for one becomes quite the unexpected fiasco. You see on holiday a bikini and cotton mini dress is absolutely okay, but rocking up to work in your summer holidays finest is quite clearly not going to be okay. Queue the clothing panic. Dressing for the heat outside yet the freakin' bonkers air con situation inside requires clever planning and optimum styling. I have five tips I will share with you today … you can thank me later.
By the way, don't get me wrong, I know THIS outfit isn't office suitable. But it's new, and I love the dress (styled as a tunic). Will you forgive me for the mix matched editorial versus outfit?
---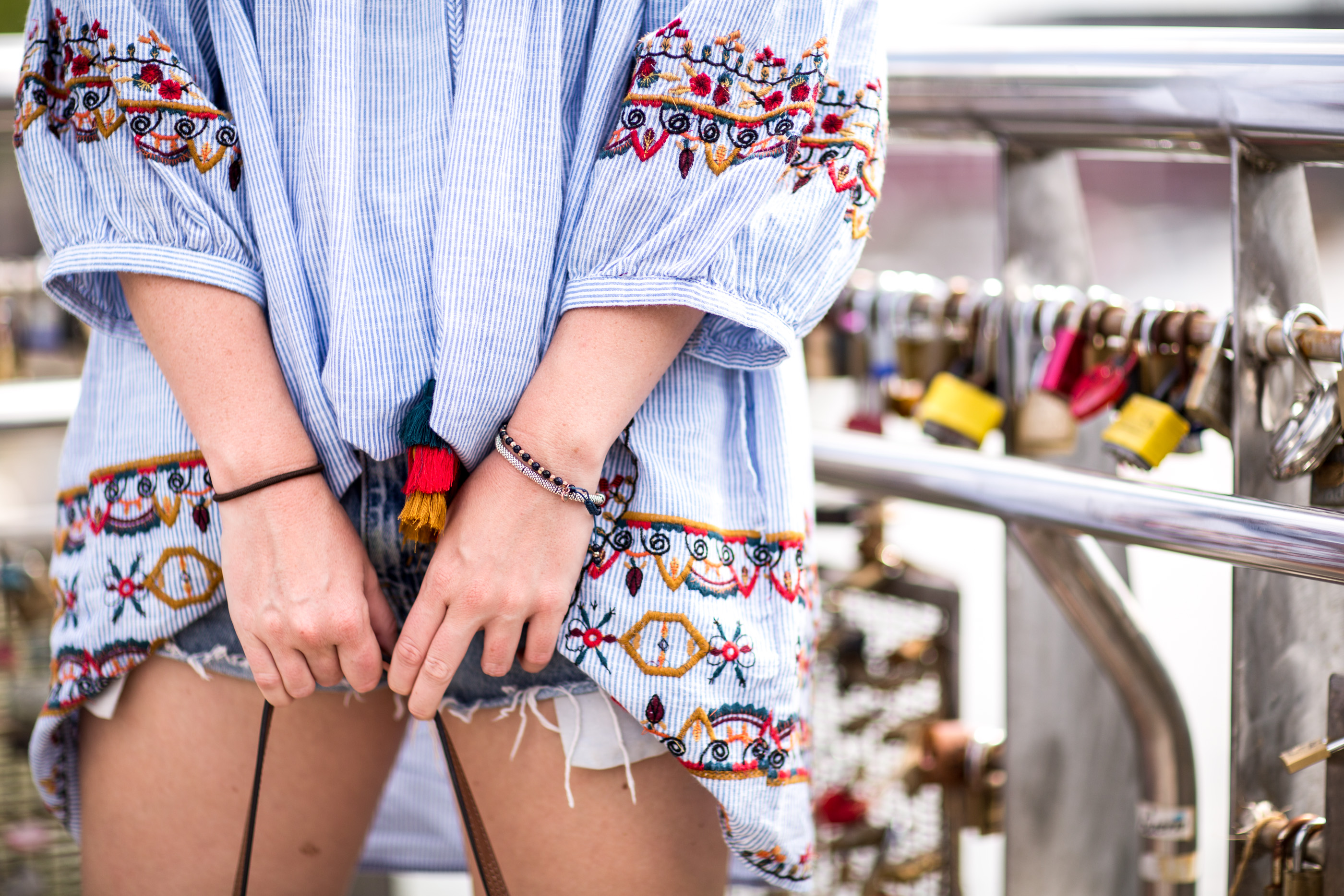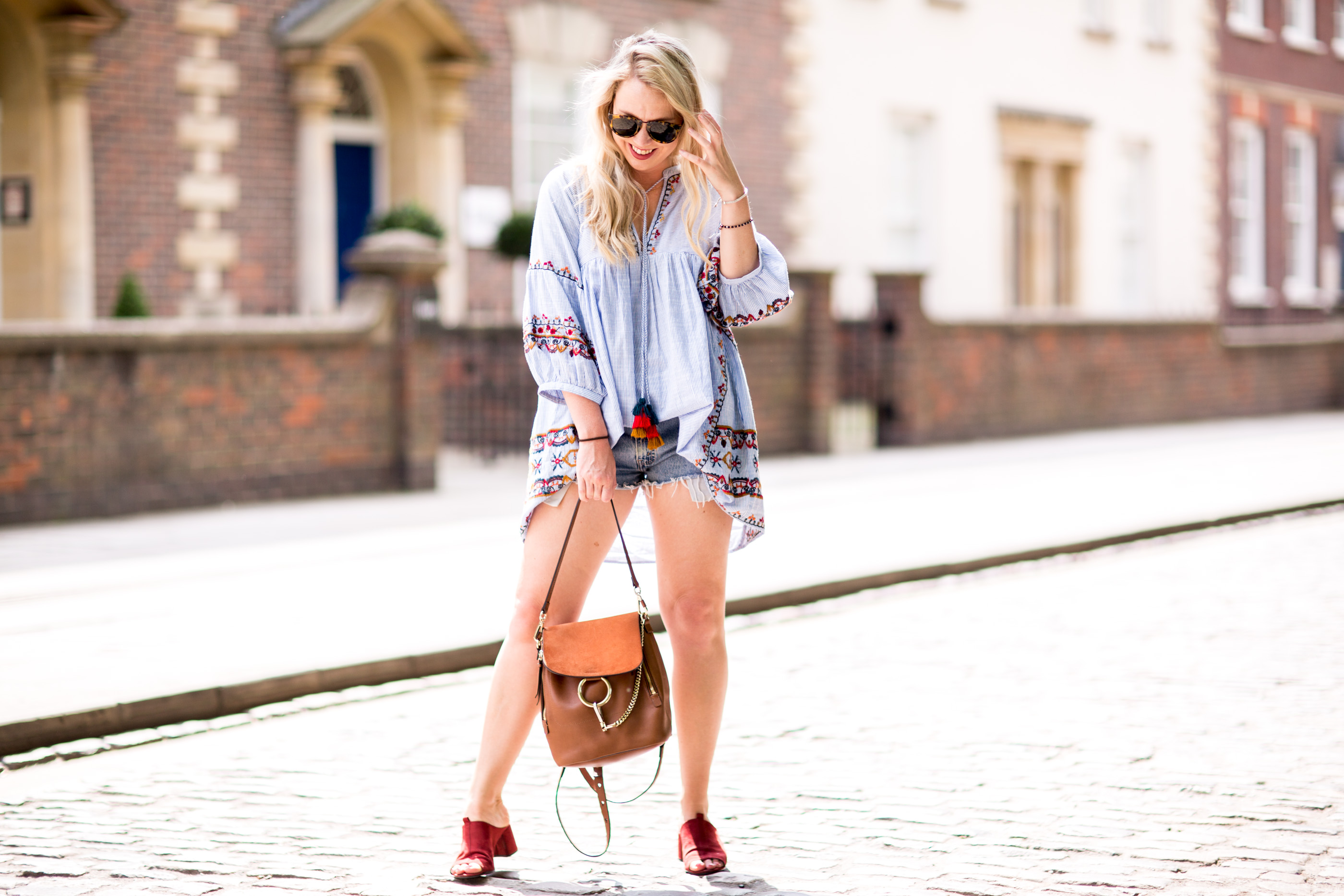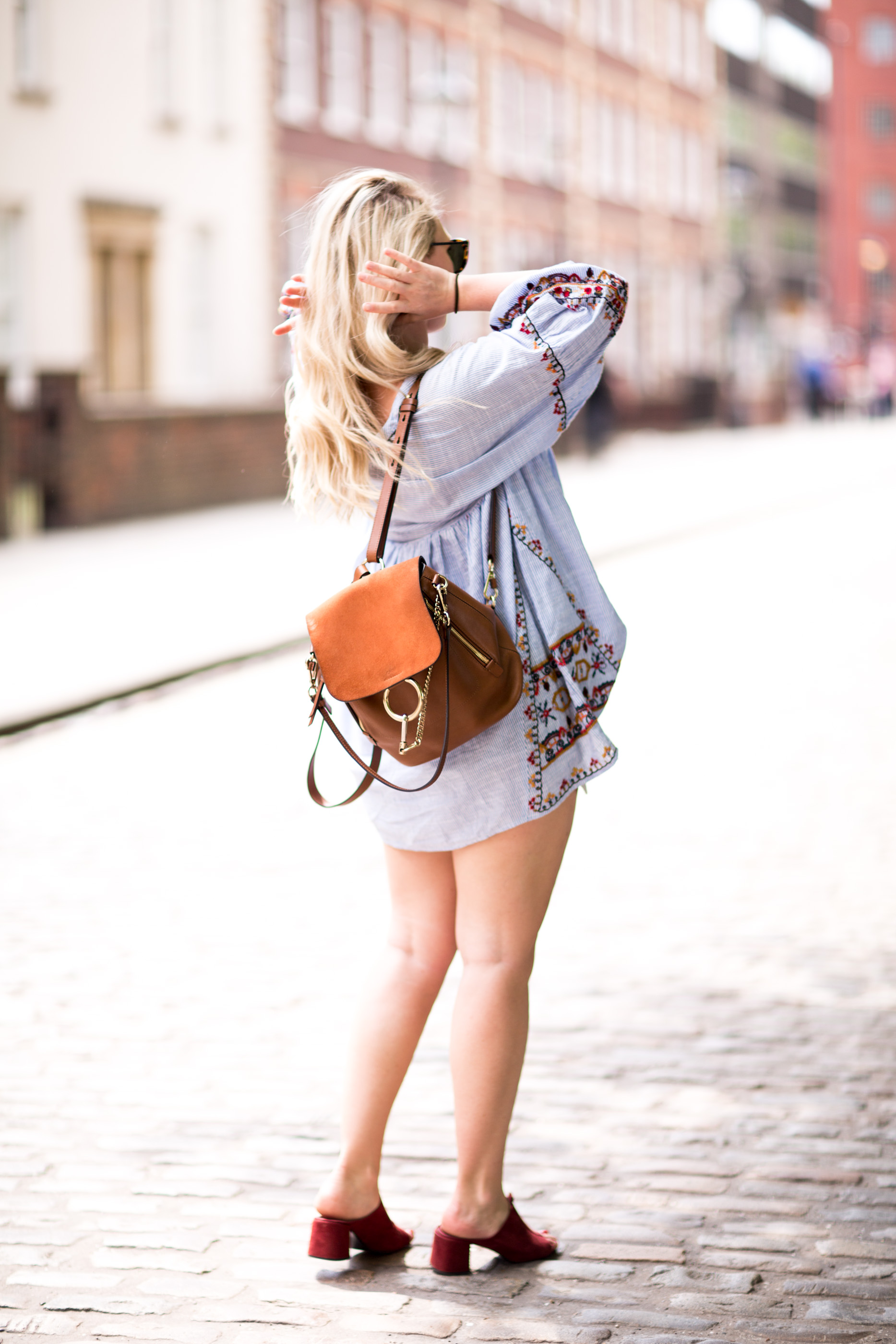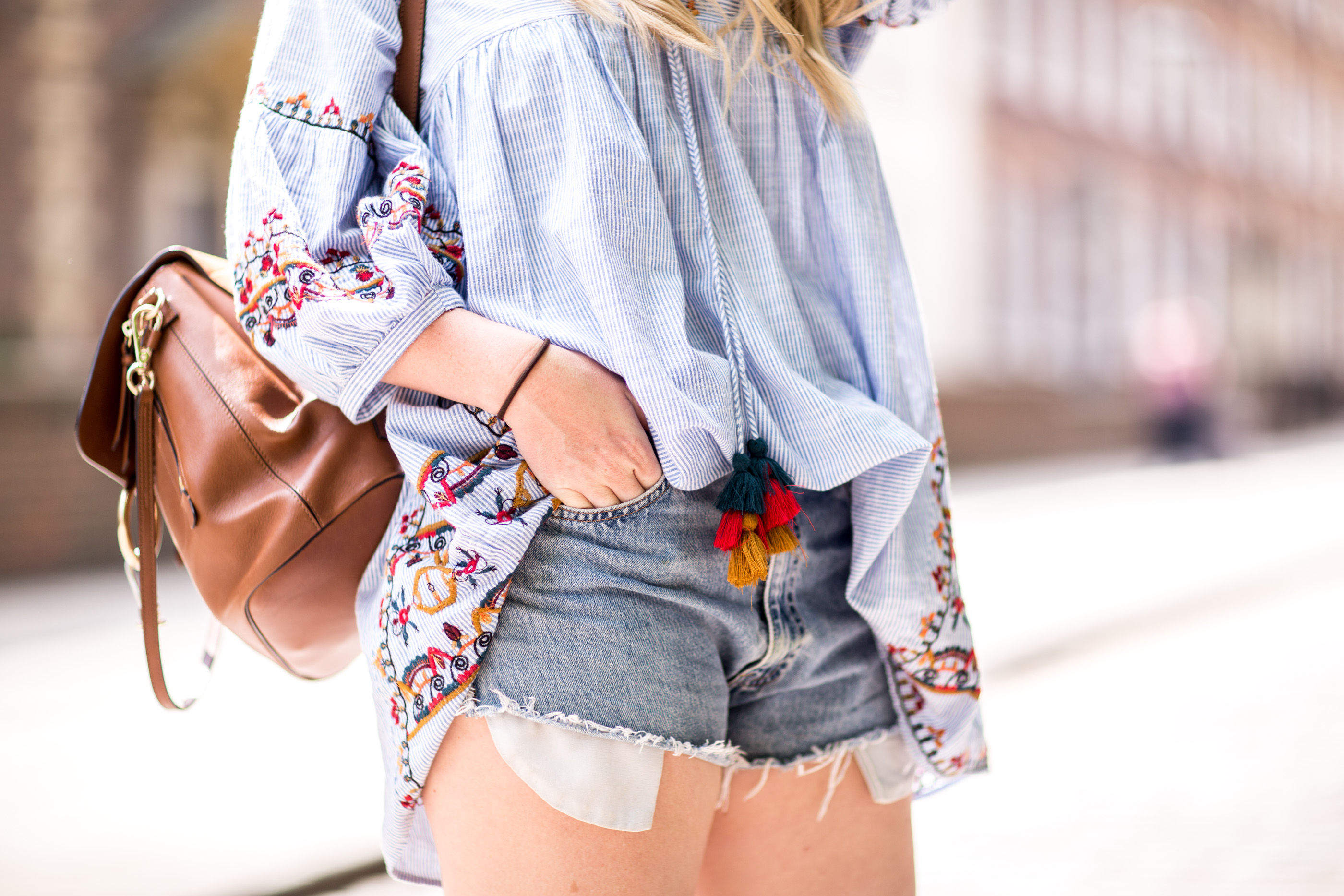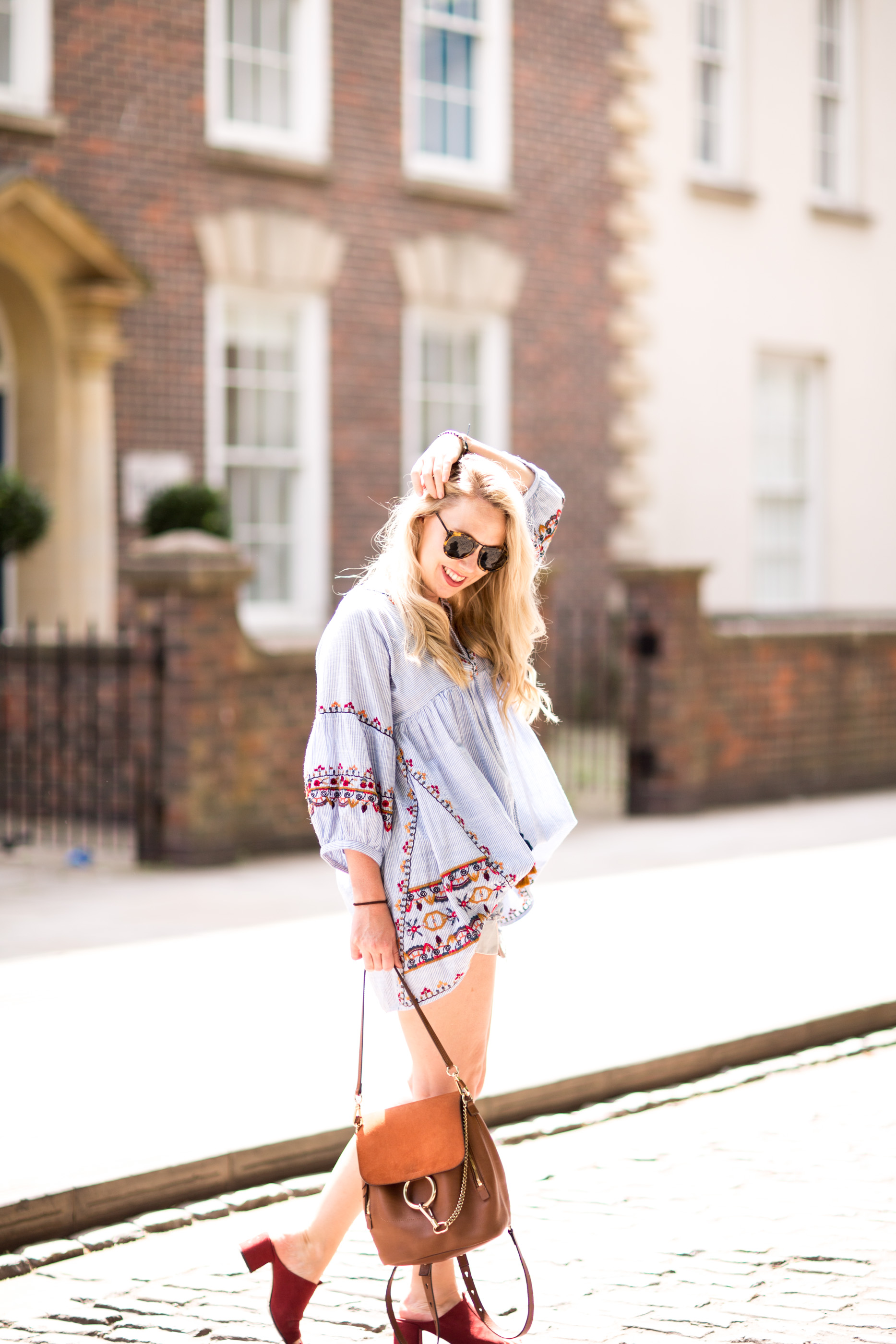 ---
FIVE RULES FOR HEAT WAVE DRESSING
–
1. MATERIAL IS EVERYTHING
People, material is the number one rule of engagement in overbearing temperatures. Hot and cold. The material of your clothes is going to make THE biggest difference to your heat management and how comfortable you are throughout the day. Cheap material is sadly going to cause you hell on earth, don't do it to yourself, spend an extra £30 and upgrade to breathable and better quality fabrics, you'll be amazed the difference it'll make. Cotton is your friend. Linen and Chambray also deliver. Lycra, nylon and synthetic materials are your worst nightmare.
–
2. GO LOOSE 
We all know we'd rather be sat naked than sweating in a too tight fitted dress, but clearly the former is a brave (and highly unrecommended) option, therefore the next best thing is the loosest light weight garments possible. Go oversized, pick billowy and do not be afraid to size up. The worst thing in the world is going to be clingy clothes that stick to your skin and heighten the sweat potenital. Pencil skirts, body con dresses and even fitted shirts are an absolute no go. Pick floaty dresses, loose maxi's and billowing blouses like this Zara dress come tunic i'm wearing in todays look.
–
3.MAINTAIN YOUR MODESTY / BE AIR CON READY
Whilst it's 35 degrees outside, we all know the air-con situation inside is often bleak. So when you're leaving the house first thing, sweating in the morning sunshine, don't dismiss that light weight blazer. When the sun falls at night and you're sat in the freezing office, you'll be grateful for that little throw-over. But more than that, layers are key for making some of your summer dresses and tops office suitable. Whilst on your commute to work you can strip down into those spaghetti straps, having a light weight blazer to throw on in the office will help ensure your outfit is office ready.
–
4. COLOURS ARE KEY
Much like quality, colour is also an integral factor for heat management. Whites, nudes and light shades will naturally reflect light as opposed to absorbing it. Darker colours will suck up that heat and effectively hot box your body. Do. Not. Go. There.
–
5. OPEN TOE
You'll forget about your feet, but don't. Those little pinkies need to breathe just as much as the rest of you, and in fact, if you can keep your feet and wrists cool, the rest of you will follow suit. Socks are an absolutely forbidden item. Even trainers are pushing their luck. Open toe, open sandals open anything … keep your feet breezy and panic will stay at bay. Even better shoes you can easily slip on and off also will come in handy for cooling down and letting your body breathe.
And when all else is failing, run your wrists under cold water. It's a life saver.
---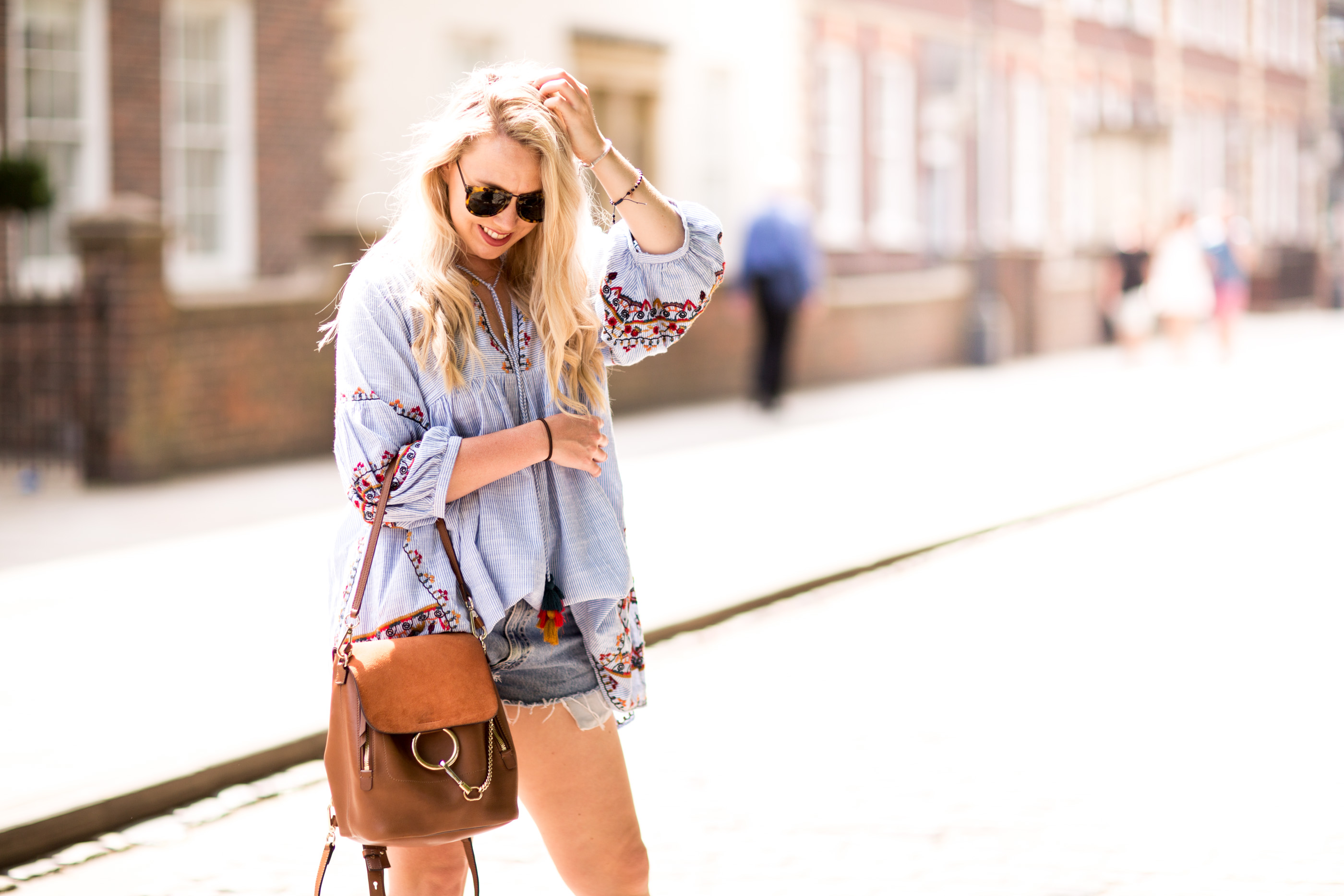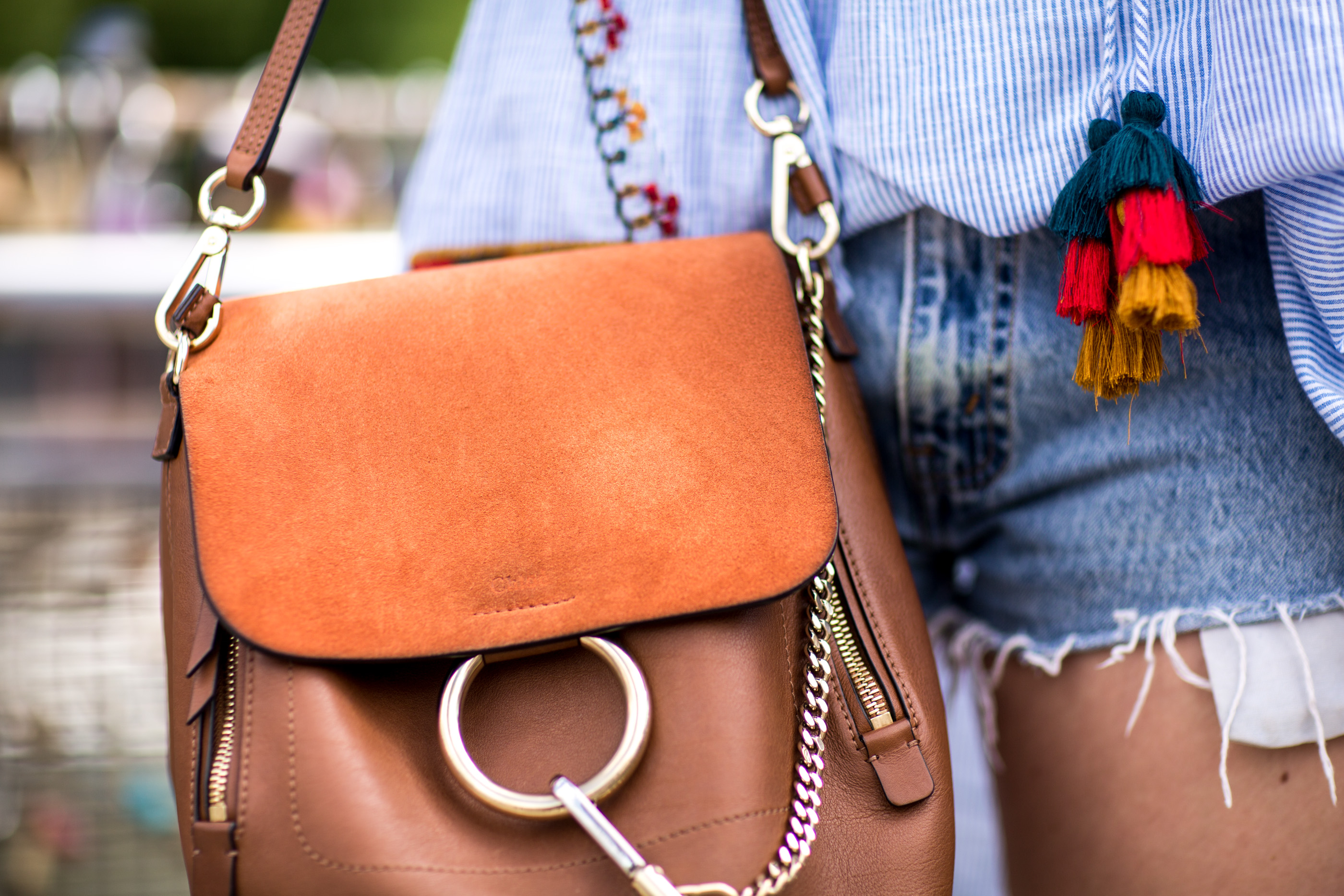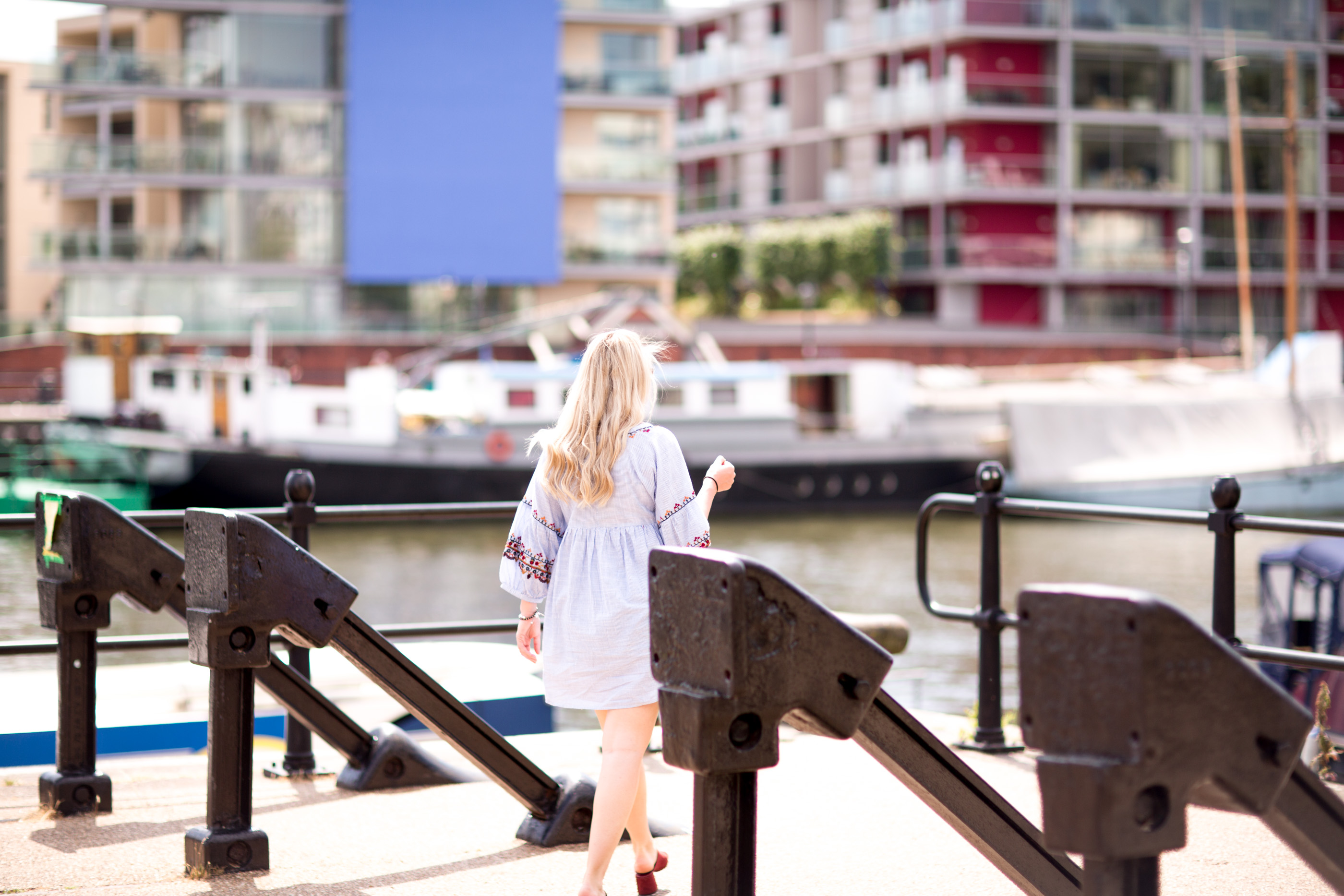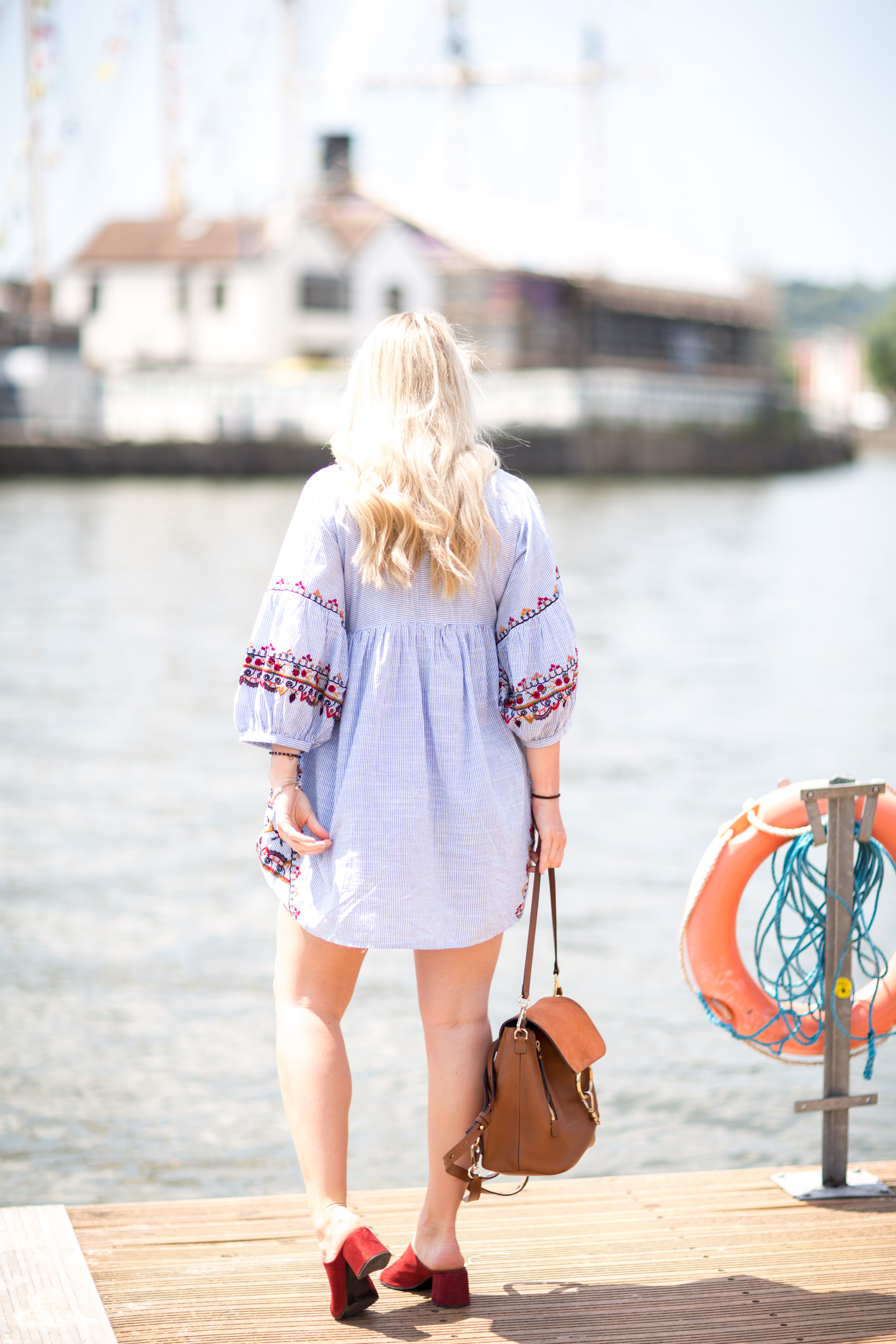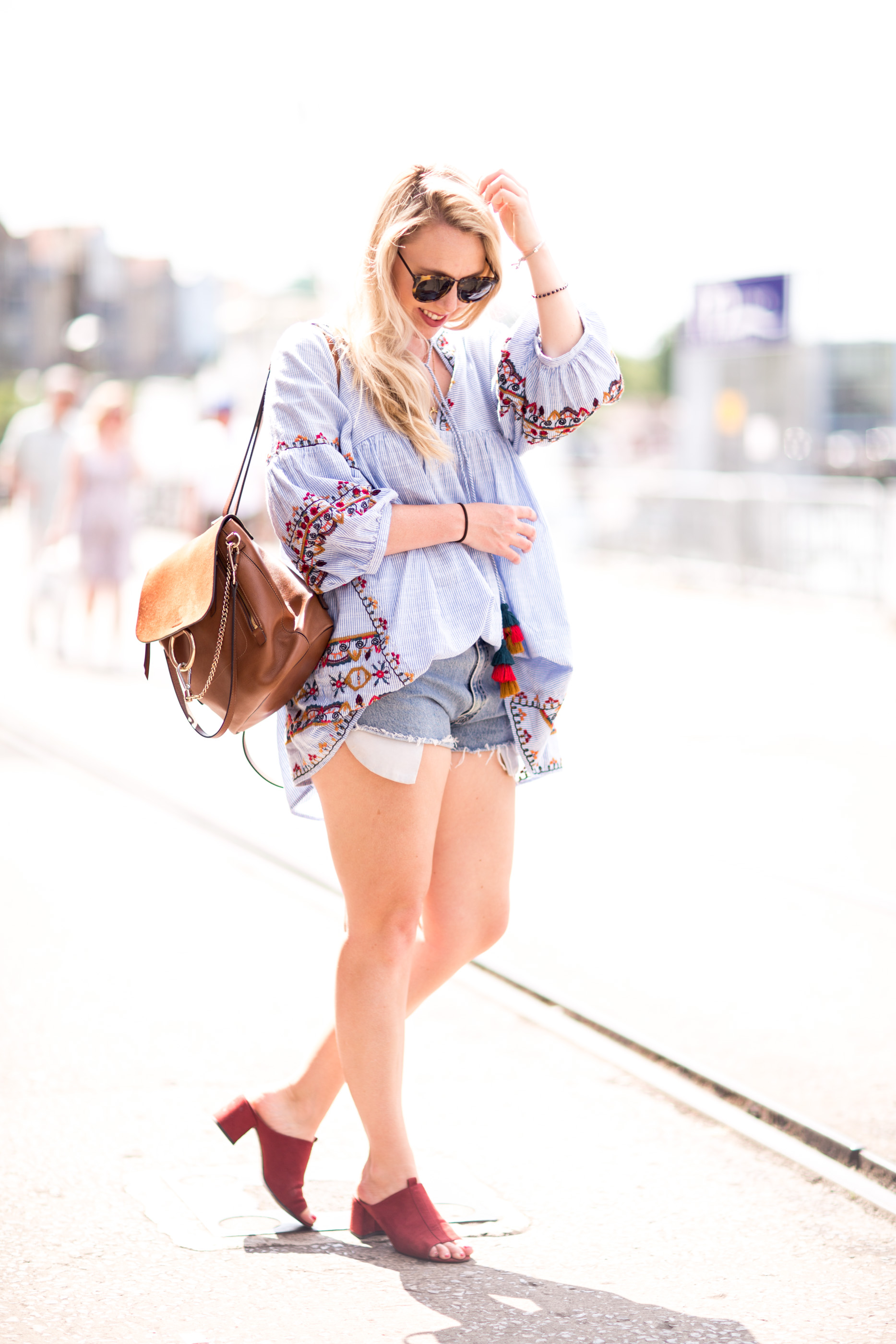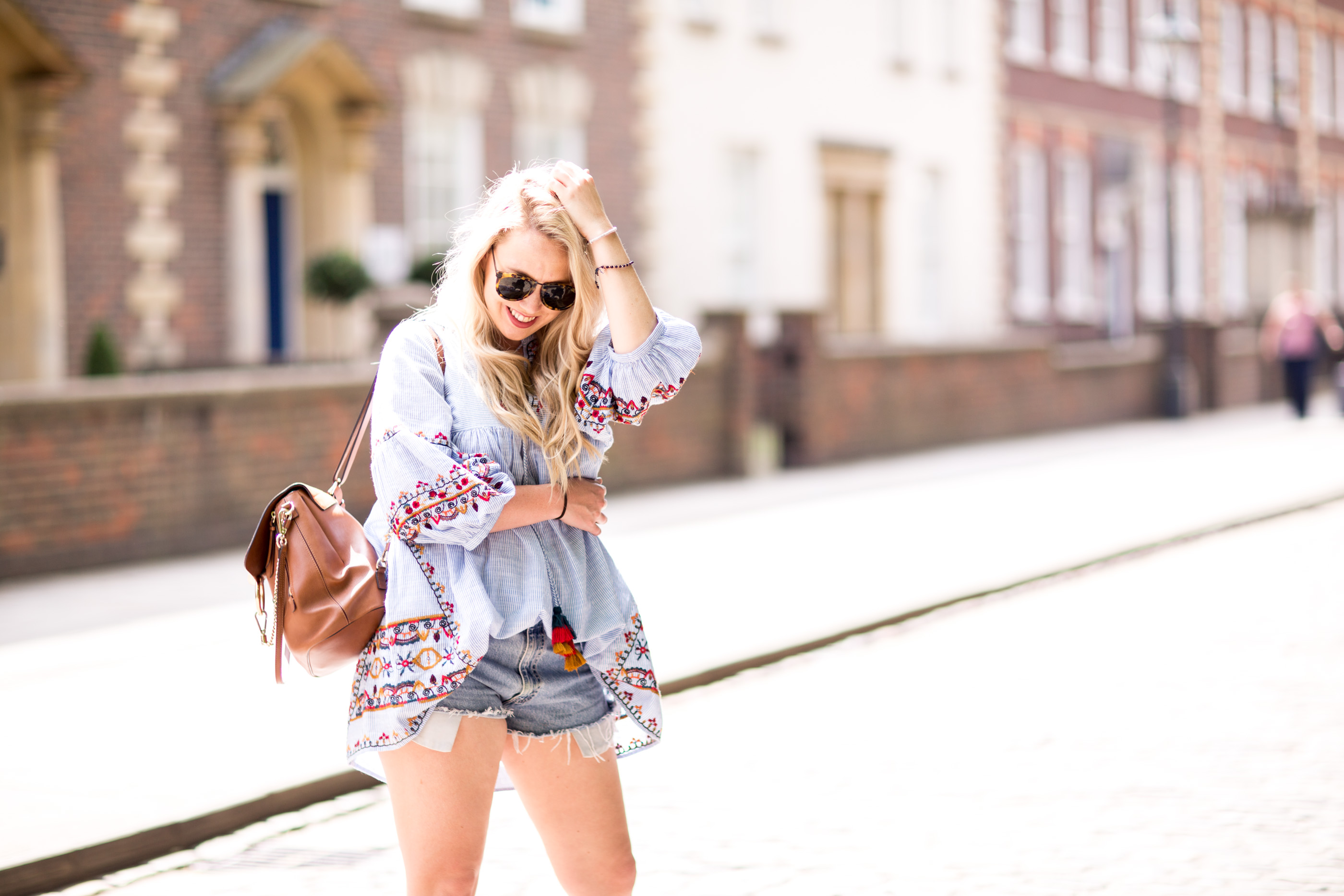 ---
MY HEAT WAVE EDIT

---
Whilst my denim shorts are reserved solely for weekend wear, this dress (styled as a tunic) is super light weight, billowy and made of cotton, ideal for this kinda weather and can be styled for work if needs be (white jeans make a great partner in crime for it). Now don't get me wrong, open sleeves if it's really hot is essential, but for the everyday British weather this type of blouse is ideal. Teamed with bare legs and open toe shoes (mules are a great midway option for the summer) it's good to go.
–
How are you coping / dressing with the weather right now?