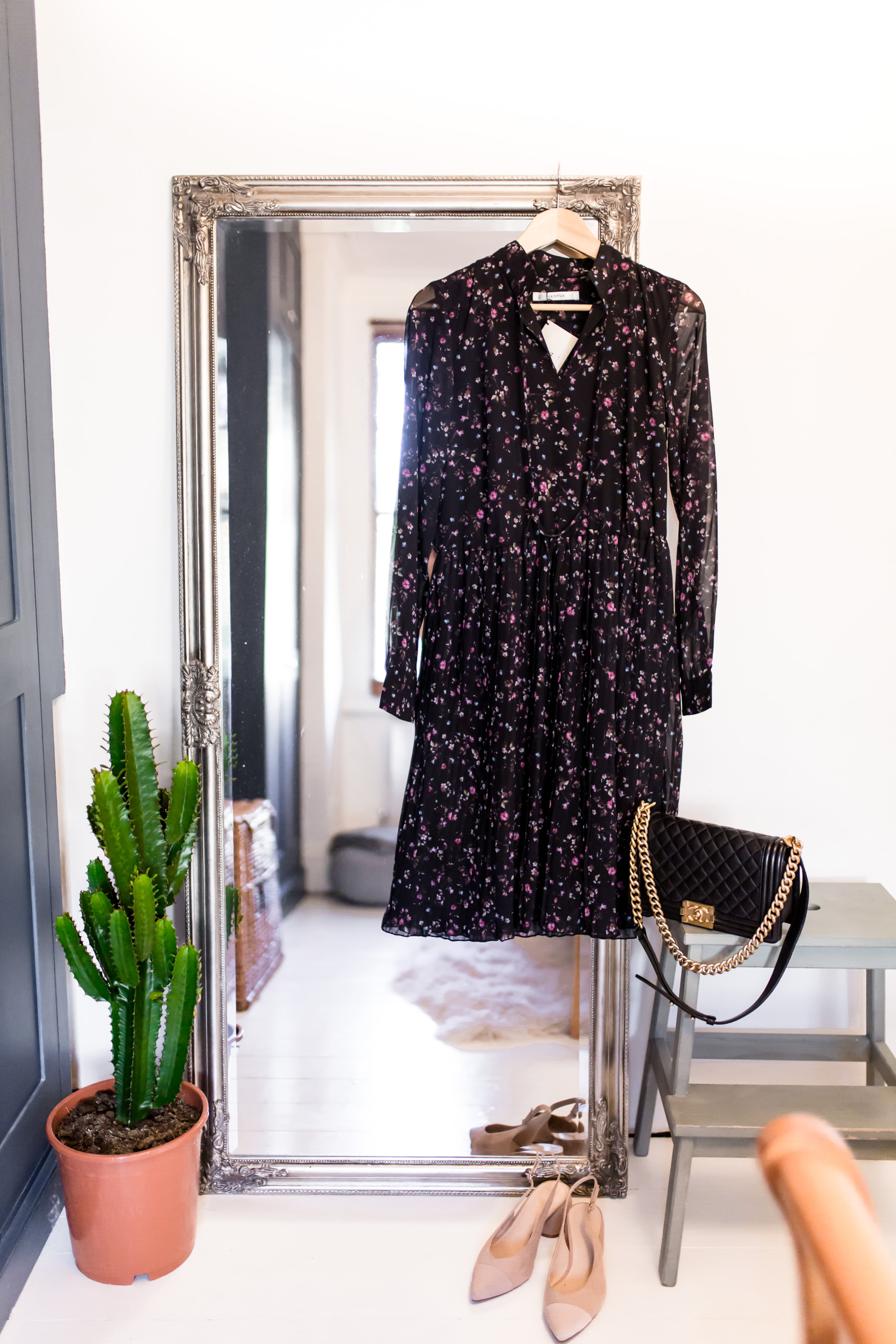 ---
CREATING THE PERFECT SPACE
Minimal & Clutter Free Bedroom Interiors
---
Your bedroom is somewhat of a sanctuary, the place you go to unwind, rest, relax and recoup, but despite this, up until this point and in my new home, my bedroom has never really been that place of tranquility it probably should have been.
Our old flat that we lived in for nearly five years was far bigger than what we've now bought, but our bedroom in hindsight didn't maximize the space, it was cluttered, busy & full up. Our new bedroom, despite being a smaller flat overall is still generous in size, but we used the buying & moving process as a chance to completely reset, and our bedroom interiors have benefited enormously from it.
The clear out process in our old flat was ruthless. I alone cleared five IKEA bags of clothes, two of shoes and one of bags … not to mention the coats. We got rid of furniture and 'stuff' that we forgot we had or no longer suited our aesthetic. We had one almighty clear out. Which meant when we finally moved into our new place, we had a clean slate to build from.
Our new place is a Victorian house (we own the ground floor flat) in West London. Our interior vibe is opulent (velvet and brass are our key materials) meet scandi i'd say! In the bedroom we have exposed floor boards which I painted white (something I've wanted forever, although it may need a slightly off white re paint at some point – the keep up is immense), clean white walls to give us that fresh scandi vibe, and the room is decorated with colourful prints, plants and statement furniture. I like to think everything has a place and a reason for being in the house … something i'm not sure I've quite mastered before.
Whilst we don't yet have our dream bed (I really want a velvet emerald green or navy bed at some point), the rest of our bedroom feels finished & a space we both love to be in because of it's airy, bright & minimal (read relaxing) vibe. We moved in with beautiful new West Elm Roar & Rabbit drawers & bedside tables, two statement pieces that really make our bedroom & warm up the space. My old vintage style mirror which sits against our wall & doubles up as my getting ready area, with my F&M hamper and Tibetan sheepskin rug on the floor & my Chickpea by HG custom hand knitted pouf (I love this piece). Built in wardrobes were an absolute revelation and seriously help with the 'minimal' decor (they hide a whole world of sins). And finishing touches with my favourite prints & some decorative 'pieces' (including Graham, our new cactus – he has a chic basket on it's way to live in) really finish the space off.
There are still a couple of touches we have to go, a door for one, and new sash windows & plantation blinds to boot, but even without those finishing pieces, the room is near to perfect for us. Warm, Relaxing, & a space that helps us physically & mentally breathe and unwind.
---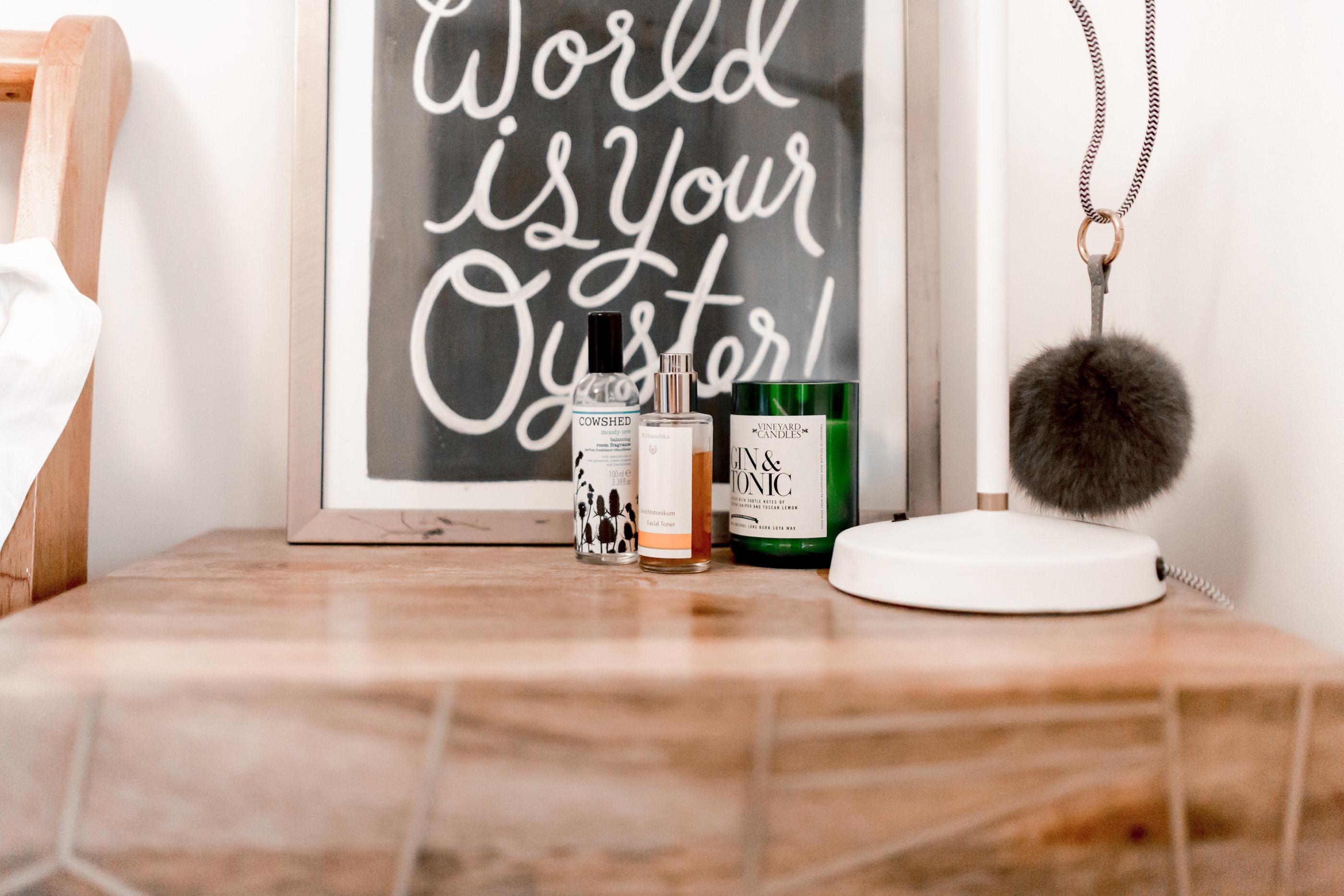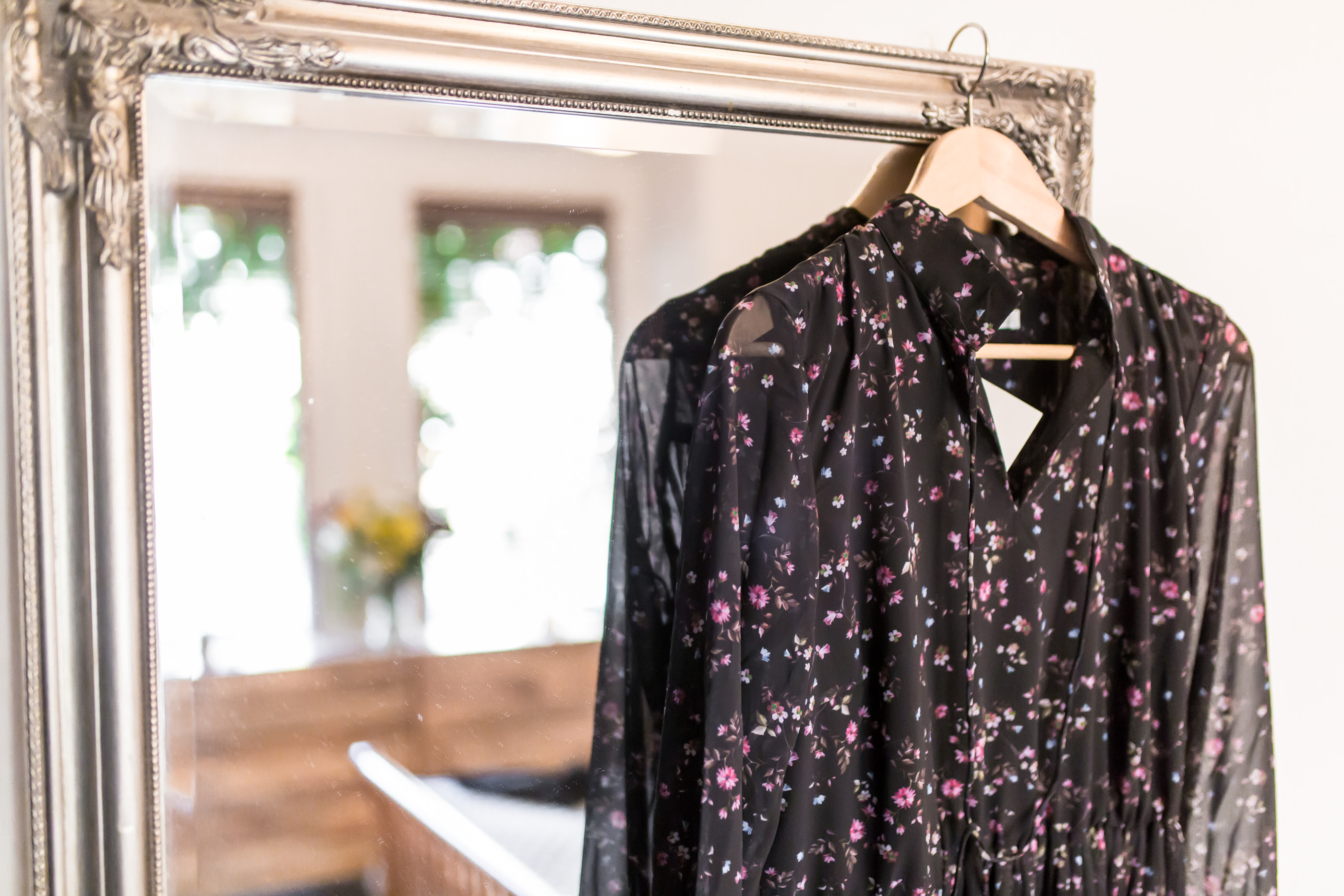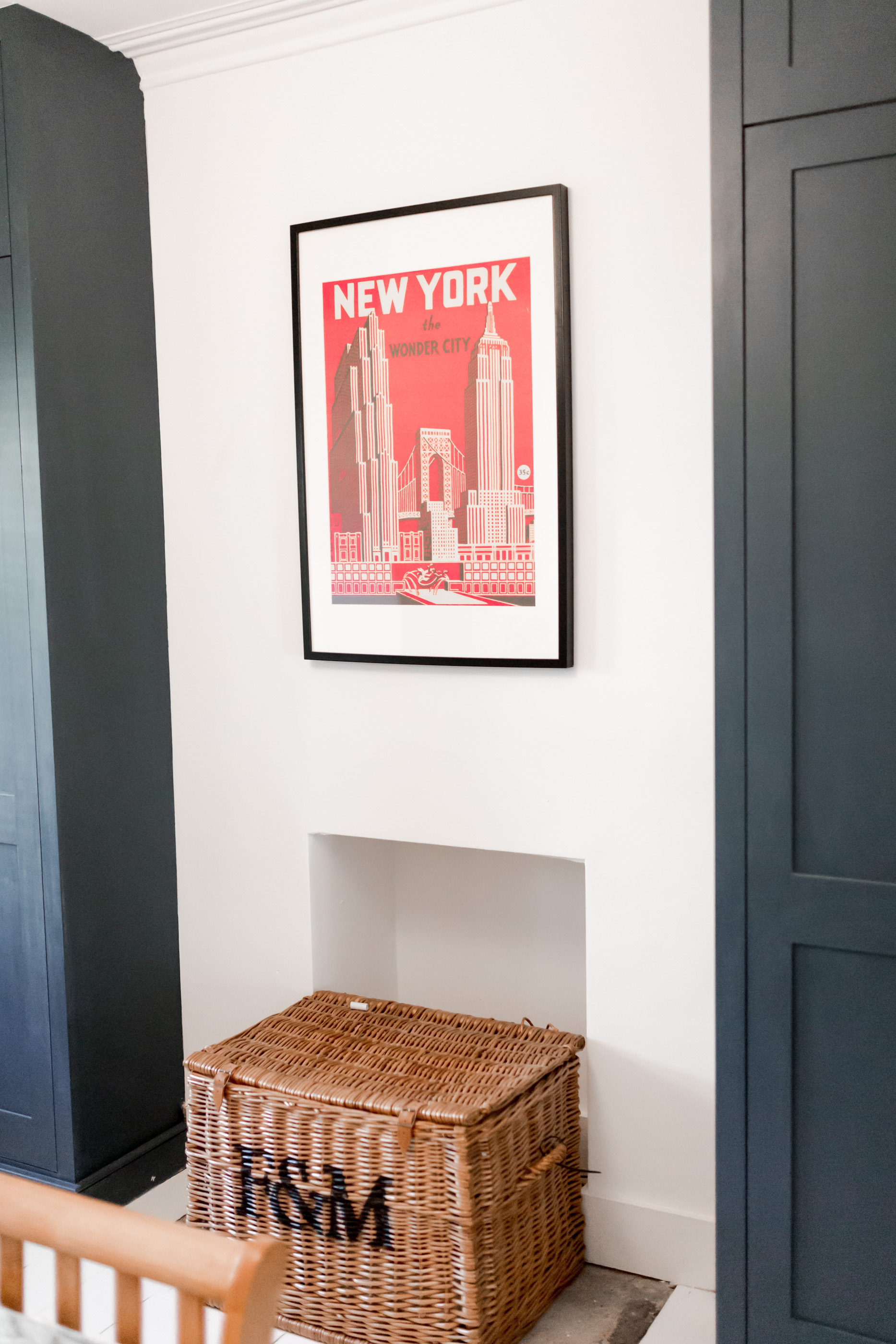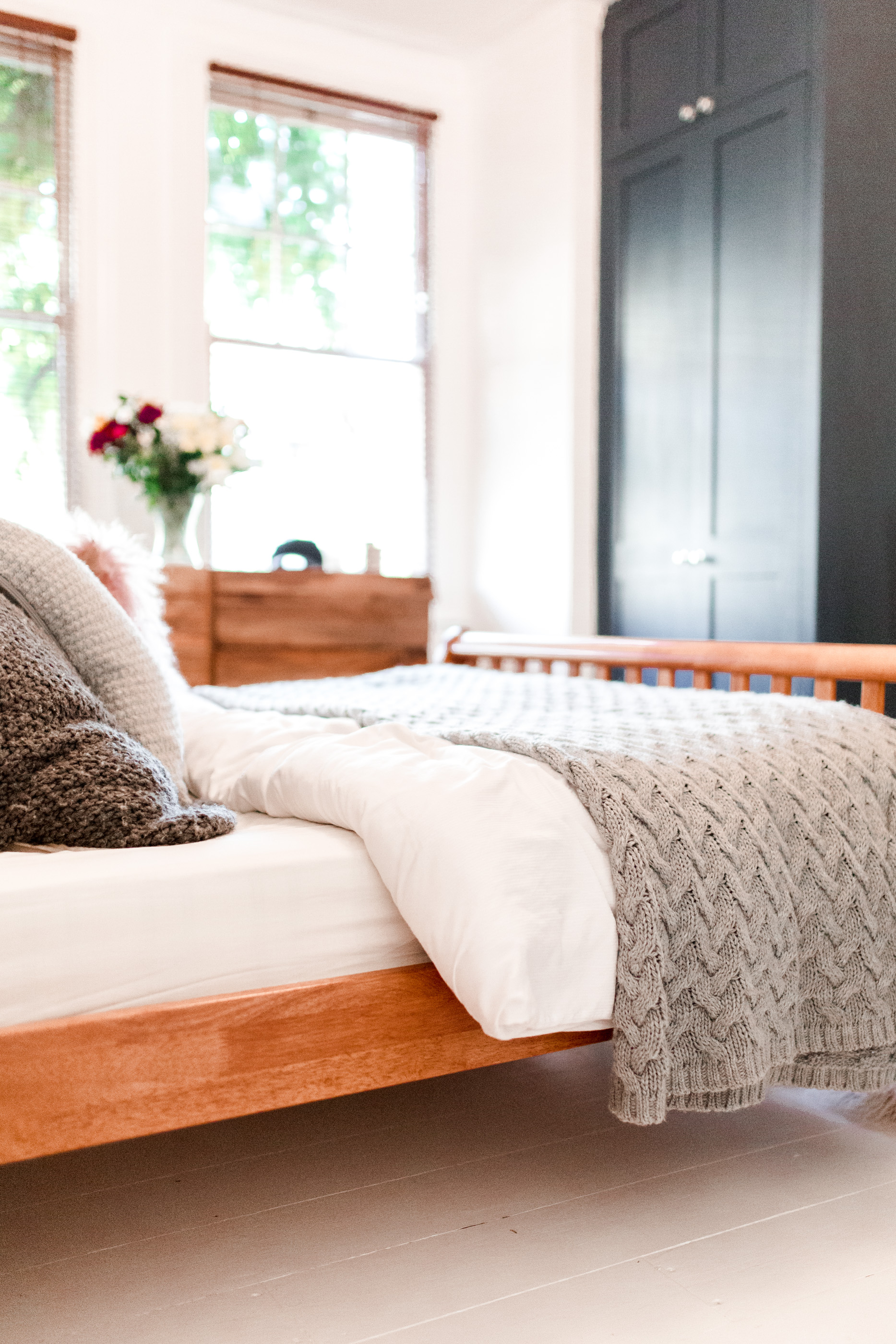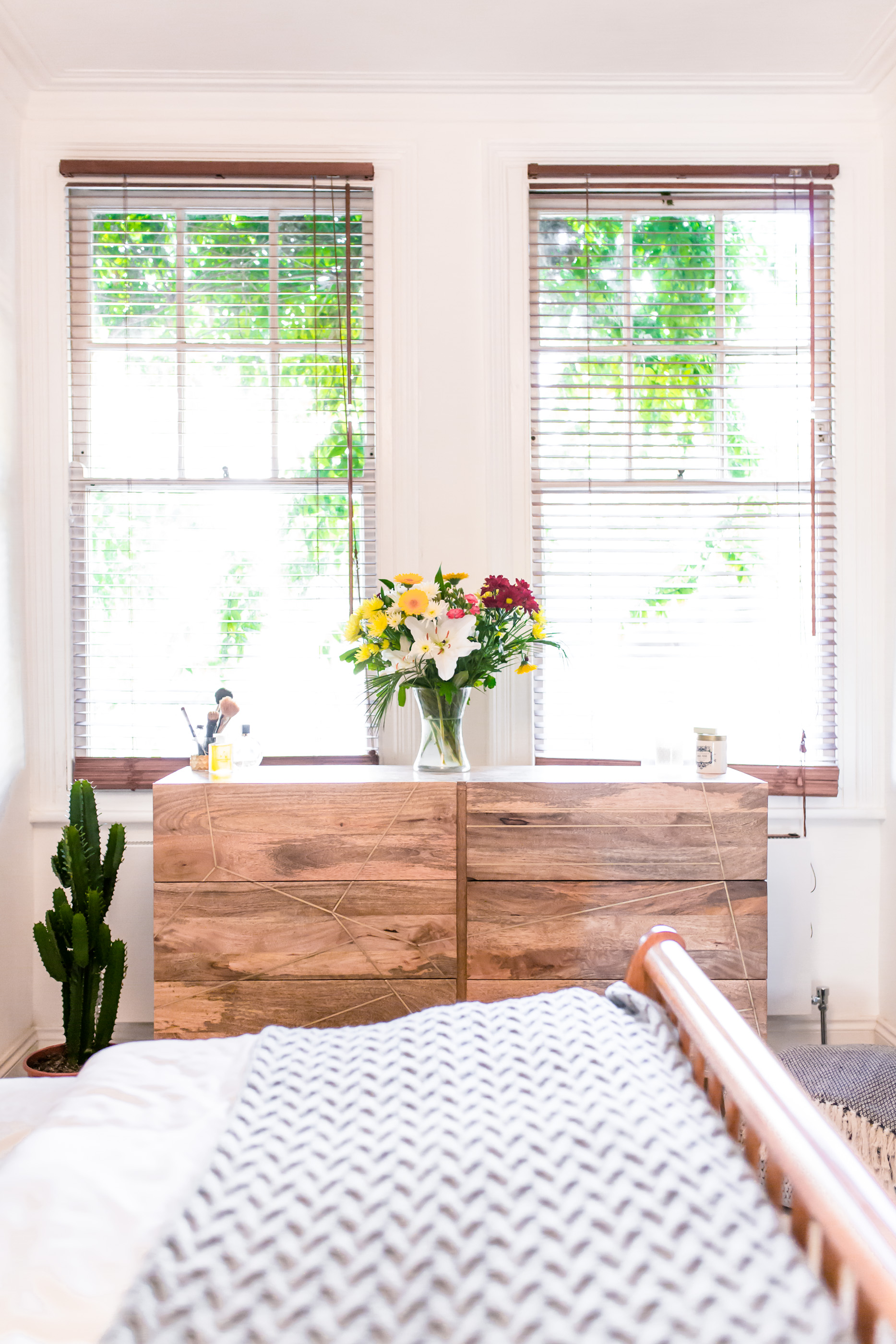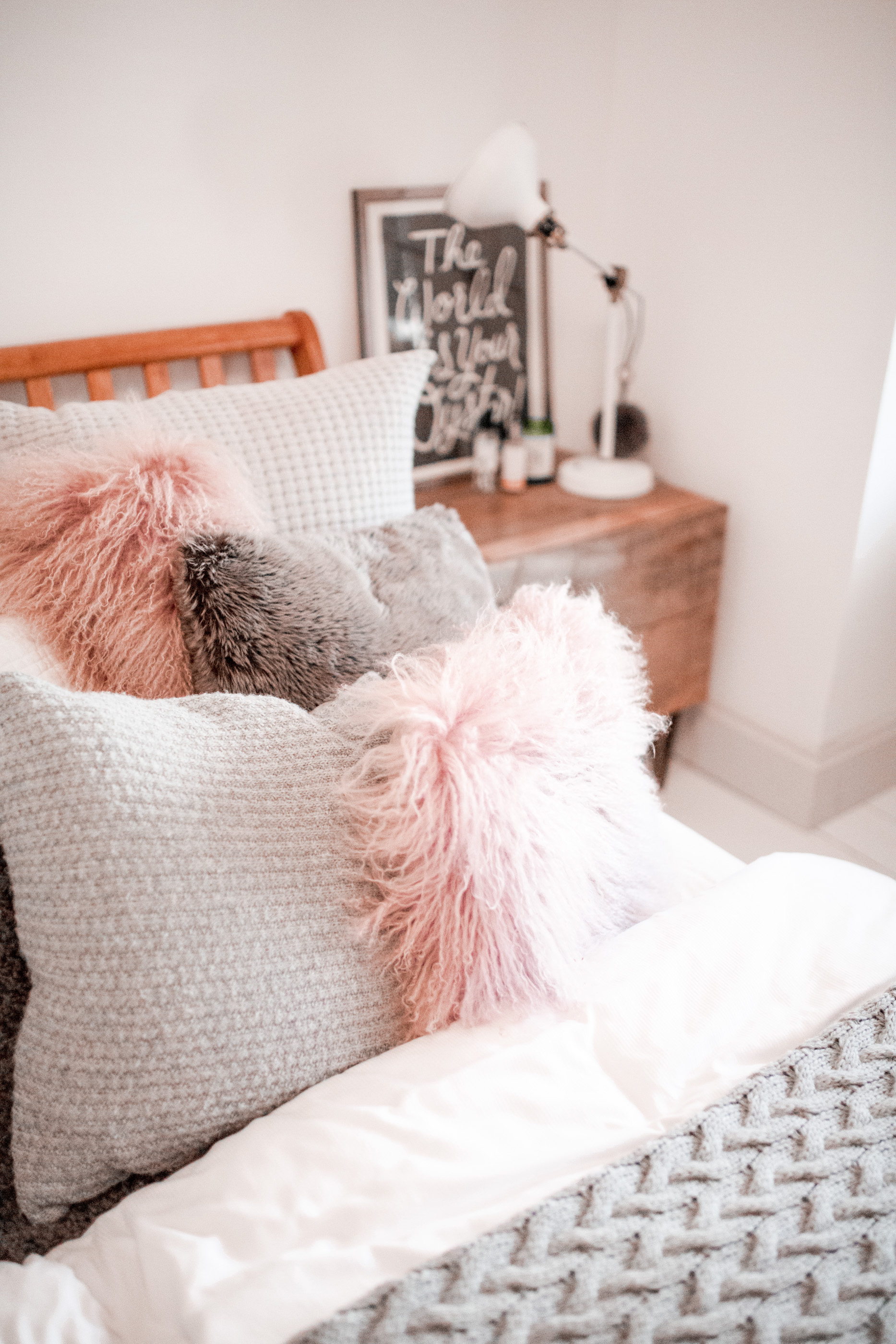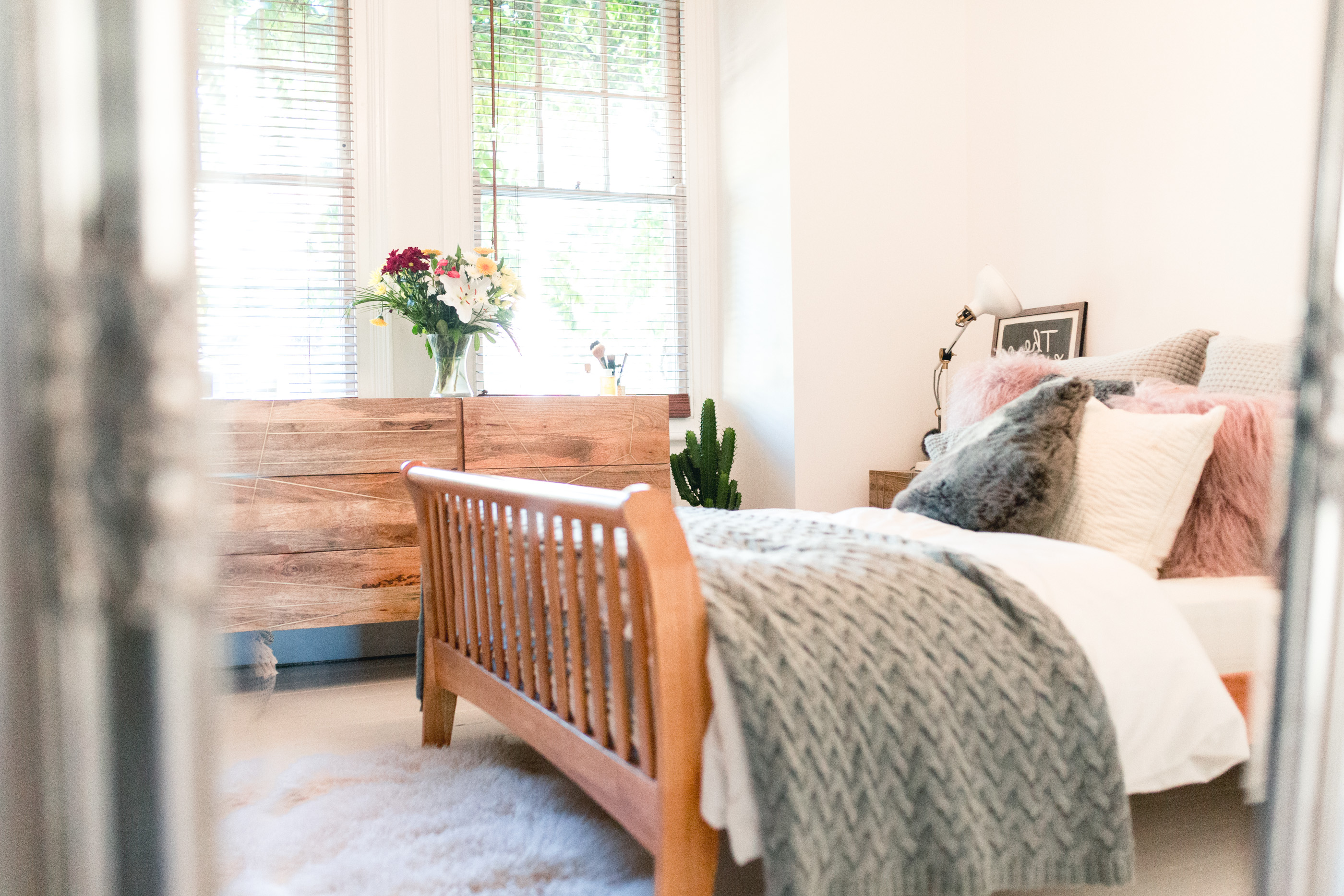 ---
THREE TIPS FOR CREATING A RELAXING BEDROOM
–
DITCH THE CLUTTER
–
One of the biggest changes we made to our bedroom space, and the one that probably gives the room such a calming & relaxing atmosphere is the 'stuff' we put in it. Or didn't I should say.
For the first time ever, we haven't put a TV in our room. truth be told it was largely because there was no fitted TV cable so we just never got round to connecting it, but the impact it's made is huge. And now we're both agreed that we're going to keep the TV for the lounge and kitchen instead. Whether it's properly unwinding and relaxing when you go to bed, or the more aesthetically pleasing decor (seriously, having no TV really makes a space look nicer), it's a change we've made that we're going to stick to.
It's not just the TV we ditched, the clear out we had pre move meant we could really de-clutter our spaces & keep the decor to a minimum. Having nothing under the bed makes a surprising difference …
–
PUNCTUATE WITH FURNITURE
–
We deliberately kept the walls and floors in our bedroom (and lounge for that matter) bright and airy (read, Dulux trade brilliant white), and exceptionally minimal. We used our furniture to create the warm, personable & comfortable atmosphere we wanted. Our West Elm furniture, our bold colour pop wardrobes (a lovely navy blue tone) & prints really give the room it's personality … and have allowed us to not overwhelm the space.
–
MAKE IT PERSONAL
–
Often it's the rooms that feel the most personal that make you relax the most, so it's important that you bring some personal things into your room too, as much as a clean and non cluttered space is key, you want it to feel homely at the same time. For us that meant a few 'pieces' that are sentimental and a scent that immediately relaxes me.
My cowshed room spray & selection of Aromatherapy associate candles immediately help me unwind after a long day in the office. The scent is somewhat spa like, and different to the Jo Malone scent we have elsewhere in the house, really making the room it's own.
My Fortnum & Mason trunk & NYC print are also two pieces that hold a lot of personal value. The wicker basket is one I've had since I was a child, once a toy box & these days a clean laundry basket. I love it's old & rustic vibes & it really does add a personal touch to the room. And finally my NYC print which I picked up in Chelsea market a few years ago takes pride of place in the centre of our fireplace. NYC is my soul city & I bought Jase this vintage print following a trip we both took there way way back!
Let's not forget the mammoth volume of White Company throws & cushions I have too … the ultimate in bed time comfort.
---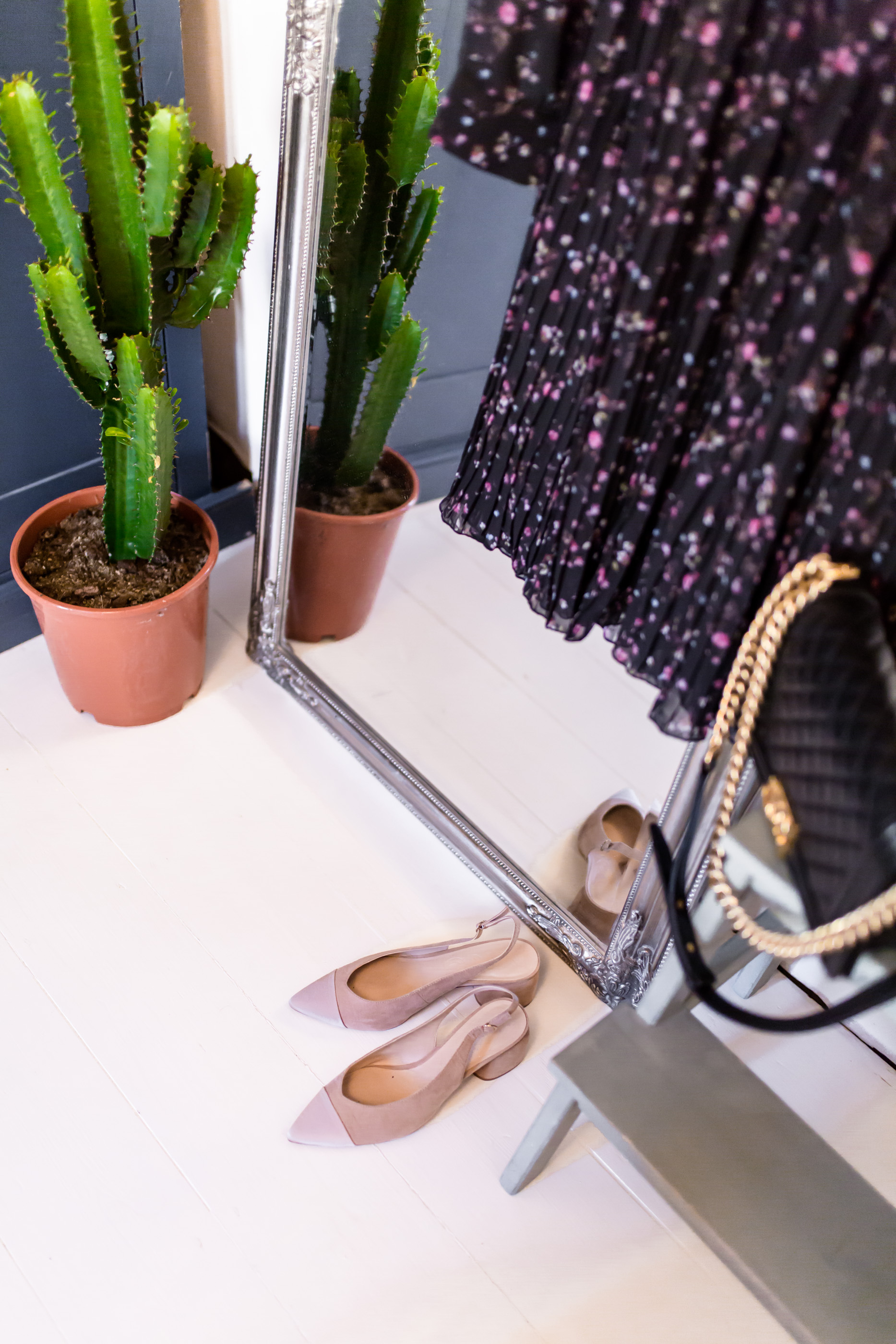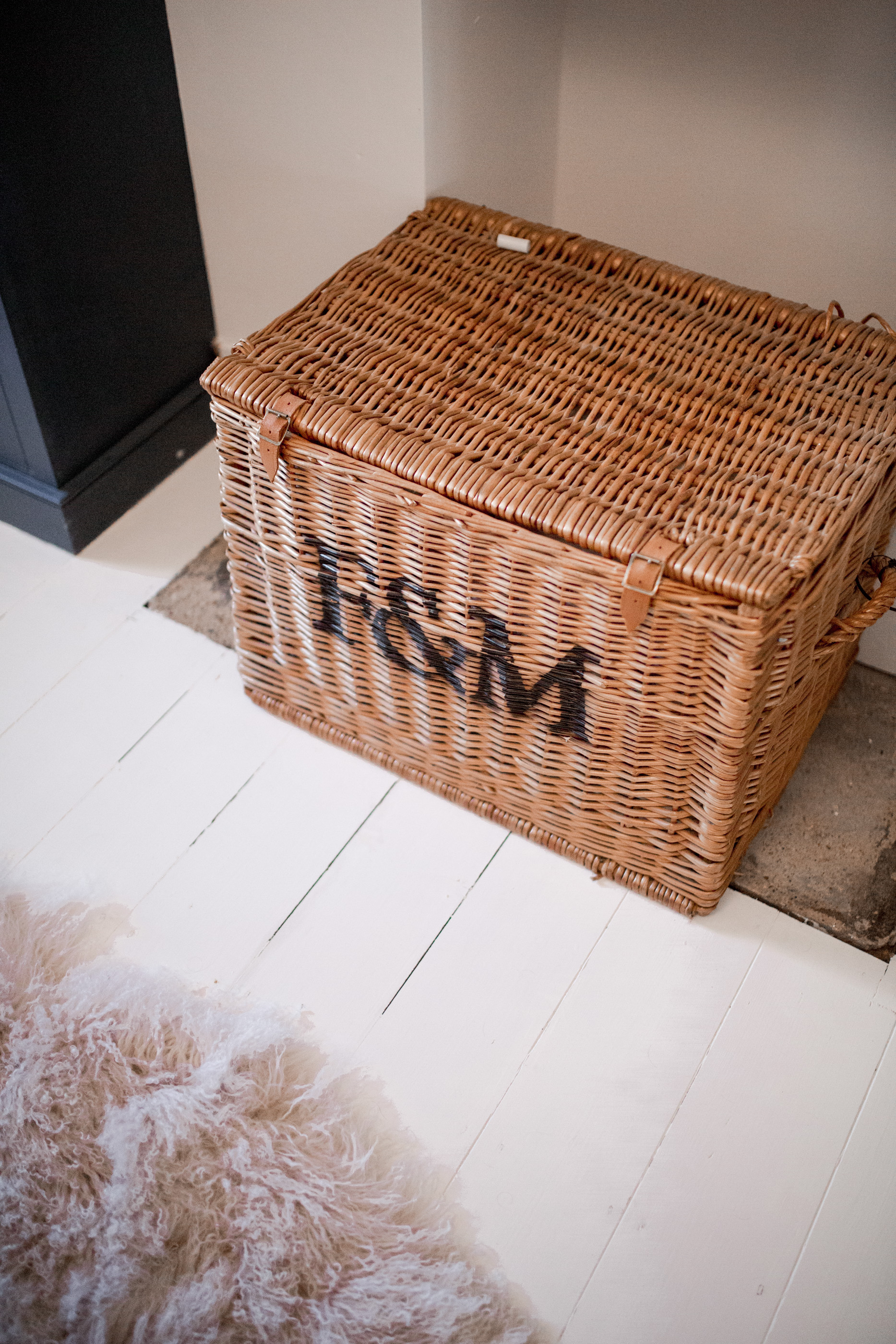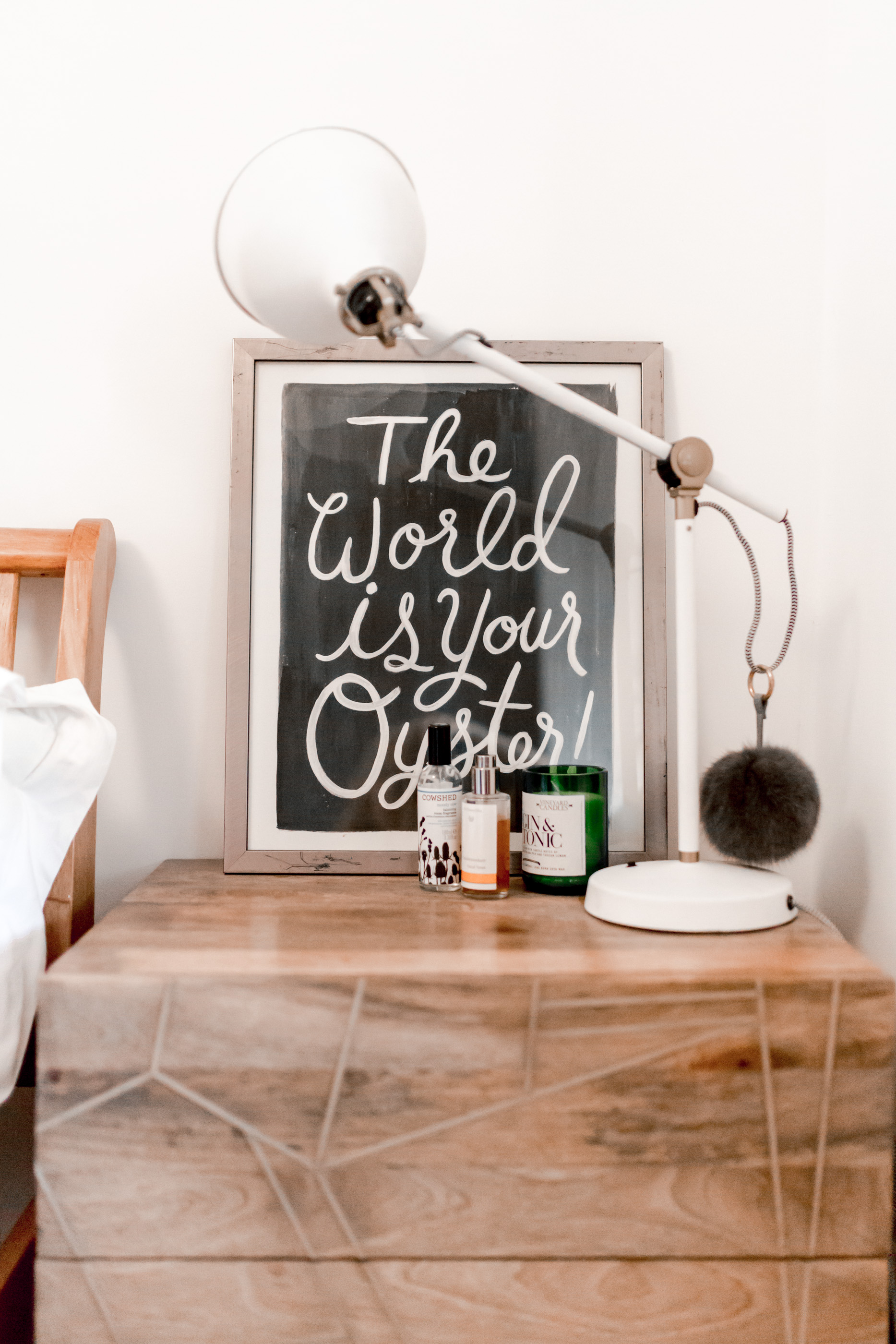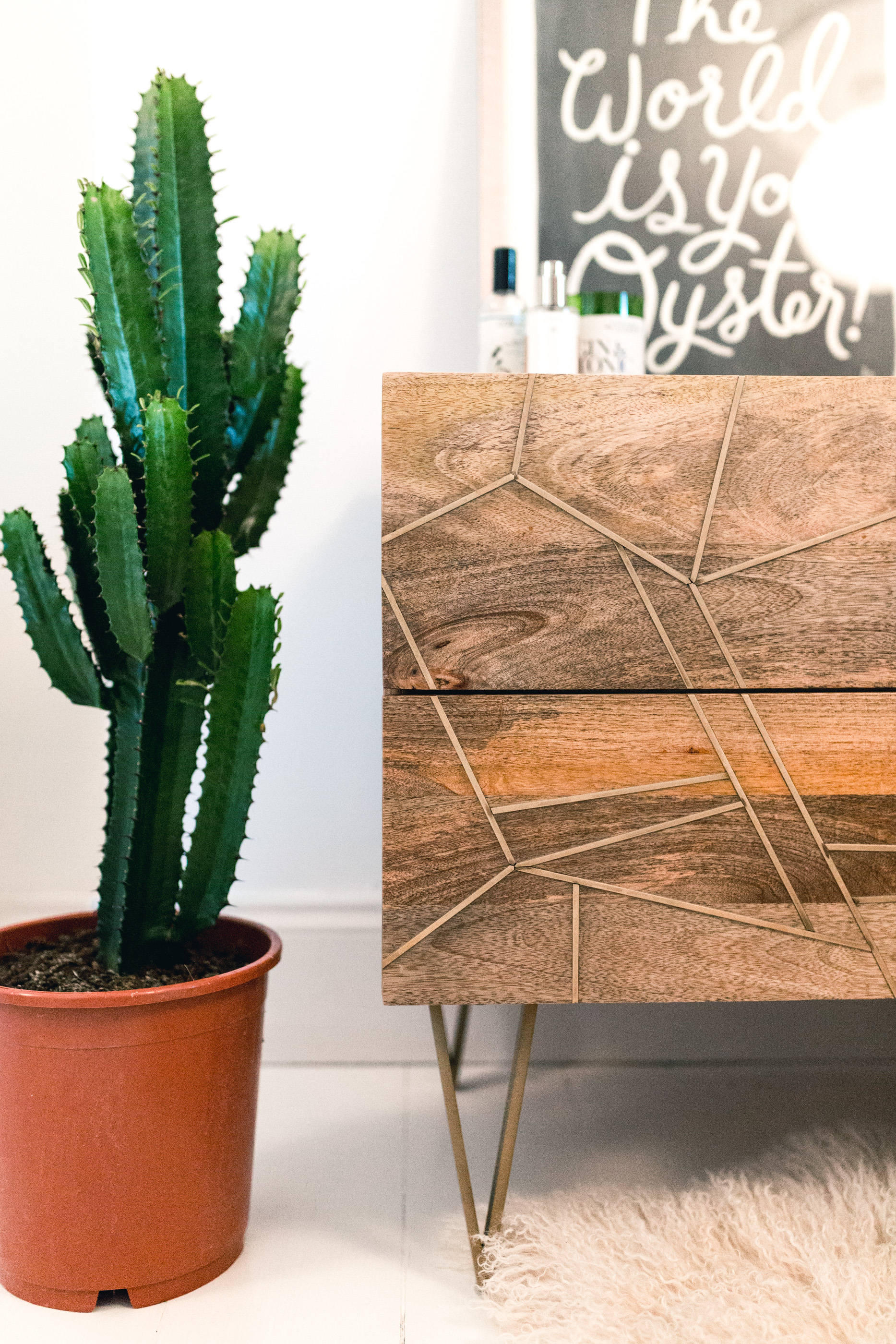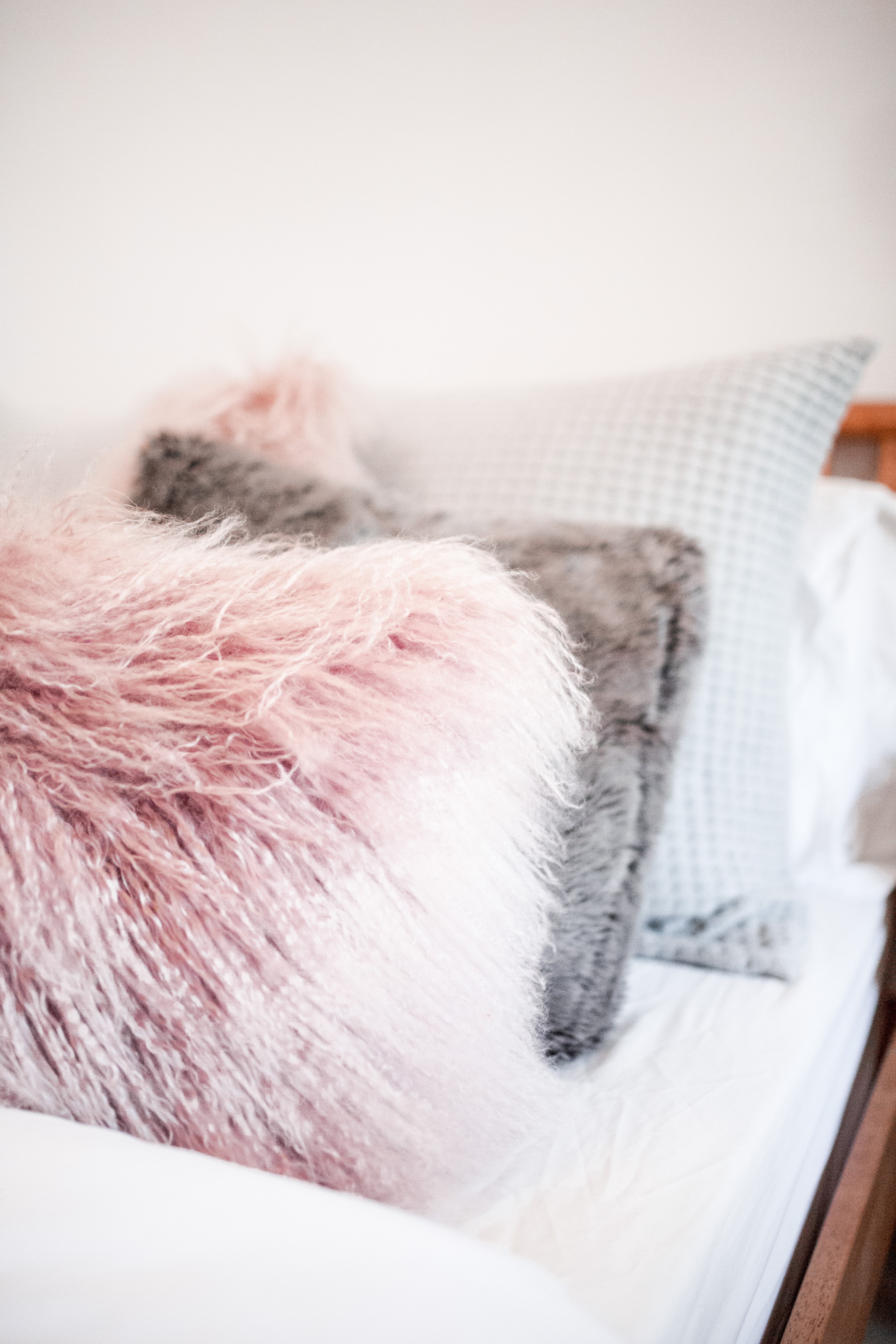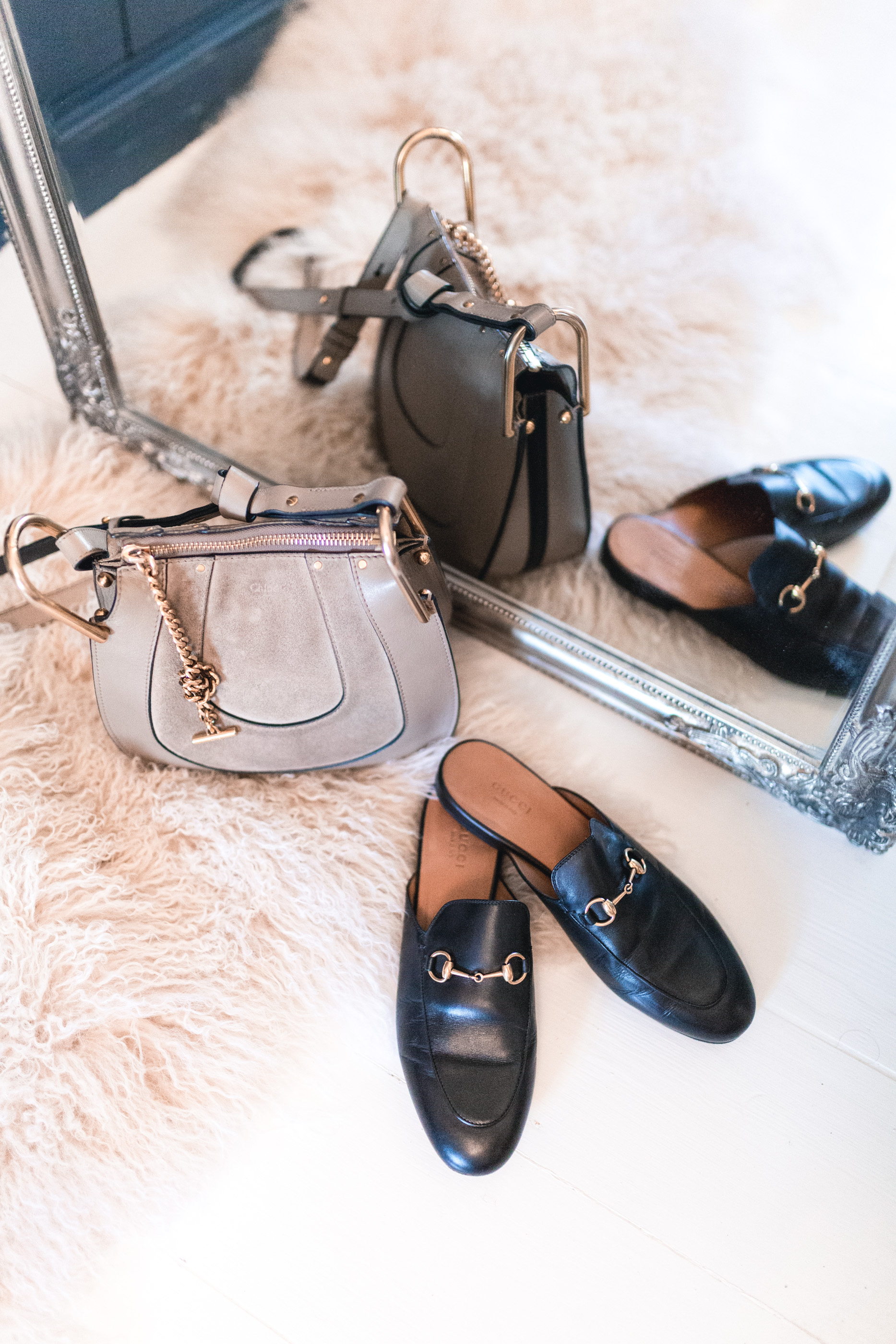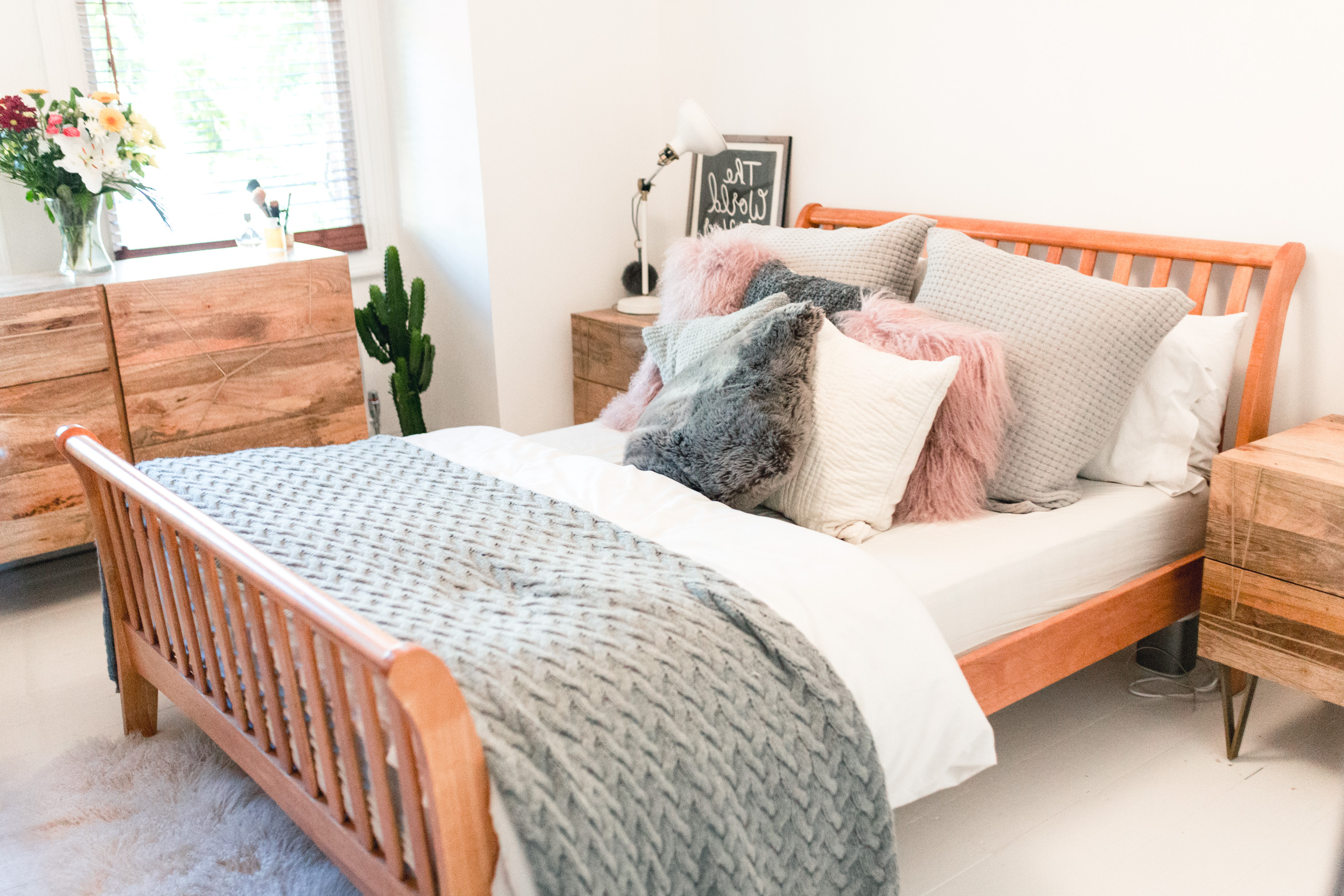 ---
SHOP MY DECOR

---
What I've found since my mammoth clear out, is that i'm gradually adding new decorative pieces & accessories back into the space, but everything has a purpose & reason for being there. When you've lived somewhere for a long time it's super easy to hoard & gather too many possessions which really just end up cluttering your space. Clear outs are hard, but if you're looking to create your own little zen room & update your decor, I couldn't recommend a clear out anymore. Once you've got a fresh base to build from you can gradually start introducing new pieces back in to build your perfect space.
Two pieces I'm adding right now are a couple of seagrass baskets from Trouva for Graham the cactus & our throws, and another pouf from Urban Outfitters. A couple of additional pieces which I really think will build out the overall aesthetic without adding too much mess.
–
What's your decor style? Do you have a relaxing interiors style in your bedroom, or do you struggle with the clutter like I used to?