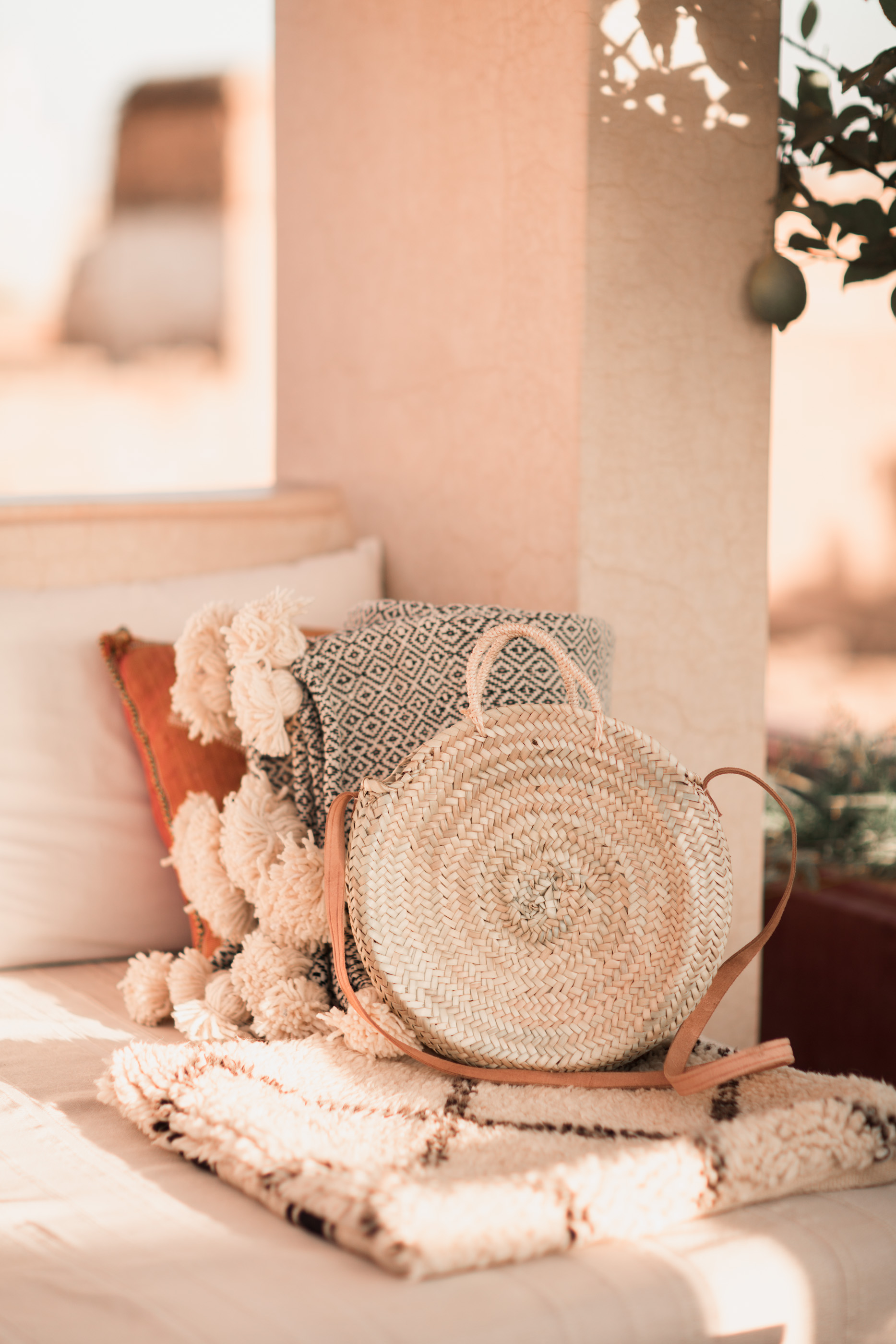 ---
THE MOROCCAN SOUKS
Tips For Haggling In The Medina
---
The Moroccan souks are infamous for a bargain and berber inspired decor a zeitgeist right now, so it's no surprise a little shopping was on my list for my trip to Morocco.
With Marrakech being our first stop on our 11 nights in Morocco we got to work immediately eying up a few pieces we'd want to take home and I already had a few ideas in my head of things I wanted to get, basket bags, Berber style throws, some baskets and If our luck and some miracle transportation solution had it, a proper moroccan rug too! I've wanted the classic shearling rug with aztec black / navy patterns forever, but with a 4 digit price tag in the UK we opted for something a little more economical (and also original i'd say), but that doesn't mean I wasn't eyeing up what the souks had to offer.
In fact we found THE perfect berber rug, which we managed to haggle from 8000dh down to 1800dh (around £160, incredible right), without even really trying (more to come on this) and for a moment I truly thought we might be taking one home if it wasn't for the luggage allowance situation! But given we haven't researched container ships & posting (if anyone has any recommendations let me know as theres still time)  we decided to opt for a few smaller pieces instead.
Haggling is somewhat of a trick to be mastered and I definitely think the souks in the medina are the best places to get a deal in Morocco from what i've seen so far. I personally haggled in french and managed to buy a basket bag for 80dh (originally quoted at 300dh), a berber inspired cushion cover for 140dh (originally quoted at 400dh) and a gorgeous wool throw with pom poms for 270 dh (originally quoted at 650dh). I'm so happy with my buys so I thought i'd show you a quick glimpse here, but perhaps more interestingly my tips for haggling. I love a good haggle, and so do the Moroccan souk owners, but there are definitely some tricks of the trade which help you to secure a proper bargain!
---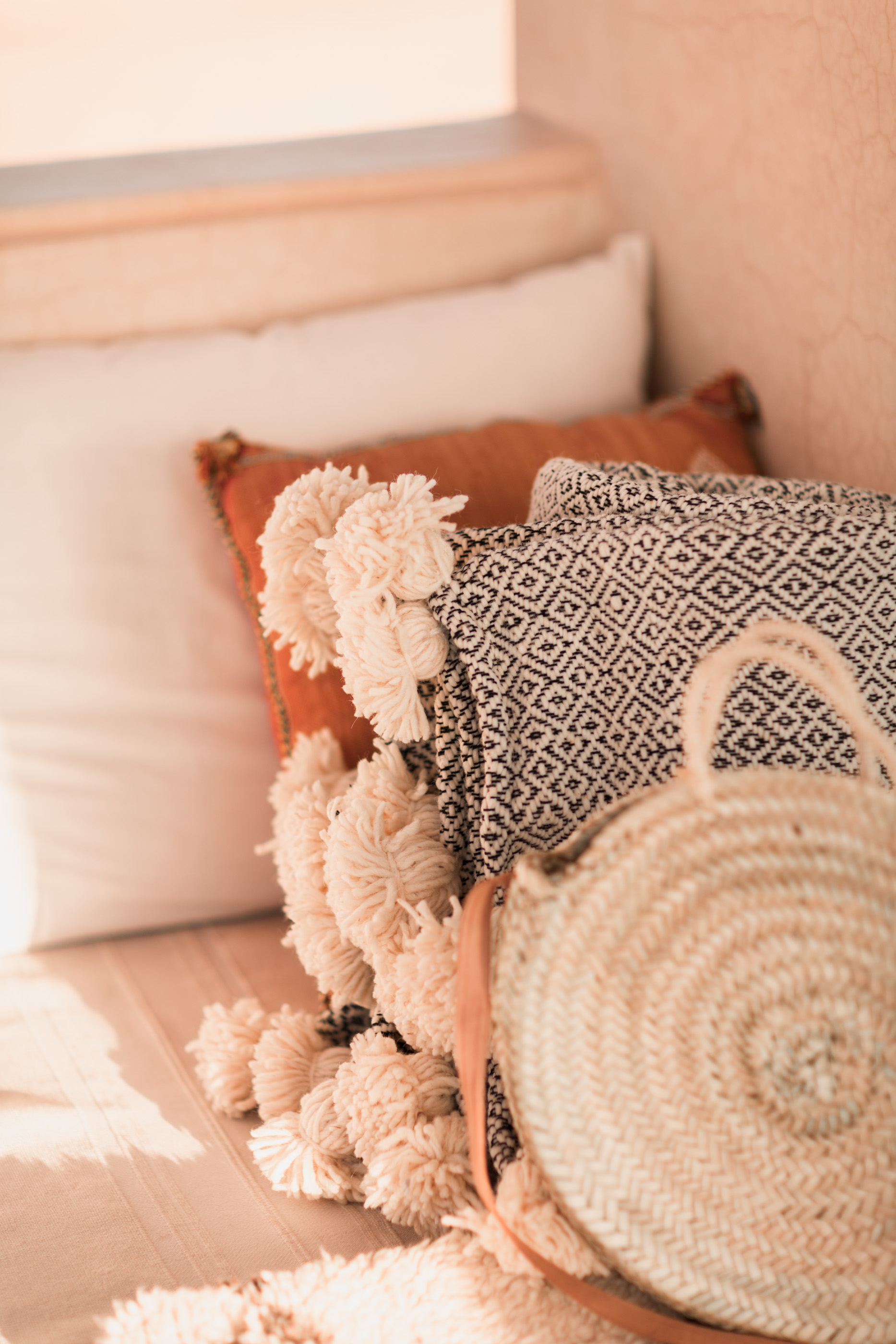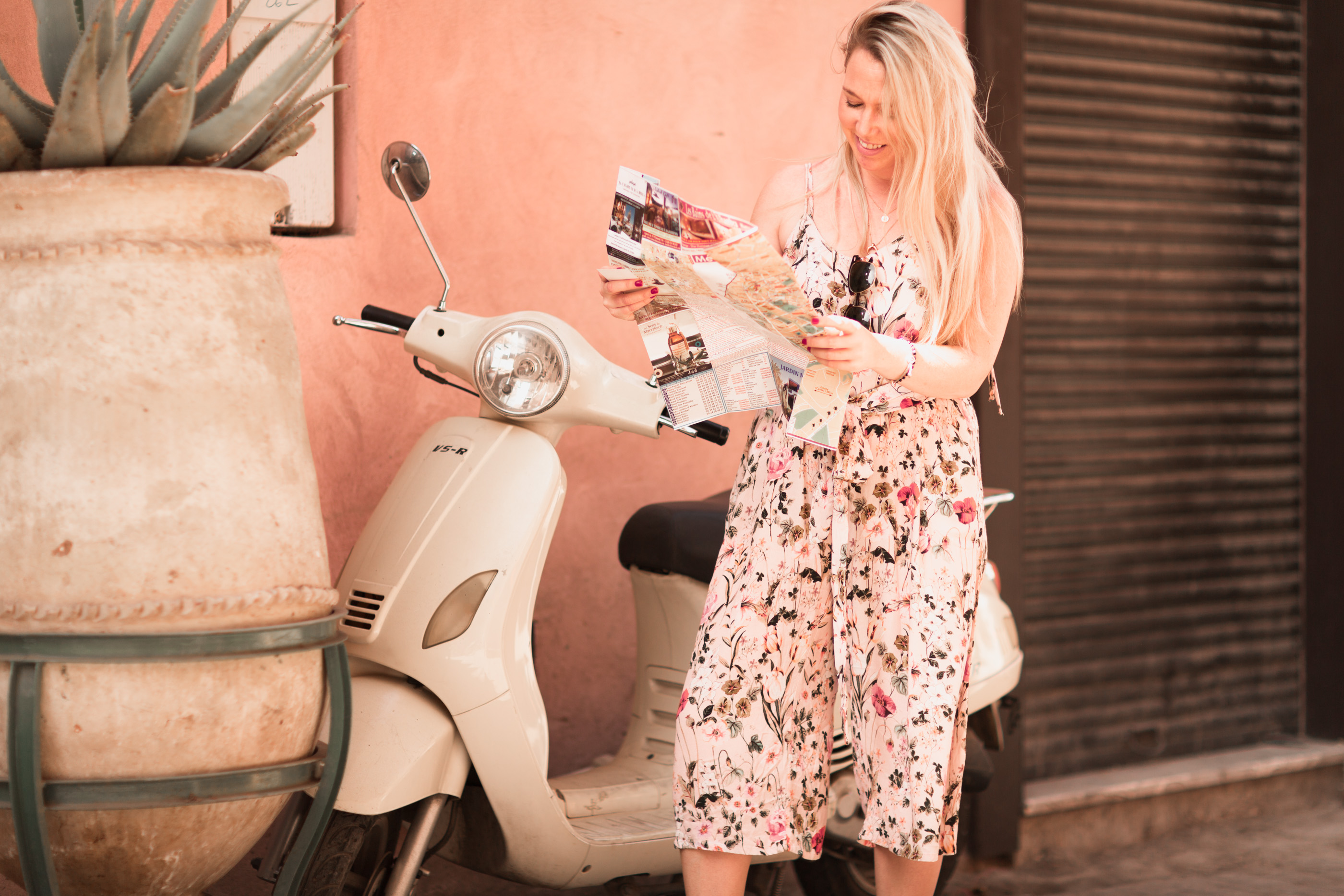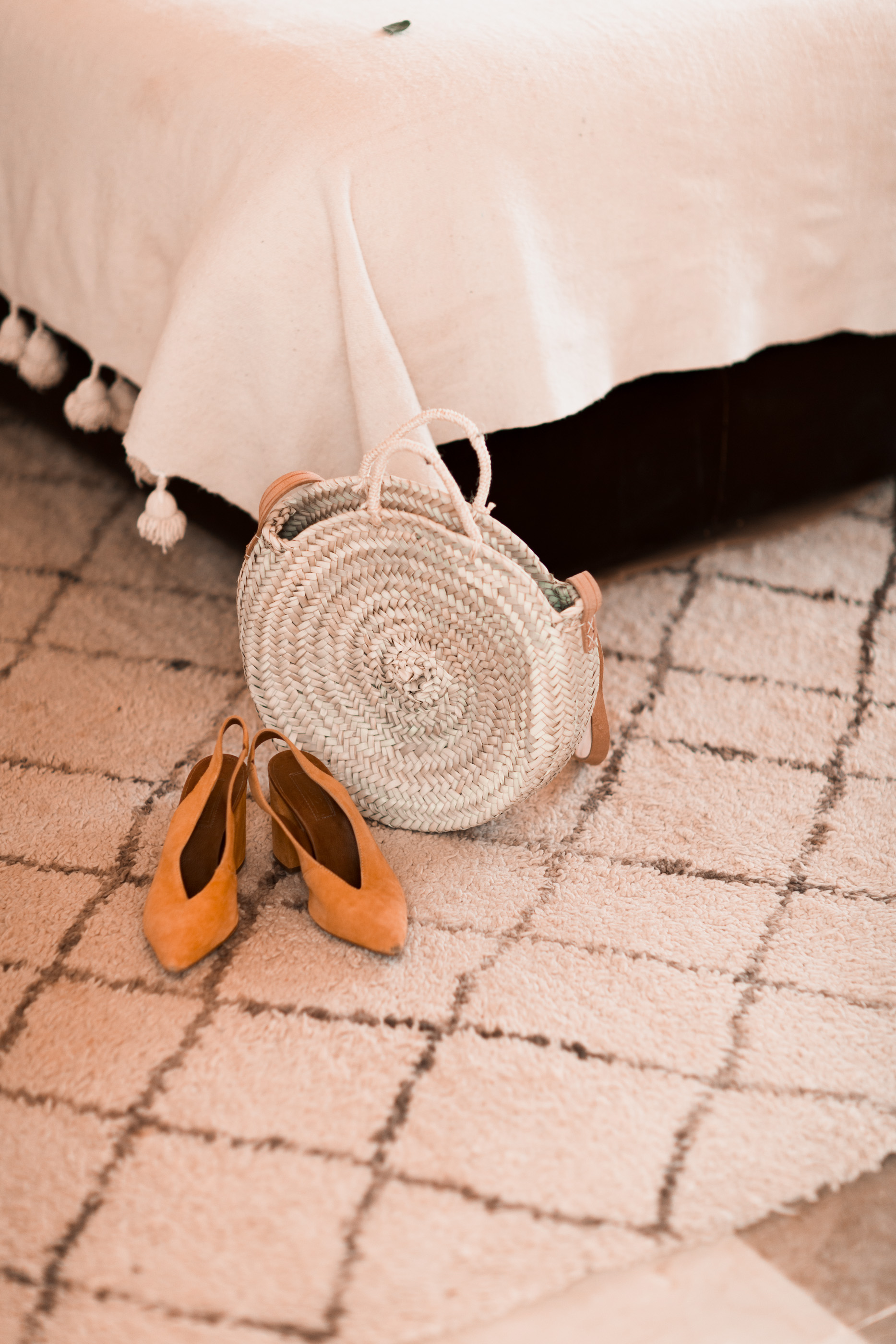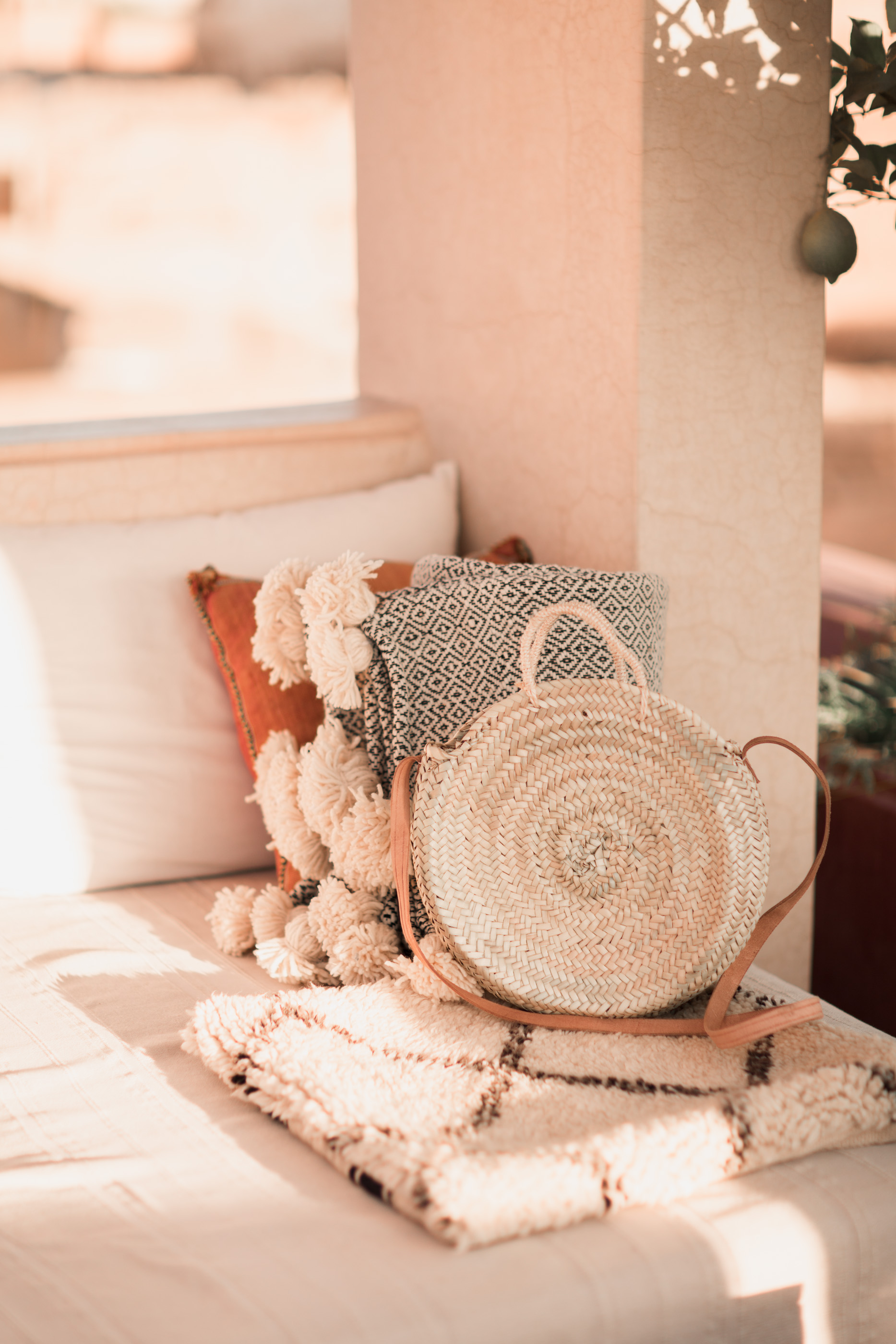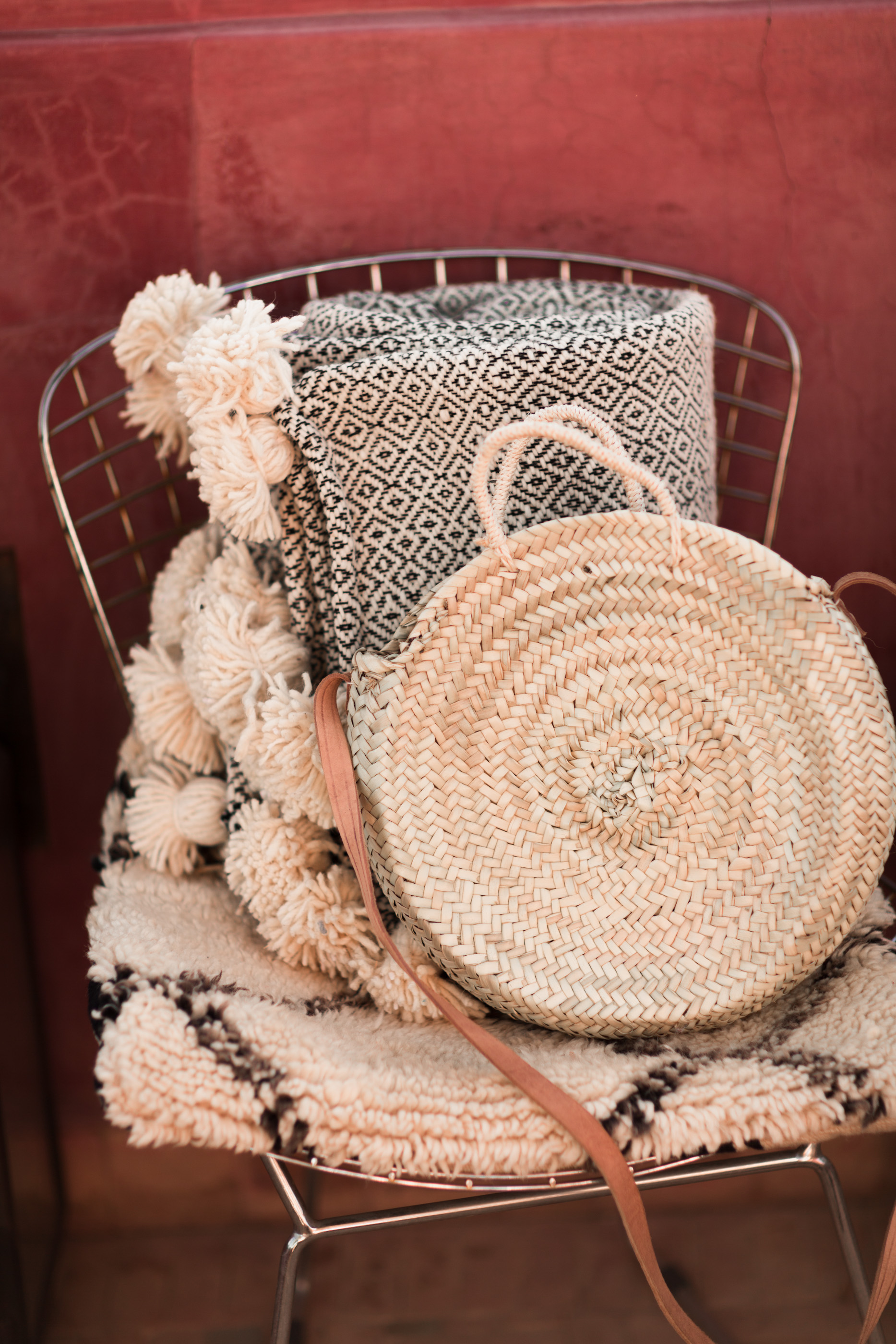 ---
TIPS FOR HAGGLING
–
AIM FOR HALF PRICE
–
When we arrived in our Riad in Marrakech, the first thing our hotel manager told us about the souks was that the best benchmark for the 'right' price to pay is about 50% off what the souk owners will start off with! Within the Medina we found this to be a good starting point and actually on all our buys I managed to haggle a little more off of the price too! It's worth saying that some stalls won't budge, others will, so be sure to properly shop around and get multiple quotes before you settle on the store you're going to buy from – just try and remember your way back because it really is a maze in there.
–
LET THEM START THE HAGGLE
–
One thing I noticed time and time again is that before you even open your mouth the price will drop from their original starting point. Whether it's 'i can do you a good deal' or just a straight reduction in their quoted price, the more silent you stay the more they just haggle with themselves to bring down the price. They may at some point ask you what you want to pay, always go in much lower than you want to net out at, as inevitably you'll meet somewhere in the middle.
I have to say speaking a little french definitely helped versus being a typical english tourist!
–
KNOW YOUR PRICE
–
When it comes down to it, your haggling over tuppence by the end of it, and it's really tempting to want to drive a bargain for the sake of it. It's worth knowing what you'll be happy to pay before you start the haggle to ensure you retain a little perspective, but also don't end up losing out or paying over the odds.
I knew I wanted the items I purchased, and I knew what they'd cost in the UK which gave me a good benchmark and ambition for my haggling. I was really happy with the price I netted out on for all my buys, and really that's what is most important.
–
SEEK OUT THE HIDDEN STORES
–
The reality is every stall is selling the same thing, every price is different, and the more mainstream the position of the store the more the cost will be. Make sure you make a point of getting deep into the heart of the souks and not just in the first few lanes and alley ways, and most definitely not the big square itself.
In fact, if you're looking for rugs or bigger ticket items, you'll want to seek out the hidden stores that don't necessarily have a 'front' seller. These are more wholesale spots and most definitely the place to get a bargain. My blanket for example started at 650dh on a stall in the souks, but when I went into a little backstreet shop, where they were actually making the products the starting price  immediately dropped to 450dh. This is even more pertinent for rugs if you're looking to buy one.
We found a few really great stalls which I'll share in my Marrakech guide soon!
---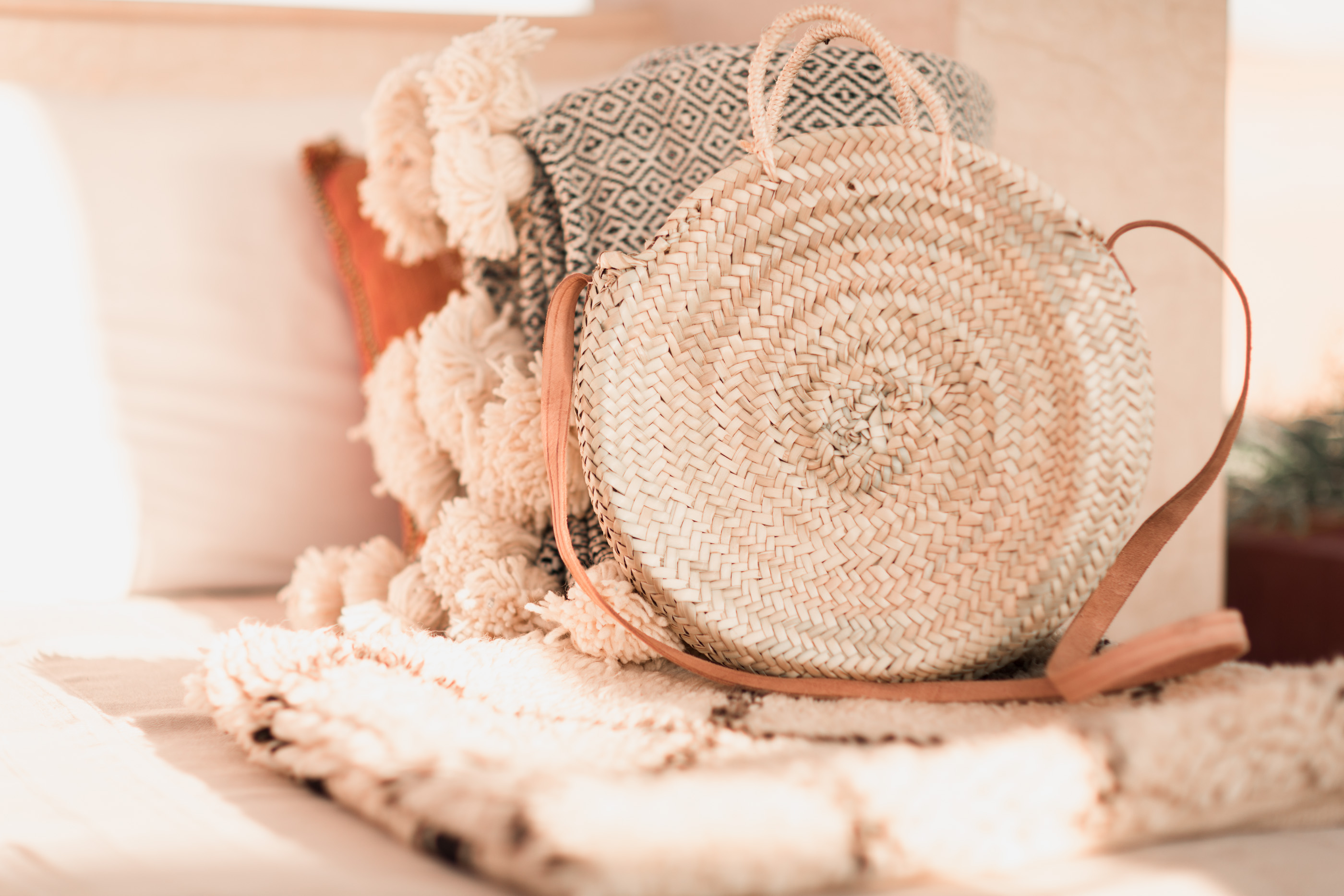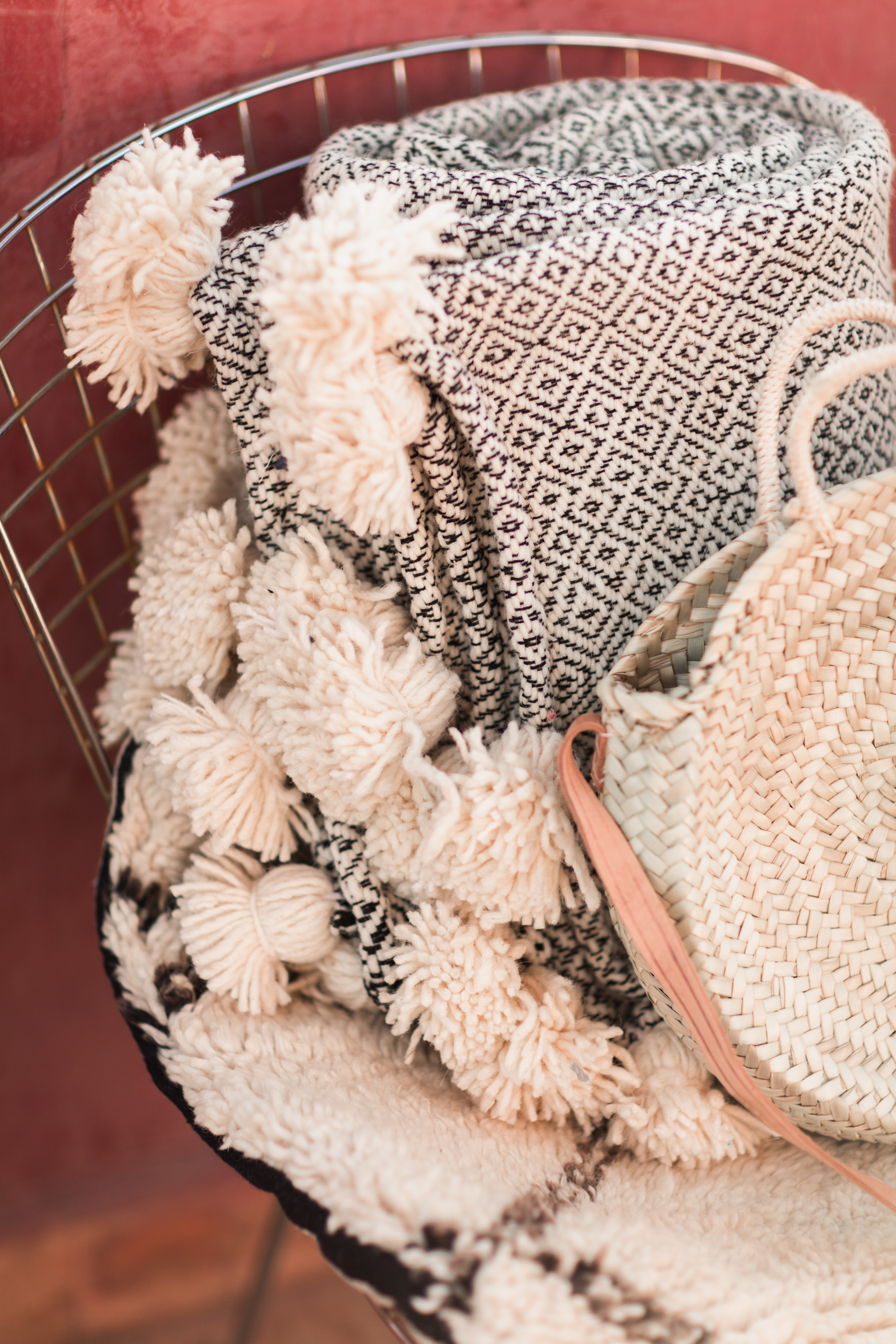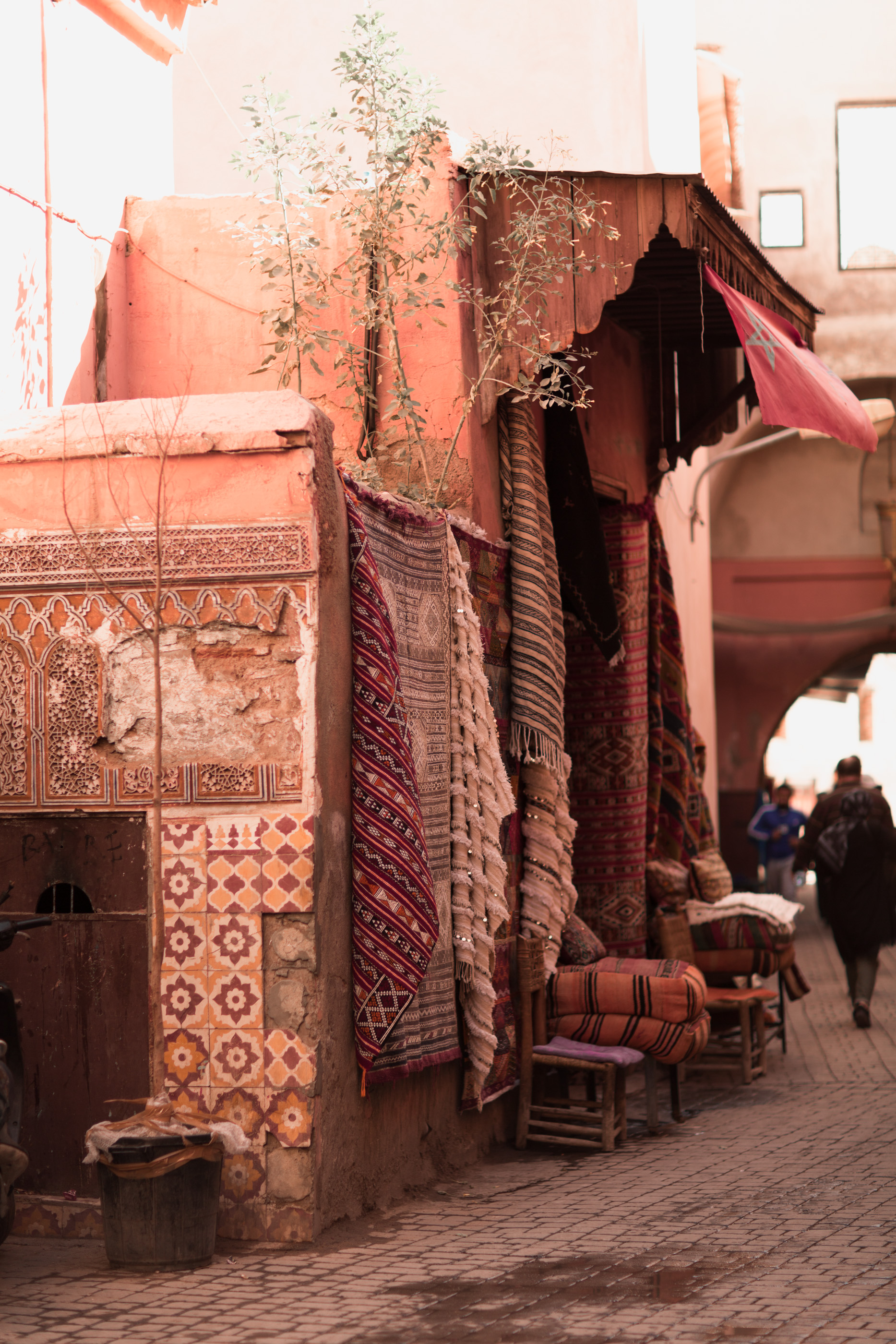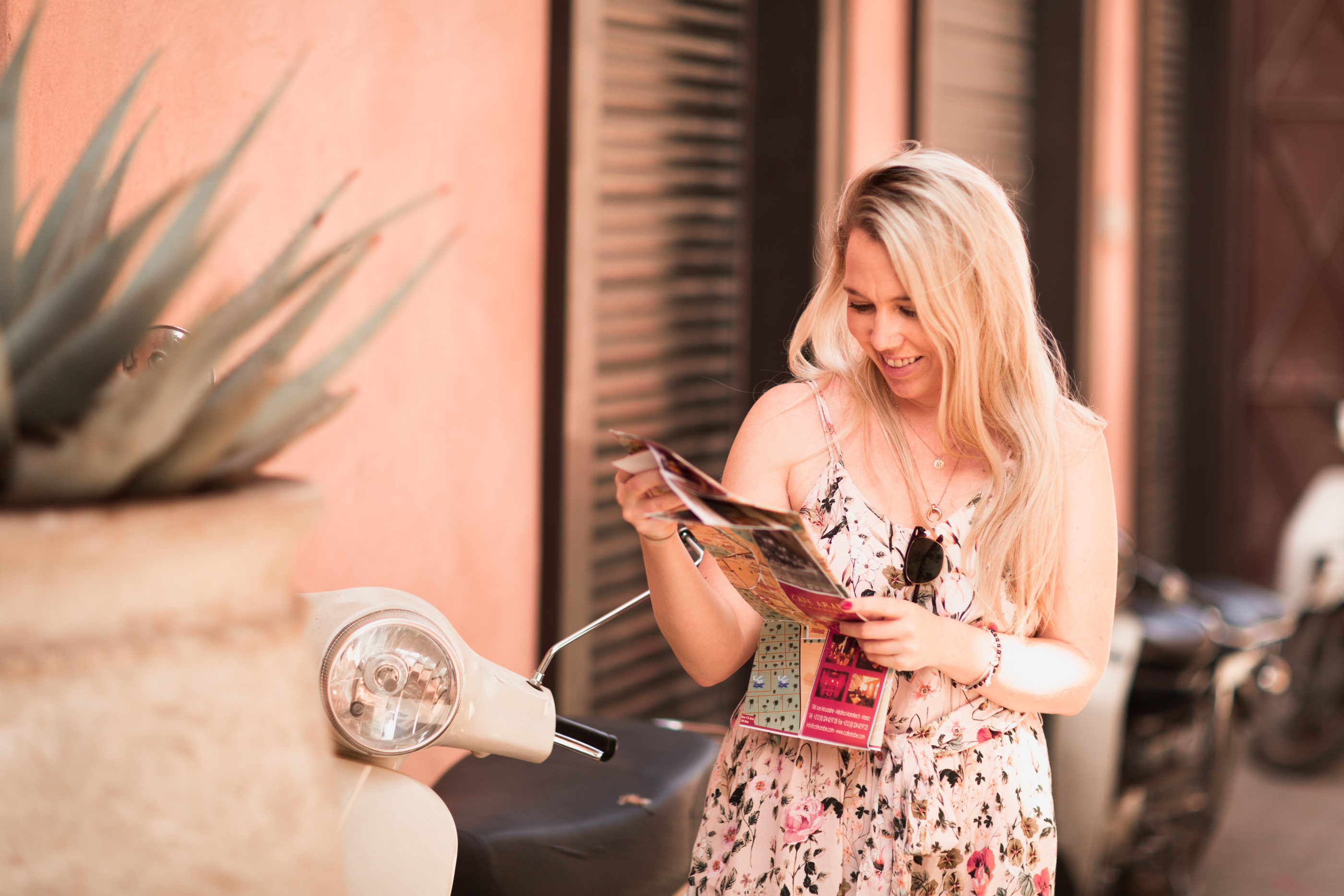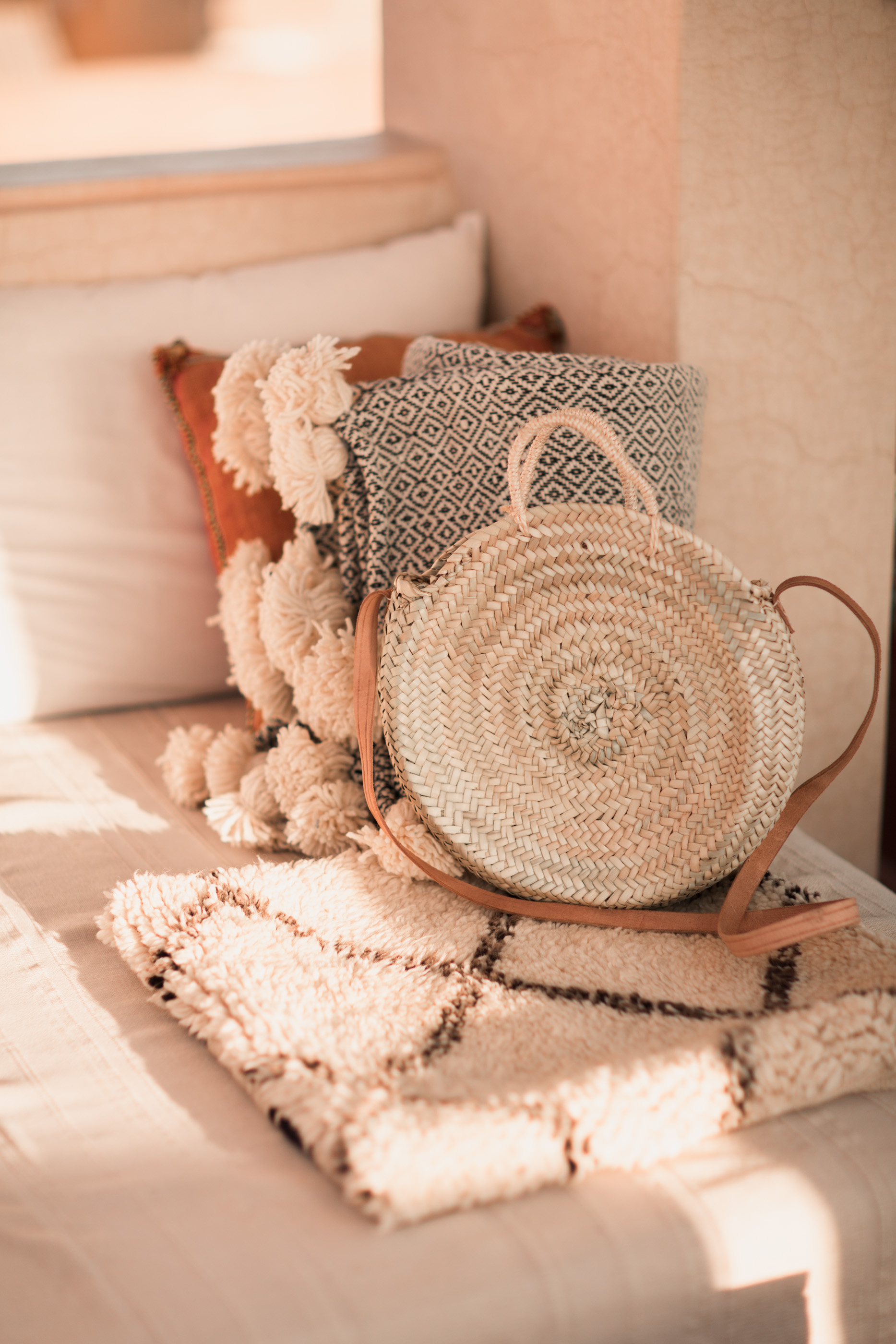 ---
I'm so excited to share more of my Moroccan trip with you all, we've had the most wonderful time exploring Marrakech and our Riad was most definitely one i'd recommend. I have a whole host of travel posts in the workings, but with minimal connection in our current location in the atlas mountains it's proving a little tricky … my instagram though is keeping the show on the road and I'm definitely getting more comfortable with stories so be sure to follow along for what we're getting up to.
More to come x