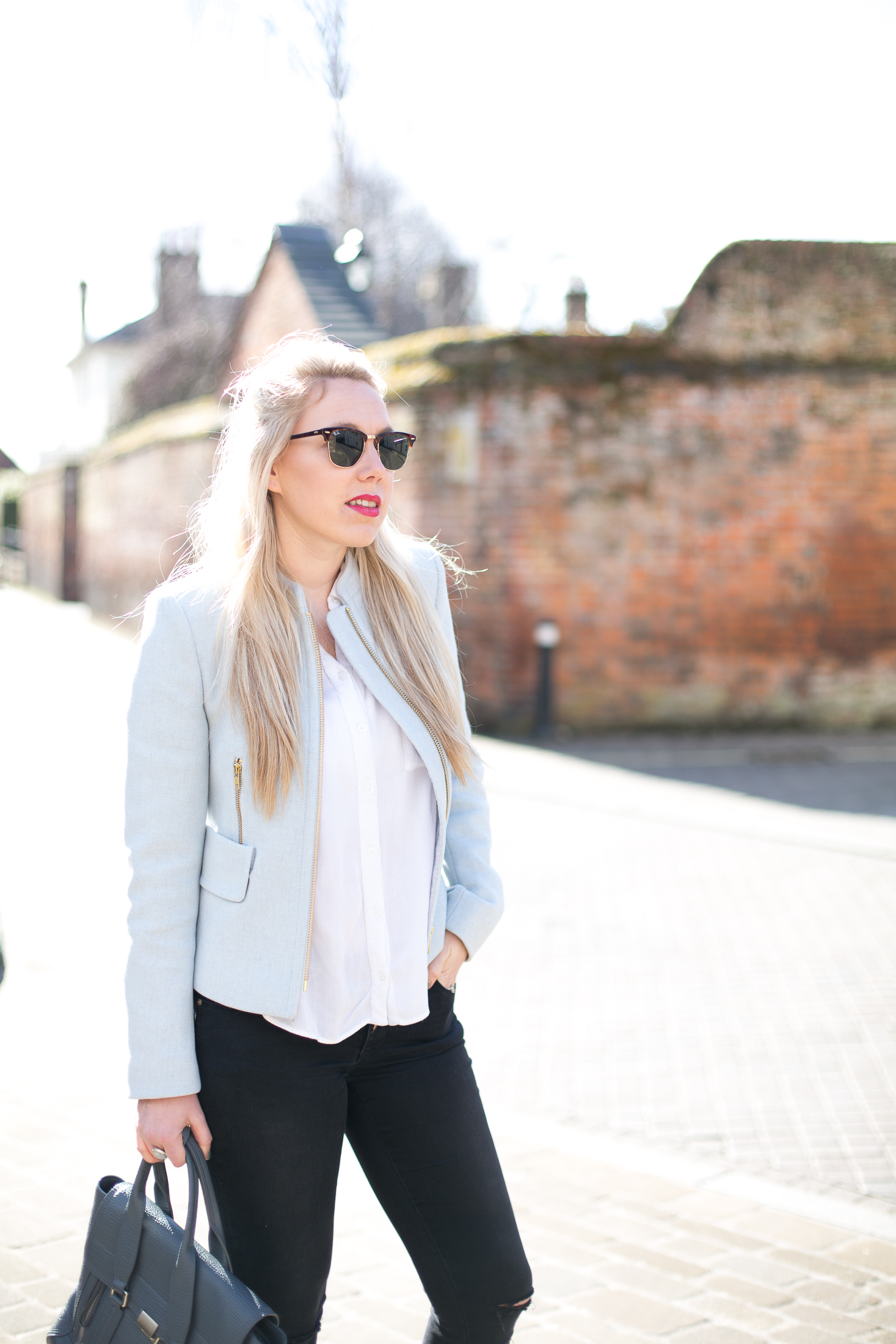 ---
. REISS ORCHID JACKET .
---
Right in time for London Fashion Week, the sunshine decided to rear it's wonderful little head. The temperature might have still been a little nippy, but the sunshine certainly did it's best to warm our little toes. The opportunist in me decided to embrace my Spring outerwear for the occasion, this Reiss Orchid Jacket had been locked away in my wardrobe for too long without wear (simply too cold to even consider wearing it), but this weekend the weather provided the perfect occasion.
---
. REISS ORCHID JACKET . ZARA KIDS JEANS . ZARA PINK BOOTS . PHILLIP LIM PASHLI . TOPSHOP SHIRT .
. DANIEL WELLINGTON GLASGOW WATCH c/o WATCH HUT .

---
I sported the look for a little Saturday lunch date, keeping things simple with a skinny black ripped knee jean (stolen from my sisters wardrobe, a Zara kids number which fit like a dream), my loose fitting white Topshop shirt & of course my Reiss Orchid Jacket too. Accessories wise Mr Lim came along for the ride, and I decided to give these Zara pink booties a little run for their money. These had been locked away in the cupboard since summer last year, and I decided it was about time I gave them a little wear. I forgot how cool they were.
The final touch and adding to the blue accessories theme which I clearly had going on, is the newest addition to my Daniel Wellington watch collection, the ladies Glasgow. This watch is the perfect Spring Summer addition, low key, understated and definitely playful with the cotton printed watch strap.
Are you starting to get that Spring feeling in your style?