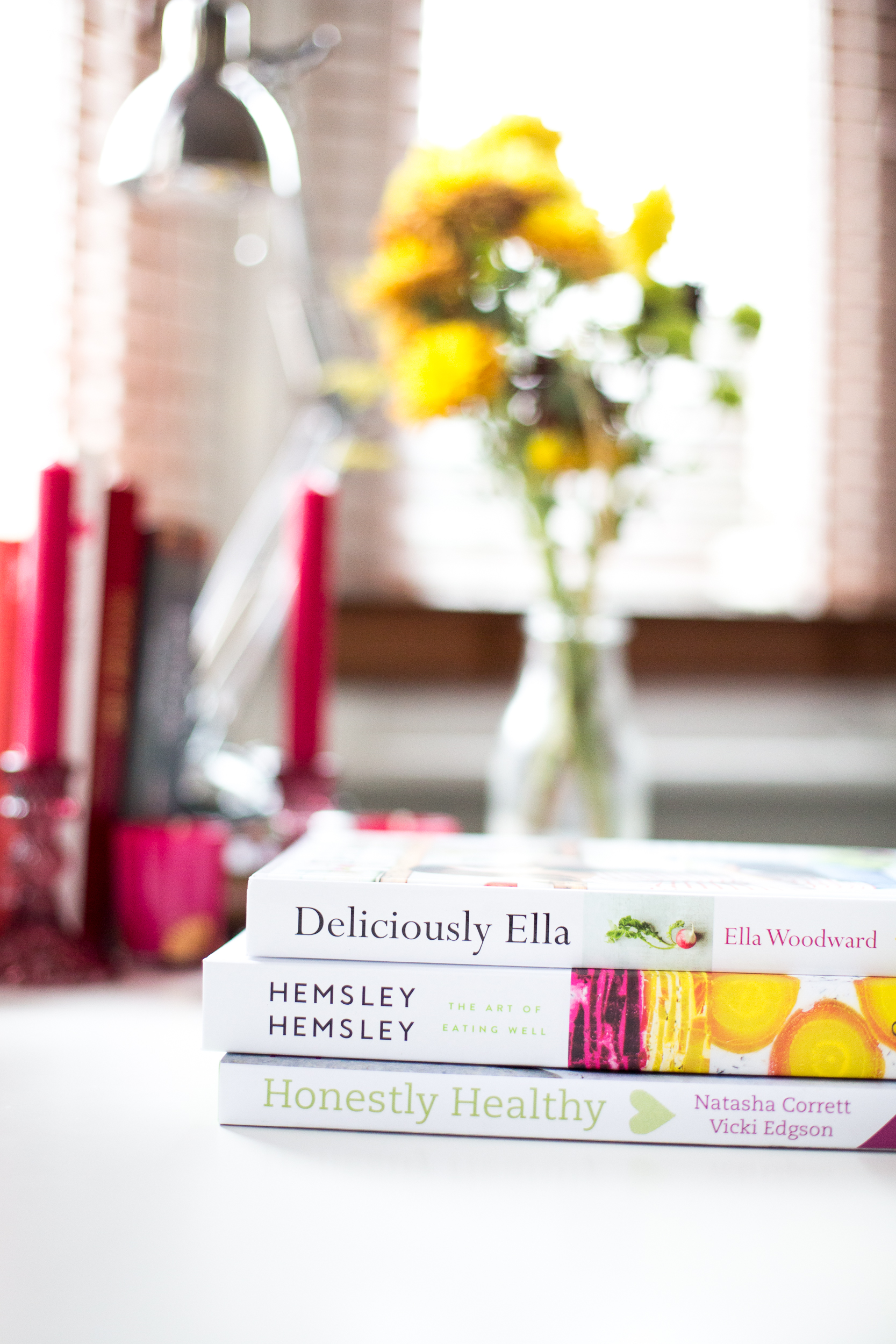 ---
. TOP HEALTHY COOKBOOKS .
---
My obsession with hard back books has continued, and this month i've added to my cookbook collection with three new 'healthy' cookbooks. These three books will be no new news to you, as they're pretty infamous and highly acclaimed, however I wanted to share them just in case, and not least because i've been absolutely loving them, and already cooked more dishes from them than I probably have all my cookbooks combined.
---
. HEMSLEY & HEMSLEY .
---
This has officially become my favourite cookbook. I actually bought it for Liza for her birthday after hearing such amazing things about it, and decided I wanted one for myself too. Hemsley & Hemsley as a blog I read frequently and always adored the beautiful imagery, amazing recipes and  of course the healthy lifestyle it encouraged, and the book if possible is even better. I love the design, the clean white design yet bold, bright and colourful imagery. The recipes are super healthy, but most importantly easy to make, don't restrict your diet too much (you can still eat meat & fish and drink coffee) and the ingredients are largely things you already buy or have in your cupboard.
I love this book so much that i've already made a ton of dinners using the recipes, my favourite being the beef ragu (seriously incredible and i'm now obsessed with courgettie noodles) and secondly the cauliflower tabbouleh with lamb meatballs. Absolutely delicious, super healthy and beyond simple to knock up.
This book, I have no doubt, will be the one to get my health in shape, increase my recipe repertoire and most importantly give me a good old energy boost. I love the book and recipes so much, I even bought the Hemsley & Hemsley spiralizer so I could knock up courgettie noodles & the other healthy alternatives more easily.
The great thing about this book is that it also inspires you to make alternative dinners, stealing ideas or ingredients from the ones detailed in the book. I've already been making a whole load of variations of the courgettie noodle ragu for myself and Jase in the evenings – swapping the ragu for grilled chicken and cherry tomatos and i'm keen to try a feta variation too!
If you don't already have this book, i thoroughly recommend it.
---
. HONESTLY HEALTHY .
---
From what I know, Honestly Healthy was one of the original health food cookbooks, and originally caught my eye because of their alkaline versus acid approach to eating. As someone with a whole ton of stomach issues, namely gluten intolerance and IBS, this book was super appealing to me. A way of changing the way I eat to improve my life, my belly & my energy levels.
Whilst I really do think the recipes are brilliant and the theory and science is super interesting to read and understand, to truly live the 'honestly healthy' way of life would take some effort. No meat, no fish, no coffee, no red wine … it's quite a bold approach to eating and something that would take a whole lot of commitment to truly live by.
I'm not quite ready to give up on all my 'naughty' treats just yet, a morning without coffee is incomprehensible (which Is why I love H+H, you can do as little or as much as you like), but I will most definitely be using this book to try out some of the main meal recipes as well as the notorious energy balls (which i've tried, and loved).
What I do think is great about this book, is that whilst it encourages some pretty big diet changes, it does still have a whole variety of recipes, including of course the naughty treats which no one wants to give up. Just healthy versions. I'm desperate to knock up the pancakes and brownie recipes – stay tuned for this!
---
. DELICIOUSLY ELLA .
---
This is my newest addition, and one of the most hyped about healthy eating guides there is. Another step up from Honestly Healthy in terms of changing your diet, Deliciously Ella is all about a vegan and plant based diet and as a result the recipes are all based on this way of eating.
What I love about Deliciously Ella, as a person, blog and book, is the story that goes behind this cookbook and her way of life. As a 'normal' young teenager she ate a normal diet and lived a normal life, it was only after becoming extremely ill and being diagnosed with PoTS that she changed her way of life and diet as a way to try and improve her wellbeing (especially incredible given drugs weren't working). Ella's story and book really shows how amazing food is for you, how important it is to feed your body the right ingredients and how your wellness can increase beyond recognition by just feeding yourself good things.
Whilst I won't be shifting to a vegan way of eating, I will definitely be using Deliciously Ella to stock up on healthy juices, delicious salads for work and healthy treats to fill the cupboards with. Her energy ball recipes are brilliant, and she makes eating healthily super easy & still as interesting as possible too.
I used Ella's recommendation to stock up the cupboard with super foods, with chia seeds, flax seeds, hemp, spirolina, chorella & wheatgrass. It's not a cheap way of eating, but it certainly boosts health, and i'm actually really excited to step change my diet and way of living as a result of reading this book, as well as the other two.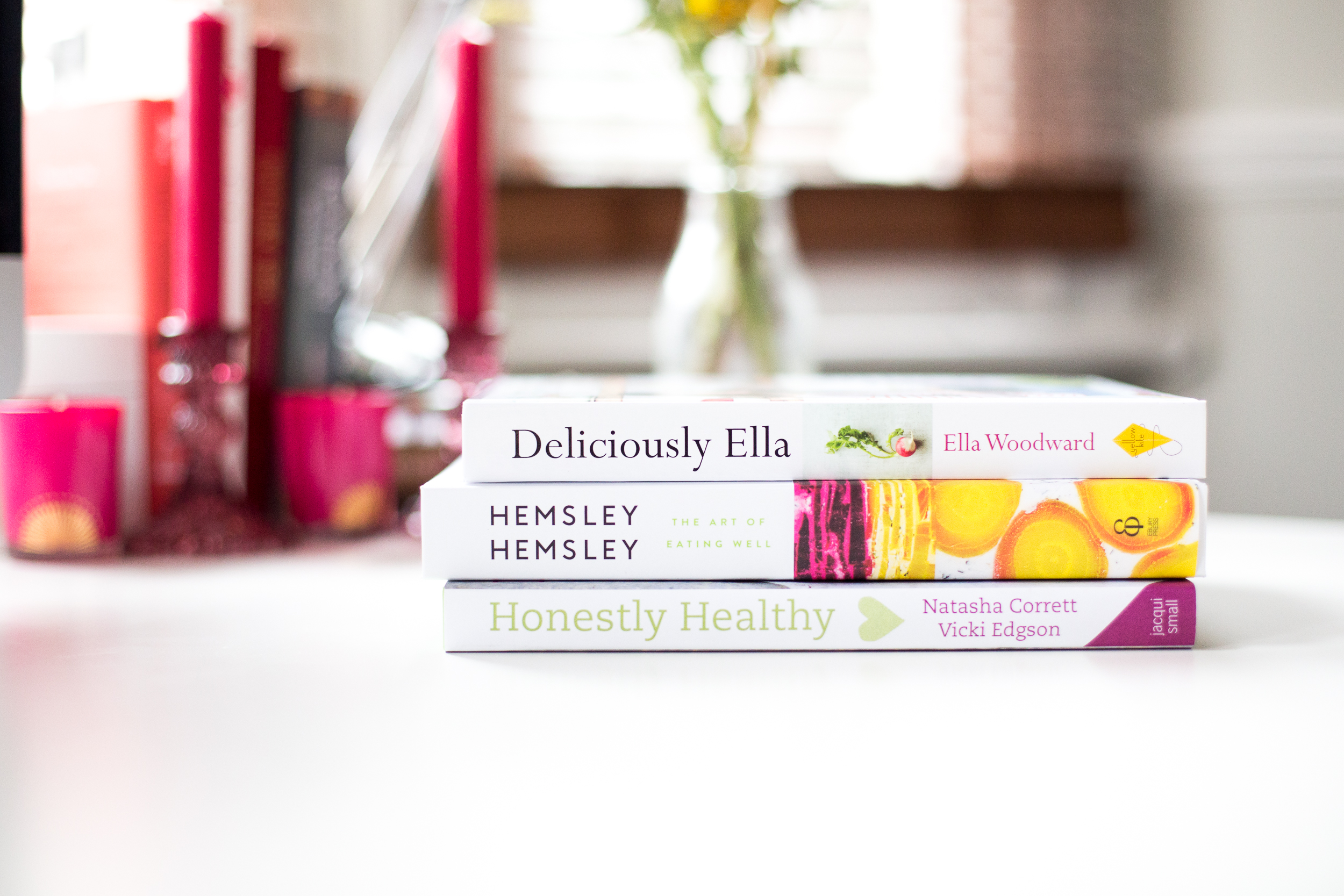 So there you have it, 3 new cookbooks and three books I would thoroughly recommend treating yourself to if you're keen to step change your diet, embark on a healthier lifestyle & look to improve your wellness. I for one have absolutely been loving these books and I can't wait to start sharing some of my concoctions on my blog too!
Have you got any of these cookbooks, are there any others you'd recommend I read seeing how much I love these?