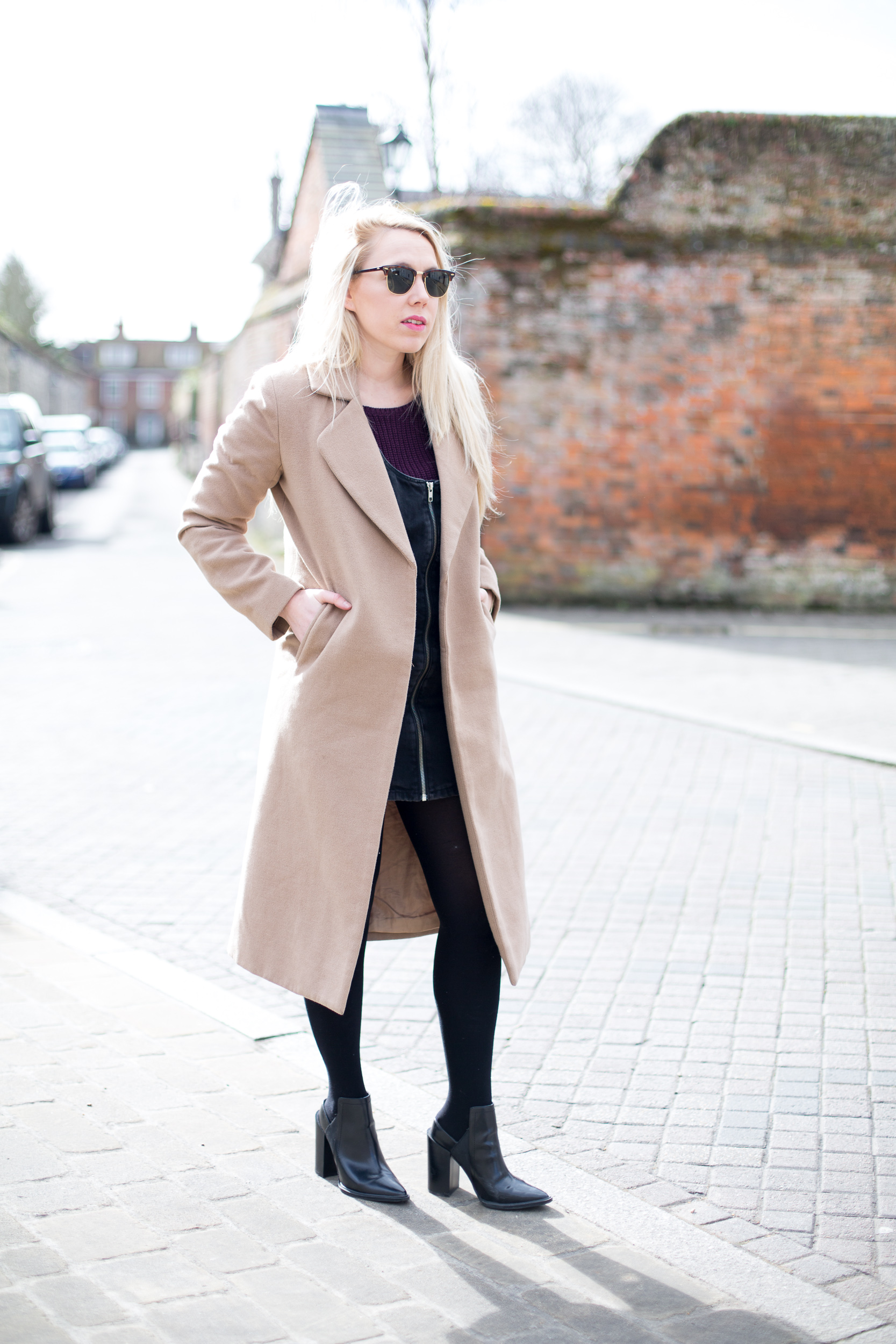 ---
. DENIM IS 'IN' FOR SS15 .
---
I debuted my denim dungarees last week on my blog (here), but I wanted to share another look featuring the SS15 purchase which is slightly more 'everyday' and a look I feel a little more at home with. That's the thing with me and styles like this, I jump on board without truly thinking how I'll wear it and be 100% happy with the result. I tend to have a test and learn approach with fashion, which is no bad thing overall, but can be quite a humorous journey as you try and find your sartorial feet.
Seeing as denim in general is a bit of a thing this season, I thought it was about time I gave the dungaree another go and I must say the result is a look I feel far more comfortable in!
---
. ZARA DUNGAREE DRESS . MISSGUIDED DUSTER COAT . FRENCH CONNECTION KNIT . ZARA ANKLE BOOTS .

---
I styled my dungarees last weekend with a super casual burgundy knit, my Zara open heeled ankle boots and my 'go to' Missguided camel duster coat. This coat has become a bit of a staple outerwear garment for me, I find that it really quickly steps up and makes a look. That certainly was true in this look too!
Denim has become the ultimate SS15 trend this season, regardless of whether that's denim flares, a button down denim skirt or an acid wash bohemian denim dungaree dress, and i'm jumping on board. Firstly I am desperate to find myself the perfect button down denim mini (and a suede one for that matter, this All Saints suede skirt is currently catching my eye & i'm desperate for this black suede skirt to come back in stock), secondly i am finally embracing the boyfriend jean and have ordered myself these Whistles boyfriend jeans … and thirdly and finally, i've already started to embrace the dungaree dress, but i've found so many more which I love and just want to get my mitts on. This midi Zara dungaree dress is literally perfection and it's going to be imminent that I press checkout on my basket. It's a garment I absolutely love, but one that i'm not totally sure would suit me … but I'll figure out how to wear it later, as always!!
Are you on board the SS15 denim trend wagon? What items are you lusting after?