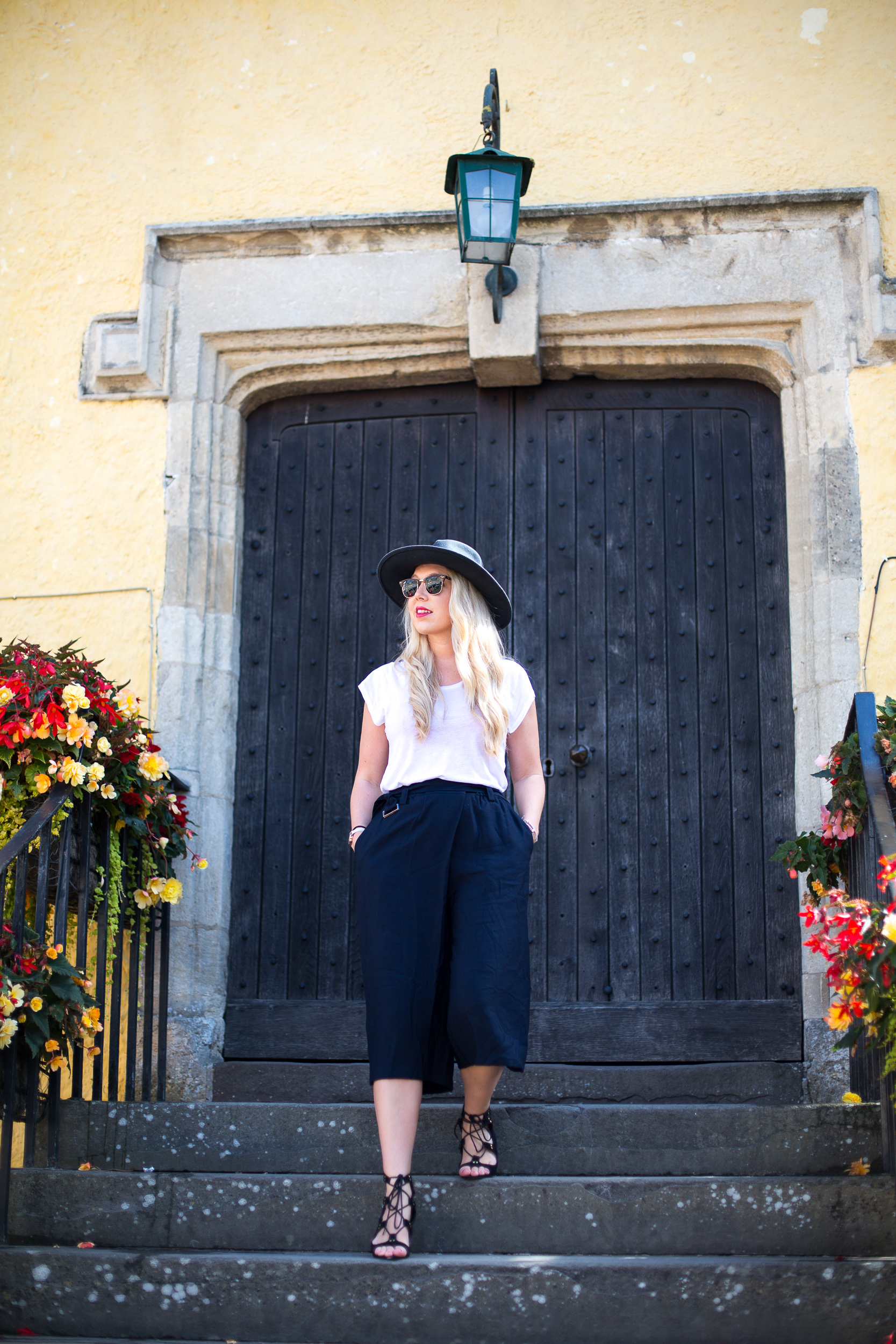 ---
. CROPPED LEG, LOOSE FIT, HIGH WAIST .
---
I'm not sure what the reason behind it is, but i've become quite obsessed with 'quirky' trousers, my wardrobe is currently brimming with cropped leg, loose fit and high waist trousers. Replaced are my cigarette trouser collection, replaced with a whole new style. These Whistles culottes were the first of the bunch, and set the trend for things to come. They were a spontaneous purchase a month or so ago (you may remember seeing them here), and I have to say they were definitely trigger to me falling in love with the trend, and purchasing a whole variety of other cropped leg pantaloons (check out the collection here, here & here).
---
. WHISTLES CUlOTTES . WHISTLES WHITE TEE . ZARA LACE HEELS . ASOS FEDORA .

---
Culottes aren't the only new thing in my life right now, i've also added a little newness to my blog too. I spent a lot of work redesigning and effectively relaunching my blog back in January, and it's been WIP ever since. The shift to self hosted wordpress from blogger wasn't that smooth for me, and being a perfectionist getting the blog to work properly & look perfect has also taken some serious months of work & tweaking. But whilst I am happy with the new look, the focus on imagery (theres on distortion of image quality anymore) & the simple navigation & snazzy category pages (which I really wanted as part of my re-design), there were still a few things I wanted to adapt to make the blog feel a little more 'me'.
I was really keen on a monochrome vibe (to let my imagery do the talking), but after having such a colourful blog before, I realised i was missing a little warmth & colour. So voila … i've given my blog another little refresh, added a little colour & just given things even more of a personal touch. Next up is sorting my tablet site (which sadly doesn't work properly – although the great news is I now have an APP you can download, switzswooo) and  a new logo hopefully too.
Anyway, after a 9 month blog relaunch process (it feels like it anyway), hopefully 'now' you can get a good feel for how things have changed & moved in since my old blogger blog. Are you a fan of the new look and feel? I'd love to hear your thoughts?