---
A London Fashion Week Style Diary
---
When it comes to Fashion Week every blogger is different. For some it's the most important, most opportune and most definitely the busiest time of the year. For others fashion week can pass by without a moment to stop and admire the street style or catch sneak peak FROW footage on snapchat. For me, it's somewhat in the middle. I see it as a time of year that ignites a passion for the industry, inspires individuals to rock their finest outfits and generally drives a desire for people to meet, to network and take opportunities to grow their blogging businesses.
The reality of my Fashion week diary isn't New York, London, Milan and Paris, nor sitting FROW at Burberry (I wish), but a chance to take my blog back to its style routes, to catch up with industry friends, brands and designers, to fuel my passion, my ideas and my content, and not least enjoy the perks of the trade.
I personally adore getting a little glimpse into the lives of other blogger during Fashion Week. And whilst snapchat is great for all that behind the scenes footage, there's nothing like a beautifully curated day in the life, a showcase of personal style and a sneak peak into what fashion week truly means for one blogger to the next. And so that's why today I wanted to share a day in my 'fashion week' life for you … My favourite outfits, the ins and outs of my day, and a few fashion week highlights from this season in London.
---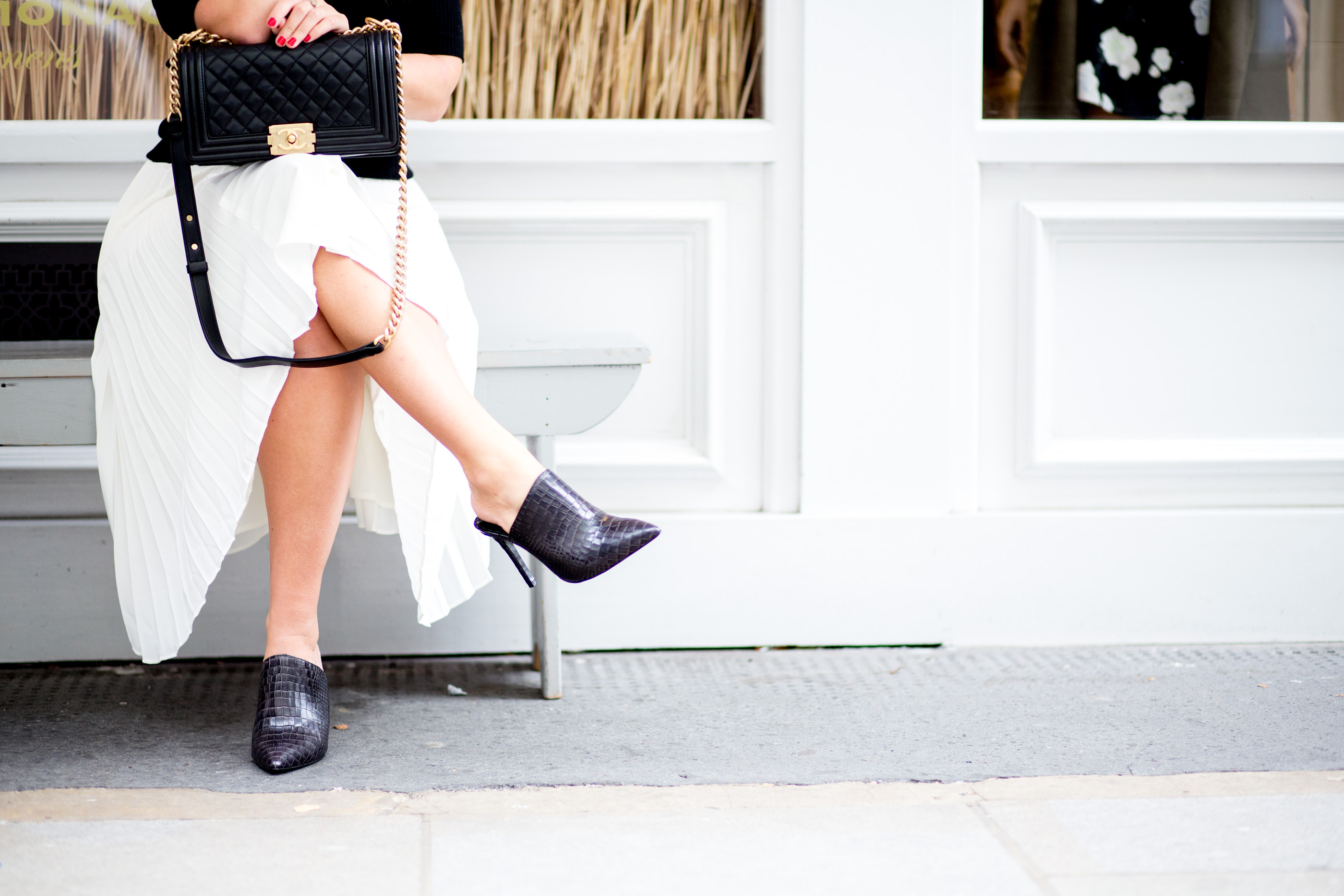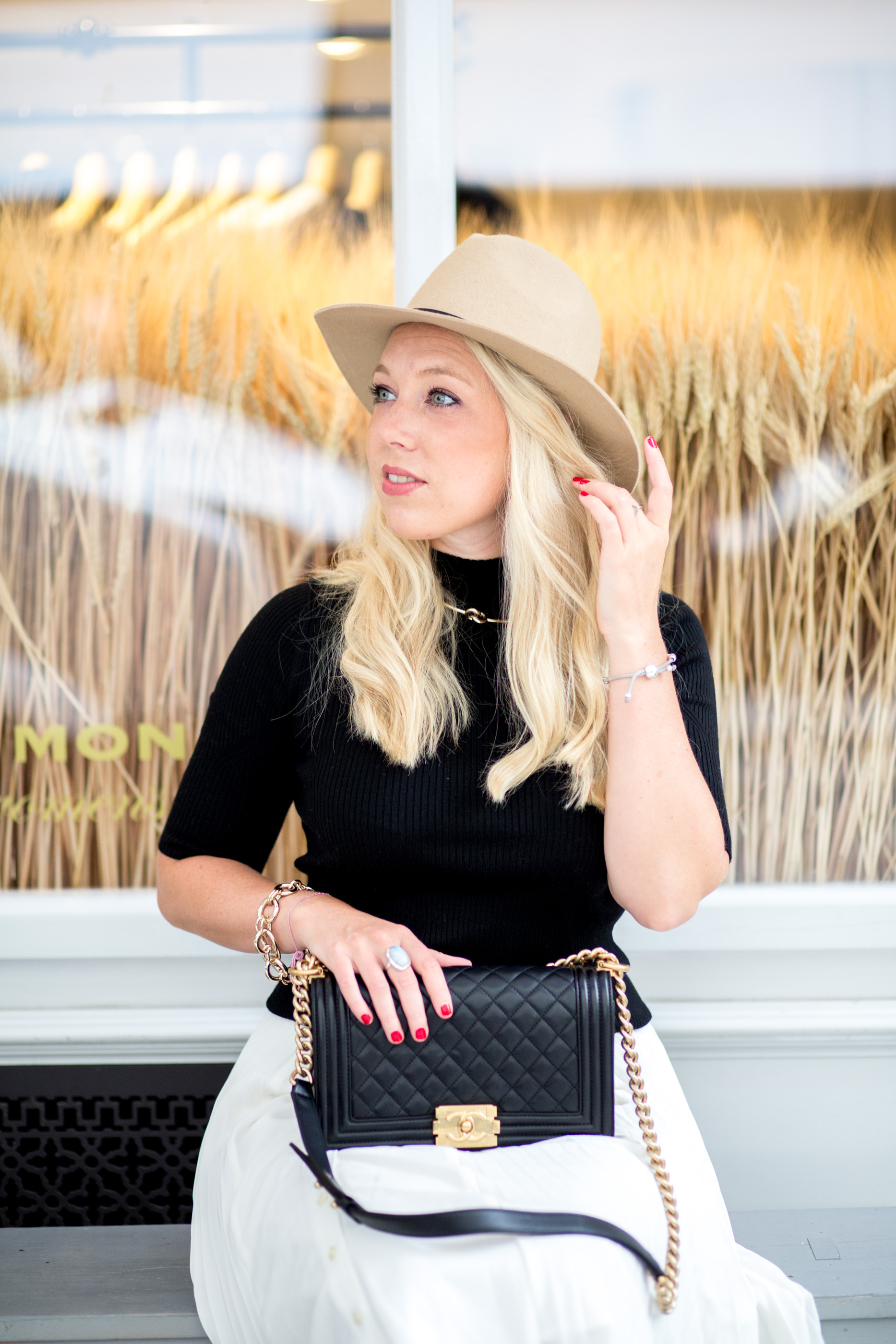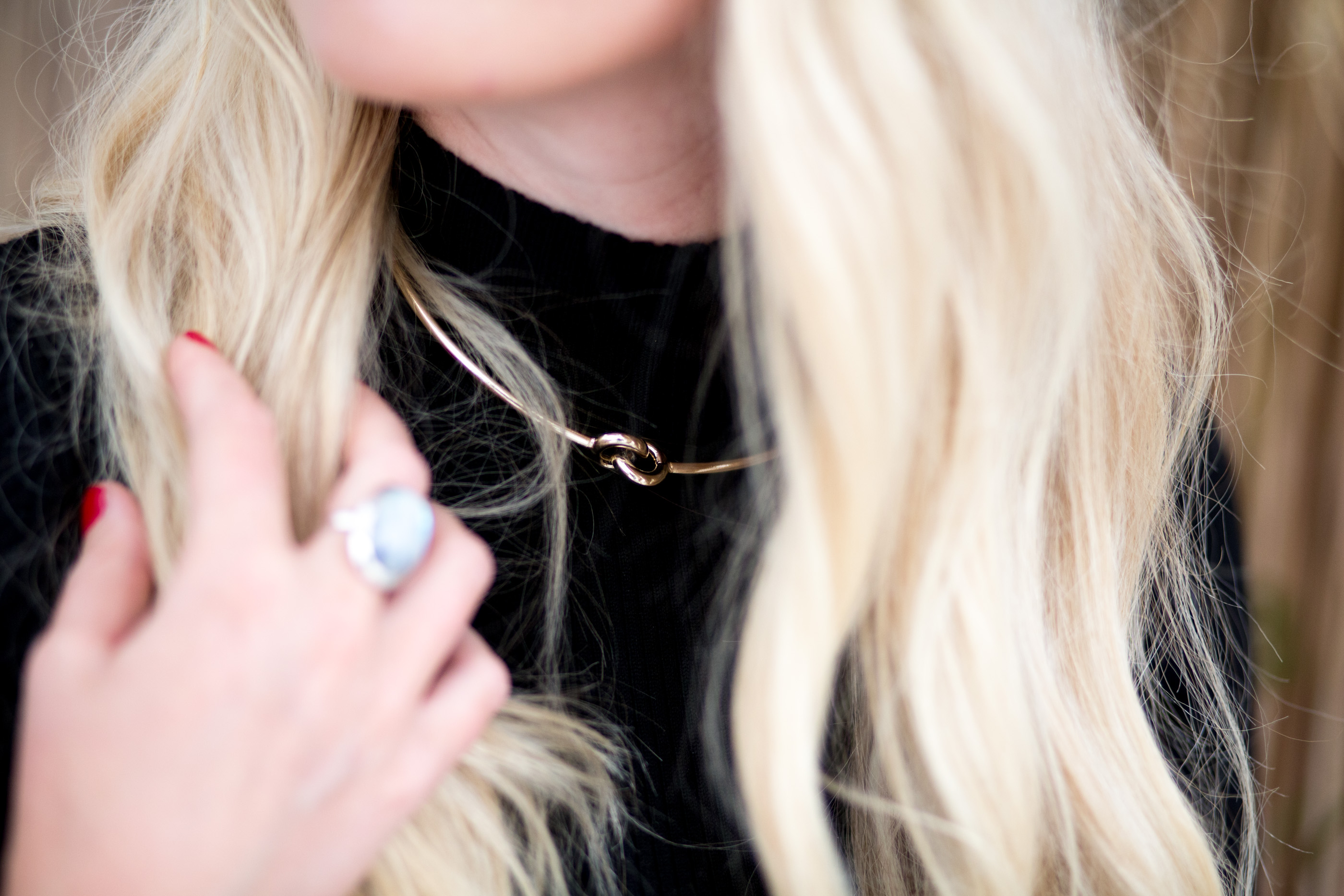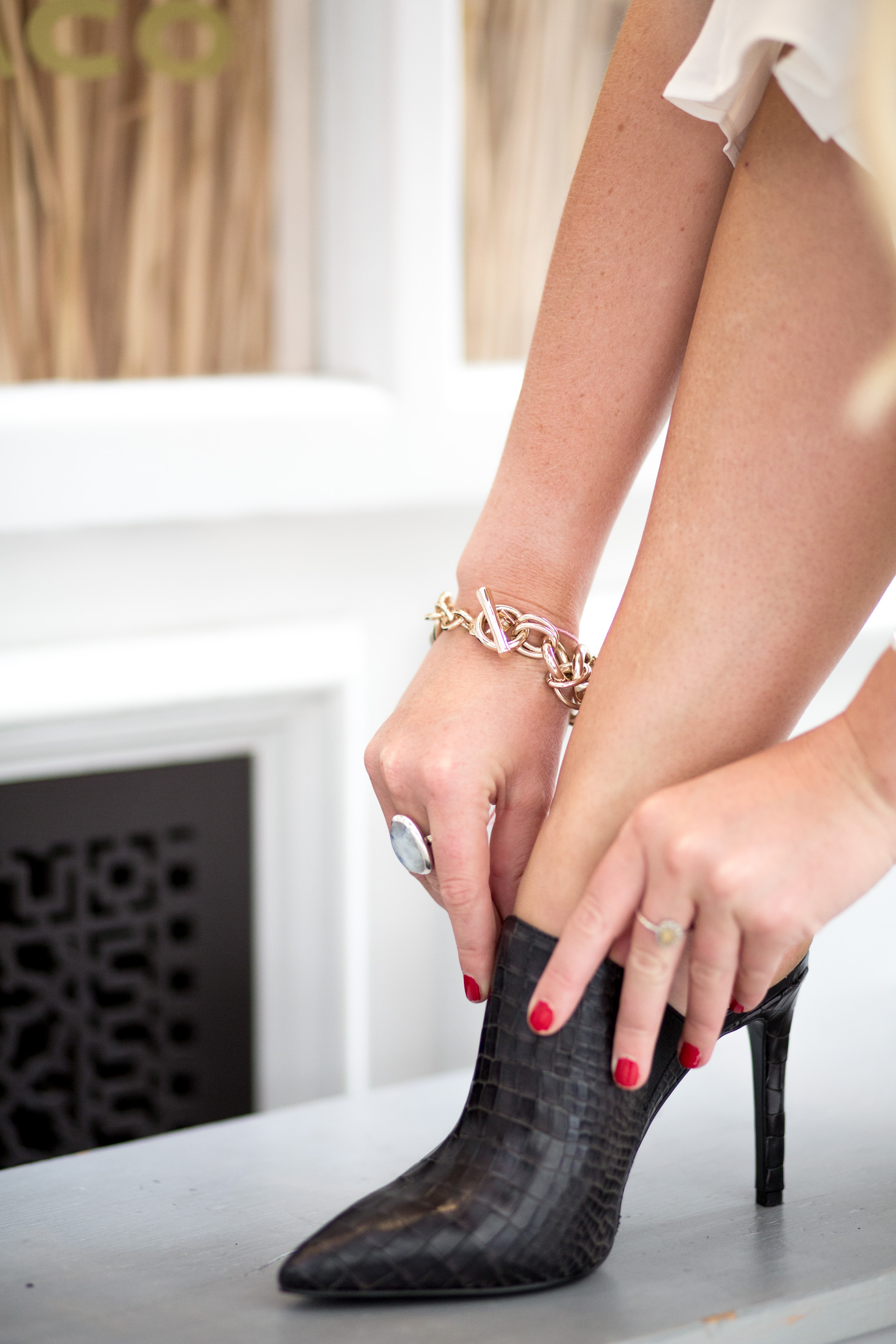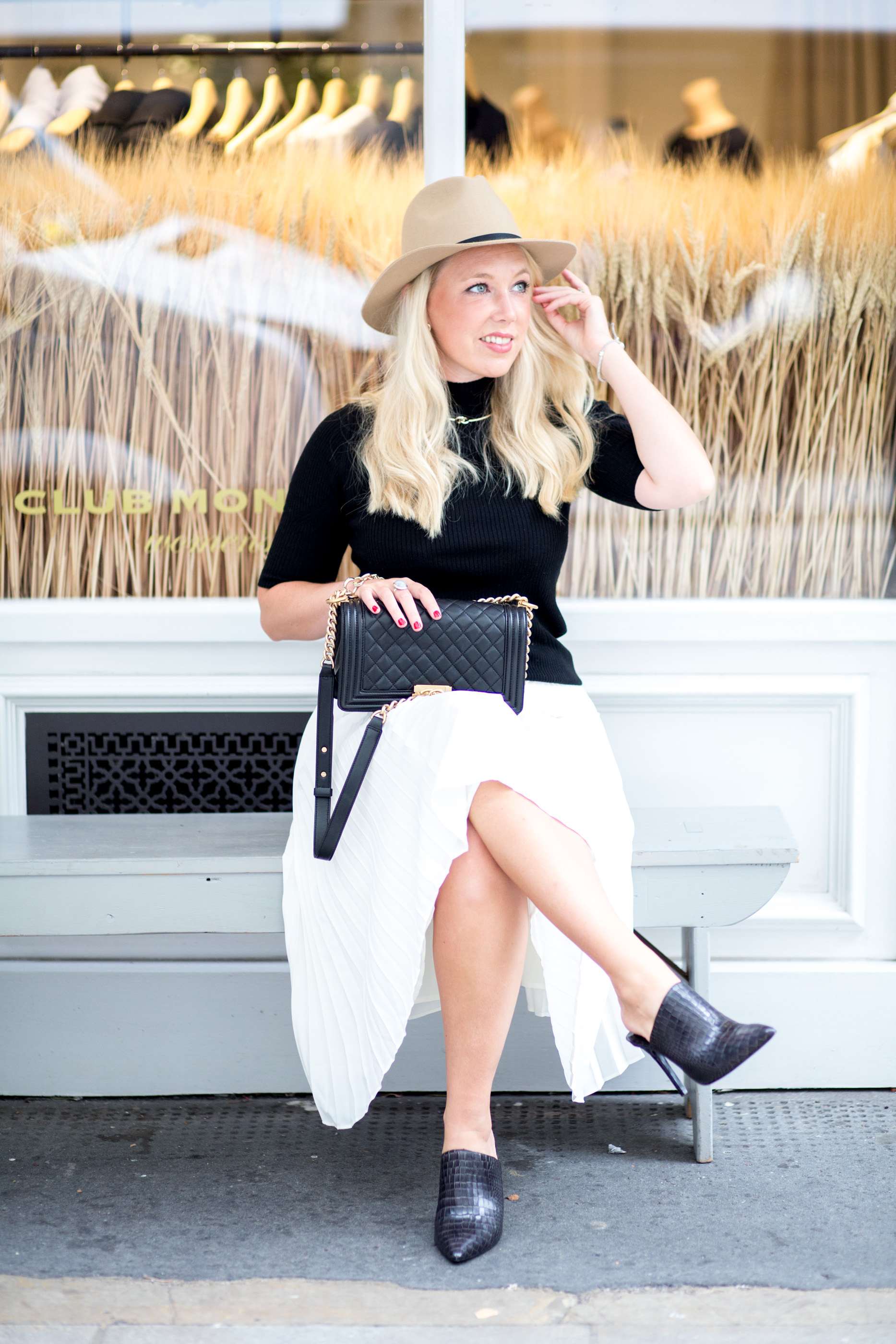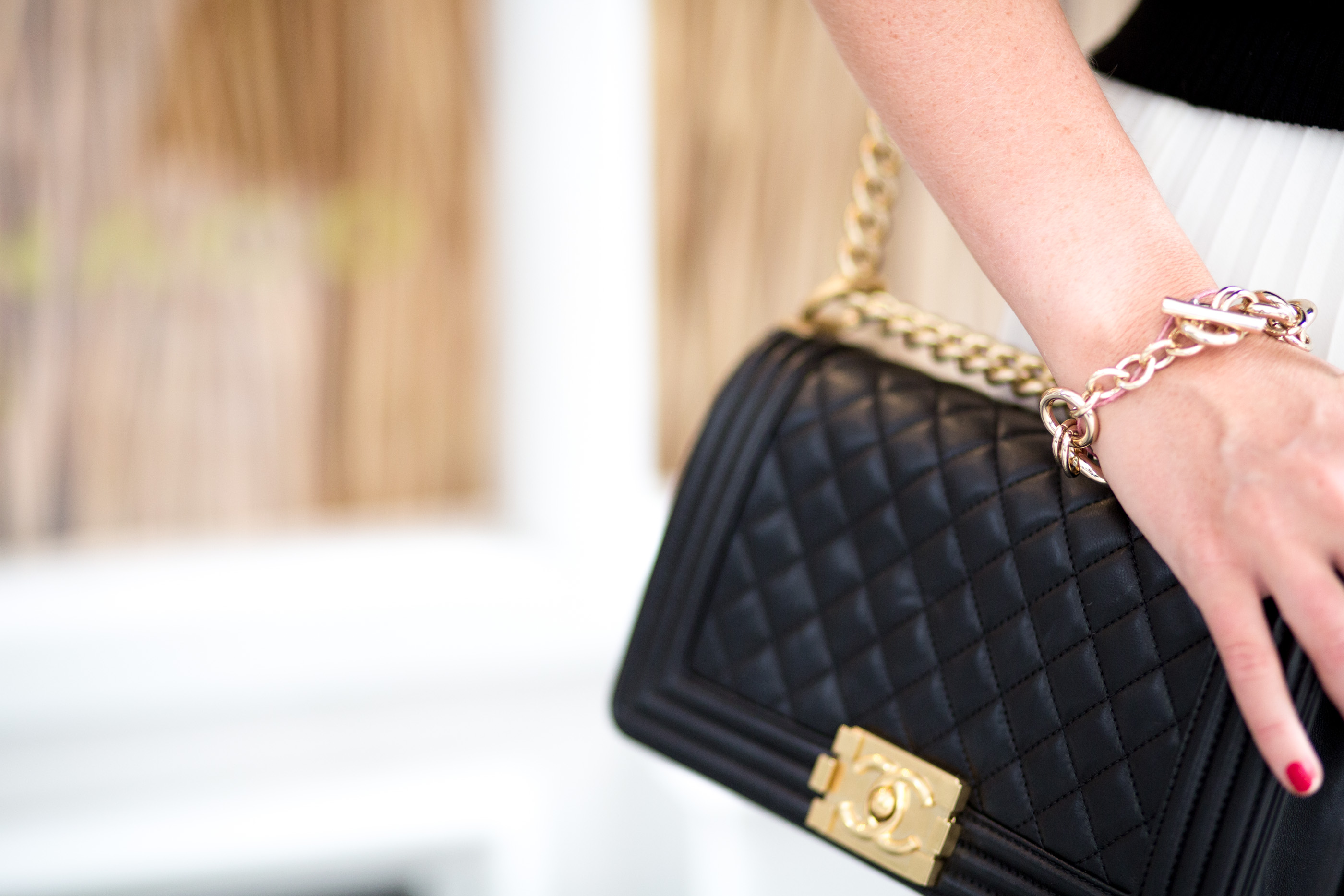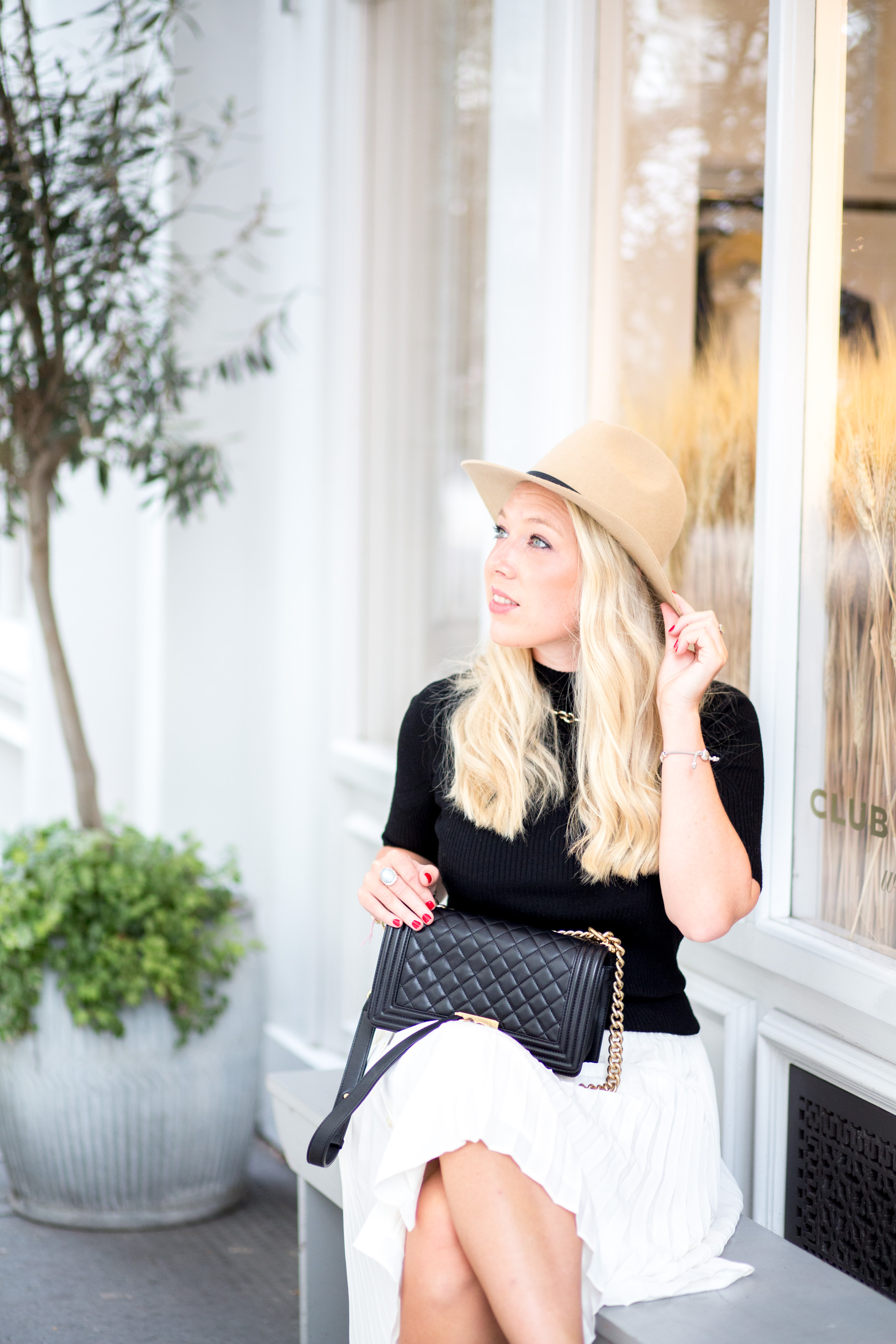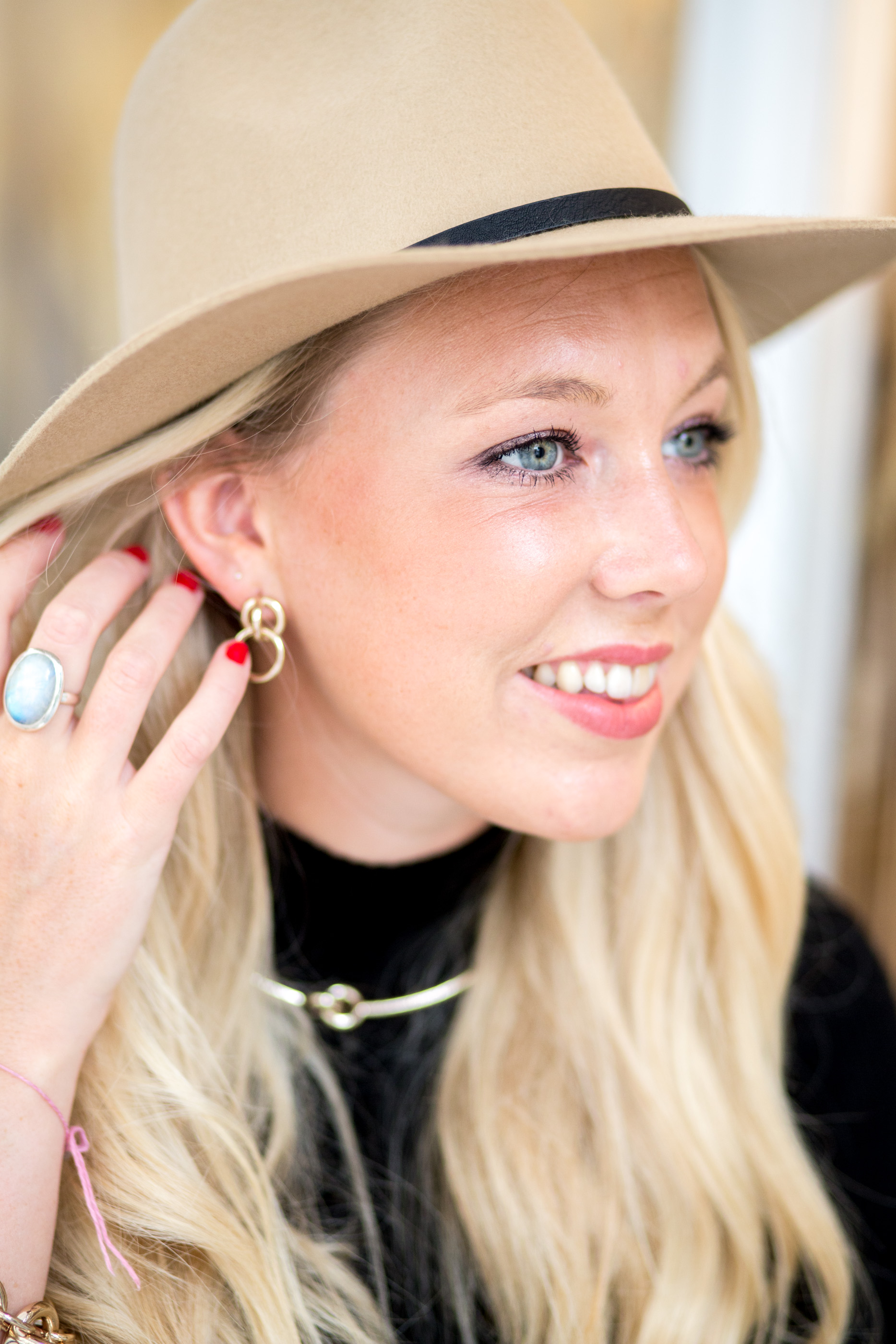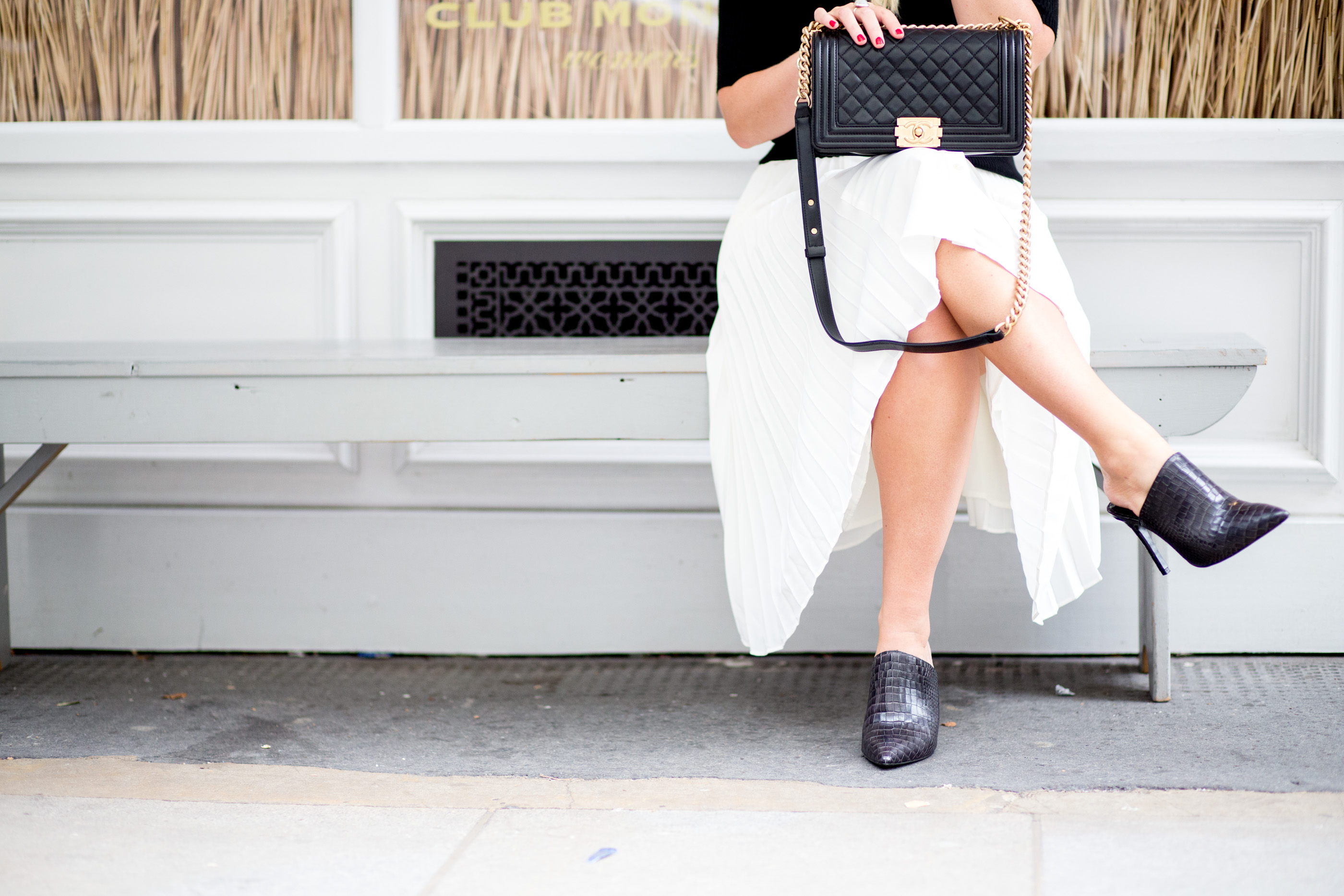 ---
AM: COFFEE MEETINGS & BRADSHAW INSPIRED SKIRTS
Fashion week is a crazy time of year, and even if you're only attending a few shows or events, you'll find yourself running around town like a headless chicken. And that means one important thing when it comes to dressing, comfort is absolutely key. Now fashion week is of course the opportune time to show off your finest ensembles and most cherished designer goods, but it's also about personal style and confidence with it. For me feeling comfortable is absolutely essential, not just because there's often cameras constantly snapping you at all sorts of angles, but also because it's a busy few days with lots of waking (running) and days longer than the norm.
My fashion week style always includes those items that make me feel fabulous but equality confident and comfortable too.
This Banana Republic pleated skirt and ribbed polo encapsulates my fashion week style so perfectly.  The midi skirt is a staple in my wardrobe all year round but I love how the soft white tone of this wistful skirt teamed with the contrasting black accessories and polos comes together, it's Carrie Bradshaw meets Audrey Hepburn. The perfect mix of preppy and feminine which is absolutely my personal style. The fashion week touches though are what truly deliver the punch, statement gold accessories, a fashion favourite in my Chanel Boy, and a heel that was absolutely made for the streets of fashion week (and you would not believe how comfortable they are).
This outfit did me well as I dashed from coffee meetings at the Covent Garden hotel, to the streets of Soho (this outfit actually got a lot of attention which is always an amusing and overwhelming aspect of fashion week), to the Apartment to trade tales with my blogging friends, catch up on work and emails, and to get a moments rest before the afternoon and evenings events kicked off.
---
SHOP MY LOOK
. BANANA REPUBLIC PLEATED SKIRT, FEDORA, DINA MULES  & MERINO POLO . CHANEL BOY .

---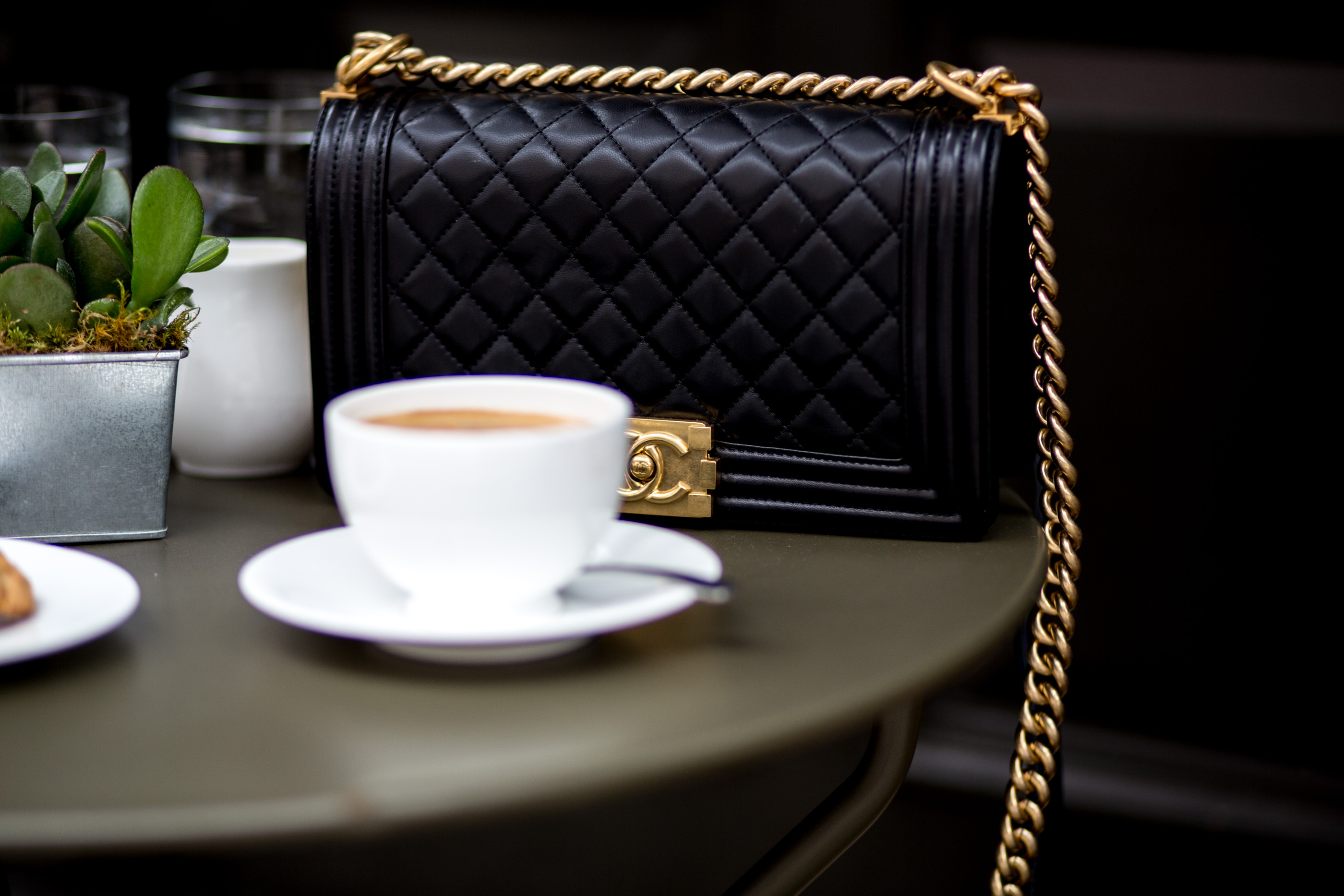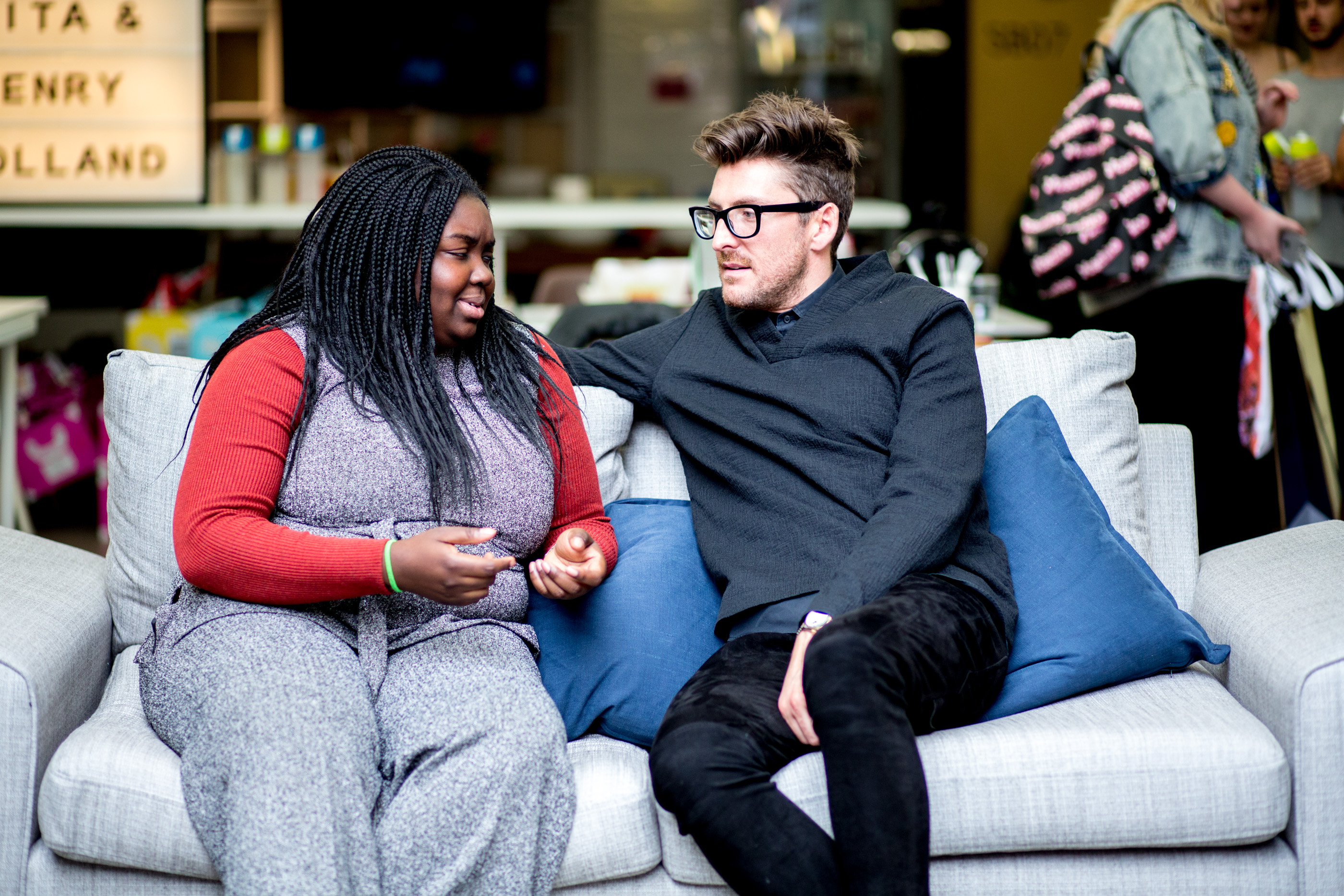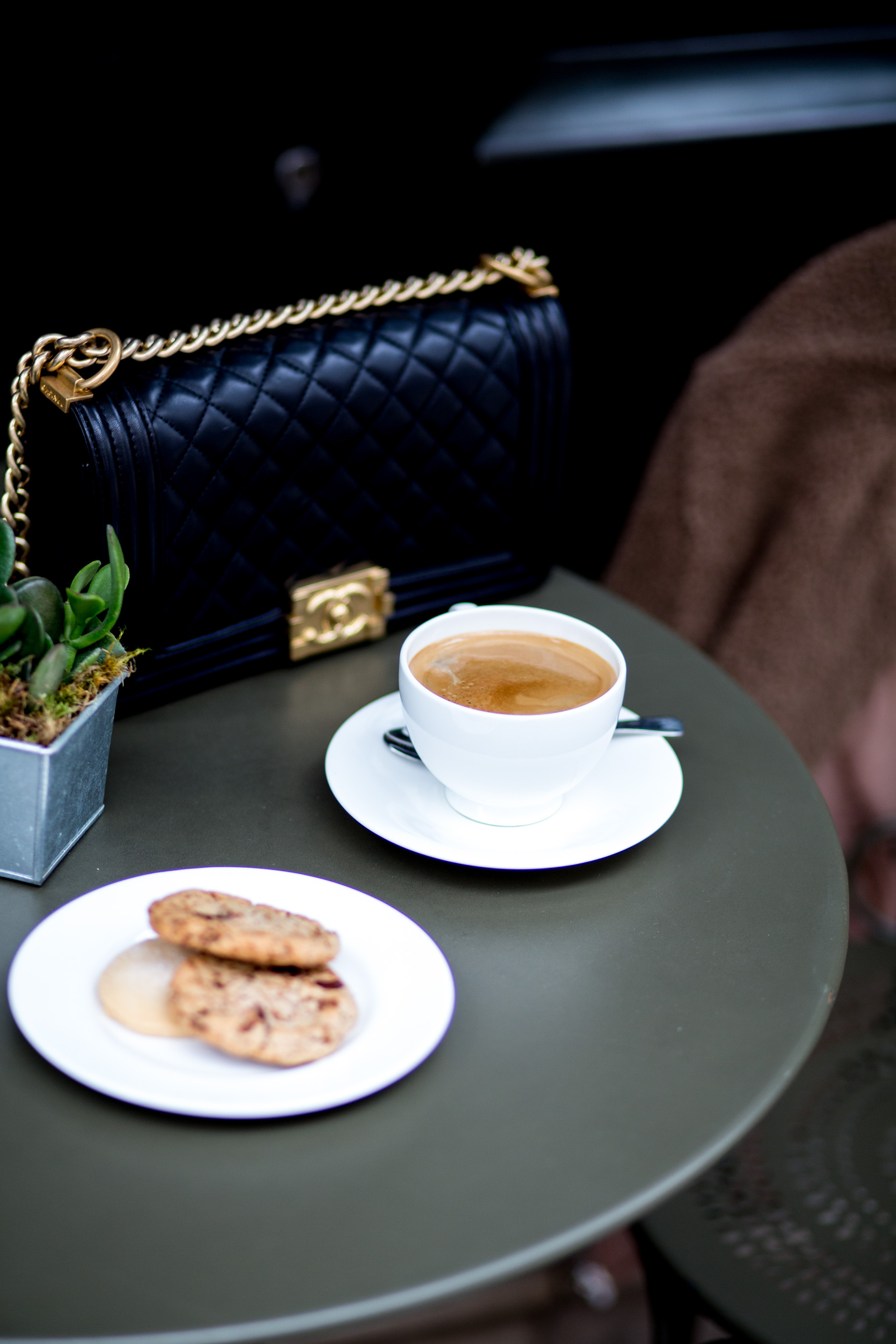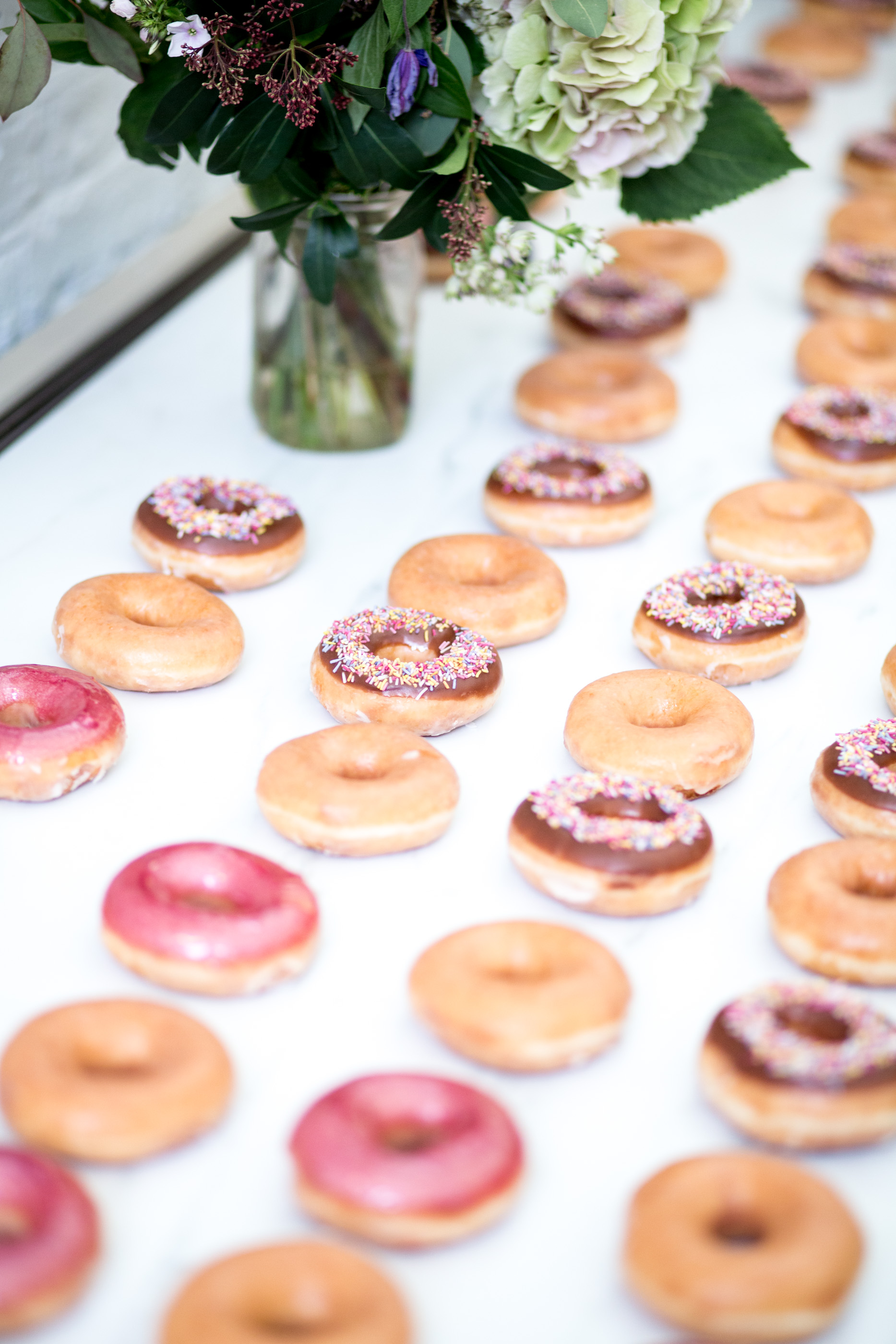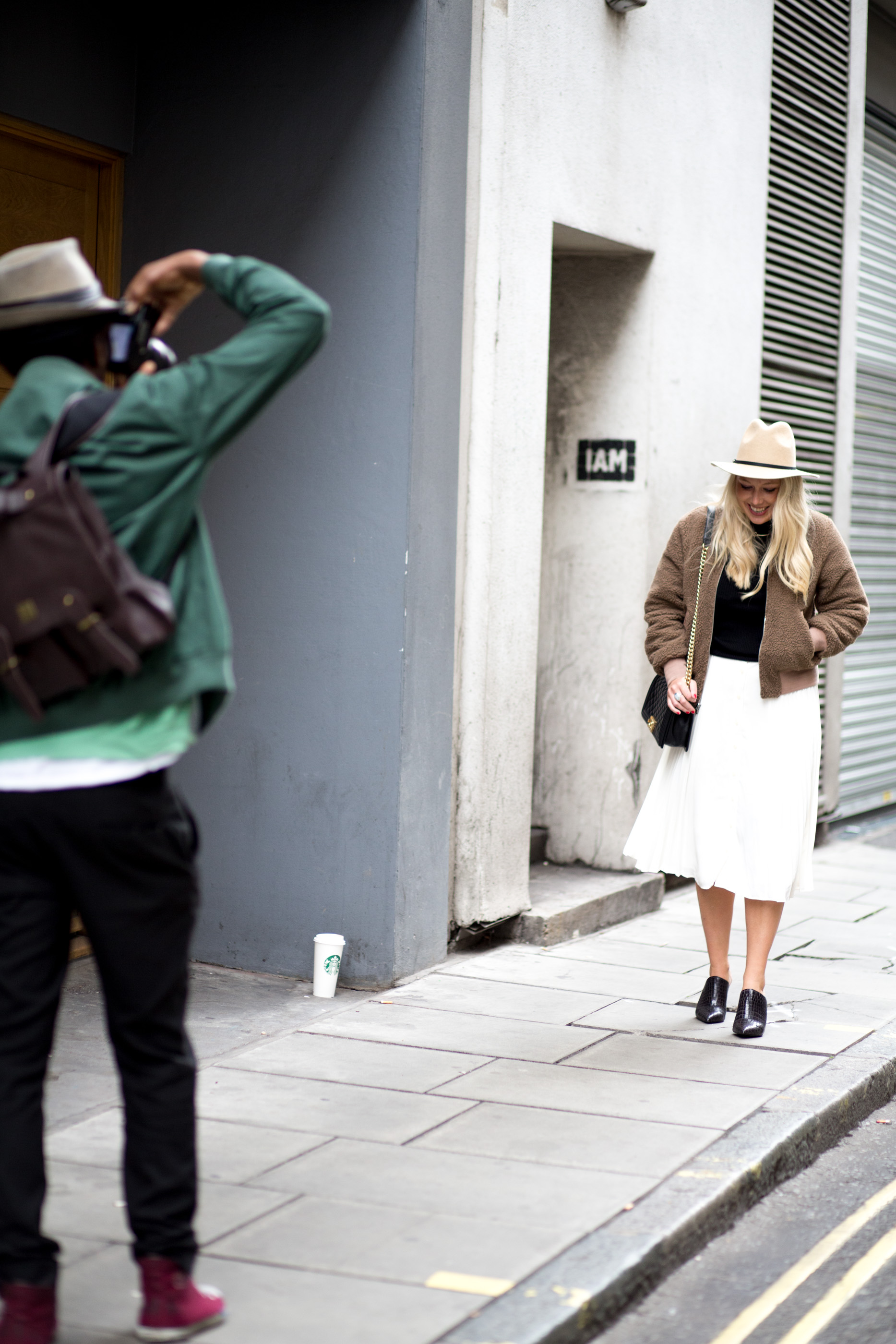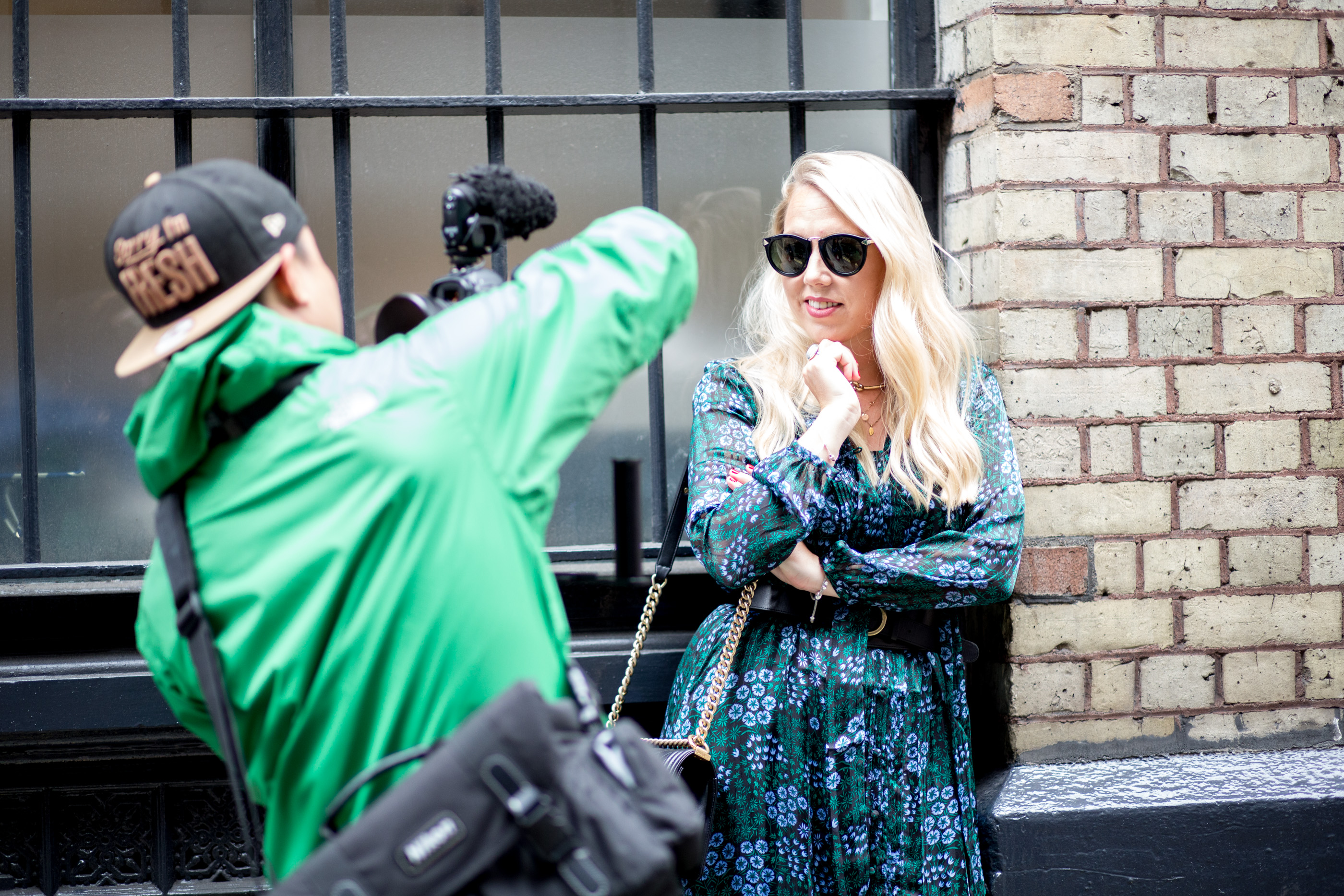 ---
PM: EXCLUSIVE EVENTS & MY INNER PALMERO 
For me, the evening and afternoon shows are the moments to truly pull out the stops when it comes to style and fashion. It's a time to wear those looks you often can't find an occasion to rock and to truly showcase your finest ensembles, and to embrace the luxe side of fashion week.
This season, for me it was all about this Banana Republic maxi dress. The heart of their AW16 collection thanks to their new face Olivia Palermo who rocked it in the AW16 campaign (as if I wasn't sold enough as it is) and an item I hunted down the moment I stepped inside the store. For me this dress is everything: comfortable, effortless, bold, statement, seasonally on point, and let's not forget, now a seriously coveted item.
I knew this dress would be the highlight of my fashion week ensembles, so it was the perfect way to switch my style for an exciting afternoon attending an exclusive meet with Henry Holland to discuss his new collection and AW16 show, before dashing back to Fashion Weeks historic grounds of Somerset House for an early evening dinner meeting (and the perfect back drop to snap my outfit in all it's glory).
The dress itself does the talking, don't you think? I simply clinched the waist with this asymmetrical belt (also from Banana Republic) and kept my Italian inspired mules on to truly embrace a little bit of this seasons most coveted trends (mules were seriously on point this season thanks to Gucci). And most importantly, as the rain began to fall and I finally collapsed on my sofa after a long day, they made the perfect shoe to simply slip off, Carrie Bradshaw style.
---
SHOP MY LOOK 
 . BANANA REPUBLIC NECK TIE MAXI SHIRT DRESS, DINA MULES, & ASYMMETRIC BELT . CHANEL BOY . KAREN WALKER SUNGLASSES . COLLAR NECKLACE . HERITAGE BRACELET .

---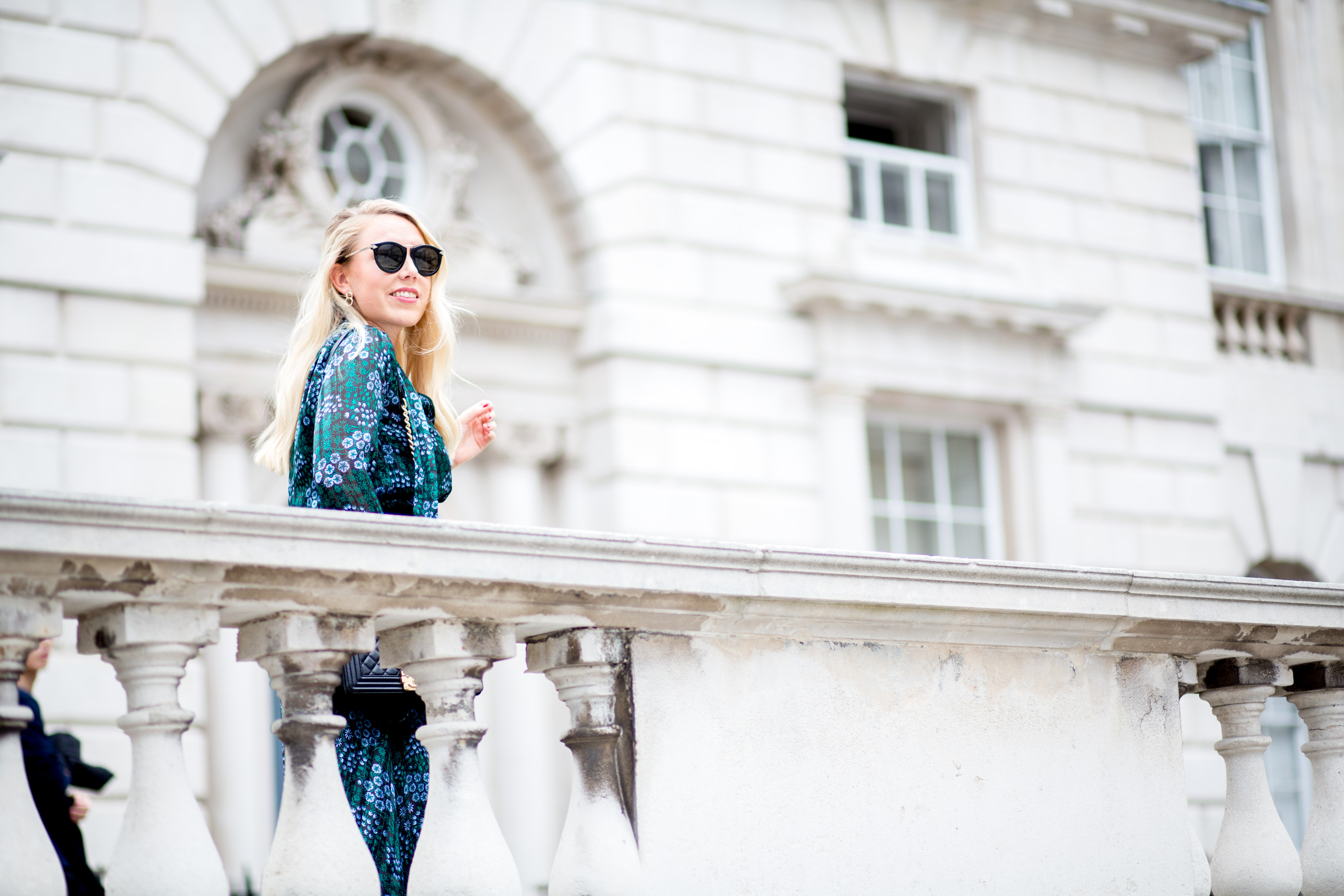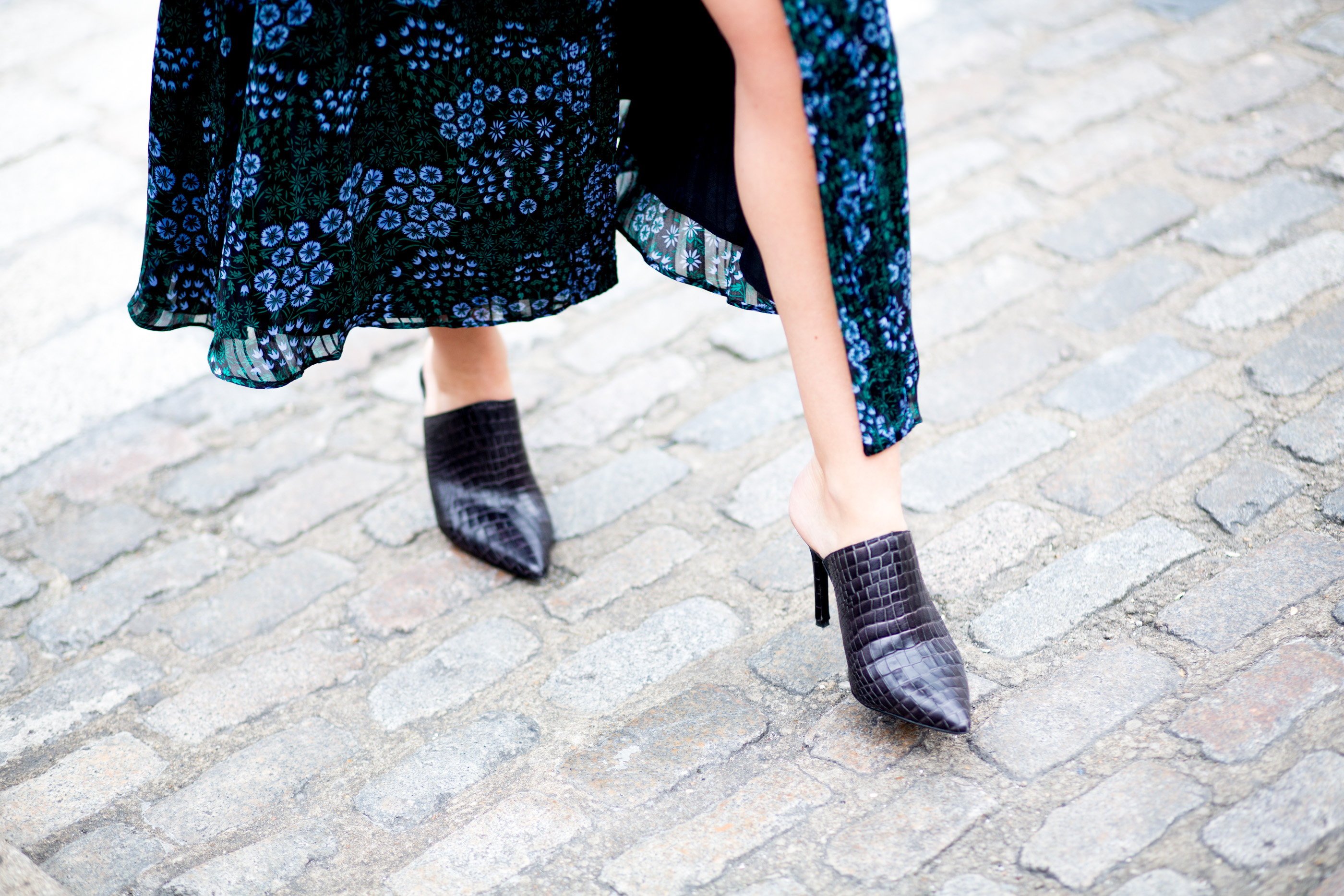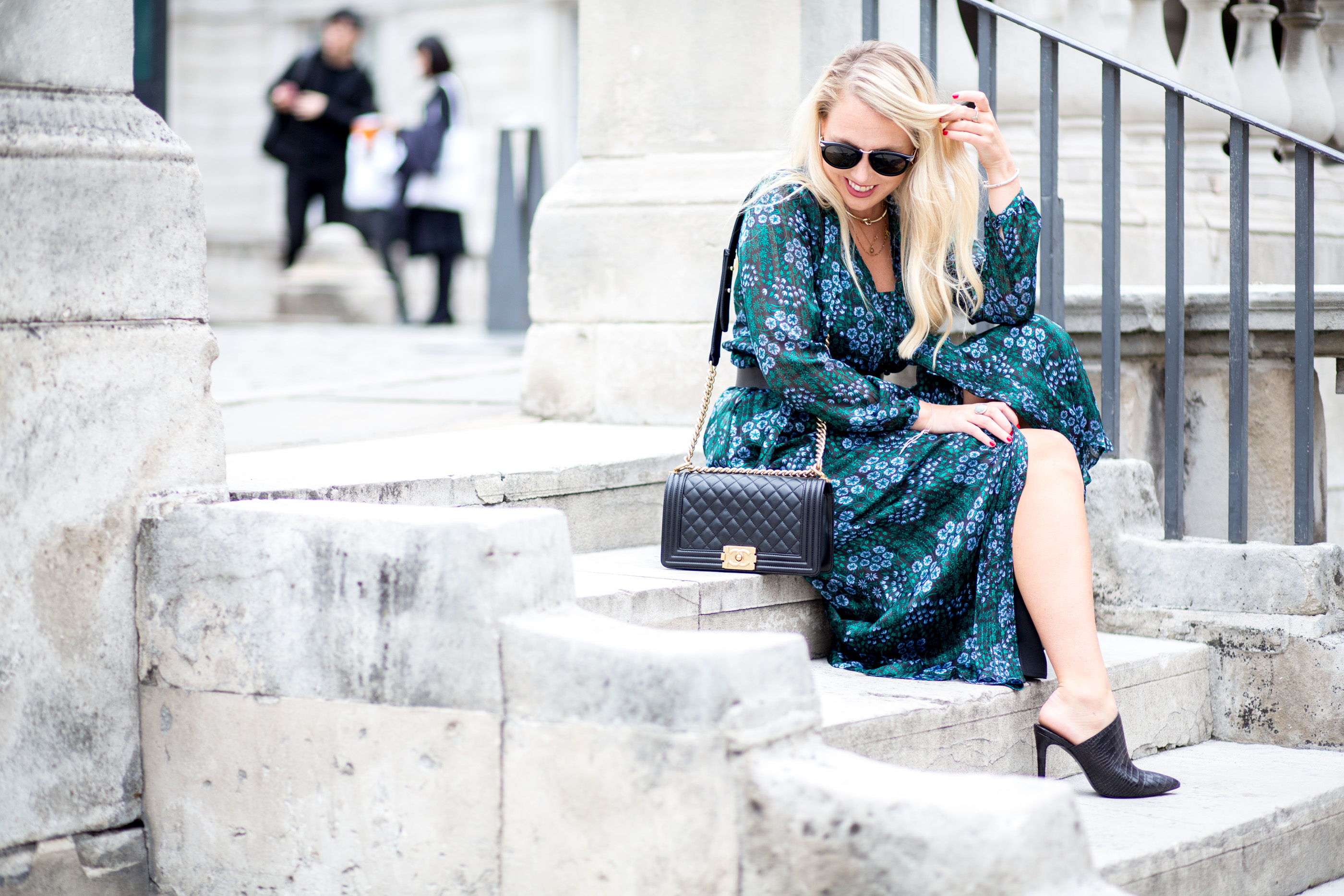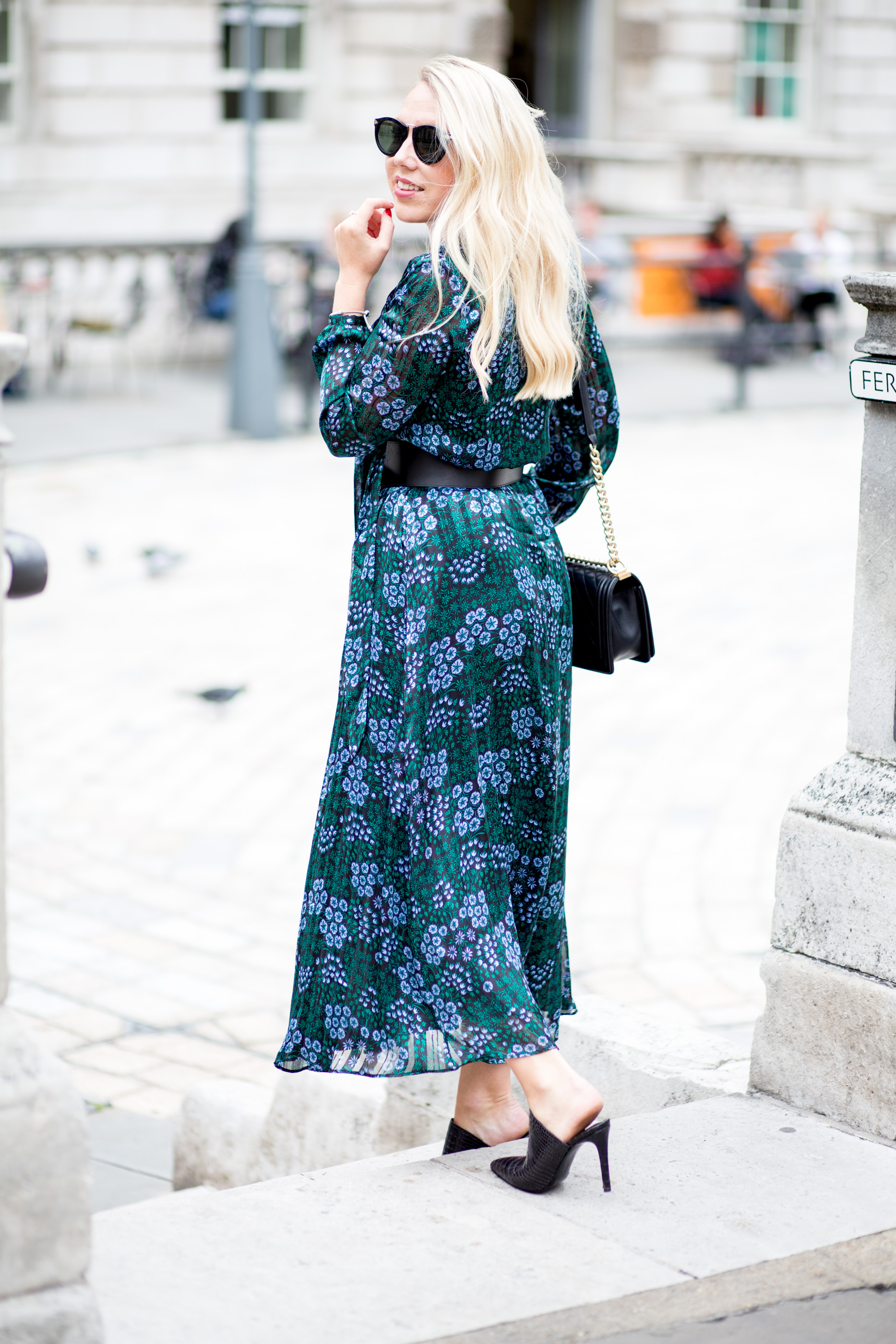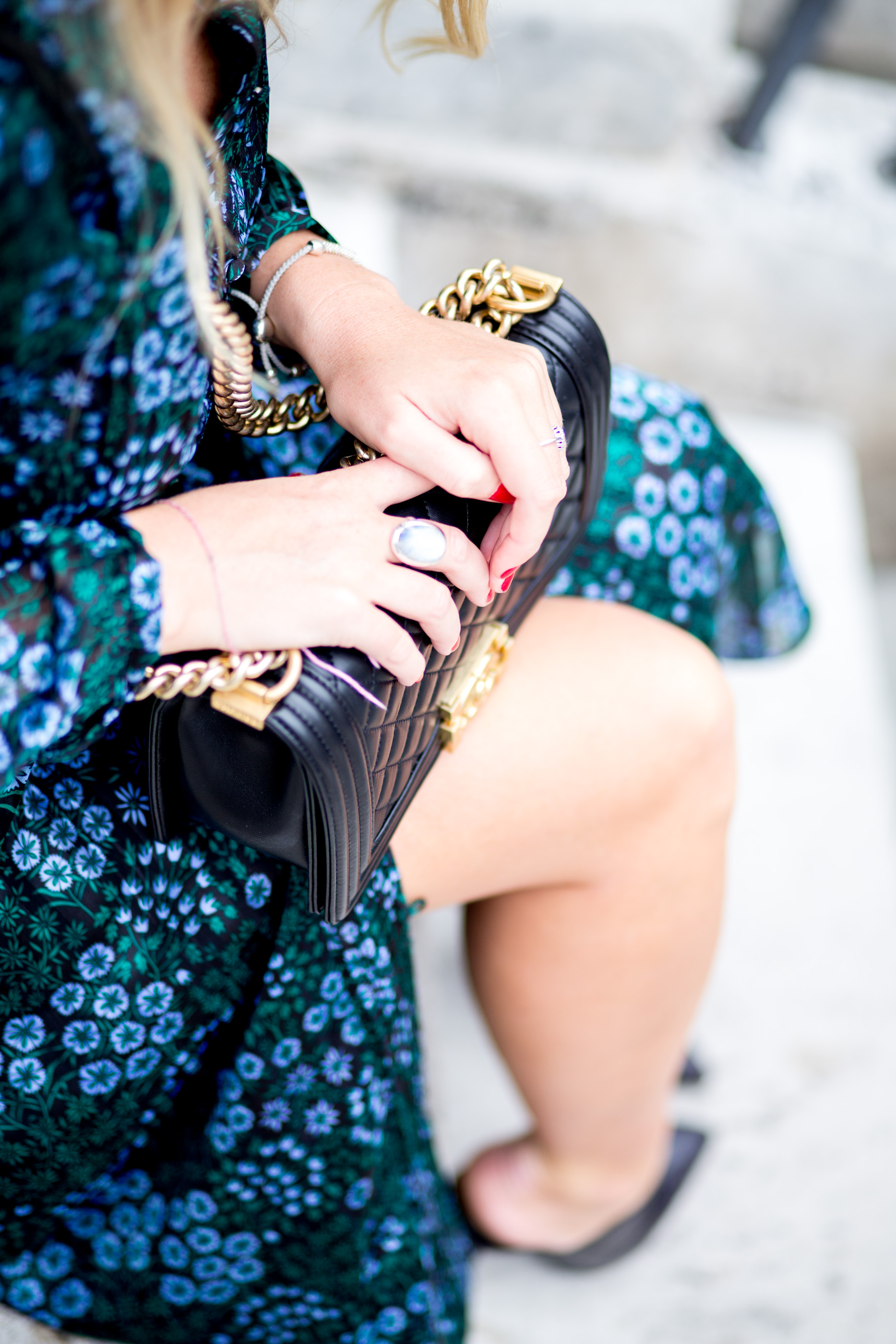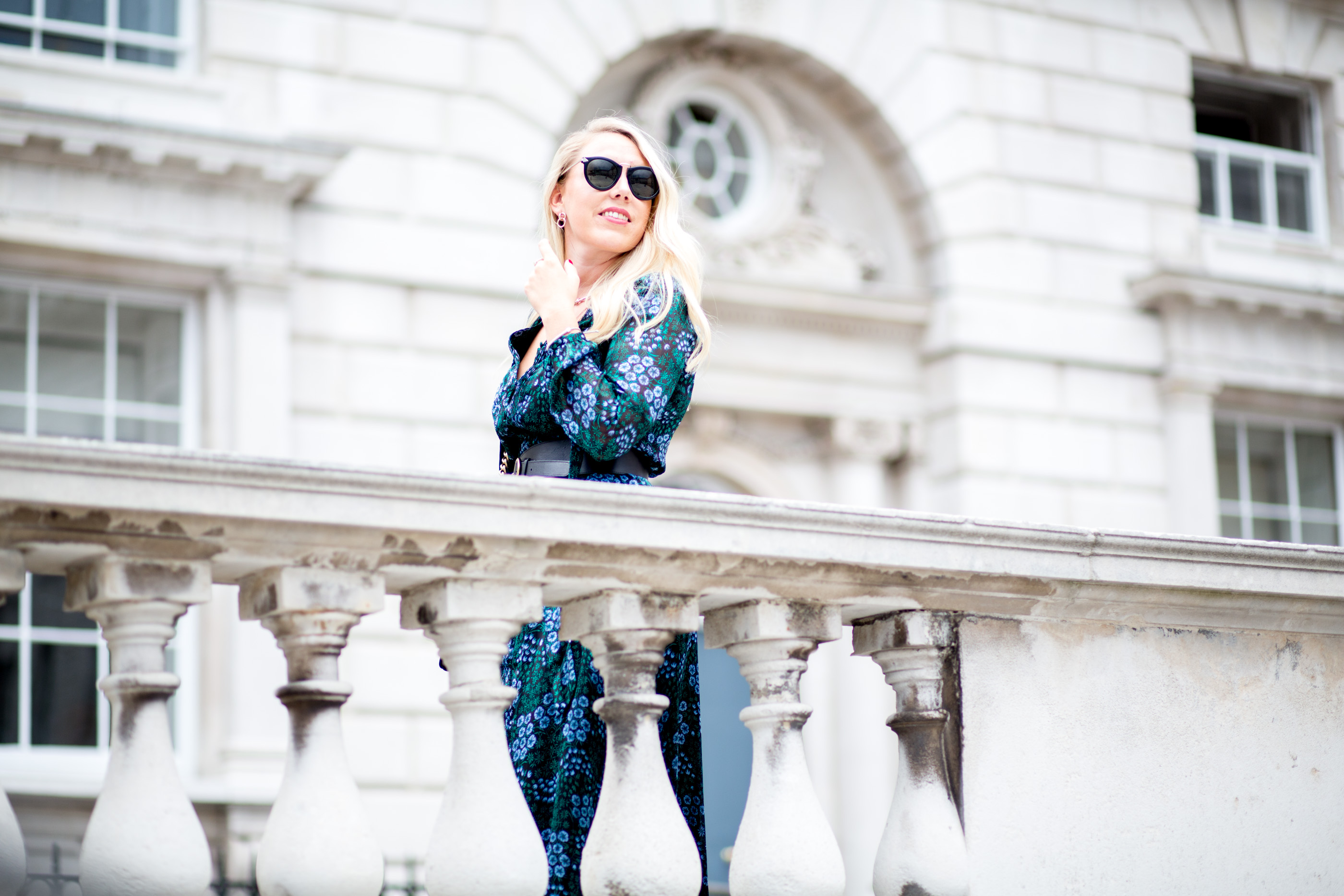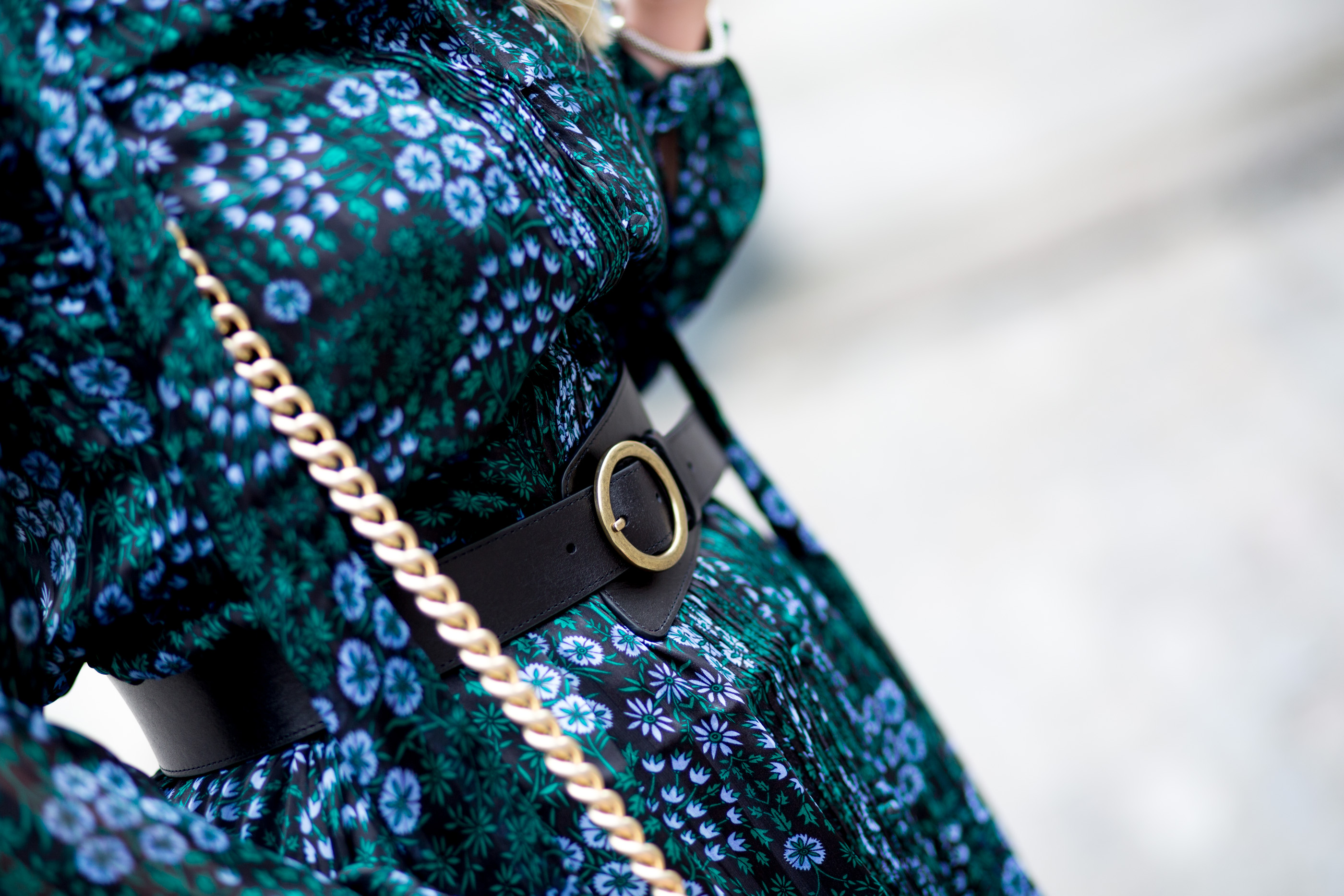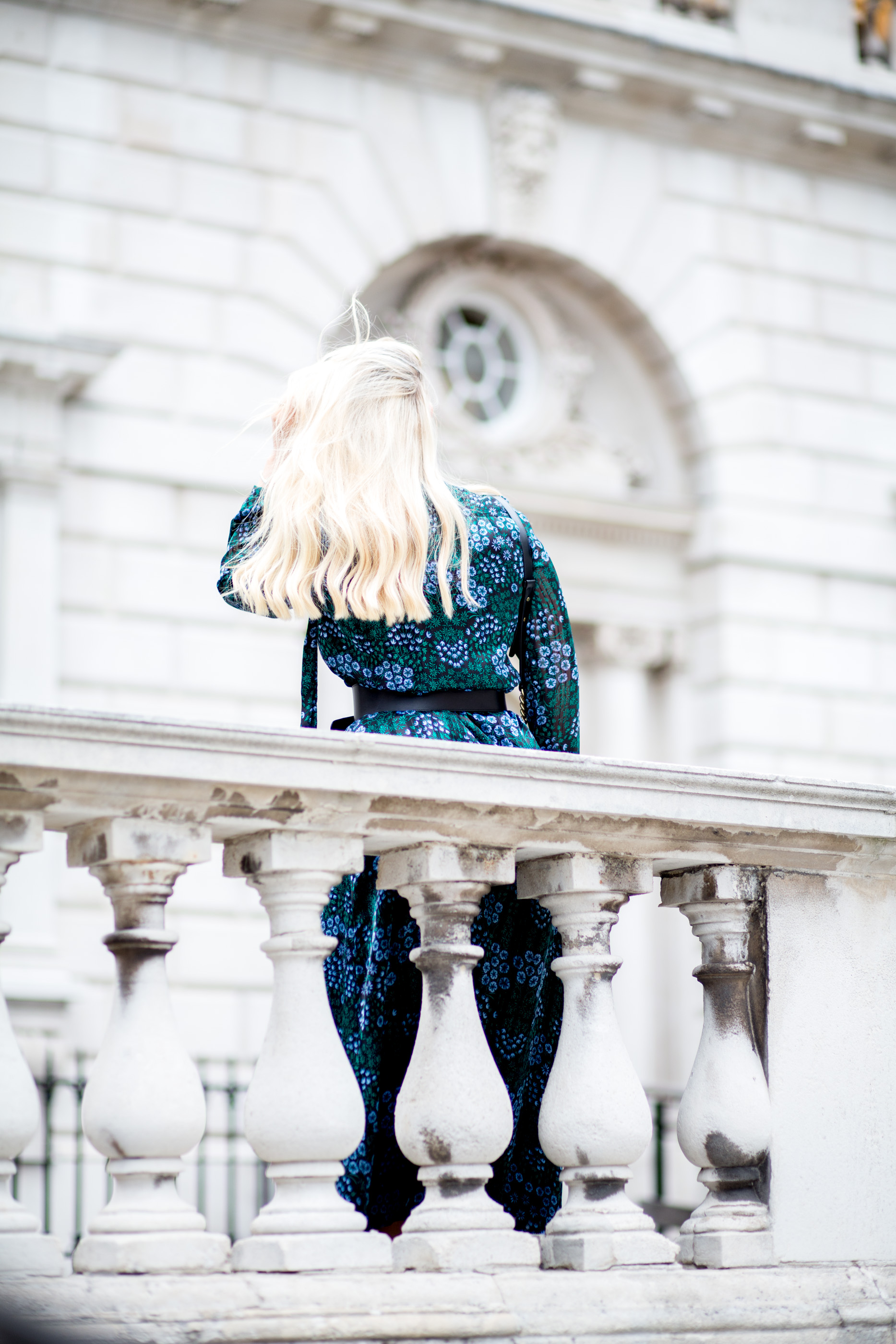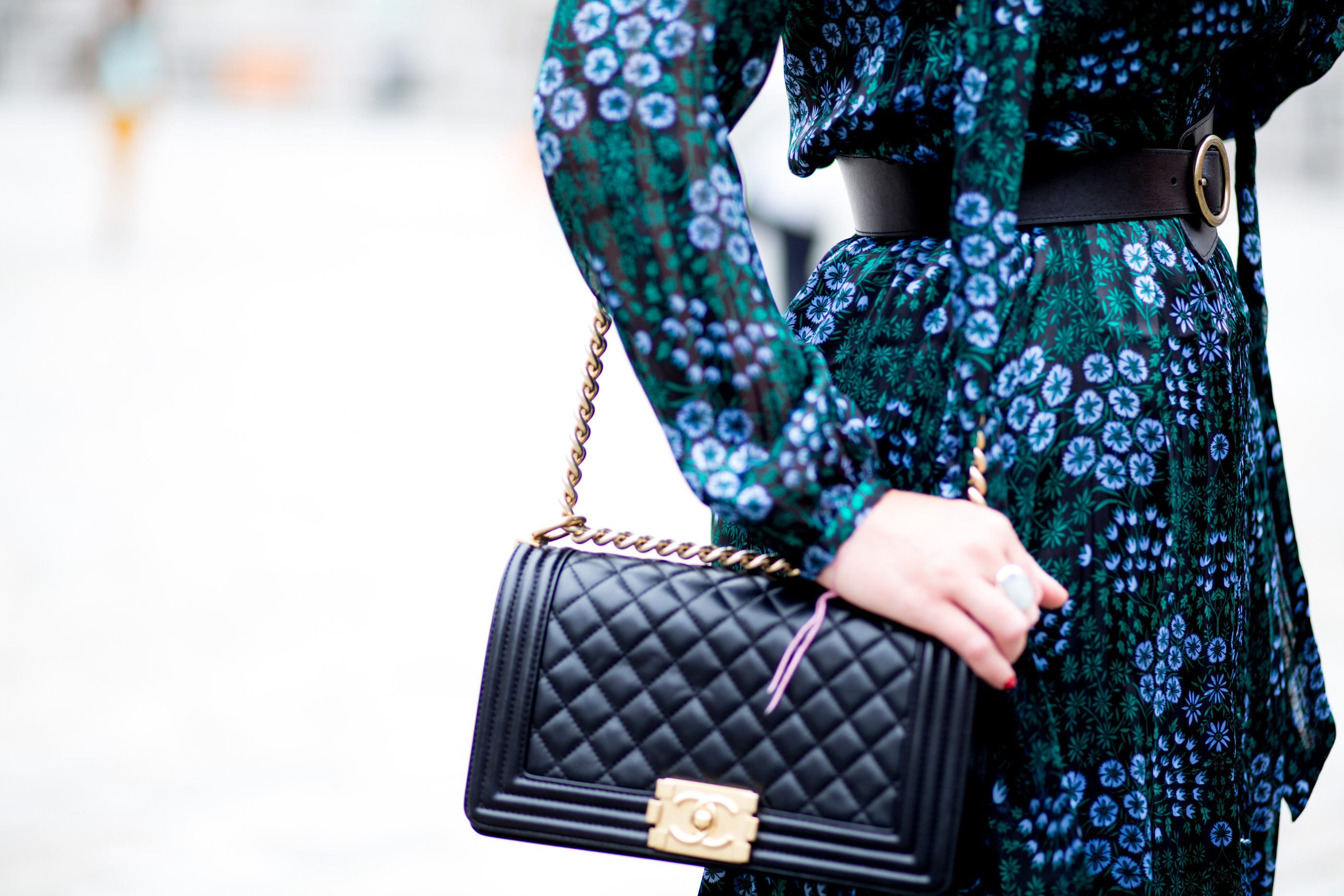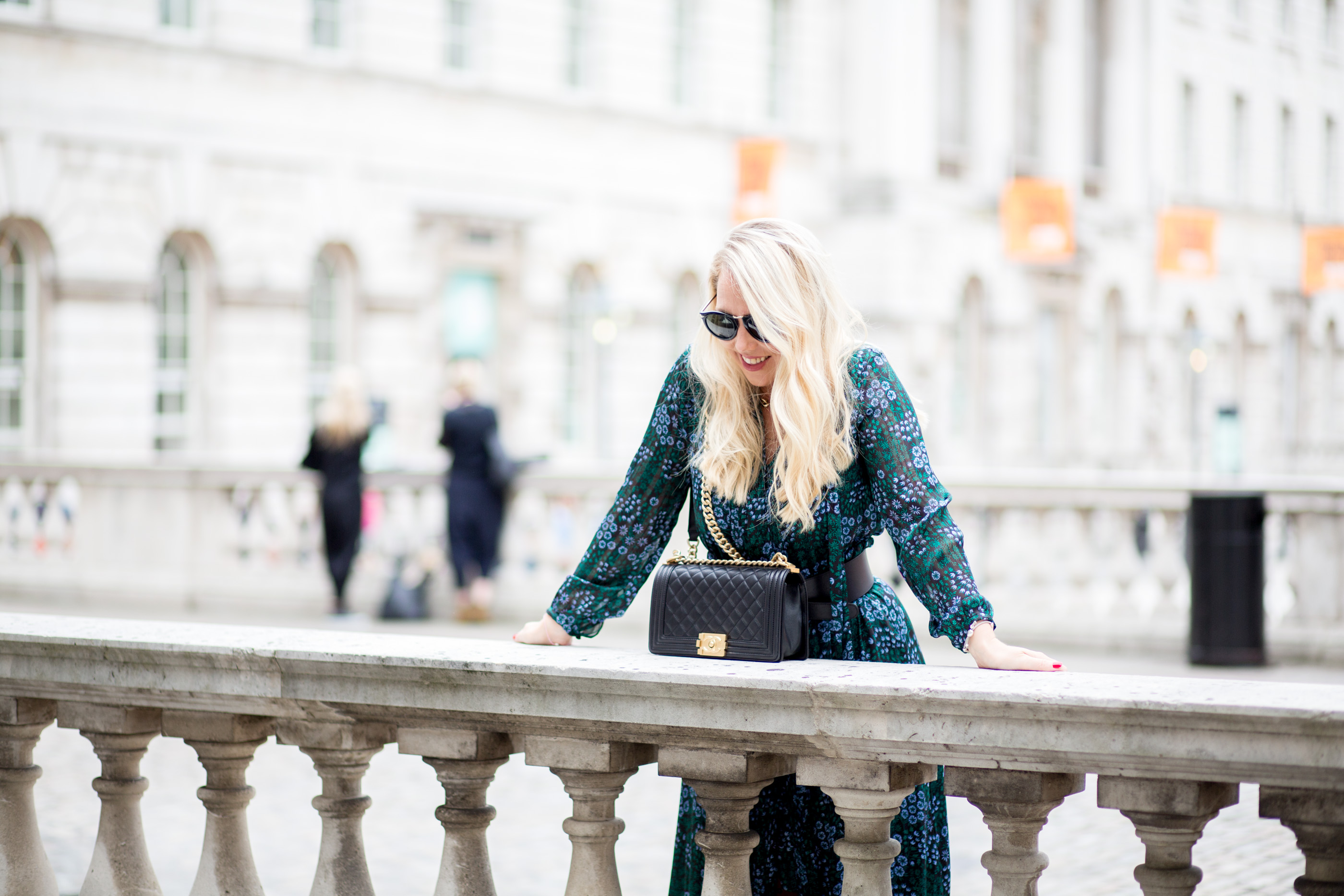 ---
SHOT WITH A CANON 5DIII x 85MM 1.8 LENS IN COLLABORATION WITH BANANA REPUBLIC
---
And there you have it, my two most adored fashion week looks thanks to one of my favourite brands Banana Republic and a little glimpse into my fashion week experience. I'd love to hear about your fashion week experiences and of course if you're as madly in love with this dress as I am?