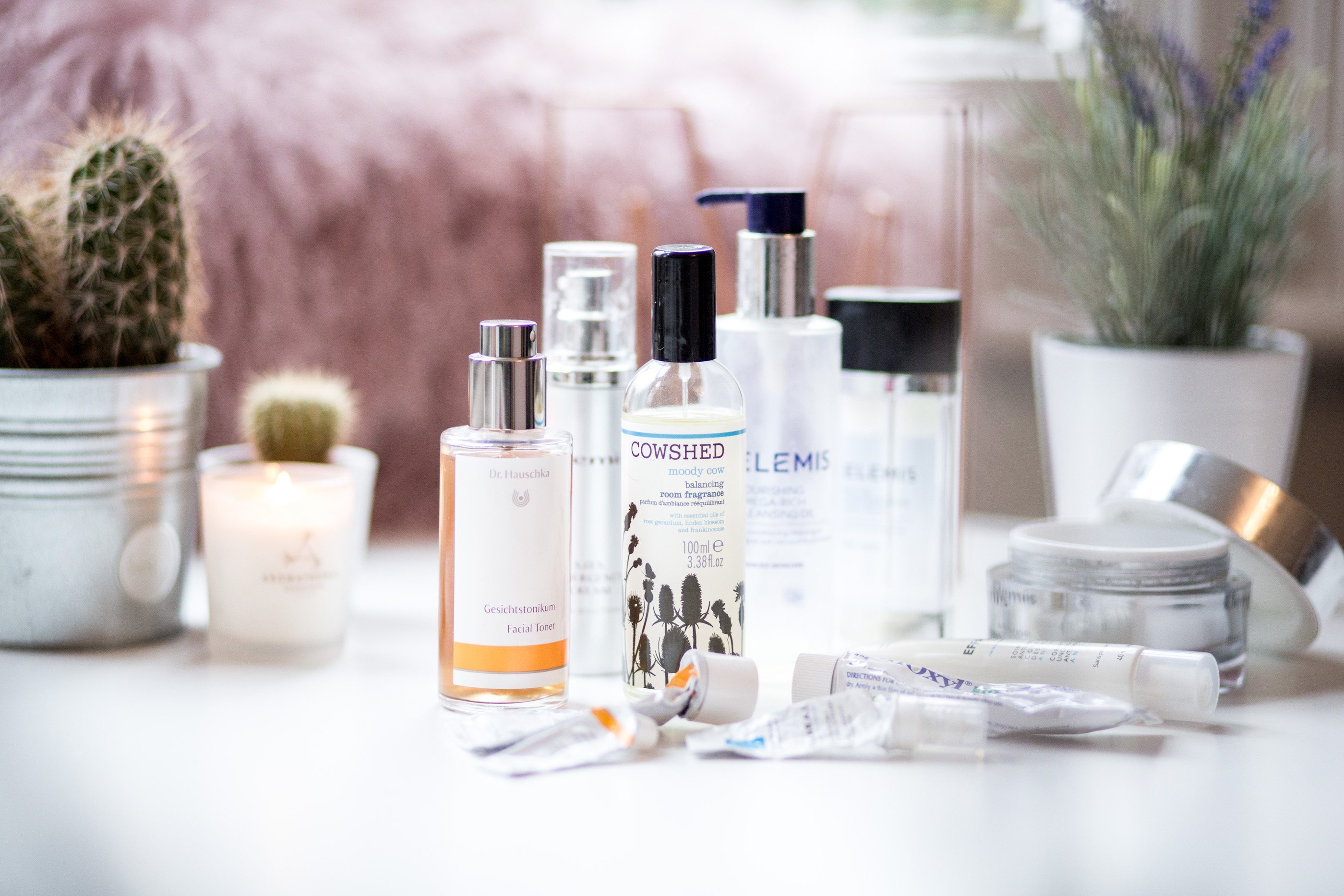 ---
From Me, To You. My Favourite & Most Recommended Skincare Products …
---
So as 2016 is coming to an end, and my beauty cabinet is inevitably starting to run out, I thought it would be the perfect moment to do a little wrap up of the skincare products i've been loving and using this year, and will be taking with me into 2017 too. It's not often I share my skincare and beauty posts with you all, i'm no skincare or beauty expert that's for sure, but when it's something I love or something I feel you would love too, I always like to share my learnings & experiences. Just like in my favourite beauty product round up earlier this year.
And these products (as you can tell from the empty bottles) have been my 'go to' products throughout the year and come highly recommended by yours truly.
My skin is notoriously tricky these days (I was a lucky teen with flawless skin, but have suffered with bouts of adult acne since I was about 26), so finding products that keep my combination skin clear, my breakouts at bay, and my blemishes hidden is no easy feat.
But like I said, don't give up when it comes to skincare because there is literally something out there for everyone. Patience is key.
---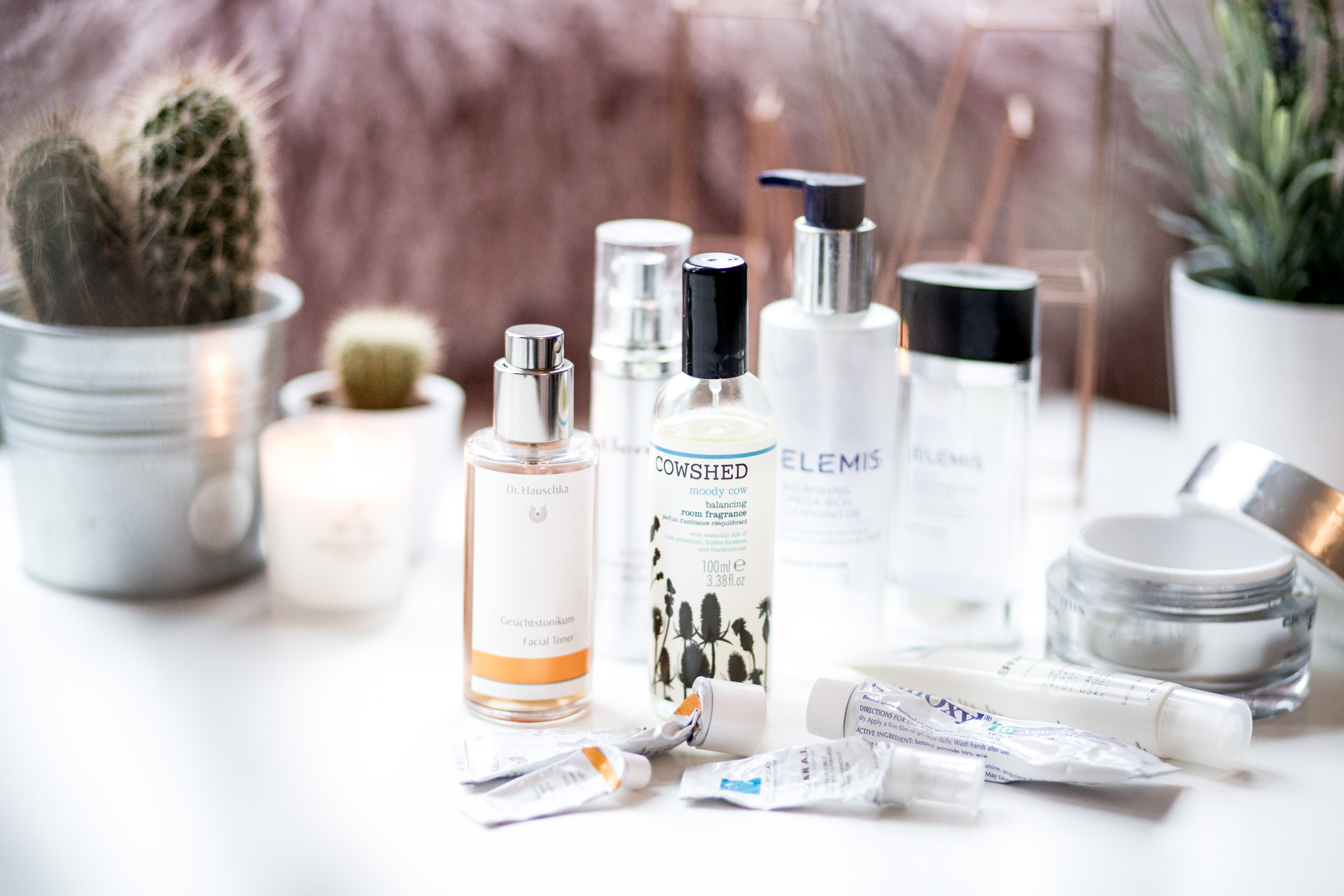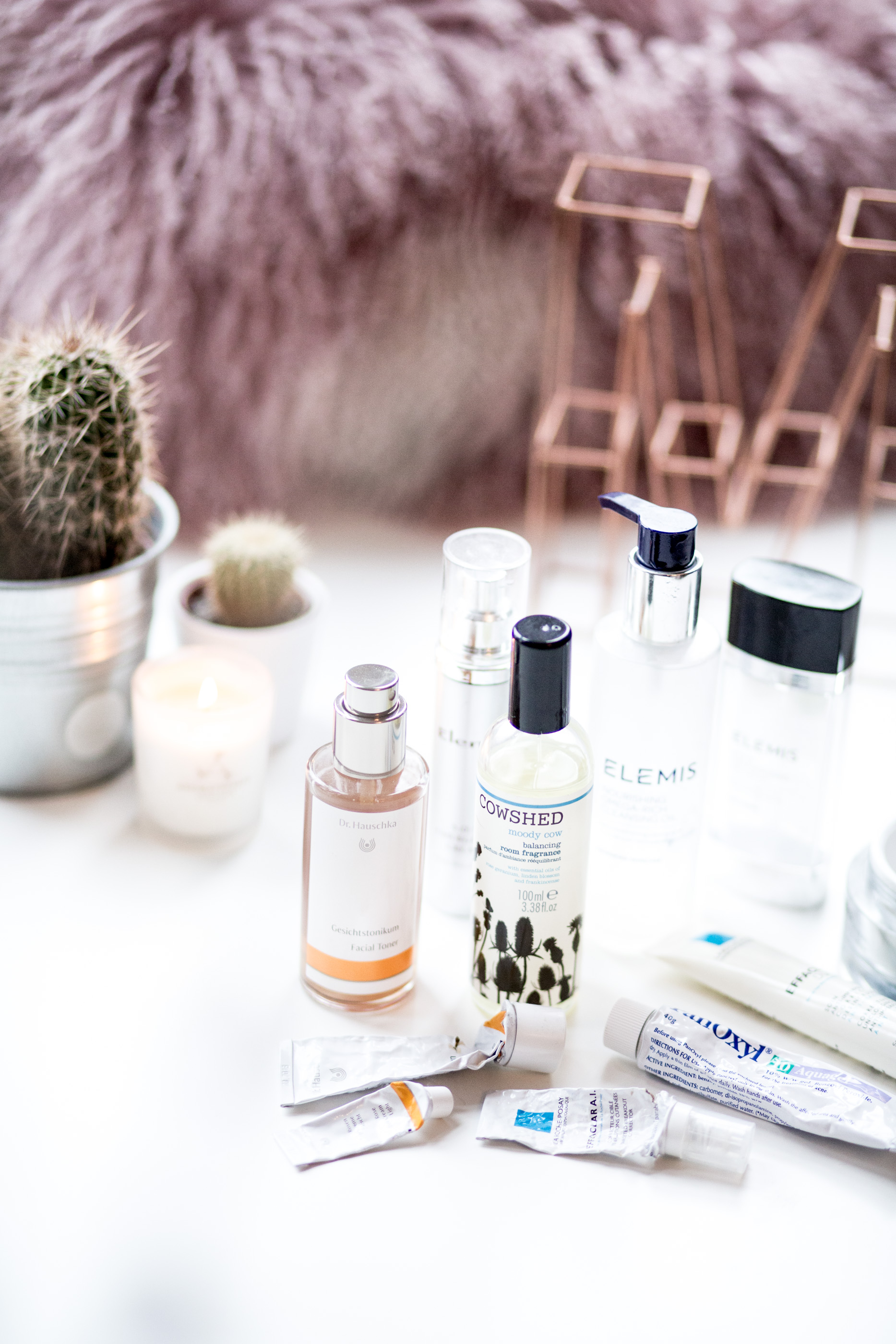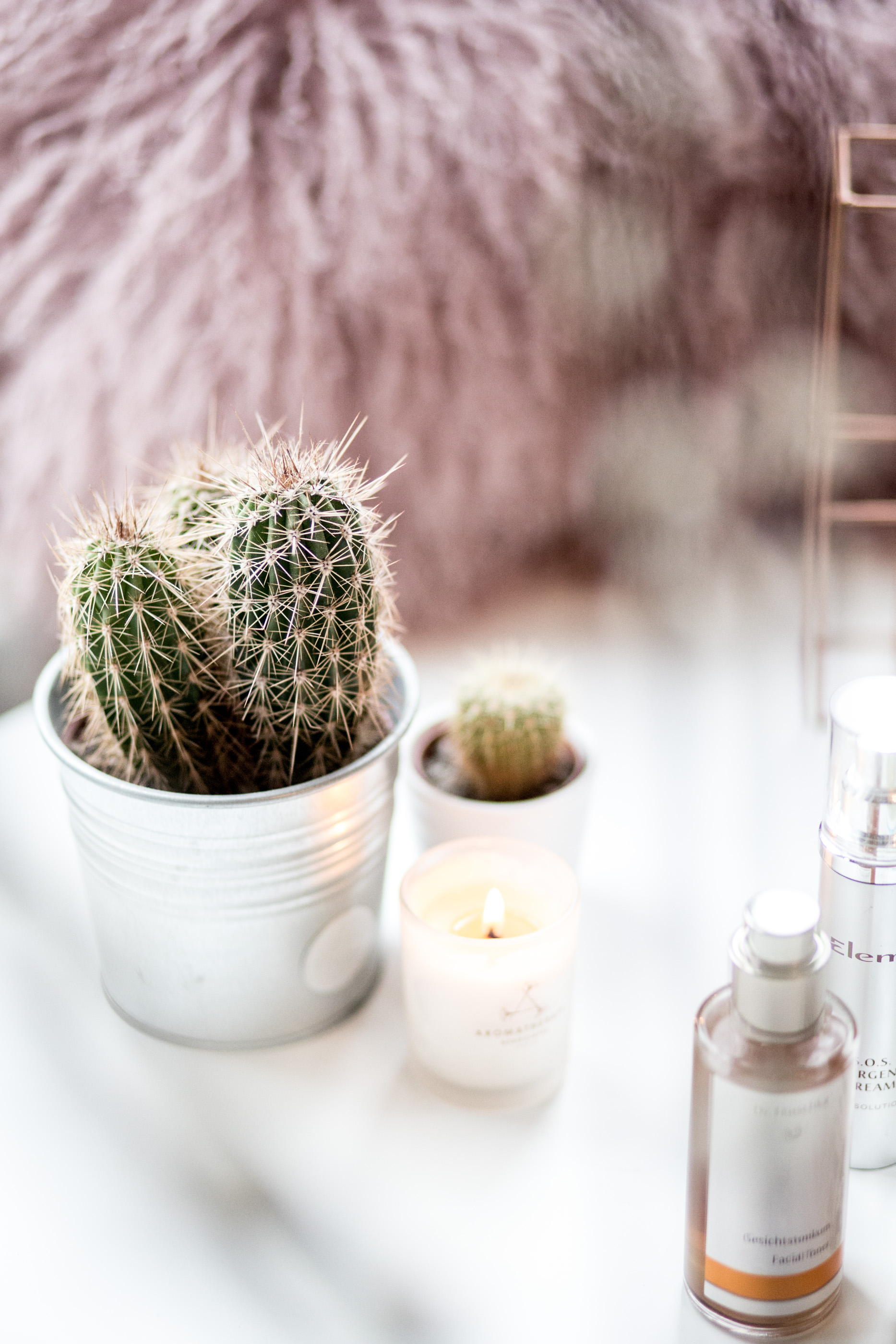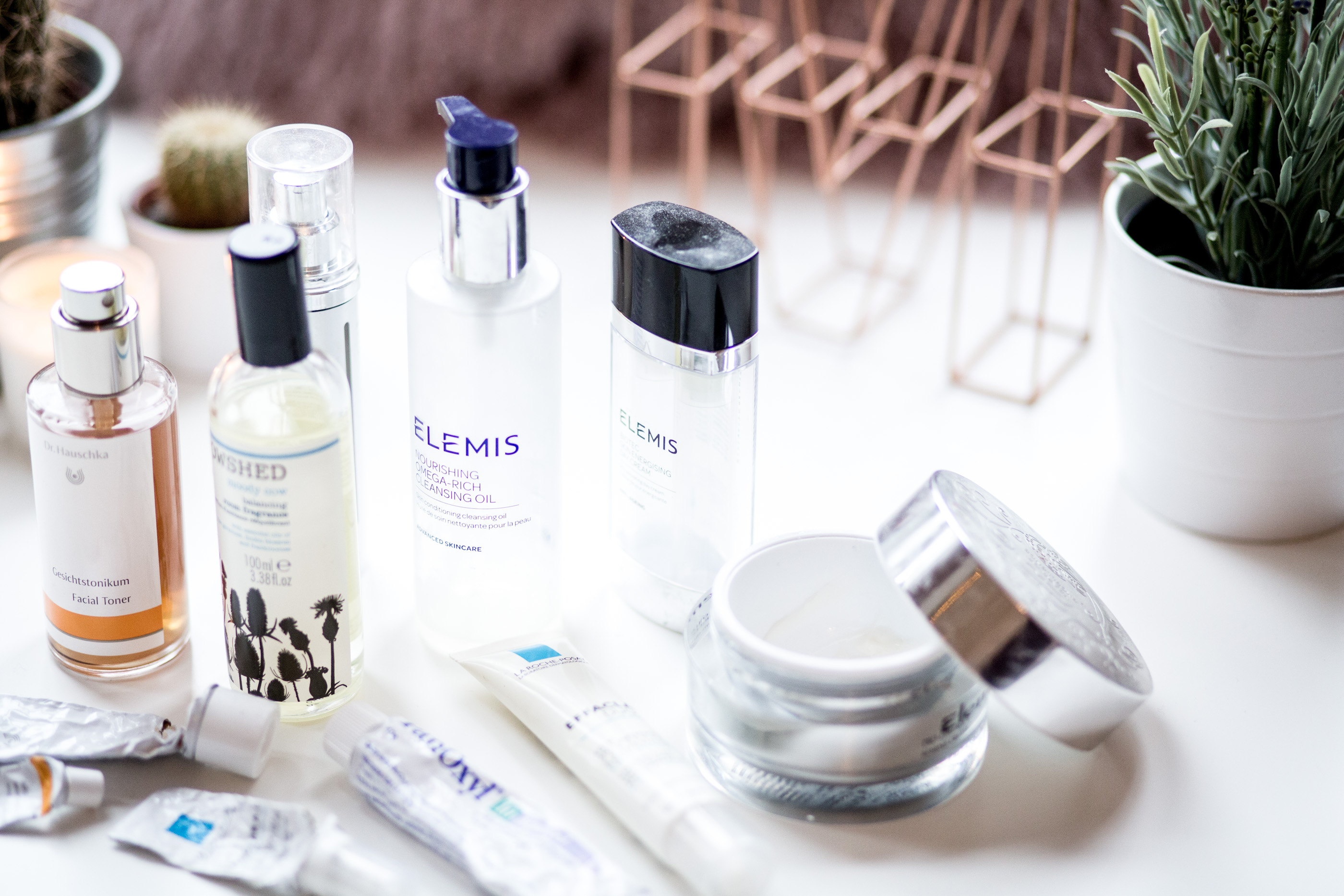 ---
MY FAVOURITE SKINCARE PRODUCTS OF 2016
Cleanse & Tone
Elemis Nourishing Cleansing Oil
I wasn't sure any cleanser could come close to my all time favourite Elemis pro-collagen cleansing balm, but I have to say the nourishing Omea- Rich cleansing oil (another one from Elemis) has been an incredible alternative. The Elemis cleansing range converted me to oils and balms back in 2014 and I'm yet to try one of theirs I don't love, it makes face washing super easy and luxurious, not to mention leaves my skin feeling thoroughly soft and hydrated, something I don't get with many other cleansing products.
Elemis BIOTEC Skin Energising Cleanser
Since converting to oils and balms back in 2014, I haven't really used many traditional face washes but the Elemis biotic skin cleanser was a relied on favourite during the summer months this year and a good alternative to the oils I usually use.
Being rather novice in the skincare game, a cleanse and routine is not something i've particularly embraced, in fact most nights I fall asleep with my makeup on (shocking i know) but when I treated myself to a few Dr Houschka skincare products earlier this year I became obsessed with the smell of the facial toner, so the pure luxurious smell has encouraged me to start toning my face a little more. Most the time I just give a few spritz after I've cleansed.
–
Skin Imperfections
La Roche Posay is a brand i've relied on for blemish solutions for a long time (I shared my experience in detail back here if you remember), after having the effaclar range recommended to me when my breakouts first started happening, i've been buying into the brand ever since. Of course there's no instant miracle cure, but I find the Effaclar A.I a soft but effective treatment cream (it certainly reduces inflammation without burning the skin like more specialist products).
Alongside the A.I treatment, I also rely on the afflaclar duo as an all over blemish soothing moisturiser. I don't use this product everyday, but when I'm suffering a bad bout of spots I'll swap this product into my routine as opposed to my other moisture products.
Pan Oxyl Spot Cream
I've tried many a spot product over the years, both branded treatments and behind the counters as well as some random products from chemists in France and Turkey (I like to give it all a go), but it was my local chemist who recommended the Pan Oxyl spot cream to me earlier this year, and it's the most effective treatment yet. Much like the prescription cream Duac, the Pan Oxyl spot cream totally strips back the skin and dries the skin and effected area entirely. It reduces inflamed areas & dries spots in just a few days, but as with any acne treatment product it does give a chemical peel type affect. So be prepared for lots of dry skin.
–
Moisurise
Elemis BIOTEC Day & Night Cream
When it comes to moisturisers I swap and change a lot, i'm not sure if this is a good thing or not but I tend to have three or four on the go at anyone time, and I pick and choose dependent on my mood and how my skin is feeling. Probably two of my favourite moisture products this year have been the Elemis biotic day and night cream, I used these religiously until they ran out (I need to pick myself up some more) and loved the routine they encouraged me to commit to, and also how fresh and energised they left my skin feeling and looking.
Another firm favourite of mine, and one I use on a daily basis is my Pro collagen day cream from Elemis, another one of their products that has totally stolen my heart. This cream is IT, it's probably my number one favourite moisturiser, thick in texture, yet so easily absorbed and leaves my skin feeling like it's had a proper pamper. You pay for what you get with this moisturiser, for me it's worth every penny.
I bought myself the Dr Houschka Melissa Cream for one reason, it's my name. haha, easily sold me. The product smelt like a dream and was something I used daily until it ran out, but in hindsight I realised this cream was making my face excessively oily and not sitting with my makeup well. I loved it a lot, but isn't one I'll re-buy as i'm not sure its good for oily skin types.
Another rather oily number, but a miracle cream for those dry winter skin days is the Elemis SOS cream, this moisturiser is so thick and oily it's like a treatment for your skin on those days or months when your skin is just feeling and looking dry and dull. I use this on a one off basis when my skin really needs it and for those post spot treatment dry skin periods.
–
A few more for luck
I'm obsessed with this room spray, obviously not a skincare product particularly, but it's a vital part of my evening skincare routine. Once i've cleansed and moisturised like a good girl, I give my pillows a good few squirts of this Cowshed Moody Cow spray and it's just like being in a spa.
Kiels Dark Spot Solution & Kiels Midnight Recovery Oil
I've shared my Kiels products with you before, but two products I am keen to get more use out of in 2017 is the midnight recovery oil (I currently have two bottles ready and waiting to be used) and the dark spot solution serum which is meant to do wonders for dark marks and scarring. I bought this in the airport over a year ago, but i'm starting to use it every night before I go to bed now to help with my skin recovery. I'll keep you posted.
Clinique Dramatically Different Moisturiser
A classic product thats come back into my life recently is the Clinique dramatically different moisturiser. Clinique was a firm favourite growing up and I still love their products now (their blemish solutions kit is excellent and I frequently use the moisture serge eye cream and their makeup products) , the dramatically different moisturiser is an all time classic and I'm already loving using it again, plus the pump bottle is just so simple.
---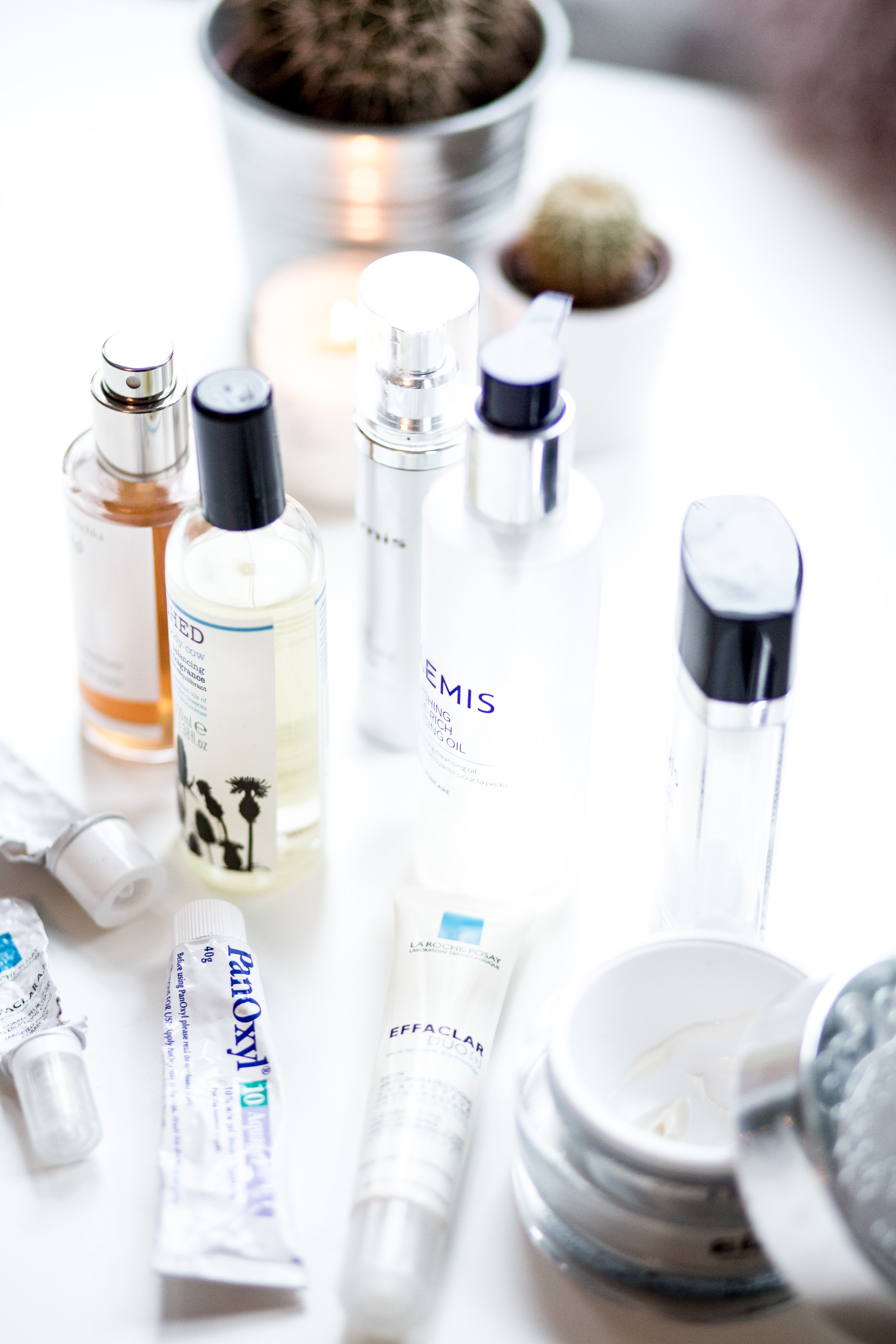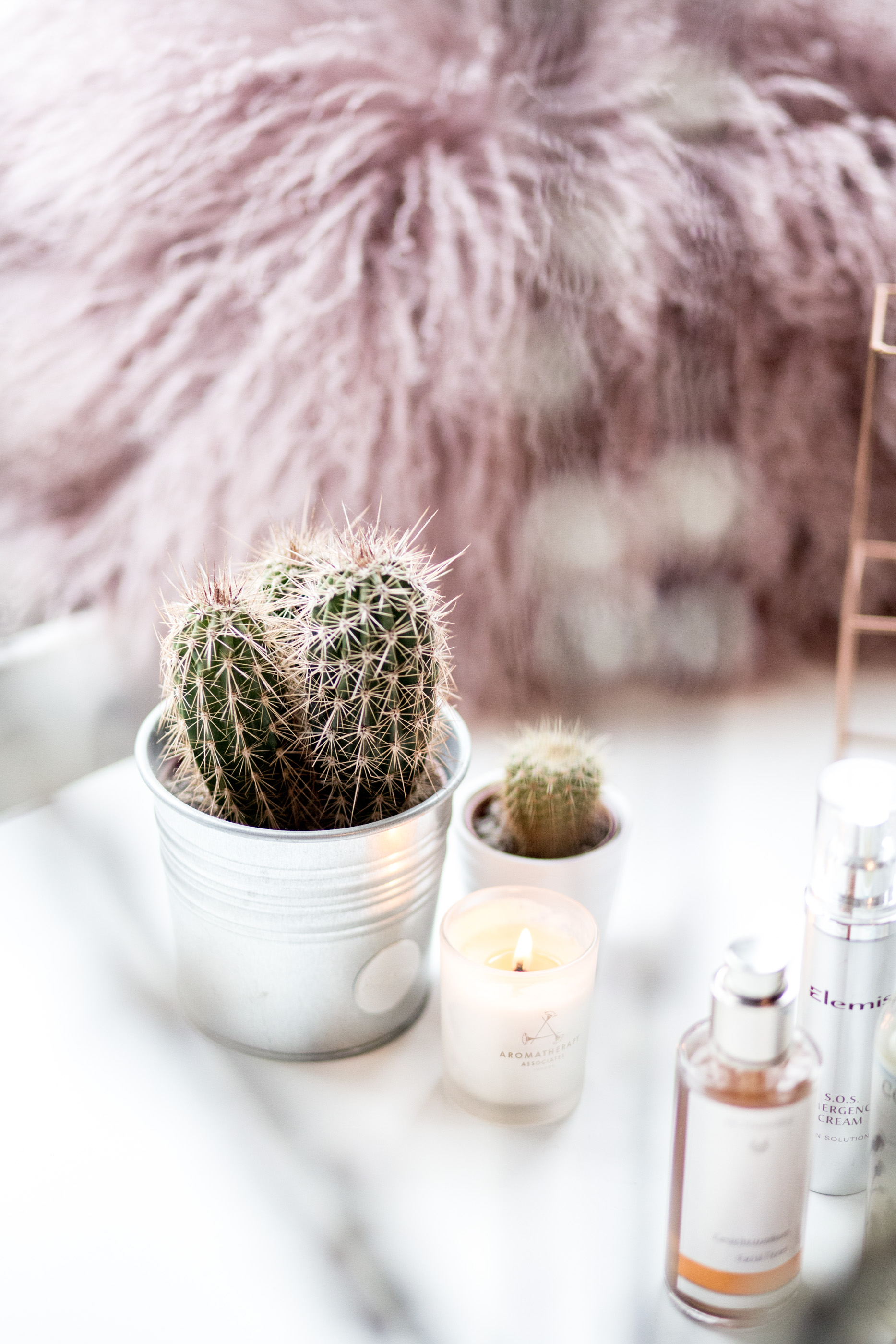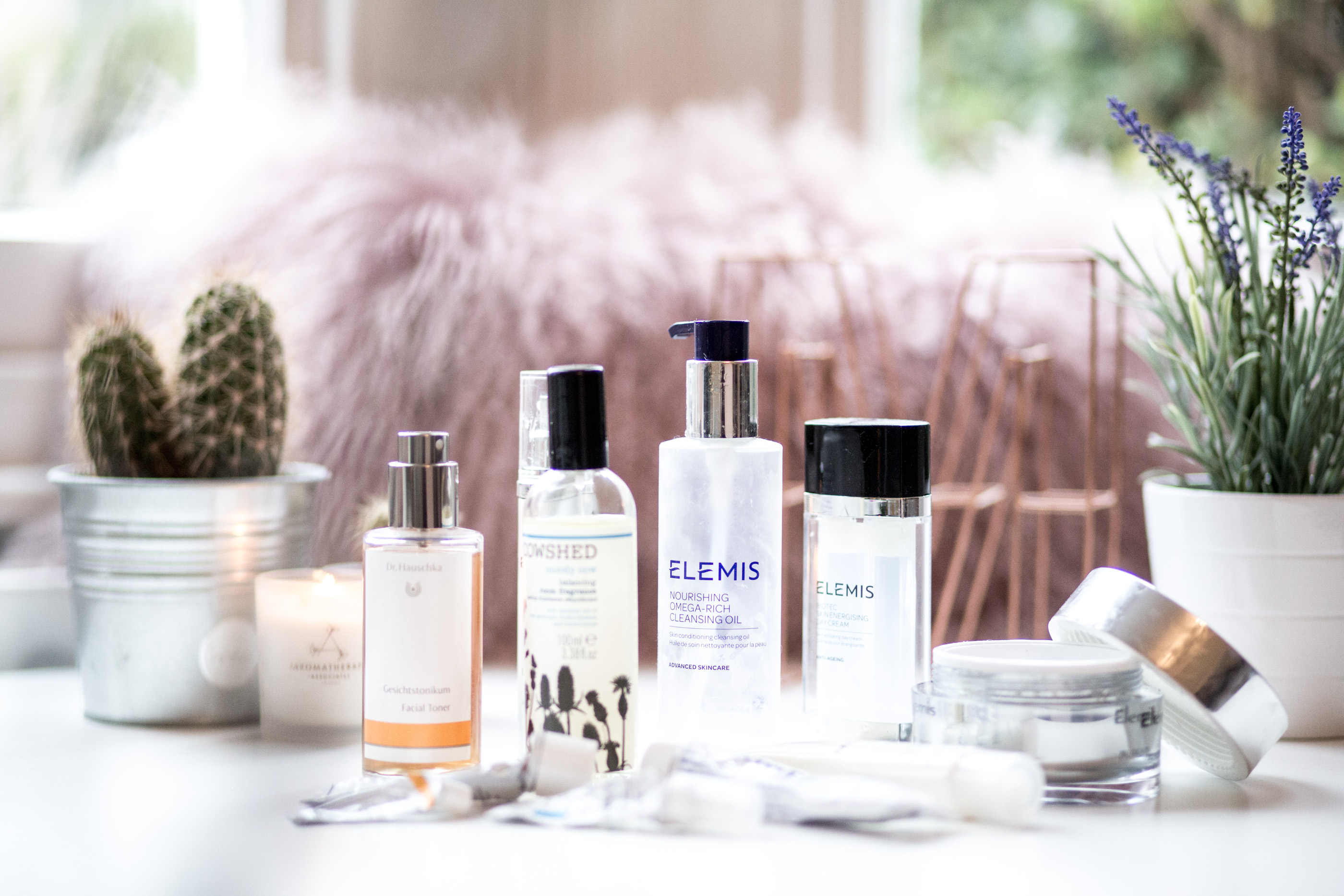 ---
MY SKINCARE FAVOURITES

---
So there you have it, a pretty big round up of my favourite skincare products of the last 12 months. I'm relatively loyal to the brands I know and love, I trust their products and find no matter what products I use they're always effective and good for my skin. All of these products are ones I use day in and day out and find most suited to my skin. If you fancy seeing more of my tried and trusted beauty favourites then have a little nosy over here.
---
I'd love to know if you use and love any of these, and if there are any products you've particularly loved this year & recommend I try?