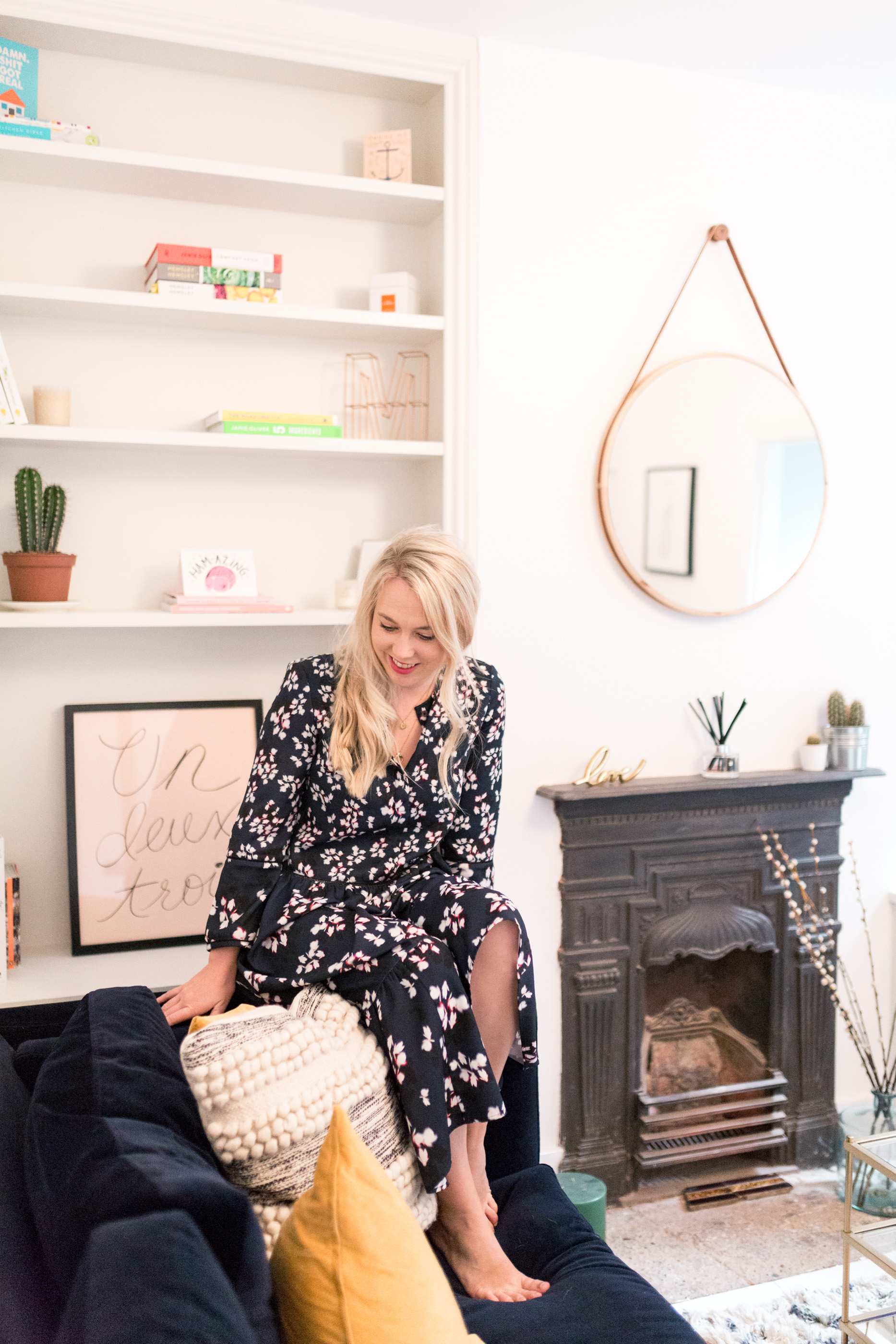 ---
BUYING YOUR FIRST HOME
What You Need To Know & My Top Tips
---
I feel like this has been a long time coming in many ways, firstly the years of saving and finally buying a house, but also the time spent plotting and planning my new interiors section of mediamarmalade.com. It's something i've been so excited to launch, start sharing with you all and start creating content for. But as with anything new, learning the ropes of interiors photography, filling our home with our new pieces and making sure we finish off those odd jobs we didn't quite complete before we moved in (ahem, we still have no bedroom door). Although here we are, with the first edition of my interiors content and the first of many I hope.
Whilst I have a ton of features planned, including a bedroom and lounge tour which I'll be sharing soon, I thought i'd start where it all begins, the reality of buying your first home. Because my gosh there are some realities that I wish i'd truly known or understood before it all started that maybe you might find insightful or helpful on your journey to buying a home.
And of course I'm sharing a sneak peak into our interior decor, which i'm super excited to share more about because we've got some beautiful new investment pieces which I'm just so in love with.
If that wasn't quite enough to whet your appetite, then perhaps the renovation plans will be. Jase as you may know is an architect, so we already have plans in for council approval to extend and renovate our space, add an extra bedroom and create a new very swish open plan kitchen and lounge area. The long term journey is only just beginning, so watch this space.
Now for what you're here for … my top tips for buying your first home.
---

---
FIVE THINGS YOU NEED TO KNOW ABOUT BUYING YOUR FIRST HOME
The Big, The Bad & The Ugly
–
IT COSTS MORE THAN YOU THINK
–
From your deposit which you'll have spent years saving, to solicitors fee, survey costs, mortgage application costs to simply the bain of all our lives, stamp duty. The cost of buying a house is so much more than you even realise. I for one spent years saving a deposit, without realising that your stamp duty is a capital cost too! That's a whole other chunk of budget to be paid up front that could be a similar size to your deposit depending on the cost of the house your buying.
Add to that the fee's you'll need to incur up front to simply buy your house and go through those motions, you're looking at a hefty sum of money that could be near to double what you may have been thinking.
It's a wise idea to start a spreadsheet once you've had your initial mortgage consultation (the first step in the process is to agree what you can afford & ensure you have a mortgage in principle in your back pocket), this spreadsheet should track your expenditure so you're able to properly predict available funds, but also and importantly track all the required expenditure for solicitors, fees, applications, surveys so that you always have full sight of all the required money! This does seem like a daunting process, but once you've got the hand of keeping track of your finances, you're one step closer. After all this is sorted,the fun part can begin!
The lesson really is, save more than you think you need! It'll go somewhere!
–
INTERROGATE EVERYTHING
–
When you're buying a house for the first time, you'll be confronted with stacks of paperwork packed with jargon that might as well be a foreign language. But even before you lose yourself in weeks of signatures and contracts, even reviewing properties on the market there's a lot of 'new things' to learn and understand. The key thing to remember is you don't have to know everything, understand what everything means or the implications, but you absolutely MUST ask before you go ahead with anything.
From clarifying freehold and lease statuses (which often even the estate agent must reconfirm a few times for absolute clarity) to ensuring land deeds and mortgage terms all make absolute sense and are as you are expecting.
It's so much better to check, ask 400 questions, learn and be sure before you commit to one of the biggest things you'll ever buy in your life.
–
PATIENCE TRULY IS A VIRTUE
–
Patience is something I've spent thirty years trying to learn, but nothing tested it more than buying a house. When we offered on our property it was on the basis of a quick move & no onward chain … fast forward four months and we were close to pulling out through a sheer lack of progress and commitment on completion dates from our vendors. Buying a house is SLOW and there's nothing you can do about it.
The legal motions, the process in general and the sheer volume of parties involved means that even if you're super lucky it's still going to be a matter of months before you finally get those keys. But the reality is things won't go to plan, you'll face delays, and there's nothing you can do but manage your side quickly and efficiently and sit back and wait for everyone else to get their butts in gear.
And even then, it's only when you finally exchange you know that property is going to be yours. So don't get too over excited and committed before you know you've exchanged!
–
THERE'S NO SUCH THING AS THE PERFECT HOUSE
–
Well maybe there is, but it'll be out of your budget!
What I learnt is that buying a house is a compromise, whether it's location, size, aesthetics or price, something will require a compromise! We all know that location means price, size means price, aesthetic means price … but obviously unless you've just won the lottery, your budget is your budget, so finding the best compromise of all these factors is inevitable.
We bought in a location we loved, but sacrificed on size. We didn't buy the 'finished' property because we wanted to add our own touches to it. But I do know I could have had that 4 bedroom house with perfect interiors, but I wouldn't have got it in London and where I want to live right now!
Work out your mandatories, and agree up front what you're willing to compromise on. If you're buying with a partner or friend then it's good to be on the same page up front.
–
USE YOUR HEAD NOT YOUR HEART
–
Which leads me to the final lesson learnt. Whilst your heart will want to lead the show, it's your head that probably knows best in this instance. There were two properties we offered on before we agreed a sale on our home, both I fell head over heels in love with, both i'd already planned the decor, both were over budget and both in reality were not good investments. We could add no value and in hindsight they both had considerable issues (one was size the other location).
It's easy to get swept up with the excitement and emotion behind it, but sometimes you do have to focus on the rationale and objective side of things to ensure it's not only a wonderful future home, but also a sound investment for you.
The process of buying a house is one of the most stressful ones you'll go through, from the excitement of finding a home, the pressure of negotiations, the stress of contracts and legal forms, the frustrations of pace & progress, and sometimes the heartbreak of a sell falling through.
The lesson really is, use your head and don't over rely on your heart! That being said, you do get a gut feel on the property that you know is right, trust that but just rationalise too.
---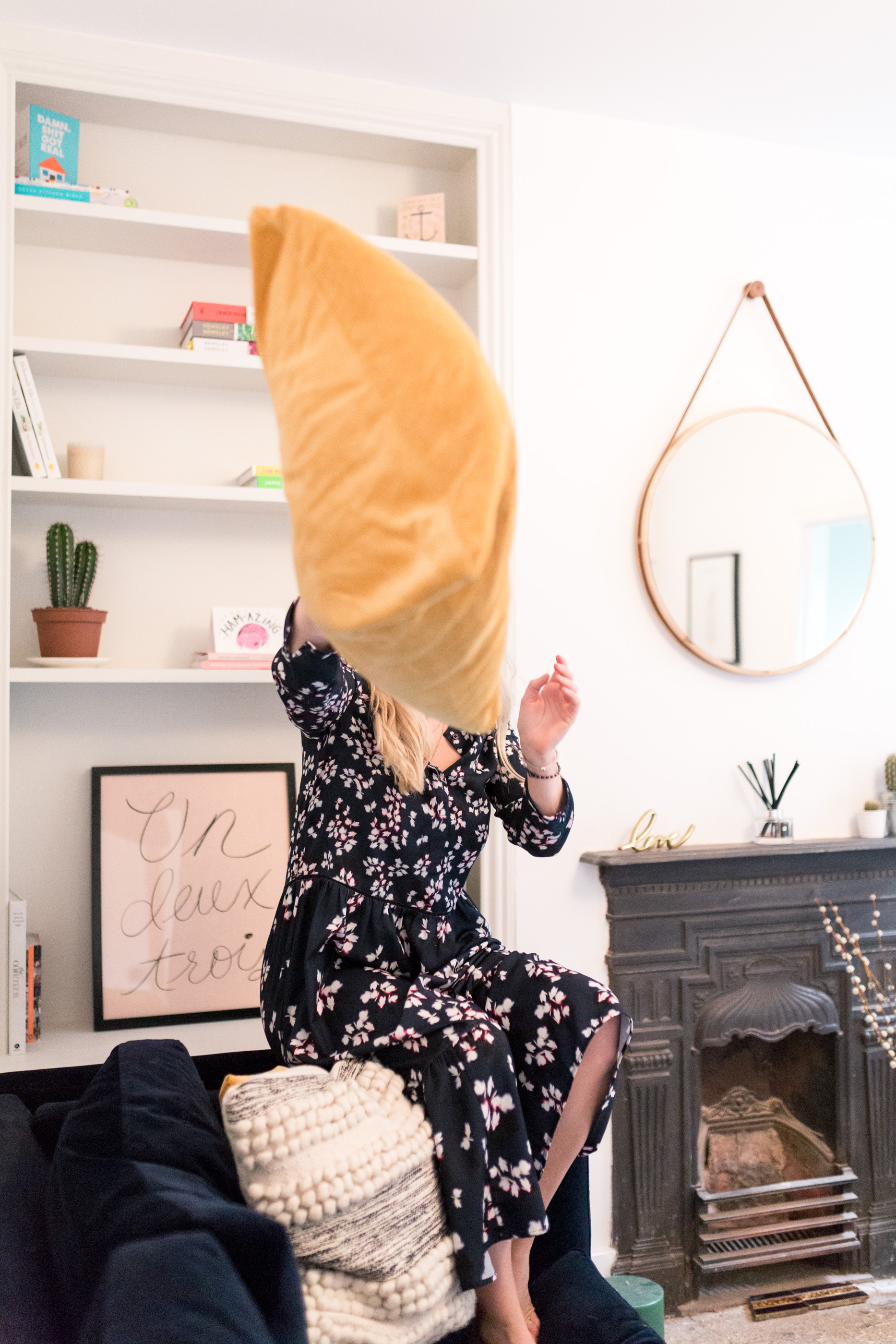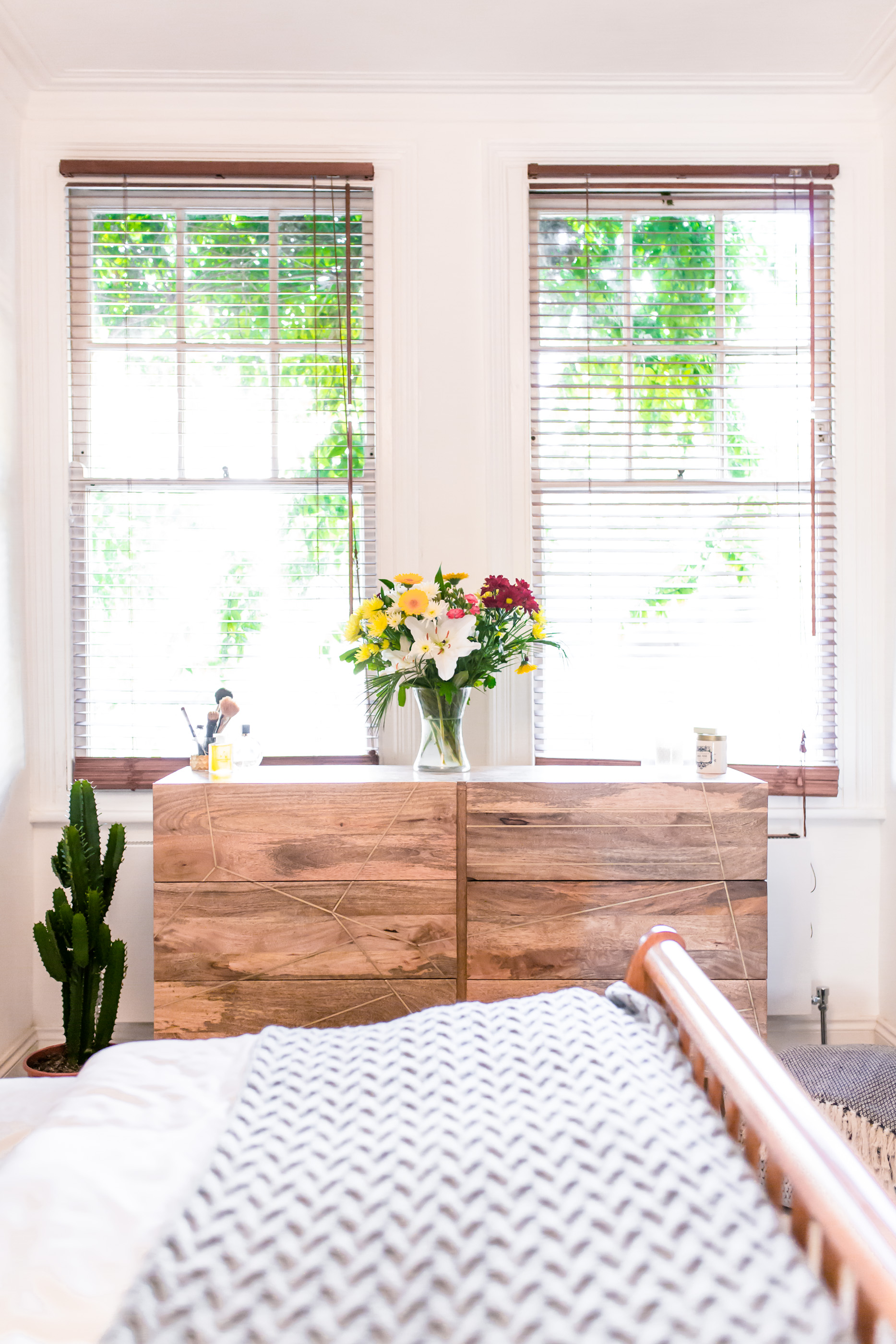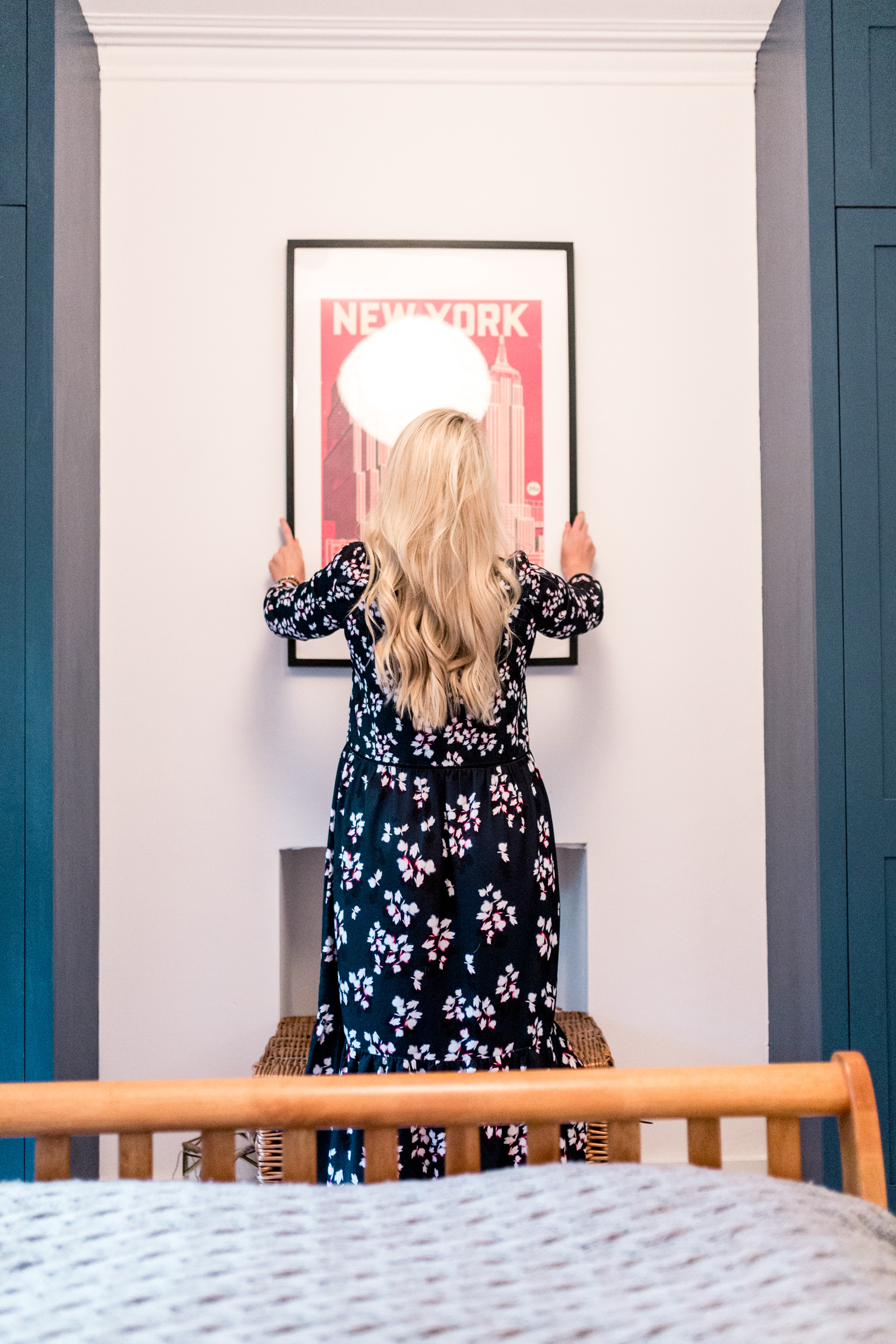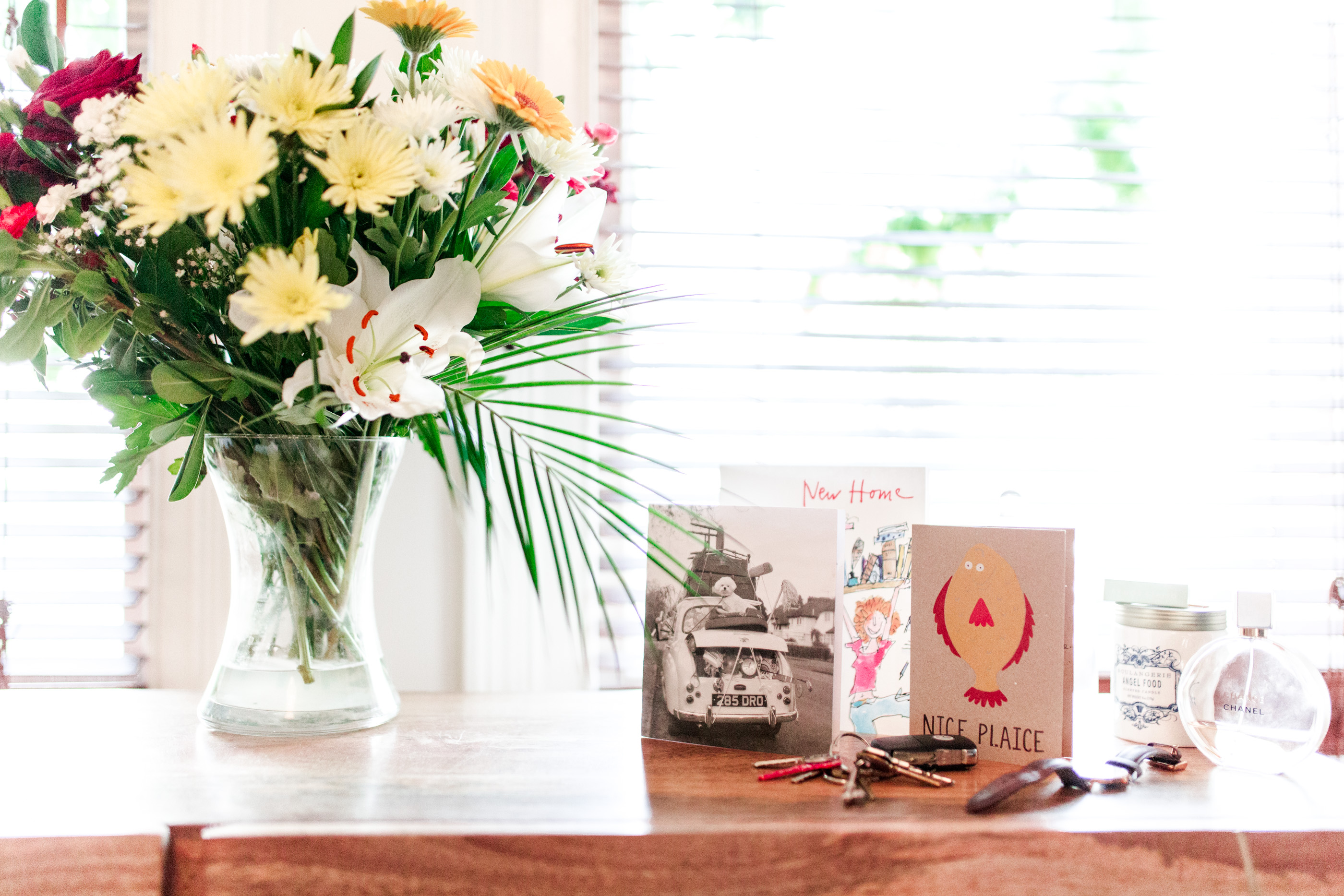 ---
INTERIORS

---
Of course there are tons and tons of exciting things about buying a house, the day you get your keys, the moment you add your personal touches, the move in day, and of course making your house a home! These things are the most wonderful, special and memorable occasions and in fact, the journey to getting those keys makes the moment all the more special and important!
I can't wait to share more about the journey we've been on but most importantly our decor, my favourite new home purchases and some of my most loved home-wears and stores (The West Elm love affair is real people) with you too! But for now, a sneak peak of my beautiful West Elm mango wood drawers, our navy velvet sofa which we bought pre move (bad idea, we have one sadly waiting in storage until we finally extend), and of course the little touches like indoor plants, trinkets & home accessories – i've made a little shop-able edit with some of our pieces for you to have a little browse of & of course my wish list which you can find here!
–
I'd love to know about your home buying, renting, decorating & interiors journey? Do you own a home or renting right now, are you getting into decor, are you keen for more interiors posts?