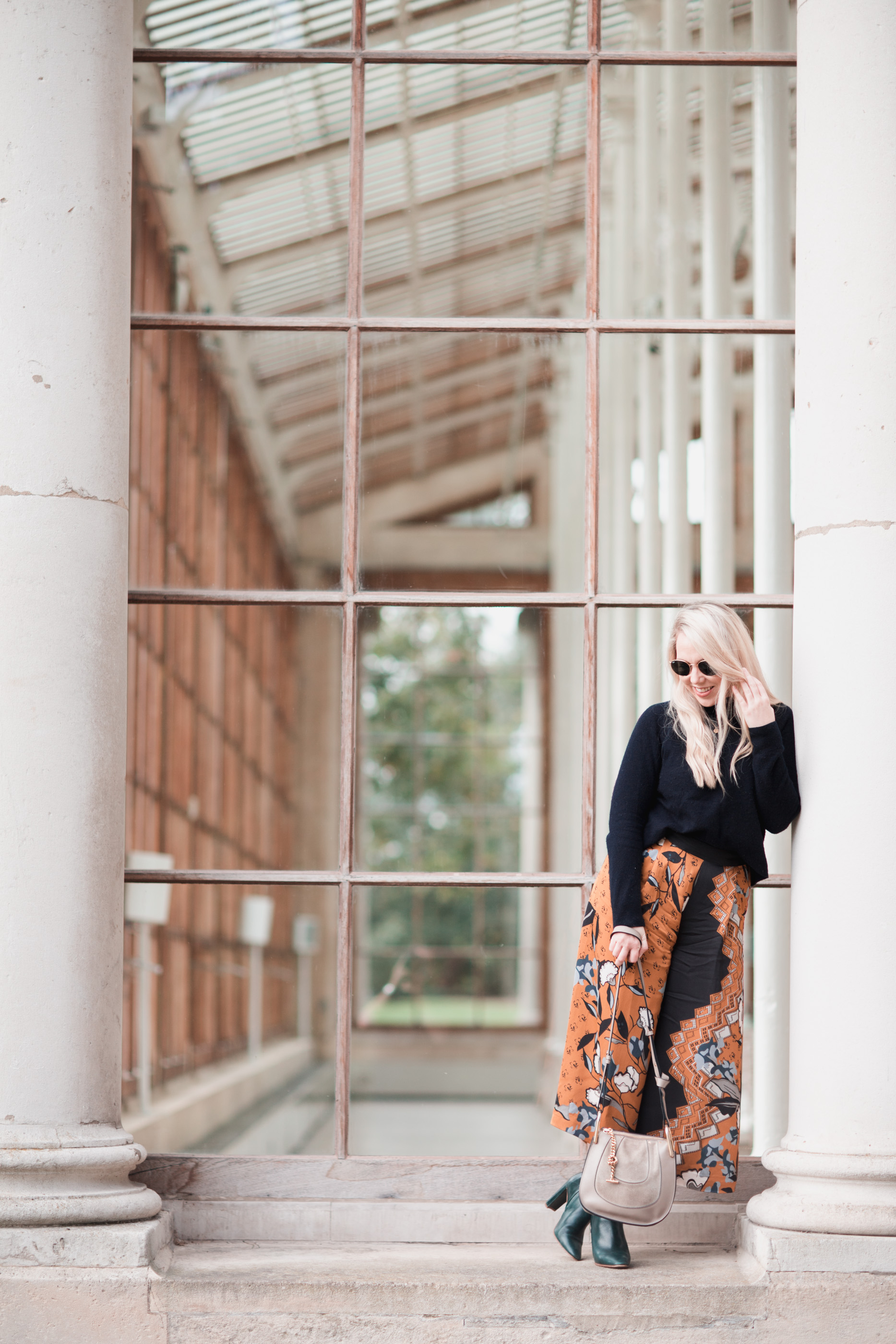 ---
BACK TO WORK
Office Wear For The New Year
---
Bloody hell, the 2nd January came around a little bit fast didn't it? My worst decision of 2018 to date, has to be not booking the 2nd off work. One will learn! Anyway, what comes with a swift return to the office is a reality shock when it comes to daily attire. No longer are my Pajamas and Ugg slippers a viable outfit choice – a devastating reality, so finding an outfit equally as comfortable, elasticated (who's with me) and loose fitting – yet also work appropriate – is essential.
Jeans and a boyfriend shirt are the obvious work look, but after a month of solid feasting, it's the last thing my poor body wants. Suffocation via denim is not ideal. So instead, it's those floaty dresses, loose fit trousers & billowing tops that my return to work wardrobe is calling on.
This look is absolutely ideal, silk culottes from Jigsaw (these are also in the sale now if you're keen), teamed with a navy cashmere jumper (the closest thing to the comfort of my dressing gown I own) and a killer heeled boot which no matter how many mince pies you eat, still fit and immediately dress up any look! For me this look is a return to work winner – not too tight, very soft and comfortable & more professional than joggers too!
---

---
SHOP THE LOOK
. JIGSAW SILK CULOTTES . ASOS CASHMERE JUMPER (ALTERNATIVE) . ZARA GREEN BOOTS (OLD) . CHLOE HAYLEY BAG (NEW SEASON) . RAYBAN ROUNDS .

---
Now that i'm in my new role at work & on a mission to get back into gear health wise, my work wardrobe is something I want to step up a notch and maintain a little better this year. It's so easy to fall into a mom jeans & trainer habit, especially when you're not feeling your finest physically, but this year my work wear style is something I really want to put more effort and investment into.
From purchasing these culottes in today's look & the red version earlier this year, investing in a few quality basics (loving these Jigsaw tops – they're really comfortable & great quality) and picking up a few new pieces in the boxing day sales (i've linked a few pieces above in case you're interested & added them to my shop page here), I'm really hoping to make more of an effort with my style this year.
For me there are a few things which I feel really make a work wardrobe special. I love a good tailored bottom, whether it's cigarette trousers, an A-line skirt, culottes, or even a good fitting pair of skinny jeans, if you get your bottoms right your tops can be left quite simple. Quality basics to team with your skirts / trousers are essential, think proper cotton shirts, cashmere or silk jumpers or an investment blouse (ruffles, flared sleeves & embroidery are a great touch this season). When it comes to tops I do think quality is key. Printed garments and statement colour pop pieces really can make a boring outfit a little more interesting, work wear doesn't have to be black and white. I love adding some colour to my work wear and these trousers are a great example. And finally, accessories have the power to truly change up a look. Whether it's adding a pair of quality loafers or pumps to a skinny jean, adding a quality leather bag to a basic look, or adding some jewelry to your outfit. These touches can really make a lot of difference and take your outfit to the next level (and quite easily make a casual look more work appropriate)! An easy but effective win!
–
Are you tackling the return to work today? Would love to hear your fail safe office looks?