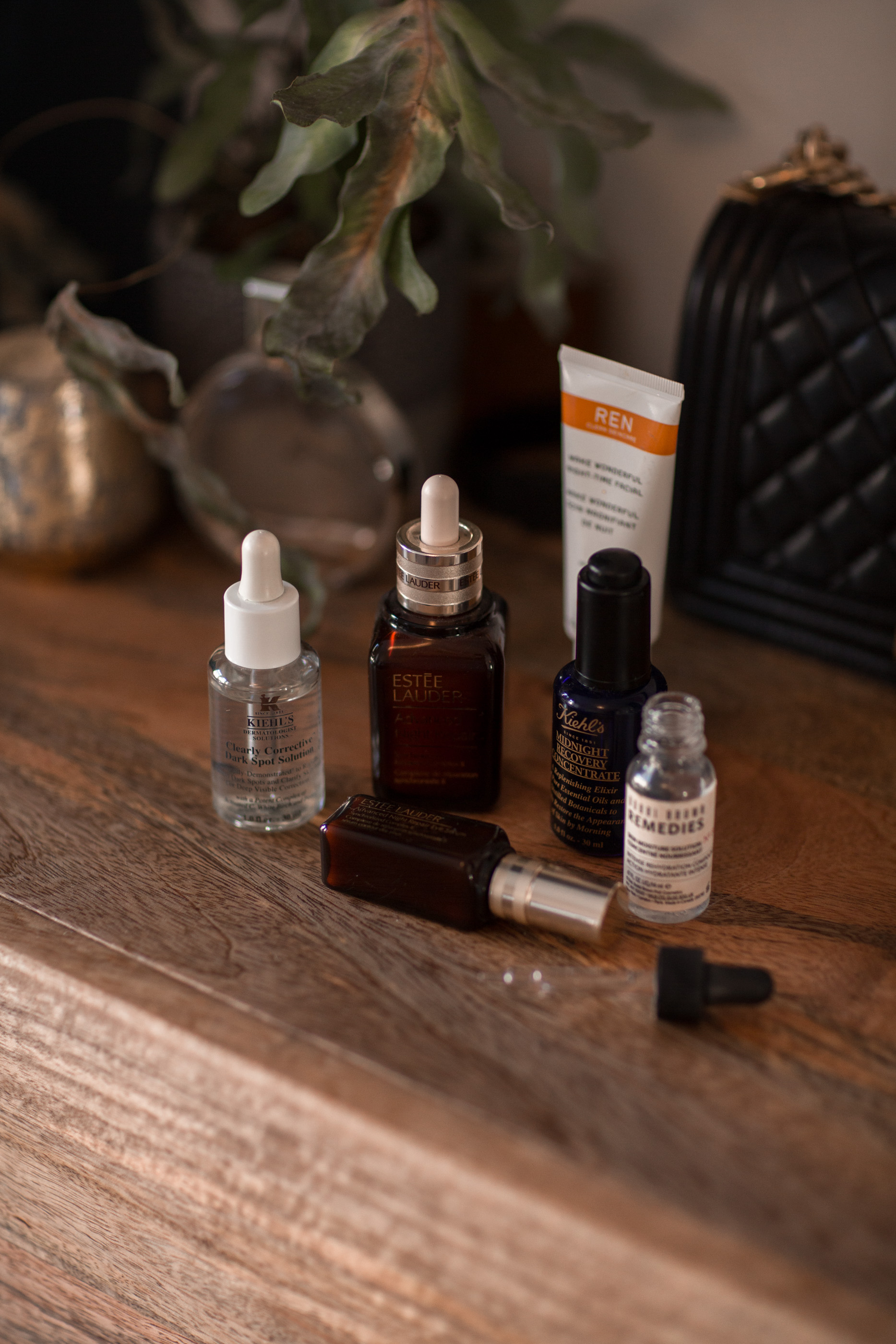 ---
ANTI AGEING
Turning Thirty & Tackling My Ageing Skin Head On
---
In 11 days time I turn thirty. It's funny as many of my friends have already passed the milestone, many the next big one too, and as such i've never really been that fearful of turning thirty, in fact sometimes I forget i'm not already especially given where I am in my career (which is a bit sad really).
But there is one thing over the last few years I've struggled with, it's not the numbers on the passport, it's the reality of ageing.
As a teen and young adult i'd party hard, play sport daily because I loved it, i'd get up at 7am after getting in at 5am and tackle the day without a problem. My skin never broke out, i don't really remember ever looking properly tired, and my size 6 or 8 jeans slid on without a problem (of course I thought i was fat, but 1.5 stone and a dress size later, I know of course that I really wasn't, and oh what i'd do to be that size now).
As my career progressed, so of course did the hours, the pressure and the stress … my 'me time' which i'd have never really considered it to be, reduced, I had to stop playing netball as I'd constantly miss my games and I kept skipping the gym because I was either two tired or simply couldn't get out the office. I broke out in adult spots at the age of 27 for the first time in my life, and worst of all those innocent wrinkles on my forehead somehow became permanent and so much deeper. When I turned 29 I was diagnosed with Ulcerative Colitis and it's fair to say my migraines have never been as bad as they've been in the last 3 years. I wasn't (and am not) ageing well.
I realised I wasn't looking after myself. I run at 1000mph, i'm constantly juggling too much, I don't have time to be active like I used to be, and as for my skincare routine … it was as non existent as my down time. In the last year or so though I really started to realise how badly I was ageing and it started to get me down. My deep forehead crevasses and marked skin around my mouth in particular! I decided it was time to take action and today I wanted to share with you the products i'm enjoying now anti-ageing is a priority and now my skincare is requiring that bit more love as I turn thirty.
So without further ado the potions and lotions i'm hoping will make me look a decade younger …
---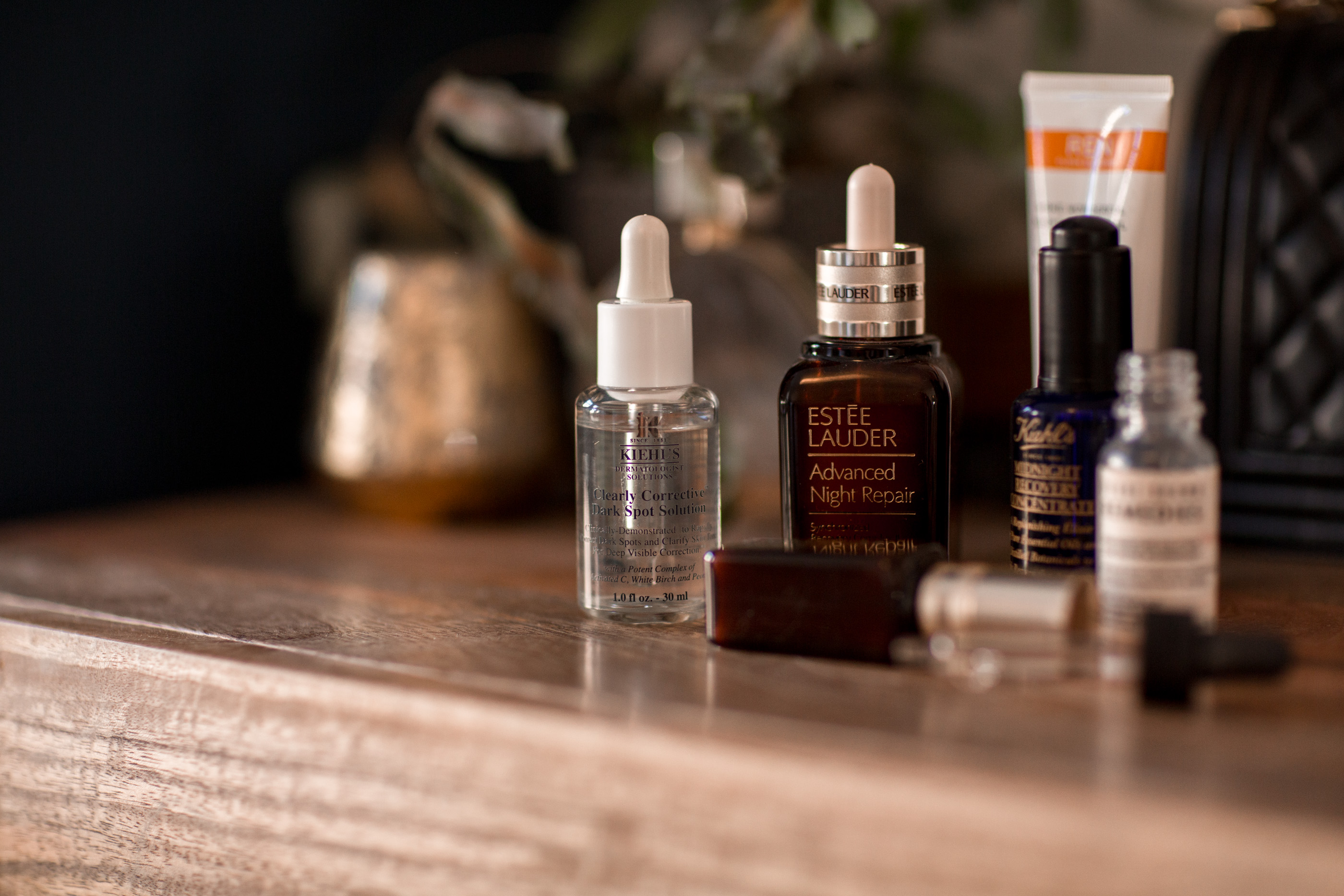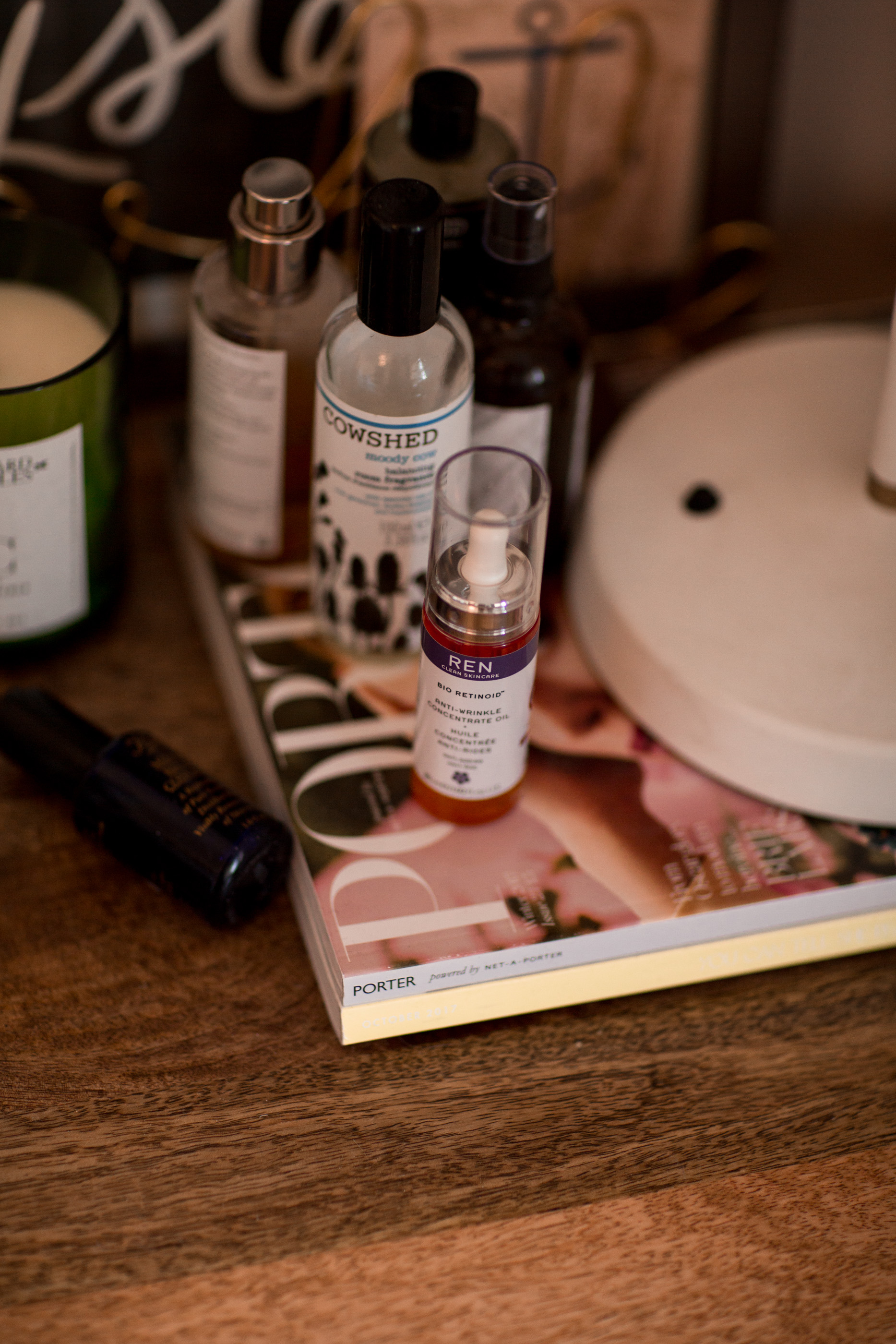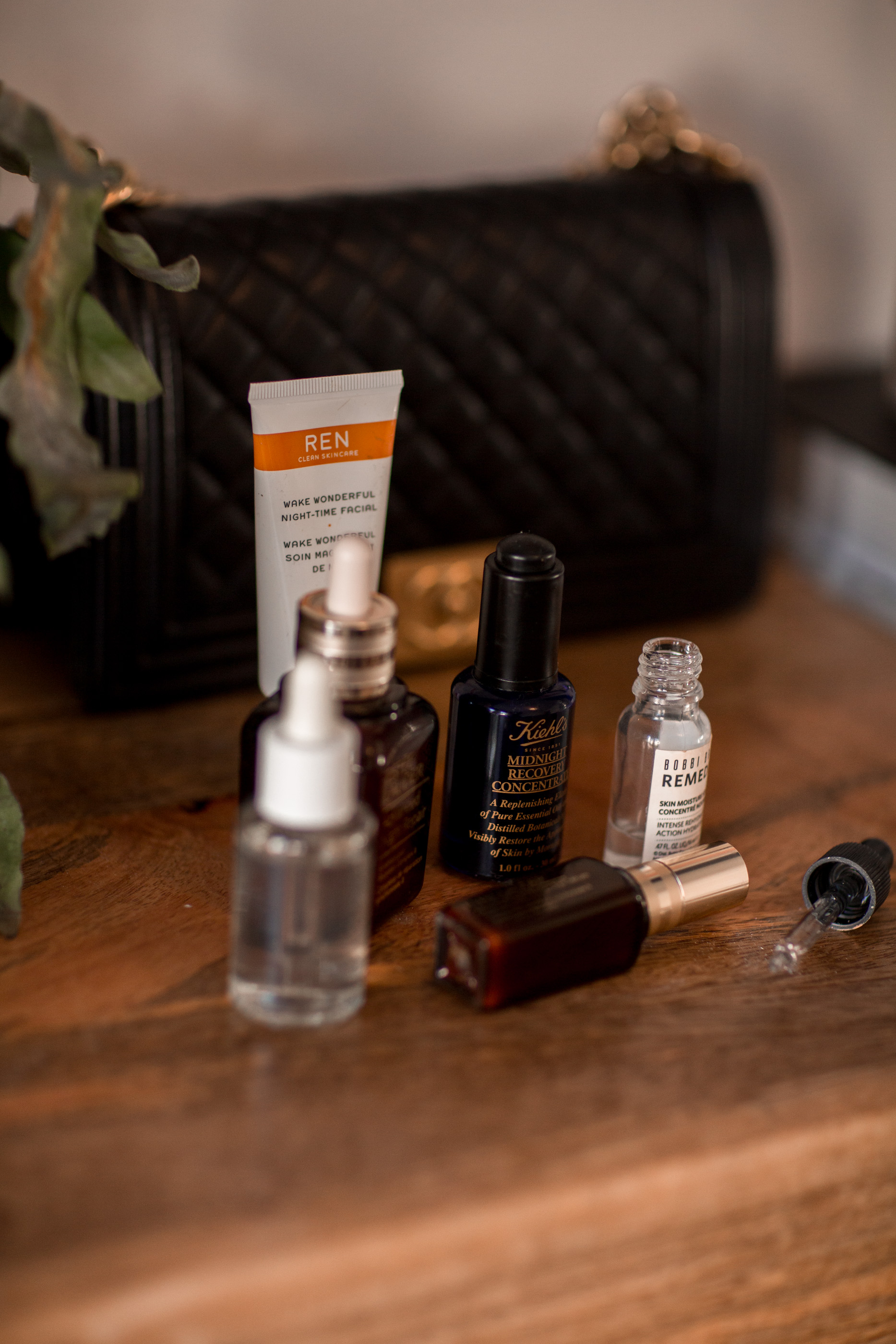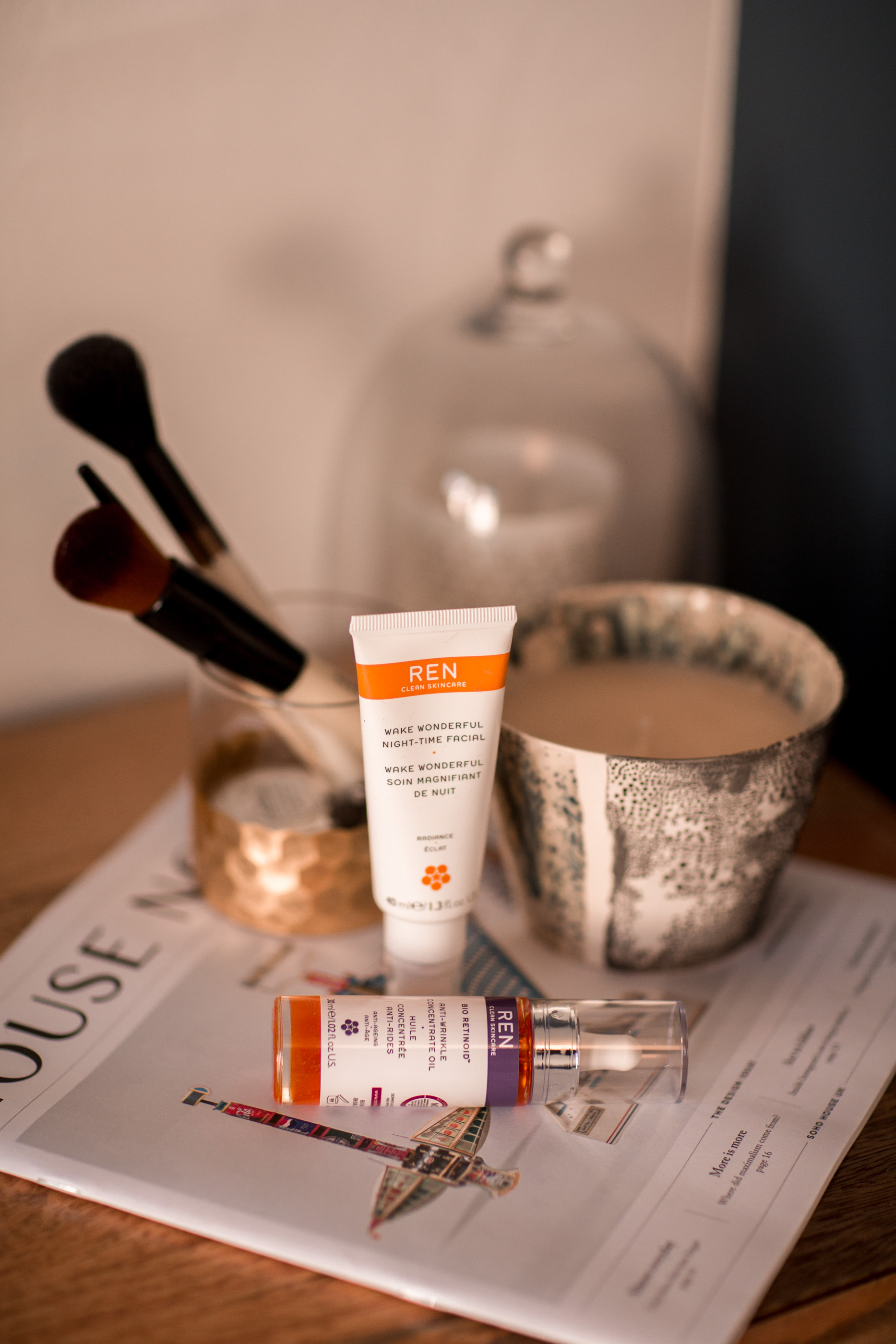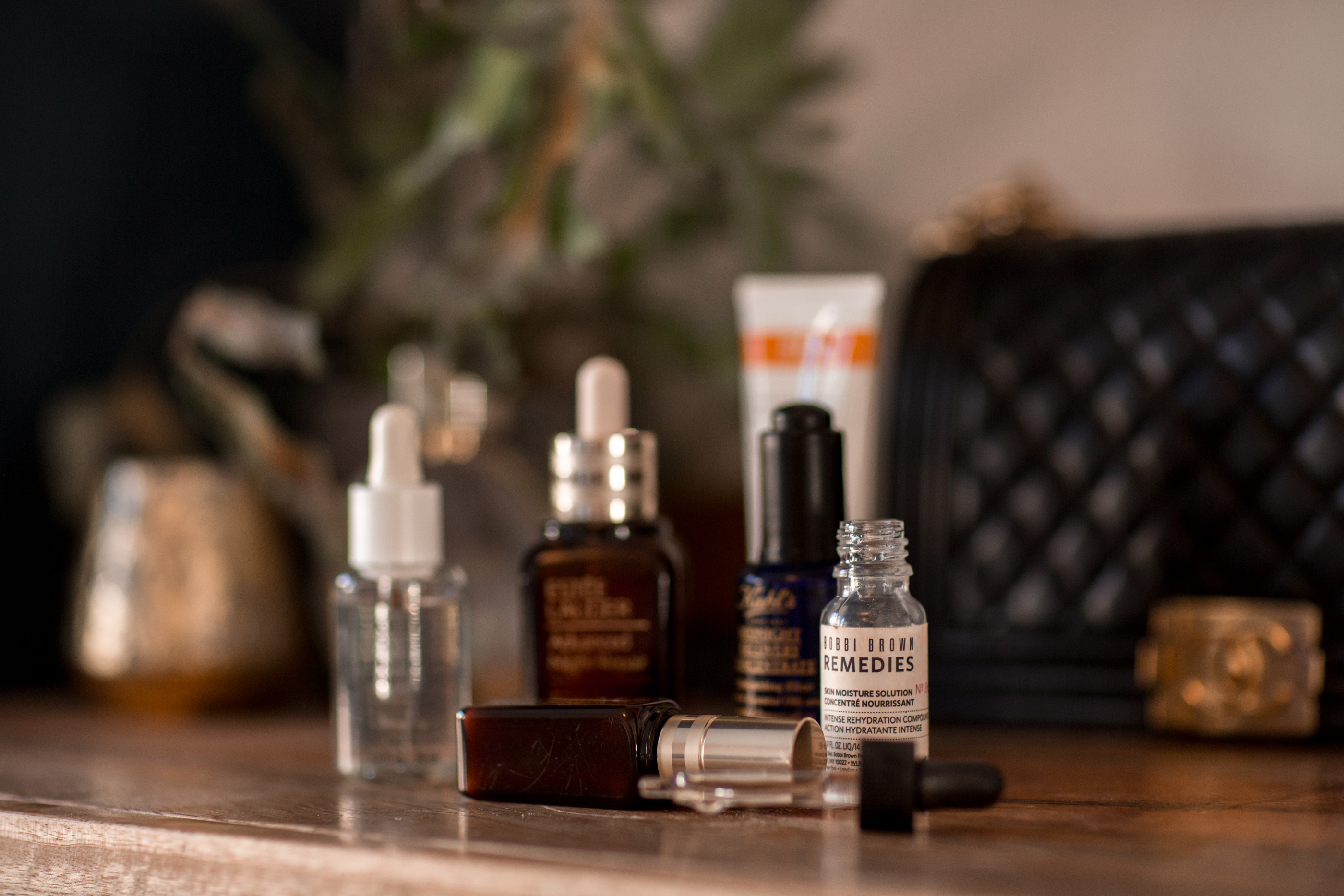 ---
ANTI AGEING POTIONS AND LOTIONS
–
–
I have always been an avid lover of Elemis skincare, I've got such a big collection of their products and love every one of them dearly, but when it comes to anti ageing and healthy plumped skin specifically their pro collagen range is where it's at, and this cleanser is such a luxurious part of my bedtime routine that it actually encourages me to have one. The pro collagen marine cream is also one of my favourite moisturisers and another part of this range I love, alongside the biotech skin energising system which Is another great wrinkle fighter I use.
The final note on Elemis, is the wonders of their facials too. I actually recommended one to my dad the other day who's since converted to the skincare range because he felt and looked so much better after one of their facials. They may cost a lot, but if you need to kick start your skin health then I can't recommend this more.
–
–
Pixi glow tonic is one of those infamous mythical products that everyone talks about, and I have to say it's become a firm step in my cleansing routine too. Post cleansing with my Elemis pro collagen cleanser (or micellar water if i'm being lazy) I apply a healthy dose of glow tonic all over my skin as an exfoliator of sorts. The reason I love this product is that with 5% Glycolic Acid it really helps strip back my dead skin and encourage new healthy skin to come to the surface … something I was really in need of (especially around my mouth where I can suffer from spots).
–
–
If I'm need of an even deeper exfoliation, usually once or twice a week maximum, then I love my Nip & Fab Gylcolic fix scrub. This range was recommended and bought for me by my friend for my birthday as she new I was desperate for something to bring my skin back to health. Much like the glow tonic this is really great at stripping back the skin, getting rid of pores and dirt and really giving it a deep clean. I have the cleanser, serum  and overnight gel too, but this scrub is one of my favourites. The great thing about this range is it's super affordable.
–
–
You will all know by now that Bobbi Brown is my favourite make up brand, I live by their products, but i've also recently started discovering more of their skin care too. After mentioning my skin was suffering and ageing poorly (and seemingly really suffering with dehydration) someone in the store recommended I try their moisture solutions hydraulic acid compound which is meant to really help with skin hydration. I bought this just before Christmas and have really loved the texture on my skin and fresh feeling it provides instantly. I've been using this post cleansing & applying toner (Elemis balancing lavender toner) in the morning, and before applying my Clinique moisturiser which I use in the day time, followed by their face base primer which is full of vitamins too and combined it really gives my face a hydrated feel and look.
–
–
When it comes to my night time routine i've decided more is more and so my concoction of lotions is vast. I don't tend to use every single one at once, but i'll mix between a few throughout the week dependent on how my skin is feeling. Probably my most relied on and 'everyday' choice is my Kiehls midnight recovery oil, crowned a miracle by many I love this oil for a good overnight skin boost. Not only is the smell like having a facial every night I love how soft and young it makes my face feel by morning.
–
–
When i'm using my midnight recovery oil, i'll always double up with my clearly corrective dark spot solution from Kiehl's too. After finding myself with adult spots, i've hated seeing red marks around my mouth even once my spots have faded. I've been afraid to over moisturise or serve this area of my skin as I don't want to make it worse, but equally i've been desperate to find ways to reduce the marks the spots can leave. Kiehl's solution is light, but effective and never causes me more agro after use.
–
–
The holy grail of night time skin recovery some might say. Estee Lauder are well established in this arena and i'm a big lover of their advanced night repair systems. I'll swap between this and my Kiehl's oils throughout the week, and opt for Estee Lauder when my skin is feeling more tired, dehydrated and wrinkly. I smother myself in the thick gel and go to bed excited for it to work its magic. It's relatively thick and feels glorious on the skin, like an overnight facial. It's not cheap, but its because it's good.
–
–
Alongside the facial oil which I smother on in those times of need (probably 3/4 times a week), I apply the advanced night repair eye serum. And I have to say through i'm sure a mixture of all the products i'm indulging in, my eyes have certainly benefitted the most. Reduced tiredness and a renewed healthy plump has come back to my eyes and I couldn't be more relieved about it. This product again, isn't cheap, but it's a market leader for a reason and I really enjoy how it makes my skin look and feel.
–
–
There are times, despite my efforts when I really do still feel my skin is looking old, wrinkly (forehead only) tired and tight as a result of dehydration and it needs something serious to kick start it. On those days, perhaps once every few weeks I swap in my Ren night time facial mask. The moment it goes on my skin it tingles and makes it feel like a thousand mini injections are putting goodness right under the surface of my skin, and by morning you feel like you've had an overnight facial.
–
–
Last but not least, and the real leap forward in my anti wrinkle war, lotions and potions wise that is (hehehe), and my latest investment, is the Ren Bio Retinoid anti wrinkle oil. I've recently done a lot of research into retinol and retinoids as i've really wanted to tackle my skin ageing head on and this strength of product felt like the right next step.
I'm no expert and so the differences between the various types, strengths and chemicals is lost on me a little, but after reading a lot of reviews, despite the price tag Ren came up very highly with their Retinoid solution so I decided to treat myself.  If you want something a little cheaper then The Ordinary is also meant to be ace, and if you want to go all in then Sunday Riley Luna sleeping oil is also meant to be wonderful (but it is – even more – expensive)
I've yet to use this product as I only bought it a week or so ago, and i've been told in passing that retinol and retinoid products require a religious routine of usage, as part of the process means often your skin deteriorates a little first before the wonderful fresh new skin surfaces. But regardless I cannot wait to give this a go on top of my other relied on products – if you use retinoid or retinol leave me a comment as i'd love to know your experience and tips for using properly?
---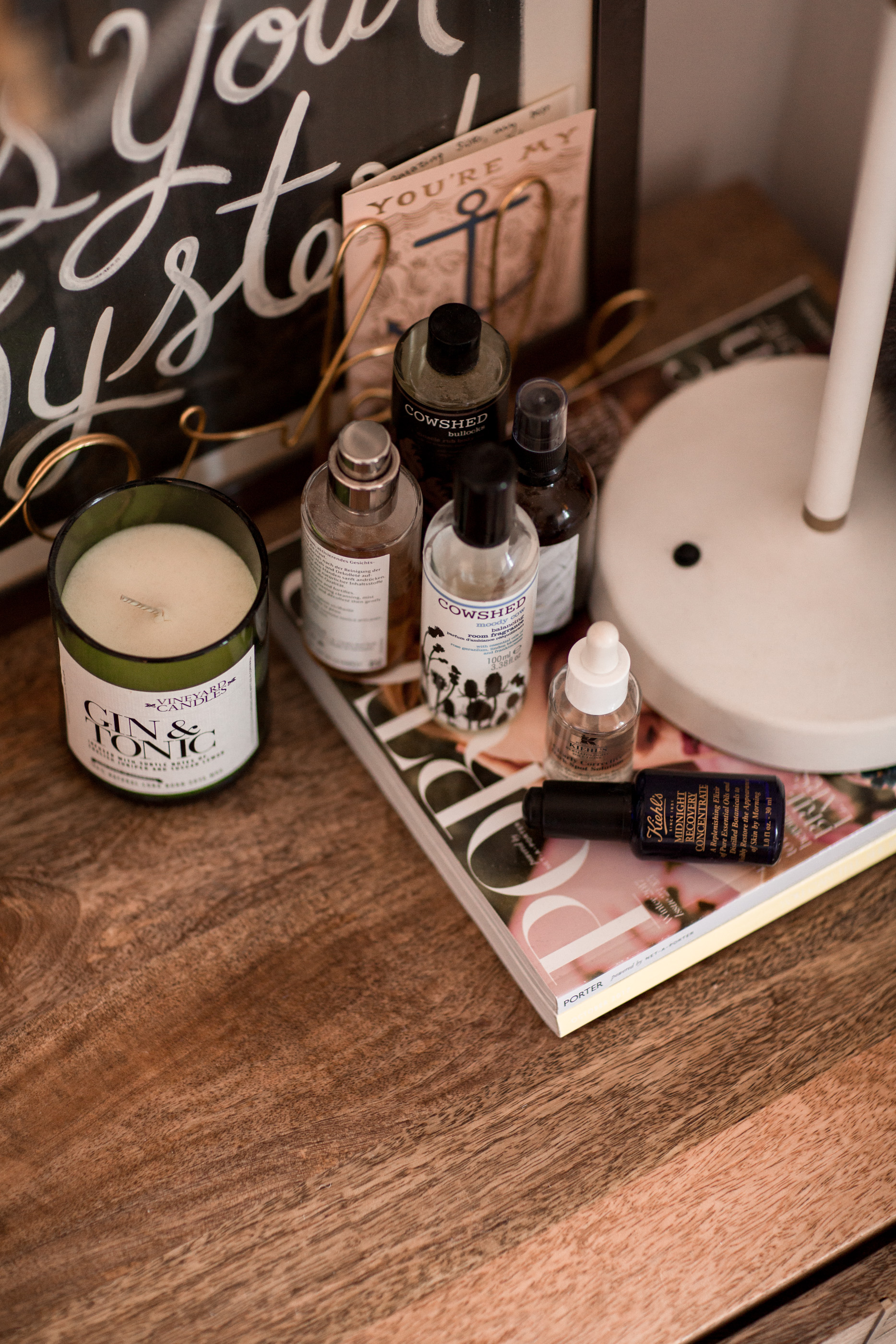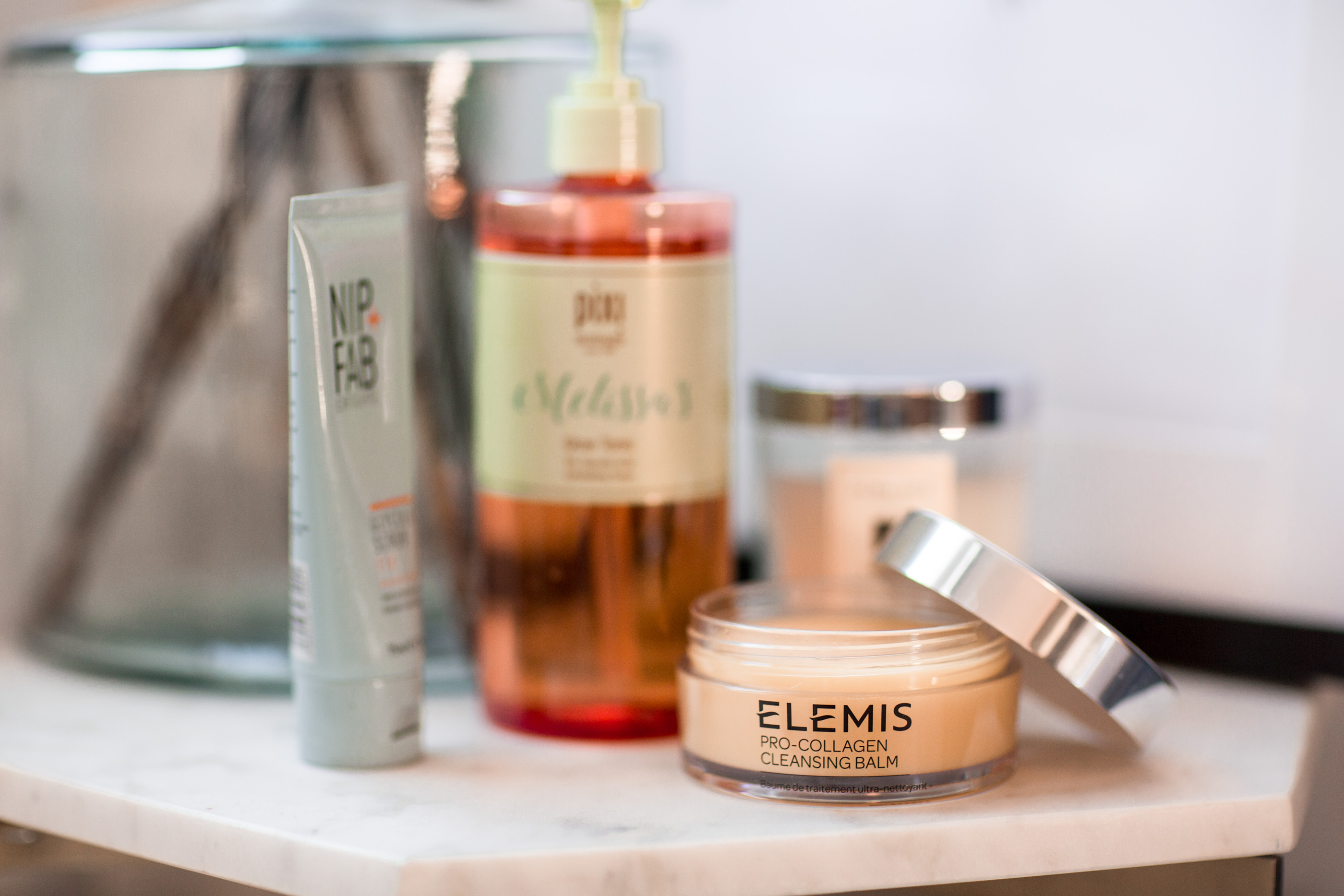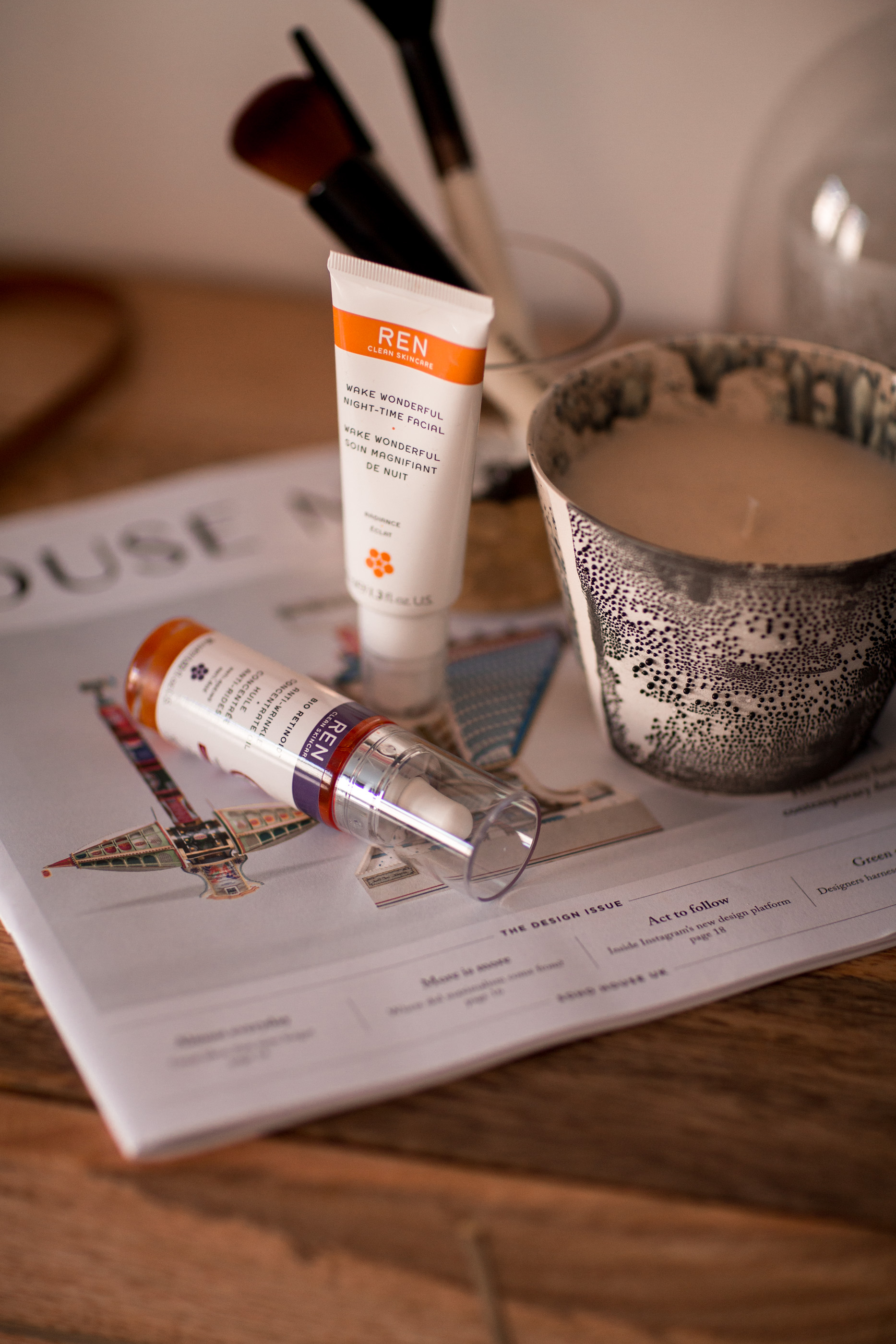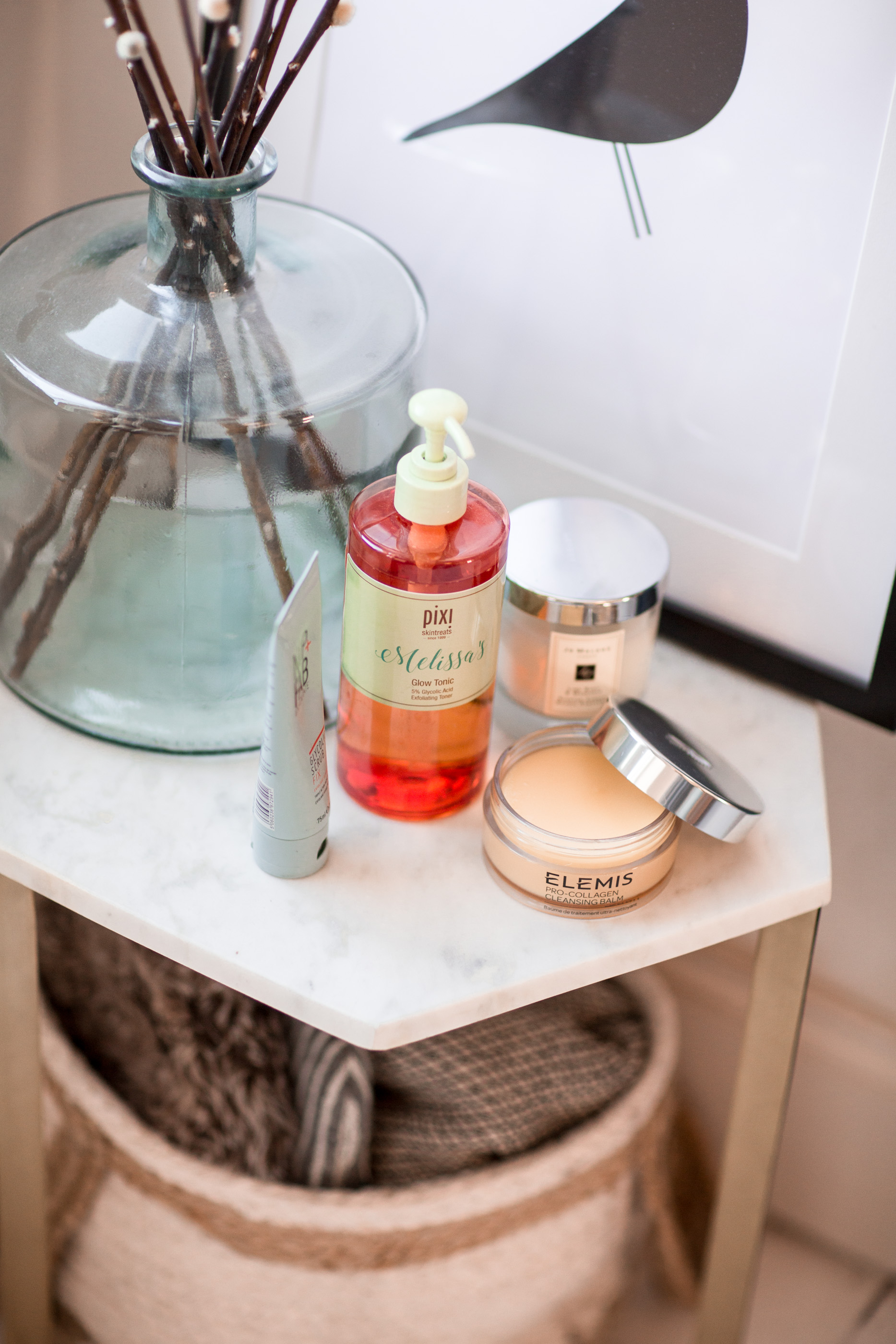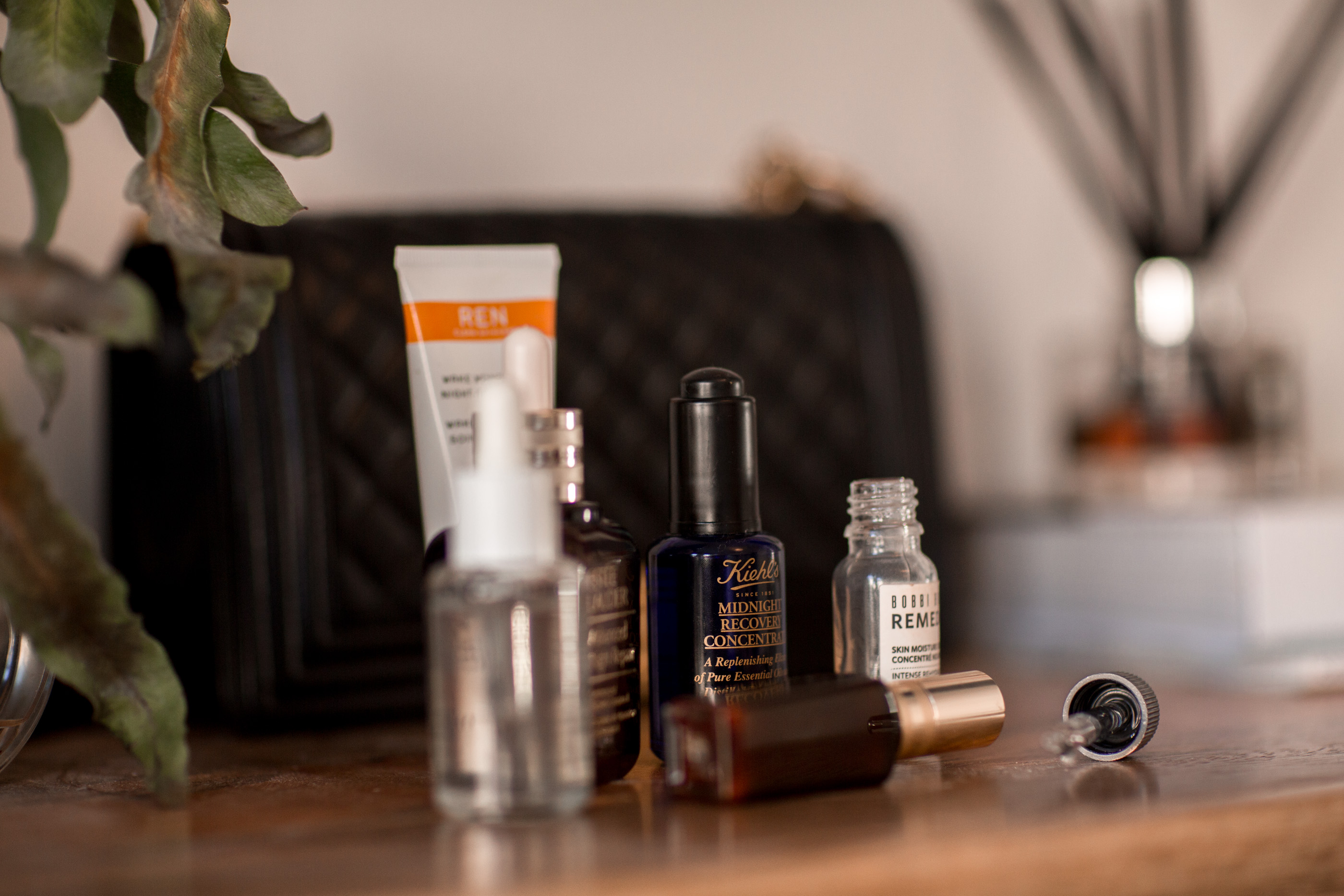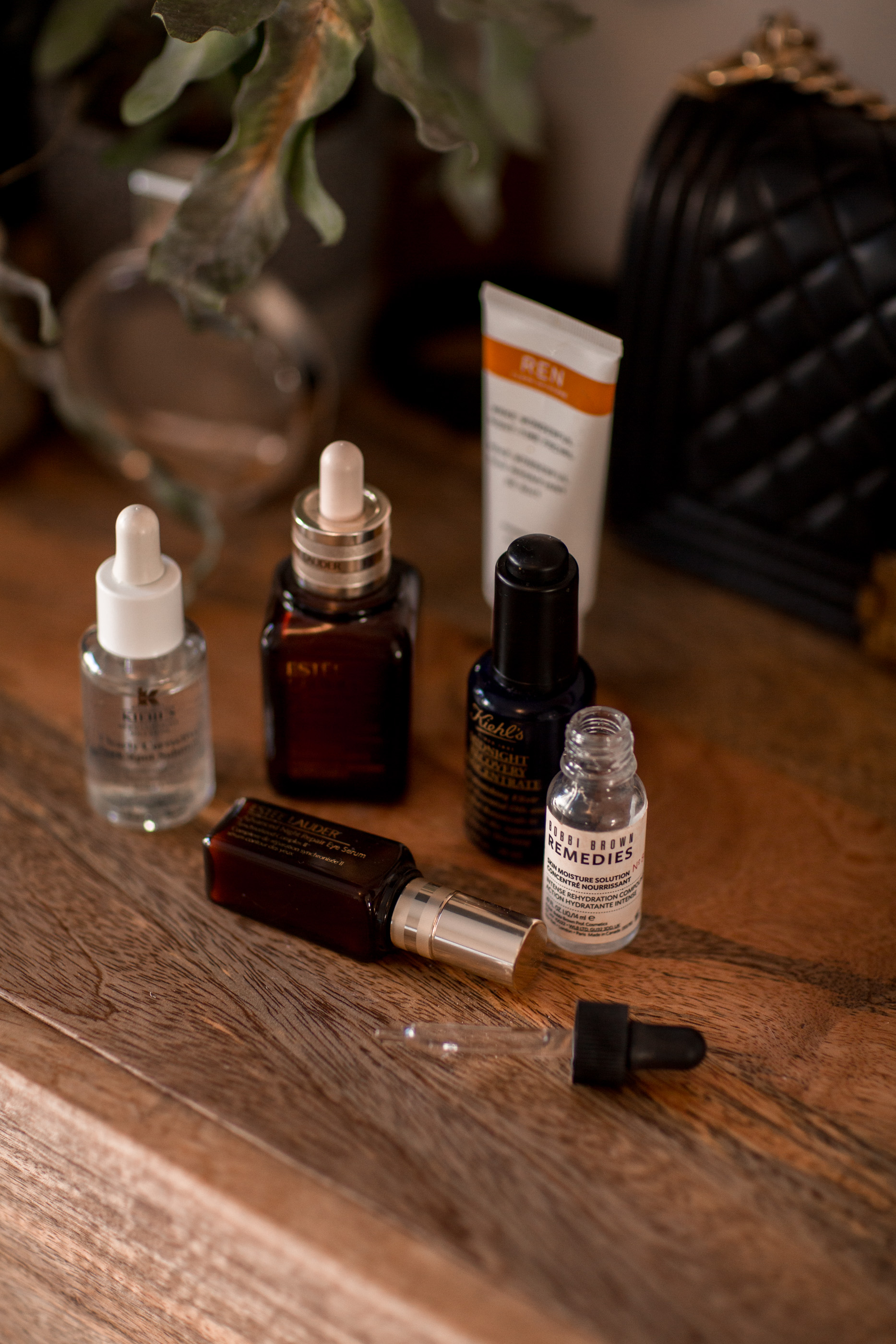 ---
MY ANTI AGEING SKINCARE

---
So there you have it, a round up of the products i'm using and loving for my fight against my ageing skin. I am no expert, in fact i'm embarrassingly uneducated in skincare, but these products are ones I use, love and find are helping my skin look that little bit plumper, healthier and younger. I'm not sure whether mixing so many products is a good or a bad thing, but for me personally I like to adapt what i'm using based on what I feel my skin most needs in that moment.
You'll also note i haven't gone into the science behind the remedies or probably articulated their effects well, but that's because I don't truly know the lingo, but hopefully in turn that makes this slightly more relatable if you too are rather a novice at these sorts of things.
–
I'd love to hear whether you've started the anti-ageing skincare revival process or what you're doing to keep your skin generally healthy and glowing? Any tips would be most welcome.