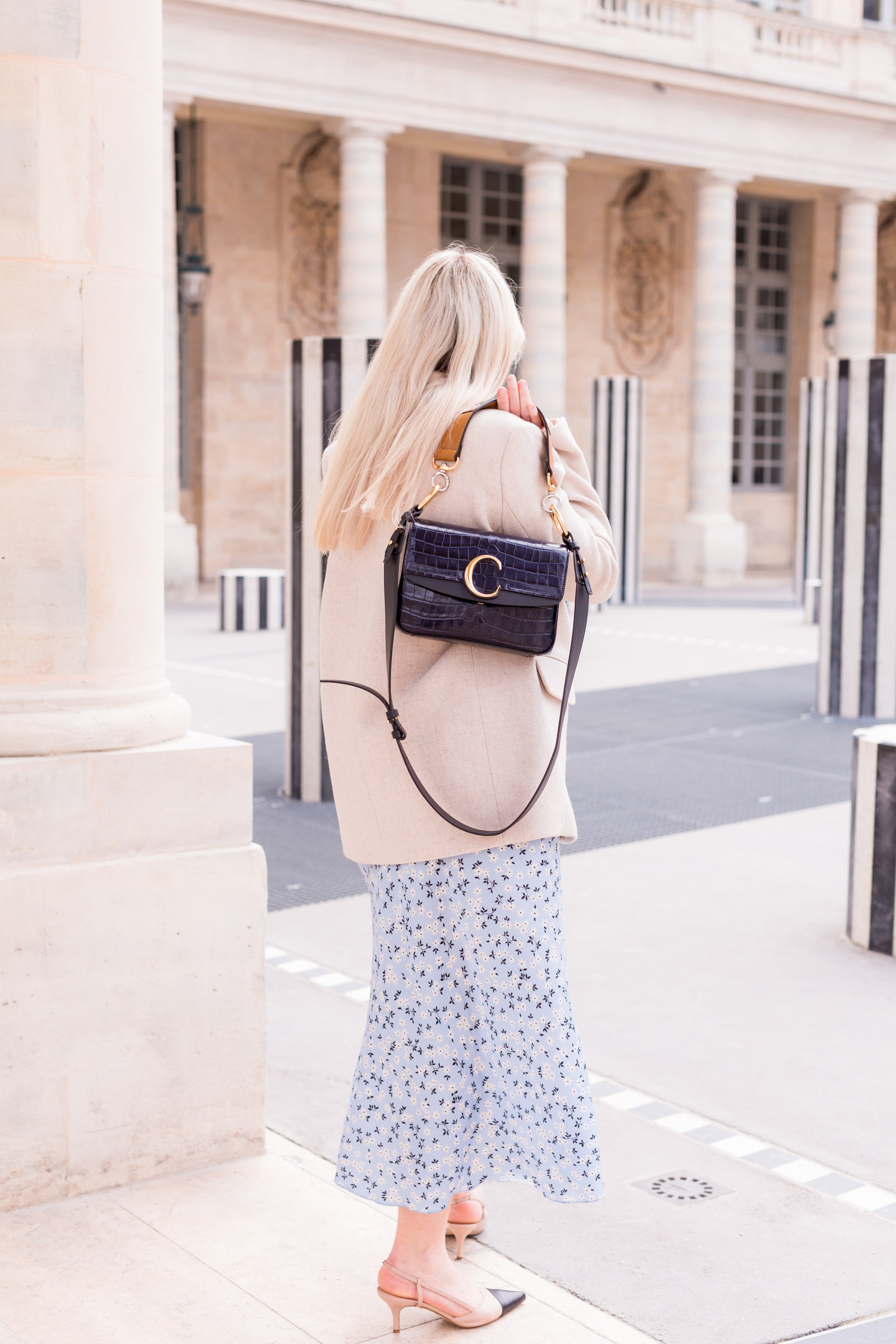 ---
HOW TO STYLE PASTEL TONES FOR SPRING
A New Tone For The New Season & My Favourite Pastel Pieces a Le Palais Royal
---
I don't typically wear tons of pastel colours, they say each person has a particular tonal palette that suits them and I've historically always gone for autumnal tones, rich, deep, vibrant and bold. Most my wardrobe is in fact dark forrest greens, deep reds, navy blues and mustard yellows. The decision to wear those colour tones hasn't been overtly conscious, more they just seem to suit my skin tone and I love the pieces I've bought.
But this spring something has shifted in the colours I'm drawn too, and more than anything the tone of those shades. Far from dark greens and rich reds, i've been lusting for blush pinks, pastel blues and soft beiges. It's most unlike me really, but when I look at my most recent buys I can see the theme coming through quite clearly. Starting with this Stories blazer which you've seen many a time already (I wear it daily almost), but since then evolving into pieces like this soft tone blue skirt, my LK Bennett pumps, even my Chloe Tess bag (here) which is unlike nearly all my other designer investment pieces with it's soft blush tones and cement pink croc.
One of the challenges with pastel tones, which perhaps has put me off in the past, is its ability to 'wash you out'. I often think pastel tones suit those with beautiful dark and olive skin tones, rather than those 'english rose' complexions. But despite my preconceptions, and my pale limbs, actually the tones I've been buying lately seem to be working for me after all.
I think the key is ensuring your makeup has some blush within it (a subtle pink on your cheeks and lips), your accessories add a darker colour tone to offset the pale clothing (for me, my beloved Chloe C is delivering on that), but also that the pieces you're wearing are the right ones for you – for your shape, your style and your confidence. It's also picking the right shades and colours within that pastel range, a pastel yellow on me I just don't think would work with my blonde hair and white skin, but the pinks and blues (colours I wear a lot of anyway in darker tones) works well, it's in keeping with my usual colour palette and the colours work with my eyes and hair rather than against it.
---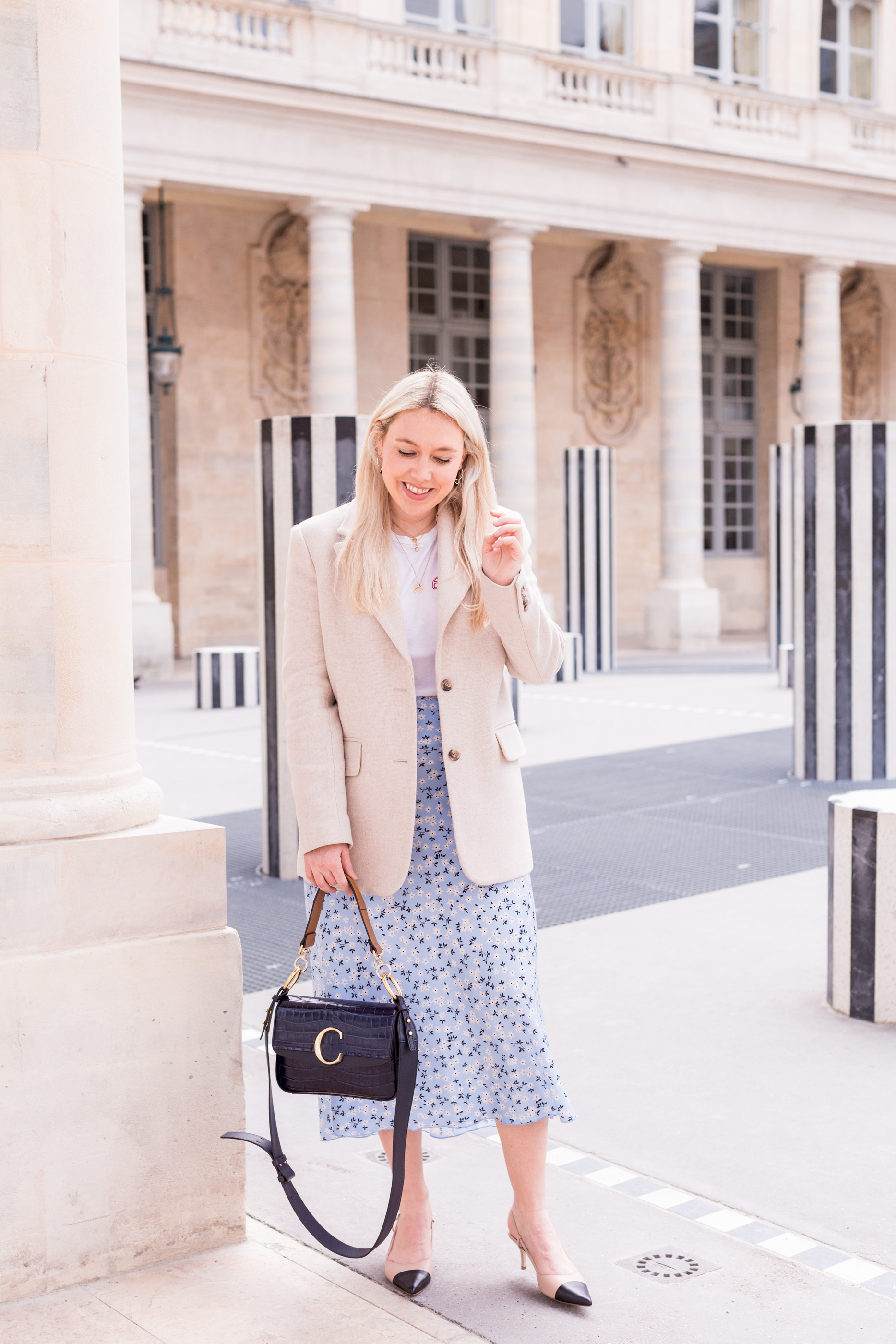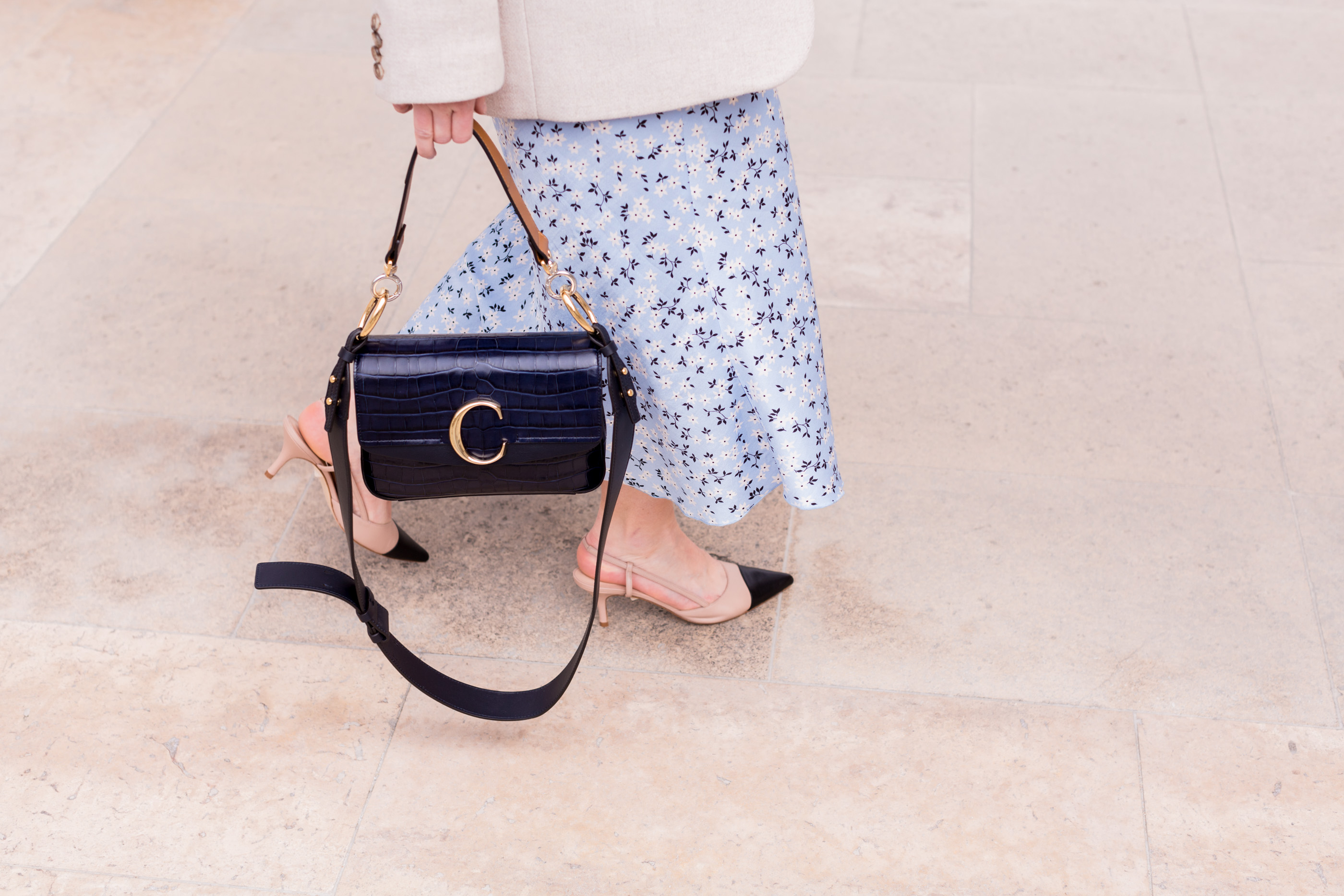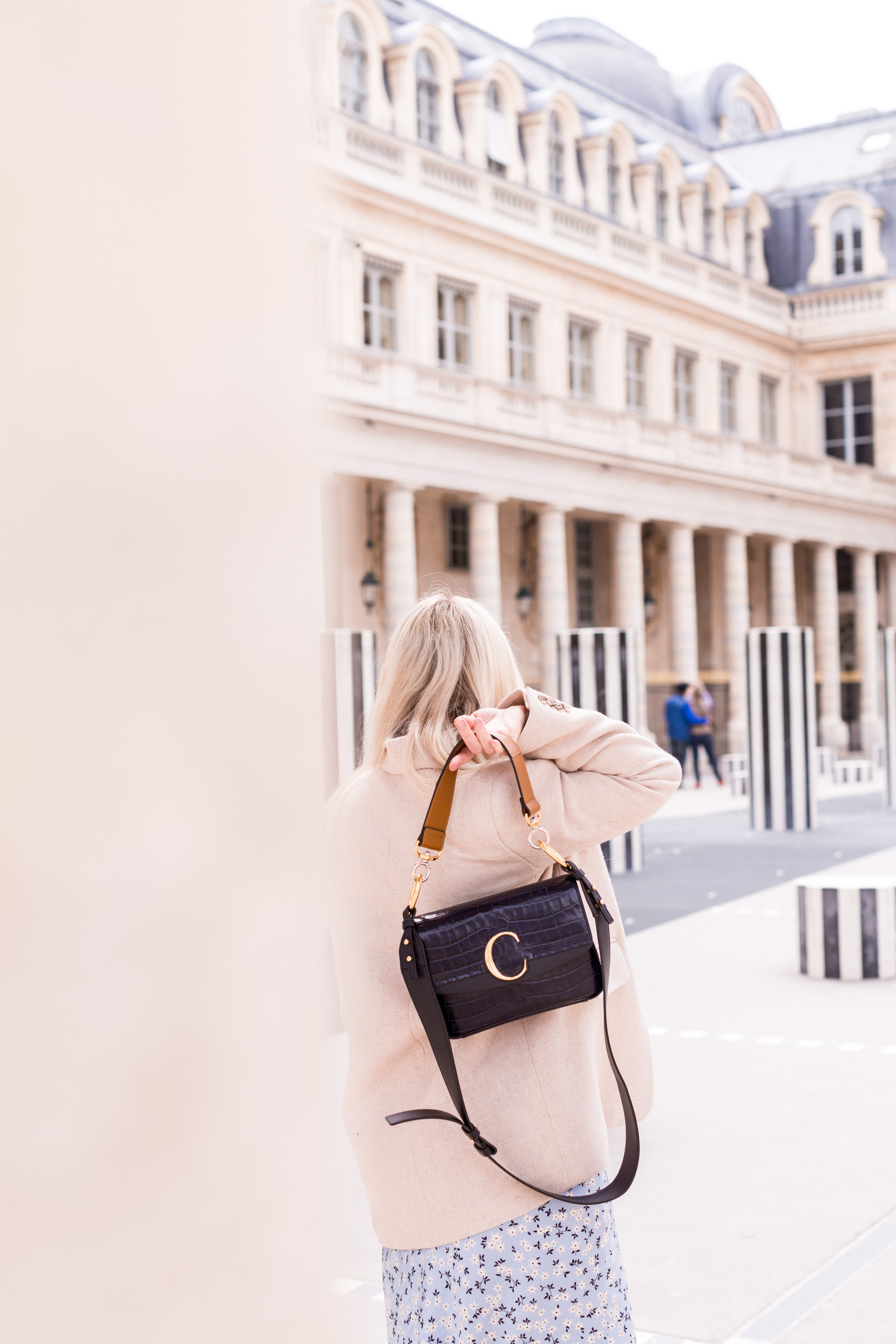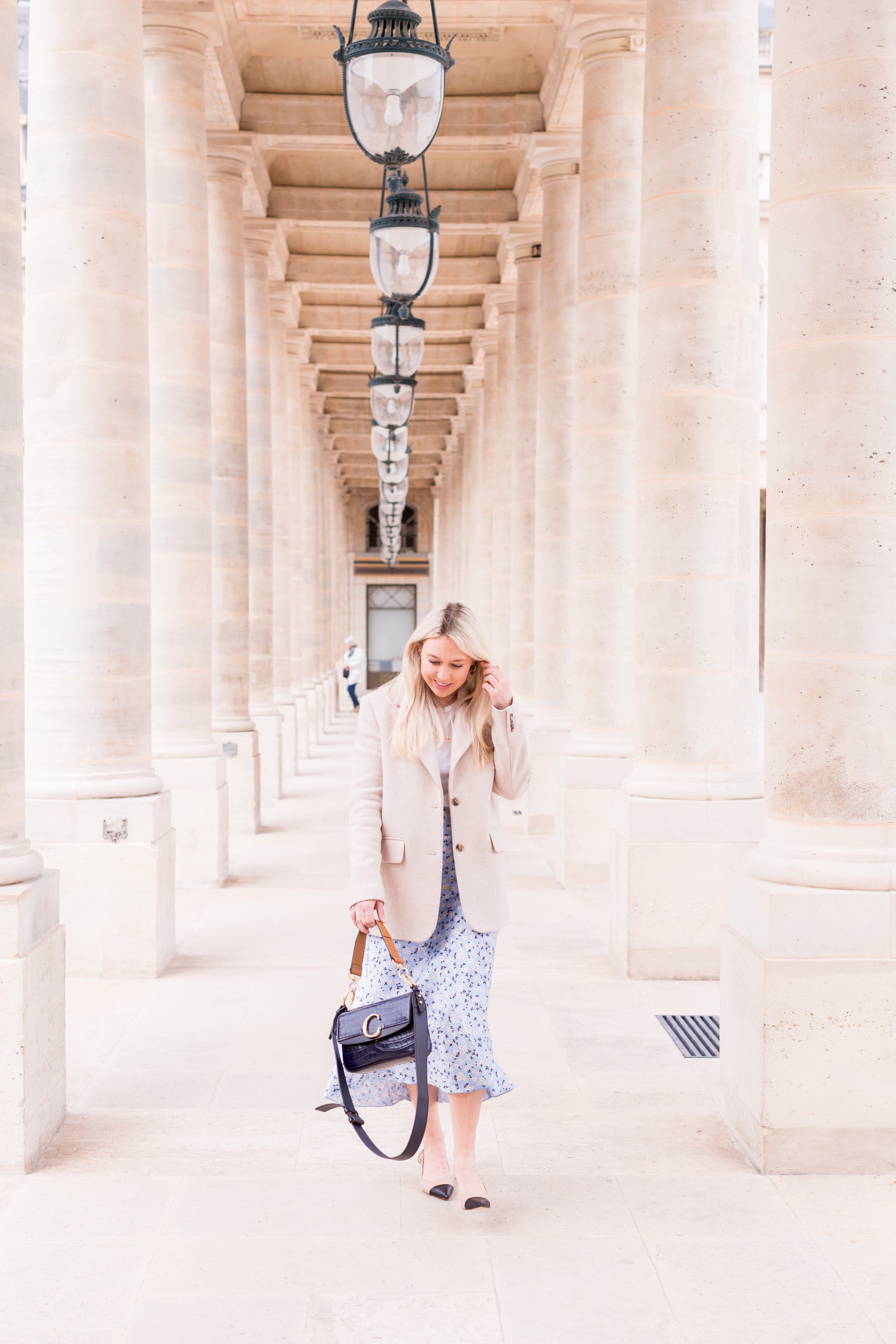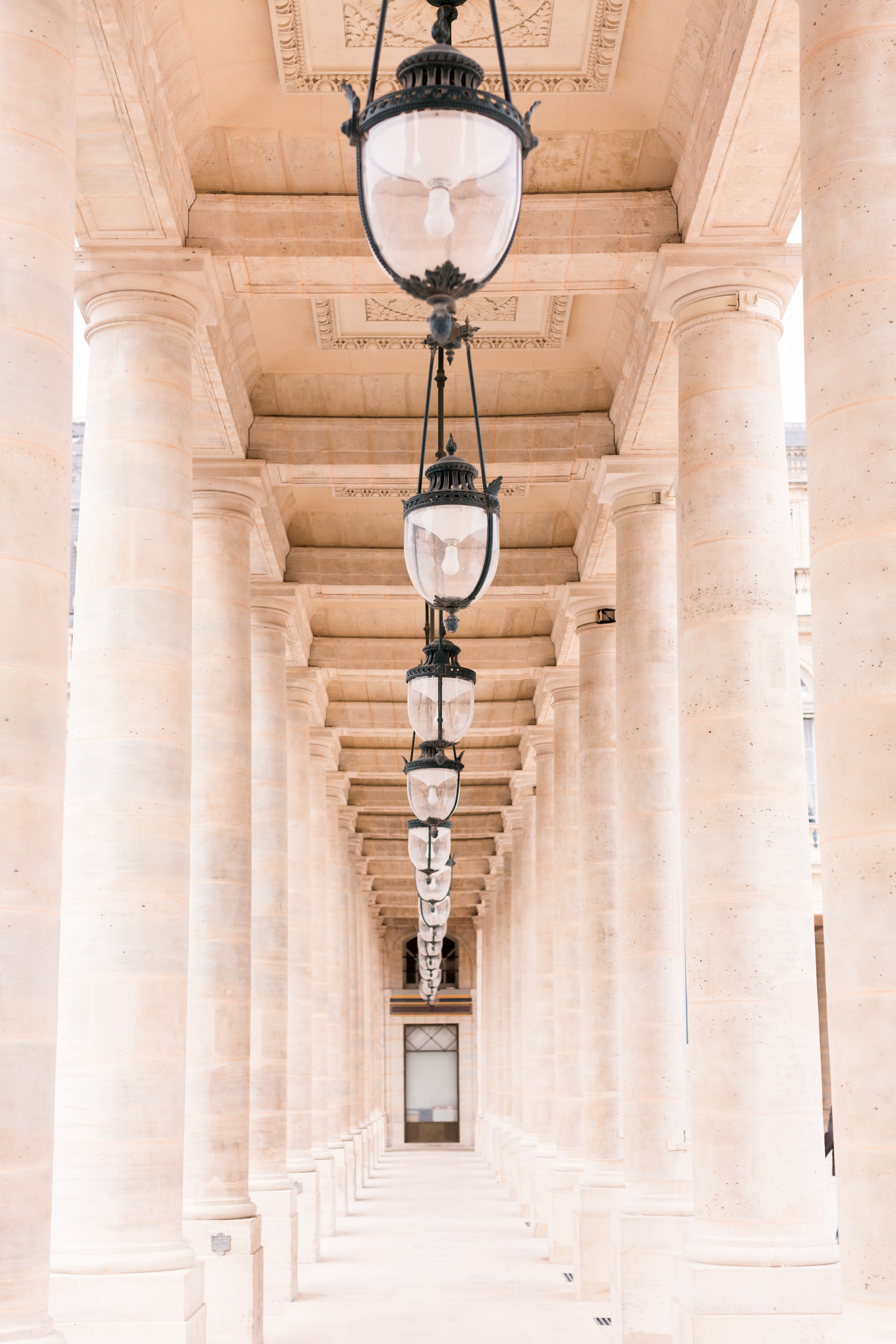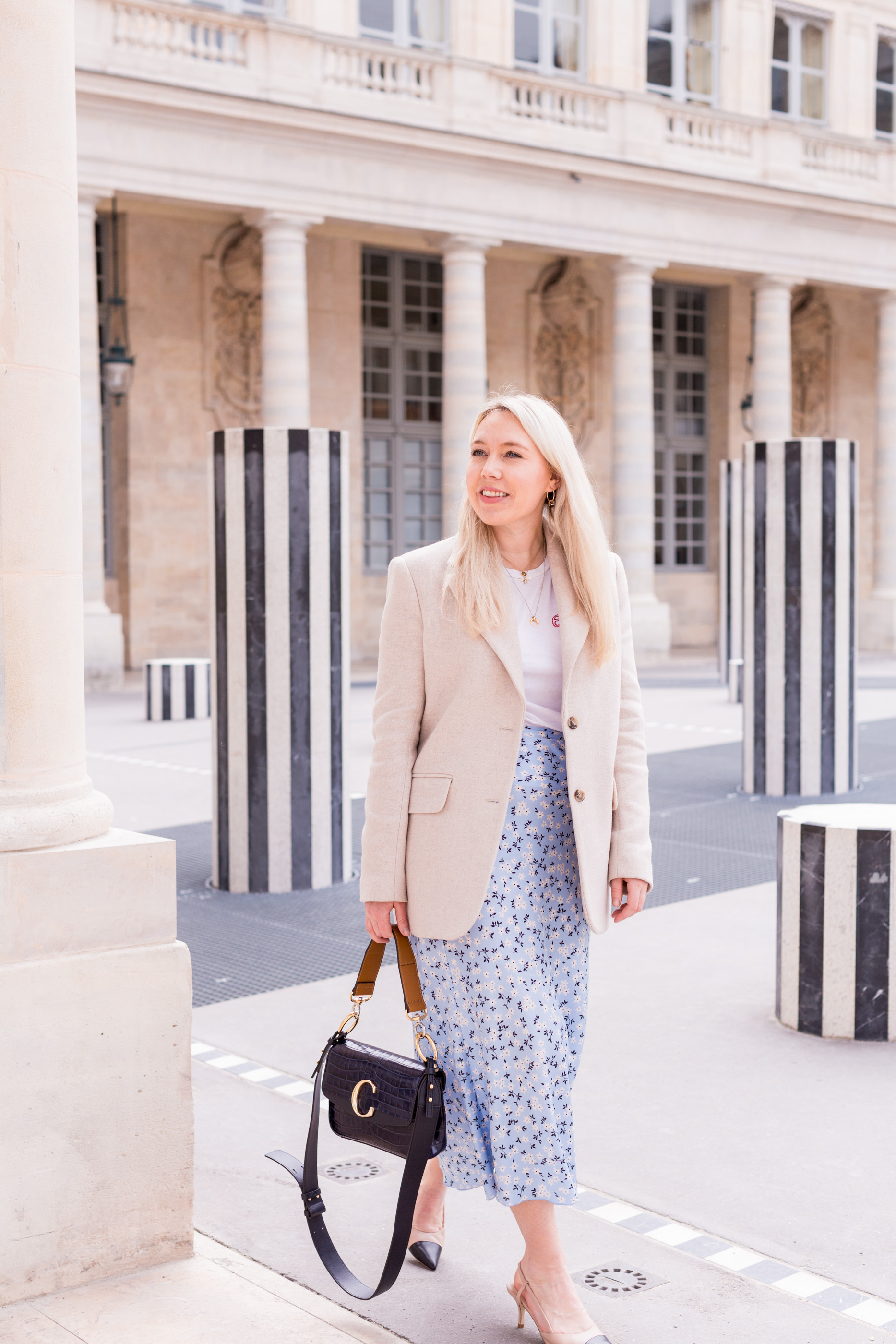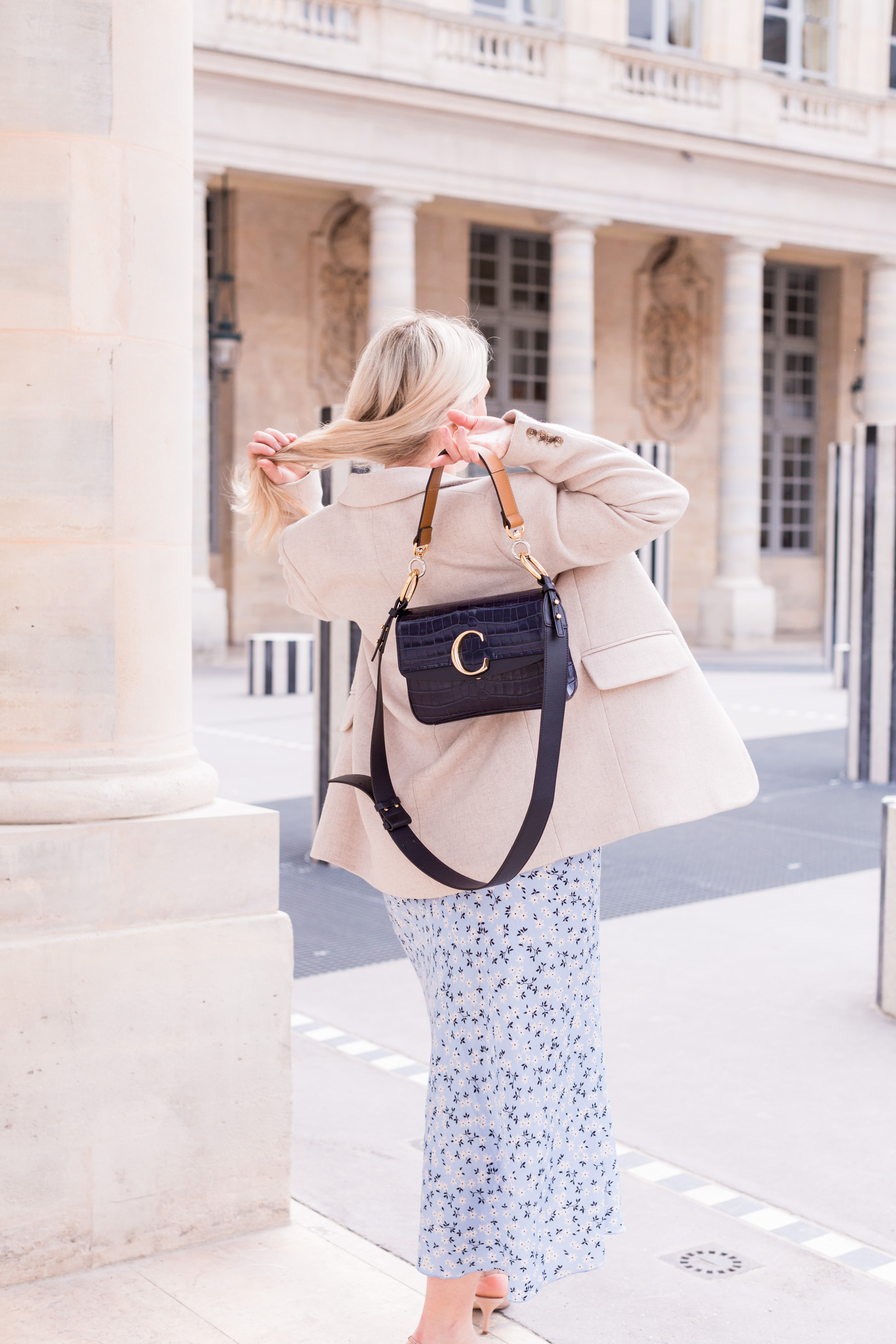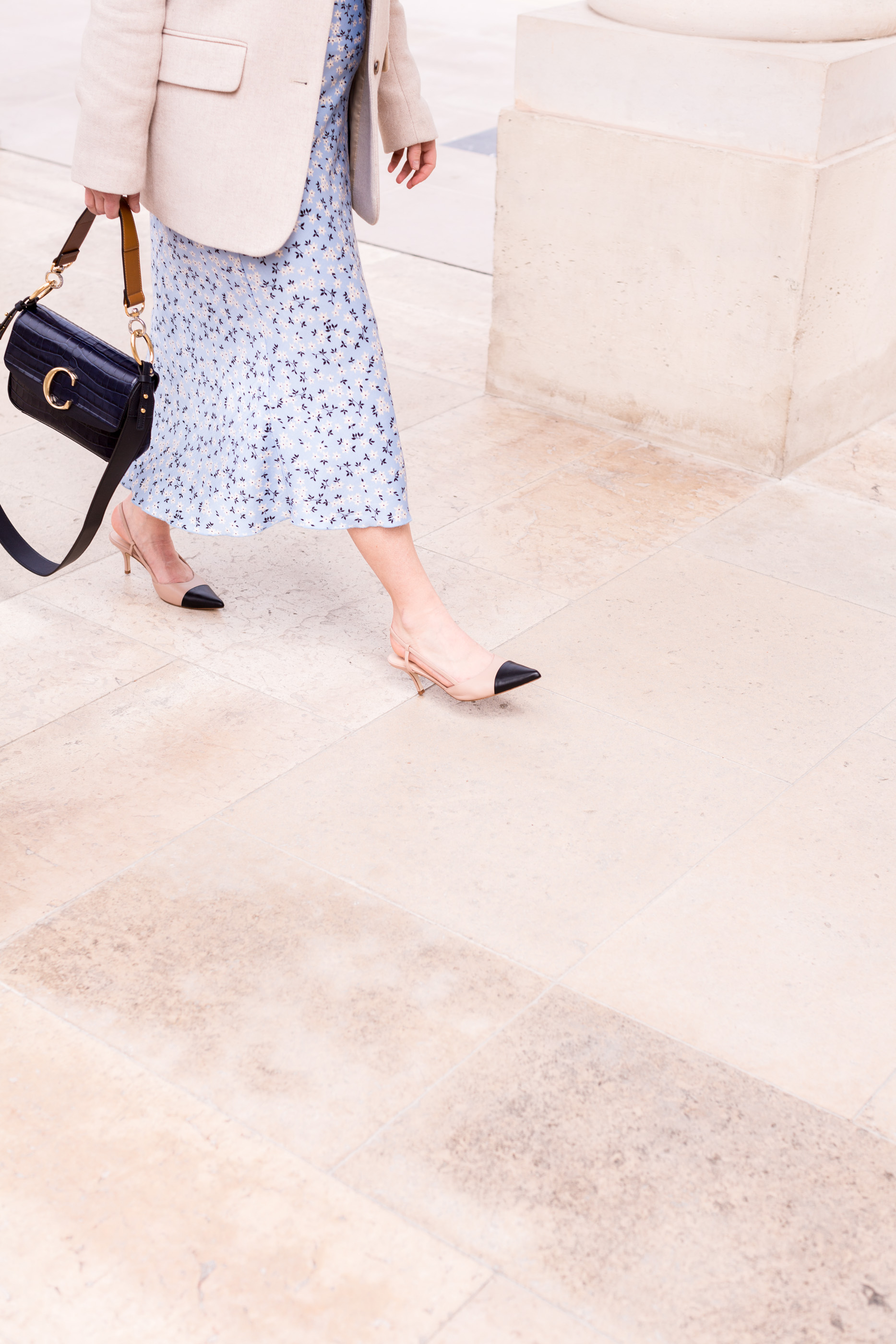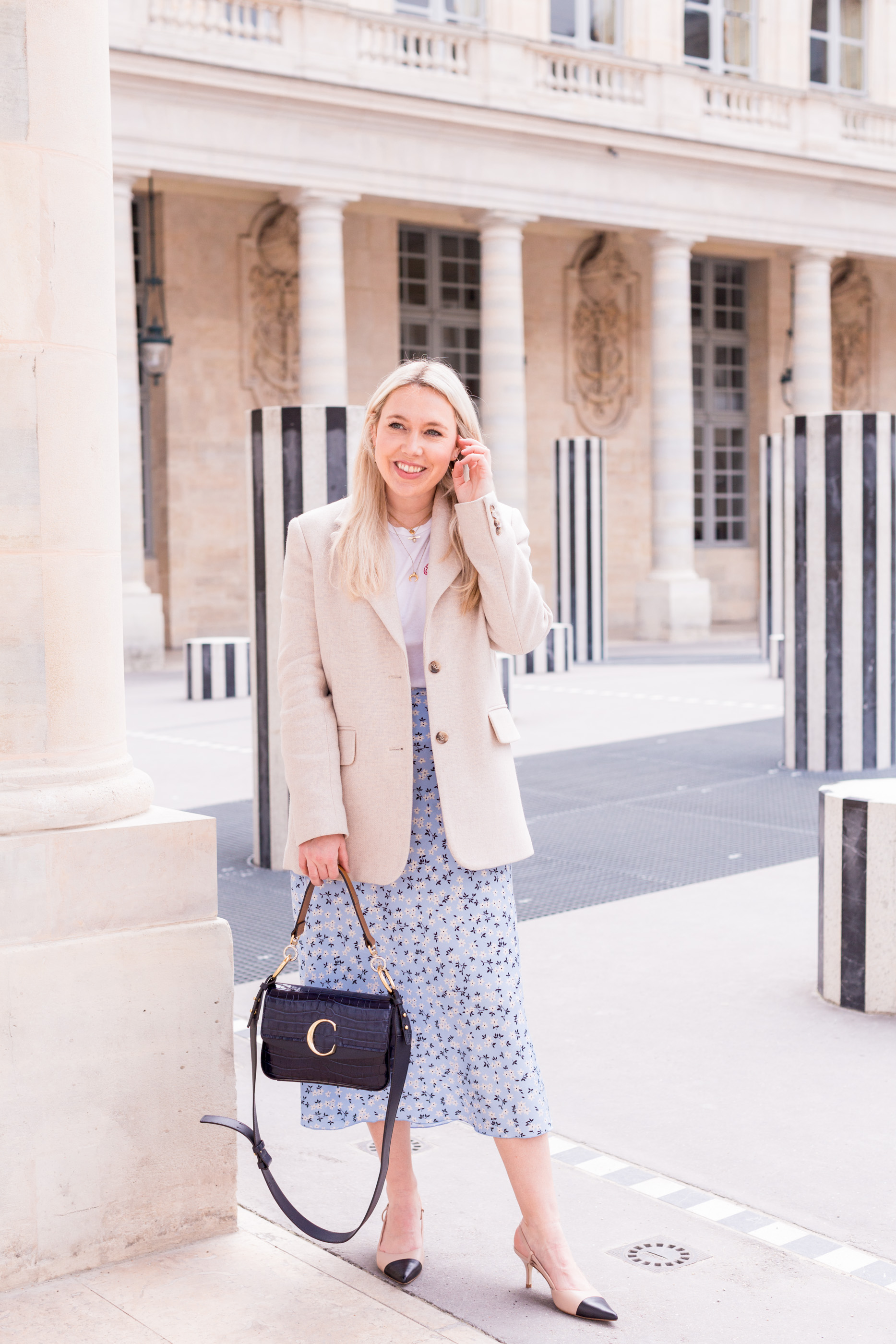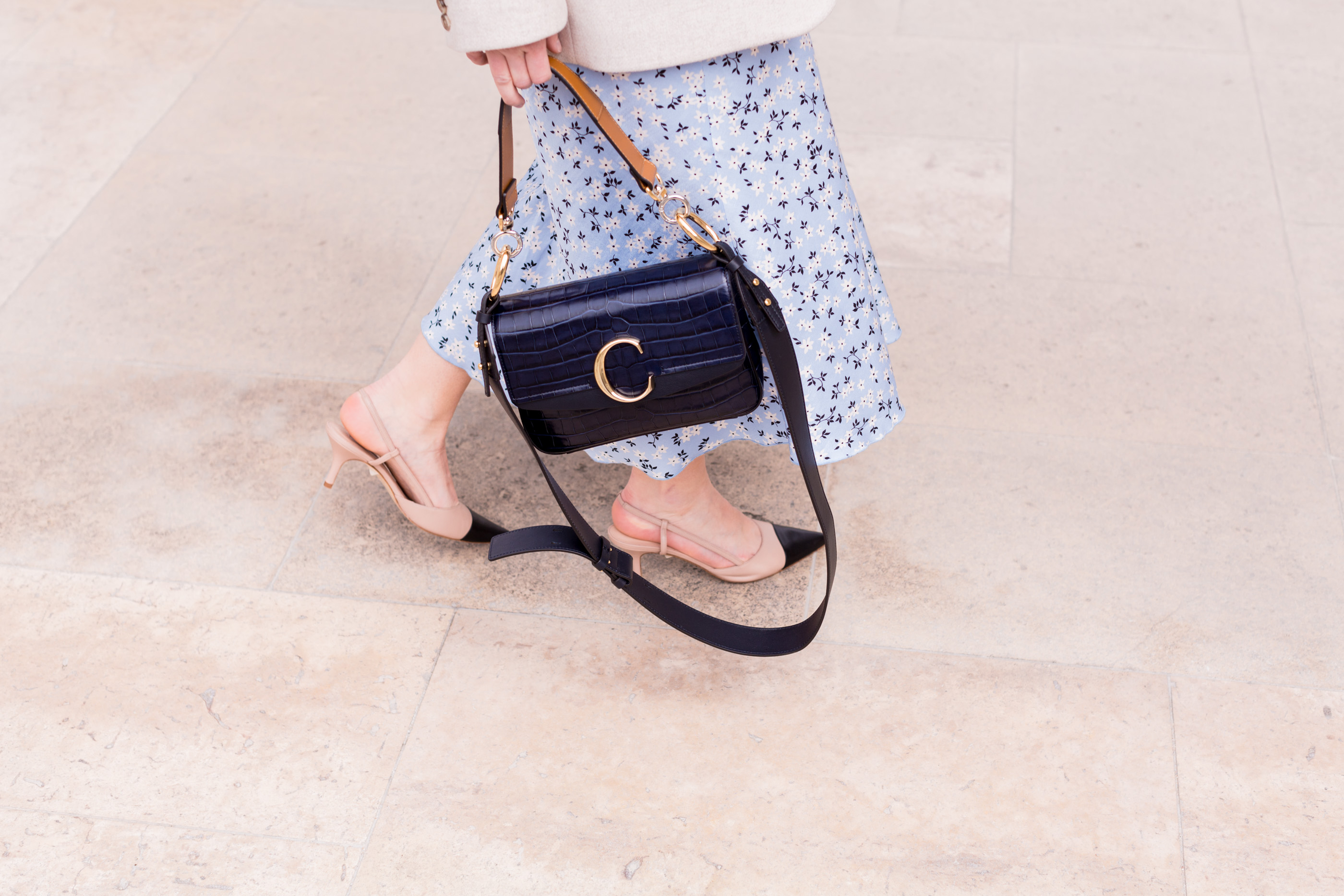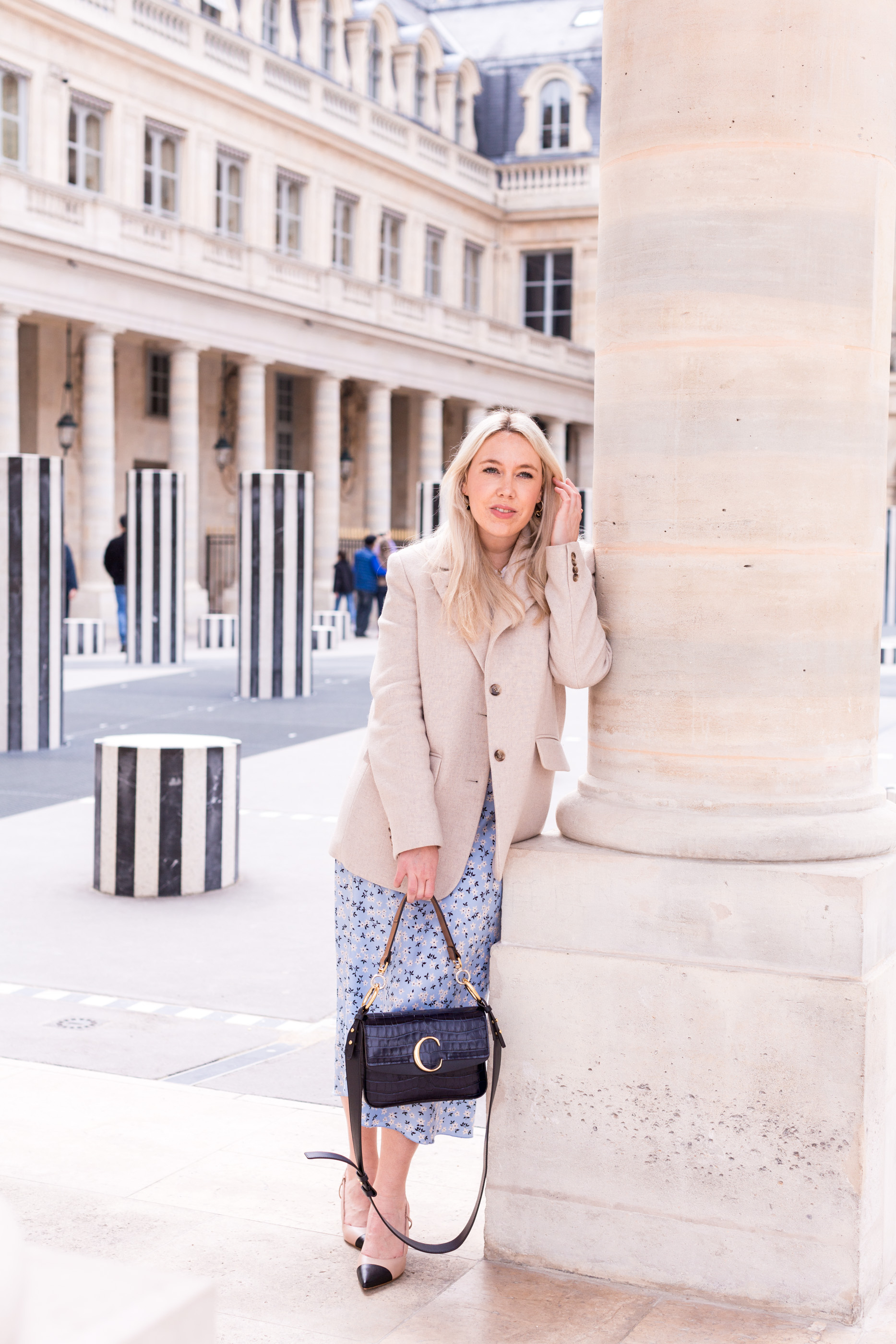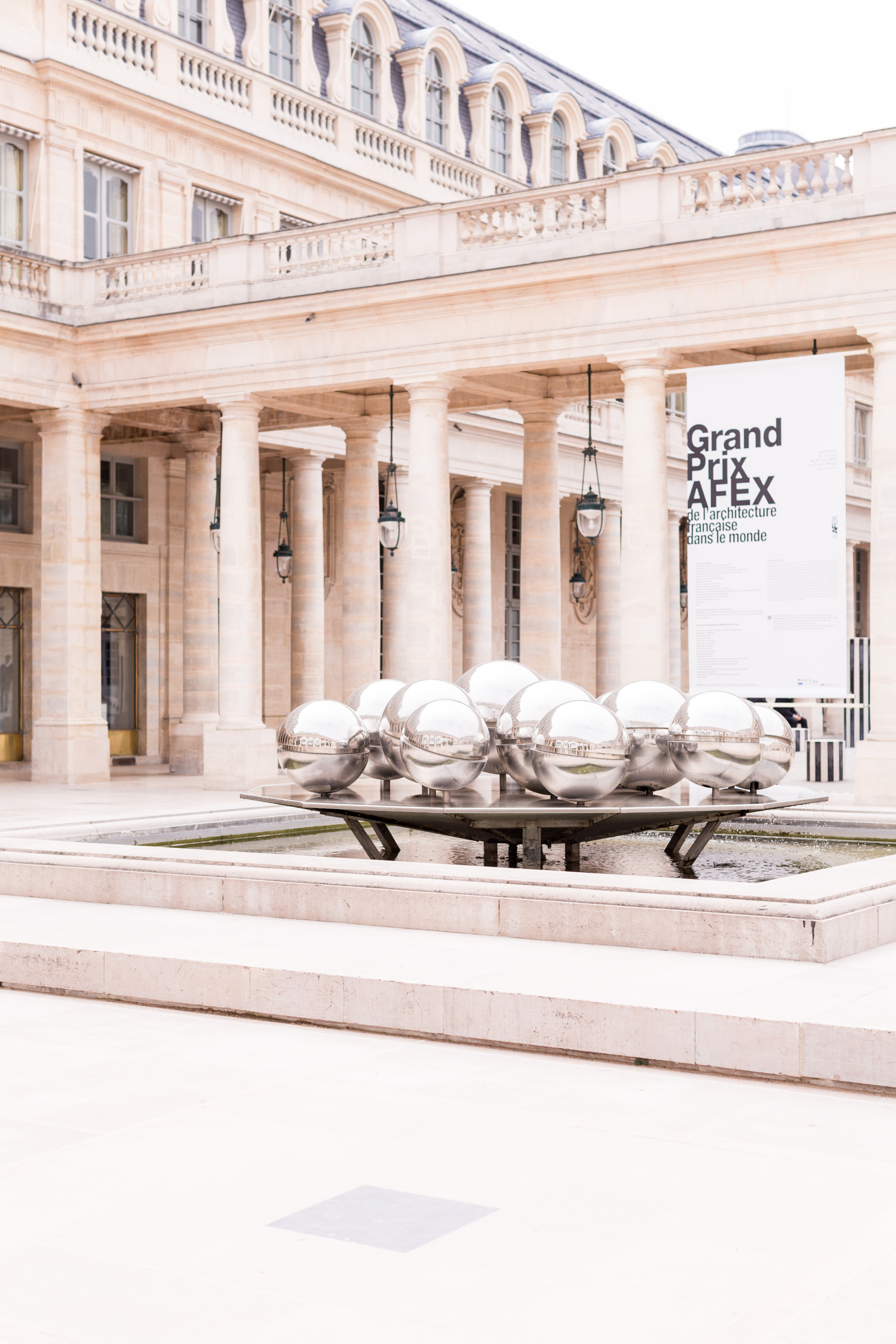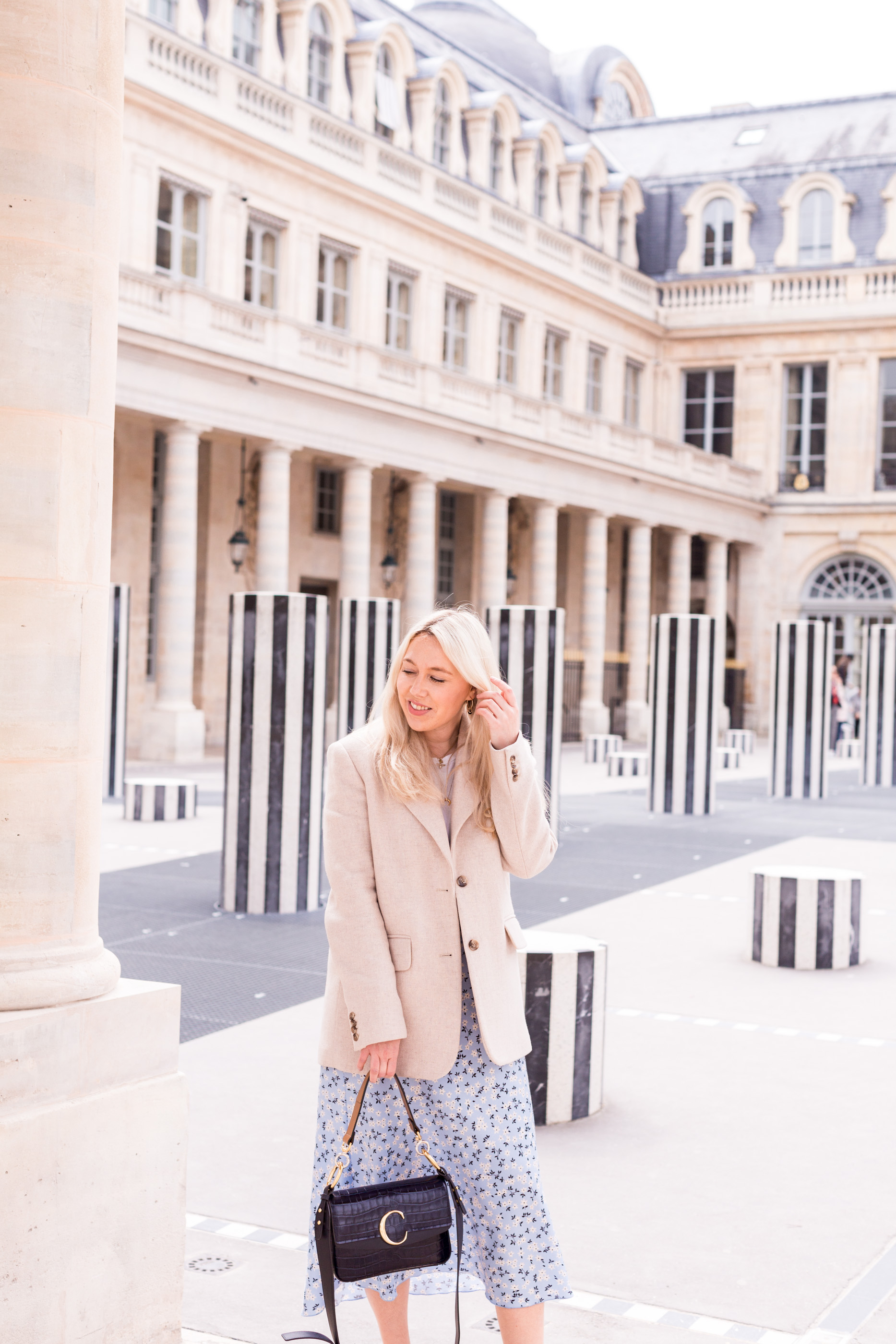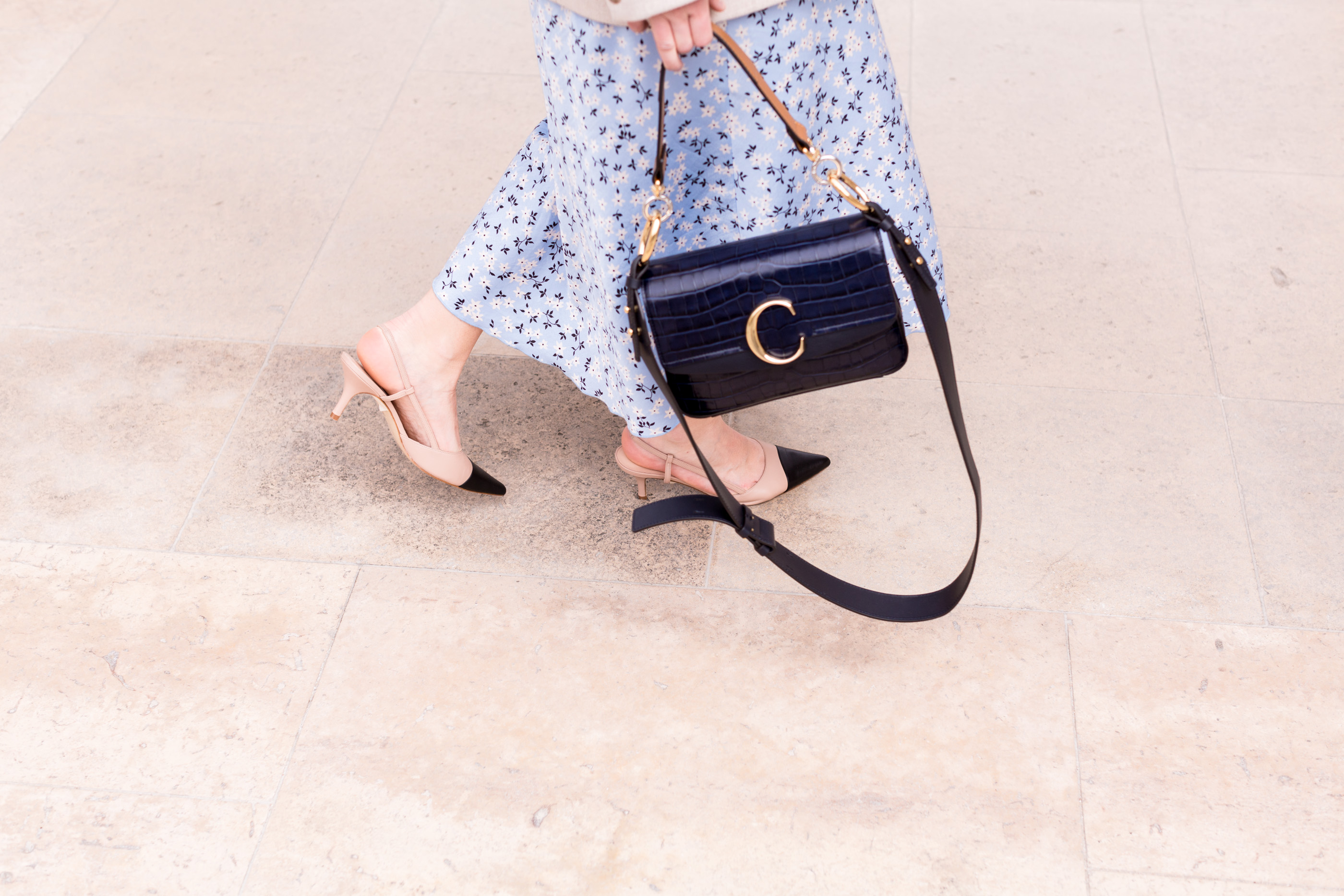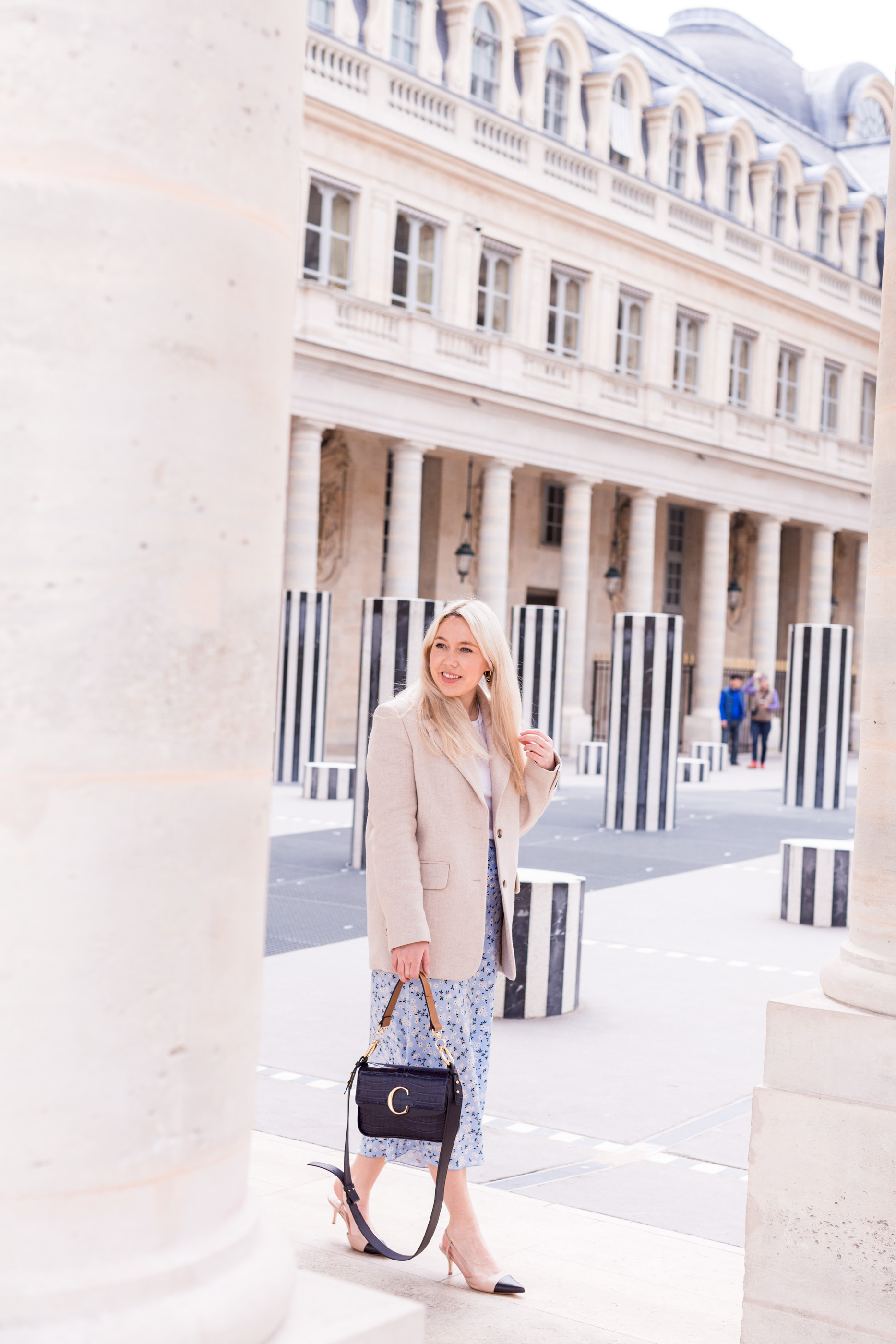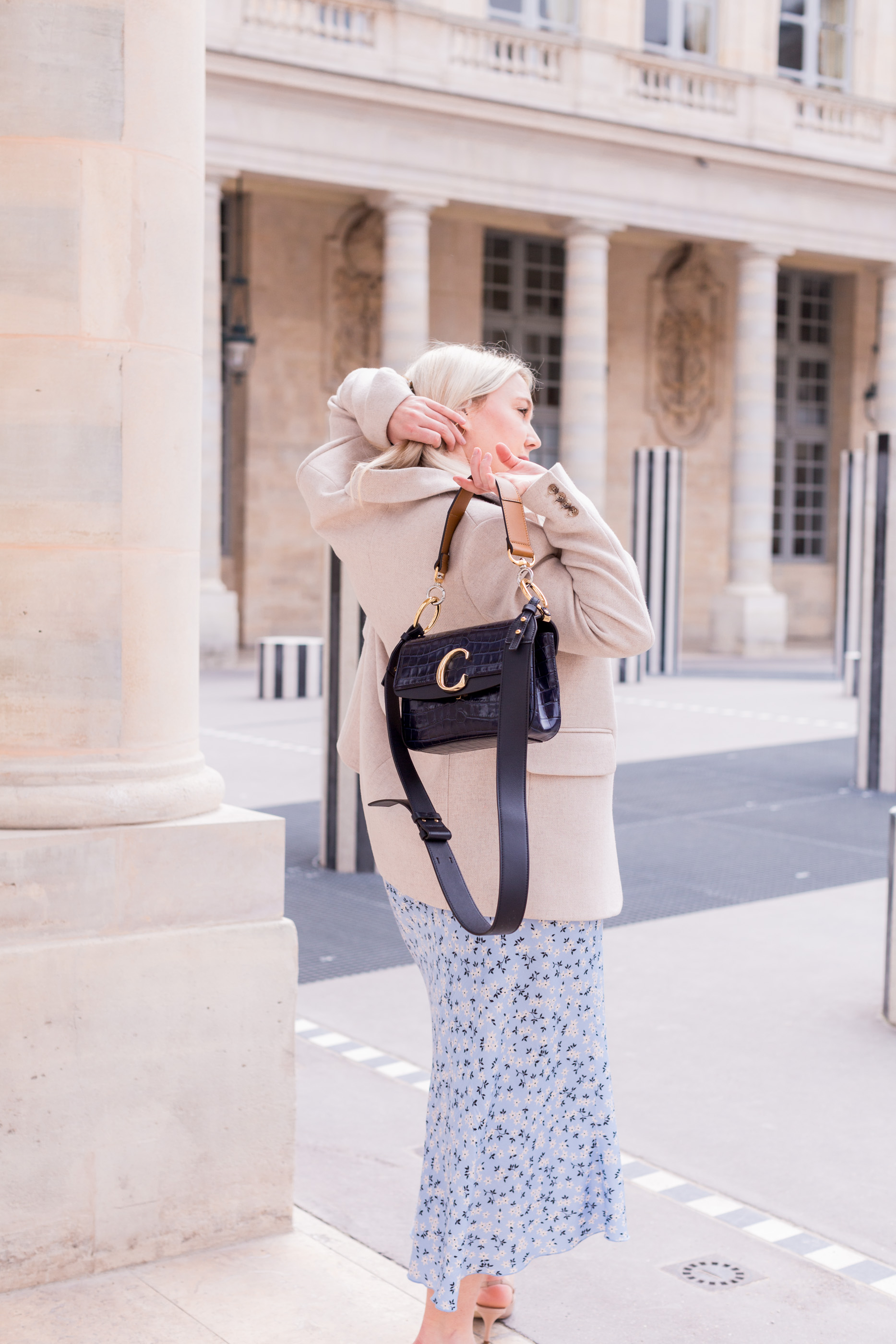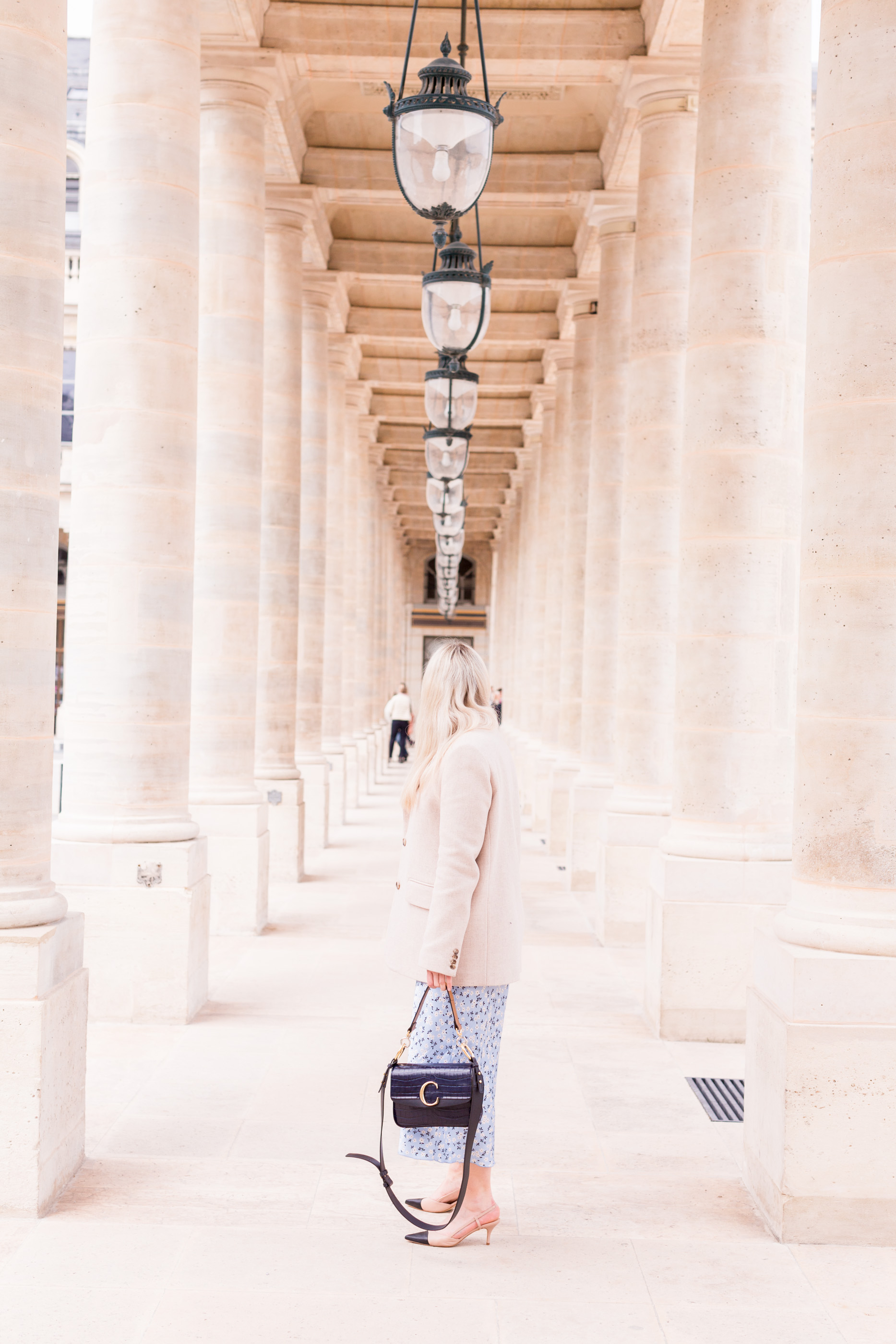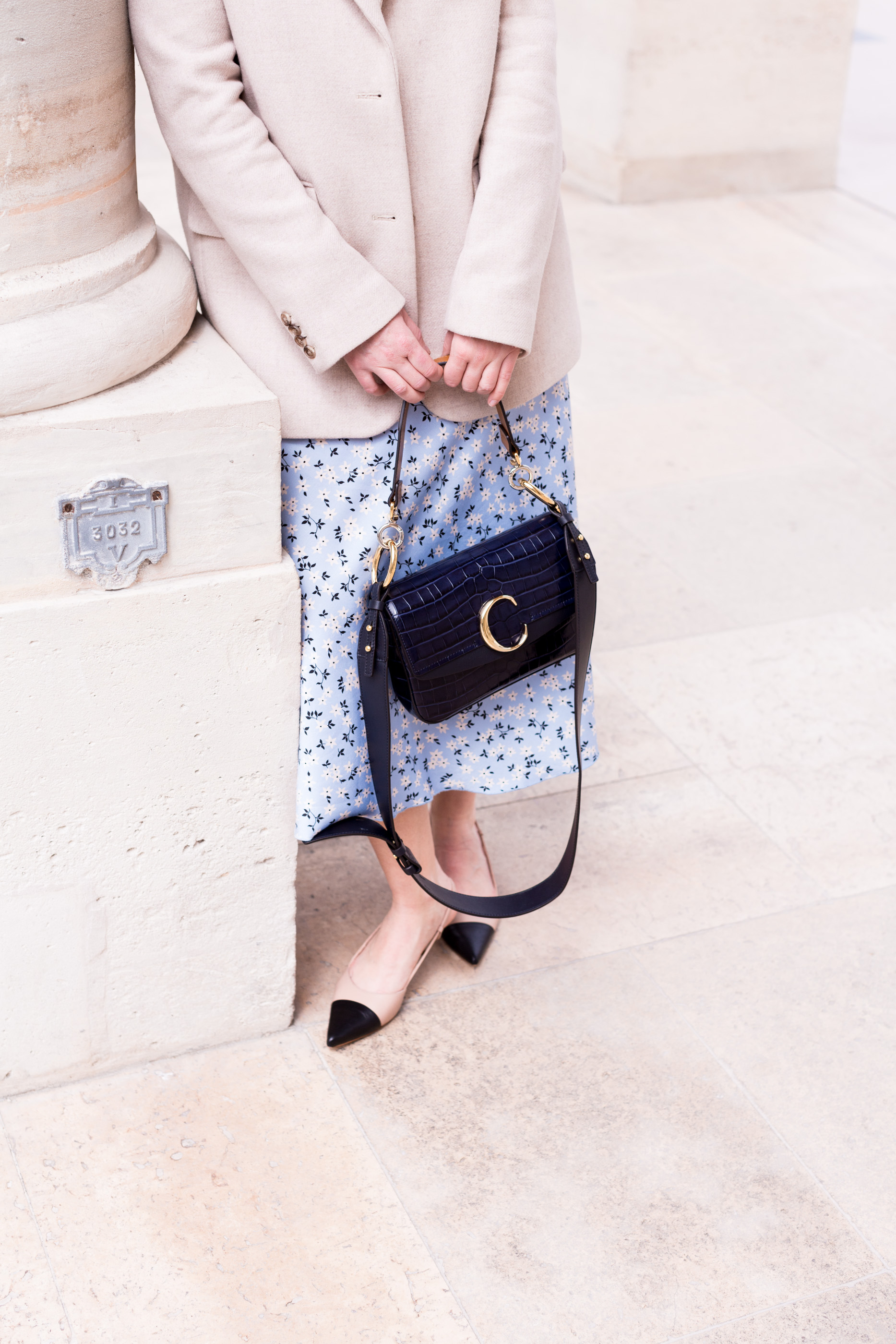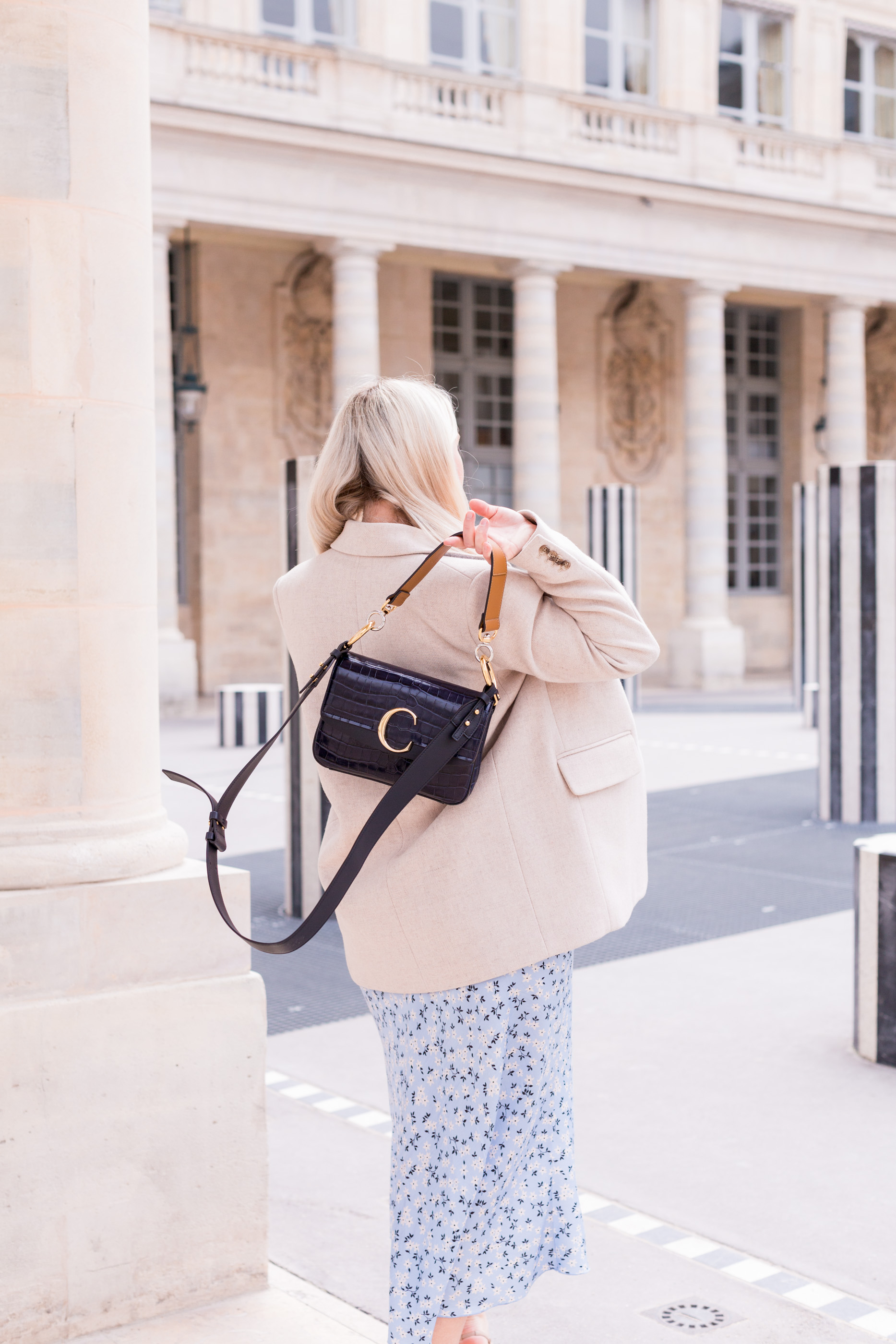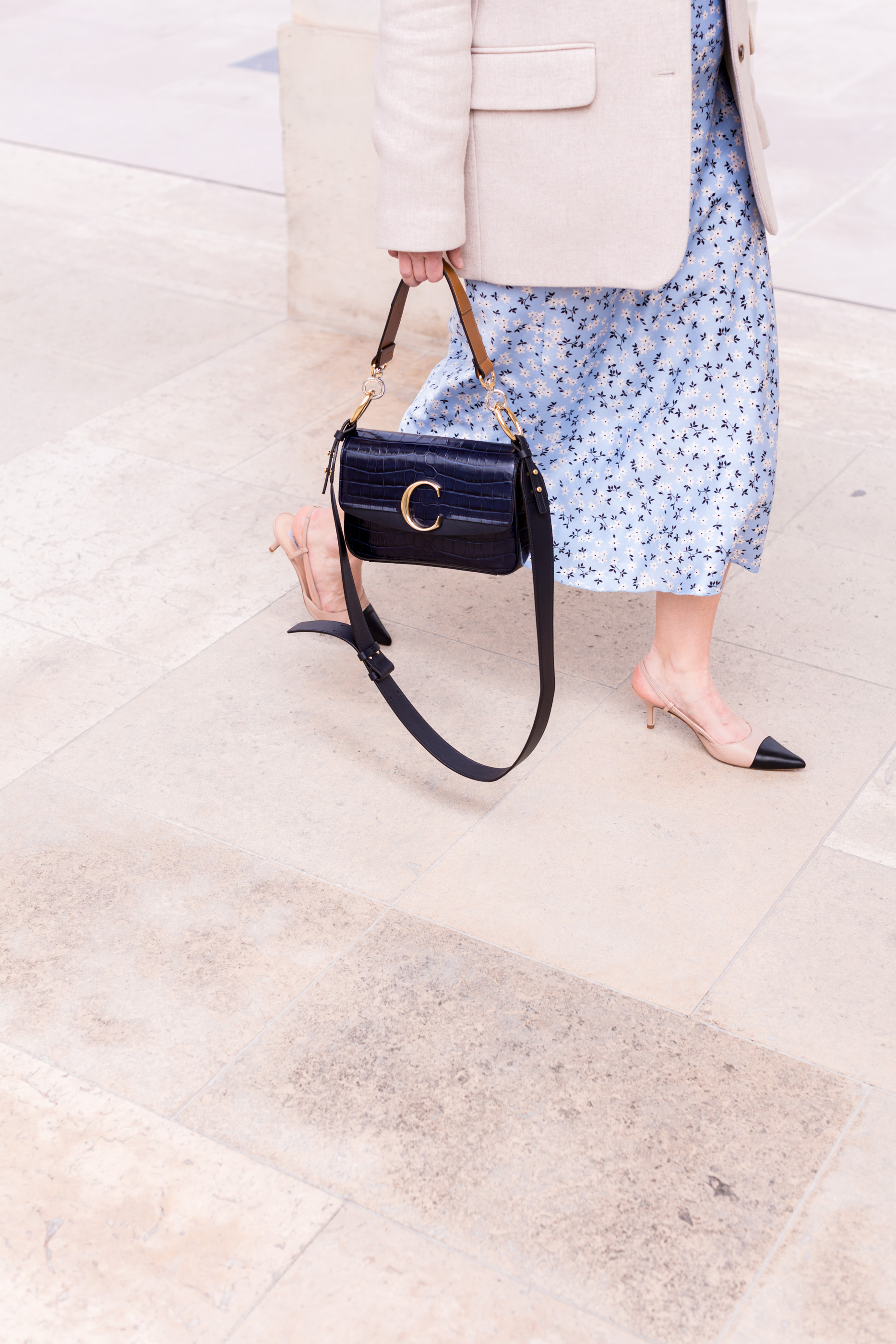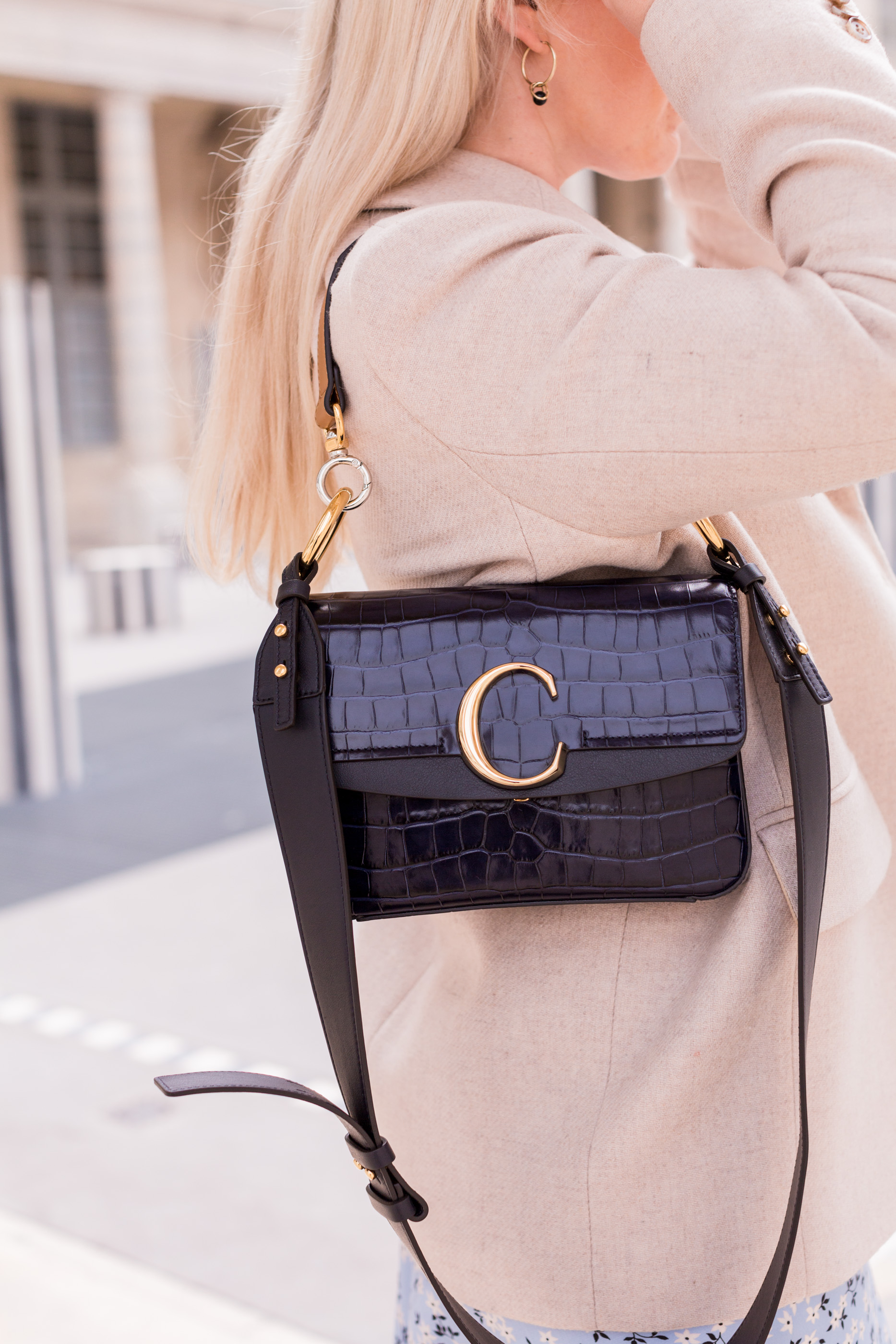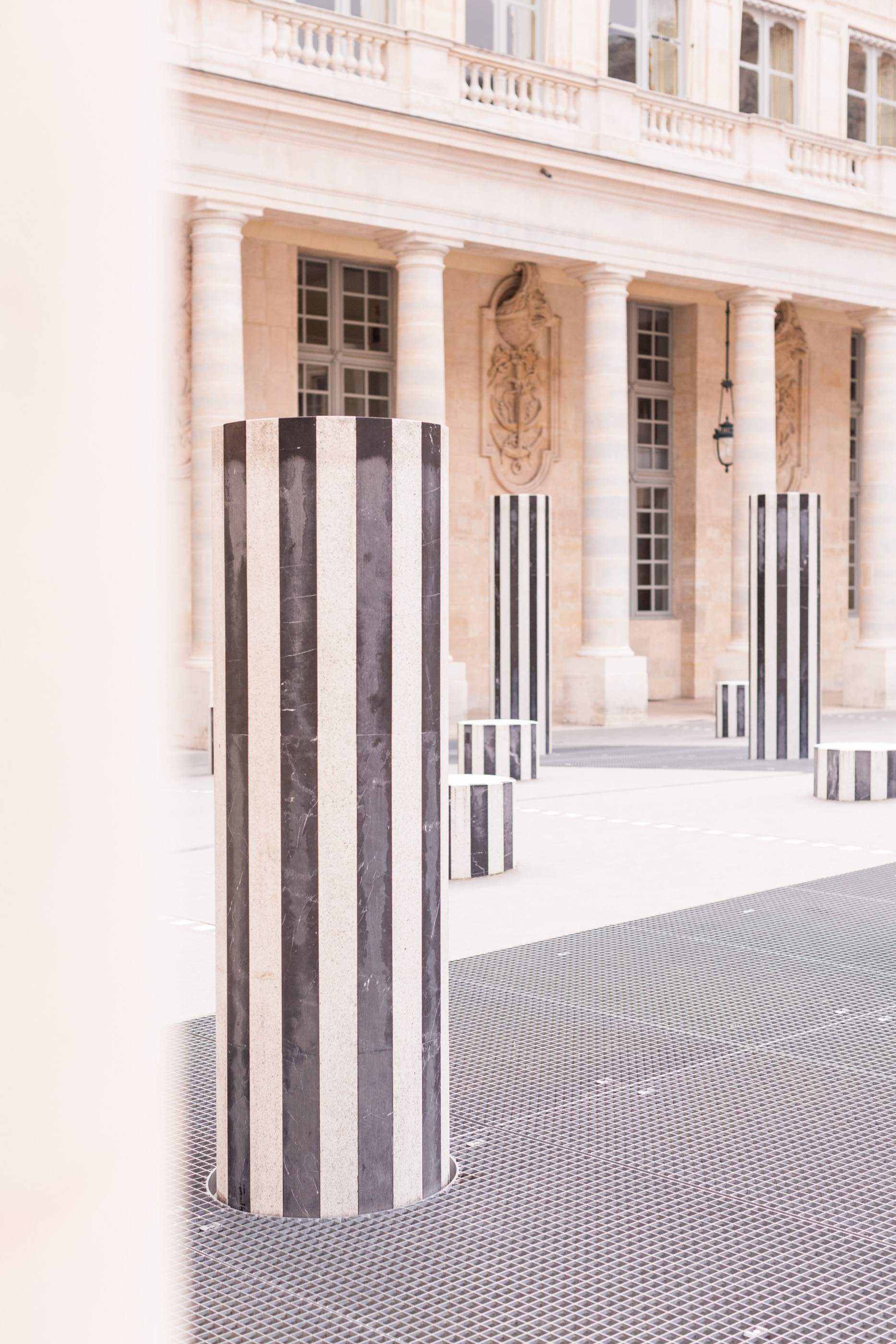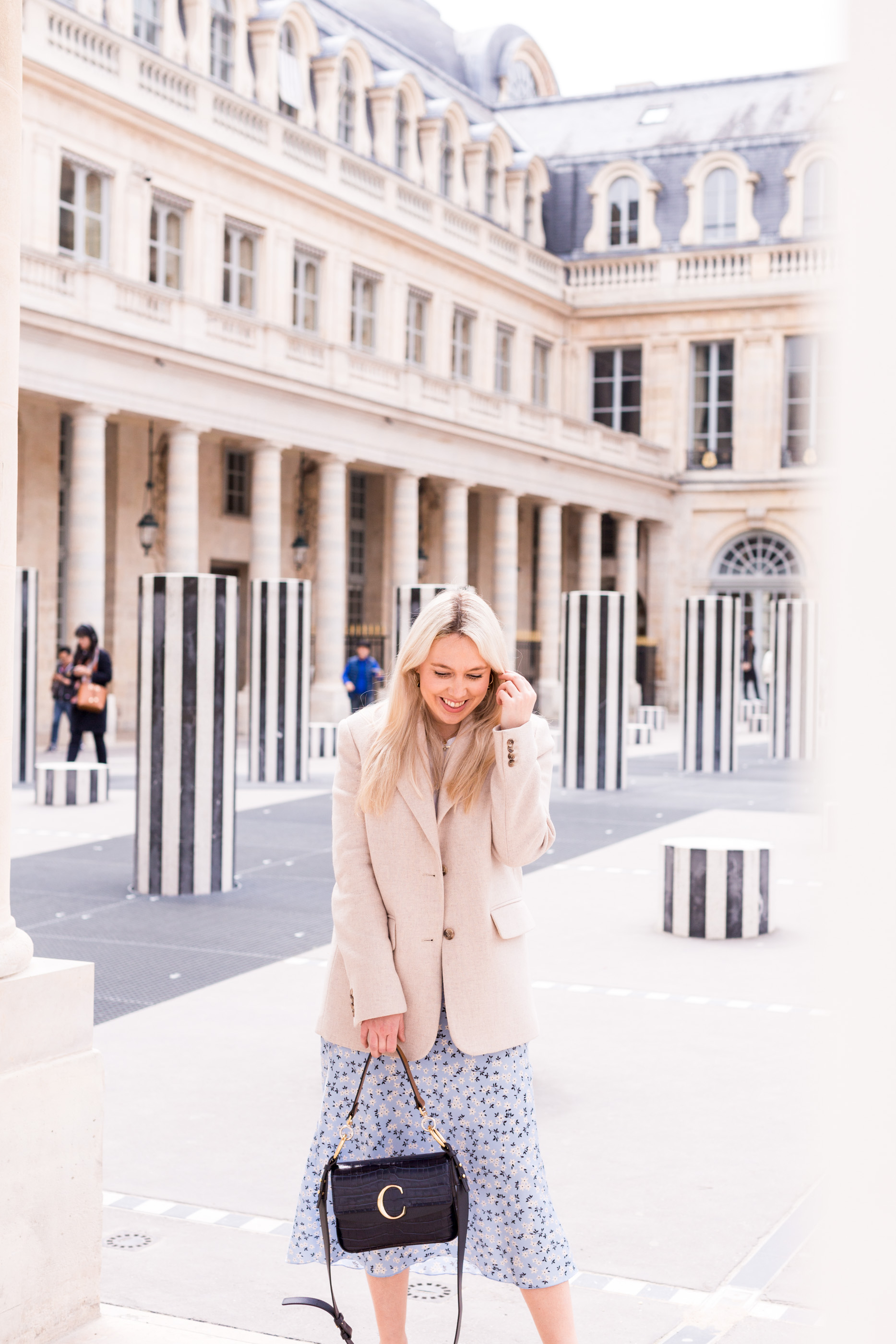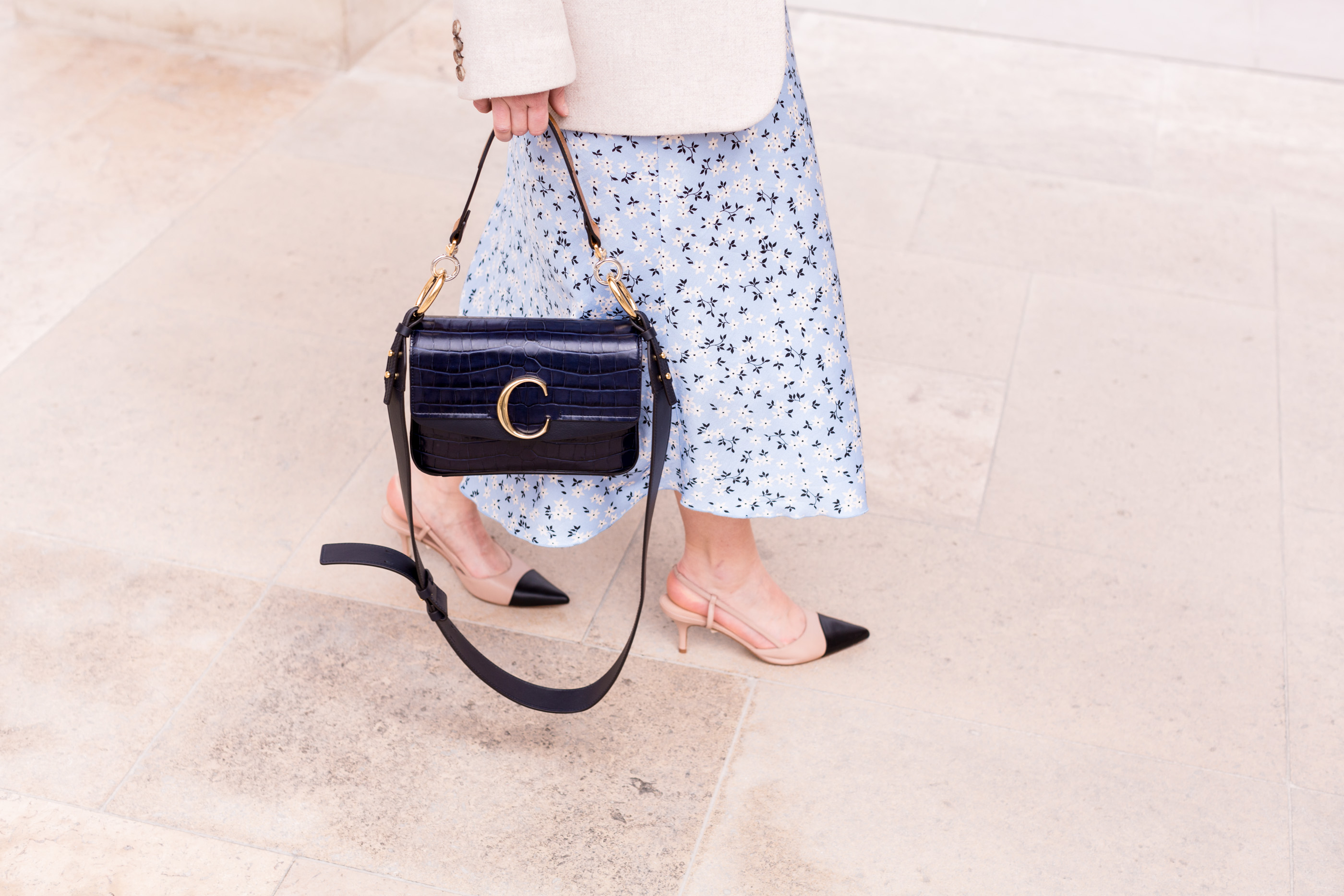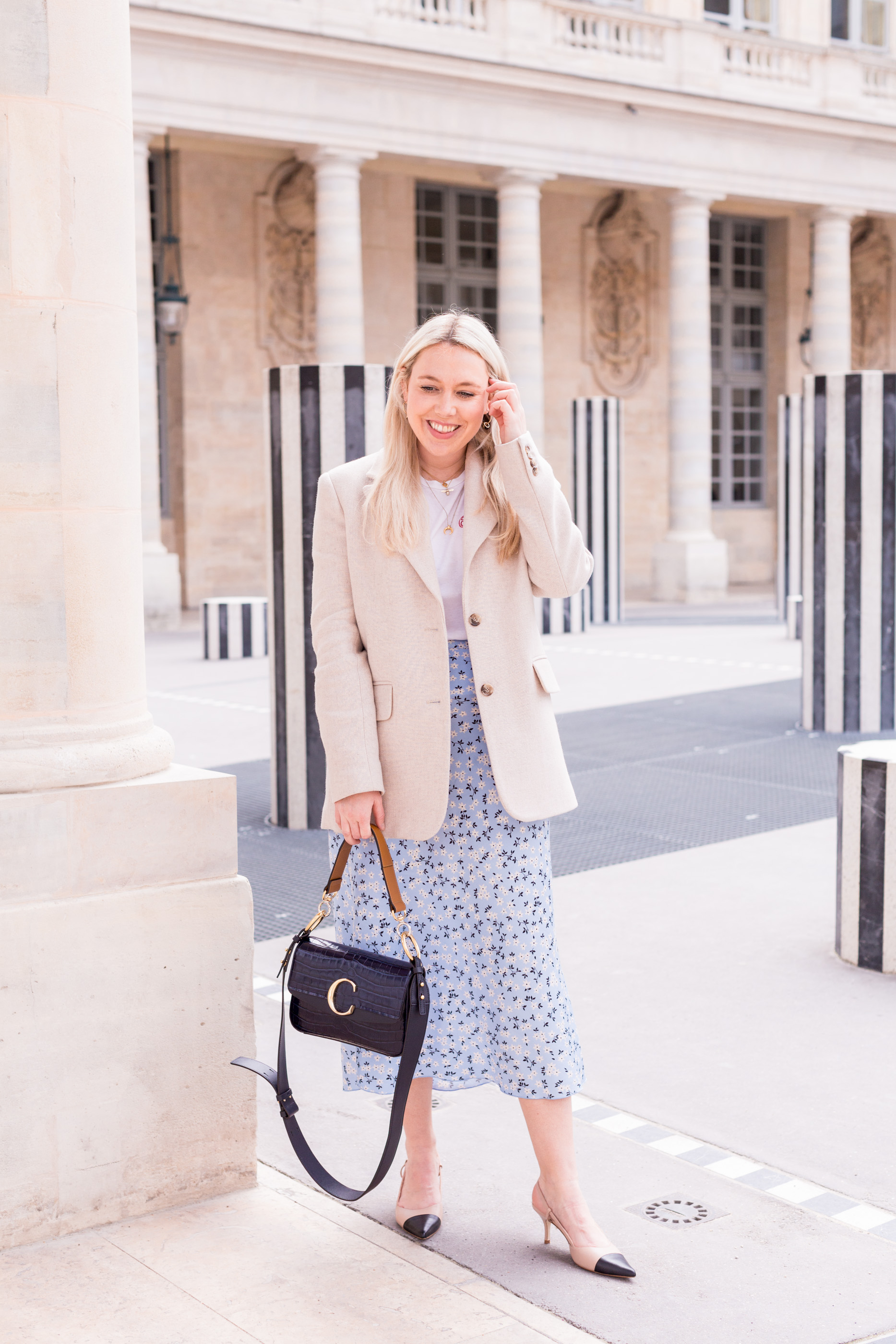 ---
SHOP THE LOOK & PASTEL EDIT

---
You'll have no doubt spotted this skirt already from my San Sebastian post and on my instagram, it's been such a great addition to my wardrobe and i've been wearing it loads. Not only is it a midi skirt which is always my preferred cut, it's also loose, floaty, has a beautiful subtle print, is a colour I love to wear, and generally is just so comfortable. I've worn it teamed with dark blues (navy tee, blazer and trainers) but equally love it softened with blush tones like I wore here on my trip to Paris. The versatility makes it so easy to style, and just like the dress I shared here, it looks so much more 'designer' than the reality of its price tag – I bought this skirt alongside the dress and I think both pieces stand out as staples in my wardrobe versus fast fashion throwaways like so often Zara pieces are.
I'd love to know your thoughts on my pastel obsession? And whether and how you style pastel tones within your own wardrobe?