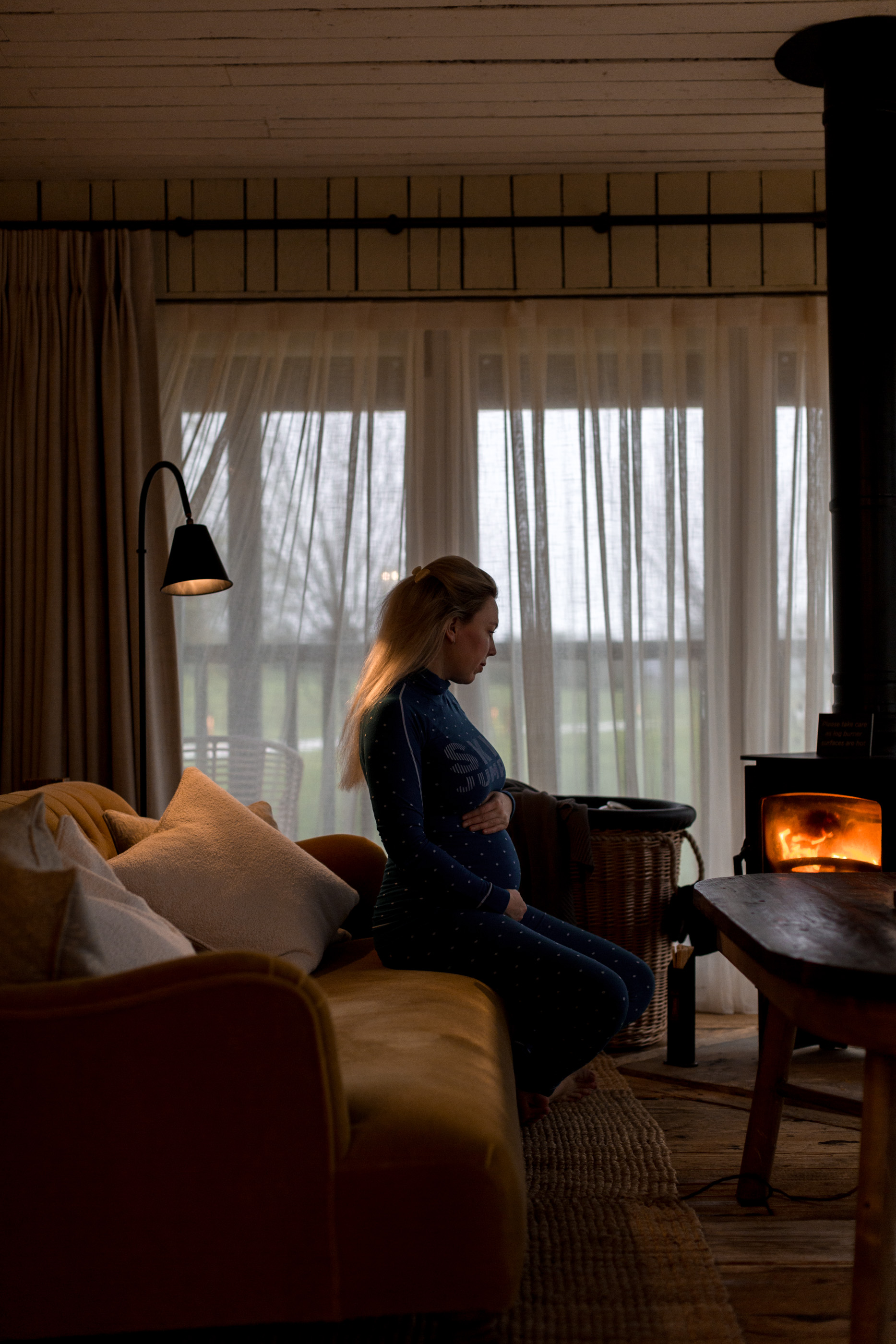 ---
MINI MARMALADE
An Honest Account Of Pregnancy Anxiety In My First Trimester
---
Pregnancy Anxiety. A personal journal written at 10 weeks pregnant.
"After the pure delight, relief and excitement of seeing that positive pregnancy test, and thinking about all the special moments we'd have telling our family in just a few weeks time, I knew that the first trimester would have some challenges.
Sickness and headaches were almost a guarantee. Something of a marker that you really are pregnant and that it's all going to be okay, proof that the hormones are there and that you're body is working hard on something else. You my friend will reside to that magic and take the vomiting like a badge of honour.
But the thing is, no one mentioned the other side affects that might come instead of those two reassuring pregnancy 'norms'. No one told me that not vomiting everyday might trigger my anxiety to worry something is wrong. No one mentioned that my mind would in fact be the thing to take the hit.
5 weeks is a long time. Imagine being on a glorious holiday for 5 beautiful weeks, it would feel like a lifetime. Now imagine being locked inside your own head for 5 weeks, feeling alone, feeling as though you're holding a huge secret and worried every second of the day that something is about to go wrong – but you can't tell anyone.
Well that was me, and let me tell you, 5 weeks is a really long time.
The problem stems partly due to the current circumstances, not being able to see people easily means I haven't been able to confide in my mum as soon as I'd have liked. Jase is absolutely incredible of course, and couldn't do more to help and care for me in those bouts of worry, but there is nothing like talking out a problem over and over with all your community. The second issue is that aside from self registering for a hospital (another anxiety ridden moment to tackle alone – what the hell do I know about the best labour wards and where i should go.) is that I've been off grid …. no formal support, no contact, no appointments until 10 weeks. This weekend I will finally see a midwife and I cannot tell you how much I am awaiting this moment. To feel registered, to ask all the thousands of questions that have been clouding my mind, causing daily anxiety and made worse by googling answers as I've no one else to help answer them. I can't wait for someone to validate that I'm pregnant.
To validate that the single test I did was okay. Confirm that it's real, it's happening. It's not a secret anymore. To reassure me that everything is as it's meant to be and that we're now on the real journey forward. The journey where I can start to finally talk about this little miracle that in reality I've spent 8 weeks trying not to think about or get carried away with, just in case something bad were to happen. My scan is blocked in for week 12 too, another moment of validation and a green card to finally feel 'allowed' to my family, friends and work what magic is to come.
12 weeks of holding something so wonderful inside, with absolute sheer daily panic that it could all be taken away from us is draining.
Miscarriage awareness is essential and no one should have to go it alone, but you see the secrecy in the first 12 weeks creates just that. Loneliness. And having this inconceivable potential tragedy constantly in my eyesight, means I am just petrified. Petrified and alone. Living in a state of terrified limbo, almost as if this is a guarantee.
It's truly truly anxiety inducing. I'm sure if I could have spoken to a doctor they could reassure me I'm okay, do some bloods and say my liver is normal and that the itching is common, that my colitis isn't going to cause challenges and that at this stage it's all going to be okay.
But the truth is I've read horror stories about week 20 and week 24, so whilst I know finally telling my family, friends and work will clear my mind beyond recognition (simply being able to talk and make it a reality), I still worry the fear will never leave me!
I know yoga or exercise will help my mind. But I'm tired. I find myself sleeping early and long nights due to exhaustion, and I'm petrified of doing something wrong, anything to harm my chances of having my baby. So I become recluse, a hermit, sofa bound. And I know that's not helping either.
Truth be told, for someone that loves to talk, be connected and doesn't have a secret to her name – 12 weeks of mental isolation and solitude is enough to have broken my mind. I feel homesick, anxious and constantly worrying about nothing and everything at the same time.
Who will do my job? How will I get my team to a good place? Will they make me redundant? What If they're angry? Will something bad happen, will it all be taken away? Will I be jinxed? Will it be a boy or a girl? Are we due a girl or a boy in this friend circle / work circle / family circle? Is it my turn for X or Y? Will I jinx it because I think like that? Is this symptom normal? Do I have liver disease, why am I itching? Why am I not being sick, is something wrong? Is it normal to feel so worried? What should I be feeling this week? I'm really fat, should I be thin? Why are so many pregnant people on Instagram skinny? Am I eating too much? What should I eat, so many things make me feel sick at the thought of it? When should I tell everyone? Should I tell work before or after Christmas? At 12 or 20 weeks? What's safe? Will they be annoyed if I wait until 20 weeks? How will I tell everyone? Plotting and planning magical moments and surprises, but equally stressing about the dates, meticulously reviewing my calendar everyday to check when I can say something, how to plan to see people in these covid times? Will my friends be free that weekend? How can I juggle that lunch date back so I can tell them when I next see them? What cot to get? What pram to choose? Magic thoughts and moments in my mind about the nursery and the months ahead, then washed away by a stern reminder 'not to get too excited, you don't know what could happen'. Fear of tragedy, fear of miscarriage, fear or stillborn. Have I jinxed it by saying it, acknowledging this dark thought? Followed by a countered reassuring nudge to just wait to the midwife milestone and go from there. That it'll all be okay. Or will it? On repeat, all day, everyday, for 10 weeks.
All of this meaning the most magical moment of my life so far, is locked away in secret and shrouded in darkness and fear. Like a child kept inside by a protective mother too worried about the outside world. Trying to protect myself and the baby, but in reality doing nothing but harm to my mental health.
In retrospect I'd tell myself to tell my mum straight away, I need her hand alongside Jase's, and if anything were to happen I'd want her there anyway. That support would have helped earlier on, and this first trimester doesn't need to be managed alone. It's okay to tell people before the stereotypical 12 week scan milestone. That vow of silence for the whole first trimester is a burden and mental health torture chamber.
I'd also suggest our medical support service should offer a telephone check in at 4/5 weeks once that positive test comes in – for those of us going through this the first time, we have no idea what's happening, what's normal, what's not, what's to come and what we should expect. Just a friendly call to tell us a few things and prepare us for the solitude of the next 5-6 weeks ahead would do a world of wonders. I truly would have benefited from this – instead my call was to confirm I'd need to move dr surgery to a local doctor and local hospital to where I live (rather than my old family doctor I've had my whole life). The moment I needed to feel looked after, I actually had to go alone, phoning random surgeries to try and register and feel less 'off the grid'.
And finally. Be present. Nothing positive ever comes of worrying about tomorrow, it simply takes the joy away from today. And at this time, enjoying everyday really is more important than ever. This is a reminder to myself – although as I know already this is easier said than done!
I've written this for two reasons! One, I needed to get it out. I really really need this out my head. At this stage I'm nearly 10 weeks pregnant and no one knows. No one except Jase. I'm in the midsts of my daily anxiety spirals and desperate to reach the checkpoint and pass through with a thumbs up from the midwife so I can finally talk, share and feel that this is real and I am not alone.
I just cannot wait to tell my mum, my sisters, all my family and friends. I can picture the pure delight and joy on everyone's faces and I can't wait to share that moment with them! Not long now I tell myself over and over.
And secondly I could have done with reading this in my hours of googling and solitude. Knowing that anxiety is common, that sickness isn't needed to have a safe and real pregnancy. And to feel some form of connection to someone else in these first weeks when you do feel just so alone and so full of worry.
Not every pregnancy is sickness and headaches – and that is totally normal, it doesn't mean something is wrong!
Itching, well that's normal! It may not be liver disease so don't worry yourself into a panic attack. Talk to the midwife when you see them and have a blood test if it's really bad.
Constipation and worrying symptoms akin to my colitis – pretty normal actually and doesn't mean your destined for a tragic ending!
Anxiety – common! And it's no surprise when you think of everything you're going through, and aside from your poor partner desperate to help but not really knowing how, you're alone! Alone in your thought, alone in your body, alone in your anxiety.
No journey is the same. But sharing is caring, and at this time, I don't think a 12 week burden of silence is healthy and needed. I for one won't be making this mistake if I'm lucky enough to have future pregnancies."
---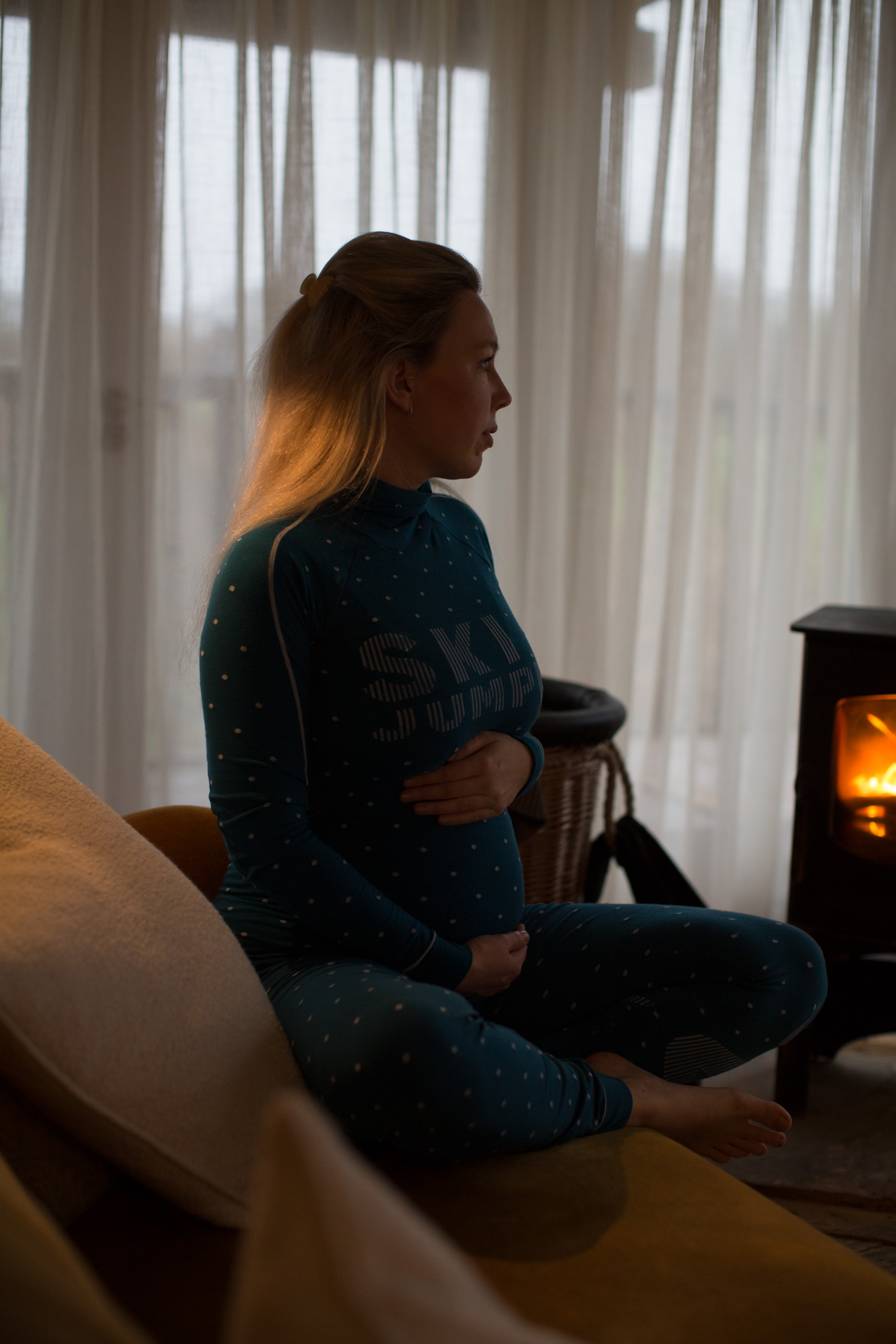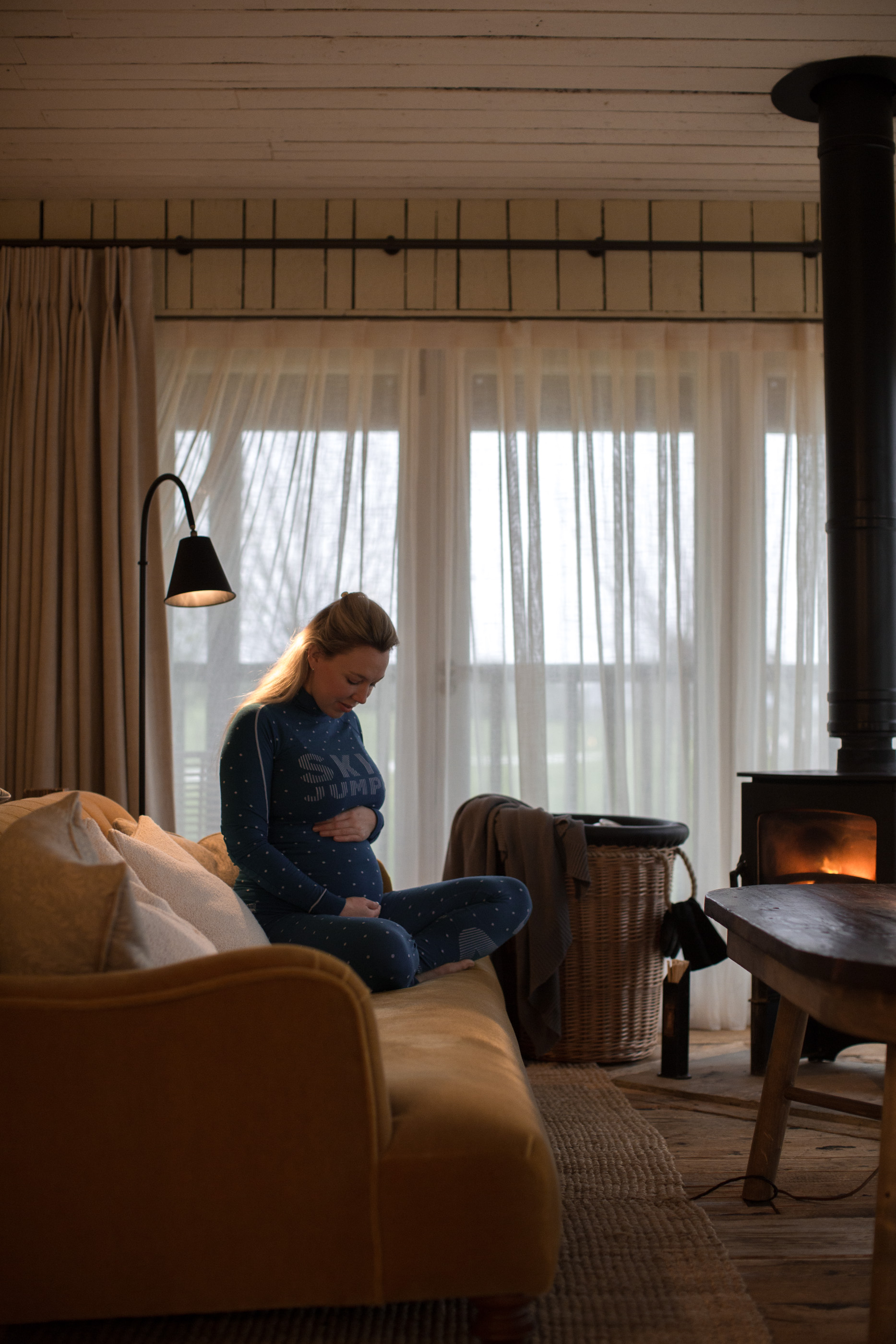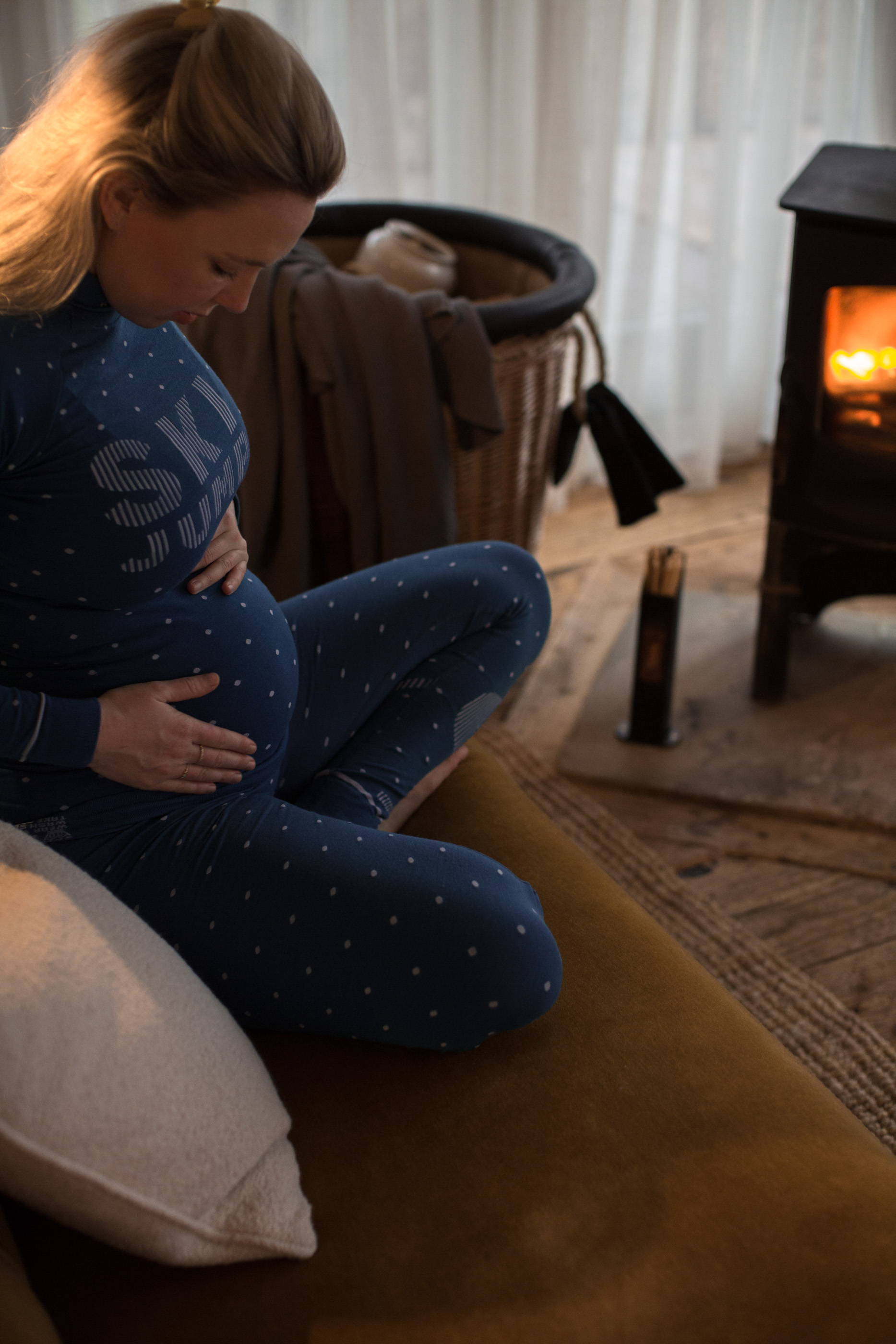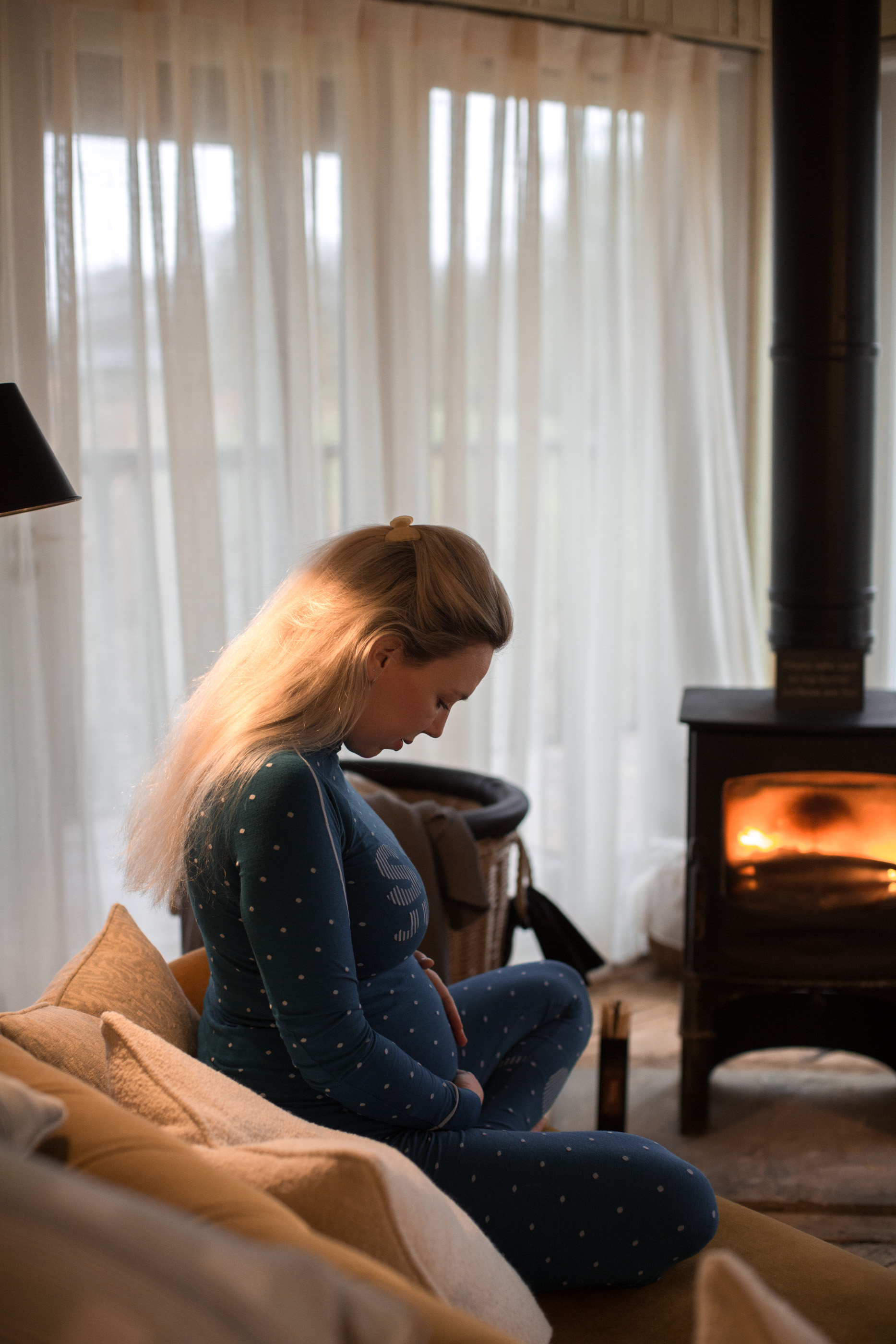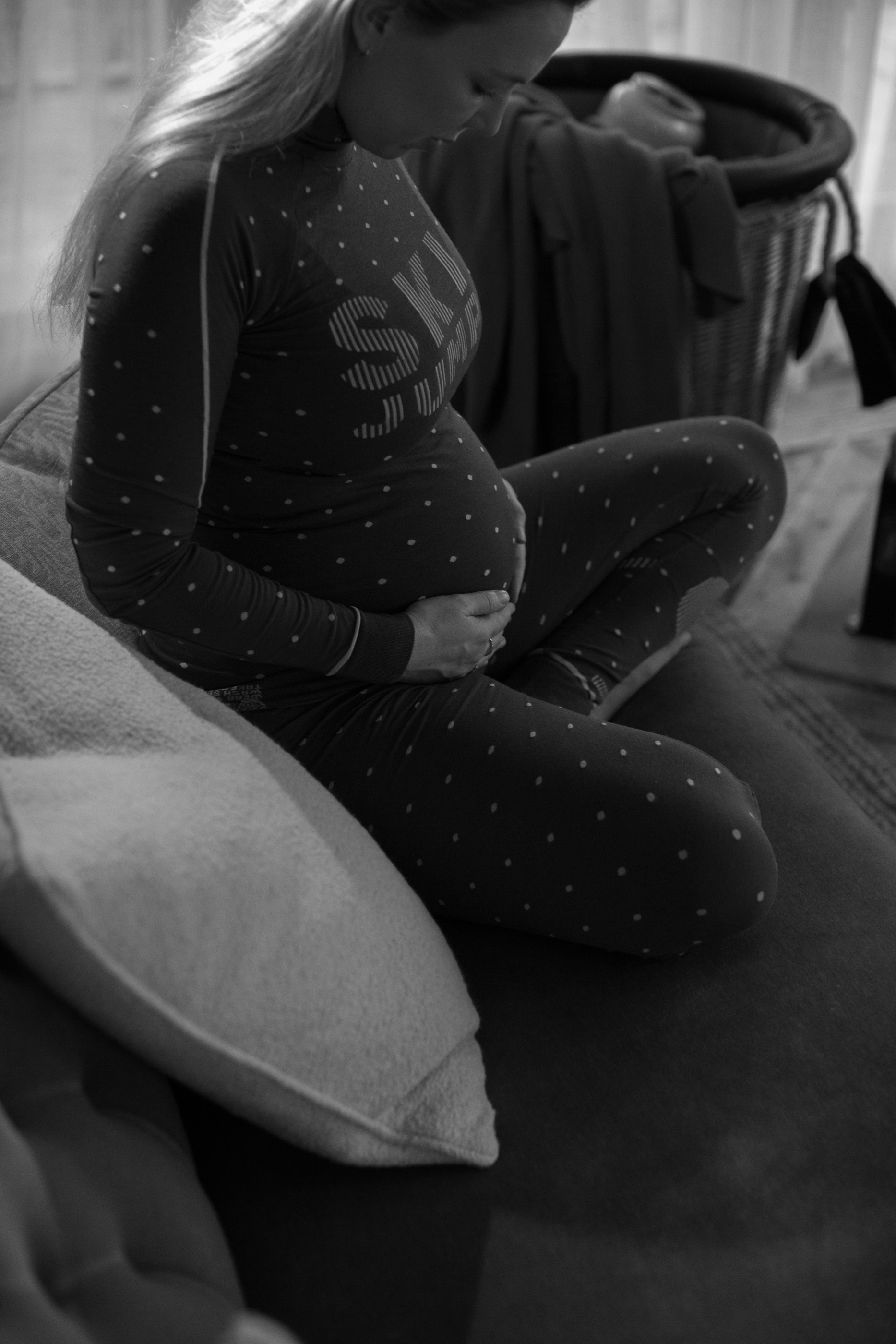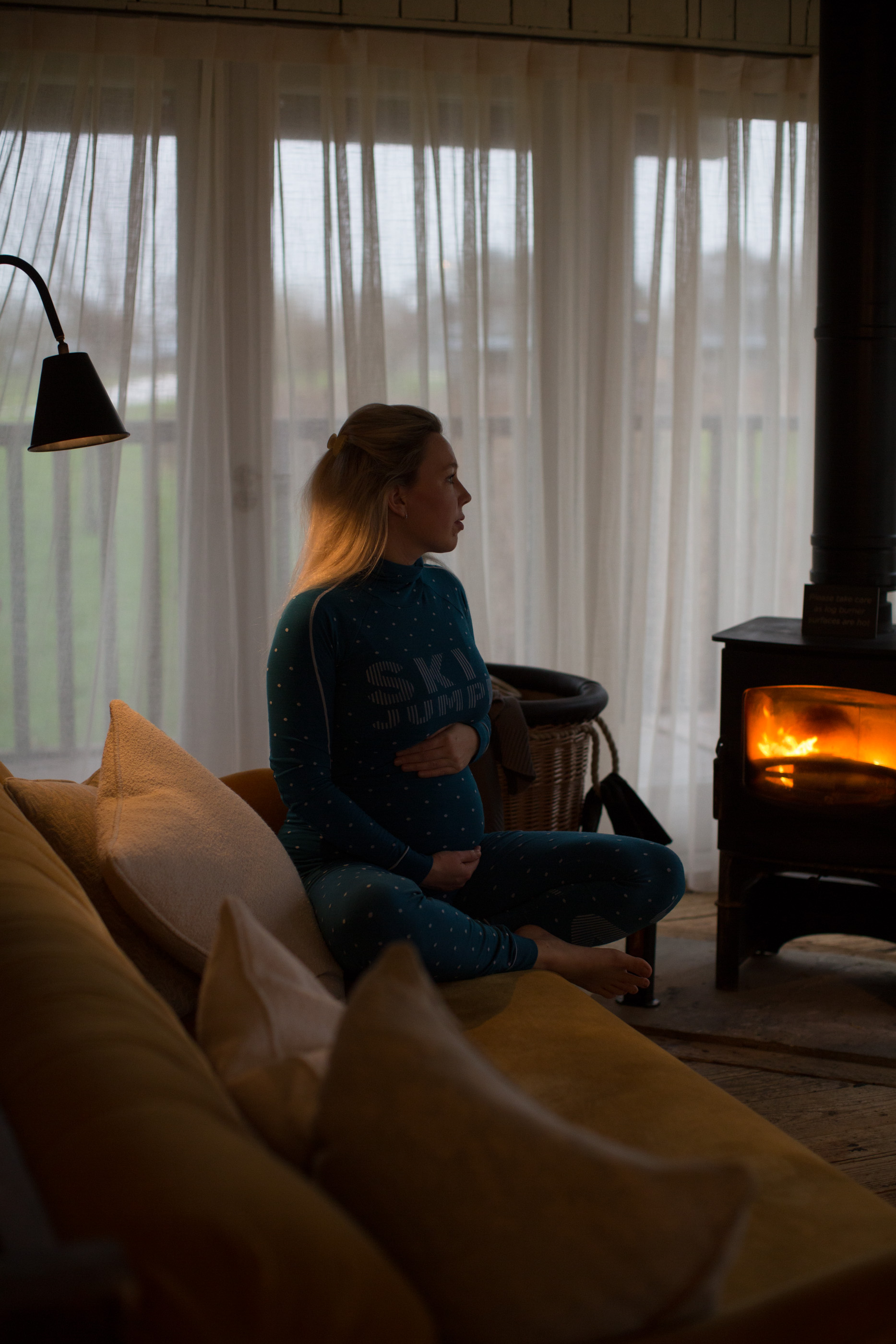 ---
Photos Taken at 17 Weeks Pregnant (The Week it 'Popped')
–
As I get this post ready to publish nearing the final weeks of my second trimester, it's fair to say things have been much rosier since I wrote this journal and my first trimester anxiety.
In fact, telling my family, then having our 12 week scan (the first time someone actually confirms officially you are pregnant, which felt to me like madness!), seeing the baby on the screen wriggling and real, and indeed writing the above (only in my phone notes for myself to try and clear my mind) truly helped evaporate so much of my pregnancy anxiety and constant over thinking.
And funnily enough after I wrote this post my colitis did in fact flare up, giving me something to actually worry about and focus on fixing between 10 and 12 weeks – almost ironically this too helped ease all my unnecessary anxieties.
–
PREGNANCY ANXIETY. SOME ADVICE …
–
If you're reading this now, in your first trimester, or in fact at any point in your journey and are feeling the same level of incessant mind chatter and deep anxiety, I truly urge you to speak to someone (or journal – it helped me endlessly).
I waited until the booking appointment to tell my family, thinking at that moment they'd confirm I was pregnant, that everything was okay and all would be rosy – but they don't, they don't even confirm you're pregnant and they can't tell you when it's okay to share your news. That really is up to you. For me that felt like a lifetime of mental isolation. To wait until 10/12 weeks is such a long time to sit with all those emotions, thoughts or worries, and of course JOY, and having the support of a trusted community in those early weeks would have been so hugely valuable. It's a magical magical moment, and of course there are risks that reduce significantly after 12 weeks, but the reality is you don't want to be alone either way, in the joy or in any sorrow if that were to happen, the support from a loved one is invaluable, whether it's a friend, a parent, or just someone you trust and can talk to. Looking after your mental health as much as your physical health throughout pregnancy is vital.
The one other thing i'd also add is that no pregnancy, no journey to or throughout pregnancy is 'normal' or the same, each is unique, each is different, and so try not to get stuck in comparison. Whether that's the conception journey, your first trimester symptoms, or everything else throughout for that matter – there isn't a one size fits all. For most of us, the more you google or compare your experience, the more panic and worry it can create. But the truth is your journey is your own and that itself is half the wonder and beauty of it.
My final thought is, everything is a phase. I think the key is to be present and really look after yourself, both mentally and physically throughout. It's a wild and wonderful journey.
–
–
I decided to share this entry despite it not being intended for anyone other than me, as I would have actually found it helpful to read something like this in those first 12 weeks. I was paralysed by my anxiety, and knowing I wasn't alone and that actually it was more than okay and indeed, would have been beneficial, to confide and share the wonderful news before that 12 week scan, would have been just the advice I needed to hear. It wouldn't have jinxed anything, it would have been support I needed regardless, and it might actually have stopped all that unnecessary anxiety, and saved my mind a little.
Also the first 12 weeks anxiety was also a big part of my journey, and so I want to reflect and remember all of this experience, in all its beauty.
I plan to continue sharing more of my pregnancy journey, I started journalling in a pregnancy diary from about 17 weeks pregnant (too scared to start sooner – another 'DOH'), and it's amazing how my emotions and symptoms have changed so much since those early days.
The first 10/12 weeks really do feel like a lifetime ago, and as we've now (finally) told everyone and passed some pregnancy milestones (the two scans do feel like big milestones, and of course now there's a real bump and wriggles happening on the daily) the whole pregnancy feels real, exciting, and as if it's finally transitioned from a concept to reality. I'm now starting to really think about our babies arrival and the next chapter of our lives.
I am looking forward to sharing more of these journal type posts with you throughout (they'll all be saved in my new MINI MARMALADE category) – including a bit of a 20 week reflection following my scan a few weeks back which I plan to share shortly, and a few of my first 20 weeks essential buys too.
I also just did a little Q&A on instagram, which i've saved as a highlight in case you're interested too.