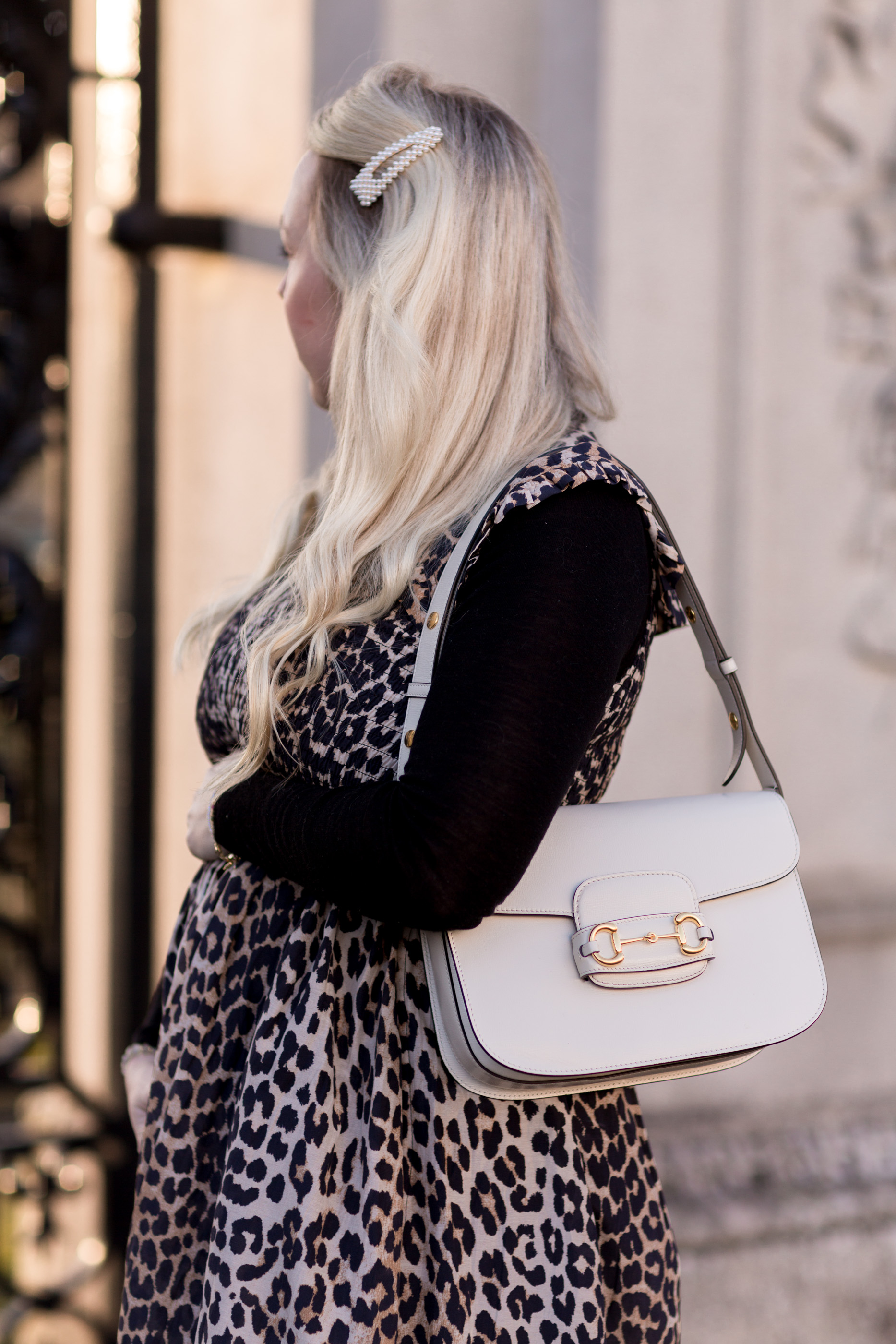 ---
MATERNITY STYLE
Maternity Style & Clothing Investments That Will Last Beyond Pregnancy 
---
Maternity clothing, despite pockets of 'okay' pregnancy fashion, typically doesn't get my juices flowing. I love bold, fun fashion, and more often than not I find the maternity options to be somewhat plain jane and a little unexciting.
In fairness, i've not sought out a maternity wardrobe (aside from some essential maternity bras & a couple of pairs of maternity jeans and dungarees which I would have bought myself, but friends have kindly lent me) so the world of maternity clothing may well have evolved beyond my preconception. But regardless it's not something i've particularly invested in and it's not something I really plan to either.
You see, my experience so far, and plans and hopes for the third trimester is really to keep my maternity style consistent with my non maternity style – I plan to keep on wearing my favourite oversized pieces that still fit and offer that extra room for bump (including more low key looks consisting of my yoga leggings and knitwear collection ), or where necessary investing in bump friendly non maternity pieces from my favourite brands – pieces that I would have bought normally but that just happen to work with a baby on board.
So far it's worked well and with a few new recent oversized midi dress purchases (including this Ganni dress which has been on my wish list for some time anyway), i'm pretty certain i'll be set for even those final few weeks of expansion.
---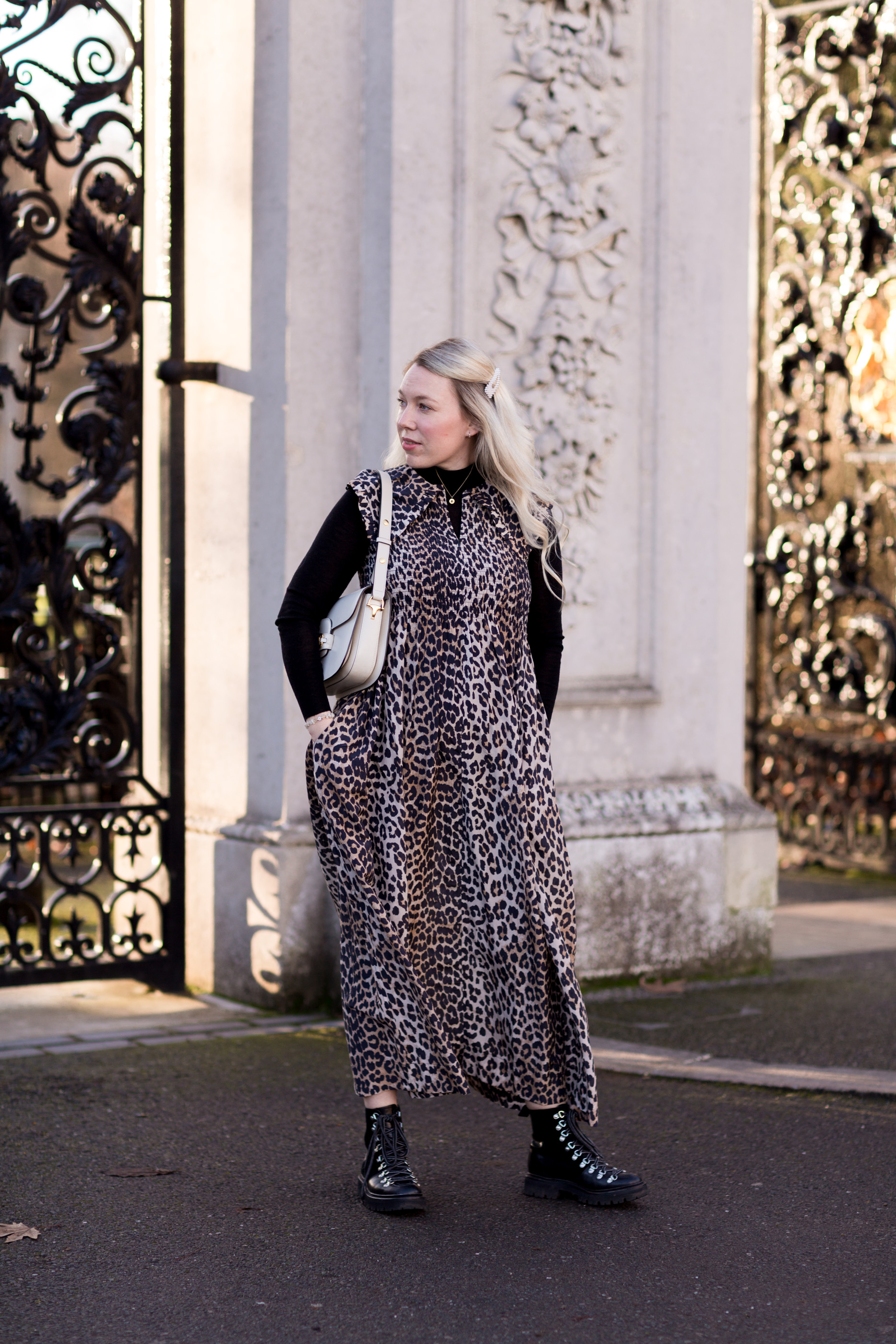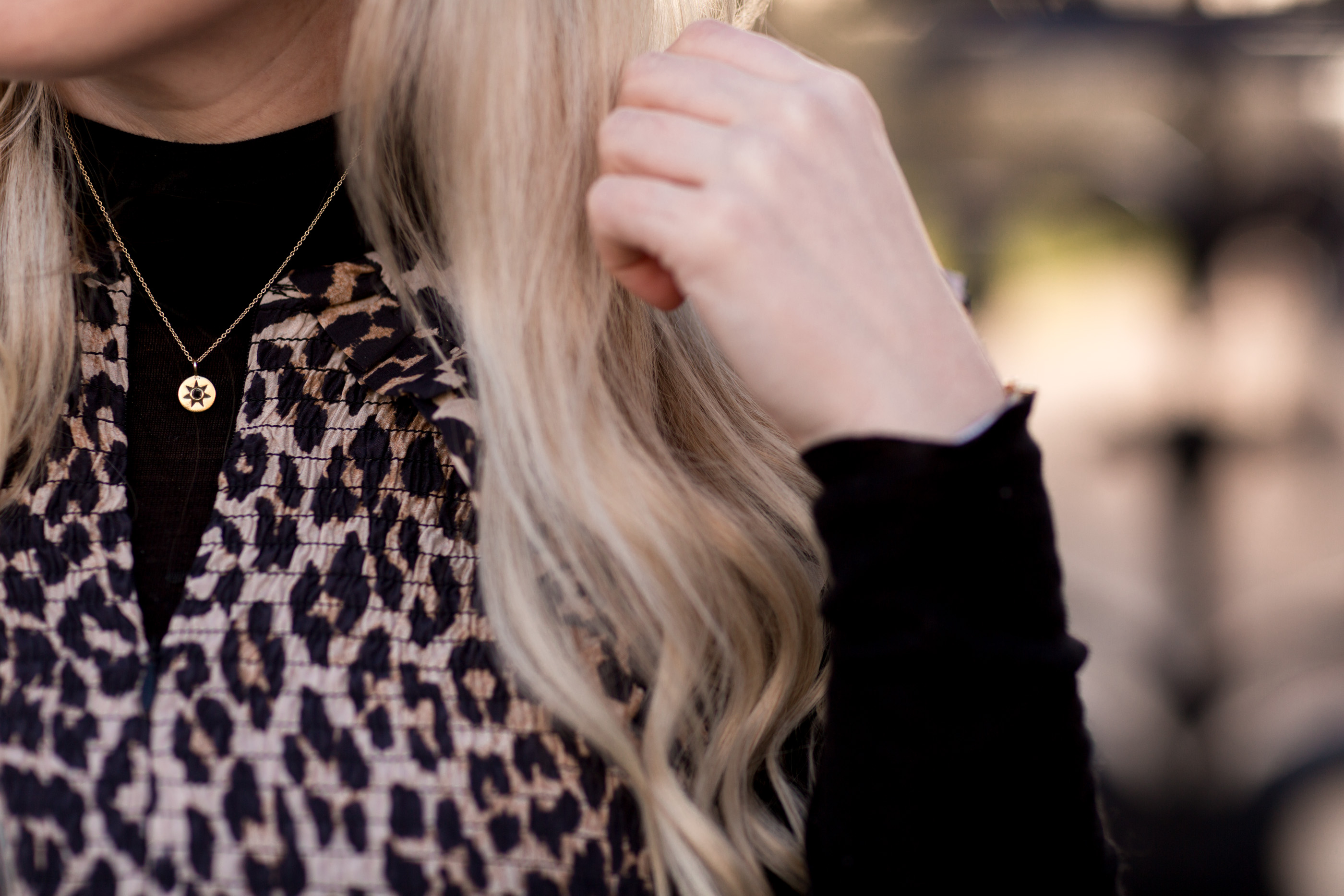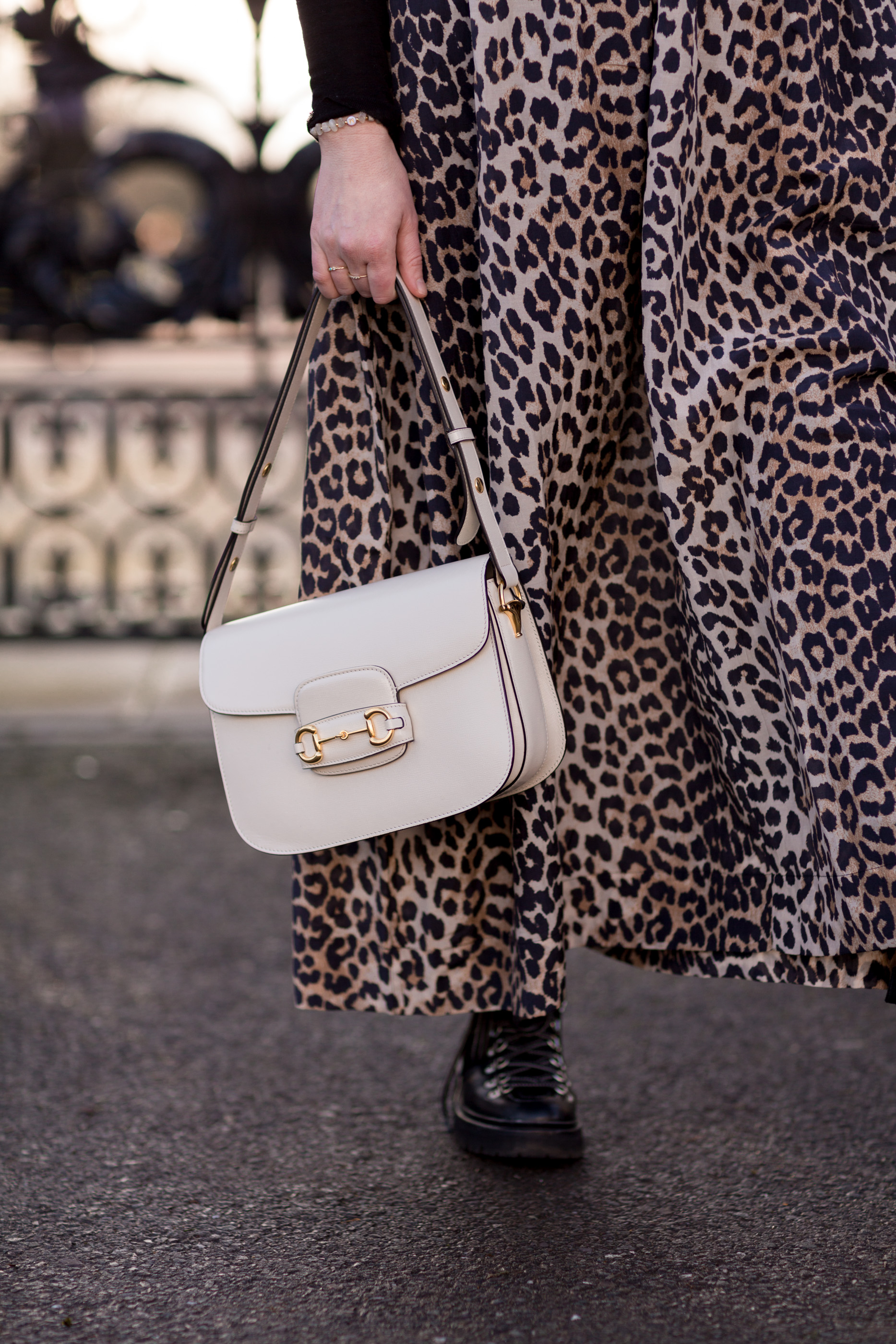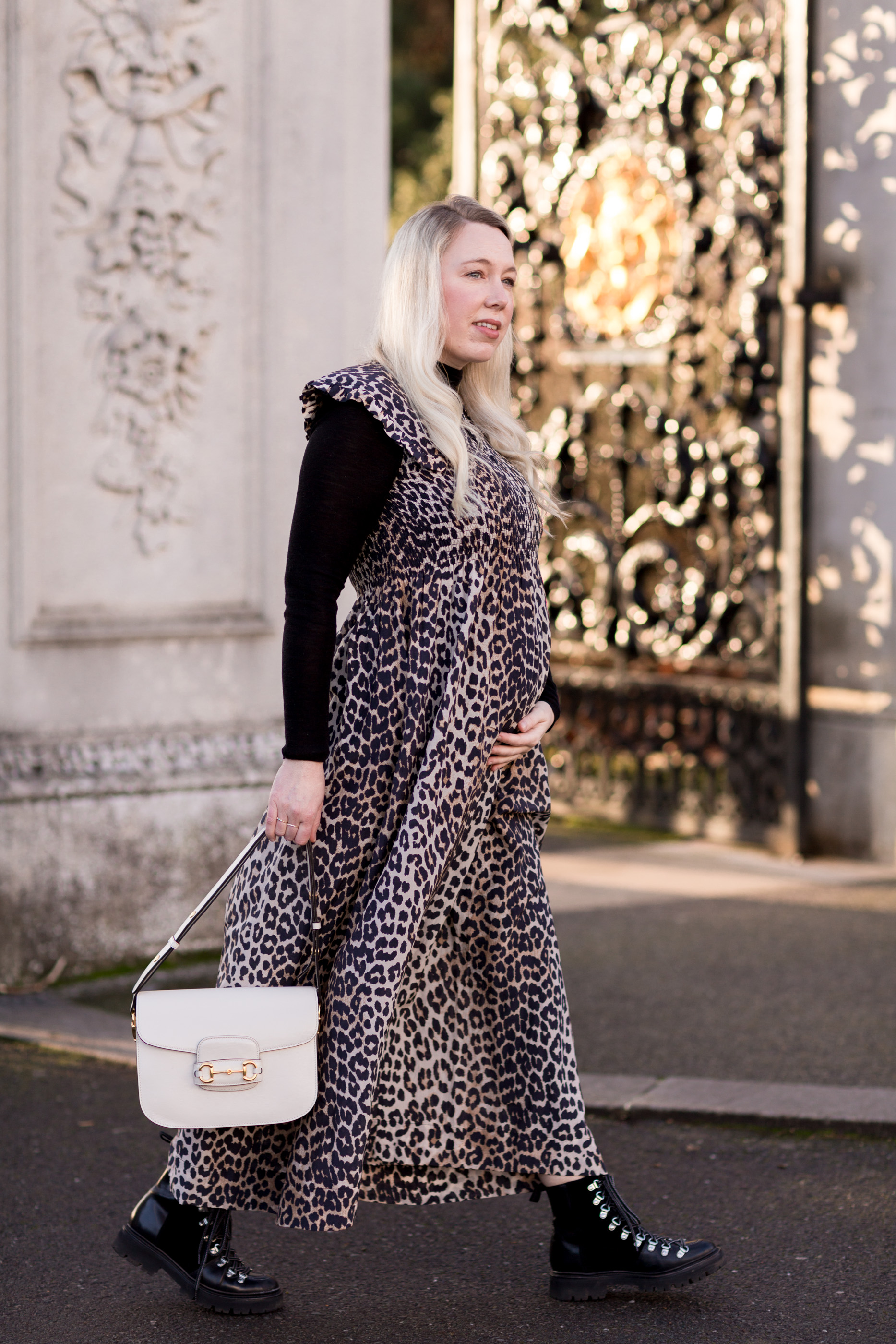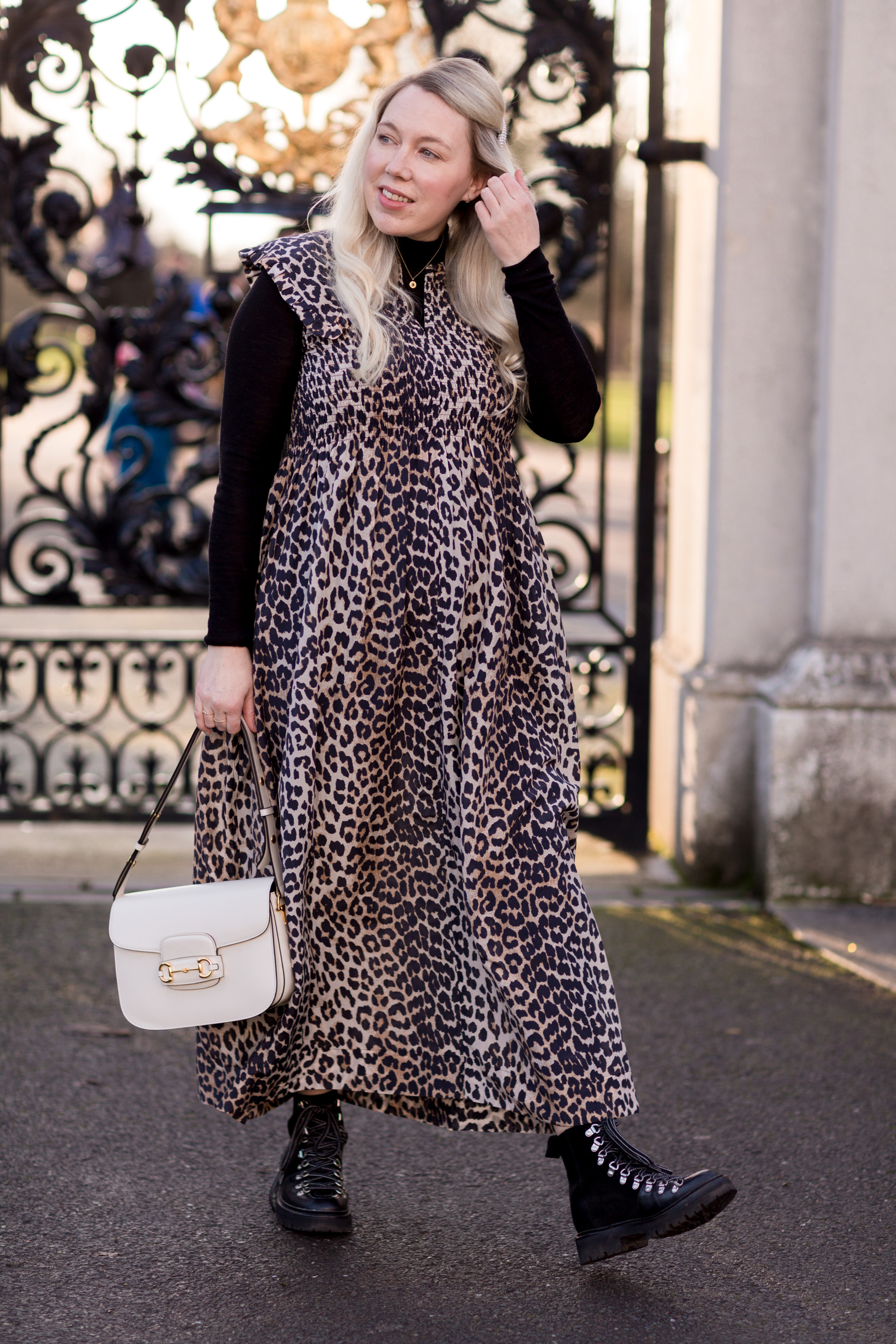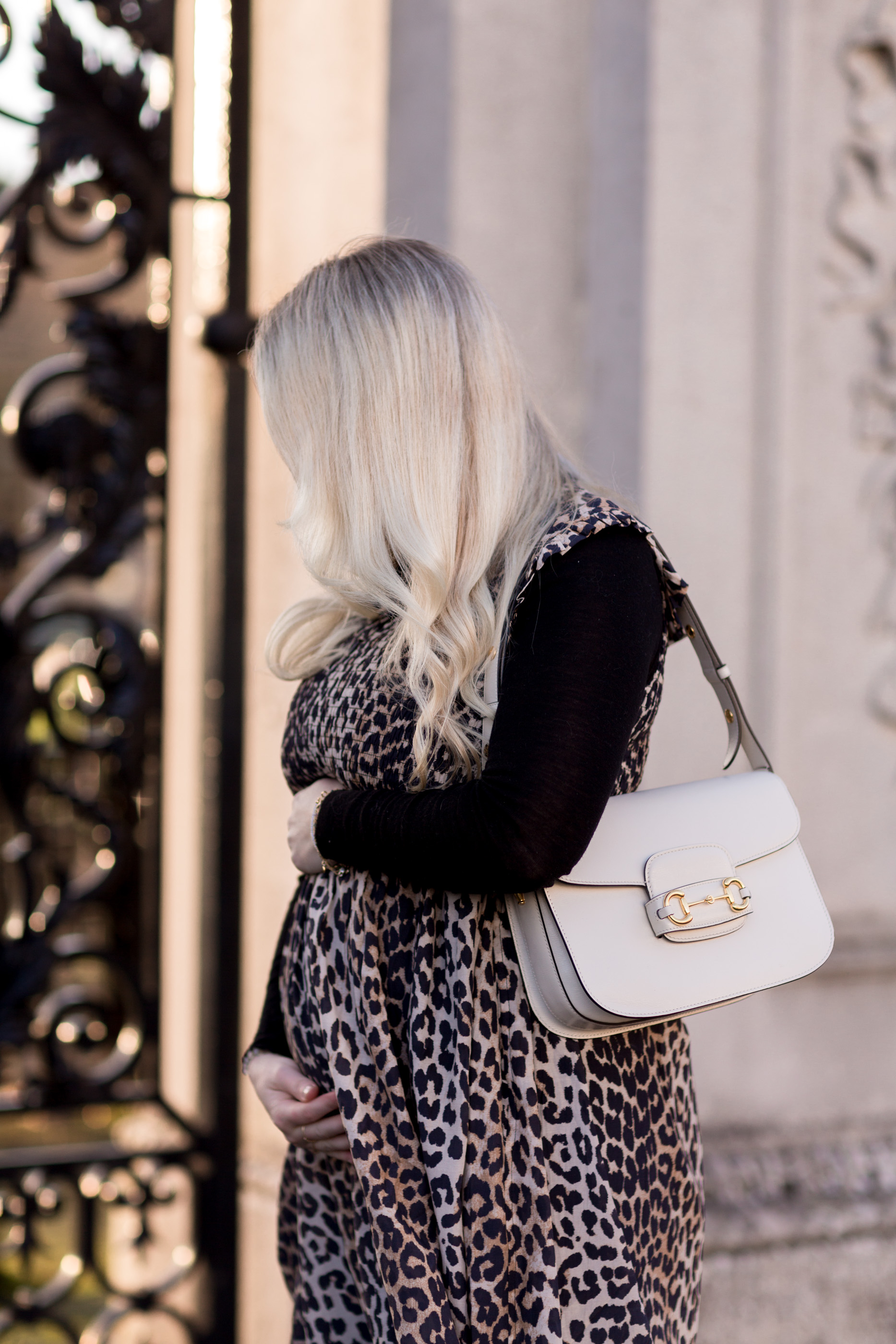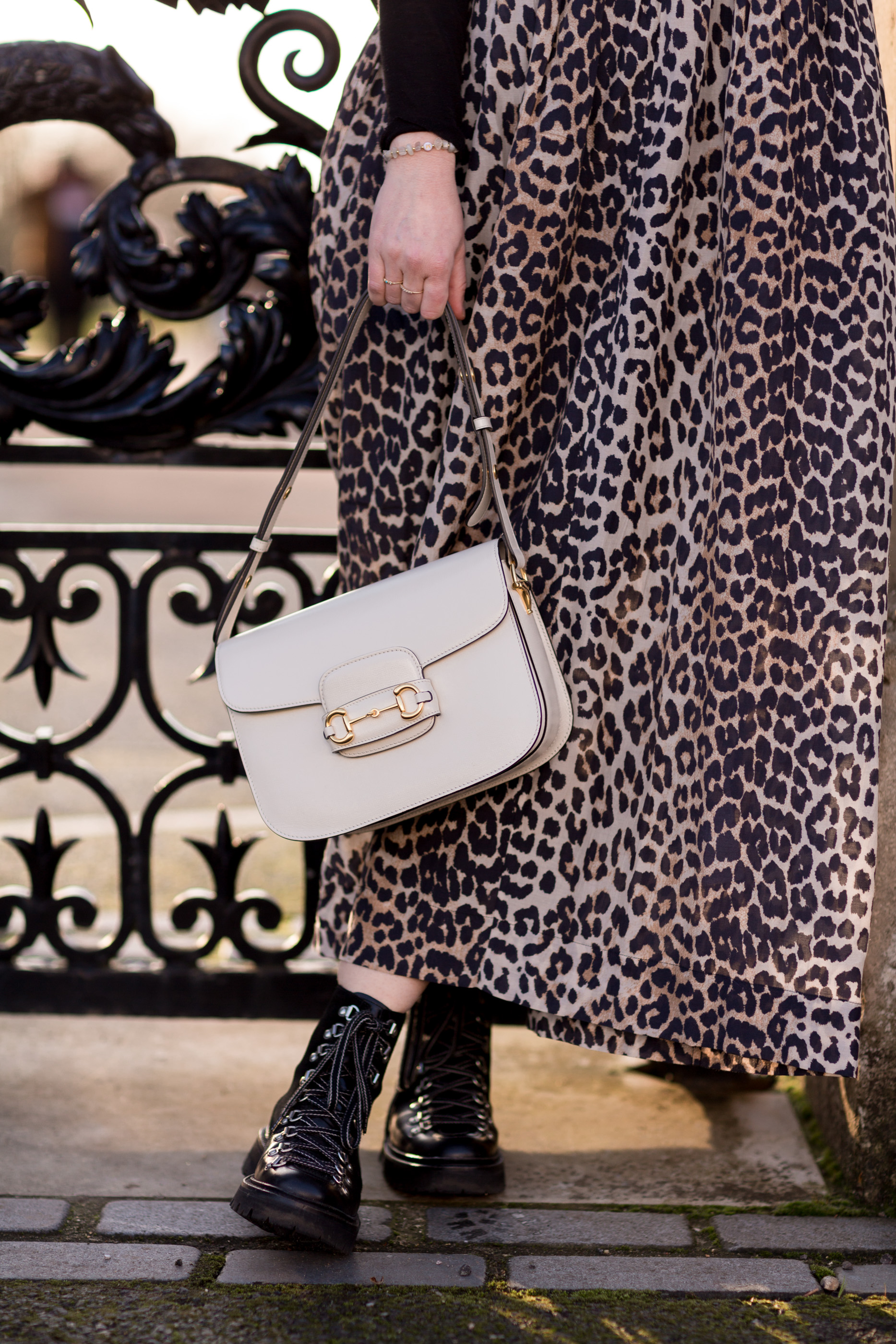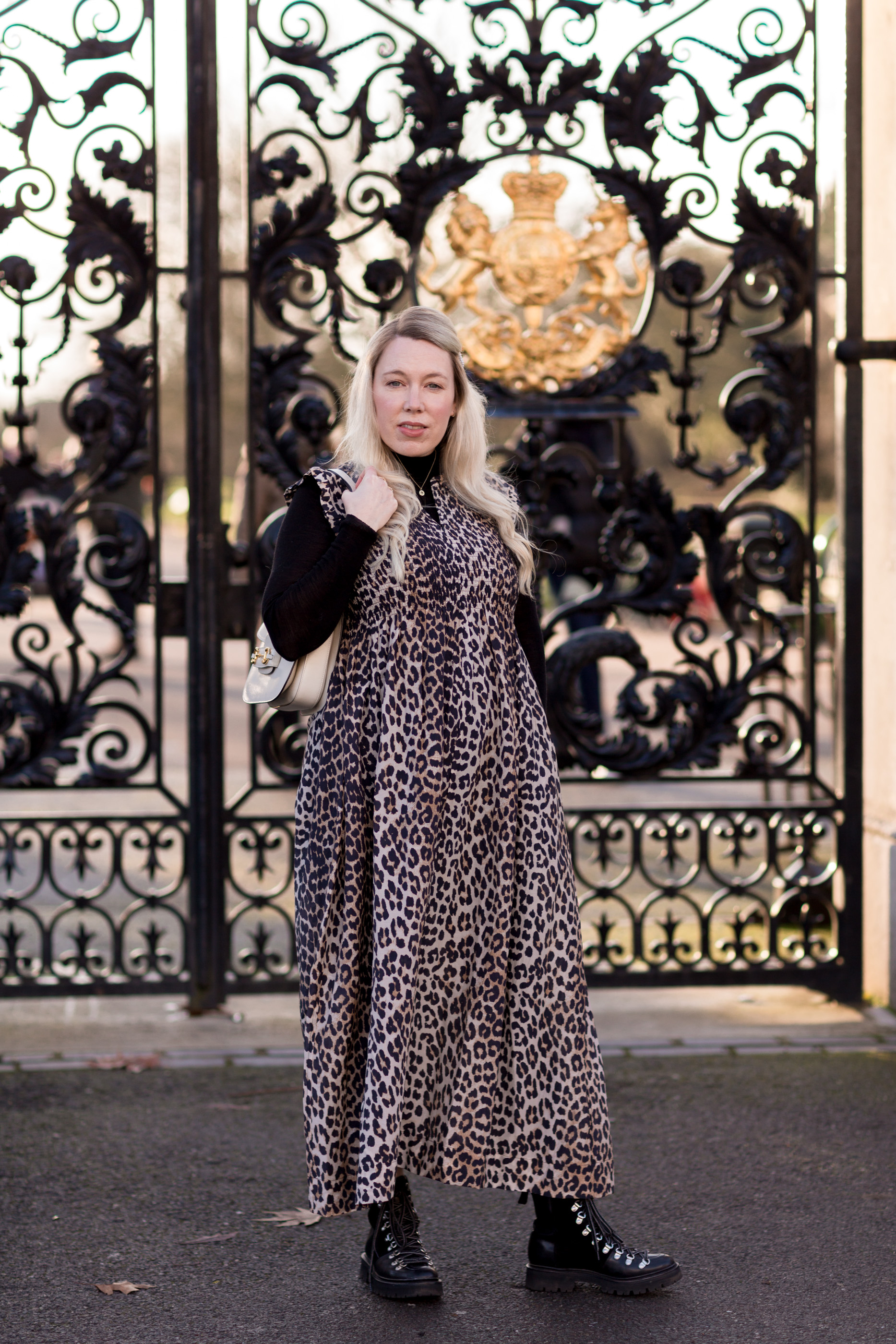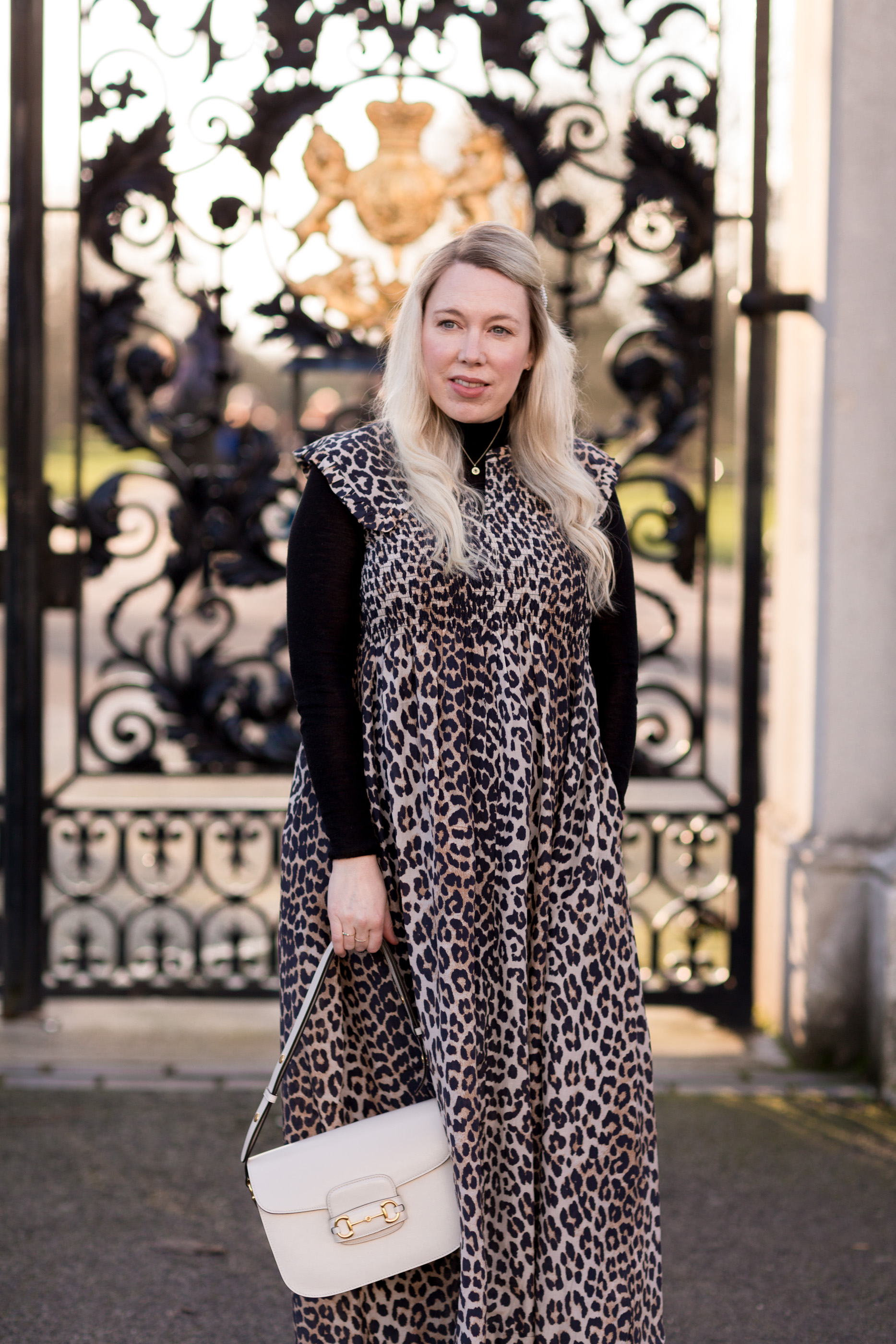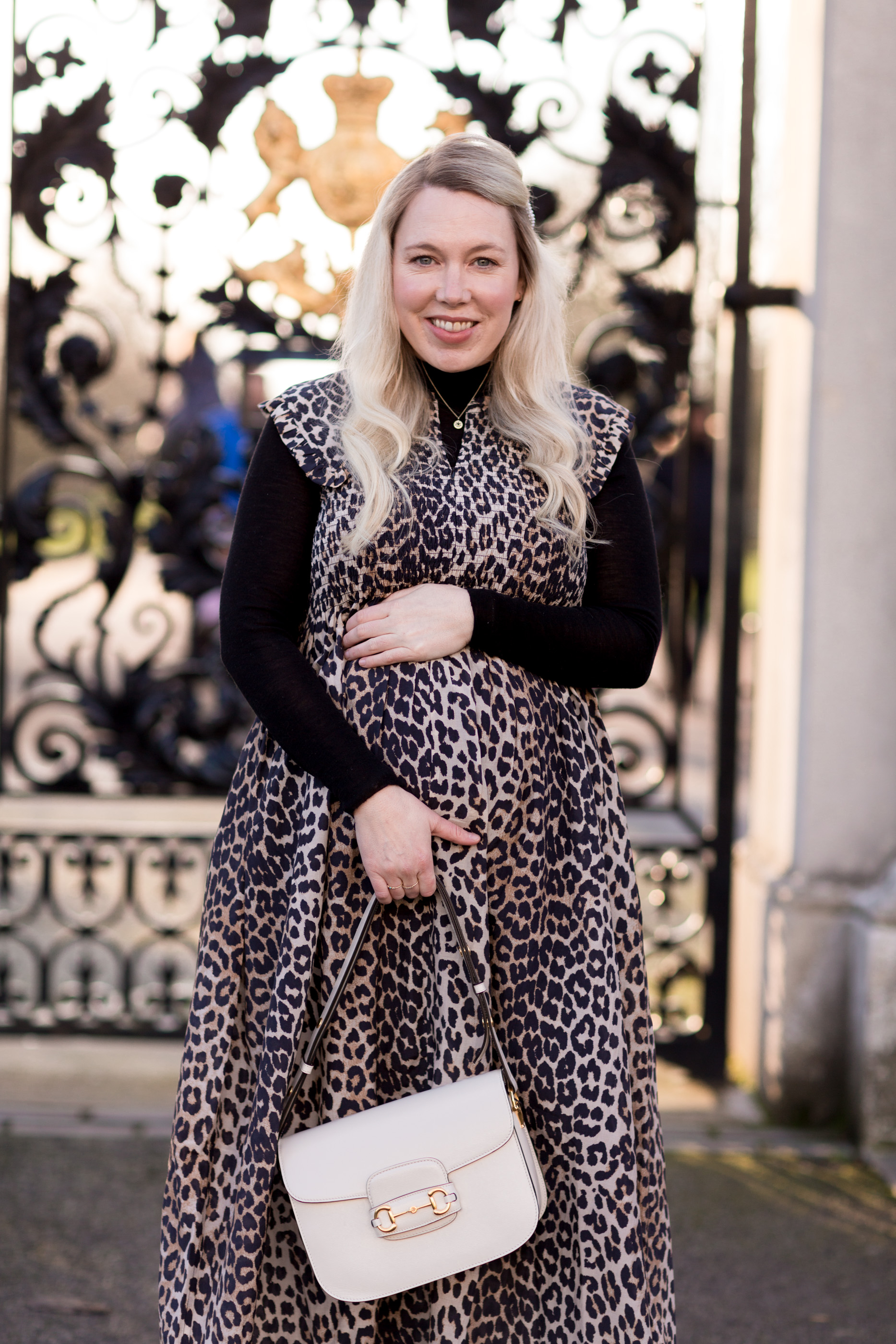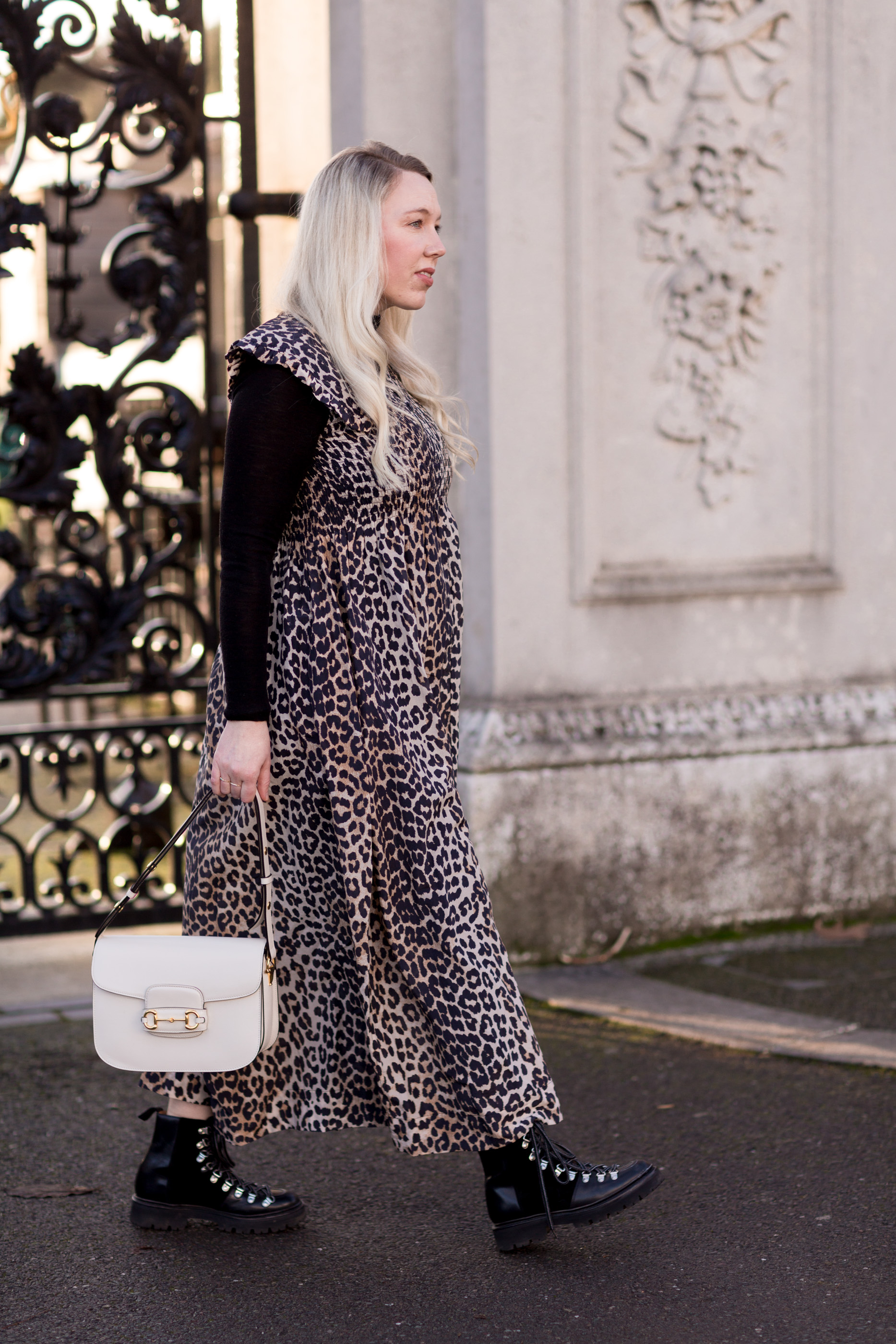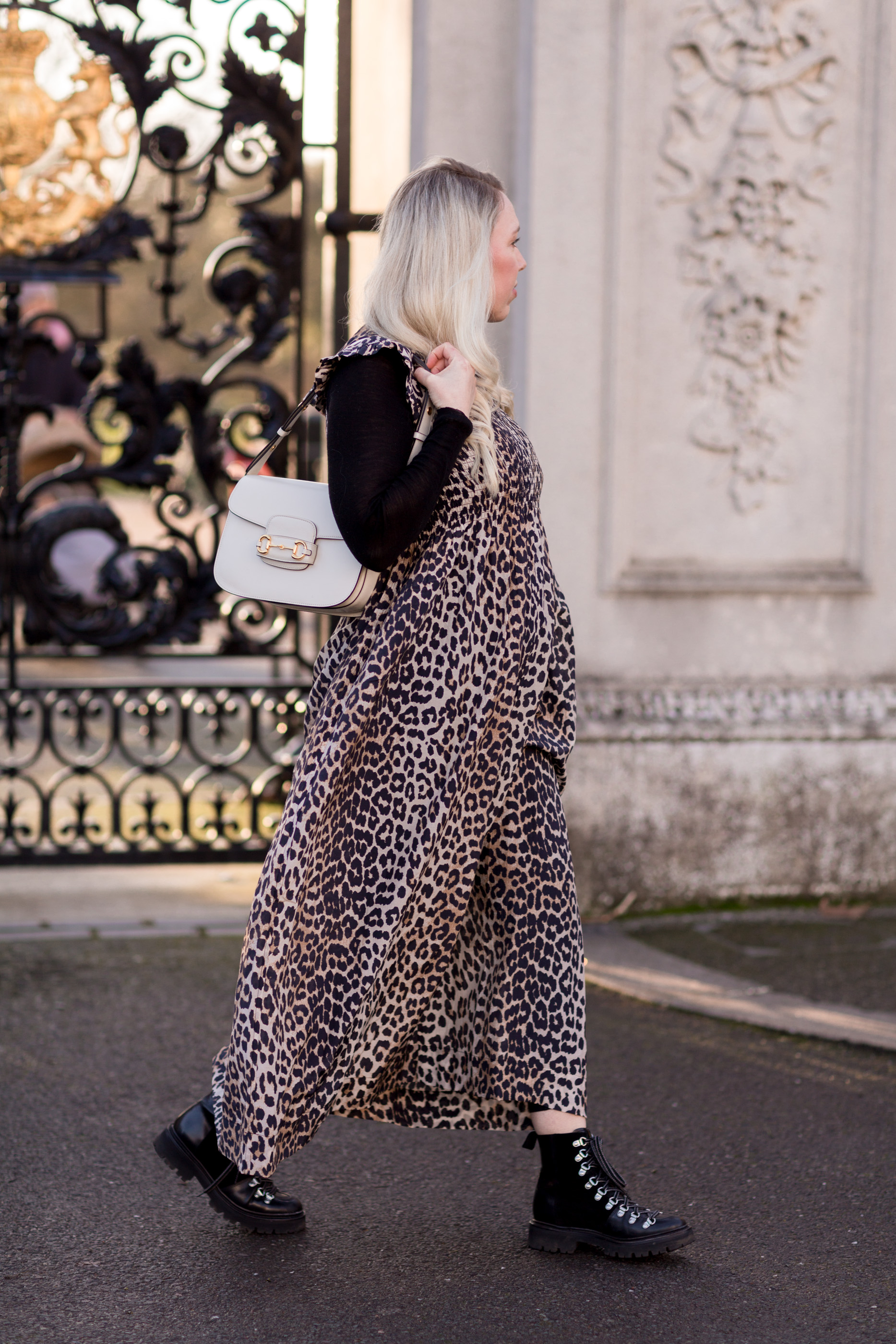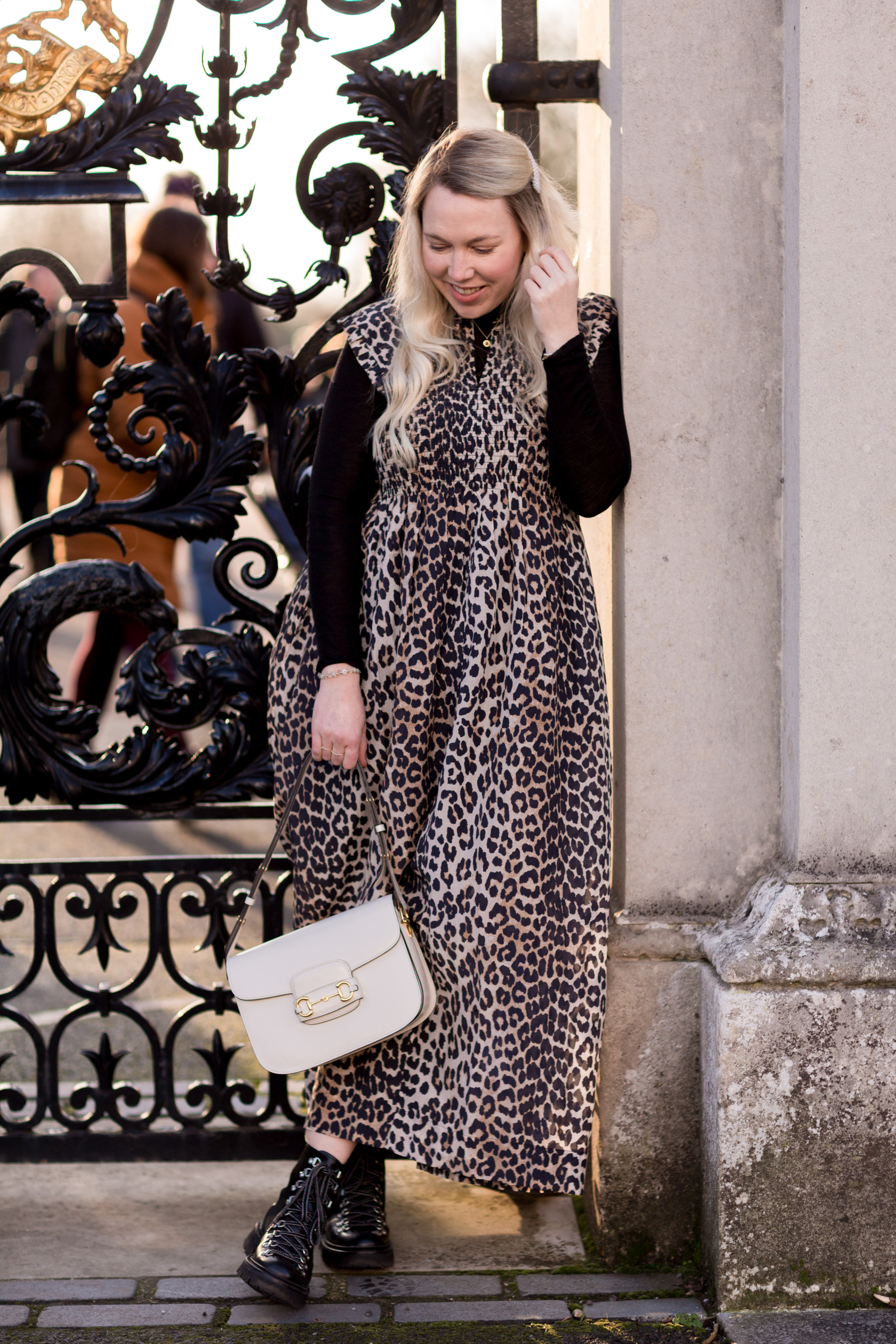 ---
MY MATERNITY STYLE

---
Of course there are many pieces in my wardrobe that absolutely are a no go, more dresses than I realised have a fitted waist which means they're sadly going to be in storage until post bump, alongside all my normal jeans, but on the other hand all my oversized jumpers and maximalist midi dresses that my wardrobe is packed with are all proving extra worthwhile right now.  Just a little browse of my outfit posts and you can probably already see the many bump friendly pieces I happen to already have.
I have of course taken liberty of the opportunity, and invested in a couple more dresses that I know will see me through to the end of May – with a big bump and probably a spring heatwave like we keep seeing. But those pieces I've bought in my usual size, and really just made sure they have the capacity to accommodate baby as they grow.
Ganni is one of my favourite brands which I'm sure you all already know, and many of their dresses are deliberately oversized and untailored, making them a perfect option. I've also recently discovered Kitri Studio and again, invested in a few dresses (in my normal size) which I adore and know will work with and without a bump.
Whilst i've found the styles that still work, i've also found those that don't – anything too skimming off the boob I have to go careful with. Now my boobs are 10 times the size I have to go careful not to look like Violet Beauregarde from Charlie and the Chocolate Factory post that blueberry pie gum (a big round ball).
–
Maternity style is a game of trial and error, but one thing is for certain, despite there being many pieces in my wardrobe that won't work for the next few weeks and months, there are still plenty of options that will. And it's those styles and cuts I'll continue to invest in regardless of pregnancy, rather than for buying clothes for pregnancy, to see me through life with bump.