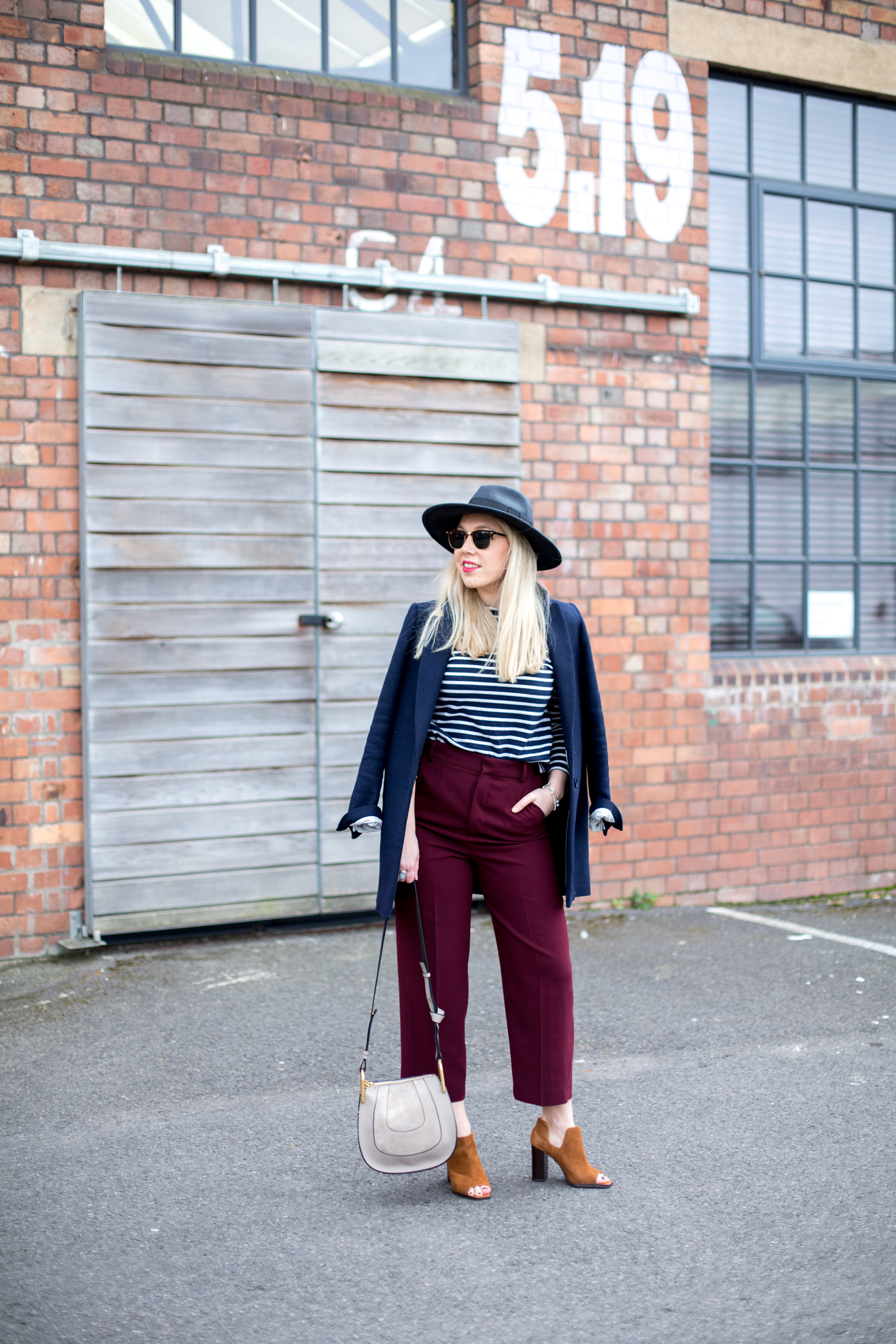 ---
THE BEST TIME TO START IS NOW …
---
Friday is usually the day we start to relax, drop our healthy routines & let go ahead of the weekend. It's a day that signals the end, not the beginning, but there's no reason Friday can't be the day you start, the day you start something new, the day you make that positive change. And so today I thought I'd share 5 healthy habits that you could start today, that will help lead to a healthier, happier day, every day.
---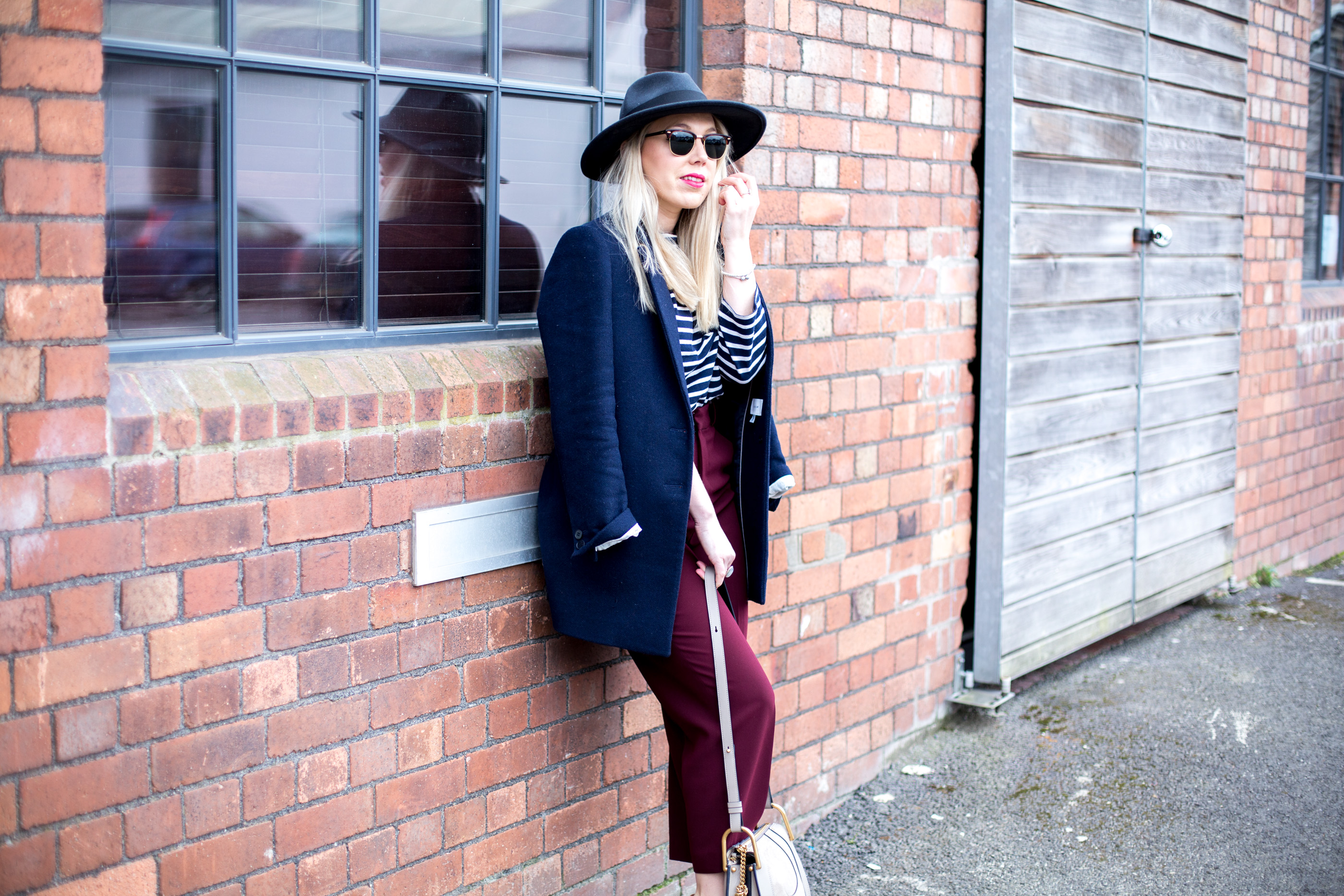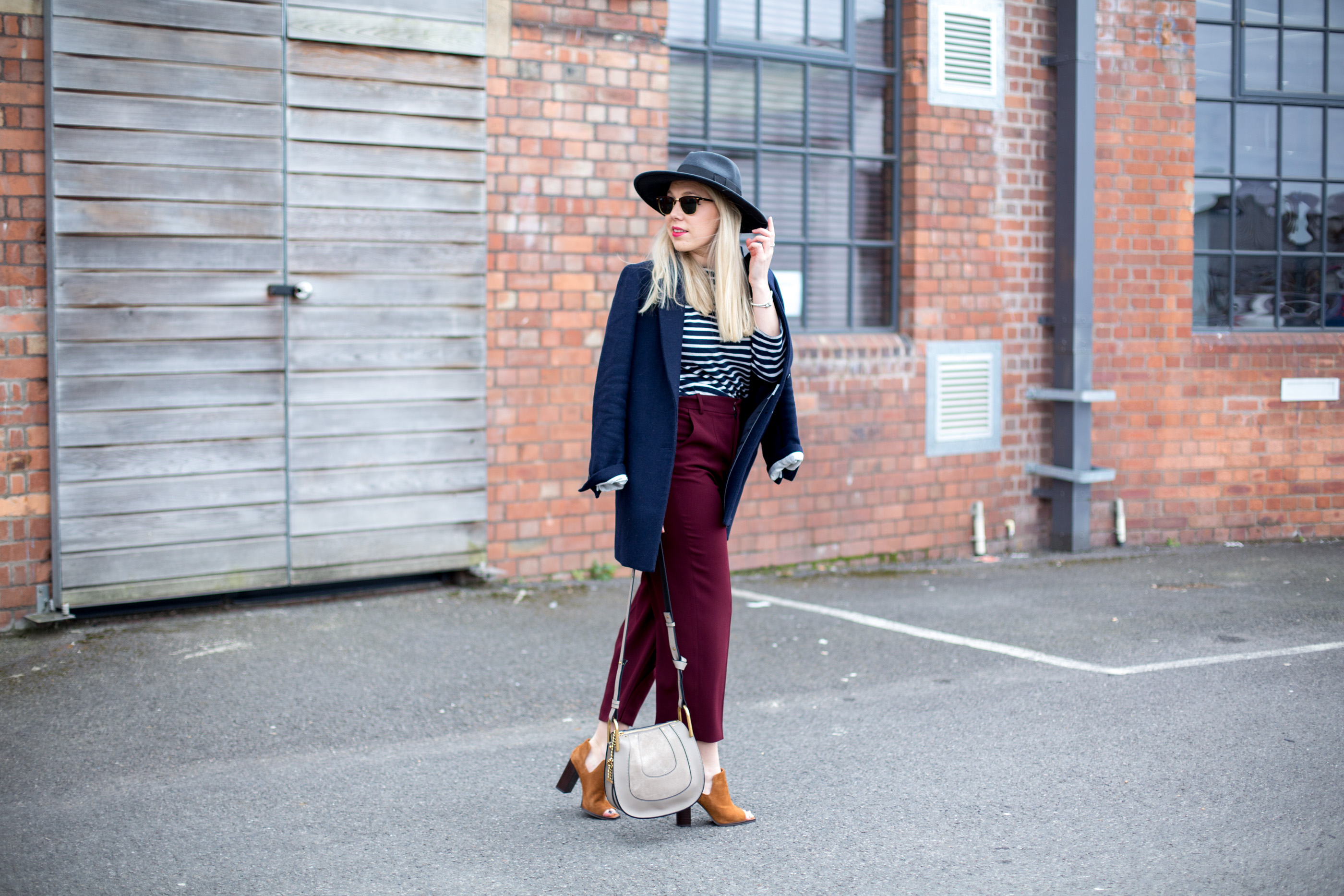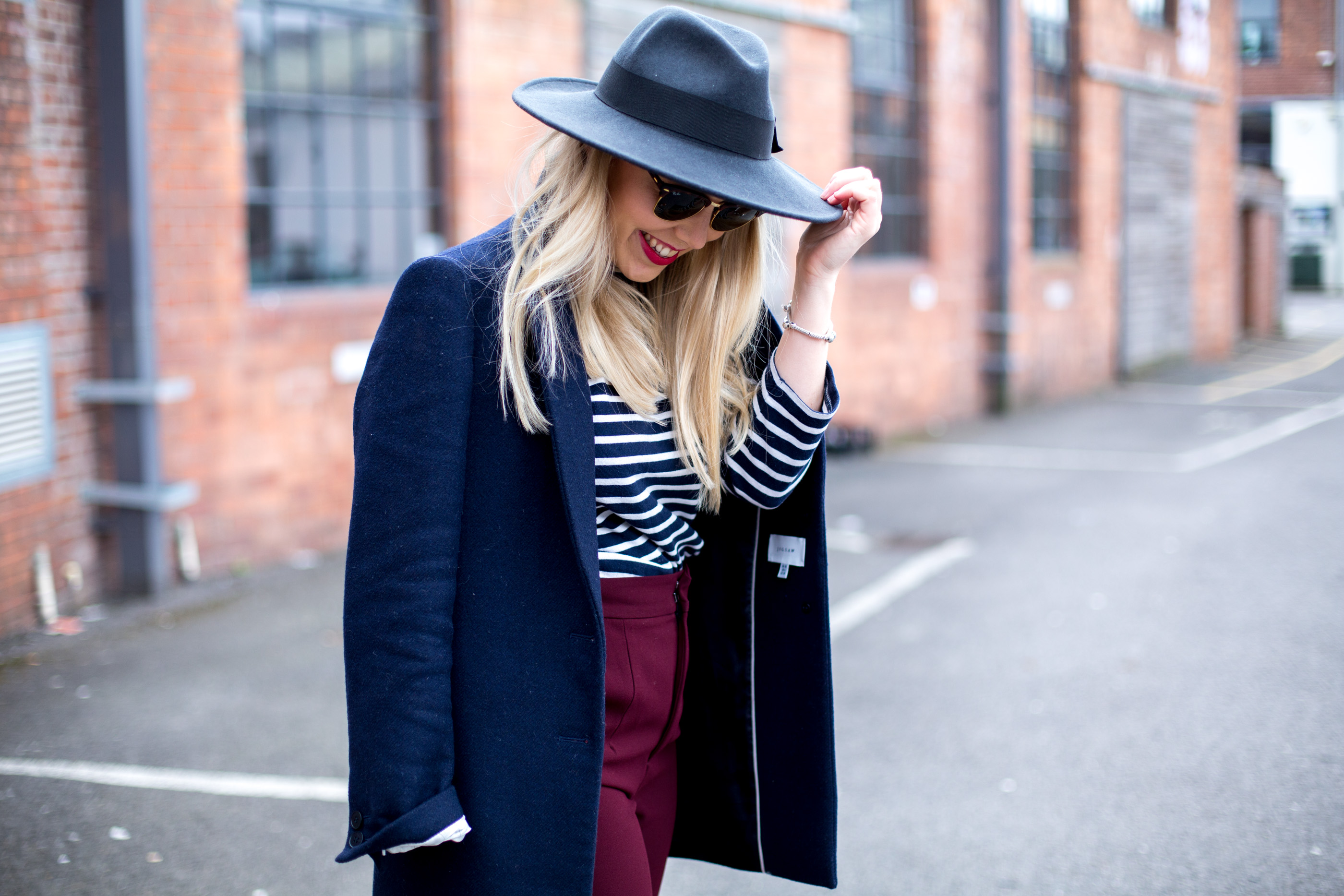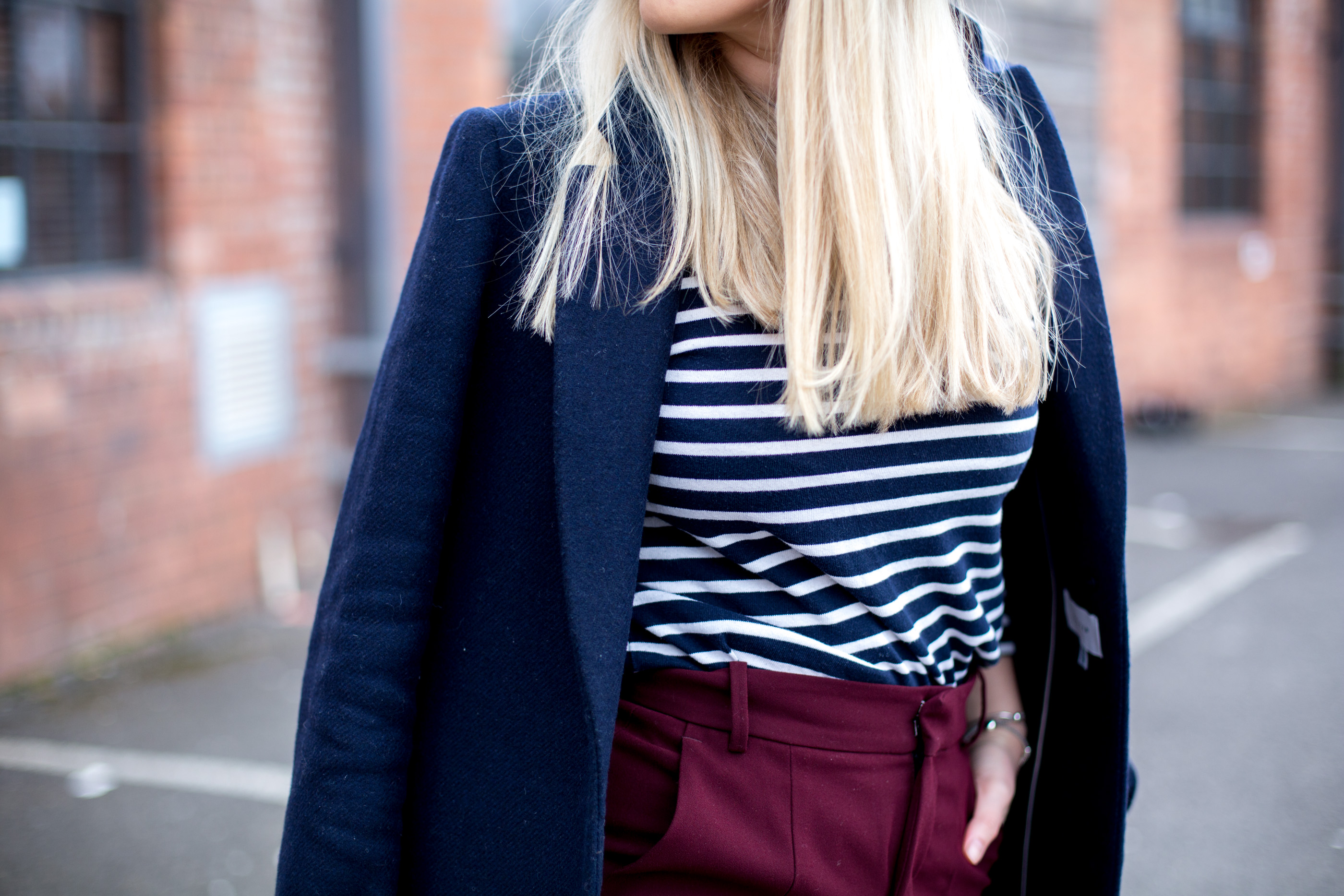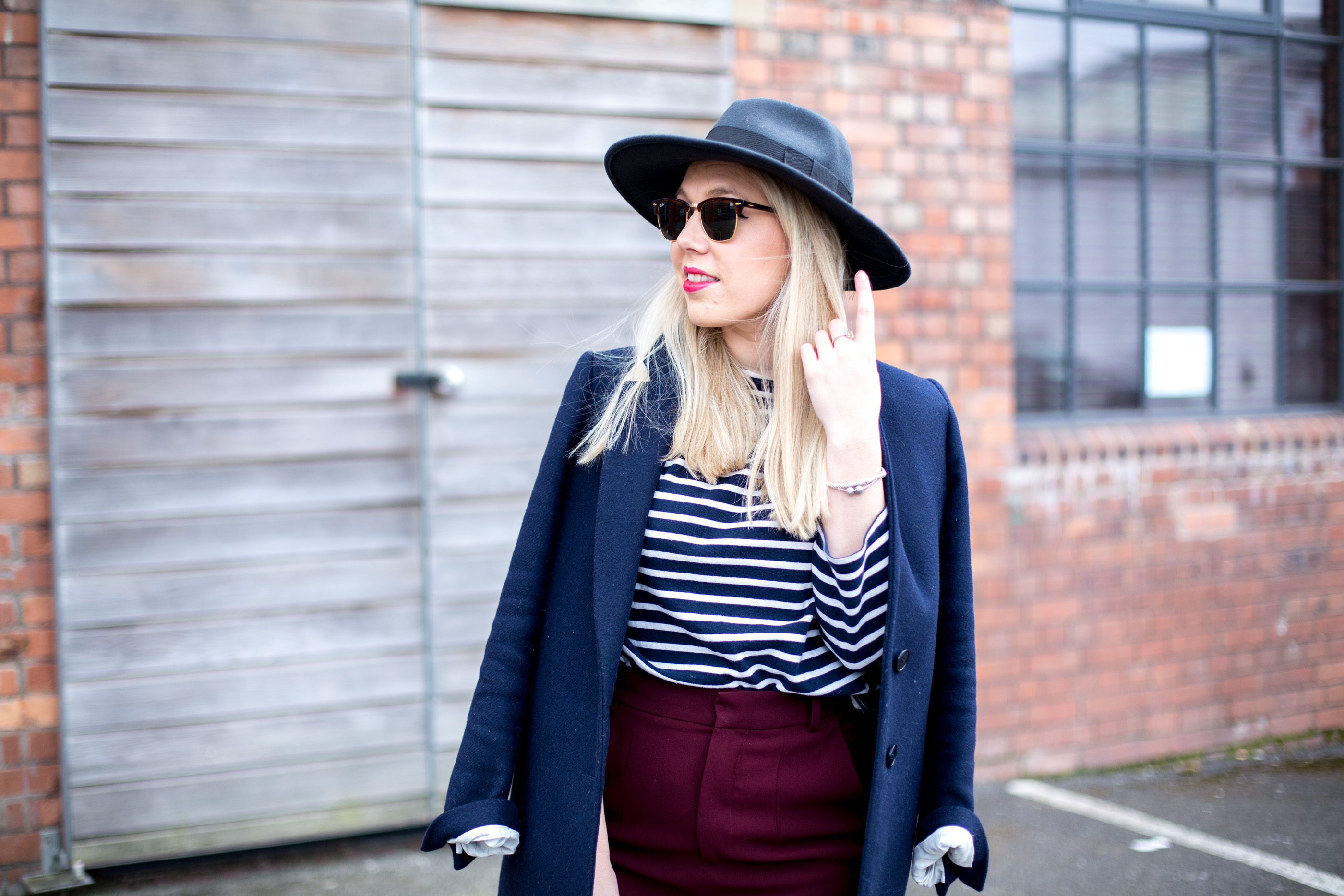 ---
5 HEALTHY HABITS YOU CAN START TODAY
Drink more water
First things first, if you're anything like me, drinking enough water each day is a serious battle. I'm constantly dehydrated and always forget to have a glass of water by my side. It's a very unhealthy routine to have, and something that is easily changed. Start today by getting yourself a nice reusable water bottle, and ensuring you top it up at the start of the day. Most of the time, if it's by your side you'll drink it, it's just remembering to get it in the first place.
Walk more often
Exercise and fresh are two things that immediately give you a little boost, but when we're busy or feeling exhausted from constantly running from a to b, we can forget to get outside, and actually breathe and walk. Cabs and tubes become the extent of your 'outdoor' life. So why not today, ditch the tube, the bus or the cab and simply walk. Skip the escalator and take the stairs. Pack some comfy shoes & just get outside.
Ditch your tech
As millennials we virtually sleep with our phones in our hands. When I recently was at a talk being hosted by Arianna Huffington she was talking about the importance of truly switching off in the evenings, giving your brain a rest from tech. She had made a pact to leave her phone outside of her bedroom, so that checking emails or scrolling news feeds wasn't the last and first thing she did every day. It's a small change that can lead to a super healthy long term habit.
Take a pack lunch
I'm a sucker for a morning coffee and an 'on the go' lunch, whether that's nipping to my work canteen or out to the nearest café to grab a salad or something, it's convenient and it's usually tasty. But you know what, it's expensive and it's probably far less healthy than a lunch I'd make myself at home. So why not make a healthy change today, that will not only save you money but maybe a few pounds too, ditch the take out coffee and pret lunch, and instead make yourself a delicious pack lunch & make a coffee at home for your commute to work (I use this for mine, it makes proper coffee).
Treat your body like your temple
By gosh we take advantage of our bodies sometimes, putting them through all sorts of strains & pressures on a daily pressure, whether it's a handbag that's far too heavy, stressing our minds out and causing migraines, or simply slouching & not looking after our core. It's easily said but spending a little time each day stretching, and relaxing your body and mind can do wonders for your health and happiness. Whether it's a 45 minute Pilates session once a week, a regular stretch away from your desk (stand up, roll your shoulders and take a brief walk in the office), a bit of time out or a serious #notsorry stress overhaul … every little genuinely helps. More than that … give your mind a time to relax, taking 5 minutes out to relax, practising a little meditation and mindfulness (I shared my tips on how to be more mindful this year & my tips for using your commute to be more mindful here). There are so many super easy ways to give your body a little more love than you currently do, and it can really make a whole world of difference.
---
 YOU MIGHT ALSO FIND THESE POSTS HELPFUL
. HOW TO CREATE GOOD HABITS & MAKE THEM STICK . HOW TO CREATE A HEALTHIER WORKING DAY . 10 MORNING TIPS TO HELP START YOUR DAY RIGHT .
---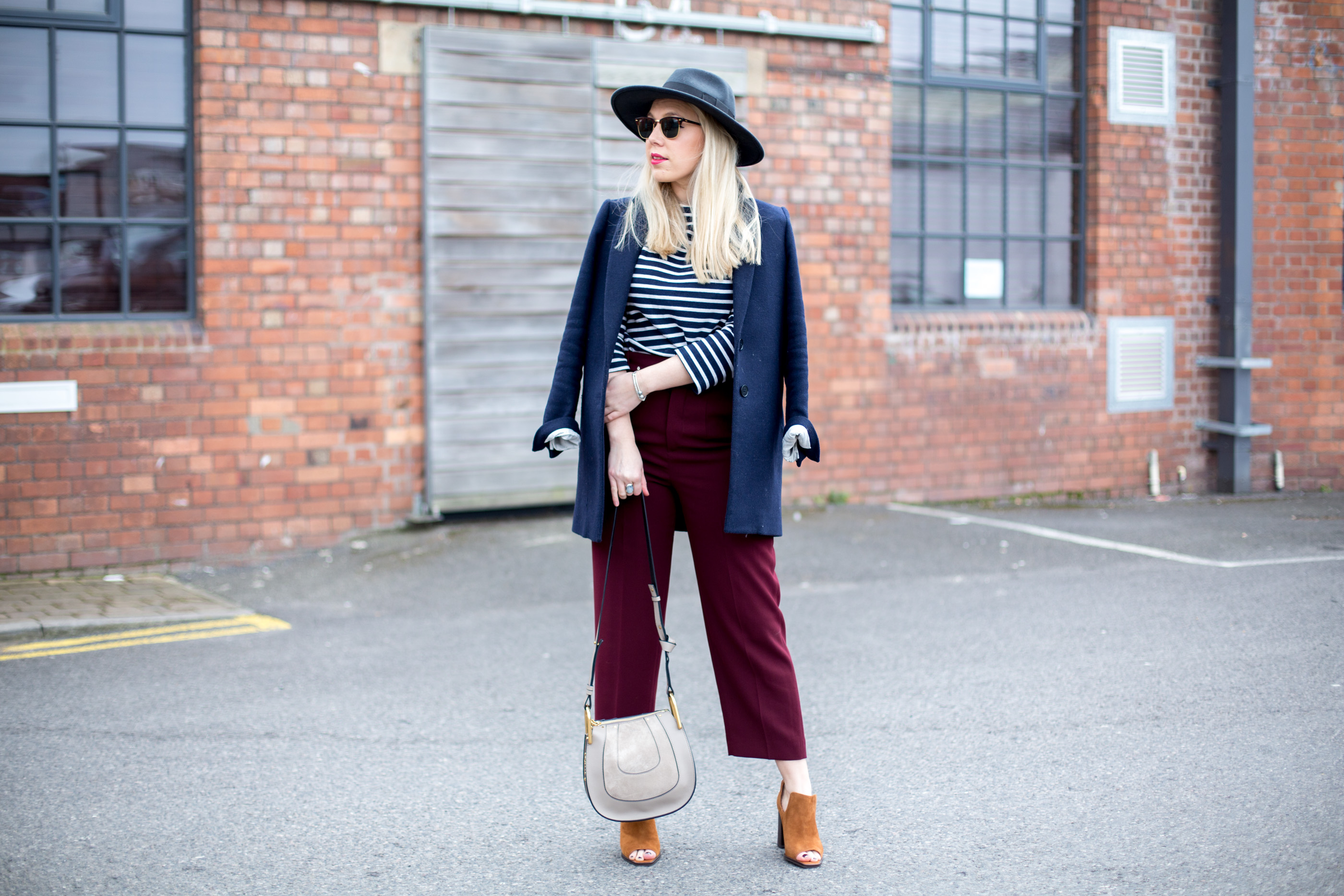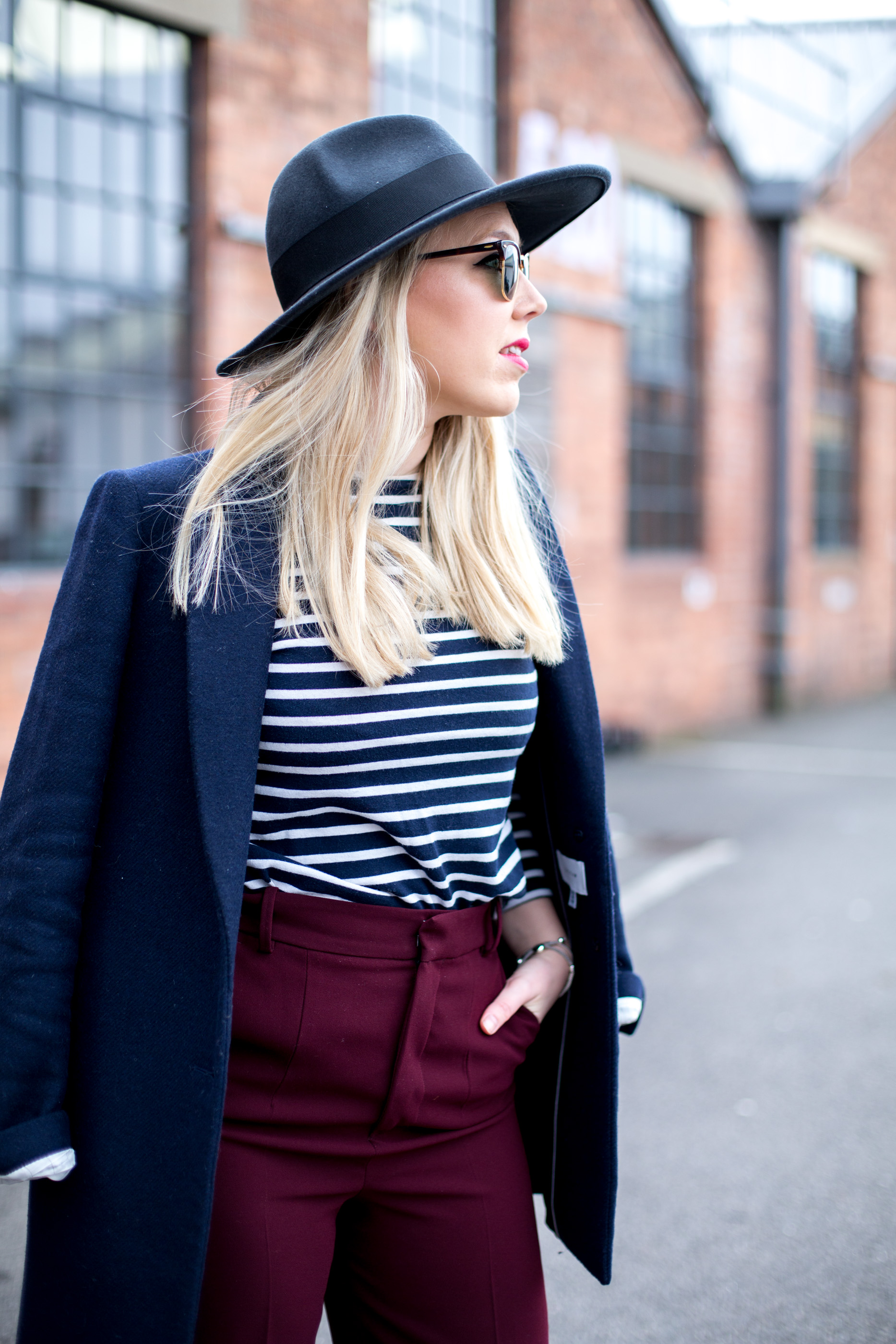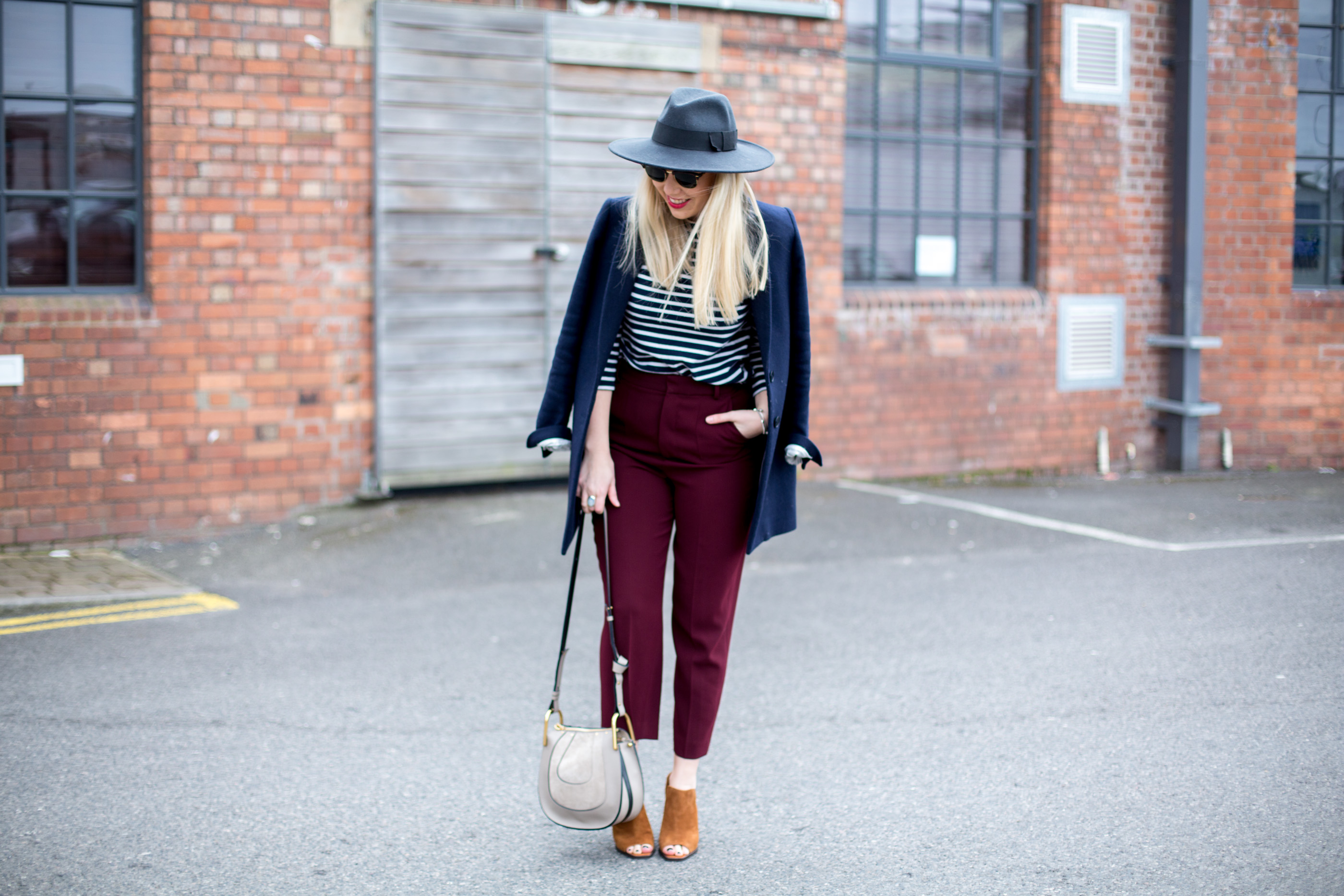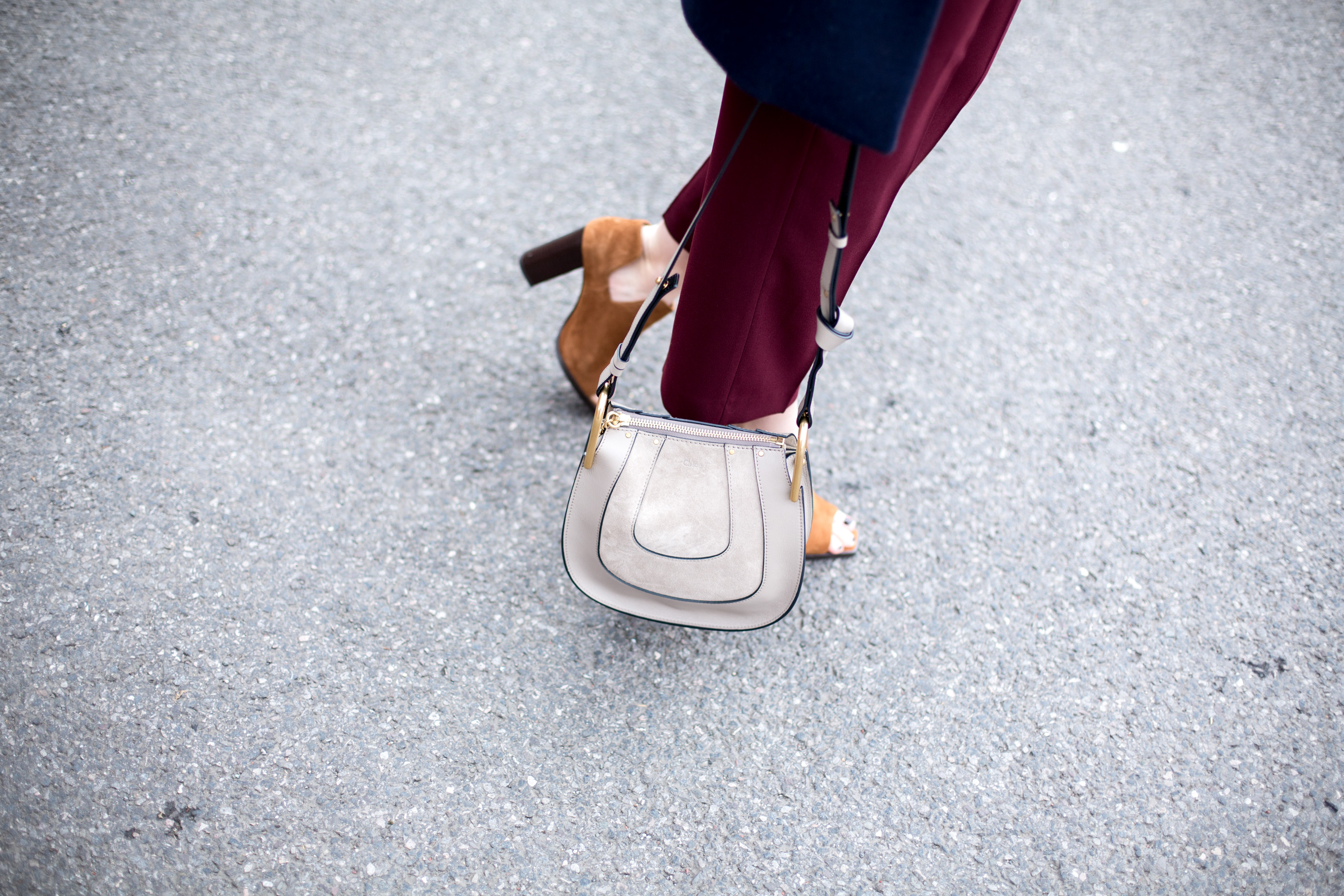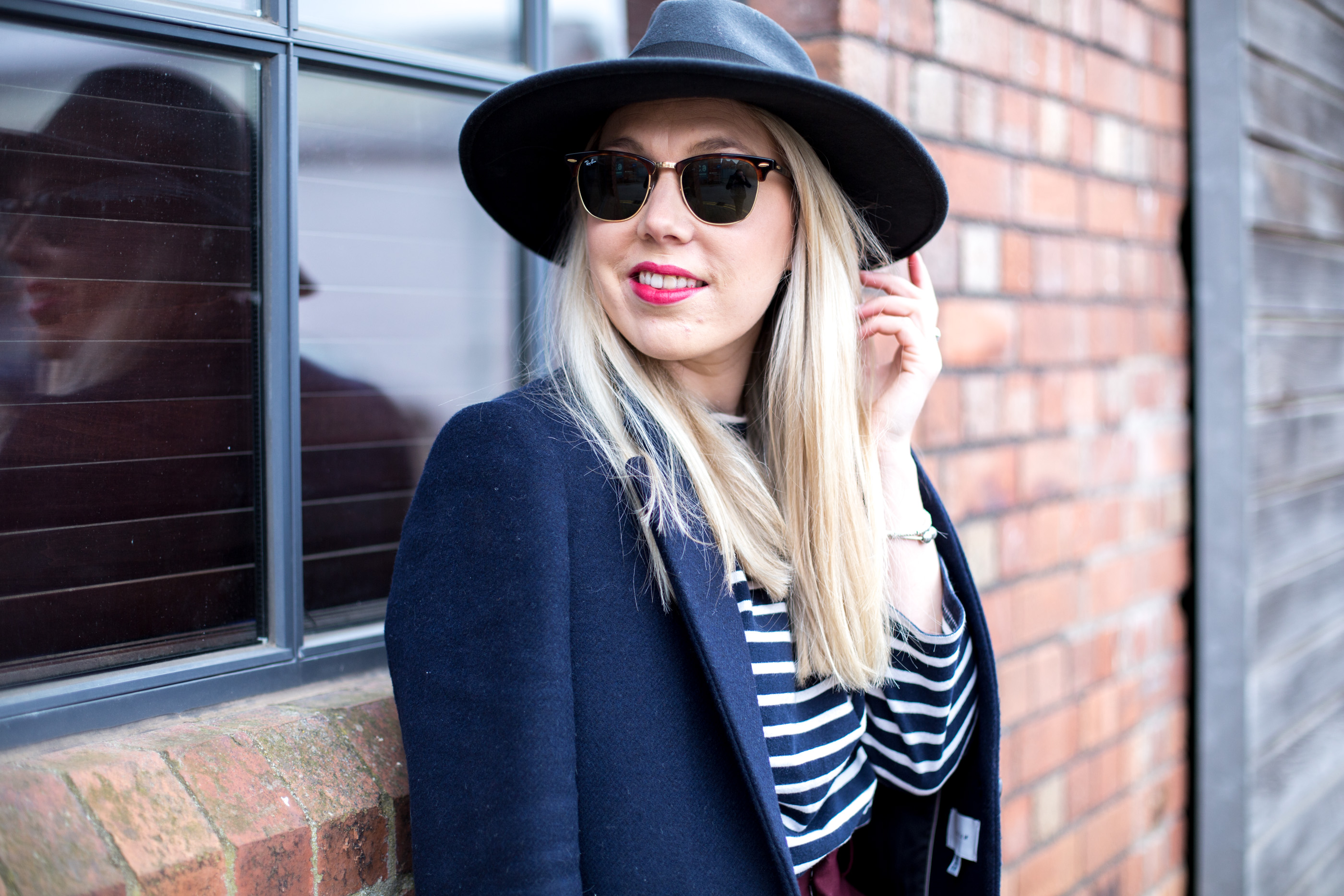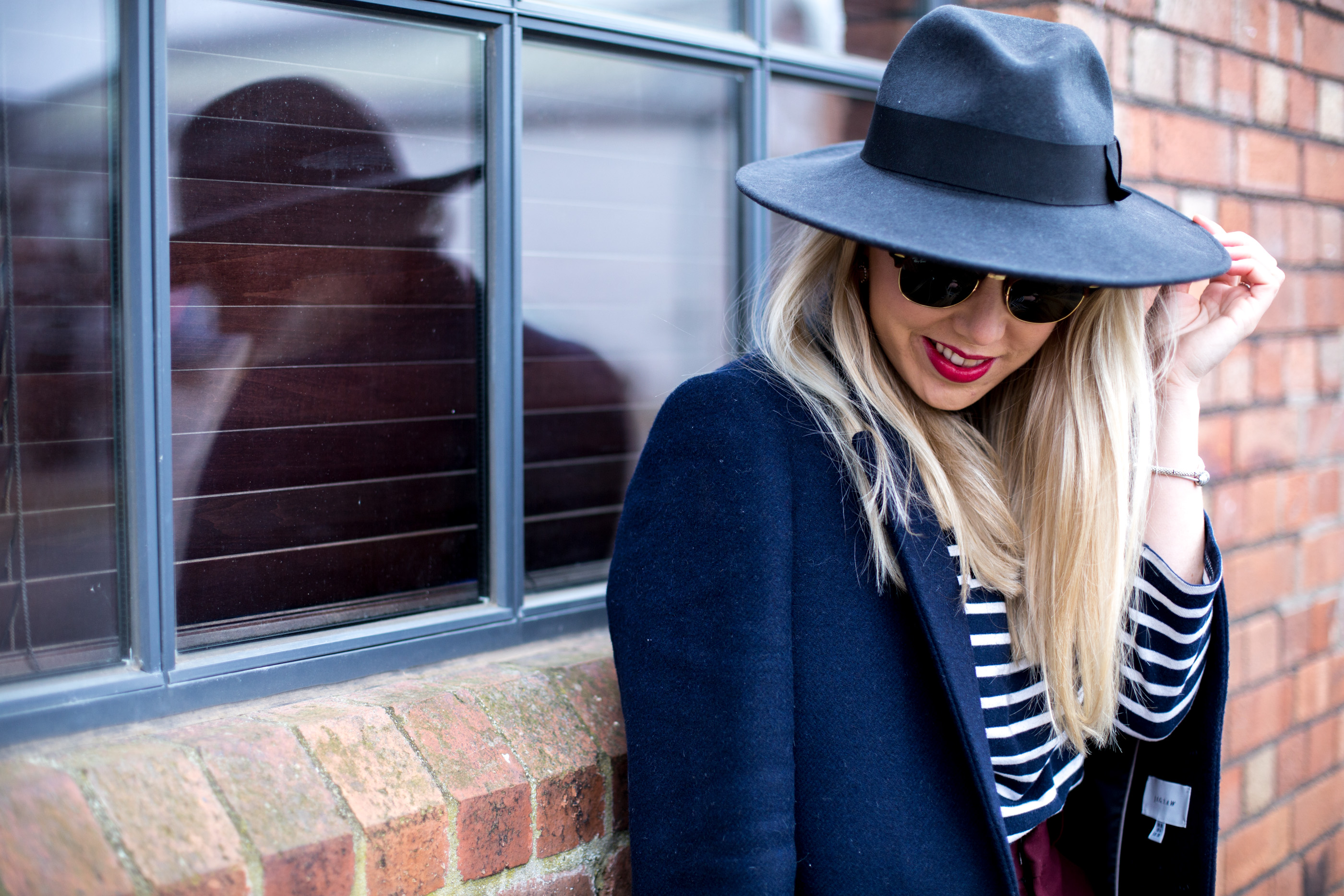 ---
. JIGSAW COAT (SIMILAR) . BRETON TOP . ZARA CROPPED TROUSERS (SIMILAR). ZARA SUEDE BOOTS . CHLOE HAYLEY .

---
I'm so glad today is Friday, I've had a really good week, it's not been too stressful which is always a bonus and I've had a few dinners out which have been a really lovely treat, but I'm definitely feeling exhausted and a little 'unhealthy' as a result. I'm heading home this weekend to see my family & little ruby (i miss her so much), it'll be a really relaxed weekend and a chance to reboot before a trip to Bordeaux next week with my girlfriends. But ahead of then … I'm channelling a different style of Bordeaux, Bordeaux red cropped trousers. A seamless link don't you think? These pantaloons were a Zara buy last year but I still love them now, they're super comfy and actually look great styled almost anyway, but today I've opted for a casual breton tee &  my suede booties. The ideal Friday style vibe.
---
 Do you have healthy habits, or like me do you struggle to make them stick? I'd love to know if you have any other ideas or recommendations of simple ways to improve your health and happiness?