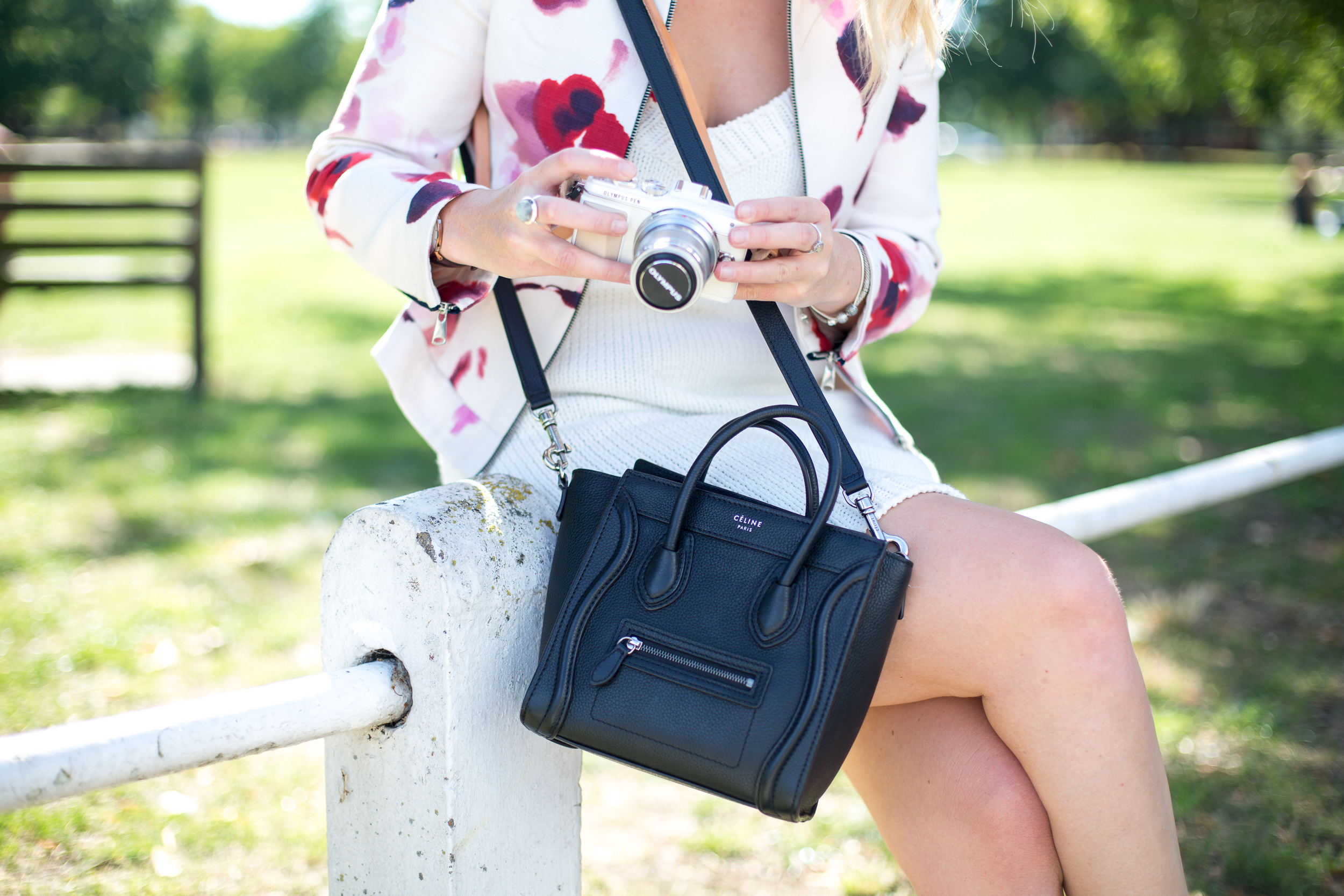 ---
THE OLYPUS PEN
Whats all the fuss about? 
---
You probably have been living under a rock if you haven't heard, seen or at least come across the Olympus Pen. Ever since their incredibly successful ambassador programme (brands, this is why you use bloggers) the camera has become THE accessory of the season, no the year. I for one resisted the surge of interest for some time, I am an avid canon user, a loyal 5D III coveter and generally just wasn't in the market for a beautiful, nifty, little cross camera.
However that all changed earlier this year when the prospect of wifi-ing images to my instagram & being able to shoot on the go without lugging around the 7 ton DSLR I love so much, registered. I decided to invest in the EPL7 (more recently replaced by the EPL8 in case you're in the market) for my birthday using gift money from my family … I loved the camera and used it largely for just holidays and being out and about (but not for my blog) and then a few months ago when I noticed a little John Lewis offer on I bought another lens … and from then on i've found myself turning to this little camera more often, using it for blog posts (without anyone noticing the difference) and also just found it really nifty and actually a really good, professional little camera.
So thats the context behind my adventure into Olympus life. My 5D III is of course my number one partner in crime, but having worked out how to use this little beautiful thing, I really do think its an incredibly good little camera and my love for it is undeniable.
So today I wanted to share with you the 5 things about this camera I love, but hopefully also 5 little tips to help you get the most out of your own Olympus if you have one (which I'm sure most of you do).
When I first buy any piece of tech, especially when it comes to cameras, I always like to read as many advice and tips posts as possible to ensure I get up to speed and can use my kit to the best of it's ability as soon as possible. The Olympus pen isn't the easiest camera to navigate, in my opinion this is because there are simply so many options (which is great), it just takes some time to suss them all out, so today I thought I'd share all the things I've learnt & discovered to help you too.
But first things first, you need to just get out there and play with it, work with all the shooting settings (manual, auto, AP priority, Art etc), get a good idea for all the bits you like using, teach yourself how to use the settings that create the sort of images you want & just have a little fun. Then get into the nitty gritty …
---
---
5 TIPS TO HELP YOU GET THE MOST OUT OF YOUR OLYMPUS PEN .
#1 CUSTOMISE
Once you have a good play on your camera, you'll want to customise the settings and functions of the camera to set it up for YOU and what you need. The great thing about the Olympus is that with a little tuition there a couple of nifty ways to make the camera settings & functions a little easier to navigate (i'm still learning these handy tricks myself).
The side bar settings menu on the camera is a little difficult to use, takes some time to adjust & change & could just be a little easier to use. The great news is there is a way to customise your camera to make this menu a little easier to use. ' The Super Control Menu'.
This all in one menu puts all the essential camera settings into one easy to use screen (ISO / Shutter Speed / White Balance / F Settings) – The SCP. This menu isn't auto turned on, so requires you to do it via your control settings. Simply go to Menu / Control Settings / Click P/A/S/M / Then Set SCP Live. Voila.
PLUS: Of course you can also customise the camera itself with it's flip down screen which is perfect for shooting Flat Lays, selflies or #fromwhereimstanding shots for your instagram!
#2 DOWNLOAD THE APP
Not only does this little camera have the ability to transfer images straight to your phone, which if we're honest is why most bloggers absolutely love it, the app function does SO much more. One of my favourite little discoveries was that the app can also work as a remote control, so whether you're looking to shoot a pic of yourself, you and your friends or just of something and you can't be behind the lens, the app allows your phone to take total control, focus and shoot. It's absolutely genius & a real asset to the camera.
#3 UPGRADE YOUR LENS
Of course the Pen itself is brilliant, I bought the white EPL7 camera with the pancake lens kit (so it wasn't too massive) and thought it was brilliant, but it was only when I upgraded my lens that this camera became a rival to my Canon 5D III for blog photos. I invested in the 45mm F1.8 lens which I managed to buy on offer in John Lewis and having always been  a fan of a low F number lens (my 50mm F1.4 & 85mm F1.8 canon lenses are my absolute favourites) I knew the potential this lens could offer for those beautifully sharp yet bokeh style images I love so much.
And the lens did just that. It's the perfect 'blogger' lens & works really hard on the camera. It's not cheap, but quality never is. If you're looking to use this camera full time for your blog, then I'd really recommend looking into this lens.
#4 AUTO VERSUS MANUAL
I always recommend shooting on manual but with the Olympus Pen I have to say the auto shooting function does have it's benefits. Often when you're out and about and shooting in varying locations you don't want to adjust every manual setting (ISO / Shutter / F number etc) for every photo, and so a hybrid between manual and auto comes in quite handy (this is even more useful on the Olympus Pen where the settings aren't the easiest to adjust for every shot via the side menu as I mentioned in point 1), and the Olympus 'auto' setting offers just that.
When i'm looking for quick and easy shoots I sometimes work on 'auto' and simply use the 'brightness', 'white'  & 'shadows'  settings to adjust the photo to a lighting that I like. It's super simple, works really well & just transforms your photos a little (but without having to have the mastery of shooting in manual). You can also (if you don't have a F1.8 lens) set blur levels here too, so you can create a beautiful bokeh background even with the basic lens.
If you want more tips on shooting manual, learning to use your camera or simply improving your photography then click on the links or head here.
#5 ACCESSORISE
This isn't necessarily a functional tip on how best to use the camera, but It's more an aesthetic one. The camera itself comes with a chunky Olympus strap, practical, but ugly. I decided to treat myself to a little natural leather strap for my camera which means I can carry it over my should like I would my bag … not only does it look super pretty with my white retro camera, but also just makes things a little more easy to carry around. If you're feeling like a little shop, then I'd check out the accessories for this camera because they're beautiful.
---
---
SHOP THE OLYMPUS RANGE

---