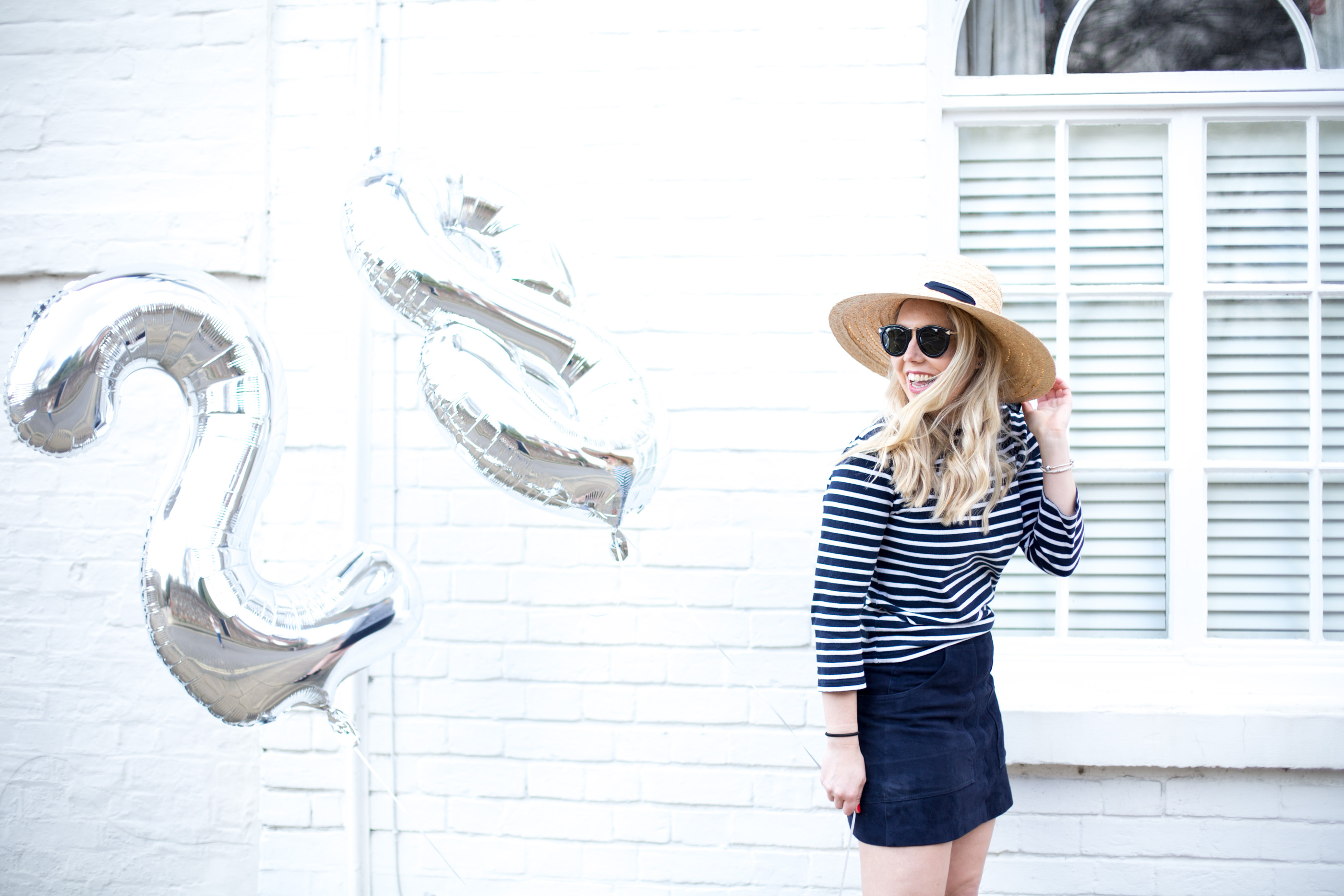 ---
Mon Anniversaire
---
Today is the 18th of April, and it's officially my birthday. Today I've turned the ripe old age of 28, still a few years until I hit the big three zero, but still 28 feels pretty significant, in fact it feels pretty ancient in the blogging world, but still young in my career. But regardless of numbers, it's another year, and another year wiser I like to think.
The weekend has been spent at home with my family, eating out, drinking fizz, visiting the Bombay Gin distillery (a post coming soon on that) and today is being spent hanging out in the sunshine that's decided to greet me … a trip to the Kings Road & lunch at Chelsea Ivy Garden perhaps.
I wanted to mark my birthday with not only some super cool balloon shots (hilarious to try and shoot by the way – the laughs are genuine, and the number 2 blew off into the horizon at one point), but also a little forward thinking, goals for the year ahead if you like. I do love a retrospective (i did a 'what i've learnt fro 5 years of blogging' post not long ago), but for me birthdays feel like a time to look froward, another year marked and another year ahead to look forward to, so today is all about my goals for the next year.
---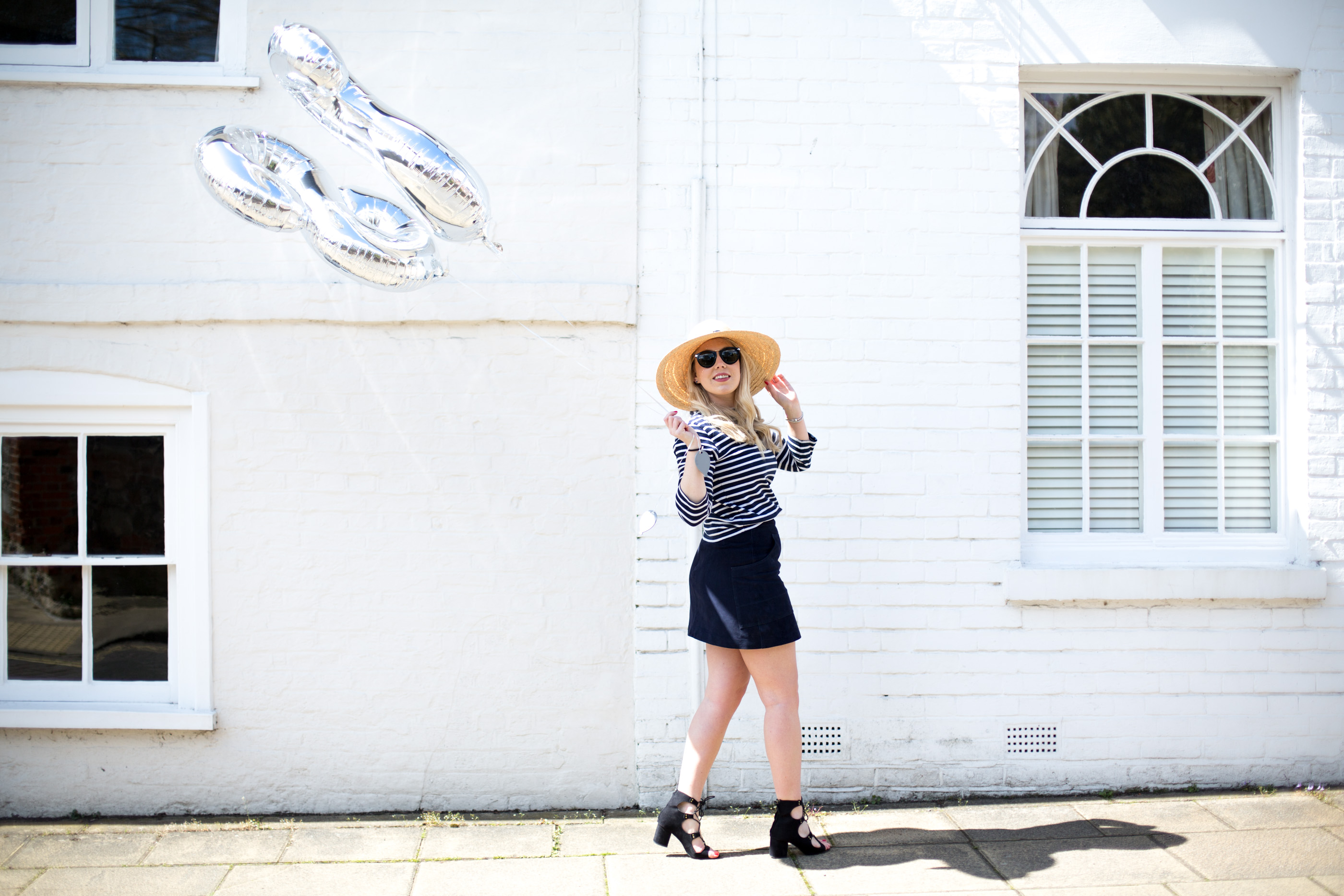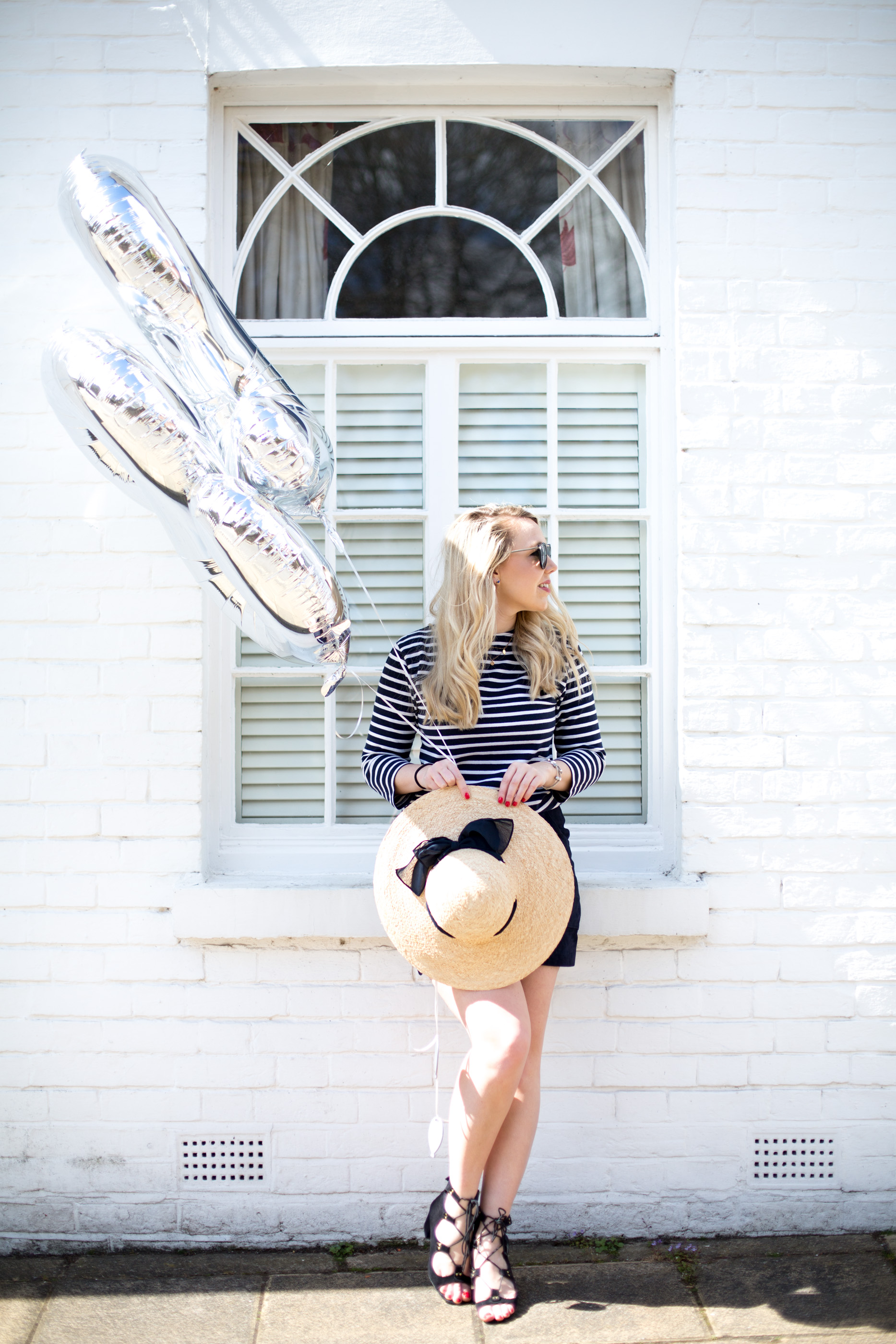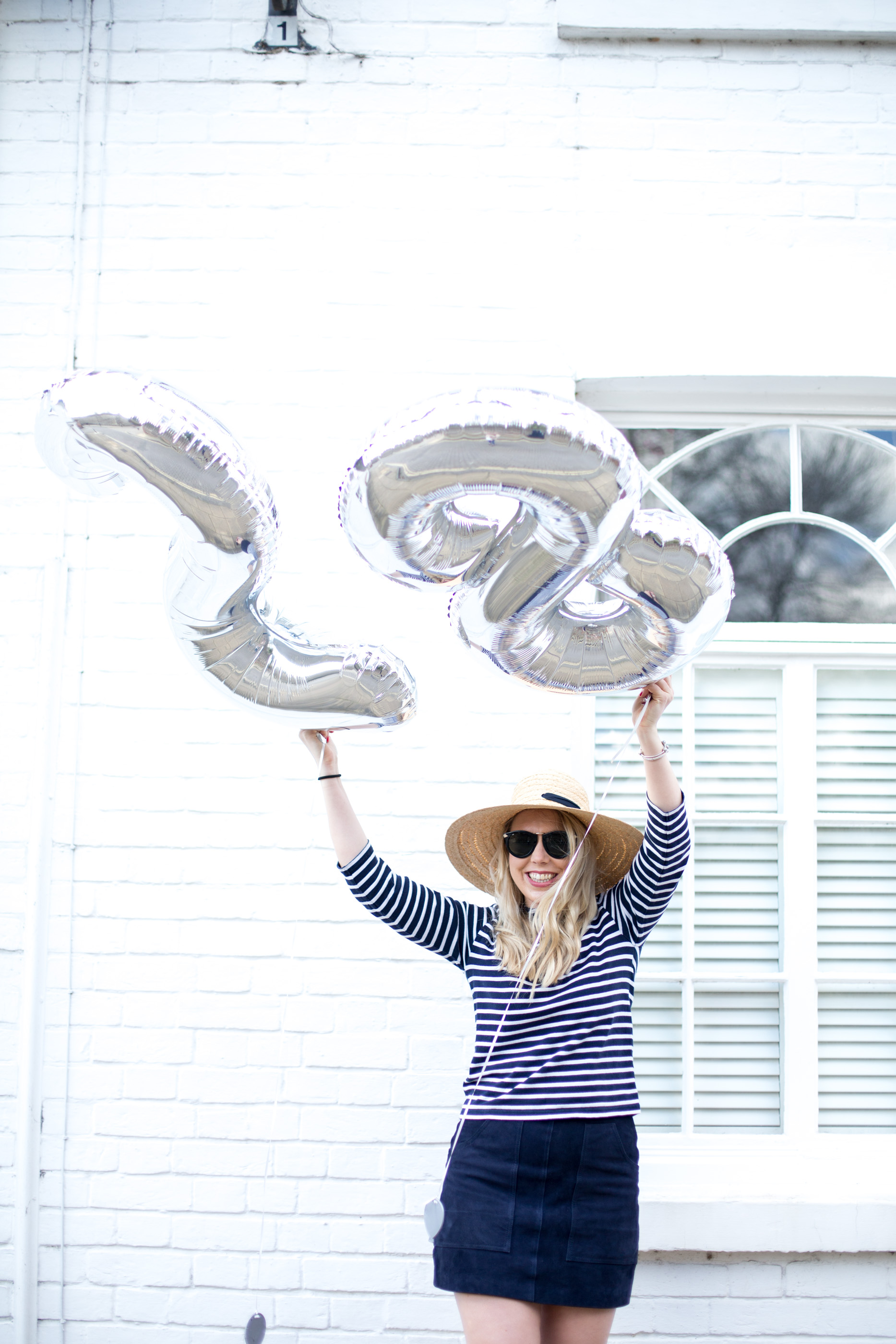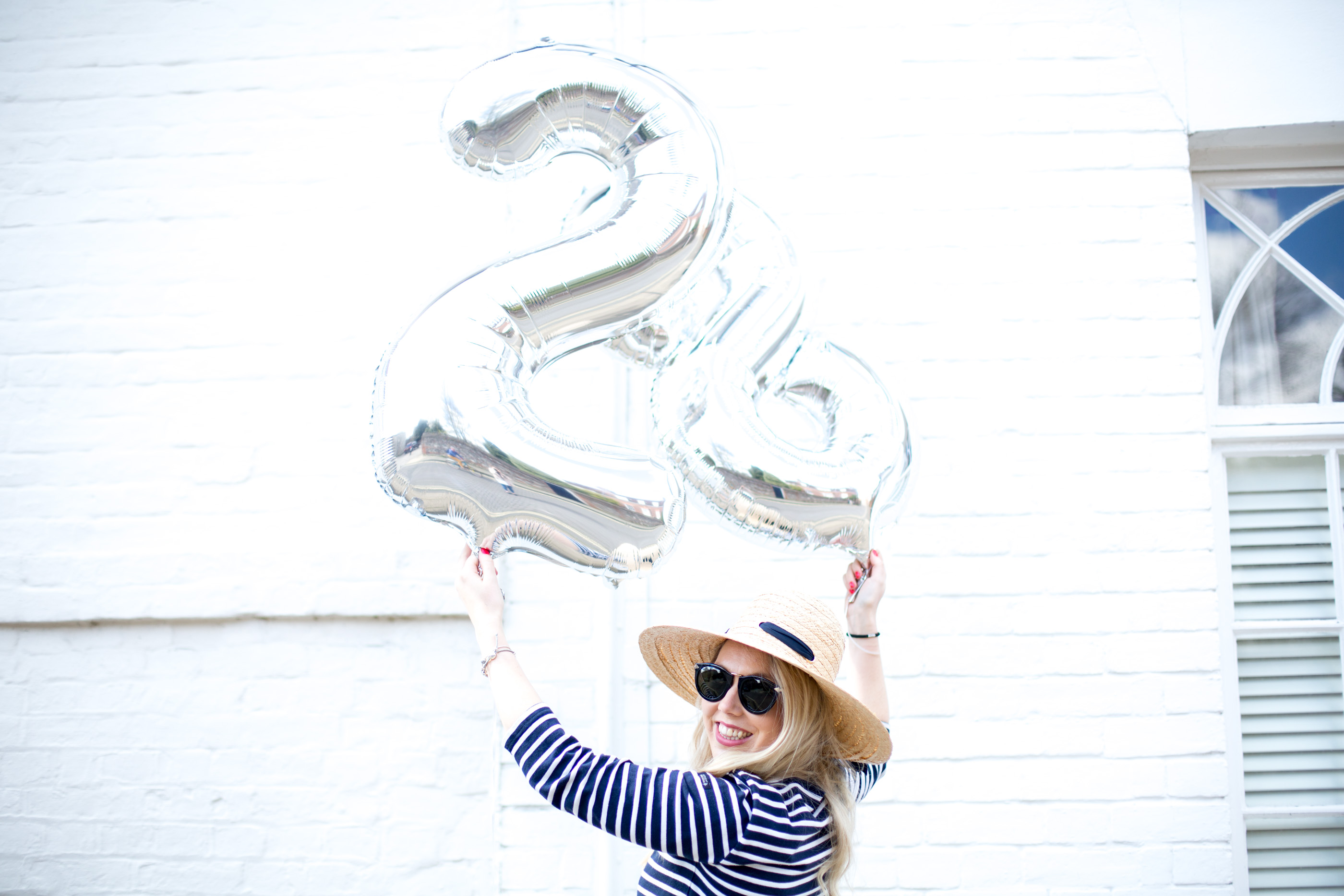 ---
5 GOALS FOR THE YEAR AHEAD
Redefine my sense of style
Style naturally evolves and changes over time, normally I embrace the evolution and constantly top up my wardrobe with new items I've fallen head over heels with, but this last year when I look back I realise i've really struggled with my sense of style, partly because I'm a few pounds heavier than my 'normal' weight, but also partly because the stress of life sort of distracted me. But this year I really want to find my groove again, adapt my style based on where I am in life, and truly start to dress myself in a way that makes me feel comfortable in my skin. My style has always been feminine, tailored and in many ways preppy, but I feel as though my wardrobe is such a mixture of trends, styles and seasonal clothing that the concept of dressing has become quite the task. So like I mentioned in my style rut blog post, I'm planning on carving out a new capsule wardrobe for myself, to hopefully help get my style groove back in gear. Quite naturally I'll be tackling this goal head on with a little birthday shopping trip today … here are a few pieces that have really stollen my heart already:

Buy a House
I hope this year is the year that I finally buy a house. Living in London certainly makes this a slightly trickier adventure than if we lived outside of the big smoke, but we've already started the process and hopefully we'll find a little something to call home in the next 12 months, whether that be in West London or perhaps outside of London. I find the entire process super exciting, i'm not sure Jase would agree so much. Rightmove has become my favourite app in a matter of weeks.
Taking that big career step
This next 18 months is really about working hard to get myself to a real career high, i've always been driven and ambitious but my next promotion really will be career defining for me, and is a big work goal that i'm working towards.
But it's not all about my career, my blog is equally as important and something else I really see shaping my future working life. This next year I really want to take my blog to the next level, carving out the right business opportunity and growing my blog to the point where it could sustainably be my living. I feel as though i've been on a huge journey the last 5 years, and if you've read my blog for a long time then you'll know that i've been through a real low in the last month or so, the dreams I have for my blog felt so far away, and I felt sad and disheartened that i wasn't experiencing the same opportunities as others out there. But perhaps that 'death valley' dip was what I needed to get my business brain back in gear … my blog is such an emotional thing for me, in reality I found it hard to disconnect the emotional attachment of blogging daily to the rational and logical changes I needed to put in place to turn my blog into a business. But i'm starting 28 with a business plan in place and a really clear idea of what I want and how I need to get there … fingers crossed my efforts pay off.
If you fancy giving me a little birthday gift, then i'd absolutely love it if you subscribed and followed along on this journey, if you're not already that is :)
Tick off my bucket list
Travel has always been a huge passion of mine and something I invest a lot of time and money in (hence a lack of house … priorities, ahem), but this year I really want to step up my travelling game and begin ticking off my bucket list of countries … Route 66 (next April finally has to be a trip to LA to attend Coachella), Croatia, Thailand which is already booked in for November … and generally just weekends spent exploring other European cities.  I'm lucky enough to get to travel quite a bit already, for work and pleasure, but I want to make this the year for some serious exploration … and of course provide you guys with more city guides too.
Focus a little more on health and wellness
My self belief and my confidence has transformed in the last 10 years, when I compare me at 28 to me at 18 it's amazing how much i've grown up, how much my confidence has grown and how I've finally started to believe in my ability and myself (I wrote a lot about my experience here). This in itself is so liberating, but there's still more to go. I do find myself comparing my blog to others and putting myself down as a result, I find myself body hating on myself (yet doing nothing as a result), and I know I push myself so hard to achieve things in life because of this need to prove myself (to myself). With all my ambition and the busy life I lead, I certainly forget to look after myself, and say well done to myself every now and then.
But as I turn 28 and 30 feels closer than ever, the realities of healthy living, mindfulness and total wellness feel a little more important, and so I want to make this the year that I get back into my healthy lifestyle … exercise as a regular, cutting out gluten for good (I can't eat it, but I do, then I suffer and the I moan), and generally making sure I truly create work life balance in my life so that stress, migraines and pressure are a thing of the past.
---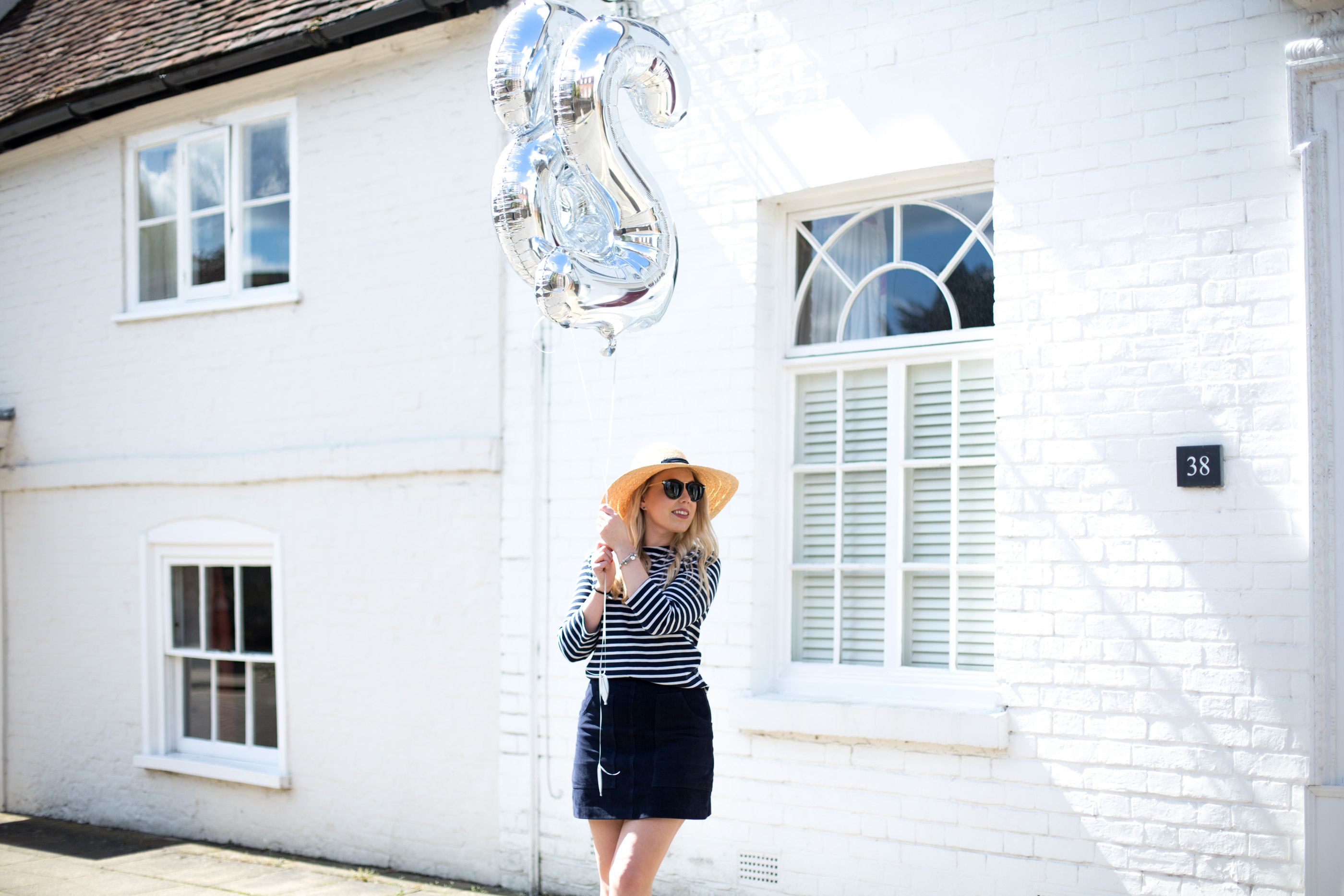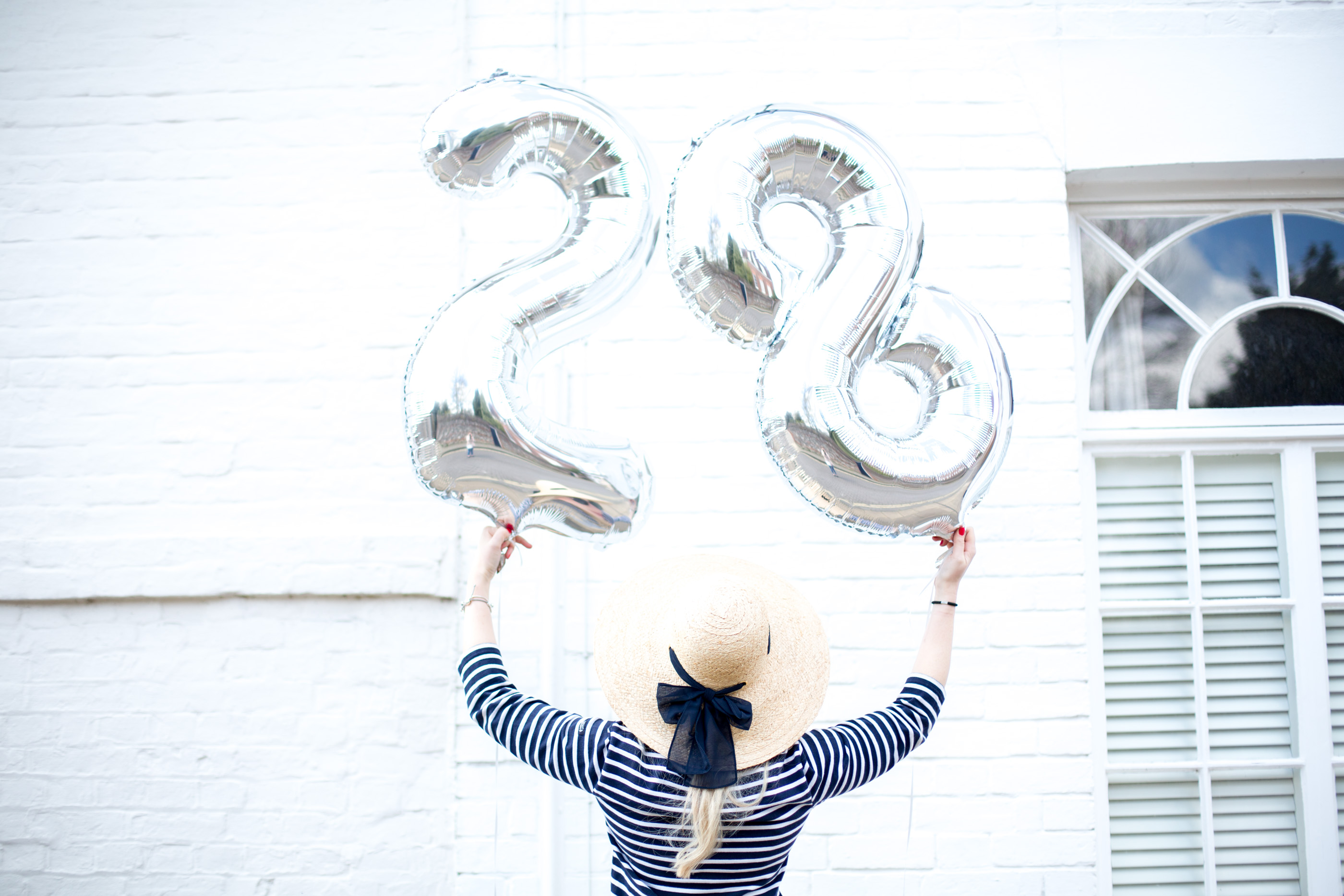 ---
WHAT I'M WEARING:
. BRETON TOP . WHISTLES SUEDE SKIRT . ACCESSORIZE HAT . ZARA SHOES .

---
So there you have it, i'm starting my first day of 28 with some big goals, some serious ambition, but most importantly a day of shopping, champagne and presents ahead … and of course a whole week of elongated celebrations with my friends too!
---
What are your goals for the year ahead?